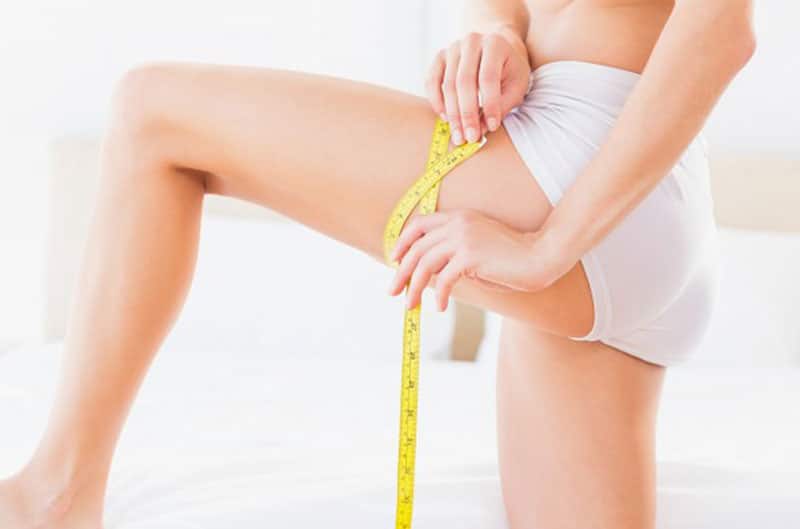 Many people are often upset by the appearance of fat thighs and continually seek the best ways to lose thigh fat permanently. The traditional options for getting rid of thigh fat involve following a healthy diet and carrying out regular exercise which will result in weight loss and help to create slimmer thighs with better tone. People most commonly develop stubborn areas of fat on the thighs that are difficult to shift with diet and exercise alone. When these fail, surgery can be considered as a way to reduce thigh fat.
Seeking treatment for fat thighs whilst not medically necessary is important for many people's self-confidence and emotional well-being. Mental health issues can develop as a result of significant embarrassment at the appearance of fat thighs, which may result in people choosing items of clothing that cover the legs. People may even choose to avoid certain activities like going to the beach. Many people would like to know how to lose leg fat for the most effective results.
What is the best way to get rid of fat thighs?
Possessing the knowledge on how to get rid of five fat can contribute to a significant improvement in emotional well-being. This is why if patients choose to adopt a healthy lifestyle, the results are more than worth it in the long term. The presence of thigh fat is closely linked with a person's level of activity. In these cases, it is a good idea to plan a daily routine which includes at least 30 minutes of physical exercise. Patients who have sedentary lifestyles can notice quite significant improvements even with small but consistent amounts of exercise carried out each week. Despite this, many people find that doing any level of physical exercise is not enough to significantly reduce thigh fat.
Significant amounts of thigh fat can be difficult to reduce in women especially. Women generally have greater fat in the thighs and buttocks, which is often related to an evolutionary link. Extra fat stores during a time when hunter-gathering was normal would allow women to get through childbirth and breastfeeding even when food was scarce. Of course, this is no longer the case, and the appearance of fat thighs serves no particular purpose in modern times. Liposuction is the best technique to get rid of thigh fat with permanent results.
How to get rid of inner thigh fat?
After deciding on making changes to get rid of inner thigh fat, the journey to achieve this is often not as straightforward as anticipated. One of the most effective lifestyle modifications is to eat a healthier diet. Reducing your levels of calorific foods such as junk food or fried foods will help to reduce overall calorie intake and have beneficial effects on overall health and well-being as well as the ability to shed inner thigh fat. We would advise against the numerous fad diets which are commonly available online as the likelihood of regaining any fat is high. It is best to make simple but robust changes, including an increase in vegetable and fruit intake and avoiding various types of refined sugary foods and junk food. Extreme dieting is not the long-term solution to reducing thigh fat.
Before deciding on a plan to lose weight, we recommend consulting with a medical specialist for an in-depth medical assessment. This is to make sure that any diet plan does not put you at heightened risk of worsening any pre-existing chronic medical conditions you may have. Consistent dieting can be assisted by attending one of the many self-help groups focusing on weight loss that now meet online. These groups will serve as a source of support with much practical advice on dietary modifications. Achieving safe weight loss with dietary modifications can help to enhance overall well-being.
What is the best way to burn leg fat?
The best way to lose leg fat involves a combination of a healthy well-balanced diet combined with regular physical exercise. Excessive leg fat primarily affects women, although men can also be affected in some cases. Specific exercises which can be used to strengthen your leg muscles and burn like fat include squats and lunges. Leg muscle tone will improve with a consistent application of these exercises which will help to reduce the appearance of leg fat.
Significant changes in weight can result in the development of loose skin and this is accentuated with the ageing process. Losing leg fat can result in a loss of skin elasticity. No amount of physical exercise will restore the appearance of tighter-looking skin. The best treatment for loose skin on the size is a surgical thigh lift which is often combined with liposuction to get rid of excess leg fat.
Is it possible to achieve a thigh gap with liposuction?
When people refer to the 'thigh gap', they most commonly mean the triangle-shaped gap situated between the upper thighs of women with a leaner body shape. The modelling sector has commonly used the appearance of a thigh gap as a way of assessing the slimness of the legs. Opinions are divided on whether a thigh gap is seen as appealing or suggestive of women who may have an excessively low body mass index and a possible link with anorexia nervosa.
The thigh gap is related to the angle at which the femoral bone meets the hip joint from the knee. The fundamental basis for whether a thigh gap will appear or not is related to the bone structure of the pelvis and femur. Several leg muscles are attached to various parts of the femur including the adductor musculature which is primarily located on the inner aspect of the leg. Overlying the muscles is the subcutaneous fat layer which is referred to as the inner thigh fat. Inner thigh liposuction can effectively address the fat of the inner thigh but is unable to change the underlying musculoskeletal framework. In many cases, diet or exercise cannot target the stubborn fat found in the inner thigh area. Lifestyle modifications are excellent for generalised weight loss but may not lead to sufficient removal of inner thigh fat. Many supermodels achieve extremely slim-looking legs as a result of extreme diets. We do not recommend extreme diets or any kind of fad diet. Exercises which target the thighs will improve muscle tone and may not result in developing a thigh gap.
One of the best ways to create a thigh gap in suitably selected patients is to remove inner thigh fat with liposuction. The underlying structure of the bone and muscle often dictates whether a thigh gap will appear which is why a detailed physical examination is important to determine the likelihood of successful treatment with inner thigh liposuction to create a thigh gap. The natural ageing process as well as significant weight gain will result in the development of fat thighs. Liposuction can be used to get rid of fat thighs and can be extended to the inner knees to remove knee fat. In patients with good skin quality, liposuction alone is effective to sculpt the thighs. Patients who have loose skin most commonly as a result of weight loss may require an inner thigh lift to achieve slimmer and tighter-looking thighs.
How much does thigh liposuction cost?
The most effective approach for permanently getting rid of thigh fat is to have thigh liposuction. Our surgeons have years of experience in performing liposuction and use gold-standard techniques of PAL lipo to remove stubborn areas of fat from the thighs resulting in toned and slimmer-looking legs. Thigh liposuction should not be considered as a replacement for dietary modifications and exercise, but it is intended to complement lifestyle improvements. People who have liposuction of the thighs often develop a significant improvement in emotional well-being, allowing them to live their lives as they want to with no restriction on clothing they can wear.
The removal of excess thigh fat with liposuction involves small diameter cannulas being inserted through tiny incisions in the skin to break up fat cells prior to their removal with vacuum suction. Thigh liposuction starts from £3500 for one area of liposuction and is commonly combined with a thigh lift for those who have loose skin, most commonly due to significant weight loss.
What does a thigh lift involve?
Centre for Surgery is a specialist cosmetic surgery clinic in London, and we are home to expert surgeons who regularly carry out both thigh liposuction and thigh lift surgery, whether singly or in combination. A Thigh lift or mini thigh lift involves the removal of loose saggy skin most commonly from the inner thighs. The procedure is routinely performed under a general anaesthetic. An incision is made in the groin, which often extends further down the leg as far as the knee, followed by the removal of loose skin. The skin is then carefully stitched together, resulting in a minimal scar. The appearance of the thigh will be both smoother and tighter-looking with an associated reduction in thigh size when combined with liposuction to reduce excess fat in the thighs.
The advantage of cosmetic surgery allows the creation of results that complement improvements in diet and exercise for effective and long-lasting removal of stubborn thigh fat. The impressive results and minimal risk of complications lead many people to get in contact with us to learn more about what the procedure can do for them.
RELATED: How much does a thigh lift cost?
Is it possible to lose leg fat without surgery?
Although the best way to lift the thighs is to perform a thigh lift surgery combined with liposuction, many patients may choose to begin with diet and exercise first and see what results they can achieve before considering surgery. There are several treatments which may achieve a temporary improvement in the appearance of the thigh fat including various topically applied creams which contain retinol to improve epidermal thickness. The long-term effectiveness of this approach remains unproven. For the best results, we would recommend having a consultation with a specialist surgeon to discuss the options of thigh lift and liposuction surgery which remain the best way is to remove thigh fat for quick and effective results.
Amazing from start to finish, the communication was the main thing was fully informed and looked after, on the day of my breast augmentation, the staff were fab and made me feel at ease through out the whole process. Thank you so much.
Mohammed Farid
18/11/2021
I've had such a great experience with excellent advice, care and attention and surgical treatment (gynaecomastia) - I can fully endorse the treatment I have received from Centre for Surgery with absolutely no qualms at all. Brilliant in every way - thank you all so much.
Caroline Thorpe
14/11/2021
Very pleased with my whole experience of having a procedure. Was so nervous about getting treatment and i was reassured and felt so comfortable throughout thanks to the amazing nurses. I definitely made the right decision to have breast augmentation at centre for surgery with dr erel.
Melissa Briggs
08/11/2021
So glad I went with centre for surgery, the whole process went very smoothly from the consultations down to the actual day of the procedure. I was so nervous on the day but the whole team put me at ease and I'm happy with my results as I feel a lot more comfortable wearing certain clothes now. My surgeon was Alberto Di Giuseppe who performed a breast Augmentation on me, and I would definitely recommend as he was very clear on what the outcome of the surgery would be and which size would look the best for my frame.
Couldn't be happier with Dr Tillo work,i had my breast surgery one week ago and so happy with the results so far,all the staff are extremely nice and very supportive,i would definitely recommend their services,thank so much
From start to the finish everything was perfect for tummy tuck surgery. All staff is very friendly and the aftercare has been good. The Doctor and the nurse team was fantastic. I'm so happy...result is amazing. Thank you!!!
This was overall a great experience, all the staff at Centre for Surgery were friendly and put me at ease. It is a nerve wracking thing to go through an op but the staff were so nice. Mr Ertan has got a great team around him. On the day of the operation everything went smoothly to plan, there was no delay or holdups, I had another consultation with Mr Ertan who confirmed what was going to be done and that I was still happy to proceed. I was prepped for the procedure, I met with the anaesthetist who again was really nice and put me at ease explaining his role. After the procedure I woke up with the nurse by my side making sure I was OK and checking on me, I was able to stay in the clinic until I was ready to leave and was not rushed at all. I was well looked after from the start to the point when I was discharged. Post operation I was staying at a local hotel it was so close there was no point in even getting a taxi and I was able to walk back where my partner was waiting for me. I was expecting a lot of bruising to both my eyes but there was very little if any by the time the cast came off after 7 days, I am now at the two week post operation point and it is healing well with no outwardly visible bruising or scaring. The next milestone is a checkup at the 6 week point with my surgeon. If you're thinking of having something like this done I would highly recommend getting in touch with Centre for Surgery.
The staff at Centre for Surgery were very kind and accommodating. They answered any questions I had about the procedure and were constantly checking up on me. A special thank you to Christina for all her support throughout.
I would just like to state the quality of care received from the nurses at Centre for Surgery was beyond the highest level. Sophie takes her patient care to another level beyond words. She always puts me at ease. She is there for me even at awkward hours just when I mostly needed reassurance and she is one of the most compassionate nurses I have come across and demonstrates her passion naturally for caring for others. She totally deserves recognition at its finest and thank you for always being there for me. 😍