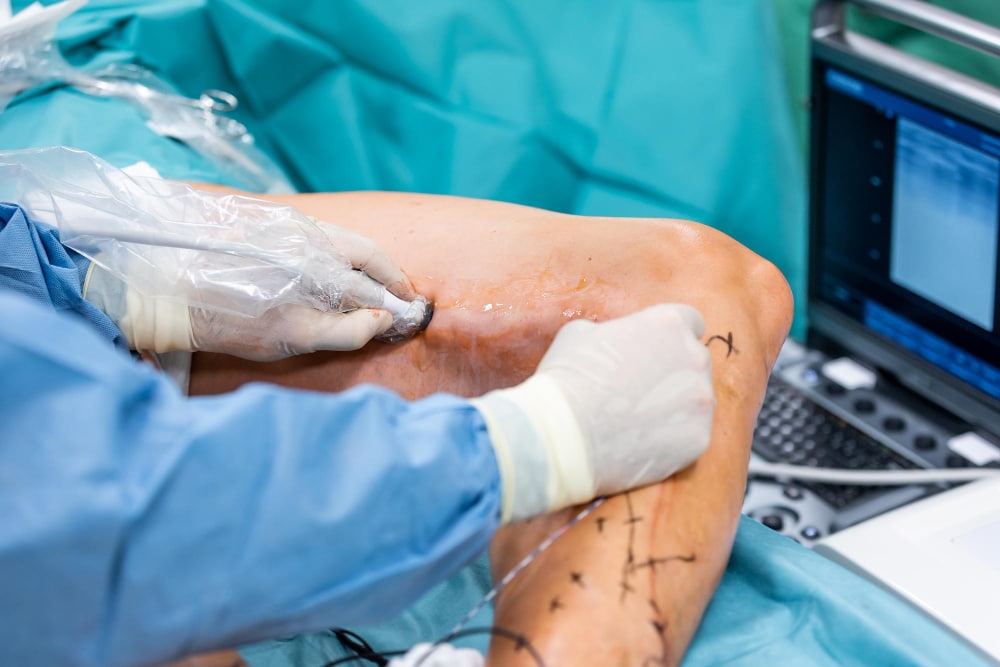 With increasing pressures being placed upon the NHS, several treatments have become more difficult to access. The COVID-19 global pandemic has exacerbated NHS waiting lists, making it difficult to have varicose vein treatment. We would recommend having varicose vein removal at a reputable private clinic such as Centre for Surgery in London to bypass waiting lists and receive higher standards of medical care using the most advanced techniques.
RELATED: What are varicose veins?
Will the NHS treat my varicose veins?
People who would like to have varicose vein treatment to improve the cosmetic appearance of their legs will not be eligible for treatment in the NHS. The NHS will not fund procedures which are for cosmetic reasons. If you have certain symptoms including pain, aching, itchiness or heavy legs then you may be eligible but this will depend on meeting the eligibility criteria as described below. Even if you have large and prominent varicose veins but do not have any symptoms, the NHS will not fund your treatment and you will need to have varicose vein removal at a private clinic.
RELATED: Common myths about varicose veins
What criteria are used to determine my suitability for NHS varicose vein treatment?
The NHS vein grading classification is used when determining suitability for NHS treatment. Varicose veins can result in potential complications such as pain and venous ulcers if left untreated and the grading system make this clear.
Grade 1 – these are very small thread veins and are viewed as a cosmetic nuisance and therefore will not be treated by the NHS.
Grade 2 – these are smaller varicose veins found in isolation and may cause minor swelling. These types of veins do not cause symptoms and will not be eligible for NHS treatment.
Grade 3 – these are larger and bulging varicose veins that are linked with underlying valve dysfunction within the deeper veins of the leg. Patients may experience pain and discomfort, aching, itchiness and throbbing particularly when people stand for long periods of time. The NHS recommends compression stocking treatment for these veins.
Grade 4 – these are well-established varicose veins which may result in overlying skin discolouration also known as venous eczema. Symptoms include itchy and dry skin around the ankle. Sometimes this area can become inflamed and appear red and swollen. The NHS will treat these conditions.
Grade 5 – this is a venous leg ulcer which has healed and is eligible for NHS treatment.
Grade 6 – patients have active and unhealed venous leg ulcers with associated venous eczema. Venous ulcers can be very painful and difficult to treat and the NHS regularly treats these serious complications of varicose veins.
Complications of varicose veins are more likely when patients have grade 3 veins or higher leading to a detrimental impact on quality of life. Some patients may have developed complications from varicose vein surgery which traditionally involves ligation and stripping. Varicose vein surgery is commonly carried out in the NHS and we commonly see patients who have developed complications as a result of NHS treatment. We would recommend researching the vein treatment which has been recommended to you by the NHS before proceeding with treatment.
RELATED: Varicose Veins Surgery
NHS varicose vein treatments
Even if you qualify for NHS treatment, this does not necessarily mean you will be treated quickly. Many patients find they may be waiting many months just to find out if they are eligible for NHS treatment. The treatment philosophy in the NHS focuses on trying simpler treatments such as compression stockings and lifestyle modifications. Examples of lifestyle changes include eating a better diet, regular exercise, avoiding prolonged periods of standing and elevating legs when sitting down. You may be prescribed painkillers or topical creams to treat skin conditions that have developed as a result of having varicose veins. In many cases, you may be advised to persist with non-surgical treatment for a minimum of six months before invasive treatments can be considered.
RELATED: How to get rid of varicose veins
We believe there are significant flaws with this treatment approach. Your varicose veins may get worse over time and the risk of developing venous ulcers is increased. If you have failed to get symptomatic relief with simply measures, it is common in the NHS to recommend surgical treatment with ligation and stripping. Varicose vein surgery is considered an obsolete technique for getting rid of unsightly and bulging varicose veins. The risk of complications after varicose vein surgery is much higher compared with more modern techniques of varicose vein treatment such as EVLA. Recurrence rates after surgery are much higher compared with endovenous laser ablation with up to 40% of patients developing recurrence of the varicose veins after only five years.
What are the best varicose vein treatments?
Centre for Surgery is a specialist centre for vein removal and we are committed to providing the highest standards of medical care with an emphasis on patient safety and achieving the best results. Our treatment philosophy is focused on providing the most clinically effective varicose vein treatment carried out under a local anaesthetic by expert vascular specialists. Virtually everyone who comes to see us is eligible for vein treatment. We do not offer varicose vein surgery as surgical ligation and stripping are associated with an unacceptably high complication rate and high rates of vein recurrence. Recovery after surgery is much longer compared with endovenous laser ablation.
RELATED: Varicose veins recovery
We focus on the three main varicose vein treatments including:
EVLA: endovenous laser ablation is considered the gold standard treatment for varicose veins as recommended by the National Institute for clinical excellence or NICE for short. EVLA is suitable for most patients and involves destroying varicose veins using precision laser thermal energy for permanent clearance. We have been able to achieve success rates as high as 97% after five years. Our vascular specialists are some of the top UK experts in EVLA and present their work at national and international meetings each year.
Sclerotherapy: this treatment is ideal for smaller varicose veins and thread veins. Liquid sclerotherapy can be used for smaller varicose veins although foam sclerotherapy is better for large veins which may be unsuitable for EVLA. The procedure is designed to create inflammation within the walls of the veins with the injection of chemical sclerosant leading to shrinkage and disappearance of the vein. Sclerotherapy takes no more than 45 minutes to carry out under local anaesthetic.
Phlebectomy: phlebectomy also known as a vein of oceans involves removing small varicose veins via tiny incisions. The veins are gently pulled out with a vein hook and the skin is closed with skin type with no need for stitches.
RELATED: The treatment of varicose veins
Getting the best possible outcomes after varicose vein treatments depends on an early and accurate diagnosis of your diseased veins using duplex ultrasonography. Your vascular specialist will perform a duplex ultrasound scan of your legs as part of your consultation. The ultrasound scan itself is free although it is priced at approximately £400 at other clinics.
Why choose Centre for Surgery for varicose vein treatment?
We are the leading private clinic for varicose vein removal in the UK.
All of our treatments are minimally invasive with little or no recovery required after the procedure.
Our vascular specialists are experts in endovenous laser ablation or EVLA for short and treat hundreds of patients each year.
We only carry out treatments that are approved by the National Institute for clinical excellence. Endovenous laser ablation is the gold standard treatment for varicose vein removal with an exceptionally high success rate compared with surgery.
A varicose veins consultation costs only £150 and includes a free ultrasound scan of your legs which is usually priced at £400 at other private clinics in London.
Most vein treatments take no more than 60 minutes to carry out and you'll be able to go home once the procedure is complete.
Our specialists are regularly invited to discuss the latest advances in varicose vein treatments in the UK and overseas.
We offer 0% finance for eligible patients.
Our prices are considered some of the most competitive in London and are highly transparent.
For further information, please get in touch with us today at 020 7993 4849 to book a varicose veins consultation with an expert vein specialist at our London Centre.
Amazing from start to finish, the communication was the main thing was fully informed and looked after, on the day of my breast augmentation, the staff were fab and made me feel at ease through out the whole process. Thank you so much.
Mohammed Farid
18/11/2021
I've had such a great experience with excellent advice, care and attention and surgical treatment (gynaecomastia) - I can fully endorse the treatment I have received from Centre for Surgery with absolutely no qualms at all. Brilliant in every way - thank you all so much.
Caroline Thorpe
14/11/2021
Very pleased with my whole experience of having a procedure. Was so nervous about getting treatment and i was reassured and felt so comfortable throughout thanks to the amazing nurses. I definitely made the right decision to have breast augmentation at centre for surgery with dr erel.
Melissa Briggs
08/11/2021
So glad I went with centre for surgery, the whole process went very smoothly from the consultations down to the actual day of the procedure. I was so nervous on the day but the whole team put me at ease and I'm happy with my results as I feel a lot more comfortable wearing certain clothes now. My surgeon was Alberto Di Giuseppe who performed a breast Augmentation on me, and I would definitely recommend as he was very clear on what the outcome of the surgery would be and which size would look the best for my frame.
Couldn't be happier with Dr Tillo work,i had my breast surgery one week ago and so happy with the results so far,all the staff are extremely nice and very supportive,i would definitely recommend their services,thank so much
From start to the finish everything was perfect for tummy tuck surgery. All staff is very friendly and the aftercare has been good. The Doctor and the nurse team was fantastic. I'm so happy...result is amazing. Thank you!!!
This was overall a great experience, all the staff at Centre for Surgery were friendly and put me at ease. It is a nerve wracking thing to go through an op but the staff were so nice. Mr Ertan has got a great team around him. On the day of the operation everything went smoothly to plan, there was no delay or holdups, I had another consultation with Mr Ertan who confirmed what was going to be done and that I was still happy to proceed. I was prepped for the procedure, I met with the anaesthetist who again was really nice and put me at ease explaining his role. After the procedure I woke up with the nurse by my side making sure I was OK and checking on me, I was able to stay in the clinic until I was ready to leave and was not rushed at all. I was well looked after from the start to the point when I was discharged. Post operation I was staying at a local hotel it was so close there was no point in even getting a taxi and I was able to walk back where my partner was waiting for me. I was expecting a lot of bruising to both my eyes but there was very little if any by the time the cast came off after 7 days, I am now at the two week post operation point and it is healing well with no outwardly visible bruising or scaring. The next milestone is a checkup at the 6 week point with my surgeon. If you're thinking of having something like this done I would highly recommend getting in touch with Centre for Surgery.
The staff at Centre for Surgery were very kind and accommodating. They answered any questions I had about the procedure and were constantly checking up on me. A special thank you to Christina for all her support throughout.
I would just like to state the quality of care received from the nurses at Centre for Surgery was beyond the highest level. Sophie takes her patient care to another level beyond words. She always puts me at ease. She is there for me even at awkward hours just when I mostly needed reassurance and she is one of the most compassionate nurses I have come across and demonstrates her passion naturally for caring for others. She totally deserves recognition at its finest and thank you for always being there for me. 😍