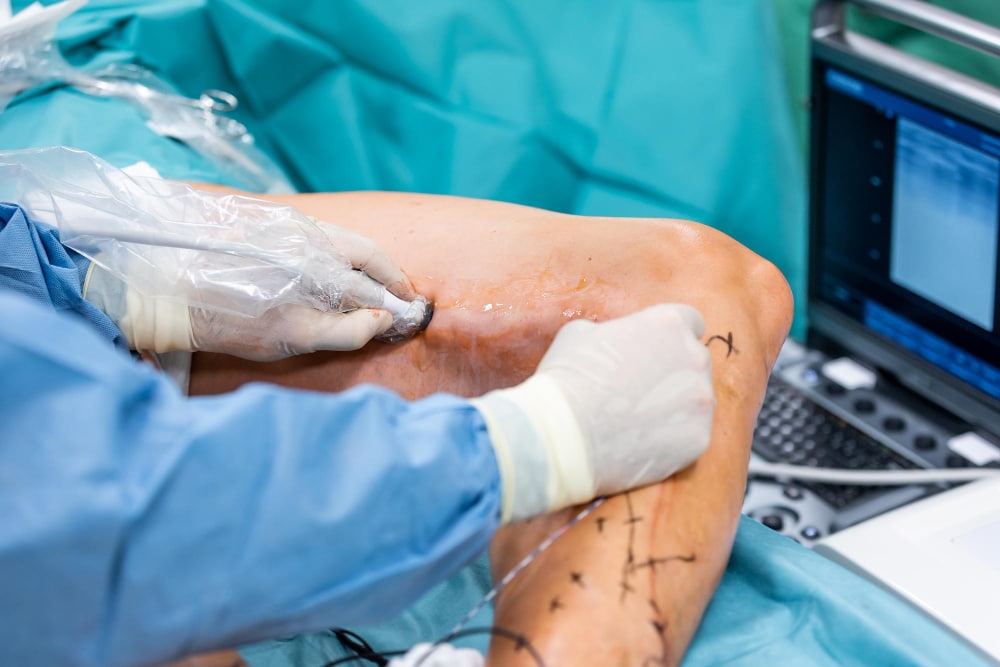 With increasing pressures being placed upon the NHS, several treatments have become more difficult to access. The COVID-19 global pandemic has exacerbated NHS waiting lists, making it difficult to have varicose vein treatment. We would recommend having varicose vein removal at a reputable private clinic such as Centre for Surgery in London to bypass waiting lists and receive higher standards of medical care using the most advanced techniques.
RELATED: What are varicose veins?
Will the NHS treat my varicose veins?
People who would like to have varicose vein treatment to improve the cosmetic appearance of their legs will not be eligible for treatment in the NHS. The NHS will not fund procedures which are for cosmetic reasons. If you have certain symptoms including pain, aching, itchiness or heavy legs then you may be eligible but this will depend on meeting the eligibility criteria as described below. Even if you have large and prominent varicose veins but do not have any symptoms, the NHS will not fund your treatment and you will need to have varicose vein removal at a private clinic.
RELATED: Common myths about varicose veins
What criteria are used to determine my suitability for NHS varicose vein treatment?
The NHS vein grading classification is used when determining suitability for NHS treatment. Varicose veins can result in potential complications such as pain and venous ulcers if left untreated and the grading system make this clear.
Grade 1 – these are very small thread veins and are viewed as a cosmetic nuisance and therefore will not be treated by the NHS.
Grade 2 – these are smaller varicose veins found in isolation and may cause minor swelling. These types of veins do not cause symptoms and will not be eligible for NHS treatment.
Grade 3 – these are larger and bulging varicose veins that are linked with underlying valve dysfunction within the deeper veins of the leg. Patients may experience pain and discomfort, aching, itchiness and throbbing particularly when people stand for long periods of time. The NHS recommends compression stocking treatment for these veins.
Grade 4 – these are well-established varicose veins which may result in overlying skin discolouration also known as venous eczema. Symptoms include itchy and dry skin around the ankle. Sometimes this area can become inflamed and appear red and swollen. The NHS will treat these conditions.
Grade 5 – this is a venous leg ulcer which has healed and is eligible for NHS treatment.
Grade 6 – patients have active and unhealed venous leg ulcers with associated venous eczema. Venous ulcers can be very painful and difficult to treat and the NHS regularly treats these serious complications of varicose veins.
Complications of varicose veins are more likely when patients have grade 3 veins or higher leading to a detrimental impact on quality of life. Some patients may have developed complications from varicose vein surgery which traditionally involves ligation and stripping. Varicose vein surgery is commonly carried out in the NHS and we commonly see patients who have developed complications as a result of NHS treatment. We would recommend researching the vein treatment which has been recommended to you by the NHS before proceeding with treatment.
RELATED: Varicose Veins Surgery
NHS varicose vein treatments
Even if you qualify for NHS treatment, this does not necessarily mean you will be treated quickly. Many patients find they may be waiting many months just to find out if they are eligible for NHS treatment. The treatment philosophy in the NHS focuses on trying simpler treatments such as compression stockings and lifestyle modifications. Examples of lifestyle changes include eating a better diet, regular exercise, avoiding prolonged periods of standing and elevating legs when sitting down. You may be prescribed painkillers or topical creams to treat skin conditions that have developed as a result of having varicose veins. In many cases, you may be advised to persist with non-surgical treatment for a minimum of six months before invasive treatments can be considered.
RELATED: How to get rid of varicose veins
We believe there are significant flaws with this treatment approach. Your varicose veins may get worse over time and the risk of developing venous ulcers is increased. If you have failed to get symptomatic relief with simply measures, it is common in the NHS to recommend surgical treatment with ligation and stripping. Varicose vein surgery is considered an obsolete technique for getting rid of unsightly and bulging varicose veins. The risk of complications after varicose vein surgery is much higher compared with more modern techniques of varicose vein treatment such as EVLA. Recurrence rates after surgery are much higher compared with endovenous laser ablation with up to 40% of patients developing recurrence of the varicose veins after only five years.
What are the best varicose vein treatments?
Centre for Surgery is a specialist centre for vein removal and we are committed to providing the highest standards of medical care with an emphasis on patient safety and achieving the best results. Our treatment philosophy is focused on providing the most clinically effective varicose vein treatment carried out under a local anaesthetic by expert vascular specialists. Virtually everyone who comes to see us is eligible for vein treatment. We do not offer varicose vein surgery as surgical ligation and stripping are associated with an unacceptably high complication rate and high rates of vein recurrence. Recovery after surgery is much longer compared with endovenous laser ablation.
RELATED: Varicose veins recovery
We focus on the three main varicose vein treatments including:
EVLA: endovenous laser ablation is considered the gold standard treatment for varicose veins as recommended by the National Institute for clinical excellence or NICE for short. EVLA is suitable for most patients and involves destroying varicose veins using precision laser thermal energy for permanent clearance. We have been able to achieve success rates as high as 97% after five years. Our vascular specialists are some of the top UK experts in EVLA and present their work at national and international meetings each year.
Sclerotherapy: this treatment is ideal for smaller varicose veins and thread veins. Liquid sclerotherapy can be used for smaller varicose veins although foam sclerotherapy is better for large veins which may be unsuitable for EVLA. The procedure is designed to create inflammation within the walls of the veins with the injection of chemical sclerosant leading to shrinkage and disappearance of the vein. Sclerotherapy takes no more than 45 minutes to carry out under local anaesthetic.
Phlebectomy: phlebectomy also known as a vein of oceans involves removing small varicose veins via tiny incisions. The veins are gently pulled out with a vein hook and the skin is closed with skin type with no need for stitches.
RELATED: The treatment of varicose veins
Getting the best possible outcomes after varicose vein treatments depends on an early and accurate diagnosis of your diseased veins using duplex ultrasonography. Your vascular specialist will perform a duplex ultrasound scan of your legs as part of your consultation. The ultrasound scan itself is free although it is priced at approximately £400 at other clinics.
Why choose Centre for Surgery for varicose vein treatment?
We are the leading private clinic for varicose vein removal in the UK.
All of our treatments are minimally invasive with little or no recovery required after the procedure.
Our vascular specialists are experts in endovenous laser ablation or EVLA for short and treat hundreds of patients each year.
We only carry out treatments that are approved by the National Institute for clinical excellence. Endovenous laser ablation is the gold standard treatment for varicose vein removal with an exceptionally high success rate compared with surgery.
A varicose veins consultation costs only £150 and includes a free ultrasound scan of your legs which is usually priced at £400 at other private clinics in London.
Most vein treatments take no more than 60 minutes to carry out and you'll be able to go home once the procedure is complete.
Our specialists are regularly invited to discuss the latest advances in varicose vein treatments in the UK and overseas.
We offer 0% finance for eligible patients.
Our prices are considered some of the most competitive in London and are highly transparent.
For further information, please get in touch with us today at 020 7993 4849 to book a varicose veins consultation with an expert vein specialist at our London Centre.
[trustindex no-registration=google]