What is VTE?
VTE is a name given to conditions including Deep Vein Thrombosis (DVT) or Pulmonary Embolism. A DVT is a blood clot that forms in the veins usually in the legs or pelvis and can cause severe pain and swelling. Part of these clots may sometimes travel to the lungs and can cause pain and shortness of breath.
What will be done to reduce the risk of VTE at the Clinic?
Your doctors will assess your VTE risk and if necessary they will prescribe certain measures to reduce this, these may include:
Anti-embolism stockings – for all deep sedation procedures you will be required to wear stockings for a minimum of 2 weeks post-surgery.
Compression Devices – after certain operations you may be fitted with a mechanical device, which inflates regularly to provide gentle pressure (on your leg for example). This can improve blood flow and may reduce the risk of clots.
Medication – you may be prescribed a daily anticoagulant injection, a form of heparin, which reduces the chance of problem clots forming.
If you are already taking anticoagulant medication such as Warfarin you will only be prescribed injections if you have to stop taking it. Remember to tell the Healthcare Team if you take Warfarin or any other anticoagulant medication.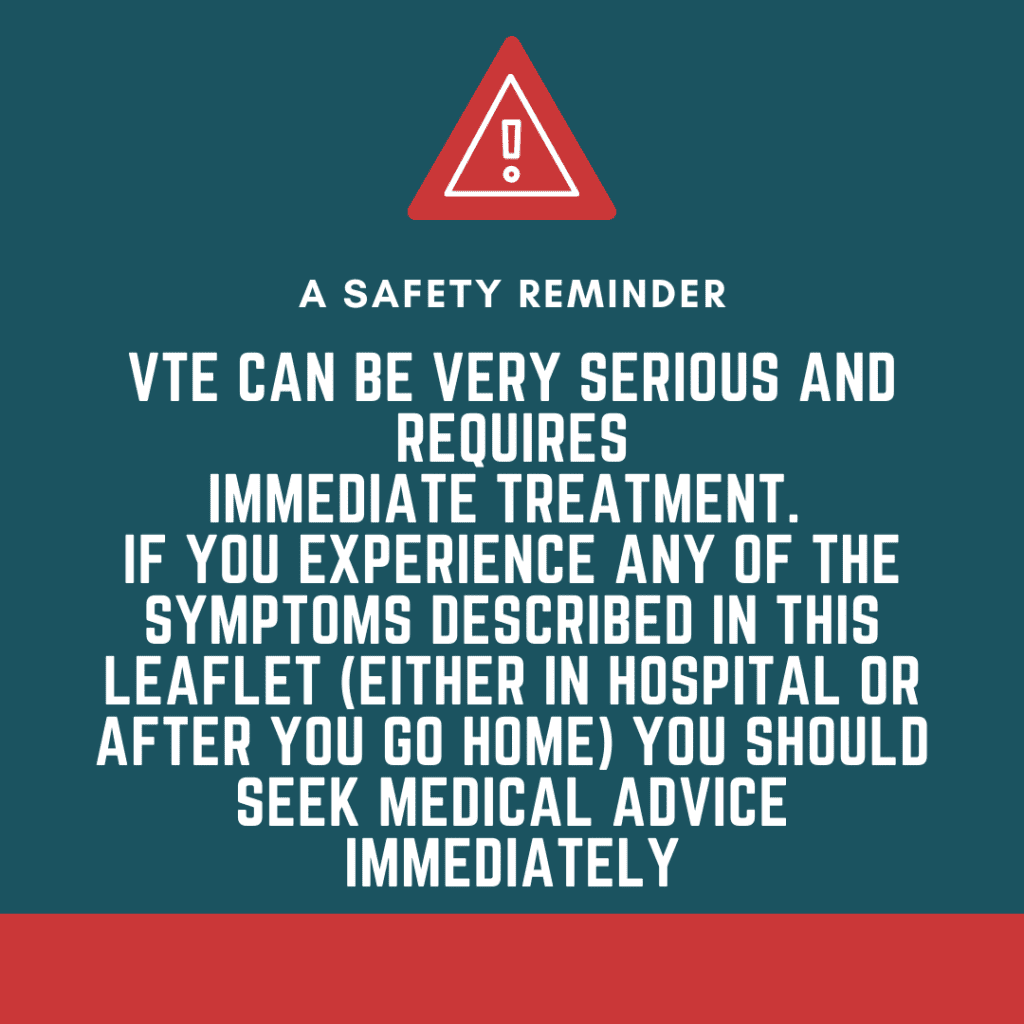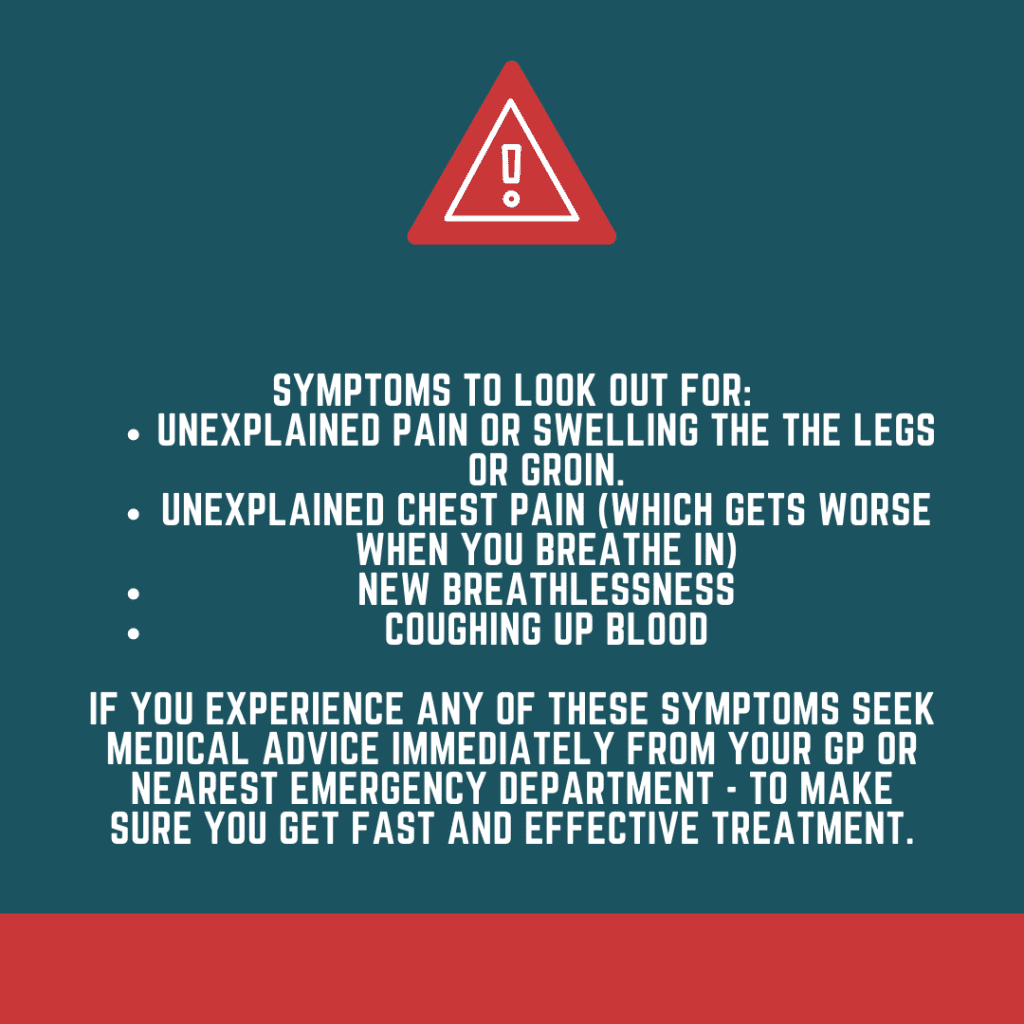 Could I be at risk?
VTE can happen to anybody at any time, but you are more likely to experience a VTE when you are admitted to hospital because of illness or for surgery. In addition, there are other factors that can increase your risk. These include:
Being aged 60+
Obesity
Having an active cancer or cancer treatment
Pregnancy
Undergoing certain types of surgery
Thrombophilia (a disorder which makes a blood clot.)
Inflammatory conditions such as Rheumatoid Arthritis, Crohn's Disease or Ulcerative Colitis
A personal or family history of VTE.
Some forms of renal failure
Medical conditions involving the heart, lungs, or infectious disease.
Reduced mobility
Varicose veins with phlebitis (pain and swelling
Taking homone replacement therapy (HRT) or Oral Contraceptive Pills.
CAN I DO ANYTHING TO REDUCE MY VTE RISK?
If you are having a planned admission:
Tell your medical team if you take contraceptive pills or hormone replacement therapy. You will be required to stop certain medications a few weeks before surgery.
Avoid long journeys (Over 3 hours without a break)
Keep your weight within healthy limits;
If you have been prescribed heparin injections it is important to administer these daily (usually starting the day before surgery). These should be continued until your doctor advises you to stop.
When in the clinic all patients should:
Keep as mobile as possible
Ask your doctor 'what is being done to reduce my risk?' if you are unsure.
If you can, drink plenty of fluids to keep hydrated.
What should I do when I go home?
• If you have been fitted with anti-embolism stockings continue to wear them until you have returned to your normal level of activity. It is important to wear them correctly; and put them back on after bathing to reduce the risk of clot formation.
• Some patients at higher risk may be prescribed anticoagulant medication. If you have any concerns about how to take your tablets or administer your injections please ask your nurse before you leave.
• Try not to become dehydrated and keep as active as you can.
• Avoid continuous travel of more than three hours without a break for at least four weeks after your admission.
Seek immediate advice if you experience any of the VTE symptoms listed.