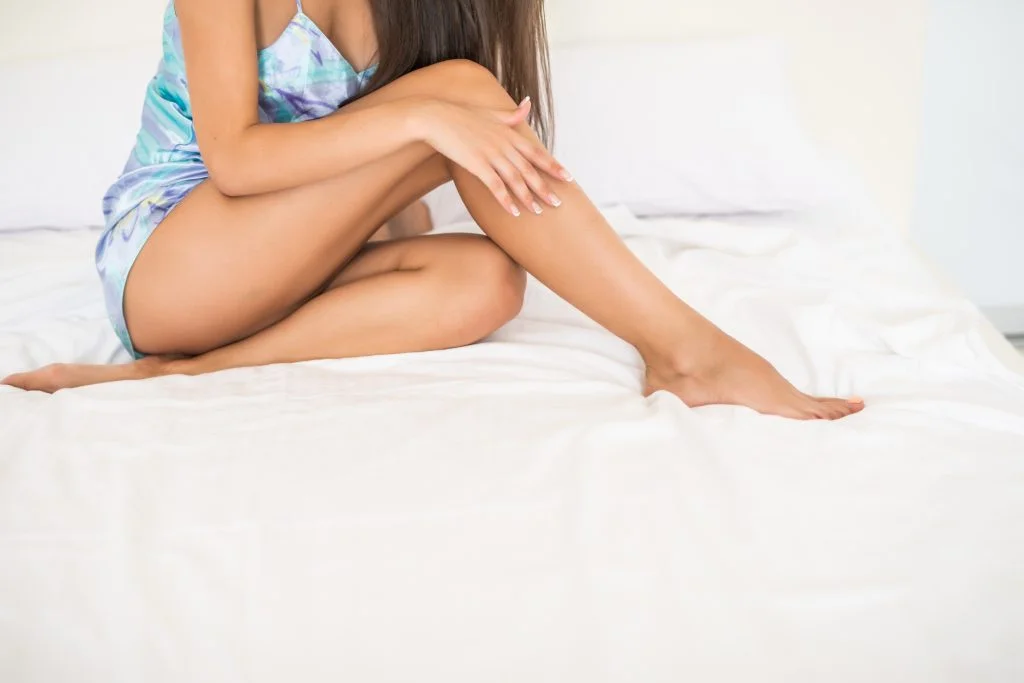 Spider veins, also known as thread veins, are not considered to be a dangerous condition although they often cluster in areas of the body that are often visible, such as the legs, and they are therefore viewed as a significant cosmetic nuisance. Sclerotherapy involves the injection of a chemical sclerosant, also known as microsclerotherapy, that can get rid of spider veins in a simple and quick procedure.
RELATED: How to get rid of thread veins
At Centre for Surgery, we understand that spider veins can affect not only your physical appearance but also your self-esteem and quality of life. Although most commonly found on the legs and thighs, these veins can indeed appear anywhere on your body and cause discomfort or insecurity.
RELATED: Visible Leg Veins – Causes & Solutions
Our Sclerotherapy treatment is highly effective in managing spider veins. This procedure involves the use of a sclerosant, a specialised solution that, when injected into the spider vein, disrupts the blood flow and causes the vein to shrink, close, and ultimately disappear over time.
Keep in mind that the process requires some patience – while it's a quick, minimally invasive procedure with no downtime, it usually takes a few sessions to fully get rid of the spider veins. But rest assured, our skilled and experienced professionals will be with you every step of the way to ensure the process is as comfortable and successful as possible.
In our hands, you can confidently bid farewell to those bothersome spider veins and look forward to showcasing your beautiful skin. Feel free to book a consultation with us to discuss your treatment plan and any questions or concerns you might have. We're here to help you feel comfortable and confident in your skin.
What are spider veins?
Spider veins often have a branching pattern that often appears spider-like. Spider veins are essentially enlarged capillaries and most commonly have a purple or blue appearance and their extensive branching pattern often resembles the legs of a spider. They can appear threadlike with a prominent branching pattern. Spider veins are also known as thread veins and most commonly develop on the legs although they can form anywhere on the body.
RELATED: What is the difference between spider veins and varicose veins?
Spider veins and varicose veins, although often confused, are distinct conditions.
Spider veins are smaller, and they tend to appear close to the surface of the skin. They might spread across the skin in a pattern that resembles a spider's web, hence the name "spider veins". They can be red, blue, or purple in colour, and they usually do not cause physical discomfort. However, their noticeable appearance can be bothersome for many, leading to a desire for cosmetic treatment.
On the other hand, varicose veins are larger and often more problematic. They tend to bulge out from the skin and might feel uncomfortable or even painful. The discomfort arises from the fact that varicose veins often result from weakened valves in the veins, leading to pooling of blood. This condition can require more intensive treatment, sometimes even surgery, especially if they lead to complications such as skin ulcers or blood clots.
At Centre for Surgery, we're focused on offering effective treatment for spider veins through Sclerotherapy. While it doesn't prevent new spider veins from forming, it can significantly reduce the appearance of existing ones, enhancing your confidence and comfort with your skin. Please do not hesitate to get in touch with us for a comprehensive consultation to discuss your specific needs and treatment options.
Sclerotherapy is a quick outpatient procedure without the need for anaesthetic or surgical incisions. Spider vein removal takes between 30 to 60 minutes to carry out, depending on the extent of spider veins. Your vein specialist will prepare a chemical sclerosant solution before precisely injecting it directly into the affected spider veins. Sclerotherapy treatment is designed to seal the vein and this leads to a diversion of blood flow through healthier veins in the area of treatment. The affected spider veins are gradually reabsorbed by the body which causes them to fade and eventually disappear. Sclerotherapy is not a painful procedure as the needles used for injection are very small. In some cases, the treatment may cause minimal discomfort, although this is associated with the treatment of larger areas. The vast majority of patients find sclerotherapy to be a very comfortable treatment.
Most people choose to have spider veins removed for cosmetic reasons. In some cases, spider veins may signify the presence of underlying varicose veins. This is why it is always important to have an ultrasound scan of the legs to rule out valve dysfunction in the deeper veins of the leg. Any treatment of spider veins in the presence of valve dysfunction will have a high likelihood of recurrence.
RELATED: Thread Veins Consultation
It is not entirely understood why spider veins form although the most likely explanation is the presence of valve dysfunction in the veins or weakening of the vein walls. The causes of venous insufficiency are often related to a number of factors. Spider veins and varicose veins occur more commonly in women compared with men and are often related to pregnancy, hormonal fluctuations or traumatic injury. Maybe people will develop spider veins as a result of genetics.
What does spider vein removal involve?
Initially, you'll need to book a face-to-face meeting with one of our dedicated nurses at our Baker Street clinic. This appointment is crucial for us to understand whether this treatment is indeed suitable for you. During this session, our nurse will take you through a comprehensive medical examination and will gather a detailed history of your health. This step is fundamental to ensure that we offer you the most suitable and effective treatment. We'll also have a detailed chat about whether this particular treatment aligns with your needs and the results you hope to achieve.
This treatment we offer is considered to be minimally invasive, which means it's straightforward, doesn't involve significant discomfort and doesn't require you to have any anaesthesia.
As for the length of the treatment, it typically doesn't take more than an hour. However, the exact duration may vary depending on the number of veins that need our attention. During the procedure, your provider will carefully inject the medication into the spider veins, as well as the veins that feed them, effectively reducing their visibility. We use a small needle to introduce the medication into the veins, which makes the procedure as comfortable as possible.
We aim to make the entire process as smooth and painless as possible, always prioritising your comfort and safety. At our Baker Street clinic, we're dedicated to delivering excellent results and ensuring you're pleased with the outcome.
RELATED: Thread Veins Treatment
For best results after sclerotherapy, we would recommend at least three treatments per spider vein. You can expect to see the final results of treatment after the third session of sclerotherapy for spider veins.
Case 1: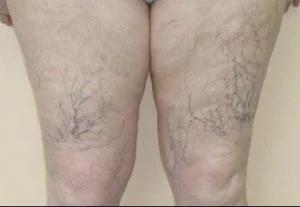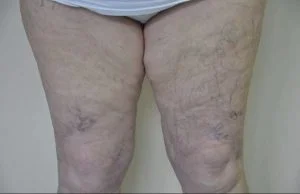 Case 2: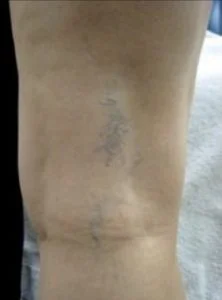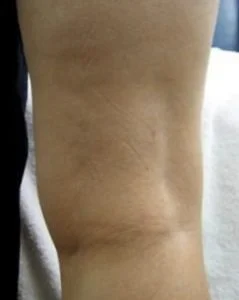 Case 3: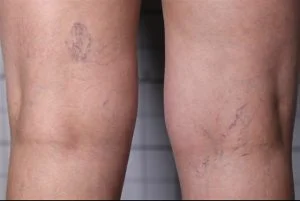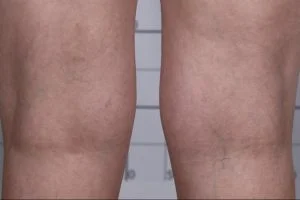 Recovery after sclerotherapy for spider veins
Sclerotherapy for spider veins does not involve any downtime and patients can return to their normal activities immediately after the procedure. It is normal to have localised bruising areas at the treatment site. There may be areas of tenderness and itchiness which usually settle down after a few days. Any red dots at the sites of the injection will resolve after seven days. To minimise the risk of infection, you should avoid swimming pools or Jacuzzis and you should refrain from any heavy lifting for at least three days after treatment. Mild exercise is absolutely fine. The areas of treatment should be covered for at least five days to avoid excessive sunlight exposure causing pigmentation.
Best results can be achieved by regularly applying arnica cream to accelerate healing and wearing the prescribed compression stockings for a minimum of seven days after treatment. Your vascular specialist will give you detailed care instructions once your treatment is complete.
How much does sclerotherapy cost?
The cost of sclerotherapy will depend on the number of treatment sessions needed. At your face-to-face consultation, you will be clinically assessed and the doctor will then prepare a customised treatment plan that is designed to get rid of spider veins.
RELATED: Thread Vein Treatment Prices
Sclerotherapy injections cost £275 per treatment session. Specialised compression stockings cost £65. A follow-up appointment with your vein expert costs £75. Each set of injections is classed as one treatment. The amount of sclerotherapy that can be performed in each session must be kept below the maximum safety limits to prevent the risk of complications from occurring. You may need further follow-up treatments which will depend on the outcome achieved at your first treatment. It is normal to have multiple treatment sessions with sclerotherapy for effective clearance.
Could Sclerotherapy Be the Right Choice for You?
Sclerotherapy is a procedure generally suitable for those who have spider veins and are in good overall health. It's often performed for aesthetic purposes, providing an effective way to improve the appearance of spider veins, which may be a variety of colours such as blue, red, or purple and often have the look of tangled spider webs or tree branches. However, if your spider veins cause discomfort, sclerotherapy can also help alleviate this. If you're unhappy with how these veins make your skin look, then sclerotherapy might just be the solution you're searching for.
When Sclerotherapy May Not Be Suitable
There are certain circumstances where sclerotherapy wouldn't be recommended. If you're pregnant or currently breastfeeding, this procedure isn't suitable. Similarly, if you have an allergy to the medication that is injected during the treatment, or if you have specific underlying health conditions that could worsen as a result of the treatment, you wouldn't be considered a candidate for sclerotherapy. All of these factors will be thoroughly assessed during your free consultation, following a detailed review of your medical history.
When Will I Start Seeing Results?
Sclerotherapy isn't an instant fix – it requires a series of treatments to deliver visible results. You should expect a minimum of three sessions focusing on the same vein before noticing any improvements. This means you won't see an immediate change after just one treatment. Commitment is key with sclerotherapy to ensure successful results.
Will Multiple Treatments Be Required?
Yes, multiple treatments are indeed necessary, and a more tailored treatment plan will be discussed during your initial consultation. Sclerotherapy is an ongoing process, much like maintaining good oral health with regular dentist visits for cleaning. It's important to understand that your body may reopen treated veins or create new ones, so maintaining the results of your treatment is essential for long-term success. This might mean scheduling visits every 3 or 6 months, or perhaps annually, depending on how your body responds to the treatment.
How long does sclerotherapy last?
Although treatment for spider veins achieves fast and effective clearance, spider vein removal is not a permanent procedure. If a patient is already prone to developing spider veins, it is virtually impossible to prevent new spider veins from forming. Despite this, spider veins are very amenable to treatment and can be fully removed using microsclerotherapy.
RELATED: Can Sclerotherapy Get Rid of Spider Veins?
The extent of spider veins varies between individuals, and the number of treatments required will often depend on the way people respond to treatment. Many people will require maintenance injections every 3 to 6 months, while some may only require treatment once a year. The number of sclerotherapy injections for spider veins required will be determined once you have had a face-to-face consultation with an expert vascular specialist.
Sclerotherapy injections are available at our Baker Street clinic in Marylebone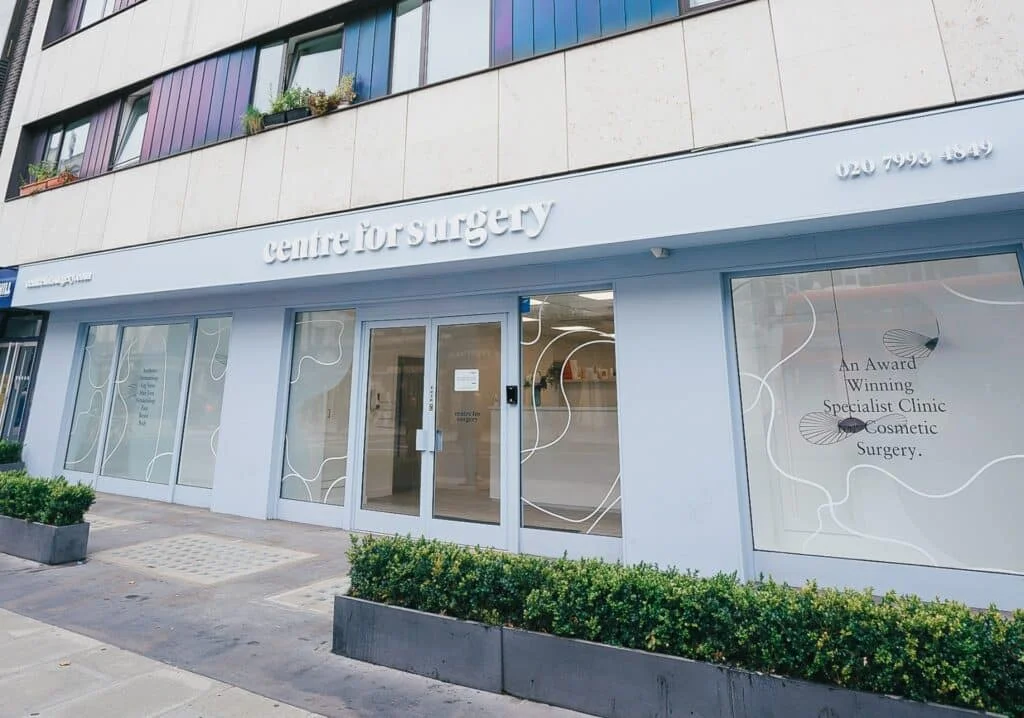 Call us today to book a consultation for spider vein sclerotherapy treatment at 020 7993 4849 or complete the contact form below.