Chin augmentation and chin implant surgery in London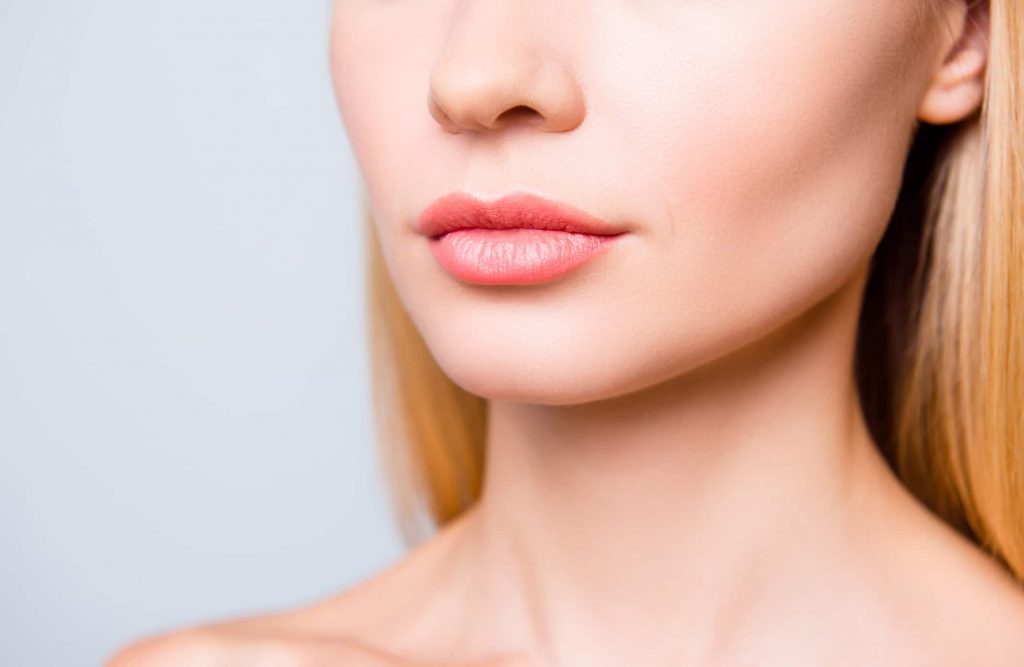 Chin augmentation surgery involves using a specially designed chin implant to increase the size of a weak or recessed chin and therefore create an improved sense of balance in facial proportions. There is also a more invasive option of chin augmentation using a technique called a sliding genioplasty. This is where the bone of the chin is cut using a specialised device called a Piezotome and then secured in its new position. Chin implants are generally much more commonly used as the procedure is more straightforward to perform and gives consistently good results. There is also a non surgical method to improve chin projection using HA fillers to increase volume and sculpt the chin in the clinic setting. Chin augmentation using chin implants is also performed in conjunction with a rhinoplasty to restore balance to the face and improve facial aesthetics. Chin implants may also be combined with facelift surgery for a more defined chin and jawline.
Always check that your surgeon is on the GMC specialist register for plastic surgery before proceeding with a consultation. All our surgeons are fully accredited plastic surgeons and only perform procedures in CQC regulated facilities. Our clinic at 106 Crawford Street was recently inspected and rated as good across all 5 domains.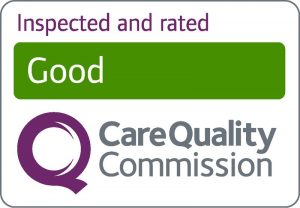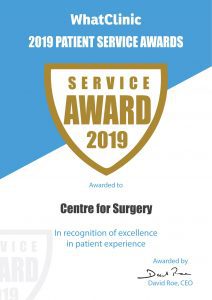 What is included in my treatment package?
As many preoperative consultations with your surgeon as you like to make sure the procedure is right for you
Treatment at a specialist day surgery facility recently rated 'Good' by the CQC
Enhanced same day discharge with the added benefits of recovering in your own home
24/7 clinical support from your surgeon for first 48 hours and our expert postoperative support team
Your very own dedicated patient coordinator
In-depth preoperative medical assessment to make sure you are fully fit for the rhinoplasty procedure
Exceptionally high standards of postoperative care described as 'outstanding' by the CQC with regular telephone and face to face checks by our expert postoperative support team
RealSelf Top Doctors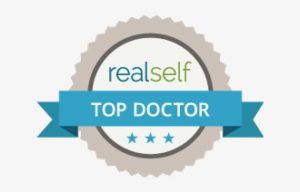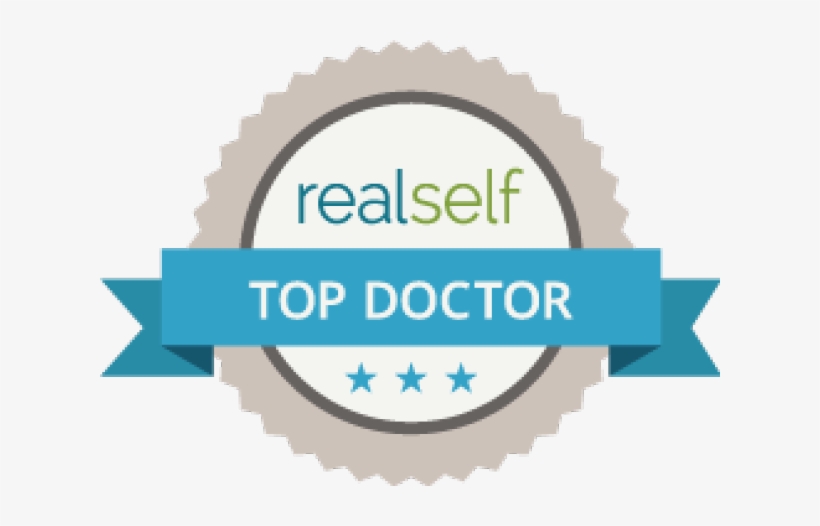 RealSelf top doctor status is awarded to less than 10% of the RealSelf doctor community.  This status is earned by achieving consistently high patient satisfaction (from RealSelf reviews), getting excellent feedback on expert answers to patient questions, and after investing significant time in Q&A and other doctor activity. RealSelf top doctors are rated among the very best surgeons in the United Kingdom and USA.
Would highly recommend Centre for Surgery. Very professional staff who supported me through my entire journey from initial consultation to the procedure. Always on hand to answer any questions I had and thoroughly explained the procedure and associated risks to ensure I was well-informed.
Amazing, exceptional, professional and quality service! From the initial request for more information until the day of procedure and after the procedure. The constant calls and emails from the team made me feel as if I was relevant and showed me that my business was important to them. Dr. Mitakos, Carolyn, Samira and Natalie (recovery nurse) OUTSTANDING, OUTSTANDING, OUTSTANDING!!! Dr. Mitakos was thorough and made sure to be honest about the procedure and my results. It's been a week post-op and I'm in love! Even with swelling in some areas!! I couldn't have asked for a better Dr. He was very professional, kind and genuine. Carolyn, Samira and Natalie are angel sent! They were so kind, caring and ensured that I was well taken care of days leading up to the surgery, on the day of surgery and during recovery. I would recommend Centre for Surgery to anyone who wants to get surgery to feel better about themselves.
Amazing service from start to finish, extremely professional staff and surgeons. Special thanks to my Consultant Plastic Surgeon Dr Ertan Erel was brilliant and made me feel so calm and confident from the moment we met through my consultation . He is definitally second to none.. I would recommend Centre for Surgery in a heart beat.
Recommend highly!! Always wanted a breast augmentation and never had the nerve to go through with it. Until i got Recommended center for surgery and spoke to carolyn and the ball got rolling 🙂 meeting dr tillo for a couple consultation made me certain i wanted it and i would be in great hands. The day of the surgery i was nervous but having such a great support team from the nurses and care team was a massive relaxation. And the aftercare is amazing. They check in with you every over day and i could contact them if needed for anything. I could name so many great people that helped me throughout my journey but dr tillo is amazing with what he does. And carolyn was and still is the best person to organise and help me with everything throughtout.
Absolutely amazing service from start to finish. I have been looked after the whole way through the process, from initial conversations, consultation, to having my surgery and being looked after by the brilliant aftercare team. I could not recommend Dr Omar Tillo enough, lovely surgeon who was honest with me throughout and made me feel so comfortable.
Domenico Betti
24/03/2021
Really wonderful experience, Jasmin the receptionist was very helpful and sweet she assisted me throughout my appointments, bookings and payment. The day of my surgery I was extremely nervous and very anxious, I was booked in for upper eyelid surgery ( Blepharoplasty ) First I was met with the lovely Gregory who I could not have asked for such a lovely kind person to be the Surgeons right hand man, he made me feel at ease straight away and as comfortable as possible. I then met my Surgeon Dr Ertan Erel who was also wonderful ( I had previously met him 2 weeks before for my consultation) I had a instant liking to him and felt comfortable with him performing the procedure on me. I had the treatment with Local anesthetic so I was fully awake and aware of what was going on, again I was extremely nervous and felt like I was having a small mini panic attack when we started but both Dr Ertan Erel and his assistant Gregory both made me feel at ease and as relaxed as they possibly could, we even had some 80s music on that helped to calm me down, Gregory was holding my hand the majority of the time and was having a chat with me that made me feel so relaxed, I could not have asked for 2 lovely men to have worked on me. Both the Surgeon and his assistant are as important as each other when you have a very nervous patient like myself. I have not had any complications since leaving the clinic and so far I am really so happy I can already see the amazing results. Dr Ertan returned my call back two days later to make sure everything was ok and how I was getting on ( that was very reassuring ) Very exited to get my stitches out in a few days. I could not give less than 5 stars so thank you very much. I will definitely be recommending. Verity.
Well where do I begin. So I am 6week post surgery and I couldn't be happier with my results. I done endless research on the procedure I wanted doing and where is best in England and Centre for surgery was the strongest contender and I felt super confident in the reviews and before and after photos they have online. So my journey started when I emailed centre for surgery for more information about liposuction and fat transfer with Dr Antonios Mitsakos. I then was contacted by Yasmin, she called me for a chat about what I'm after and to discuss options etc. She was incredible with getting my consultation and day of surgery booked as soon as she could and was on the end of the phone with any questions you had any time of day. As a first point of call Yasmin set a very high standard for the company and I was confident in my choice. I went for my consultation with Dr Antonios Mitsakos to discuss the procedure in much more depth, he went though all the risks, told me all the information I needed, we looked at my body to see if it's something he would be happy to do for me and went through all the aftercare I would need to do as well. We went through my medicals and talked about previous surgery I already had. He was so professional so informative that I literally wanted the surgery there and then. I left super happy and excited for my surgery date that was booked in. Before my surgery date I got phone call to go through all the paperwork and guidelines I had to follow and all the prep I needed to do before hand, I was told what garments were best to purchase and all the necessary bits I needed to by prior to the day. That support team were amazing and also answered any questions I had. So the day of my Surgery came and I was so calm but excited because I felt my care already had been great so I knew I was in safe hands. I had my nurse meet me to go through all medicals again, she helped me get prepared and dressed for the op and get everything ready. I then met my anaesthetist to also went through my medicals and asked all the relevant questions, gave me my pre meds and told me what he will be doing. I was super confident and he was very reassuring. Then Dr Antonios Mitsakos had my final chat before surgery checking everything through with me, confirming what he was going to do and where he was removing the unwanted fat and where he was going to transfer it too. He made me feel super comfortable and confident that I was in the right hands. I went into that theatre room a woman so unhappy with her body and when I woke up I was a new woman physically and mentally. Every single day for 2 weeks after my op I had a phone call to check in that I was doing ok and if I have any issues or concerns. The support team were absolutely amazing. I've just had my 6 week post op appointment with Dr Antonios, he again showed me my before photos and took new after photos and honestly the results are unreal. He has given me the body confidence I have never ever had and I can't thank him enough for his amazing skills and the transformation he has achieved. Thankyou so much to all of you that looked after me though out this whole procedure and a special Thankyou to Dr Antonios for changing my confidence, my body and my life. I'll be back again for more.
The service has been so far excellent and is highly recommended to anyone.
I recently had surgery here and would definitely recommend, from initial contact from Carolyn to the aftercare I received was exceptional, Carolyn was very helpful and informative and answered all my questions - even the silly ones late at night! Dr Tillo was very knowledgable, professional and welcoming at the same time and put me at ease about the procedure, it's still early but so far I'm pleased with the results
| Chin augmentation | Fast facts |
| --- | --- |
| Procedure time ⏳ | 1 hour |
| Anaesthetic type 💉 | LA or GA |
| Length of stay 🛏 | Day case |
| Up and mobile 🚶🏻‍♂️ | Same day |
| Washing 🛁 | 7 days |
| Sexual activity ❤️ | 4 weeks |
| Back to work 📅 | Next day (desk work) |
| Driving 🚗 | 3 days |
| Postoperative garment 👕 | Not required |
| Sleeping 😴 | On back 1 week |
| Exercise 🏃🏽‍♀️ | 4 weeks |
| Full recovery 🕺🏻 | 6 weeks |
| Final results 😃 | 6 weeks |
Why choose Centre for Surgery?
Over 15 years experience with all types of chin augmentation surgery – chin implants and sliding genioplasty
We regularly receive patients from overseas at our facial plastic surgery specialist centre
Our surgeons are UK trained NHS consultant plastic surgeons who live and work in the UK. We don't work with 'fly-in, fly-out' surgeons from other countries. This is very important because whilst your surgeon takes all precautions to minimise complications, complications can and do occur and our surgeons are readily available to manage any issues if and when they arise.
We own and manage our own surgical facilities. Properly performed eyelid surgery takes time and should not be rushed. Our surgeons perform a maximum of three blepharoplasty procedures in a day. We do not cram 5-6 procedures into one day like other providers. You want your surgeon to be well-rested and mentally and physically sharp to perform eyelid surgery which is a very intensive procedure to get the very best results.
Trust a facial plastic surgeon for chin implant surgery
A facial plastic surgeon is trained to undertake aesthetic surgical procedures in the facial region. They are dedicated sub-specialists. Compared with general plastic surgeons, facial plastic surgeons are inherently better trained to perform delicate procedures in the eye region. The extra years of surgical training by facial specialists focused on the facial region results in an exceptionally high degree of skill. Blepharoplasty surgery is highly intricate and our surgeons are highly experienced to undertake surgery on the delicate eyelid region.
Our surgeons are full members of: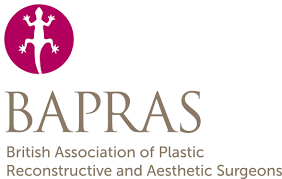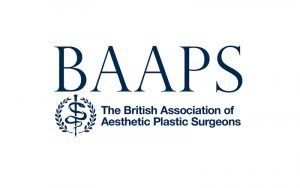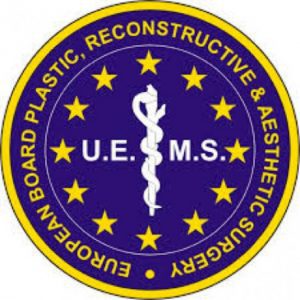 What do our patients have to say about us?

Danielle Palmer
24/07/2021
Amazing!! I had a labiaplasty done recently and could not fault the practice on anything. The results themselves snd the experience I had with the team has been incredible
Thiago Ferreira
06/07/2021
I got in touch with the staff and they promptly got back to solve my concerns even if for some reason we had a gap in comms they were able to get back to me and answer my questions Thanks for the good customer service.
Everything was great from start to finish. Was easy and straight forward. Would highly recommenced using Centre for surgery to have a procedure.
I had an osteoma removed from my forehead with Dr Omar Tillo and I couldn't have asked for a better result! I had been researching for a long time before deciding to go ahead with the procedure as I knew I didn't want to swap a bump on my forehead with a scar. Dr Omar Tillo was able to successfully and skilfully remove the osteoma endoscopically and I was left with a very small inconspicuous scar, less than 1cm, hidden nicely behind my hairline. I couldn't be happier with the end result. All the staff at Centre for Surgery were brilliant. Carolyn, my patient co-ordinator was very helpful, patient and always had time to answer my questions. On the day of the procedure, Dr Omar Tillo and Gregory were amazing! They were very professional and made me feel at complete ease. I experienced very little discomfort during and after the procedure. The whole thing was a breeze and my only regret is that I didn't do it sooner. The after care was also amazing and I healed very quickly. I would like to take this opportunity to thank Dr Omar Tillo, Carolyn, Gregory and all the staff at Centre for Surgery. I would highly recommend Dr Omar Tillo and Centre for Surgery!
I had a smooth procedure all throughout. Staff were very compassionate and caring.
Chin Augmentation Expected Results
Improved chin volume and balance with the rest of the face
Reduction of double chin appearance because of a recessed chin bone
Imprive projection of a recessed chin
Improved neck and jawline contours
Reduction in appearance of jowls when performed as part of a facelift
Correction of facial asymmetry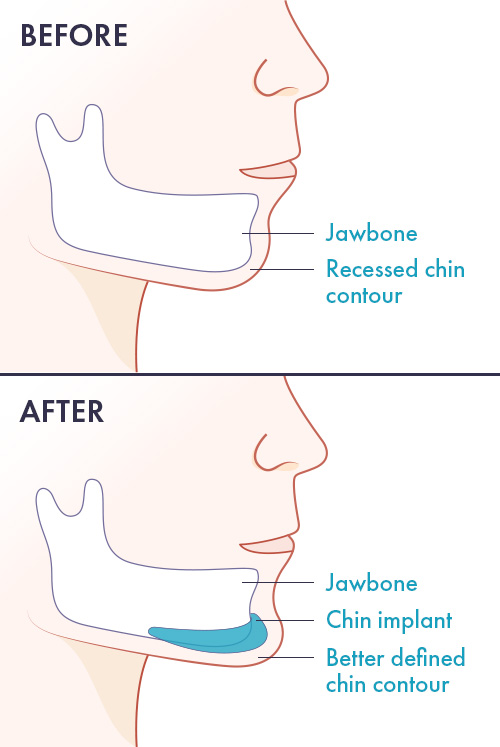 I had an excellent experience with the Centre for Surgery. I had my questions answered by the friendly patient coordinator and was able to book a consultation with the surgeon in a timely manner. The procedure was explained and my expectations were discussed. I had a brilliant result and smooth recovery following my surgery!
Ideal Candidate for Chin Augmentation
The patient with chin recession with impact on overall facial aesthetics
Preference for a more well defined jawline
Presence of submental volume contributing to a double chin appearance

All patients should be in good health and have realistic expectations about what can be achieved with chin implants surgery.

Non smoker
We do not treat patients below the age of 18 years of age.
Are you a good candidate for chin augmentation ? You may wish to look at what finance we have available.
The consultation begins by having an opportunity to discuss your ideas, concerns and expectations about the chin implants procedure with your surgeon, and ask any relevant questions you may have.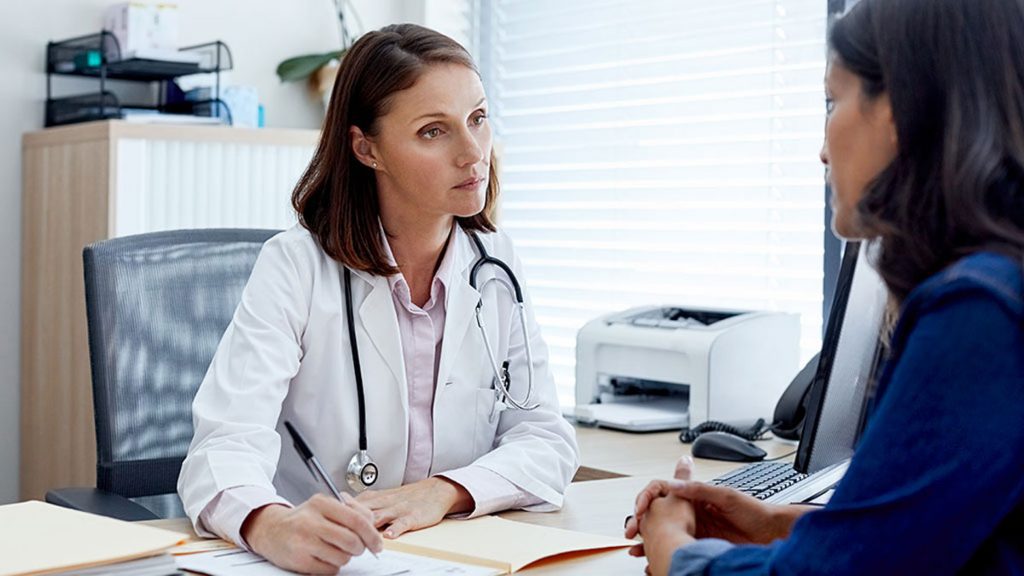 Your chin implants surgeon will:
Take a focused history and examine you

Explain the chin implants procedure

Take your needs and preferences into account when deciding on the most appropriate treatment option for you
Some questions you may want to ask your surgeon include:
Am I suitable for chin implant surgery
What results can I expect to achieve?
Are my expectations realistic?
What should I be doing pre and post-op to get the best results?
Can I view before and after photos of similar patients undergoing chin augmentation surgery?
What should I expect in the recovery period?
What scars are involved in chin implant surgery?
Is chin implant surgery painful?
When can I return to work?
Your surgeon will also explain the potential risks and complications associated with chin implant surgery in addition to what to expect in the period after your procedure. The surgeon will record your past medical history including any previous procedures on the face and whether you are medically fit for the procedure. Surgeons who specialise in chin implant surgery can be either from a plastic surgery, ENT surgery or maxillofacial surgery background. All three specialities are fully trained to perform chin implants. Prior to undergoing any surgery, make sure you are aware of the risks involved with travelling abroad and seeing a surgeon who may not be qualified to perform this procedure.
Preparation for chin augmentation
At Centre for Surgery, the success of any procedure including chin augmentation can be optimised with thorough patient preparation. Our surgeons strive to above and beyond to ensure that all patients are well prepared for surgery – mentally, physically and emotionally.
Chin Augmentation Surgical Techniques
There are 2 well recognised techniques for chin augmentation – chin augmentation with implant or a sliding genioplasty.
Chin implant surgery is a safe and effective way to make your face in proportion. Chin implant surgery is often combined with rhinoplasty surgery for optimum profile aesthetics.
Prior to surgery, your surgeon may be able to show how your facial proportions may be enhanced with the chin implant using a 3D reconstruction.
The surgery may be performed under a local anaesthetic or a general anaesthetic. With a local anaesthetic, you will be awake throughout the procedure, but you will be unable to feel any discomfort and you have the option of oral sedation combined with the local anaesthetic if you prefer to be a little drowsy. Chin implant surgery is performed as an outpatient procedure, so you will be able to return home once the effects of the anaesthetic have worn off.
Modern chin implants are made of silicone that does get rejected by the body immune defences.
There are 2 methods of implant insertion:
Under the chin approach
Inside the mouth approach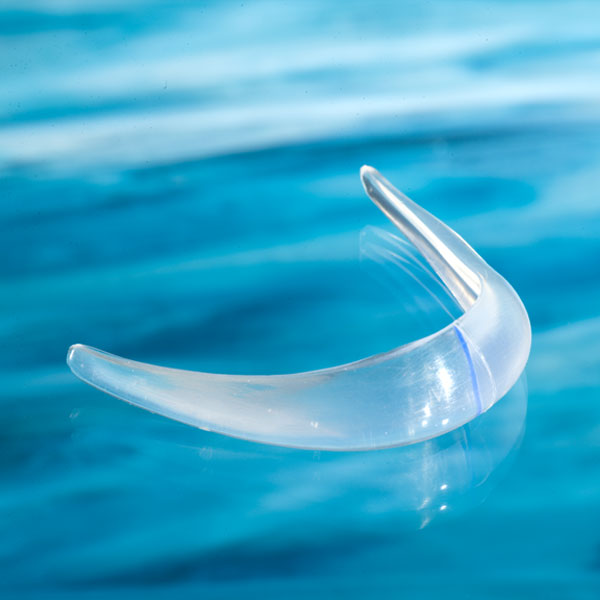 A well fitting implant sits on top of the chin bone and well concealed beneath the skin. At Centre for Surgery, the surgeon prefers to make a small and well hidden incision beneath the chin for optimal implant placement. The under the chin approach is preferred because the surgeon has better direct visualisation during the procedure to optimise correct placement of the implant. The recovery is also quicker and less painful. The inside the mouth approach has an increased risk of nerve injury to the small nerves that supply sensation to the lip. The risk of infection is also increased with the intra-oral approach.
Chin implant insertion: step by step
STEP 1: 3D computer imaging to plan the correct size of chin implant.
STEP 2: Preoperative marking under the chin with the initial incision. The surgeon will accurately mark the skin incision with an indelible marker pen. The incision will be made as inconspicuous as possible to facilitate correct chin implant placement.
STEP 3:Chin implant packet creation – a pocket will created for the chin implant to be placed in under the chin.
STEP 4:  Chin implant insertion – the chin implant will be carefully slid into position to sit directly on top of the chin bone.
STEP 5: The wound is closed with absorbable sutures.
STEP 6: A postoperative compression garment will be applied.
Sliding Genioplasty
A sliding genioplasty is a more complex method for chin augmentation that is performed by maxillofacial surgeons. In the sliding genioplasty procedure, the jaw bone is cut using a powered mechanical cutting device and the lower part of the jaw is advanced forward and secured with titanium metal screws. The principal advantage of a sliding genioplasty compared with a chin implant is the ability to alter both chin height and chin projection. Some patients may be apprehensive at the thought of having a foreign implant inside them. A sliding genioplasty is a much a larger procedure with more potential risks and complications than a chin implant procedure and is always performed under a general anaesthetic. Chin implants in many cases can be inserted under a local anaesthetic with oral sedation. At Centre for Surgery, we do not currently perform the sliding genioplasty procedure but are able to refer you to an appropriate specialist in maxillofacial surgery if you prefer to have this procedure.
Would highly recommend Centre for Surgery. Very professional staff who supported me through my entire journey from initial consultation to the procedure. Always on hand to answer any questions I had and thoroughly explained the procedure and associated risks to ensure I was well-informed.
Cost of Chin Augmentation with Chin Implants
There are a number of factors which will determine the overall cost of your chin augmentation with chin implants procedure and the final quotation will be given after your face to face consultation with your specialist plastic surgeon.
Chin augmentation technique – chin implants or sliding genioplasty
Local anaesthetic or general anaesthetic
Performed alone or combined with rhinoplasty or facelift
Primary or revision chin augmentation
Standard or custom-made chin implant
Why not call 0207 993 4849 and speak to one of our expert patient coordinators who may be able to give you a rough costing prior to your consultation for chin implants.
Always remember that price should never be the determining factor when it comes to choosing your provider. We feel that safety and quality of service should be your number one priority and instilling in you the confidence that our team will look after you before, during and after your procedure to the best of their ability.
Recovery after Chin Augmentation
During the recovery period for your chin implant surgery, you may feel some pain and discomfort for the first few days. You can ask your surgeon what pain management medications are appropriate to take during this time. You may experience some bruising and swelling, but this is a normal side effect. To reduce this, you can apply a cold compressor.
You will have to be on a soft diet for 10 days while the incision heals. You will have to avoid vigorous physical activity for four weeks.
The sutures will be removed after one week. You will also be given antibiotics to take for a week to ensure you do not get any infections.
Risks and complications of chin augmentation with chin implants
Chin augmentation using chin implants is a popular procedure at Centre for Surgery. Chin augmentation surgery can be combined with a number of other facial cosmetic procedures including rhinoplasty, submental liposuction and facelift. At your consultation, your surgeon will discuss in detail the potential risks and complications associated with chin implant surgery.
Risks of chin augmentation with chin implants:
Anaesthetic risks
Bleeding
Infection
Delayed wound healing
Nerve injury leading to temporary or permanent loss of sensation
Chin implant malposition
Facial asymmetry
Requirement for revision surgery
Chin implants cost
There are a number of factors which will determine the overall cost of the chin implants procedure and the final quotation will be given after a face to face consultation with an expert plastic surgeon at Centre for Surgery.
Chin implants alone or combined with rhinoplasty or facelift surgery
Local anaesthetic or general anaesthetic
Primary or revision chin implant procedure
Why not call 0207 993 4849 and speak to one of our expert patient coordinators who may be able to give you a rough costing prior to having a consultation for chin implant surgery.
Always remember that price should never be the determining factor when it comes to choosing your provider. We feel that safety and quality of service should be your number one priority and instilling in you the confidence that our team will look after you before, during and after your procedure to the best of their ability.
Spread the cost of your procedure

Centre for Surgery are fully approved to offer finance for chin augmentation surgery via our specialist finance partner, Chrysalis Finance. You no longer need to use your savings to pay for your treatment – you can apply to spread the cost of your procedure with Chrysalis Finance using their simple 1,2,3 application to pay for your procedure. Don't wait until you have enough money for your treatment, apply today and (subject to status) pay for your procedure easily in monthly instalments, using one of their payment options. Chrysalis Finance is the only ethical provider who focus solely in the provision of specialist financing for medical procedures.
The Centre for Surgery approach to aftercare
Our aftercare programme was recently described as 'outstanding' by our regulator, the Care Quality Commission. 
Our postoperative support team phone all our patients the day after their chin implant procedure and then every other day thereafter for the first two weeks. The proactive nature of our postoperative support gives every patient the best opportunity for a smooth postoperative recovery free of complications. In many cases if complications were to occur, their impact is markedly lessened by early detection, prompt clinical assessment and correct treatment. Where a patient expresses concern to our team over the phone, then we often call patients in the same day for assessment with one of our expert nursing team. Even if there is no significant issue, the careful explanation and calm reassurance provided by our team can help to alleviate any worries you may have experienced.
What To Expect
The chin augmentation consultation
We always recommend a face to face consultation with one our expert plastic surgeons as a first step in your journey towards achieving a more defined chin. When you meet with one of our surgeons, your surgeon will take time to listen carefully to what you hope to achieve from having chin implants and give you an expert opinion on what can and cannot be achieved after performing a thorough physical examination. Your surgeon may use computerised digital imaging to map the structure of the chin region in detail to give you an idea of what your chin could look like after your procedure.
Your surgeon will also take a number of measurements as part of a detailed facial analysis. Finally high resolution photographs are taken in a number of views. Your surgeon will also discuss with you the potential risks and complications of chin implant surgery and what to expect in the postoperative phase during your healing and recovery. It is important to know what medicines you taking as some medicines can interfere with blood clotting and may need to be stopped. Any history of medical conditions or previous surgery will also be recorded and all the compiled information is used to make a decision on your medical fitness for the chin augmentation procedure. After a recommended two week "cool off" period and provided you are appropriate for the procedure, you can then make an informed decision on whether you would like to proceed with the chin augmentation procedure. If you are unsure on any aspect of the chin implant surgery procedure and what it entails then we would invite you to return for as many follow-up consultations with your surgeon as you like to make sure that chin implant surgery is right for you. The consultation lasts about 45 minutes on average. It may take longer if your procedure is going to be more complex. We would actively recommend coming in for a follow-up consultation to ensure all your questions are answered.
Before your procedure
Once you have decided to move forward with chin augmentation surgery with a chin implant - a preoperative assessment will be arranged. Our preoperative assessment team will be in touch to assess medical fitness prior to coming in on the day of surgery. There are a number of instructions to follow before your procedure including stopping any aspirin containing medicines as these can increase bleeding and ideally stopping smoking. Smokers have a higher risk of slower wound healing as well as more chance of wound complications. On the day of your procedure, you must follow the preoperative fasting guidance which includes no food for 6 hours prior. Only clear fluids (water) is allowed up to 2 hours before your procedure. If you have chin implant surgery under local anaesthetic only, there is no need to fast beforehand.
On the day of your procedure
When you arrive for your chin implant procedure, you should aim to arrive on time to allow the admission process to proceed smoothly. One of our nurses will formally admit you and will check a number of items including making sure you have your postoperative medications. You will have your vital signs measured including blood pressure and heart rate. The anaesthetist will then meet you to perform a preoperative airway assessment. Finally your surgeon will consent you for the planned procedure followed by a detailed preoperative marking of the areas to be treated. Chin implant surgery takes about 1 hour to perform and if you choose GA, our anaesthetists use TIVA general anaesthesia to keep you comfortable throughout the procedure. The surgeon makes a small incision beneath the incision followed by the creation of a small pocket for the chin implant. The chin implant is then carefully inserted and secured with sutures. The skin will then be carefully closed using fine sutures. After the procedure is complete, you will spend time in our recovery suite where you will be prepared for nurse-led discharge once you have met all the discharge criteria. It is important to have a responsible adult such as a friend or family member to accompany you home and to look after you for the first 24 hours.
After your procedure
Once you are safely at home, you can be assured in having access to our specialist postoperative team round the clock. You will be given a contact number to contact your surgeon in the first 24 hours after surgery if there is any concern. Chin implant surgery is associated with very little in the way of postoperative discomfort although a bruised and swollen appearance is common for the first week after surgery. Bruising should start to subside after 7-10 days. You should avoid intense sunlight after the procedure to reduce the risk of pigmentary changes to the incision.

Our postoperative team will look to call everyday for the first 2 weeks after your procedure. This is so we can monitor your levels of comfort and can alert your surgeon if there is any concern. Our proactive approach allows the detection of any potential issues early which results in more effective treatment. You are advised to rest for at least a few days after your chin augmentation procedure which will also help with pain control. Heavy exercise should be avoided for at least the first 4 weeks. Our postoperative clinical team will assess you face to face at your 1 week postoperative appointment to ensure healing is progressing normally and the wounds site are healthy. Your sutures will be removed if your surgeon used non-absorbable sutures. You will be booked for your surgeon follow-up appointment for 6 weeks after your procedure.