Chin Reduction Surgery in London & UK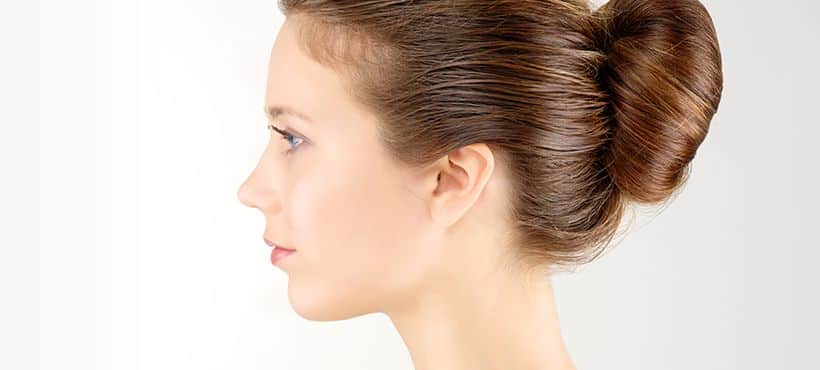 Chin reduction surgery, also known as mentoplasty or profilepasty is designed to reduce the size of an excessively large chin by surgically removing and reshaping the chin bone. Both women and men come to us looking to find out ways of improving their facial appearance on profile view. The rise of social media and selfies has led many people to seek aesthetic improvement of their facial features for a boost in self-confidence. Many people feel they have an excessively large chin which is out of proportion with the rest of their facial features. Our surgeons are trained specialists in facial cosmetic surgery and regularly perform chin reduction to improve the size and shape of the chin. Chin reduction surgery is commonly combined with a rhinoplasty to restore balance to a person's face.
What does chin reduction involve?
Chin reduction surgery is a type of genioplasty that is designed to reduce the size of an overly protruding chin. The procedure is most commonly performed under general anaesthetic and takes approximately two hours to carry out depending on the degree of surgical correction required. Once a patient has been anaesthetised, the surgeon will make incisions within the mouth to expose the underlying chin bone. Incisions within the mouth of preferred as these leave no visible scarring. Excess bone is surgically removed with an ultrasonic piezotome device to minimise damage to surrounding soft tissue. The bone will be removed followed by precise surgical contouring. Once the bone has been surgically contoured into the optimum size and shape, the incisions will be closed with absorbable stitches. There is no need to have the stitches removed at a follow-up appointment. The surgeon will apply a postoperative garment to your lower face and neck to minimise post-operative bruising and swelling.
Benefits of chin reduction
Chin reduction is an ideal procedure for people who would like to reduce the size of their chin. An excessively large chin is known medically as macrogenia and results in an excessively prominent chin that is out of balance with the rest of the facial features particularly the nose on the profile view. Even chins that are mildly enlarged can disrupt the overall facial balance. Chin reduction surgery is a highly successful procedure to surgically contour the chin to make it appear in proportion with the rest of the face. Although the procedure focuses on reducing the size of a big chin, the overall appearance of the face will be significantly enhanced. A large chin may give the impression of a smaller-sized nose. Chin reduction surgery is designed to reduce the size of a large chin and will have beneficial effects on overall facial balance.
Am I suitable for chin reduction surgery?
Chin reduction surgery is highly effective for contouring the chin although it is not beneficial for every patient. The following are factors that are taken into account when assessing suitability for chin reduction:
Does the patient have a large chin that may protrude excessively?
Loss of self-confidence from having an excessively protruding chin
Is dental occlusion normal?
Does the patient have good physical and mental health with no chronic medical conditions
If a patient is a smoker, will this be able to be stopped before having chin reduction surgery?
It is important to have realistic expectations of what the procedure can achieve with an understanding of the potential risks of surgery.
At your face-to-face consultation, your surgeon will assess you to ensure you are suitable for the procedure. As with any type of surgical procedure, chin reduction involves specific risks which must be understood before proceeding with surgery. If you are unsure about any aspect of the procedure please be sure to ask your surgeon, so that you are fully informed about what the procedure involves. If you are assessed to be unsuitable for chin reduction, your surgeon may recommend other treatments or may suggest preoperative optimisation before undergoing chin contouring surgery.
How long is the chin reduction surgery recovery process?
Chin reduction surgery involves making incisions and is an invasive medical procedure. The procedure involves a period of recovery to ensure a smooth healing and it takes approximately six weeks to see the final results of surgery. The recovery process will differ between patients depending on individual factors although it is normal to experience mild discomfort for the first few days after surgery. Any areas of bruising will settle down after two weeks. Swelling may take longer to resolve and four weeks is the average time frame for the resolution of surgical swelling. Most patients can recommence their normal daily routine after seven days. Once six weeks have passed, all types of physical activity including going to the gym can be restarted.
Bruising and swelling will be noticeable during the first 7 to 10 days although will have virtually disappeared after two weeks. After this time, you may begin to see the results of Surgery although we would recommend waiting six weeks for any swelling to go down and this is when the final results are visible. Recovery after chin reduction can be optimised by sleeping in an elevated position for the first two weeks after surgery. Cold packs can be applied to the area to speed up the resolution of swelling. The incisions for chin reduction surgery are often made inside the mouth and you should therefore be extra careful when brushing your teeth. The risk of blood clots can be minimised by keeping reasonably mobile and short walks around the house can be beneficial. You should avoid intense exercise or lifting heavy objects to minimise the risk of complications occurring.
What are the risks of chin reduction surgery?
As with any type of surgical procedure, chin contouring involves certain risks including:
Bleeding or haematoma formation
Anaesthesia-related complications such as nausea and vomiting
Wound infection
Facial asymmetry
Loss of sensation in and around the chin
The need for future revision surgery in the event of complications or a sub-optimal outcome.
How much does chin reduction surgery cost?
The price of chin reduction surgery will depend on several factors including the degree of surgical correction required to achieve a smaller chin. In general, costs for chin reduction start from £3500-£5000 and may be less when combined with another facial procedure such as rhinoplasty.
Other factors that may affect the cost of gin reduction include the results you are looking to achieve, where your procedure is performed, the skills and experience of your surgeon and the standards of post-operative care provided by the clinic. Although cost is an important factor when planning for surgery, we would also recommend considering other key aspects including the reputation of the clinic and surgeon and the quality of reviews and testimonials from past patients. Choosing to have your procedure at Centre for Surgery means you will receive care at the leading cosmetic surgery clinic in London with specialised expertise in chin reduction surgery.
How to choose the best chin reduction surgeon?
It is important to carry out research about the chin reduction procedure to enable the selection of an expert chin reduction surgeon to perform this highly delicate and precise procedure. It is important to choose a facial plastic surgeon who carries out the majority of their procedures on the face to increase the likelihood of getting the best surgical results.
As well as being able to perform surgery competently, it is important for your surgeon to carry out a detailed clinical assessment which includes precise measurements to make sure an excessively protruding chin is reduced to the correct size. Here at Centre for Surgery in London, we are home to some of the most renowned consultant plastic surgeons in the UK. By booking your consultation with us, you can be assured of receiving the very highest standards of medical care from start to finish.
Where can I get chin reduction surgery in London?
Chin reduction surgery is performed at our state-of-the-art Baker Street clinic in Marylebone. The clinic is located in the heart of central London close to all the major public transport networks and with on-street pay and display parking conveniently located adjacent to the clinic.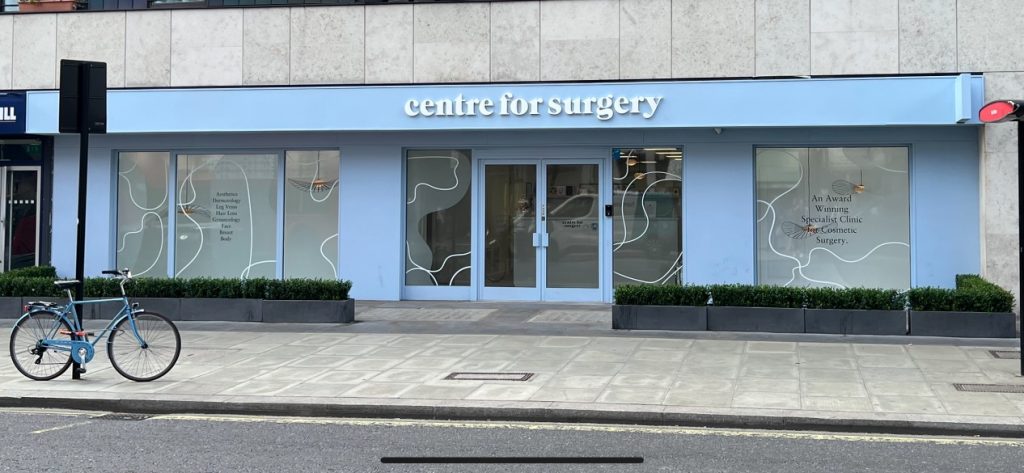 FAQs
Is chin reduction surgery painful?

Chin reduction is not a painful procedure as it is performed under general anaesthetic. It is normal to expect a mild degree of postoperative discomfort for approximately five days after the procedure. You will be given a prescription for painkillers from your surgeon to ensure your comfort during the early postoperative period.

When will final chin reduction results be visible?

Although the area may appear initially bruised and swollen, it takes between 3 to 6 months for the final results of chin reduction surgery to appear.

It is important to wear the postoperative compression garment continuously for the first four weeks after surgery.

Is chin reduction worth it?

If an excessively protruding chin makes you feel increasingly self-conscious about how you look you have developed a loss of self-confidence then the procedure could be ideal for you.

The procedure can achieve a more contoured and feminine-looking chin with a more natural transition to the jawline so that the facial features appear more balanced.