Dermaplaning in London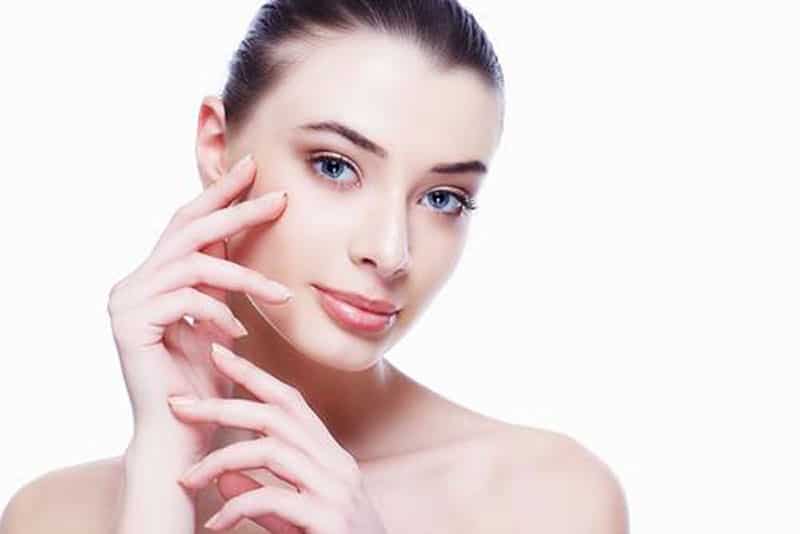 Dermaplaning, also known as a 'scalpel facial' is a non-invasive skin care treatment designed to exfoliate the outer layers of the skin and remove 'peach fuzz' or vellus hair. Dermaplaning is effective for brightening of the skin and subsequently improves the penetration of active skincare ingredients for a more comprehensive facial rejuvenation. The treatment can also improve the appearance of fine lines and wrinkles. Dermaplaning is commonly used in combination with gentle. superficial chemical peels as a quick lunchtime treatment but can also be used on its own for an effective in-clinic treatment.
What is peach fuzz?
Peach fuzz or vellus hair are the fine hairs that line most parts of the face and body. Vellus hairs act as a protective layer for the skin but do contribute to the dull looking appearance of vellus hair-bearing skin and also act as a barrier against effective penetration for many skincare products. The removal of vellus hair contributes to an overall brightening of the skin and facilitates a deeper penetration of skin care products for improved effect. Dermaplaning is highly effective for the removal of vellus hair when performed by a skilled aesthetic practitioner at Centre for Surgery. Our practitioners use only medical-grade scalpels specially designed for dermaplaning and are able to remove up to 4 weeks of dead skin build-up and vellus hair growth.
Ideal candidates for dermaplaning
The treatment can be safely performed on patients of all skin types including darker Fitzpatrick skin types 3-6. This is unlike IPL and laser resurfacing treatment which can only be performed on patients with lighter skin types.
Ideal patients include:
Those with vellus hair affecting the face also known as 'peach fuzz'
Those who have dry skin
Those patients who want a deeper exfoliation to facilitate better results from their medical grade skin care products
Patients concerned by large pores
Patients with blackheads
Patients with superficial lines and wrinkles
Preparation for dermaplaning
To gain the best results from the treatment, we would advise that you use a facial skin cleanser on the day of your treatment. If you have active acne or are taking medications that make the skin more sensitive then we would advise that you have your procedure at a later date due to the risk of your acne becoming worse after treatment.
Dermaplaning technique
Dermaplaning involves the use of a medical grade stainless steel surgical scalpel specially designed to remove the build up of dead skins and vellus hair. Stainless steel blades are more effective than cheaper carbon steel blades as they stay sharper for much longer. The dermaplaning technique performed in the clinic differs significantly from home dermaplaning kits which can be bought online and which often carry a higher risk of leaving small cuts and grazes on the skin. Medical grade dermaplaning performed by a skilled aesthetic practitioner at Centre for Surgery results in smooth and healthy skin.
The procedure begins with a thorough cleansing of the facial skin followed by the application of a degreaser to remove natural skin oils. The aesthetic practitioner will hold the skin firm before skilfully applying the dermaplaning blade across the skin surface in a back and forth motion at an oblique angle to effectively remove dead skin cells and vellus hair. Dermaplaning is not associated with pain or discomfort and most patients often report feeling very relaxed during the procedure. At the conclusion of the procedure, a premium serum will be topically applied followed by sunscreen as the skin will be temporarily more sensitive immediately after the procedure. Patients can return to their normal skincare regime after the procedure but it is normal to expect a degree of skin sensitivity for a couple of days and is often due to a deeper penetration of the skincare products.
Dermaplaning treatment takes about 30 minutes to perform on average although overall treatment times will be longer if dermaplaning is combined with a light chemical peel or IPL skin rejuvenation treatment. In this case, you can expect the combined procedure to take about one hour to perform.
| | Dermaplaning | Microdermabrasion |
| --- | --- | --- |
| Removes vellus hair | Yes | Yes |
| Mechanical exfoliation | Yes | No |
| Blackhead removal | No | Yes |
| Ideal for acne prone or oily skin | No | No |
| Ideal for rosacea type skin or facial redness | Yes | No |
| Ideal for patients with thicker hair | No | Yes |
Recovery after dermaplaning
Dermaplaning treatment results in skin that is smooth and without the roughness associated with chronic sun exposure. The skin may be slightly red for a few hours after the procedure. There is no need to take time off work after this procedure but in some cases the skin may be slightly sensitive depending on your skin type. Make-up may be applied following the treatment but it is often best to wait for a few hours after the procedure before the application of make up.
How often should I undertake dermaplaning?
Dermaplaning for the removal of superficial facial hair can be performed every 4-5 weeks and this is dependent on how fast your hair grows back and may be more often for some people. Dermaplaning for the removal of superficial dead skin cells or exfoliation should be carried out every 4 weeks as this is keeping with the normal rate of cellular skin turnover which is also about one month.
Which treatments can be combined with dermaplaning?
Dermaplaning can be performed on its own as an effective mild exfoliating treatment or is often more commonly combined with other treatments for more dramatic treatment results:
Glycolic acid chemical peels
IPL – Intense pulsed light targets browns (hyperpigmentation) and reds (broken capillaries and rosacea) in the skin. Dermaplaning before IPL treatment helps in the removal of dead skin build up and this significantly improves the ability of the IPL photo rejuvenation treatment to target the reds and browns.
Laser resurfacing. Using dermaplaning before application of topical local anaesthetic facilitates the anaesthetic cream to more effectively numb the skin prior to laser resurfacing which could otherwise be an uncomfortable treatment.
Risks and potential complications of dermaplaning
Dermaplaning treatment is performed by one of our expert aesthetic practitioners at Centre for Surgery. In some cases especially when followed by a deeper treatment, the dermaplaning may be performed by a dermatologist. Our practitioners are highly experienced in dermaplaning and only use medical grade dermaplaning blades which are only used by highly skilled medical professionals in a regulated medical environment. The popular at-home dermaplaning kits lack sharpness and are unable to exfoliate the skin as effectively as our treatments. Improper dermaplaning may increase the risk of localised cuts which could lead to scarring.
Is home-based dermaplaning the same as in-clinic dermaplaning?
Home-based kits are very ineffective when compared with in-clinic medical dermaplaning techniques. There is also a higher risk of cutting yourself with resultant scarring with the home kits. We would always recommend to see a fully qualified aesthetic practitioner for dermaplaning in London.
Can I have dermaplaning if I have active acne?
Patients with active acne particularly cystic acne should not have dermaplaning treatment. Acne with papule or pustule formation might increase the risk of skin infection if dermaplaning were carried out as the surface of the skin is not smooth. Patients should see one of our dermatologists for effective acne treatment to bring the condition under control. Once the active acne has settled, you may have dermaplaning treatment.
Does hair grow back quicker after dermaplaning treatment?
Dermaplaning treatment does not alter the structure of the hair follicles. Hair growth is not stimulated by the treatment. The growth of hair is analogous to a blade of grass in that it is thicker as you get closer to the origin of the hair follicle and is sharper at one end. Cutting the hair involves just the removal of the pointed end which makes it look like the lower cut end is thicker. The hair will grow back as it was before with no change. Hair growth, whether it is quality, quantity or speed of growth is determined by a number of factors including genetics.
How to find us
Centre for Surgery is located at 106 Crawford Street in Marylebone. Crawford Street is just off Baker Street. We are easily accessible by all major bus routes that pass through Baker Street as well as Baker Street underground station.
From the tube station, we are just a 5 minute walk southwards down Baker Street followed by a right turn onto Crawford Street. The clinic is about 200 yards on the left.
There is ample local pay & display parking in the surrounding area and an NCP car park is located further west along Crawford Street. Our local residential parking zone is the City of Westminster.
Address: 106 Crawford Street, Marylebone, London, W1H 2HY
[wpseo_map id="237″ width="800″ height="350″ zoom="15″ map_style="roadmap" scrollable="1″ draggable="1″ show_route="0″ show_state="1″ show_country="1″ show_url="1″ show_email="1″ default_show_infowindow="0″]
FAQs
How much does dermaplaning cost?

Dermaplaning cost can range anywhere from £75 to £150 per treatment. At Centre for Surgery, dermaplaning costs £150 as a standalone treatment and £75 when combined with another treatment such as a superficial chemical peel.