Dermatitis treatment in London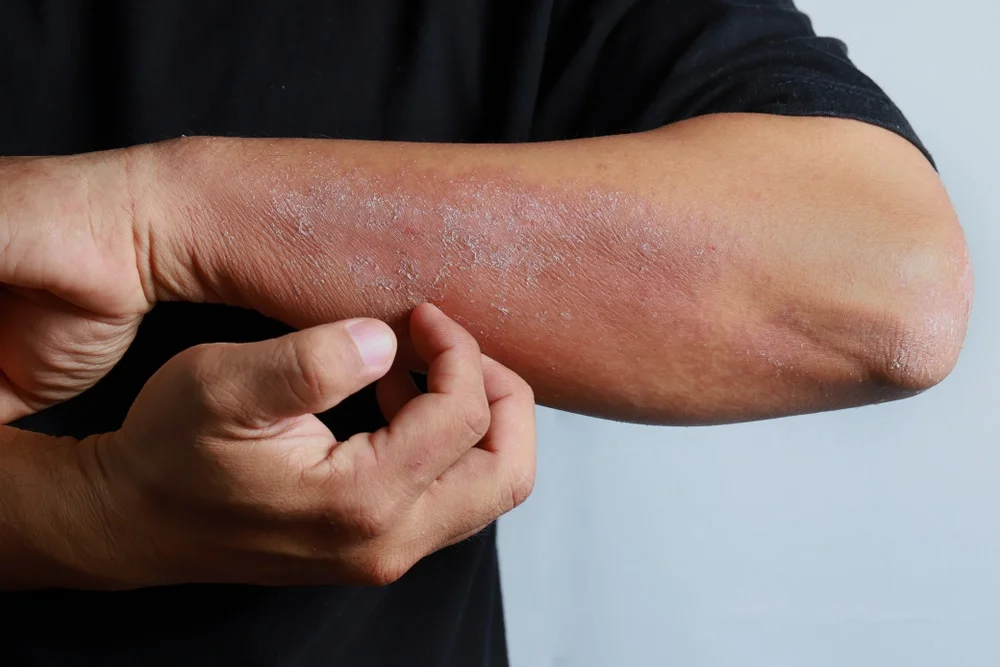 Dermatitis is a generalised description for a range of different types of skin irritation. It is a very common condition of the skin and there both a number of potential causes and a variety of different forms of dermatitis. The main clinical features of dermatitis include dry, itchy skin or a localised skin rash that may be on a background of red or swollen skin. Other common presentations include skin blistering, oozing or a crusty or flaky appearance. Common types of dermatitis are eczema or atopic dermatitis and contact dermatitis. The formation of dandruff in the hair is also a type of dermatitis. Dermatitis treatment is tailored to the specific type of dermatitis.
Dermatitis in itself is not transmissible from person to person but it is common source of embarrassment and social distress. The application of regular moisturiser may help to control the condition. Other specialised forms of dermatitis treatment include topical creams, ointments or medicated shampoos.
Types of dermatitis
Dermatitis may appear different in its many varied forms and each specific type will tend to occur on a certain part of the body. The clinical features of the common encountered types of dermatitis are as below:
Atopic dermatitis often begins in childhood and commonly presents as a red and itchy rash over skin creases of joints such as the elbows and knees. With repeated scratching, there may be leakage of fluid from the rash and then crust over when less itchy. Atopic dermatitis tends to wax and wane in severity with flare-ups and periods of remission.
Contact dermatitis develops when skin is exposed to contact with irritating substances that result in a red, itchy and stinging rash. Blister formation is not uncommon in more severe forms of contact dermatitis.
Seborrhoiec dermatitis results in the formation of skin patches that have a scaly appearance with reddened skin and the formation of dandruff. This type of dermatitis preferentially affects oily parts of the body including the back, upper chest and face. It can be chronic long term condition with periods of remission followed by period of relapse.
Follicular eczema is most common in patients of African origin and people with darker skin types. In this condition, the skin undergoes thickening and the hair follicles form bumps.
When should I see a dermatologist?
You should not allow symptoms to become worse without dermatitis treatment. Early diagnosis and prompt treatment leads to better outcomes.
Disruption to normal sleep due to itchiness or discomfort
Pain and discomfort
Possible infection of the skin from excess scratching
No improvement despite common over the counter remedies
Causes of dermatitis
Causes of the most common types of dermatitis include:
Atopic dermatitis (eczema). This type is likely related to dry skin, a gene variation, an immune system dysfunction, a skin infection, exposure to food, airborne, or contact allergens, or a combination of these.
Contact dermatitis. This type results from contact with something that irritates your skin or causes an allergic reaction. Irritants or allergens include poison ivy, perfumes, jewellery containing nickel, cleaning products, and the preservatives in many creams and lotions.
Seborrheic dermatitis. This type is caused by a yeast (fungus) that is in the oil secretion on the skin.
Potential risk factors and complications of dermatitis
Common risk factors for dermatitis include:
Age. Dermatitis can occur at any age, but atopic dermatitis (eczema) usually begins in infancy.
Allergies and asthma. People who have a personal or family history of eczema, allergies, hay fever or asthma are more likely to develop atopic dermatitis.
Occupation. Jobs that put you in contact with certain metals, solvents or cleaning supplies increase your risk of contact dermatitis. Being a health care worker is linked to hand eczema.
Health conditions. Health conditions that put you at increased risk of seborrheic dermatitis include congestive heart failure, Parkinson's disease and HIV/AIDS.
Complications of dermatitis
Scratching the itchy rash associated with dermatitis can cause open sores, which may become infected. These skin infections can spread and may very rarely become life-threatening. It is important to start dermatitis treatment early to prevent these complications.
Prevention strategies for dermatitis
Wear protective clothing if you are doing a task that involves irritants or caustic chemicals.
Avoid dry skin by adopting these habits when bathing:
Take shorter baths and showers. Limit your baths and showers to 5 to 10 minutes. Use warm, rather than hot, water. Bath oil also may be helpful.
Use a gentle, non-soap cleanser. Choose unscented non-soap cleansers. Some soaps can dry your skin.
Dry yourself gently. After bathing, gently pat your skin dry with a soft towel.
Moisturise your skin. While your skin is still damp, seal in moisture with an oil, cream or lotion. Try different products to find one that works for you. Ideally, the best one for you will be safe, effective, affordable and unscented. Two small studies showed that applying a protective moisturiser for dermatitis treatment to the skin of infants at high risk of atopic dermatitis reduced the incidence of the condition by up to 50 percent.
How to find us
Centre for Surgery is located at 106 Crawford Street in Marylebone. Crawford Street is just off Baker Street. We are easily accessible by all major bus routes that pass through Baker Street as well as Baker Street underground station.
From the tube station, we are just a 5 minute walk southwards down Baker Street followed by a right turn onto Crawford Street. The clinic is about 200 yards on the left.
There is ample local pay & display parking in the surrounding area and an NCP car park is located further west along Crawford Street. Our local residential parking zone is the City of Westminster.
Address: 106 Crawford Street, Marylebone, London, W1H 2HY
[wpseo_map id="237″ width="800″ height="350″ zoom="15″ map_style="roadmap" scrollable="1″ draggable="1″ show_route="0″ show_state="1″ show_country="1″ show_url="1″ show_email="1″ default_show_infowindow="0″]