Eczema treatment in London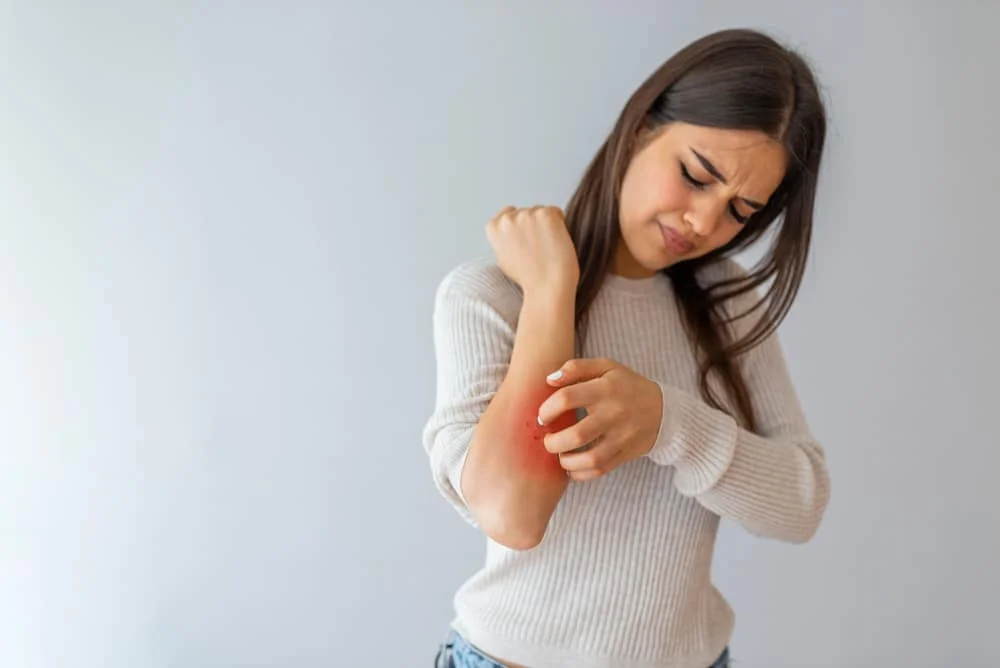 Eczema is a chronic inflammatory skin condition that often manifests as an area of dry skin that may also have a skin rash. The area may be reddened and over time become scaly. Eczema is very common and its prevalence affects up to one in nine people in the UK.
Eczema is a very broad term that covers a wide range of possible presentations that are chronic in nature and give rise to a large number of clinical features. The most common symptoms in eczema are dryness and itchiness, redness, swelling, crusting, oozing, bleeding and blistering. Over time and with persistent scratching of the area, the skin can develop pigmentary changes and scars.
Our dermatologists are able to offer a wide variety of effective treatments that can used singly or in combination for more potent treatment effects. Treatments are most topical in nature and start with emollients that are used in the shower or bath, medical grade moisturising agents for the rapid relief of itchy symptoms and progressing to topical steroid creams in more severe cases. Topical steroids are applied directly to the skin and work to reduce acute inflammatory changes which helps to relieve itching. The steroids are weak in nature compared with oral steroids so they do not have the typical side effects of steroids which include skin thinning and these facilitate a more effective healing response. In the most severe cases of eczema, drugs to suppress the immune system may be required for effective symptom relief.
The ideal outcome for eczema treatment results in a full relief of the distressing symptoms of eczema which includes irritation and discomfort from persistent scratching of the affected area.
Our dermatologists are highly experienced in eczema treatment and will be able to customise treatment according to your individual clinical features at our bespoke clinic in Marylebone in central London.
Causes of eczema
The development of eczema is linked to an inability of the skin to hold onto moisture leading to dryness on the surface of the skin. The skin dryness makes the skin more susceptible to being affected by a number of potential precipitating factors and this can lead to symptoms of dry, itchy and irritated skin. In many cases, there is a hereditary link involving a lack of being able to hold onto moisture in the skin and eczema often runs in families. A common form of eczema known as atopic eczema is not contagious and so cannot be transmitted between individuals.
Environmental factors are well known for precipitating flare-ups of eczema and include:
Allergies to food ingredients
Colder weather with less humidity
Common clothing fabrics such as wool
Infections affecting the skin
Stressful life events
Hormonal influences
Certain detergents and soap products
Clinical features of eczema
Clinical features of eczema can be varied and include:
Skin dryness with associated itching
Skin blistering
Bleeding and skin oozing
Cracked skin with associated skin crusting
Skin swelling with overlying tenderness
Skin discolouration
Symptoms of eczema vary widely and range from being very mild and barely noticeable to widespread, diffuse skin involvement that could be potentially life threatening if there is an associated infection. Eczema is a chronic condition and like psoriasis, symptoms tend to vary between periods of quiescence and relapse. The time period between these episodes can be as common as 2-3 occurrences a month.
Where is eczema most commonly found on the body?
Eczema can be found on any part of the body but has a predilection for the following areas:
Back of knees
Inner elbows
Hands and fingers
Treatment of eczema
Eczema is a chronic skin condition that tends to vary in symptom severity. Although there is no definitive cure, a variety of effective treatments are available for symptom control.
Commonly used treatments include:
Topically applied moisturisers to maintain skin hydration
Topical steroid cream for reducing skin inflammation and redness during exacerbations of eczema
Antihistamine tablets for the reduction of itching
Alongside medical treatment, there are a number of modifications which patients can make to their lifestyle to improve symptoms of eczema:
Reduce or eliminate scratching at the sites of eczema formation
Avoidance of well known triggers such as heat and a number of common detergents and soaps
Dietary modification to reduce or eliminate foods that can make eczema worse
Benefits of eczema treatment include:
Adequate symptom control
Reduction in itchiness
A possible improvement in confidence and emotional well-being
Less disruption to sleep
How to find us
Centre for Surgery is located at 106 Crawford Street in Marylebone. Crawford Street is just off Baker Street. We are easily accessible by all major bus routes that pass through Baker Street as well as Baker Street underground station.
From the tube station, we are just a 5 minute walk southwards down Baker Street followed by a right turn onto Crawford Street. The clinic is about 200 yards on the left.
There is ample local pay & display parking in the surrounding area and an NCP car park is located further west along Crawford Street. Our local residential parking zone is the City of Westminster.
Address: 106 Crawford Street, Marylebone, London, W1H 2HY
[wpseo_map id="237″ width="800″ height="350″ zoom="15″ map_style="roadmap" scrollable="1″ draggable="1″ show_route="0″ show_state="1″ show_country="1″ show_url="1″ show_email="1″ default_show_infowindow="0″]
What To Expect
The eczema consultation
You will be booked in to see one of our expert dermatologists at Centre for Surgery on Crawford Street for your eczema consultation.
The dermatologist will perform a thorough clinical examination of your skin and will discuss a number of aspects with you:

- Treatment options based on the type of eczema you have and what kind of results can be expected with the proposed treatment
- What the treatment involves including how often to apply the medication to the skin
- Review your medical history including any medicines you be taking
- Answer your questions about any aspect of the treatment

Patient journey summary:

- Arrange a consultation at our dermatology clinic at 106 Crawford Street, Marylebone for a face to face consultation with an expert dermatologist
- Commence a course of treatment based on your needs and preferences
- Arrange a follow-up appointment if required to be seen by your dermatologist to review the effectiveness of treatment