Hair loss injections in London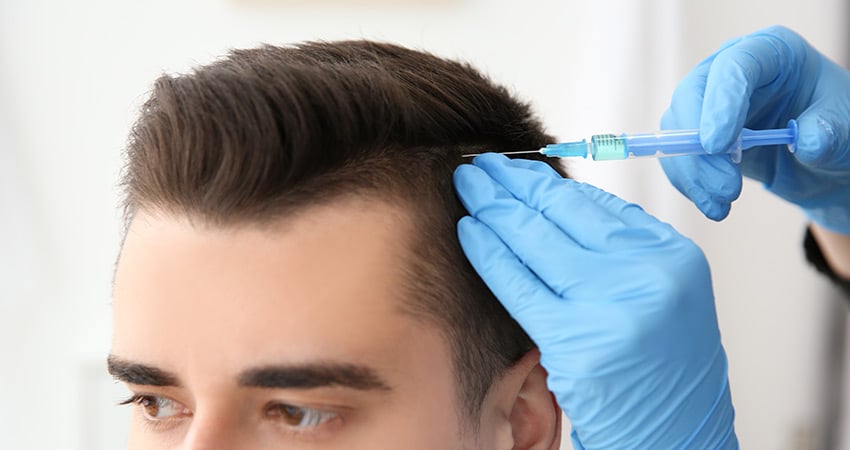 Hair loss injections are an effective treatment for hair loss which is seen on the scalp. Androgenic alopecia is a medical condition that can result in the shrinkage of hair follicles and can affect both men and women.
Hair loss injections involve the injection of growth factors which have traditionally been used in other areas of medicine such as orthopaedics for the healing of tendons and ligaments as well as in aesthetic medicine for skin rejuvenation purposes. By injecting growth factors into hair follicles which are no longer growing as affectively, this can lead to regrowth of hair in the treated area leading to both an increase in density and thickness of hair.
Hair loss can present in a number of different ways depending on the underlying cause. It can develop both suddenly or in a more gradual manner and affect localised areas such as the scalp or generalised areas including the whole body surface. Certain types of hair loss are temporary in nature while other types are permanent. Hair loss can affect not only the scalp but also any other hair bearing part of the body.
Clinical features of hair loss include:
Loosening of hair over a short space of time
Gradual thinning of hair affecting the top of the head
The presence of circular bald spots or more irregular patches of hair loss
Scaly patches that develop over the scalp region
Causes of hair loss
Genetic factors. This is by far the most common cause of hair loss in both men and women
Hormonal changes. Changes in hormonal status can occur in pregnancy, childbirth, those going through the menopause or patients with medical conditions of the thyroid gland
Certain medications can cause hair loss often as a side-effect of their use and these include drugs used for the treatment of cancer, depression, high blood pressure, gout and arthritis
Radiotherapy for the treatment of cancer
Certain hair treatments can cause hair loss including using hair extensions regularly
Alopecia including both androgenic alopecia and alopecia areata
Ideal candidates for hair loss injections
Hair loss injections are not suitable for every patient and the best candidates for hair loss injections include:
Patients experiencing early stage hair loss
Patients who have only small well localised areas of hair loss
Patients who have began to experience thinning hair but still have an overall good number of hair follicles
Patients who have began to experience thinning hair but still have an overall good number of hair follicles
Patients who are in good overall health and are not on any medications that can potentially cause hair loss or have any impact on the clotting process of the blood leading to an increased risk of bleeding
Hair loss injection technique
Hair loss injections are easily performed in the clinic as an outpatient and very little preparation is required beforehand. When you attend on the day of your treatment, a topical local anaesthetic cream will first be applied to the scalp about 30 minutes prior to the treatment starting to improve comfort and tolerability during the treatment. The doctor will withdraw a sample of your blood in order to prepare the growth factor solution. Your blood will be placed in a centrifuge to separate out the parts required for injection, followed by extraction of the growth factors from the centrifuged blood. This newly prepared solution is then injected into the areas of the scalp which are experiencing loss of hair follicles or thinning hair.
Injections for hair loss are advised to be carried out as a course of treatments. Your hair loss specialist will usually recommend about four treatments spaced about four weeks between each treatment to allow the scalp to heal effectively. Most patients begin to notice a significant improvement in the thickness and density of new hair follicles as soon as two weeks after the first treatment. We would recommend waiting at least 3 to 6 months after the first treatment to assess the final outcome of hair loss injections.
Preparation for hair loss injections
Preparation for hair loss injections begins two weeks before your treatment. You should avoid any products that may cause bruising or bleeding including fish oil, NSAIDS, seeds and nuts. Arnica tablets should be started a week before treatment to further reduce any bruising. Arnica function is to speed up the resolution of any visible bruising and can be purchased from any pharmacy or supermarket. If you are on blood thinning medication, these may need to be stopped a few days before treatment but you should always speak to your GP for advice on whether it is safe to stop these injections. Any hair loss medications such as minoxidil can be continued up to the day of treatment. Any application of hair colour or highlights can be undertaken up to 1 week before her loss injections.
On the day of your hair loss injections it is important to have a light meal beforehand to prevent a feeling of being faint during treatment as most people are not keen on the idea of having needles injected into the scalp. Maintaining good hydration and adequate blood sugar levels means you will be much more comfortable during your treatment with minimal risk of feeling dizzy or faint. You should refrain from the application of any hairsprays or other topical hair products on the day of your treatment and you should make sure your hair is washed and clean. You will need to come in 30 minutes prior to your treatment to allow the application of local anaesthetic topical numbing cream which takes between 30 to 40 minutes to take full effect.
Once the treatment has taken place we would recommend you book your next appointment before leaving to enable your preferred choice of date and time as our hair loss specialists often get booked up three months in advance. Hair loss injection treatments should be undertaken every 4 to 6 weeks.
Recovery after injections for hair loss
After hair loss injections, it is perfectly normal to experience redness bruising swelling itchiness and soreness that most often lasts up to a few days following treatment. It is also common to experience a tight or stiff sensation to the scalp after having had the treatment and there may also be a tingling feeling for the first 24 hours we would recommend not to touch or manipulate the areas of treatment for at least 24 hours. You should make sure to stay well hydrated which helps to promote faster healing. Although ice packs are useful for other types of injectable treatment they should be avoided after hair loss injections as they act to prevent inflammation and the purpose of treatment is to induce inflammatory changes which stimulates hair follicle regrowth. If you develop mild to moderate pain or discomfort after treatment we would recommend paracetamol and it is important to avoid ibuprofen as this may increase the risk of bleeding and bruising after treatment. You should avoid any vigorous cardiovascular activity and excessive exposure to strong sunlight as these can act to make any swelling and bruising worse after treatment. You should avoid swimming for 48 hours. You should avoid drinking any alcohol caffeine and smoking for a minimum of five days to facilitate optimal healing. Patients who continue to smoke before and after treatment may have results that do not meet expectations as a result of impaired wound healing.
After having hair loss injections, you can wash your hair the next day with a pH balanced shampoo and avoid using any other hair products on your hair for at least 24 hours. You may continue taking minoxidil after three days from the treatment.
Potential risks and complications of hair loss injections
Hair loss injections are a safe and effective treatment for patients with early-stage hair loss. However, there are a number of medical conditions where we would not recommend hair loss injections:
Patients with significant immunosuppression
HIV / AIDS
Patients undergoing radiotherapy or chemotherapy
Bleeding conditions
Active skin infection in the area of treatment
Potential complications after hair loss injections rare and include infection and delayed healing. You should contact your practitioner urgently if you develop any increased warmth at the treatment area with an increase in pain, you have a fever or there is drainage of pus from the area.