At a Glance
While sweating is a normal bodily function, some people will suffer excessively, and it will impact their day to day life. You may notice you have to change clothing throughout the day, or it may be impacting on your self-esteem and confidence.
Hyperhidrosis is a common and underdiagnosed condition which involves the secretion of sweat that exceeds the normal production by the body. The impact on quality of life can be enormous. One of the most commonly affected sites are the armpits in both men and women. Hyperhidrosis can be classsifed as primary or secondary depending on if a specific cause can be found for the excessive sweating. The vast majority of cases are primary with no underlying cause.
Hyperhidrosis can also be categorised into focal (localised to a specific area) or more generalised affecting the whole body.
Centre for Surgery is a specialist centre for excessive armpit sweating and offer a unique multidiscplinery approach to the treatment of this condition. 
Botulinum toxin type A
Fractional RF microneedling
Laser ablation and suction-curettage
About
Hyperhidrosis, or excessive sweating, is a common disorder. Centre for Surgery offers three highly effective options:
Botulinum toxin type A (temporary treatment – non-surgical)
Fractional RF microneedling (permanent but needs to be repeated in patients with high BMI)
Laser ablation and suction-curettage (permanent treatment – surgical)
While sweating is a normal body physiological function, some people naturally sweat more or less than others. Those individuals who sweat excessively can cause problems and embarrassment with school, work and social situation.
Hyperhidrosis affects both males and females and can start at any age. Hyperhidrosis may be localised or generalised. Body parts such as armpits, hands, feet and groin tend to perspire more due to a high concentration of sweat glands in these areas.
If excessive sweating is limited to these areas it is called localised or primary hyperhidrosis. If the whole body perspires excessively it is called generalised or secondary hyperhidrosis, and this is usually caused by a systemic condition for example hyperthyroidism (an overactive thyroid gland).
Hyperhidrosis can be effectively controlled or treated now with anti-wrinkle injections as a temporary treatment required one or twice a year or with the minimally invasive procedures of RF microneedling and laser ablation.
Candidates
Centre for Surgery does not offer procedures to those under the age of 18. You will have to have realistic expectations of what this procedure can achieve.
You will need to attend a consultation with one of our surgeons before undergoing this treatment. They will be able to assess whether you are a suitable candidate for this procedure.
You should be in good health and for the surgical options, you will be assessed by the surgeon to make sure there no factors that could adversely impact on wound healing.
Procedure
Severe underarm sweating is a medical condition involving overactive sweat glands. While sweating is a way your body regulates your temperature, excessive sweating far exceeds the body's need for cooling.
Patients with excessive sweating:
Change clothes frequently

Put absorbent material under clothing

Avoid certain types of fabrics and styles of clothes
Botulinum toxin type A
Excessive sweating, or hyperhidrosis, can be treated effectively with injections. The injections have been used to completely reduce or resolve excessive sweating. 
Many patients have tried prescription antiperspirants without success, and for those patients, injections are a viable treatment. The injection is injected into the affected areas and works by blocking the chemical signals from the nerves that stimulate the sweat glands. When the sweat glands don't receive chemical signals, the severe sweating stops. Sweat does continue to be produced in other areas of your body.
In addition to the armpit area, anti-wrinkle injections can be used to treat excessive sweating in the palms and soles of the feet as well. To determine if injections are right for your type of excessive sweating, schedule a consultation with one of our surgeons.
Fractional RF microneedling
RF microneedling is performed with the Morpheus8 device. Morpheus8 is an adjustable depth radiofrequency microneedling device. The coated pins are able to penetrate deep and precisely ablate sweat glands in the armpit. There are no incisions or scars involved.
Laser ablation and suction-curettage
If you are wishing to have a more permanent solution to excessive sweating, you may wish to undergo laser ablation. This procedure is performed under a local anaesthetic. There is no requirement for general anaesthetic but as with all procedures at Centre for Surgery, the choice of ClearSleep anaesthesia is available if you wish to be asleep.
The first step involves injecting the area with a solution containing a local anaesthetic and a vasocontrictor. This minimises the risk of feeling any pain and discomfort, as well as any risk of bleeding.
Centre for Surgery uses the powerful Fotona Nd:YAG laser for hyperhidrosis therapy. This procedure involves locating where the sweat glands are. Next, an incision is made and a cannula with an optical fibre is inserted. The Nd:YAG laser is inserted and precisely ablates the sweat glands, destroying them. 
Next, small incisions are made and power-assisted liposuction is undertaken to aspirate fat globules. This method avoids any damage to the stromal network and blood vessels. A small currette shaped cannula is then used to remove the undersurface of the sweat glands. Finally, the remaining layer of fat is equalised with cannula probes to minimise any uneveness. This allows you to have a smooth appearance without any lumps or rippling skin that can occur with traditional methods of liposuction. 
This method is much gentler than traditional techniques. The scar burden is minimal scars and the recovery period is swift. You will only have to undergo one treatment, as the glands will have been physically removed.
Recovery
The recovery period will vary depending on which option you chose to undertake.
Botulinum toxin injections will have no downtime. In some rare cases, you may notice some bruising or swelling at the injection site, but this will fade with time.
If you undergo Morpheus8 microneedling, you may an area of redness that will persist for a few days but again no downtime is usual.
You may notice some swelling, numbness or tenderness with laser therapy, which will last around two weeks. You can usually return to normal activities within 2-3 weeks but this will depend on the surgeons postoperative instructions.
Before and after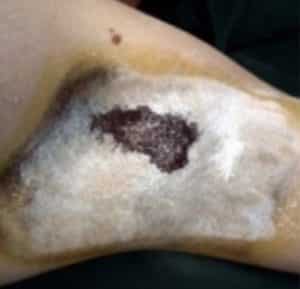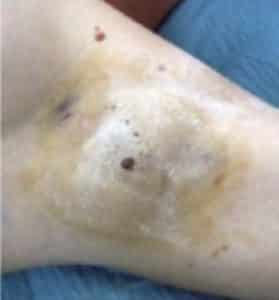 What To Expect
Find the right time
Our friendly and knowledgeable patient coordinators will speak with you to learn about your requirements, it's all confidential and your information will be used to assess whether a procedure is right for you. If the procedure is right for you, we'll organise a convenient date and time for you to visit to come and visit Marianne, our patient relationship manager at our bespoke central London clinic.
Personalised quote
At the surgical consultation, you will meet directly with the plastic surgeon. The surgeon will thoroughly assess you to determine your suitability and advise of the best options for you. Your surgeon will then explain how the procedure will work including our innovative ClearSleep™ anaesthesia technique for those who chose to be asleep for their procedure. You will receive your personalised quote the next working day from your patient coordinator.