Hyperhidrosis treatment in London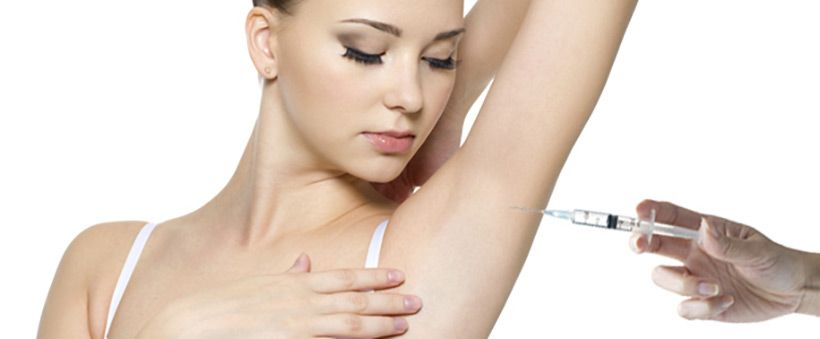 Hyperhidrosis, or excessive sweating, is a common and under-diagnosed condition which involves the secretion of sweat that exceeds the normal production by the body. The impact on quality of life can be enormous. One of the most commonly affected sites is the men's and women's armpits. Hyperhidrosis can be classified as primary or secondary depending on if a specific cause can be found for excessive sweating. The vast majority of cases are primary with no underlying cause. While sweating is a normal bodily function, some people will suffer excessively, and it will impact their day-to-day life. You may notice you have to change clothing throughout the day, or it may be impacting your self-esteem and confidence.
Hyperhidrosis can also be categorised into focal (localised to a specific area) or more generalised affecting the whole body.
Hyperhidrosis Diagnosis Criteria (2 for a diagnosis of hyperhidrosis)
Excessive sweating that lasts for more than six months with frequent exacerbations
Excessive sweating affecting both sides of the armpits
Family history of hyperhidrosis or excessive sweating
Symptoms started at a younger age (<25)
No significant sweating while asleep
Impairment of activities of daily living
Hyperhidrosis affects the armpits, palms or soles
Centre for Surgery is a specialist centre for excessive armpit sweating and offer a unique multidisciplinary approach to the treatment of this potentially disabling condition.
Muscle relaxant injections
Axillary suction-curettage
Expected results after excessive sweating treatment
Significantly reduced levels of sweat production
Improvement in confidence leads to improved personal and professional relationships
RealSelf Top Doctors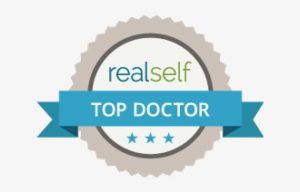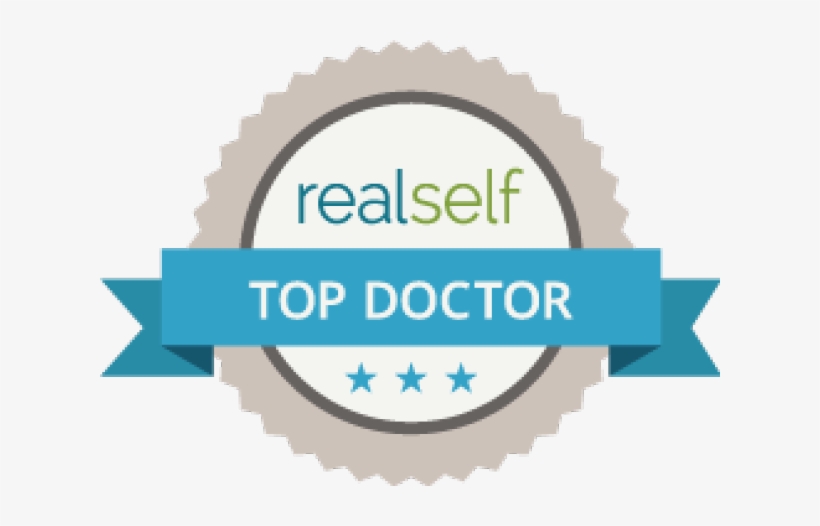 RealSelf's top doctor status is awarded to less than 10% of the RealSelf doctor community. This status is earned by achieving consistently high patient satisfaction (from RealSelf reviews), getting excellent feedback on expert answers to patient questions, and investing significant time in Q&A and other doctor activity. RealSelf's top doctors are rated among the very best surgeons in the United Kingdom.
Why choose Centre for Surgery for hyperhidrosis treatment?
Over 15 years experience with all types of hyperhidrosis procedures – neuromodulator, suction-curettage and fractional RF microneedling (Morpheus8)
We regularly receive patients from overseas at our plastic and cosmetic surgery specialist centre
We own and manage our own surgical facilities. Properly performed hyperhidrosis treatment takes time and should not be rushed.
Our surgeons are full members of: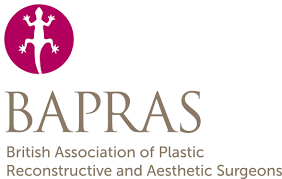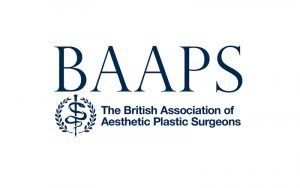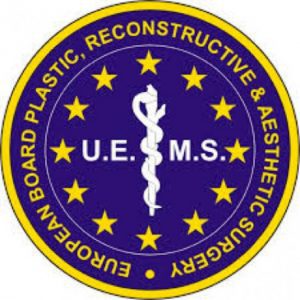 What is hyperhidrosis or excessive sweating?
Hyperhidrosis also known as excessive sweating is a condition of overproduction of sweat by sweat glands that is more than required to maintain the body's normal temperature. Hyperhidrosis is not always related to being in a hot environment or exercise. Hyperhidrosis can be a very socially disabling condition, with patients constantly having to change their clothing or wipe their palms dry. There is increasing awareness of hyperhidrosis as more effective treatments become available. Excessive sweating can markedly impair the quality of life through interference with doing a job, personal relationships and confidence levels.
Centre for Surgery offers three highly effective treatment options for excessive sweating:
Muscle relaxant injections (temporary treatment – non-surgical)
Fractional RF microneedling (permanent but needs to be repeated in patients with high BMI)
Axillary suction-curettage (permanent treatment – surgical)
While sweating is a normal body physiological function, some people naturally sweat more or less than others. Those individuals who sweat excessively can cause problems and embarrassment with school, work and social situation.
Hyperhidrosis affects both males and females and can start at any age. Hyperhidrosis may be localised or generalised. Body parts such as armpits, hands, feet and groin tend to perspire more due to a high concentration of sweat glands in these areas.
If excessive sweating is limited to these areas, it is called localised or primary hyperhidrosis. If the whole body perspires excessively, it is called generalised or secondary hyperhidrosis, and this is usually caused by a systemic condition for example, hyperthyroidism (an overactive thyroid gland). Excessive armpit sweating may also lead to a large variety of secondary medical conditions such as bacterial or fungal overgrowth, muscle cramps, and eczematous dermatitis, among others. Up to two-thirds of patients report a positive family history, which suggests that a genetic predisposition may exist.
Hyperhidrosis can be effectively controlled or treated now with anti-wrinkle injections as a temporary treatment required once or twice a year or with the minimally invasive procedures of Morpheus8 RF microneedling and suction curettage.
Ideal candidates for hyperhidrosis treatment
Centre for Surgery does not offer procedures to those under the age of 18. You will need to have realistic expectations of what this procedure can achieve.
You will need to attend a consultation with one of our dermatologists before undergoing this treatment. They will be able to assess whether you are a suitable candidate for this procedure. You should be in good health and for the surgical options and you will be assessed by a dermatologist to make sure there no factors that could adversely impact on wound healing. This disorder can occur at any stage of life. However, the average age at the time of onset of the condition depends on the site involved. Excessive armpit sweating onset usually occurs during the teenage years.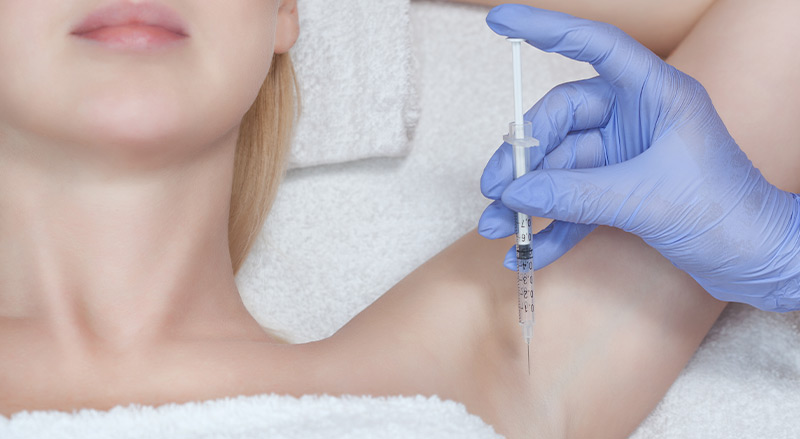 A good candidate for hyperhidrosis treatment:
You experience moderate to severe sweating of the armpit, palms or soles
Deodorants or antiperspirants do not reduce the level of sweating
You are willing to have regular injections of muscle relaxant every six months to maintain the results
The starch-iodine test is an objective way to assess the extent and distribution of the disease. However, the test does not provide any indication of the severity of the condition. It is often used to measure the success of any treatment option when carried out between 6 to 12 months after treatment.
Hyperhidrosis treatment methods
Deodorants and anti-perspirants are the most common solution for excessive sweating of the armpits. Deodorants are not effective for excessive sweating of the palms or soles. Even the strongest deodorants and anti-perspirants are often ineffective for excessive sweating. Deodorants and anti-perspirants are only short-acting and would need many applications throughout the day to adequately control excessive sweating.
Severe underarm sweating is a medical condition involving overactive sweat glands. While sweating is a way your body regulates your temperature, excessive sweating far exceeds the body's need for cooling.
Patients with excessive sweating:
Change clothes frequently

Put absorbent material under clothing

Avoid certain types of fabrics and styles of clothes
Centre for Surgery in London are one of the few centres to specialise in both non-surgical and minimally invasive surgical methods to treat hyperhidrosis of the armpits. The use of neuromodulator injections for the treatment of hyperhidrosis is one of the most commonly used methods as it is non-surgical in nature. Neuromodulators are also known as anti-wrinkle injections and are most commonly used to treat facial lines and wrinkles. Neuromodulators act on the nerves supplying the sweat glands to reduce sweat gland production. Neuromodulator injections can result in up to six months of being symptom-free and about 50-100 units of neurotoxin are required for each armpit area. Excessive armpit treatment usually requires 2-3 sessions of neuromodulator per year.
Muscle relaxant injections
Excessive sweating, or hyperhidrosis, can be treated effectively with neuromodulator injections. The injections have been used to completely reduce or resolve excessive sweating.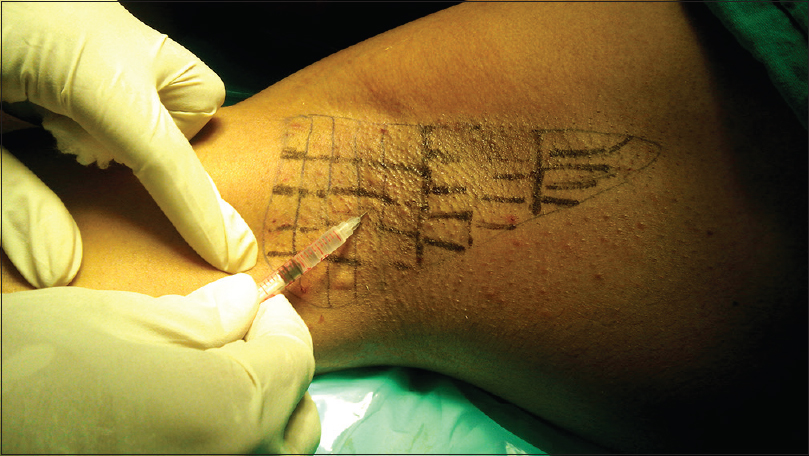 Many patients have tried prescription antiperspirants without success, and for those patients, injections are a viable treatment. Local anaesthetic numbing cream is first applied to both armpits. The injection is injected into the affected areas in a grid-like pattern and works by blocking the chemical signals from the nerves that stimulate the sweat glands. When the sweat glands don't receive chemical signals, the severe sweating stops. Sweat does continue to be produced in other areas of your body.
In addition to the armpit area, anti-wrinkle injections can be used to treat excessive sweating in the palms and soles of the feet as well. To determine if injections are right for your type of excessive sweating, schedule a consultation with one of our surgeons.
Suction-curettage
Patients increasingly desire a safe and effective procedure with a favourable risk profile and low complication rates and that keep them the shortest possible time away from daily activities. Local surgical treatment of axillary hyperhidrosis aims at eliminating the largest possible number of sweat glands in the armpit region while preserving, as much as possible, the normal aesthetic appearance of the armpit and mobility of the arm.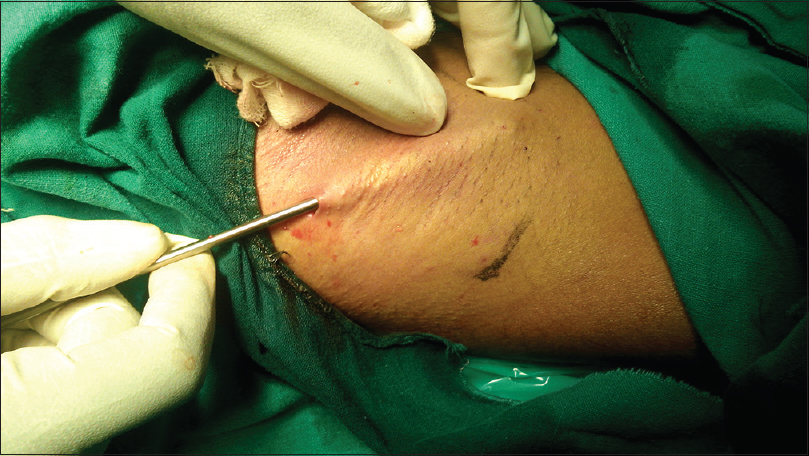 Axillary suction curettage is a minimally invasive surgical option for the highly effective treatment of axillary hyperhidrosis. The sweat glands are permanently destroyed in this procedure before being removed with a specially designed surgical curette. It is often not possible to remove 100% of the sweat glands although the amount of sweat glands surgically removed is often enough to ensure a significant and permanent reduction in sweat production. This procedure is most commonly performed under a local anaesthetic as an outpatient procedure, meaning you will be admitted and discharged on the same day. The procedure is very well tolerated with little to no pain or discomfort during and after the procedure and there is no requirement for general anaesthetic, but as with all procedures at Centre for Surgery, the choice of tablet oral sedation or even TIVA general anaesthesia is available if you feel very anxious about being fully awake during the procedure.
The first step involves injecting the area with a solution containing a local anaesthetic and a vasoconstrictor. This minimises the risk of feeling any pain and discomfort, as well as any risk of bleeding. This procedure involves locating where the sweat glands are. Next, a small incision and power-assisted suction curettage are undertaken to permanently disrupt and remove sweat glands. This method avoids any damage to the connective tissue framework and blood vessels. A small curette-shaped cannula is then used to remove the undersurface of the sweat glands. Finally, the remaining layer of fat is equalised with cannula probes to minimise any unevenness. This allows you to have a smooth appearance without any lumps or rippling skin that can occur with traditional methods of liposuction. Suction curettage is a much safer technique when compared with laser-assisted methods, which carry an additional risk of causing localised skin burns.
This method is much gentler and more effective than traditional older techniques carried out under general anaesthetic. The scar burden is minimal, and the recovery period is quick. You will only have to undergo one treatment, as the glands will have been physically removed and do not grow back after treatment.
Morpheus8 for hyperhidrosis
Whilst neuromodulator injections and surgical treatment with suction-curettage are established treatments with a great record of safety and effectiveness, both treatments have their downsides. With neuromodulator injections, only a temporary effect is possible which lasts up to 6 months. Although suction-curettage is a more permanent treatment, there are risks attached as it is a more invasive surgical procedure. The most exciting prospect for hyperhidrosis treatment is the use of fractional radiofrequency microneedling. The Morpheus8 device is the latest generation of fractional RF microneedling with full control over needle depth adjustment and the level of energy delivered through the 24 precision microneedles.

The tiny pins of the morpheus8 device are able to penetrate deep enough into the skin to impart controlled thermal energy via the micropins to precisely ablate the sweat glands. The Morpheus8 procedure for excessive armpit sweating does no require any incisions and leaves no scars. The procedure can be performed effectively with the prior application of topical local anaesthetic cream to permit a pain-free procedure. Two treatments are ideal for permanent treatment effects, and in those with more severe grades of hyperhidrosis, three treatments are recommended for best results.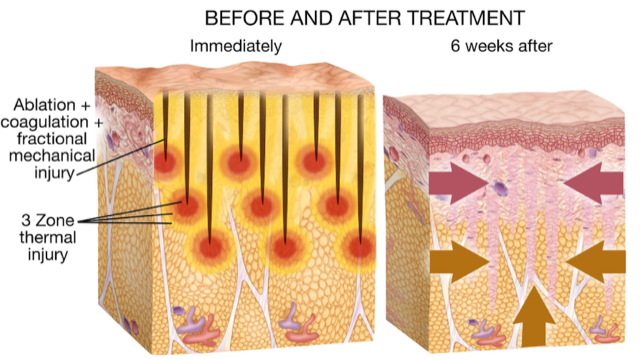 Recovery after hyperhidrosis treatment
The recovery period will vary depending on which option you chose to undertake. Neuromodulator injections will have no downtime. In some rare cases, you may notice some bruising or swelling at the injection site, but this will fade with time.
If you undergo Morpheus8 microneedling, you may notice an area of localised redness that will persist for a couple of days but again, no downtime is usual.
You may notice some swelling, numbness or tenderness with suction-curettage treatment, which will last around one week. You can usually return to normal activities within 2 weeks but this will depend on the surgical postoperative instructions given to you by your surgeon.
Hyperhidrosis treatment before and after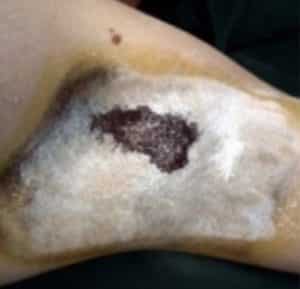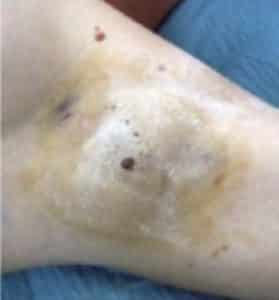 Risks and potential complications of hyperhidrosis treatment
Complications can potentially occur with any surgical procedure. Suction curettage for hyperhidrosis is no different. At consultation, your surgeon will always take time to fully discuss the risks and complications associated with hyperhidrosis treatment. All risks will be outlined regardless of how rare they are. By choosing Centre for Surgery for your hyperhidrosis treatment, you can be confident in having highly experienced and expert dermatologists to perform your procedure.
Although the minimally invasive suction curettage technique has shown to have a low complication rate, a variety of mild to moderate side effects (mostly temporary) have been reported.
Possible complications of suction curettage for hyperhidrosis include:
Haematoma
Ecchymosis
Seromas
superficial erosions of the skin
Loss of local sensitivity
Skin necrosis
Infection
Reduction in the number of hairs
Fibrosis
Formation of subcutaneous adherences
Scars
Recurrence of hyperhidrosis (rare)
How to find us
Centre for Surgery is located at 106 Crawford Street in Marylebone. Crawford Street is just off Baker Street. We are easily accessible by all major bus routes that pass through Baker Street as well as Baker Street underground station.
From the tube station, we are just a 5 minute walk southwards down Baker Street followed by a right turn onto Crawford Street. The clinic is about 200 yards on the left.
There is ample local pay & display parking in the surrounding area and an NCP car park is located further west along Crawford Street. Our local residential parking zone is the City of Westminster.
Address: 106 Crawford Street, Marylebone, London, W1H 2HY
[wpseo_map id="237″ width="800″ height="350″ zoom="15″ map_style="roadmap" scrollable="1″ draggable="1″ show_route="0″ show_state="1″ show_country="1″ show_url="1″ show_email="1″ default_show_infowindow="0″]
What To Expect
What to expect at your hyperhidrosis consultation
You will be booked in to see one of our expert dermatologists at Centre for Surgery on Crawford Street for your excessive sweating consultation.
The dermatologist will perform a thorough clinical examination of your skin and the areas of hyperhidrosis and will discuss a number of aspects with you:

- Treatment options based on the type of excessive sweating you have and what kind of results can be expected with the proposed hyperhidrosis treatment
- What the excessive sweating treatment involves
- Review your medical history including any medicines you be taking
- Answer your questions about any aspect of the excessive sweating treatment

Patient journey summary:

- Arrange a consultation at our dermatology clinic at 106 Crawford Street, Marylebone for a face to face consultation with an expert dermatologist
- Commence a course of treatment based on your needs and preferences
- Arrange a follow-up appointment if required to be seen by your dermatologist to review the effectiveness of treatment