Laser Hair Restoration in London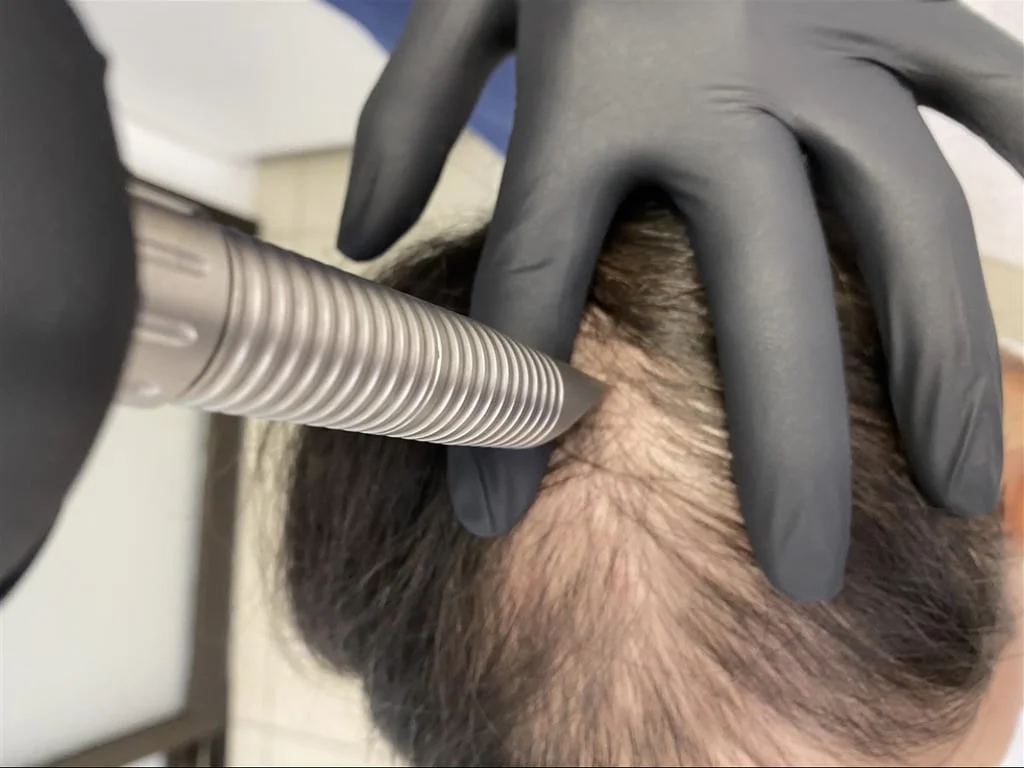 Alopecia is a very common condition affecting men and women and can lead to a significant impact on mental health and well-being. Most people will tend to undergo some degree of hair loss with the ageing process, however, some people have a genetic link that causes them to lose more hair with ageing. There are also a number of medical conditions that can lead to hair loss of varying severity. Treatment of hair loss was revolutionised by the advent of hair transplant surgery however for many people this can be an invasive option with risks and potential downtime. The latest advance in the treatment of hair loss is with the use of low-level laser therapy or LLLT using the Fotona laser in a unique non-ablative or Smooth mode. The application of laser energy to the scalp to stimulate hair growth is analogous to the requirement of different types of plants for different levels and intensities of sunlight in order to grow and develop. Laser energy acts to stimulate the stem cells found in the dermal papillae. These activated stem cells trigger the hair follicle to form actively growing hair follicles from the deeper tissues. The result is the development of newer and stronger hair shafts with an increase in both density and thickness.
Fotona laser technology is recognised across the world for producing highly effective treatment results with a patient experience that is pain-free and with minimal or no downtime. Fotona lasers are used to treat a wide range of aesthetic and dermatological concerns with results that are not only highly effective but also minimally invasive and long-lasting on a wide range of skin types.
What is androgenic alopecia?
Androgenic alopecia, also known as male pattern hair loss, is the most common type of alopecia, which leads to the loss of hair and thinning in certain parts of the scalp. Approximately half of all women and over 90% of Caucasian men can suffer from androgenic alopecia at some point in their lives. Androgenic alopecia is more common with age and is also more extensive when it develops in later life. It can however occur as early as puberty for males. There is often a strong genetic link with many sufferers being more likely to have an affected first-degree relative. Although androgenic alopecia is not a dangerous condition, it can have a significant effect on mental health and well-being.
The underlying mechanism of hair loss in androgenic alopecia does not result in scarring as there is no damage to the hair follicle. It is thought that the overactive influence of male hormones leads to a gradual involution of the hair follicle which does not occur to as significant an extent in women. This type of alopecia is linked to a gradual increase in the time taken from a hair to pass from the telogen phase to the anagen phase and with a simultaneous decrease in the length of the anagen phase which is where the hair follicle undergoes the most significant growth. The resulting hair loss occurs in a characteristic pattern with hair receding from the hairline in both temple areas and with hair loss on the crown of the head in men. In women, the situation is slightly different with a more generalised thinning of the hair of the crown but with no loss or thinning of hair in the hairline both at the front and the sides of the head.
Laser hair restoration
The use of fractional laser in the treatment of androgenic alopecia is a new approach in the treatment of early-stage hair loss. The application of laser to the scalp results in microcolumns of controlled tissue injury in the most outer layers of the skin which leads to a subsequent wound healing response. Laser has traditionally been used in the treatment for facial rejuvenation and also laser hair removal.
With the rapid rise in laser hair removal procedures worldwide it was gradually noticed that in some cases hair growth was paradoxically increased after laser hair removal. The use of laser for hair restoration is thought to be due to the role of the hair follicle in the healing process of the superficial layer of the skin. By inducing a wound healing process after the application of laser could lead to the hair follicle being stimulated to grow and develop.
Although the actual mechanism of hair growth is not fully understood it is generally accepted that the fractional laser induces the production of a number of key growth factors associated with hair growth. The use of laser increases the quality of the vascular supply through the stimulation of the hair follicle stem cells and this leads to an increase in the anagen phase of hair growth.
The Fotona laser treatment for hair regrowth is a non-invasive treatment and takes about 30 minutes with our practitioners recommending between 6 to 10 treatments at two-week intervals. No local anaesthetic numbing cream is required and the treatment is very well tolerated with minimal if any discomfort. There is no downtime after the procedure. It's common for the treated area to have a pink colour for about 24 hours after treatment and this is completely normal.
Ablative Fractional lasers
Lasers can generally be divided into two main categories: ablative and non-ablative. Ablative laser causes controlled tissue injury to the surface of the skin to a variable depth but always involves some level of penetration through the epidermis. Non-ablated lasers differ in that they cause less tissue injury and do not penetrate the overlying epidermis. There are a number of lasers that fall into each of the categories and each has a specific wavelength and act on a specific target. In the case of lasers being used for hair restoration, they all act on the water in the skin.
Traditional older lasers were non-fractional and acted on the entire skin surface to be treated which most commonly lead to a lengthy and painful recovery process. This meant that subsequent laser sessions needed to be undertaken much further down the line which length and the overall duration of treatment. Fractional lasers are the most advanced form of laser and as the name suggests, act on only a fraction of the skin surface during treatment. This means the recovery time is much quicker and with less risk of complications which leads to more rapid results. Centre for Surgery have the full range of lasers as described below:
Fractional ablative CO2 laser
Fractional CO2 laser targets water in the skin and this makes it an ideal laser for controlled skin ablation. Fractional CO2 laser has been shown to stimulate the antigen phase of hair growth and when used in conjunction with topical growth factors is able to increase both hair density and hair shaft diameter. Use of combined treatment with topical medication helps to boost hair growth more effectively than when the laser is used alone.
Fractional ablative Erbium:YAG laser
Erbium laser is similar to the CO2 laser in being a fractional ablative laser which also acts on the water in the skin. At Centre for Surgery our hair loss specialists use erbium laser as our preferred laser for early-stage hair loss often combined with topical therapy as it is unique in having a patented non-ablative thermal mode which results in fewer complications after treatment.
Laser hair treatment before and after
Case 1: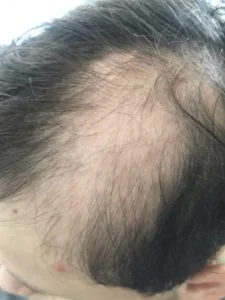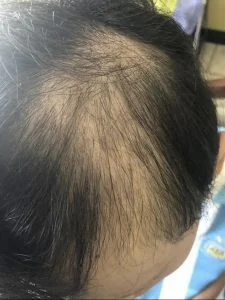 Case 2: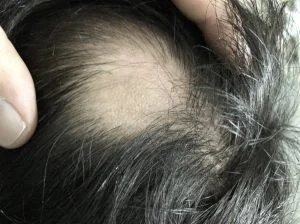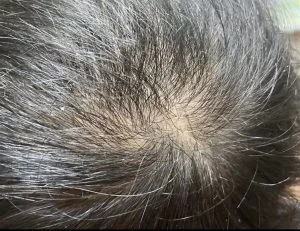 Case 3: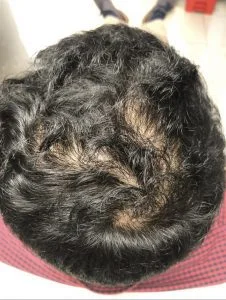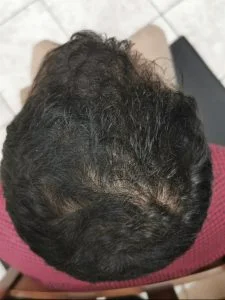 FAQs
How does Fotona laser stimulate hair regrowth?

The Fotona laser uses low-level laser therapy or LLLT, and also known as photobiomodulation which is a much gentler form of laser energy. The application of laser energy to areas of thinning hair or areas of balding stimulates stem cell activity in the underactive hair follicles to promote hair growth. The laser hair restoration procedure is very comfortably tolerated with no needles or surgery involved and therefore no downtime.

The erbium laser works in a non-ablative mode to increase blood flow, reduce inflammatory changes and normalise the functioning of hair follicle cellular activity.

How many laser treatments are required for effective treatment?

It is recommended to have between 8 to 12 laser treatments spaced two weeks apart for optimal results.