What are leg thread veins?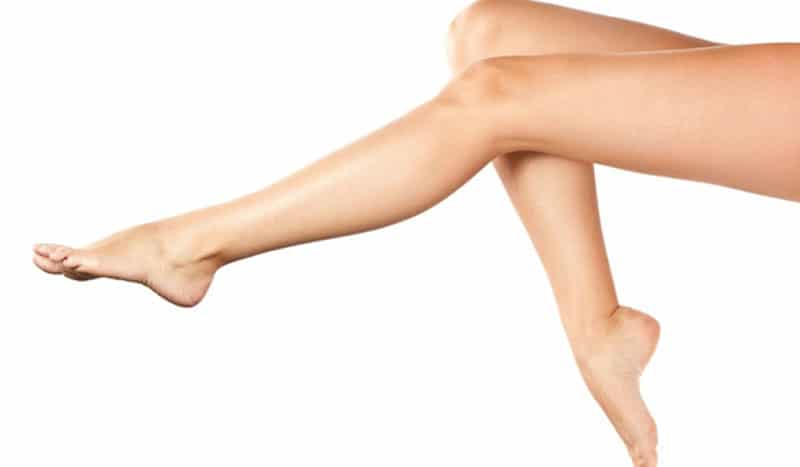 Leg thread veins and spider veins become a cosmetic nuisance when they become unsightly and is a broad term for a number of different types of prominent leg veins. In cosmetic dermatology, there are three main types of prominent leg veins.
Thread veins or Spider veins
Spider veins are by far the most common type of prominent leg veins that are seen by dermatologists at Centre for Surgery. These veins are darker in colour, often a purple or black colour and measure no more than 0.5 – 1.5mm in width. These veins are treated very effectively using a combination of microsclerotherapy and laser.
Reticular Veins
Reticular veins are the flattened feeding vessels that are amenable to treatment with sclerotherapy as they are linked to the smaller spider veins. The treatment of spider veins is likely to fail if these larger reticular veins are not effectively sealed off. Reticular veins usually require a higher concentration of sclerosant or may require foam sclerotherapy for treatment of very large vessels.
Varicose Veins
Varicose veins are very large calibre leg veins that bulge outwards creating a very unsightly cosmetic appearance. Varicose veins can also be a cause of symptoms including leg aching and discomfort. The appearance of the veins often resembles the veins found in very muscular men who actively lift weights. Of course in the case of varicose veins, they appear almost exclusively in the legs.
Treatment of leg thread veins
At your consultation, the dermatologist will first undertake a thorough history and examination to diagnose the exact type of prominent leg thread veins you may have. Our dermatologists are expert in the treatment of both spider veins and reticular veins. For appropriately sized veins, the mainstay of treatment for these two types of prominent leg veins are sclerotherapy and long pulse Nd:YAG laser for an effective clearance of the unsightly leg veins.
Most prominent leg thread veins need a number of treatment sessions for adequate clearance and this will depend on their extent, size and where the leg veins are located. Most people will require between one and three sessions and in most cases, a 90% improvement can be achieved.
The treatment of varicose veins is different to treatment of spider and reticular veins. Varicose veins need treatment using a more invasive technique carried out by a vascular surgeon. The gold standard method of treatment for varicose veins is EndoVenous Laser Ablation, or EVLA. EVLA is carried under ultrasound guidance and is a day case procedure carried out under a local anaesthetic. Centre for Surgery are unique in being able to offer a comprehensive leg vein treatment service covering all types of leg veins under one roof at 106 Crawford Street in Marylebone.
When considering leg vein treatment, it is important to bear in mind that legs veins are not easy to treat. This is due to the recovery potential of the veins. Treated leg veins are slow to heal due to the vascular supply to the leg which is less good compared with other areas like the face. It is therefore sensible to plan your leg vein treatment during the winter or spring months so you are fully ready for the summer months. Treatment courses can up to three months for optimum clinical effect.
When is it best to have leg vein treatment?
It is important to consider the optimising timing for leg vein treatment to achieve best results with the minimum of risk. Selecting the right patients for the correct treatment at the right time is crucial as always bit especially so with leg vein removal. Doctors who try to remove very fine spider veins which measure 0.3mm in width or less are unlikely to achieve good results as it often impossible to insert the sclerotherapy needle into such a fine vessel. Laser can also be ineffective as these very small vessels  require the selection of laser parameters with high energies to address these smaller vessels. The risks of using higher energies for tiny vessels less than 0.3mm in width include the risk of scarring and discolouration, leading to a potentially worse appearance than before.
Our dermatologists recommend that if you have to look closely at your legs at less than 30cm distance to see the leg veins then it is likely to be too early to see a leg vein specialist. It is best to wait until they become more larger.
The ideal laser for leg vein removal
It is commonly thought that a laser works well for a wide variety of skin concerns. In reality a laser is often great at treating only a very narrow range of skin concerns due to its single wavelength. Different types of lasers work well for different kinds of skin conditions. At Centre for Surgery we have the full range of laser devices for comprehensive treatment of most if not all common skin concerns. The gold standard laser in the treatment of leg veins is the long pulse Nd:YAG laser. No other laser comes close to achieving the results attained from the Nd:YAG laser in the treatment of leg veins. This includes diode lasers, pulsed dye lasers and KTP lasers. Many non-medical clinics will attempt to treat leg veins with low powered IPL devices. This approach is doomed to failure in most if not all cases and with a risk of skin damage if treatment is carried out in unqualified hands.
https://m.youtube.com/watch?v=zy1qpJyDBtY
Leg thread vein removal before and after
Case 1: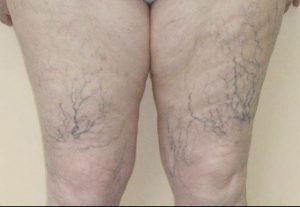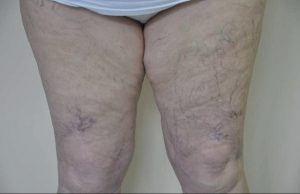 Case 2: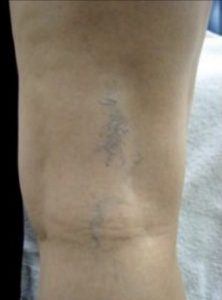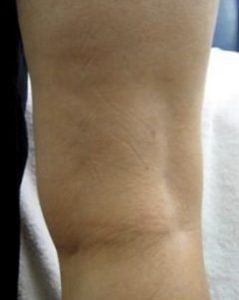 Case 3: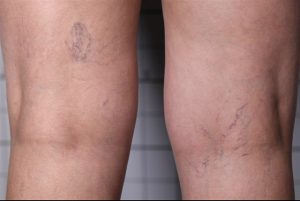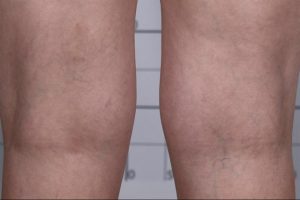 Aftercare instructions for leg vein removal
For patients who have had microsclerotherapy, it is important to follow the aftercare instructions below:
Patients are recommended to carry out light exercise such as a short in the park for twice a day for one week following leg vein removal treatment. This aids in the veins that been injected to close more effectively and contributes increased success rates in eradication of leg veins. It is also important not to overdo physical exercise as this can worsen outcomes following leg vein removal treatment
The dressings that are applied following treatment to the injected areas should be kept on until the next day. If the area becomes acutely itchy then the dressings should be removed earlier
All patients should wear well fitting class 1 thigh length compression support stockings for a full one week following treatment. This helps in optimising successful outcomes following treatment. If you are able to wear the stockings continuously for the first 3 days, this certainly helps further in increasing success rates but if you find them difficult to tolerate then the stockings may be removed at night time.
You should avoid hot showers and avoid hot baths completely for the first 7 days following leg vein treatment. Lukewarm water is fine for the first 7 days.
It is very important to avoid direct sun exposure to the legs following treatment for a full 6 weeks to avoid the risk of hyperpigmentation.
If hyperpigmentation does develop in the treated areas of the legs, it is very important to avoid sun exposure for a full one year to avoid the risk of permanent hyperpigmentation developing.
Our clinical support team are available around the clock to answer any questions you may have. If you think you may be experiencing adverse side effects then please get in touch for further advice. If you are experience leg or calf swelling or chest pain/shortness of breath, you must seek immediate medical attention at your local emergency department to rule out a DVT or PE.
Patients should bear in mind that the healing process after microsclerotherapy and laser vein leg vein removal can take a few weeks. It is not uncommon to experience tenderness, discolouration, hardening or telangiectasia (spider veins) but they settle without active treatment after a few months.
Leg vein treatment takes a number of sessions and it is important to avoid shaving the legs for a minimum of 24 hours before your next treatment and avoid all use of creams or lotions to the legs before treatment.
It recommended to avoid flying for a full 4 weeks after treatment.
If you have any further questions, please ask your aesthetic practitioner at your face to face consultation.
Risk and complications of leg vein treatment
Post-inflammatory hyperpigmentation. PIH is the most common complication after leg vein removal but in the vast majority of cases, it settles within a few months provided the legs are kept out of sunlight. The risk of PIH can reduced by wearing well fitting compression stockings continuously for the first 3 days following treatment. PIH can develop following both microsclerotherapy and laser vein removal.
New vessel formation or matting. This complication develops when the body reacts to leg vein destruction by forming new smaller veins in the vicinity of treatment and can happen after both microsclerotherapy and laser treatment. These new smaller veins often settle and disappear without active treatment after a few months. Persistent small veins can be efficiently removed with long pulse Nd:YAG laser.
Skin breakdown / ulceration. This is a rare complication of microsclerotherapy but does not occur with laser treatment. Ulceration occurs when the sclerotherapy liquid enters a small artery and not a vein. This occurs more commonly at the ankle as the the arteries and veins are often in closer proximity to one another in this region. Our specialists will often prefer to use laser treatment for leg vein removal in these areas to avoid this risk. Ulcers once formed can be a cause of discomfort and take about 6 weeks to heal completely. Any resultant scarring is often inconspicuous and often no larger than 3-4 mm.
Deep vein thrombosis. This risk only applies to microsclerotherapy treatment only. Thankfully it is a rare occurrence (less than 1 in 1000) and is related to the following risk factors: patients who smoke, use of the combined oral contraceptive pill, those who are overweight or obese, those with a personal or family history of DVT, patients with cancer or are undergoing cancer treatment, diabetic patients.
Burns. The risk of burns arises from the use of laser treatment. It does not occur with microsclerotherapy. Avoidance of this risk os related to skill with laser treatment which is why it is important to choose a practitioner with plenty of experience in using laser for leg vein removal.
Tissue staining caused by haemosiderin. This is a rare complication caused by leakage of iron containing pigment from veins that have been previously treated. It takes time to appear and is often appears as a permanent bruise over the area of treatment. Although it can develop as a result of treatment with both microsclerotherapy and laser, it is more common with microsclerotherapy treatment.
FAQs
What does thread vein removal involve?

At Centre for Surgery we offer the most effective treatments for leg thread veins including both sclerotherapy and laser thread vein removal.

Microsclerotherapy treatment involves using tiny microneedles to precisely inject a sclerosing agent into the affected veins. This results in the veins initially fading followed by their disappearance. The improvement in appearance is often immediate and comes with an associated relief in symptoms such as leg ache. It may take up to 3 months for the final results to become evident. In many cases, the veins will continue to improve for up to one year. Treatment is customised to each patient and a number of treatment sessions may be needed depending on the number of veins and their distribution on the leg. In most cases, between three to five treatments are optimal to get the best results.

The Fotona Nd:YAG laser can also be used for laser thread vein removal on the legs. In many cases, laser thread vein treatment may be more appropriate when small spider veins prededominate and these can be difficult to treat with microsclerotherapy as they are too small to insert the needle accurately. The use of the laser involves the targeting of veins with intense laser energy deep into the skin to target the blood within the veins. The laser energy causes the blood to coagulate which leads to a diversion of blood flow to veins found deeper within the leg which is the correct pattern of blood flow in normal legs.

Is laser thread vein removal painful?

Laser thread vein removal is not a painful procedure but most patients often describe the leg thread vein removal with laser as feeling like a rubber band being flicked against the skin. To reduce this sensation, your doctor will apply a topical local anaesthetic cream beforehand to ensure treatment comfort.

How long do results last?

Once the leg thread veins have been eliminated either via microsclerotherapy or laser treatment, they should not recur. It is important to bear in mind that new leg thread veins can develop in other parts of the leg and there are a number of recognised causes of new leg veins. These include pregnancy, jobs that involve standing on your feet for long periods of time, weight gain and hormonal changes.