Psoriasis treatment in London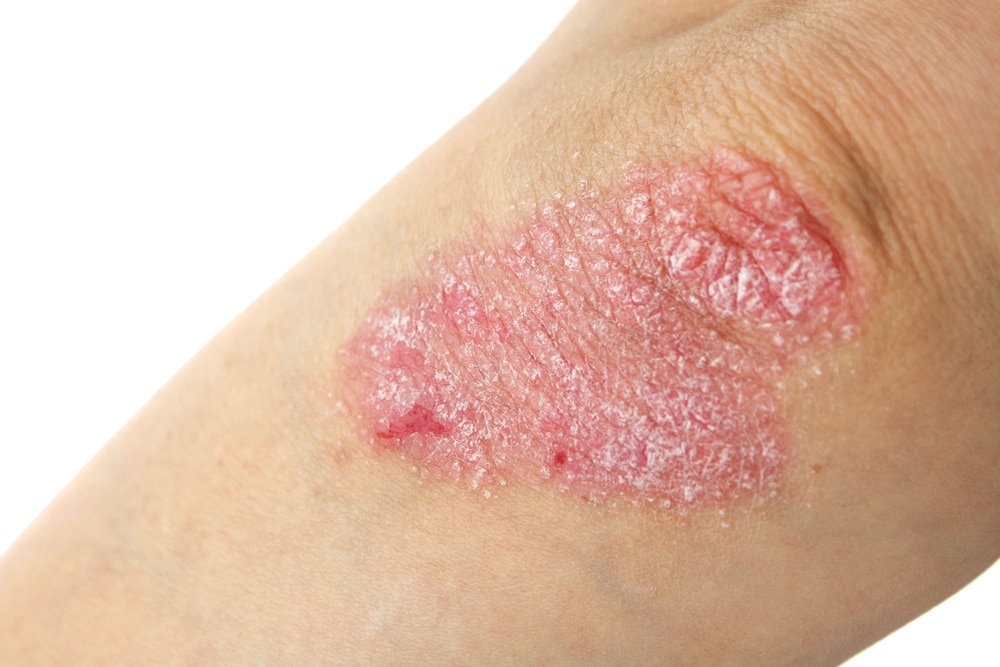 Psoriasis is a common condition of the skin that affects 2 in 100 people in the UK. Both women and men are equally affected. Psoriasis is a chronic medical skin condition and tends to wax and wane in its severity. The condition cannot be transmitted from person to person and therefore is not infectious. Psoriasis does not result in an increased risk of skin scarring but there be short lived changes in the colour of the skin. Thanks to medical advances in psoriasis treatment and despite being a chronic medical condition, there are now many excellent treatment options to maintain effective control of psoriasis.
Psoriasis does not just affect the skin, it can also involve the nails and the joints. A type of the condition is known as psoriatic arthritis and this is known to exert its effects
Psoriasis can affect the nails and the joints as well as the skin. Psoriatic arthritis produces swelling and stiffness in the joints or stiffness in the lower back and should be managed by a rheumatologist who works closely with your dermatologist and/or your GP.
Psoriasis, particularly moderate to severe psoriasis, is associated with an increased risk of anxiety, depression and harmful use of alcohol. Moderate to severe psoriasis increases the risk of heart disease and stroke and treatment of psoriasis may reduce this risk. Psoriasis can also be associated with diabetes, obesity, venous thromboembolism, high cholesterol and high blood pressure. Psoriasis is also associated with inflammatory bowel disease and there is a small increased risk of skin cancer in longstanding cases of psoriasis.
Causes of psoriasis
Psoriasis is a very common dermatological condition and affects about 2% of the UK population. Although the causes of psoriasis are not exactly elucidated, it is well known that hereditary factors along with immunological factors play a key role which are often potentiated by environment triggers.
Known associations with psoriasis:
Psoriasis tends to run in families and so there is a strong genetic influence
Psoriasis is most commonly found in those of Caucasian extraction
Immunological factors are thought to play a part in the development of psoriasis as hyperactive white blood cells have been shown to exert an effect on the skin cells which leads to an increase in cellular turnover and this is what gives rise to the over proliferation of skin at the sites of psoriasis
Psoriasis is not known to have the ability to be passed between individuals – it is non-contagious
Some patients may possess genetic code which predisposes them to develop psoriasis
Environment triggers are known for being preciptants of flare-ups of psoriasis and these include:
Infection
Certain medications such as steroids or medicines for mental health conditions
Disruption to skin integrity such as caused by traumatic injury
Tobacco and alcohol intake
Low ambient temperatures with low humidity
Stressful lifestyle
Causes of exacerbations of psoriasis
Infection – both bacterial and viral infections including sore throats caused by streptococcus bacteria
Cold and dry weather conditions
Traumatic injury to the skin – these include cuts, grazes and insect bites
Smoking and excessive alcohol intake
Stressful life events
Certain medications such as steroid use or medicines used to treat mental health conditions
Excessive sunlight exposure result in sun burn and also inadequate exposure to sunlight
Clinical features of psoriasis
Psoriasis can present in many different ways depended on the specific type of psoriasis. Some common clinical features are listed below:
Thickened raised skin
Silvery scaly skin over well demarcated plaques
Scalp hair loss
Red inflamed skin with scaly skin texture
Skin blistering
Nail involvement – pitted nails which in some cases lift up from the underlying nail bed
By far the most common presentation of psoriasis in over 80% of cases is plaque psoriasis in both men and women. Plaque psoriasis most commonly appears as thickened, and silvery skin in often well demarcated areas  with a number of associated smaller plaques which often coalesce to form larger plaques with time. Most patients often report a great deal of itchiness arising from these psoriatic plaques, however patients should resist the urge to scratch them as this could make it worse. A number of topical agents are available to reduce the itching sensation as part of a comprehensive psoriasis treatment plan.
Less common presentation of psoriasis which comprise about 20% of cases include:
Guttate psoriasis
Localised pustular psoriasis
Generalised pustular psoriasis
Erythrodermic psoriasis
Psoriasis affecting the nails. The nails often develop small pits and may develop discolouration. In some cases, the nail may lift up from the nail bed.
Psoriasis can also present as part of a psoriatic arthritis which may also require joint input from a rheumatologist for adequate control.
Where does psoriasis most commonly develop on the body?
Psoriasis can also be found on other areas of the body depending on the type of psoriasis and in severe cases, psoriasis can present in a diffuse widespread pattern with involvement of much of the surface of the skin.
Treatment for psoriasis
Psoriasis is a chronic skin condition which means it cannot be cured completely and often waxes and wanes in severity. Despite there not currently being a definitive cure for the condition, there are a number of effective psoriasis treatment options available for proper control of the condition.
Psoriasis Treatment options for optimal symptom control include:
Topically applied skin creams and gels
Targeted light-based therapies
Systemic medications which are both orally administered and in severe cases by intravenous injection
The treatment strategy for psoriasis involves the use of topical therapy and light-based treatments for the milder forms of psoriasis with systemic medications reserved for the most severe cases of psoriasis where both topical and light treatments have proven ineffective in disease control.
At your consultation for psoriasis treatment in London, your specialist dermatologist will formulate a treatment plan for optimal management of this common skin condition.
Why have psoriasis treatment in London at Centre for Surgery?
Improvement in symptoms
Increased levels of confidence and ability to engage fully with activities of daily living
Enhanced levels of emotional well-being with reduced levels of stress
How to find us
Centre for Surgery is located at 106 Crawford Street in Marylebone. Crawford Street is just off Baker Street. We are easily accessible by all major bus routes that pass through Baker Street as well as Baker Street underground station.
From the tube station, we are just a 5 minute walk southwards down Baker Street followed by a right turn onto Crawford Street. The clinic is about 200 yards on the left.
There is ample local pay & display parking in the surrounding area and an NCP car park is located further west along Crawford Street. Our local residential parking zone is the City of Westminster.
Address: 106 Crawford Street, Marylebone, London, W1H 2HY
What To Expect
The psoriasis consultation
You will be booked in to see one of our expert dermatologists at Centre for Surgery on Crawford Street for your psoriasis consultation.
The dermatologist will perform a thorough clinical examination of your skin and will discuss a number of aspects with you:

- Treatment options based on the type of psoriasis you have and what kind of results can be expected with the proposed psoriasis treatment
- What the psoriasis treatment involves including how often to apply the medication to the skin
- Review your medical history including any medicines you be taking
- Answer your questions about any aspect of the psoriasis treatment

Patient journey summary:

- Arrange a consultation at our dermatology clinic at 106 Crawford Street, Marylebone for a face to face consultation with an expert dermatologist
- Commence a course of treatment based on your needs and preferences
- Arrange a follow-up appointment if required to be seen by your dermatologist to review the effectiveness of treatment