What are thread veins?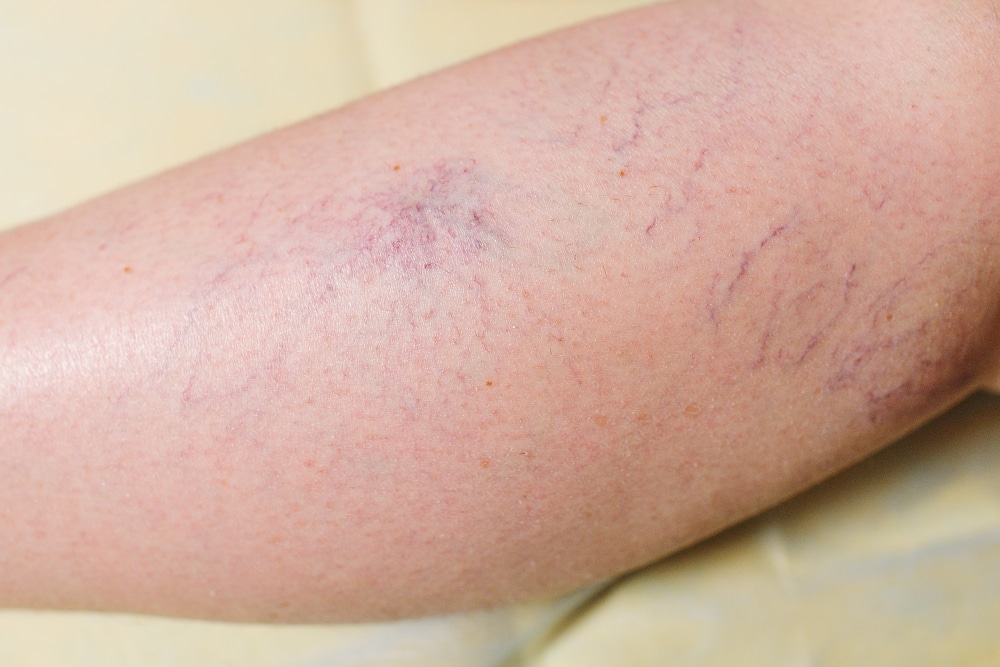 Thread veins, also known as spider veins can be unsightly and compared with varicose veins, are much smaller veins found just below the surface of the skin. Most thread veins tend to have many branches and this often gives rise to a spider-like appearance hence the name of spider veins. Thread veins and spider veins are more common with age and can be seen most commonly on the legs and face although they may be seen at any location on the body. Thread veins are highly prevalent in the general population with up to 4 and five adults being affected often in their later years. Thanks to medical advances, there are now a number of highly effective treatments for leg thread veins that can be easily carried out in a matter of minutes for permanent and effective clearance.
Facial thread veins are managed by our expert aesthetic practitioners and compared with leg thread veins the treatment involves Nd:YAG laser.
What are the causes of thread veins?
In the vast majority of cases, the precise cause of thread veins remains unknown however as with the development of varicose veins there is a strong hereditary link to the development of spider veins. There is often a strong link between first-generation relatives including both children, siblings and parents.
There are a number of recognised risk factors which may increase the risk of developing thread veins including:
Oestrogen therapy
Prolonged use of topical steroids
Localised skin injury with prolonged inflammation
Pregnancy
People who stand for long periods of time
In a small number of cases, the occurrence of thread veins may be related to an underlying generalised condition affecting the veins.
What are the symptoms and signs of thread veins?
Most people who have thread veins do not develop any symptoms related to them although they can be seen as a cosmetic nuisance. The most common reason for the treatment of thread veins is to improve the appearance of the leg. In a very small number of cases, there may be symptoms such as itchiness, cramping sensation or a burning sensation however these are more commonly related to patients who have larger varicose veins. Varicose veins can be commonly associated with a number of functional symptoms leading people to seek treatment.
There are a number of different types of thread veins and each has a different appearance. Their actual appearance will depend on how close the thread vein is to the surface of the skin, the actual size of the thread vein and the direction of blood flow within the prominent vein. Thread veins most commonly have a red or pinkish appearance but larger thread veins also known as reticular veins can often have a blue appearance. The colour of the vein can also be influenced by how deep the vein is below the skin surface. Veins that are situated more closely to the skin surface will have a more defined appearance compared with those that are deeper which may appear less obvious to the naked eye. Many thread veins may not have the typical branching pattern and appear as short segments of straight veins which do not resemble the typical spidery pattern of the most commonly seen thread veins.
Diagnosis of thread veins
The diagnosis of thread veins is very straightforward with most cases being confirmed with a thorough clinical examination alone due to the fact that thread veins are primarily a cosmetic nuisance. However, establishing the precise cause of the formation of spider veins cannot be achieved with a clinical assessment alone. It is necessary for any patient presenting with thread veins or spider veins affecting the legs to have a colour duplex ultrasound scan to ensure there is no underlying valve dysfunction affecting the deeper veins of the leg which could be causing the thread veins to appear.
Patients who have treatment for thread veins without prior duplex ultrasound scans have an increased risk of recurrence of thread veins. This is because if there are underlying abnormal varicose veins which remained untreated, the thread veins will invariably recover as the underlying varicose veins have not been treated first.
Best treatments for thread veins
The gold standard treatment for most thread veins found on the legs is microsclerotherapy. Micro sclerotherapy is a highly effective minimally invasive outpatient treatment that is able to be carried out within a matter of minutes. The treatment produces results that can be seen virtually instantaneously. For effective leg vein clearance, a number of follow-up treatments may be required as there is a requirement to observe safe dosage limits when using microsclerotherapy as a treatment for thread veins. Your doctor will be able to advise you at your consultation on how many treatments may be required.
In a smaller number of cases especially with thread veins affecting the feet and ankles or when veins pass over bony prominences, laser thread vein removal may be more appropriate as it can be difficult to access veins with a needle for microsclerotherapy in these regions.
The treatment for facial thread veins is different and is carried out by our expert aesthetic practitioners. Laser thread vein removal is exclusively used for facial thread veins. Microsclerotherapy is never used on the face for thread vein removal due to the risk of the development of permanent skin discolouration.
How to prevent thread veins
Thread veins are an extremely common condition and increase in prevalence as we get older. Although there is no one recognised technique to prevent the onset of the development of thread veins, there are a number of lifestyle measures which people can take to reduce the risk of their development. These include the maintenance of a healthy body mass index and carrying out a regular program of cardiovascular exercise to improve blood flow in the legs.
Many people may have occupations which do not involve significant physical effort such as working in an office. We would recommend after a period of time to get up from your desk and move around to optimise blood flow and circulation in the legs. In some cases, the application of well-fitting compression stockings can help to relieve any mild symptoms from prominent veins such as itchiness, cramping or a burning sensation. the development of facial thread veins is more commonly linked to people who smoke or drink excessively and controlling these factors may help to reduce the risk of onset or improve the appearance of facial thread veins over the long term.