What does the varicose veins consultation involve?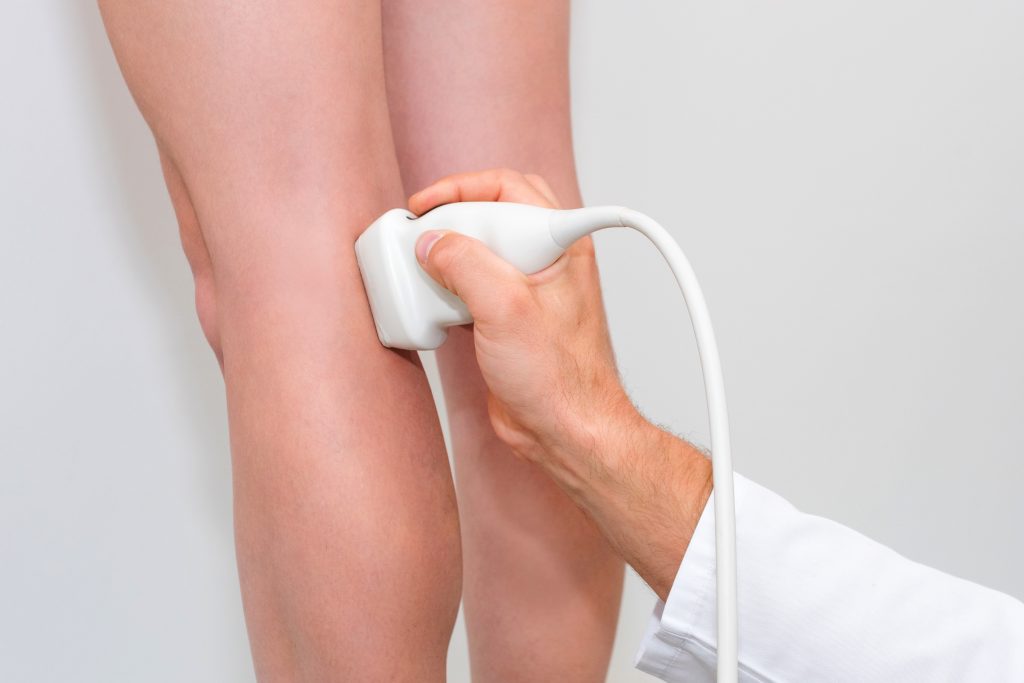 The first step of the consultation involves our vascular specialist learning more about your symptoms and whether your varicose veins cause any functional symptoms such as pain, itchiness or aching. The specialist will also want to understand your goals for treatment and if there is a timeframe involved for achieving satisfactory clearance of the diseased veins. A detailed medical history will be taken and this will include any previous treatments for varicose veins which may have been undertaken in the past.
Comparing varicose veins with healthy veins
All varicose vein consultations will include a complimentary colour duplex ultrasound scan which will be undertaken on both of your legs and extends from the groin region all the way down to your feet. Carrying out a duplex ultrasound scan is considered to be the most precise method for accurate localisation of the varicose veins and any associated thread veins. The ultrasound scan of your legs is carried out whilst you are standing up to permit precise identification of any potentially disordered blood flow in the deep veins of the leg.
After undertaking the clinical assessment and ultrasound scan, the vascular specialist will be able to discuss with you the findings from the ultrasound scan and the potential treatments which are most appropriate for you. A full discussion of the potential risks and complications of treatment will happen along with the benefits of varicose vein treatment. You should take the opportunity to ask as many questions as possible to gain a full understanding of the EVLA treatment which allows you to become an active participant in the treatment process. Our experience has demonstrated better treatment outcomes when patients are fully informed of what the treatment involves and take active decisions about their treatment.
The majority of patients who have varicose vein treatment will most commonly have a combination of EVLA and foam sclerotherapy for effective clearance of both varicose veins and thread veins.
The treatment of varicose veins
At Centre for Surgery in London, we have designed our varicose vein treatments to be as accessible as possible to the widest possible group of patients. Our pricing structures are open and transparent and you'll have a clear idea of the final costs of treatment at your initial vein consultation. You will receive a written quote for varicose vein removal before any potential treatment to allow you to make a considered decision on the most appropriate treatment option for you.
After you have had your varicose vein consultation, you may decide to defer treatment for a period of time. At our expert vein clinic in London, we consider your consultation and ultrasound scan to be clinically valid for up to 12 months. You may require a further follow-up consultation beyond this period as your varicose veins may have worsened over time. We would advise you to take as much time as you like to reflect on the treatment options before getting in contact with us to book your verrucous vein treatment. Our expert team of patient coordinators are knowledgeable in all aspects of leg vein treatments and will be able to act as your dedicated point of contact for any questions you may have about the treatment.
What is a colour duplex ultrasound scan?
The foundation of accurate diagnosis of varicose veins involves carrying out a detailed colour duplex ultrasound scan. This imaging procedure is quick to carry out and is completely non-invasive in nature with no pain or discomfort during or after the scan. The purpose of the ultrasound scan is to accurately map the structure and appearance of the veins and to understand their functioning in terms of the direction of blood flow in the veins. A properly performed ultrasound scan carried out by an expert vascular specialist will be able to identify retrograde blood flow in the leg veins which is also known as Venus reflux. If venous reflux is identified then this will demonstrate the veins to have valve dysfunction allowing the backflow of blood. Normally functioning veins with healthy valves allows the blood to flow back towards the heart. Diseased veins in the legs with faulty valves permit reverse blood flow away from the heart. The result is pulling an accumulation of blood in the veins of the leg which over time will result in the formation of prominent, bulging, and twisty veins also known as varicose veins.
It is vital to carry out a duplex ultrasound scan even when the vascular specialist is able to determine the site of retrograde blood flow without a scan. This is so that other areas of reflux in associated segments of the vein can be identified as well as identifying veins which may have slightly different structures to the normal textbook descriptions. These differences can mean adjustments may need to be made to the planned treatment. We would advise against having treatment at any vein clinic which does not carry out an in-depth colour duplex ultrasound scan. Some clinics may make use of older techniques such as handheld Doppler probes but these are substandard and are not the standard of care for the diagnosis of varicose veins.
FAQs
What is the cost of the varicose vein consultation?

A consultation with a vascular specialist at centre for surgery cost £150 and includes a complimentary colour duplex ultrasound scan worth more than £400.

Can I have my consultation and EVLA treatment on the same day?

In many cases, patients are able to have both the varicose veins consultation and DVLA treatment on the same day. If you are keen to have this option, please get in touch with us beforehand and send us any required information on your diagnosis which may involve photos. Patients who have varicose veins may be eligible for 'see and treat' at our London clinic.

It is important to remember that the precise treatment plan can only be provided once you have had the consultation and the vast majority of treatments will involve EVLA carried out under local anaesthetic as an outpatient.

Can you treat me if I have had varicose veins treatment in the past?

In a certain proportion of cases we see each year, patients may have had unsuccessful treatment for their varicose veins elsewhere. Most commonly patients will have had old-fashioned varicose vein surgery which involves 'ligation and stripping'. Many patients who have had surgery often notice their varicose veins reappearing sometimes as early as 12 months after treatment.

Other patients had their varicose vein treatment carried out at aesthetic clinics with no prior ultrasound scan being undertaken of the legs. There is therefore no precise diagnosis leading to a very high rate of varicose vein recurrence.

We focus on providing a detailed consultation involving a duplex ultrasound scan and only carrying out gold standard treatments approved by the National Institute for Health and Care Excellence (NICE).

EVLA combined with foam sclerotherapy is the first-line treatment for the vast majority of patients who present with varicose veins.