What does varicose veins surgery involve?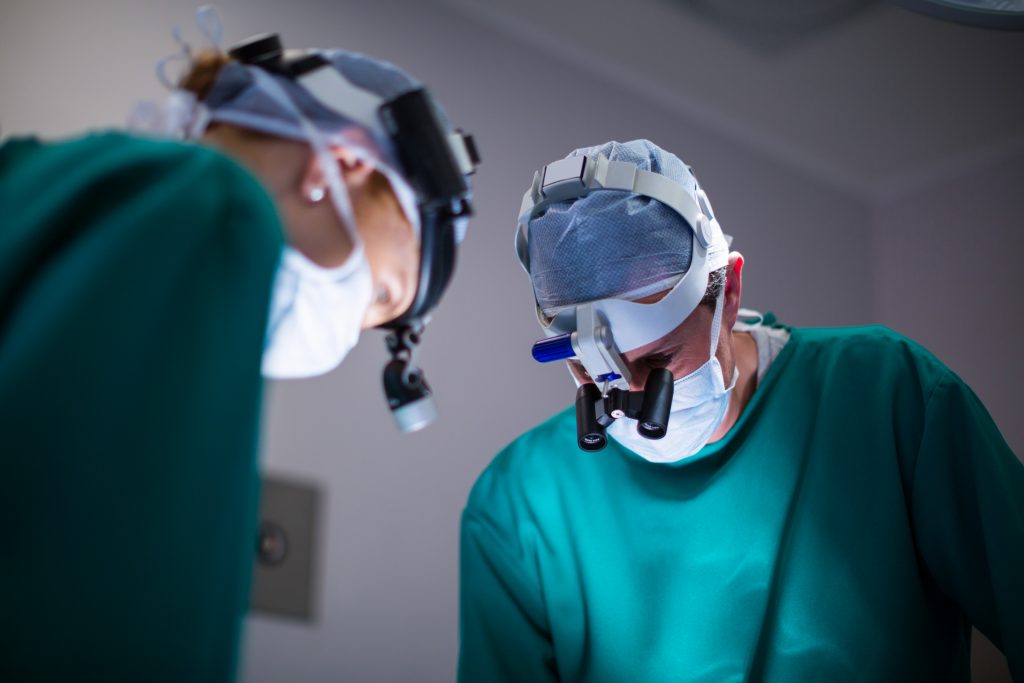 Modern treatments for varicose veins such as EVLA and foam sclerotherapy were developed only recently about 15 years ago. Prior to this, varicose veins surgery was the standard treatment for varicose vein removal. The procedure is also known as surgical ligation and stripping and was carried out for over a century until the advent of endovenous laser ablation. Surgery is still the most common method of treatment for varicose veins in many countries. Varicose vein treatments including surgery are no longer routinely performed in the NHS for patients who do not have symptoms and are concerned mainly by their cosmetic appearance. Patients may be eligible for NHS treatment if they have certain symptoms including skin discolouration or the formation of venous ulcers.
RELATED: What are varicose veins?
The surgery involves the physical removal of the saphenous vein by literally pulling it out. The surgeon performs an incision in the groin and a lower incision on the inner part of the leg. The main vein ranches are tied off or ligated first. The saphenous vein is then surgically stripped with a specialised wire with a metal bell end tip. Once the saphenous vein has been removed, the surgeon will perform a number of phlebectomies to remove smaller varicose veins which may branch off the main varicose vein. Varicose vein surgery can be very painful with many patients requiring strong painkillers to control symptoms. Many found that they were unable to mobilise for at least 3 to 4 days after the procedure. Unlike EVLA, varicose vein surgery has to be carried out under a general anaesthetic and many patients are required to stay in hospital for a minimum of two nights. The extensive trauma created by stripping the saphenous vein often leads to the formation of new veins as part of the response to wound healing and inevitably these varicose veins recur with an increase once again in symptoms of pain, aching, and swelling. The application of very tight bandages for up to 4 weeks after surgery made the recovery process very difficult for patients and many patients were unable to return to work until at least one month after the surgery. There is not a great deal of research on the effectiveness of surgery for varicose veins. Risks of surgery include significant bruising, swelling, severe pain, prolonged time off work, deep vein thrombosis, permanent nerve injury, and varicose veins recurrence. The risk of recurrence of varicose veins after EVLA is much less compared with surgery.
Once the veins have been surgically removed, the skin is then sutured closed followed by the application of a sterile dressing. The procedure can result in the formation of significant scars which can be highly visible. Unfortunately, many surgeons carrying out traditional treatments for varicose vein removal were not concerned with the cosmetic appearance after surgery. Our varicose vein specialists still see patients who have had varicose vein surgery many years before and are concerned by the significant scarring that surgery can result in.
Removing smaller varicose veins with phlebectomy is still carried out today often in conjunction with modern techniques of EVLA and foam sclerotherapy. The technique has however much improved with the formation of much smaller incisions and therefore minimal scarring compared with the older techniques of phlebectomy.
At Centre for Surgery in London, our vein specialists do not perform varicose vein surgery as we believe the technique has significant risks and complications and with higher recurrence rates compared with gold standard EVLA treatment.
Other ineffective treatments for varicose veins
Chemical injections
Doctors would traditionally inject chemicals into varicose veins to cause their destruction although this method is not popular in the UK. Chemical injections for the treatment of varicose veins should be distinguished from foam sclerotherapy which is a highly effective treatment for varicose veins. Chemical injections are not as effective as foam sclerotherapy or EVLA and the risk of recurrence with this type of treatment is much higher compared with the gold standard EVLA technique.
Disadvantages of treatment include the requirement to have regular injections and the need to wear tight-fitting bandages for at least one week following each chemical injection treatment. These bandages can be very uncomfortable to wear for prolonged periods of time.
Chemical injections which have not been injected in the correct location may result in the risk of developing skin discolouration which can often be permanent in many cases. More serious risks of chemical injections include severe ulceration if the injection has mistakenly occurred into an artery. Blood clots including deep vein thrombosis are a significant risk with this type of treatment. Allergic reactions are not uncommon given the type of irritant chemical being injected. The vast majority of patients require repeat treatment within five years to achieve symptom control and is, therefore, an inferior treatment to EVLA or foam sclerotherapy.
Complementary and alternative medicine treatments
Despite varicose veins being so common in the general population, they continue to be a very wide range of alternative medicine treatments being available to the public. Typical treatments include Ginkgo Biloba, flavonoids, witch hazel and butcher's broom. None of these treatments has been shown to be effective in the treatment of varicose veins and we would advise steering well clear of these ineffective treatments.
Although eating a diet high in fibre is generally good for health and helps to reduce constipation by minimising straining, it is not a recognised treatment for varicose veins but may help to control mild symptoms only. When considering having treatment for varicose veins, it is important to consult with an expert vascular specialist at an accredited vein clinic in London.
Top tips for improving the symptoms of varicose veins
It is highly unfortunate that many patients continue to get recommended surgery for varicose vein removal with many more not being told about the benefits of treatment with EVLA or foam sclerotherapy. There are a number of general lifestyle measures which patients can consider which may help to improve the symptoms of varicose veins or prevent symptoms from getting any worse. These include the following:
Avoid gaining excess weight and maintain a healthy weight
Carry out a regular programme of physical exercise to encourage blood flow in the legs
Maintain a healthy diet with the addition of dietary fibre which may help to reduce constipation
Avoid prolonged periods of standing up or sitting down
When lying down, try to keep your feet up to improve blood flow
Try to avoid wearing tight-fitting clothing, particularly around the thighs and waist area
Unfortunately, none of these measures will make varicose veins go away altogether. The gold standard treatments for varicose veins include:
Further reading on Varicose Vein treatments