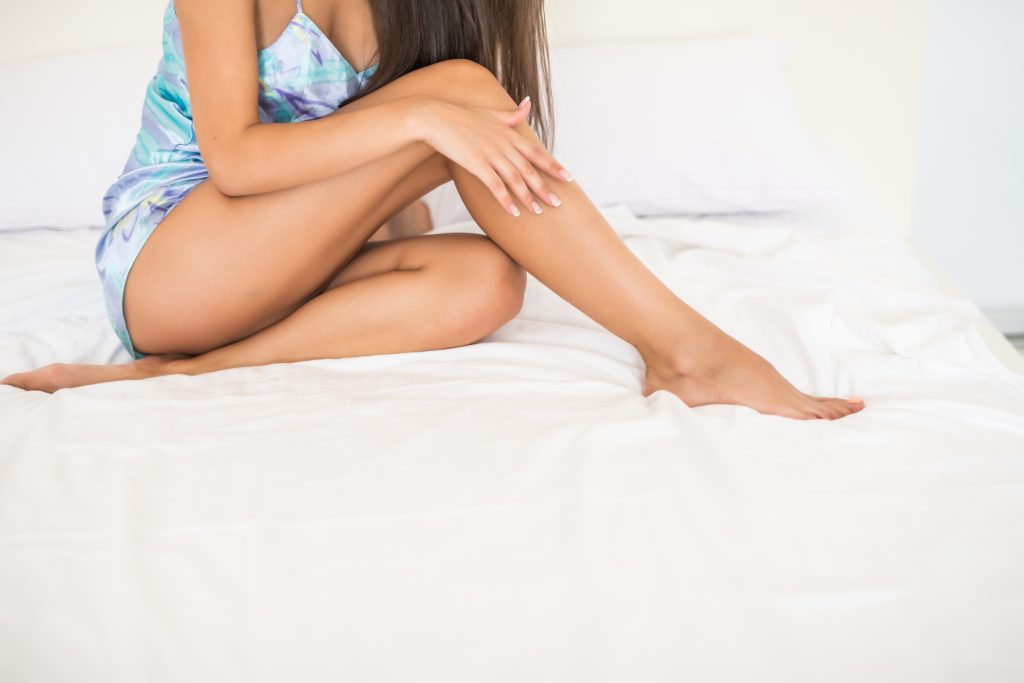 Varicose veins form when the valves located within veins, that control the flow of blood, become weak and incompetent. When this happens the blood pools in the vein, instead of flowing normally, and this often results in a swollen appearance. Varicose veins have a number of appearances that include a twisted or enlarged look that can look very unsightly.
Choosing the best varicose vein clinic in London
For most people, varicose veins are purely a cosmetic issue but in some cases, they can cause discomfort and pain – we can discuss this with you at the Centre for Surgery. Common varicose vein symptoms include:
Swollen feet/ankles
Sensations of legs feeling heavy and ache
Burning/throbbing feelings in the legs
Cramped muscles
Itchy or dry skin
There are numerous things patients can do or use to help relieve the pain of varicose veins. These include:
Compression Stockings
These stockings can be found in most pharmacies and stores on the high street. Compression stockings are worn to prevent several venous disorders from appearing. These disorders include deep vein thrombosis (DVT), and they also help to boost circulation in the legs. Often recommended to those with varicose veins, the compression stockings help to reduce pain associated with varicose veins in the legs. However, the relief gained from the wearing of compression stockings is only temporary and they should not be worn for long periods because of possible side effects. Before buying them, discuss this with your pharmacist or GP. You can also discuss it at your consultation with the Centre for Surgery.
What is the difference between spider veins and varicose veins?
Exercise
Regular exercise is always recommended by the Centre for Surgery here in London, and it can help with treating varicose veins. Exercise encourages blood circulation, and in the legs, this helps with varicose veins. The Centre for Surgery recommends low impact exercises, particularly ones that target the calf muscles. This means walking, yoga, swimming or cycling. Taking regular breaks from sitting at a desk, for instance, and walking around is also going to help.
Healthy diet
A healthy diet that is full of all the nutrients a body needs is always the ideal, regardless of overall health. Reducing salt intake, or sodium-rich foods will help if you are experiencing swelling. Salt retains water, so reducing the amount you are ingesting can help reduce the swelling. Foods that are known to reduce water retention include lentils, leafy greens, nuts and potatoes. Adding these to your diet can help to reduce the swelling. Maintaining ideal body weight is always a healthy option but it also helps with minimising complications associated with varicose veins. Excessive weight puts pressure on the veins, so reducing this is going to alleviate discomfort and swelling.
Leg elevation
If you are feeling discomfort in the legs, try resting with them elevated. Ideally, they should be at the same height or above your heart – this will help to improve the circulation in your legs. In cases where you know, you will be sitting for long periods, elevating the legs will help relieve pain, too.
Choose to clothe wisely
Different types of shoes or clothing could cause varicose vein symptoms to become worse. Tight jeans and high heels should be exchanged for loose-fitting pants and flat shoes, for example. Tight clothing can cause additional discomfort by restricting blood flow.
Surgical treatment for varicose veins
Although the non-surgical treatments mentioned above can significantly improve symptoms, this may only be for a limited period of time before symptoms occur. For a more permanent solution for the treatment of all types of varicose veins, you should consider making an appointment with us at Centre for Surgery in London. Varicose vein removal treatments Centre for Surgery are considered some of the most advanced in the UK and with the highest success rates. At Centre for Surgery, we offer several different types of minimally invasive procedures for varicose veins and thread veins. These are performed by surgeons at the top of their field.
Endovenous Laser Ablation (EVLA) is regarded as being the very best treatment for varicose veins and is recommended by NICE as a first-line treatment. EVLA is the most widely chosen option by our patients. The treatment involves using ultrasound to accurately locate damaged veins, followed by the application of precise laser thermal energy to collapse the vein wall leading to eventual destruction and its natural absorption by the body leading to effective resolution of the root cause.
Foam sclerotherapy is commonly used for the treatment of larger veins that may not be amenable to treatment with EVLA. In this case, the vascular specialist prepares the sclerosant into a foam solution which is then injected and ultrasound guidance into the affected veins. The sclerosant results in the vein walls becoming inflamed followed by eventual shrinkage of the vein and disappearance.
Phlebectomy also known as vein avulsions is an effective treatment for prominent veins that are located just beneath the surface of the skin. The Surgeon will make a tiny incision and will then gently tease the vein out using a vein hook. Vein avulsions do not require the use of sutures and the recovery time is very short. Phlebectomy is often combined with EVLA for patients who desire a quicker response to treatment compared with foam sclerotherapy.
Varicose vein treatment at Centre for Surgery in London
Our vascular specialists are experts in the treatment of all types of leg veins including varicose veins, thread veins and spider veins.
At our London vein clinics, we have successfully treated hundreds of patients with EVLA (endovenous laser ablation).
All varicose vein treatments are carried out under local anaesthetic and without the requirement for a general anaesthetic which reduces the risks of treatment
All treatments have little if any downtime and treatments are quick and efficient which allows you to leave the clinic within two hours
We have achieved success rates as high as 97% using EVLA. Our lasers are German designed and manufactured.
We offer varicose vein treatments with highly competitive pricing  and our patients have access to affordable financing plans if required
Our treatment philosophy focuses on addressing the underlying cause of varicose veins and recommending treatments that carry no risk of scars.
Amazing from start to finish, the communication was the main thing was fully informed and looked after, on the day of my breast augmentation, the staff were fab and made me feel at ease through out the whole process. Thank you so much.
Mohammed Farid
18/11/2021
I've had such a great experience with excellent advice, care and attention and surgical treatment (gynaecomastia) - I can fully endorse the treatment I have received from Centre for Surgery with absolutely no qualms at all. Brilliant in every way - thank you all so much.
Caroline Thorpe
14/11/2021
Very pleased with my whole experience of having a procedure. Was so nervous about getting treatment and i was reassured and felt so comfortable throughout thanks to the amazing nurses. I definitely made the right decision to have breast augmentation at centre for surgery with dr erel.
Melissa Briggs
08/11/2021
So glad I went with centre for surgery, the whole process went very smoothly from the consultations down to the actual day of the procedure. I was so nervous on the day but the whole team put me at ease and I'm happy with my results as I feel a lot more comfortable wearing certain clothes now. My surgeon was Alberto Di Giuseppe who performed a breast Augmentation on me, and I would definitely recommend as he was very clear on what the outcome of the surgery would be and which size would look the best for my frame.
Couldn't be happier with Dr Tillo work,i had my breast surgery one week ago and so happy with the results so far,all the staff are extremely nice and very supportive,i would definitely recommend their services,thank so much
From start to the finish everything was perfect for tummy tuck surgery. All staff is very friendly and the aftercare has been good. The Doctor and the nurse team was fantastic. I'm so happy...result is amazing. Thank you!!!
This was overall a great experience, all the staff at Centre for Surgery were friendly and put me at ease. It is a nerve wracking thing to go through an op but the staff were so nice. Mr Ertan has got a great team around him. On the day of the operation everything went smoothly to plan, there was no delay or holdups, I had another consultation with Mr Ertan who confirmed what was going to be done and that I was still happy to proceed. I was prepped for the procedure, I met with the anaesthetist who again was really nice and put me at ease explaining his role. After the procedure I woke up with the nurse by my side making sure I was OK and checking on me, I was able to stay in the clinic until I was ready to leave and was not rushed at all. I was well looked after from the start to the point when I was discharged. Post operation I was staying at a local hotel it was so close there was no point in even getting a taxi and I was able to walk back where my partner was waiting for me. I was expecting a lot of bruising to both my eyes but there was very little if any by the time the cast came off after 7 days, I am now at the two week post operation point and it is healing well with no outwardly visible bruising or scaring. The next milestone is a checkup at the 6 week point with my surgeon. If you're thinking of having something like this done I would highly recommend getting in touch with Centre for Surgery.
The staff at Centre for Surgery were very kind and accommodating. They answered any questions I had about the procedure and were constantly checking up on me. A special thank you to Christina for all her support throughout.
I would just like to state the quality of care received from the nurses at Centre for Surgery was beyond the highest level. Sophie takes her patient care to another level beyond words. She always puts me at ease. She is there for me even at awkward hours just when I mostly needed reassurance and she is one of the most compassionate nurses I have come across and demonstrates her passion naturally for caring for others. She totally deserves recognition at its finest and thank you for always being there for me. 😍