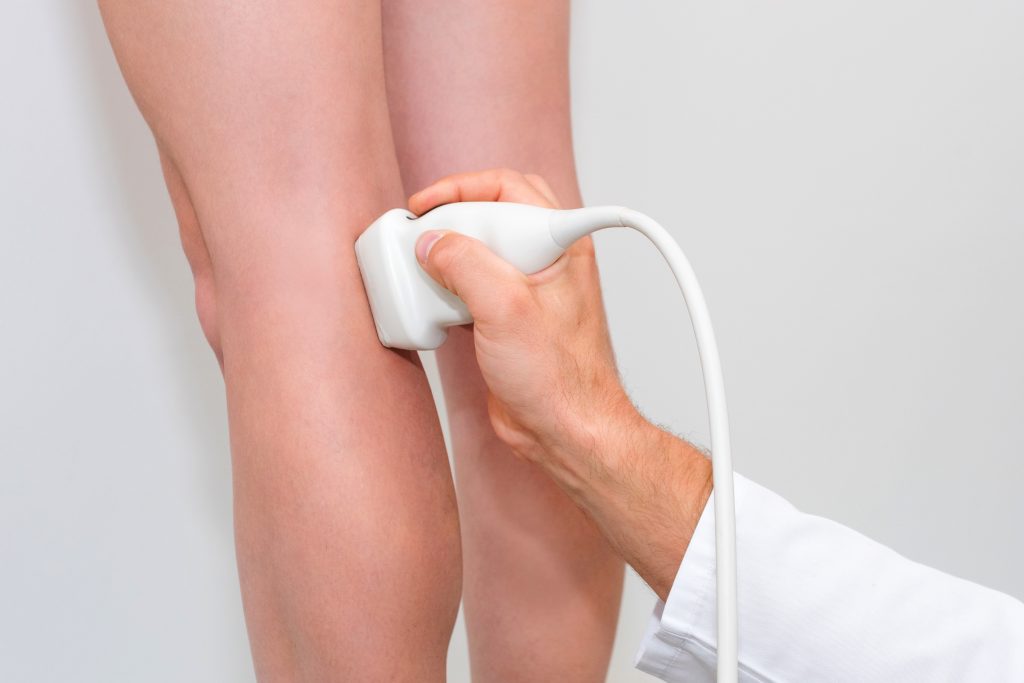 In the United Kingdom, one in three adults will have developed varicose veins within their lifetime. However, thanks to modern medical advances, of which there are several, there is a range of options available to varicose vein sufferers. These vein treatment methods are known as 'minimally invasive', which makes them very easy to carry out and recover from.
When deciding on the most suitable treatment option, patients at Centre for Surgery will undergo an ultrasound scan – specifically a 'duplex ultrasound scan'. This gives our clinicians the unique ability to diagnose any vein abnormalities in great detail.
What is a duplex ultrasound scan?
A Duplex Ultrasound scan involves using high-frequency sound waves to look at the speed of blood flow, and the structure of the veins in the legs. The term "duplex" refers to the fact that two modes of ultrasound are used: Doppler and B-mode. The B-mode transducer (it can be thought of as being like a microphone) obtains an image of the vessel being studied.
A Duplex scan gives clinicians and surgeons a much more comprehensive and detailed look at how the blood is flowing through varicose veins in a given patient.
How does a Duplex Ultrasound scan work at Centre for Surgery?
A Duplex Ultrasound scan for varicose veins creates images on the clinician's screen that show just how the patient's blood is moving their arteries and veins. This happens by using a deep vein scanning system – the system is completely portable and looks a little like a laptop.
Comparing varicose veins with healthy veins
The innovative device provides everything that our clinicians and surgeons will need to assess a patient's veins. There is a three-step process to the Duplex Ultrasound scan that we carry out here at Centre for Surgery, in central London:
Greyscale Ultrasound scan
The first step involves building a greyscale image that displays, in real-time, the structure of veins. This scan looks very much like the type of scan used during a pregnancy ultrasound. The Duplex device next overlays the produced sound waves and colours over the original greyscale image. This reveals just how blood moves through veins.
Doppler Ultrasound scan
The 'Doppler wave' technology that is used by the device assists the clinician to identify issues with blood flow within veins, using sound waves. Doppler Ultrasound waves produce a sound that is inaudible to the human ear but allows the surgeon to 'see' where blood is not flowing correctly through the veins.
When ultrasound waves 'bounce back' off moving objects, which includes blood flow, the frequency of the wave is slightly altered. These alterations are what the Doppler picks up as signals. These signals are processed, amplified and displayed to our consultants here at Centre for Surgery as an image.
Colour-flow Duplex scans
The third step involves a colour-flow Duplex scan. This is an enhanced form of Doppler ultrasound technology. the device overlays a series of colours that shows precisely where any blood issues are occurring. Areas that come up coloured blue are areas where the blood is flowing through the veins as it should. However, where the colour is red, this is an indication that blood flow in those areas is abnormal.
These colour signals, combined, provide an extremely detailed picture of blood flow restrictions and abnormalities. In addition to this, it also shows where there are faulty valves within the veins. Being able to identify the nature of these problems, and their location, the clinician can recommend the best treatment to tackle the symptoms and causes of varicose veins.
What is the procedure for the Venous Duplex Ultrasound scan?
When you come to Centre for Surgery in London, your personal consultant vascular specialist is going to perform the scan. This gives them a first-hand impression of the issues within your veins. The scan is completely non-invasive and painless – all ultrasound scans operate above the range of human hearing, but they are perfect for imaging.
The process takes around 30 to 45 minutes, on average. During this session, your consultant is going to apply a water-based gel to the affected area. Your consultant will then scan this area with a probe. 
Next, your consultant will assess your blood flow by very gently squeezing your muscles at different intervals. This encourages blood flow into the veins. At this point, your consultant is going to be able to see just where the blood is not able to flow normally.
When your consultant stops squeezing, they will also be able to see if any blood flows back down the leg. If it does, this means valves are failing to close properly. Faulty valves lead to venous reflux, and this process is responsible for the large majority of varicose vein development.
What happens following your Duplex Ultrasound scan?
Upon completion of your scan, your varicose vein clinician is going to have an incredibly accurate picture of any abnormal valves and blood flow issues. This then allows the surgeon to plan the varicose vein treatment, with a completely accurate overview, treatment using the highly detailed data obtained from the initial scan.
The treatment of varicose veins
The patient is then advised on the best course of treatment for the varicose veins and faulty valves. The gold standard treatment for varicose veins is EVLA also known as endovenous laser ablation.
What are the benefits of Duplex Ultrasound scanning for varicose veins?
Duplex Ultrasound scanning is widely regarded as being the best first step in varicose vein treatment. This is because it gives clinicians and surgeons the best possible insight into the patient's vein and valve issues.
The Duplex Ultrasound scan is also used across many other parts of the body, such as lower limbs and extremities like the pelvis, as well as the torso and arms.
Book a varicose veins ultrasound at Centre for Surgery in London
Booking a consultation at Centre for Surgery is very straightforward. You can head to our contact page and fill out the relevant fields. Alternatively, if you prefer, you can always give us a call on 0207 993 4849. We are also really easy to find, in the heart of London, at 106 Crawford St, London W1H 2HY. We look forward to hearing from you.
Amazing from start to finish, the communication was the main thing was fully informed and looked after, on the day of my breast augmentation, the staff were fab and made me feel at ease through out the whole process. Thank you so much.
Mohammed Farid
18/11/2021
I've had such a great experience with excellent advice, care and attention and surgical treatment (gynaecomastia) - I can fully endorse the treatment I have received from Centre for Surgery with absolutely no qualms at all. Brilliant in every way - thank you all so much.
Caroline Thorpe
14/11/2021
Very pleased with my whole experience of having a procedure. Was so nervous about getting treatment and i was reassured and felt so comfortable throughout thanks to the amazing nurses. I definitely made the right decision to have breast augmentation at centre for surgery with dr erel.
Melissa Briggs
08/11/2021
So glad I went with centre for surgery, the whole process went very smoothly from the consultations down to the actual day of the procedure. I was so nervous on the day but the whole team put me at ease and I'm happy with my results as I feel a lot more comfortable wearing certain clothes now. My surgeon was Alberto Di Giuseppe who performed a breast Augmentation on me, and I would definitely recommend as he was very clear on what the outcome of the surgery would be and which size would look the best for my frame.
Couldn't be happier with Dr Tillo work,i had my breast surgery one week ago and so happy with the results so far,all the staff are extremely nice and very supportive,i would definitely recommend their services,thank so much
From start to the finish everything was perfect for tummy tuck surgery. All staff is very friendly and the aftercare has been good. The Doctor and the nurse team was fantastic. I'm so happy...result is amazing. Thank you!!!
This was overall a great experience, all the staff at Centre for Surgery were friendly and put me at ease. It is a nerve wracking thing to go through an op but the staff were so nice. Mr Ertan has got a great team around him. On the day of the operation everything went smoothly to plan, there was no delay or holdups, I had another consultation with Mr Ertan who confirmed what was going to be done and that I was still happy to proceed. I was prepped for the procedure, I met with the anaesthetist who again was really nice and put me at ease explaining his role. After the procedure I woke up with the nurse by my side making sure I was OK and checking on me, I was able to stay in the clinic until I was ready to leave and was not rushed at all. I was well looked after from the start to the point when I was discharged. Post operation I was staying at a local hotel it was so close there was no point in even getting a taxi and I was able to walk back where my partner was waiting for me. I was expecting a lot of bruising to both my eyes but there was very little if any by the time the cast came off after 7 days, I am now at the two week post operation point and it is healing well with no outwardly visible bruising or scaring. The next milestone is a checkup at the 6 week point with my surgeon. If you're thinking of having something like this done I would highly recommend getting in touch with Centre for Surgery.
The staff at Centre for Surgery were very kind and accommodating. They answered any questions I had about the procedure and were constantly checking up on me. A special thank you to Christina for all her support throughout.
I would just like to state the quality of care received from the nurses at Centre for Surgery was beyond the highest level. Sophie takes her patient care to another level beyond words. She always puts me at ease. She is there for me even at awkward hours just when I mostly needed reassurance and she is one of the most compassionate nurses I have come across and demonstrates her passion naturally for caring for others. She totally deserves recognition at its finest and thank you for always being there for me. 😍