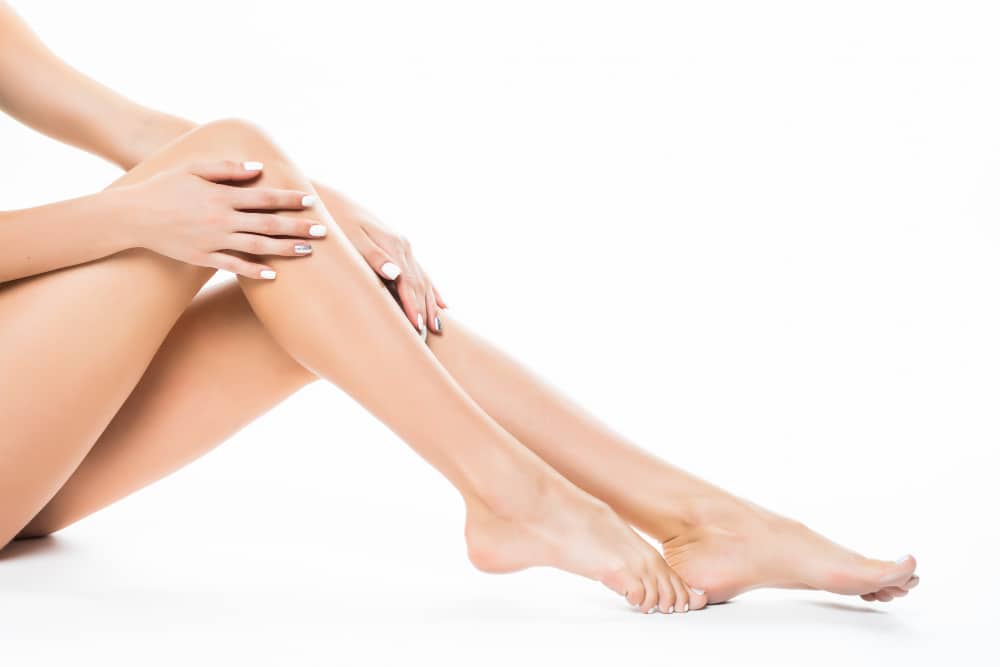 Varicose veins can be debilitating for those with the condition, and it can be worse when they are present in the feet and ankles. In these areas, walking or even standing can become difficult, and painful and they can come with significant swelling. There is however a range of varicose vein treatments available to help sufferers have their varicose veins removed.
When it comes to how this condition can form in the feet and ankles, there are a variety of reasons. However, there are two main reasons: gravity and weight. Leg veins have to work hard against gravity and push blood back up and toward the heart. The legs also support the weight of the upper body, putting further pressure on their veins to perform. The heavier a person is, the harder the veins have to work. When the veins fail to perform as they should, venous reflux occurs.
Comparing varicose veins with healthy veins
Risk factors for varicose veins
Venous reflux
Too much pressure in leg veins weakens, or damages, the small valves in the veins. These valves regulate blood flow, and when they don't perform blood starts to flow backwards. This blood then pools, and varicose veins form.
Being overweight therefore increases the risk of varicose veins developing in the feet and ankles, not just the legs. 
Other risks
Other factors can lead to the development of varicose veins in the ankles and feet:
High blood pressure
High blood pressure can put further pressure on blood flow by damaging the lining of arteries.
Poor diet
Processed food, refined sugar, excess calories and more can lead to weight gain and poor digestion. Poor digestion reduces the ability of the body to absorb minerals, and this puts more pressure on the circulatory system.
Stress
Stress releases adrenaline and histamine chemicals. These put pressure on blood vessels. Stress also forces blood through veins at a higher rate, putting more strain on vein walls and valves.
Pregnancy
When pregnant, the body produces more blood, more oestrogen and more progesterone. All of this relaxes the vein walls and raises the chances of blood leakage.
Sedentary lifestyle
Not being active enough harms circulation. This can lead to blood pooling and bulging of the veins – otherwise known as varicose veins.
How do you know if you have varicose veins in your feet and ankles?
Most of the time, patients can see if they have varicose veins in their feet and ankles: large, swollen veins are hard to spot. Visible swelling in the leg can also occur, which is another reliable indicator as are venous ulcers around the lower leg or ankle. Sometimes though, there may not be obvious, visible, signs of damaged veins. However, the patient may feel throbbing aches in the feet, even without visible indicators of the issue. In many cases varicose veins affecting the feet and ankles coexist with smaller thread veins.
Do ankle and foot varicose veins need to be treated?
If they go untreated for too long, varicose veins in the feet and ankles can cause serious issues. These issues range from ulceration, hardening of the lower leg and ankle and venous eczema. As well as these, varicose veins can lead to potentially lethal blood clots.
It is for the above reasons that it is always advisable for people with the condition to seek professional, medical help and advice from a medical practice such as Centre for Surgery in London.
The treatment of varicose veins
Treating varicose veins in the feet and ankles
The best first step in treatment is to make an appointment with Centre for Surgery to see a vein specialist. Our specialists are among the best in the country, and several review sites back that up – in abundance. They are experts in identifying these issues, and more besides, and presenting the best way forward to treat them.
After an initial vein consultation, the next step is a Duplex Ultrasound scan. This gives the surgeon all the information they need to diagnose the problem, decide on the best treatment method and then present this to the patient.
The best ankle and foot varicose vein treatments
At Centre for Surgery, we offer 3 effective treatments to treat leg and ankle varicose vein issues:
Endovenous Laser Ablation
This treatment is a revolutionary step in varicose vein removal with a proven success rate of 98%. EVLA involves the use of laser heat energy to collapse affected veins. These collapsed veins are then expelled naturally. We use the latest EVLA technology incorporating the 1940nm wavelength which has been clinically proven to be the most effective type of EVLA for varicose veins.
What are the best varicose vein treatments?
Visible results occur between 4  to 6 weeks after treatment, once the vein has broken down.
Foam sclerotherapy
This is a specialised treatment method that is used to remove smaller varicose veins and can be done in under 30 minutes. A special foam called a sclerosant is injected into the damaged vein. Using ultrasound guidance, this sticky foam coats the vein walls and pushes the blood out from the affected area.
Once this happens, the vein walls stick together and over time they then dissolve and disappear as the body absorbs them.
The majority of patients see results between 3 to 6 weeks after treatment.
Radiofrequency ablation treatment at Centre for Surgery
Radiofrequency ablation treatment treats varicose veins in the feet and ankles in approximately 30 to 90 minutes. EVLA and foam sclerotherapy treatments are more widely used in varicose vein treatment in the feet and ankles, it is used in certain cases.
It makes use of thermal radiofrequency energy to damage the walls of varicose veins. This leads to the veins closing up, complete with scar tissue. This means that blood will no longer be able to pool, accumulate and cause the vein to bulge.
A few weeks later, the vein channel will completely break down and then it will be absorbed by the body naturally. Patients can expect to see positive results in just a few weeks.
If you have varicose veins in the feet and ankles – get them treated
Ignoring the condition can at best cause pain and discomfort, and at worst it can prove fatal. Sufferers need to make a consultation appointment with a specialist, like the ones we have here at Centre for Surgery in London.
Contact us today, we look forward to speaking with you.
Amazing from start to finish, the communication was the main thing was fully informed and looked after, on the day of my breast augmentation, the staff were fab and made me feel at ease through out the whole process. Thank you so much.
Mohammed Farid
18/11/2021
I've had such a great experience with excellent advice, care and attention and surgical treatment (gynaecomastia) - I can fully endorse the treatment I have received from Centre for Surgery with absolutely no qualms at all. Brilliant in every way - thank you all so much.
Caroline Thorpe
14/11/2021
Very pleased with my whole experience of having a procedure. Was so nervous about getting treatment and i was reassured and felt so comfortable throughout thanks to the amazing nurses. I definitely made the right decision to have breast augmentation at centre for surgery with dr erel.
Melissa Briggs
08/11/2021
So glad I went with centre for surgery, the whole process went very smoothly from the consultations down to the actual day of the procedure. I was so nervous on the day but the whole team put me at ease and I'm happy with my results as I feel a lot more comfortable wearing certain clothes now. My surgeon was Alberto Di Giuseppe who performed a breast Augmentation on me, and I would definitely recommend as he was very clear on what the outcome of the surgery would be and which size would look the best for my frame.
Couldn't be happier with Dr Tillo work,i had my breast surgery one week ago and so happy with the results so far,all the staff are extremely nice and very supportive,i would definitely recommend their services,thank so much
From start to the finish everything was perfect for tummy tuck surgery. All staff is very friendly and the aftercare has been good. The Doctor and the nurse team was fantastic. I'm so happy...result is amazing. Thank you!!!
This was overall a great experience, all the staff at Centre for Surgery were friendly and put me at ease. It is a nerve wracking thing to go through an op but the staff were so nice. Mr Ertan has got a great team around him. On the day of the operation everything went smoothly to plan, there was no delay or holdups, I had another consultation with Mr Ertan who confirmed what was going to be done and that I was still happy to proceed. I was prepped for the procedure, I met with the anaesthetist who again was really nice and put me at ease explaining his role. After the procedure I woke up with the nurse by my side making sure I was OK and checking on me, I was able to stay in the clinic until I was ready to leave and was not rushed at all. I was well looked after from the start to the point when I was discharged. Post operation I was staying at a local hotel it was so close there was no point in even getting a taxi and I was able to walk back where my partner was waiting for me. I was expecting a lot of bruising to both my eyes but there was very little if any by the time the cast came off after 7 days, I am now at the two week post operation point and it is healing well with no outwardly visible bruising or scaring. The next milestone is a checkup at the 6 week point with my surgeon. If you're thinking of having something like this done I would highly recommend getting in touch with Centre for Surgery.
The staff at Centre for Surgery were very kind and accommodating. They answered any questions I had about the procedure and were constantly checking up on me. A special thank you to Christina for all her support throughout.
I would just like to state the quality of care received from the nurses at Centre for Surgery was beyond the highest level. Sophie takes her patient care to another level beyond words. She always puts me at ease. She is there for me even at awkward hours just when I mostly needed reassurance and she is one of the most compassionate nurses I have come across and demonstrates her passion naturally for caring for others. She totally deserves recognition at its finest and thank you for always being there for me. 😍