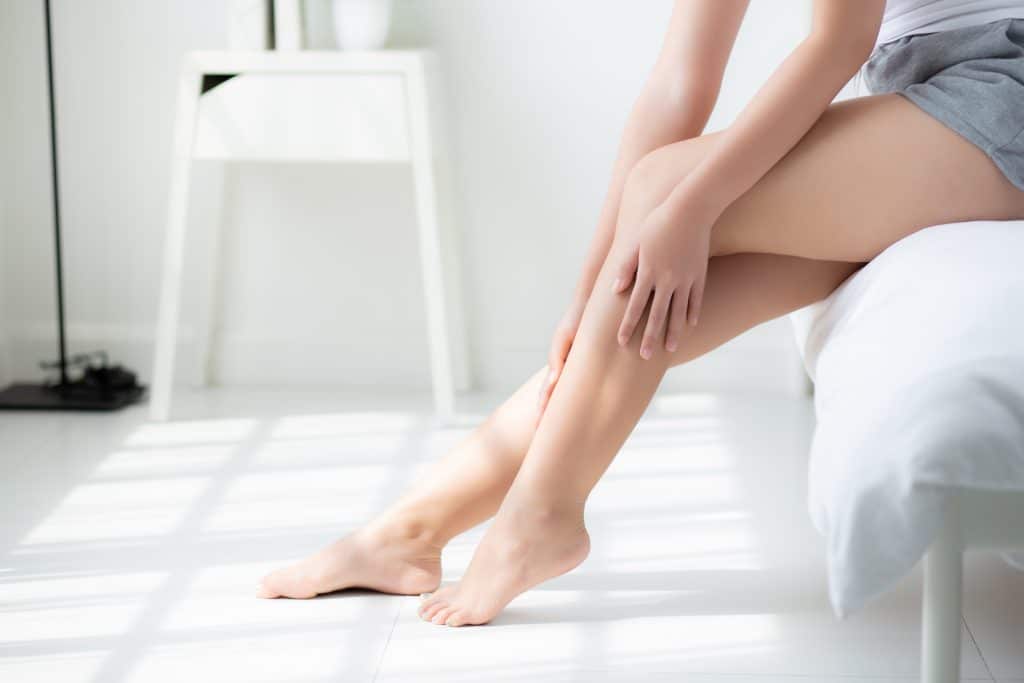 If you have been looking for the best varicose vein treatments in the UK, look no further than Centre for Surgery. Here at Centre for Surgery, we are home to some of the leading varicose vein specialists in the UK with access to the full range of minimally invasive vein treatments involving minimal downtime. Here we discuss the best vein treatments at our specialist varicose vein clinic in London.
RELATED: What are varicose veins?
Varicose vein treatments in the UK
We would recommend having a specialist assessment by a consultant vascular specialist to determine the underlying causes of your varicose veins. Attempting to diagnose varicose veins yourself is doomed to failure. The best way to accurately locate abnormal veins is with a duplex ultrasound scan as part of your varicose vein consultation. This will ensure any diseased veins are clearly identified and customised treatment recommendations can then be given which are suited to your needs and preferences. At Centre for Surgery, all consultations include a free ultrasound scan of your legs which usually costs £400 at other hospitals and clinics in the UK.
The most popular treatment at Centre for Surgery for varicose vein treatment is endovenous laser ablation or EVLA for short. EVLA is regarded as the most effective varicose vein removal treatment and has been endorsed by the National Institute of clinical excellence. Success rates after five years exceed 96%. The treatment involves accurately localising the vein followed by inserting a laser fibre to heat up the vein. The vein then collapses and becomes naturally absorbed by the body.
Sclerotherapy is an alternative option for varicose vein removal. Foam sclerotherapy is ideal for the treatment of larger veins. Smaller veins are better treated with liquid sclerotherapy. Both treatments involve injecting a chemical sclerosing agent into the varicose vein. An intense inflammatory reaction leads to the collapse of the vein followed by its eventual shrinkage and disappearance.
Phlebectomy for vein removal involves making small incisions directly over varicose veins which lie just beneath the skin. A small vein hook is then inserted to gently remove the affected segments of the vein. The incisions are very small and there is, therefore, no requirement for stitches. Recovery is very quick after phlebectomy and offers instant results.
RELATED: Common myths about varicose veins
Benefits of varicose vein treatment at Centre for Surgery
Minimally invasive outpatient treatments
No requirement for general anaesthetic. All varicose vein treatments are easily carried out with just a local anaesthetic.
Little or no downtime
Most treatments take no more than 45 minutes to carry out.
RELATED: How to get rid of varicose veins
Varicose vein surgery involving surgical ligation and stripping of the affected veins is not performed at Centre for Surgery. Surgical varicose vein removal involves significantly more risks and a higher risk of complications. Recovery can be very prolonged and the success rates after varicose vein surgery are much lower compared with modern minimally invasive techniques such as EVLA. Centre for Surgery focuses on providing gold standard treatments for the best results. Our vein experts will assess you thoroughly at your consultation followed by recommendations on the best treatment or combination of treatments to effectively get rid of varicose veins permanently.
RELATED: Varicose Vein Removal London
UK Vein Specialists
All our varicose vein and thread vein consultations take place with an expert vein specialist and include an complimentary ultrasound scan of your legs to accurately localise the affected veins.
Will the NHS treat my varicose veins?
Although it may still be possible to get varicose vein treatment on the NHS, initial treatments may include making lifestyle changes and wearing compression stockings. These treatments may be recommended for up to 6 months. However, in our experience, we believe such treatment approaches are likely to lead to worsening of your varicose veins which could potentially result in skin discolouration or venous ulcers forming. The best solution is to obtain an early and accurate diagnosis of your varicose veins followed by EVLA or sclerotherapy for effective leg vein clearance.
RELATED: Is varicose veins treatment available on the NHS?
Varicose vein treatment at the Centre for Surgery
Centre for Surgery is one of the leading clinics for varicose vein removal in the UK. Our vascular specialists have many years of experience in treating all types of varicose veins using highly effective and minimally invasive treatments. Our London varicose vein clinic has become a specialist centre for the treatment of all types of varicose vein problems including:
Varicose veins that have become a cosmetic nuisance.
Varicose veins causing symptoms such as pain, swelling, aching or itchiness.
Veins that have developed skin discolouration or venous ulcers.
Patients who have had unsuccessful treatments elsewhere.
Varicose veins that have been previously treated by the NHS with minimal benefit due to the prolonged use of compression stockings.
RELATED: Varicose veins recovery
Why choose Centre for Surgery for varicose vein removal?
Our vein experts focus on using minimally invasive techniques for getting rid of varicose veins and thread veins on the legs.
Our treatments involve little or no downtime.
Every vein consultation includes a free ultrasound scan of your legs which usually costs £400 at other clinics and hospitals in London.
Endovenous laser ablation is regarded as the gold standard treatment for varicose veins with a success rate succeeding 96% after five years.
Our treatment philosophy is based on identifying abnormal veins with duplex ultrasound followed by customised treatment for rapid elimination of varicose veins.
Our experts regularly speak about the latest treatments for varicose veins at the most prestigious medical conferences.
We carry out hundreds of vein treatments at our state-of-the-art London vein clinics each year.
Most treatments take no more than 45 minutes to carry out and you will be able to go home as soon as the procedure is complete.
Our London varicose vein clinics are located in Marylebone only a five-minute walk from Harley Street.
"Centre for Surgery has literally changed my life. I could not be happier with the results of my varicose vein removal!"
Simon, varicose vein patient (EVLA combined with sclerotherapy)
Booking a varicose vein treatment consultation at Centre for Surgery cannot be any easier. Simply call us on 020 7993 4849 and speak to one of our friendly and knowledgeable patient coordinators. You can also complete the varicose vein contact form below.
Amazing from start to finish, the communication was the main thing was fully informed and looked after, on the day of my breast augmentation, the staff were fab and made me feel at ease through out the whole process. Thank you so much.
Mohammed Farid
18/11/2021
I've had such a great experience with excellent advice, care and attention and surgical treatment (gynaecomastia) - I can fully endorse the treatment I have received from Centre for Surgery with absolutely no qualms at all. Brilliant in every way - thank you all so much.
Caroline Thorpe
14/11/2021
Very pleased with my whole experience of having a procedure. Was so nervous about getting treatment and i was reassured and felt so comfortable throughout thanks to the amazing nurses. I definitely made the right decision to have breast augmentation at centre for surgery with dr erel.
Melissa Briggs
08/11/2021
So glad I went with centre for surgery, the whole process went very smoothly from the consultations down to the actual day of the procedure. I was so nervous on the day but the whole team put me at ease and I'm happy with my results as I feel a lot more comfortable wearing certain clothes now. My surgeon was Alberto Di Giuseppe who performed a breast Augmentation on me, and I would definitely recommend as he was very clear on what the outcome of the surgery would be and which size would look the best for my frame.
Couldn't be happier with Dr Tillo work,i had my breast surgery one week ago and so happy with the results so far,all the staff are extremely nice and very supportive,i would definitely recommend their services,thank so much
From start to the finish everything was perfect for tummy tuck surgery. All staff is very friendly and the aftercare has been good. The Doctor and the nurse team was fantastic. I'm so happy...result is amazing. Thank you!!!
This was overall a great experience, all the staff at Centre for Surgery were friendly and put me at ease. It is a nerve wracking thing to go through an op but the staff were so nice. Mr Ertan has got a great team around him. On the day of the operation everything went smoothly to plan, there was no delay or holdups, I had another consultation with Mr Ertan who confirmed what was going to be done and that I was still happy to proceed. I was prepped for the procedure, I met with the anaesthetist who again was really nice and put me at ease explaining his role. After the procedure I woke up with the nurse by my side making sure I was OK and checking on me, I was able to stay in the clinic until I was ready to leave and was not rushed at all. I was well looked after from the start to the point when I was discharged. Post operation I was staying at a local hotel it was so close there was no point in even getting a taxi and I was able to walk back where my partner was waiting for me. I was expecting a lot of bruising to both my eyes but there was very little if any by the time the cast came off after 7 days, I am now at the two week post operation point and it is healing well with no outwardly visible bruising or scaring. The next milestone is a checkup at the 6 week point with my surgeon. If you're thinking of having something like this done I would highly recommend getting in touch with Centre for Surgery.
The staff at Centre for Surgery were very kind and accommodating. They answered any questions I had about the procedure and were constantly checking up on me. A special thank you to Christina for all her support throughout.
I would just like to state the quality of care received from the nurses at Centre for Surgery was beyond the highest level. Sophie takes her patient care to another level beyond words. She always puts me at ease. She is there for me even at awkward hours just when I mostly needed reassurance and she is one of the most compassionate nurses I have come across and demonstrates her passion naturally for caring for others. She totally deserves recognition at its finest and thank you for always being there for me. 😍