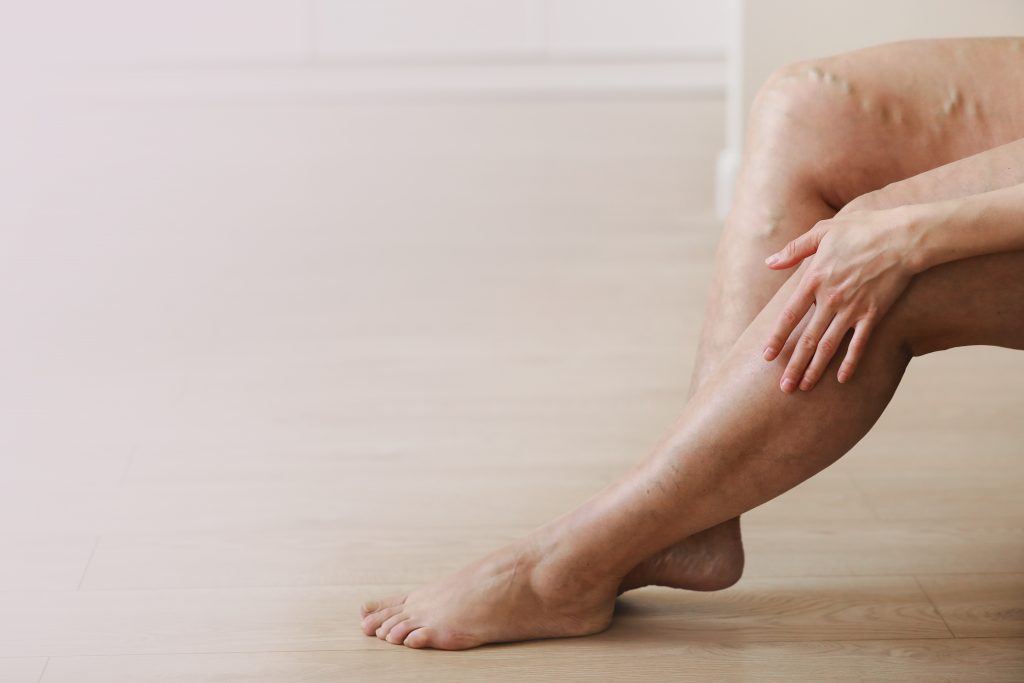 Endovenous treatments such as EVLA involving thermal energy applied to varicose veins are considered to be the optimal type of treatment for virtually all types of varicose veins. Published research continues to consistently demonstrate excellent treatment outcomes with minimal risk of complications and long-lasting results when assessed at both five years and 10 years post-treatment. The National Institute for Health and Care Excellence (NICE) recommends EVLA as a first-line treatment for varicose veins.
Comparing varicose veins with healthy veins
Despite the many advantages of endovenous laser ablation, patients must first have a local anaesthetic injected before application of the laser to remove varicose veins. The injection of local anaesthetic can be a source of anxiety for some patients despite the very fine needles used. In our experience, the vast majority of patients find EVLA with a local anaesthetic to be a very well-tolerated procedure with no adverse outcomes reported from the use of local anaesthetic. A very small percentage of patients may have a needle phobia and this has led many medical device manufacturers to explore the development of techniques for treating varicose veins which do not require the injection of a local anaesthetic. The two most well-known techniques include ClariVein and VenaSeal. These two treatments are relatively new in the UK and are only available at a handful of varicose vein clinics in London and further afield.
What is ClariVein?
ClariVein involves the use of a specialised wire which undergoes a rotational movement to impart fine scratches to the inside of the vein wall while simultaneously involving the injection of a chemical sclerosant solution. It is thought that the combination of the wire rotation combined with the injection of sclerosant thought to lead to better treatment results compared with either technique alone. The treatment is performed through one percutaneous skin entry point and does not involve any pain or discomfort.
What is VenaSeal?
VenaSeal is a technique for treating varicose veins involving the application of medical-grade superglue inside the vein to increase the stickiness of the vein walls and eventually cause them to fuse together. This technique is similarly performed through one very small skin entry point and does not involve any pain or discomfort. Published research studies on VenaSeal have shown satisfactory results at the one year mark for patients who have had the treatment.
Why are ClariVein and VenaSeal not used at Centre for Surgery?
All endovenous techniques used for the removal of varicose veins have their own specific set of pros and cons and with certain risks associated with them. As with all varicose vein treatments, patient selection is vital and it is important to carry out a thorough clinical assessment including a duplex ultrasound assessment.
Patient preferences are always taken into account when deciding on the most appropriate treatment for treating varicose veins at our London clinic. As with EVLA, not all patients will be suitable for these types of treatments and some patients may have veins that do not allow proper use of these vein treatment techniques. The benefit of both these techniques involves the elimination of the injection of local anaesthetic although they can still be post-operative discomfort from the development of vein inflammation and this is particularly true with the VenaSeal method.
The major disadvantage associated with both techniques is the significant lack of research studies which demonstrate the long-term success of these techniques compared with the gold standard EVLA technique for varicose vein treatment. There is simply not enough data to show whether these methods are as effective or indeed as safe as endovenous laser ablation.
Both ClariVein and VenaSeal are significantly more expensive due to the complex equipment used compared with EVLA and we have always prided ourselves on providing the most competitive pricing for EVLA varicose vein treatment in the UK. If you would like to find out more about the benefits of endovenous laser ablation compared with these newer treatment methods, please speak to one of our friendly and knowledgeable patient coordinators today who will be more than happy to book a face-to-face consultation with an expert vascular specialist at ou varicose vein clinic in London.
What are the best varicose vein treatments?
What is Cermavein?
Cermavein is one of the latest techniques claimed to be effective in the treatment of varicose veins. The procedure involves the use of steam as opposed to laser energy for destroying the veins. Compared with laser ablation, steam ablation using Cermavein shares similarities in that it also requires the injection of a local anaesthetic around the vein prior to passing steam through the catheter. We can therefore see no particular advantages of Cermavein over EVLA in this respect. In addition, there are a number of recognised downsides to the use of Cermavein as a treatment for varicose veins which include:
Early studies into the effectiveness of Cermavein have failed to match the treatment results from the use of EVLA
Although the treatment appears to be similar in cost to the VLA, the equipment used to perform the procedure is very expensive and may not be as reliable as the tried and tested laser device is used for EVLA treatment
As of 2022, there are no published studies which demonstrate the long-term effectiveness of the Cermavein technique compared with endovenous laser ablation
Centre for Surgery therefore do not offer the CermaVein treatment at our specialist varicose vein clinics in London.
The treatment of varicose veins
Amazing from start to finish, the communication was the main thing was fully informed and looked after, on the day of my breast augmentation, the staff were fab and made me feel at ease through out the whole process. Thank you so much.
Mohammed Farid
18/11/2021
I've had such a great experience with excellent advice, care and attention and surgical treatment (gynaecomastia) - I can fully endorse the treatment I have received from Centre for Surgery with absolutely no qualms at all. Brilliant in every way - thank you all so much.
Caroline Thorpe
14/11/2021
Very pleased with my whole experience of having a procedure. Was so nervous about getting treatment and i was reassured and felt so comfortable throughout thanks to the amazing nurses. I definitely made the right decision to have breast augmentation at centre for surgery with dr erel.
Melissa Briggs
08/11/2021
So glad I went with centre for surgery, the whole process went very smoothly from the consultations down to the actual day of the procedure. I was so nervous on the day but the whole team put me at ease and I'm happy with my results as I feel a lot more comfortable wearing certain clothes now. My surgeon was Alberto Di Giuseppe who performed a breast Augmentation on me, and I would definitely recommend as he was very clear on what the outcome of the surgery would be and which size would look the best for my frame.
Couldn't be happier with Dr Tillo work,i had my breast surgery one week ago and so happy with the results so far,all the staff are extremely nice and very supportive,i would definitely recommend their services,thank so much
From start to the finish everything was perfect for tummy tuck surgery. All staff is very friendly and the aftercare has been good. The Doctor and the nurse team was fantastic. I'm so happy...result is amazing. Thank you!!!
This was overall a great experience, all the staff at Centre for Surgery were friendly and put me at ease. It is a nerve wracking thing to go through an op but the staff were so nice. Mr Ertan has got a great team around him. On the day of the operation everything went smoothly to plan, there was no delay or holdups, I had another consultation with Mr Ertan who confirmed what was going to be done and that I was still happy to proceed. I was prepped for the procedure, I met with the anaesthetist who again was really nice and put me at ease explaining his role. After the procedure I woke up with the nurse by my side making sure I was OK and checking on me, I was able to stay in the clinic until I was ready to leave and was not rushed at all. I was well looked after from the start to the point when I was discharged. Post operation I was staying at a local hotel it was so close there was no point in even getting a taxi and I was able to walk back where my partner was waiting for me. I was expecting a lot of bruising to both my eyes but there was very little if any by the time the cast came off after 7 days, I am now at the two week post operation point and it is healing well with no outwardly visible bruising or scaring. The next milestone is a checkup at the 6 week point with my surgeon. If you're thinking of having something like this done I would highly recommend getting in touch with Centre for Surgery.
The staff at Centre for Surgery were very kind and accommodating. They answered any questions I had about the procedure and were constantly checking up on me. A special thank you to Christina for all her support throughout.
I would just like to state the quality of care received from the nurses at Centre for Surgery was beyond the highest level. Sophie takes her patient care to another level beyond words. She always puts me at ease. She is there for me even at awkward hours just when I mostly needed reassurance and she is one of the most compassionate nurses I have come across and demonstrates her passion naturally for caring for others. She totally deserves recognition at its finest and thank you for always being there for me. 😍