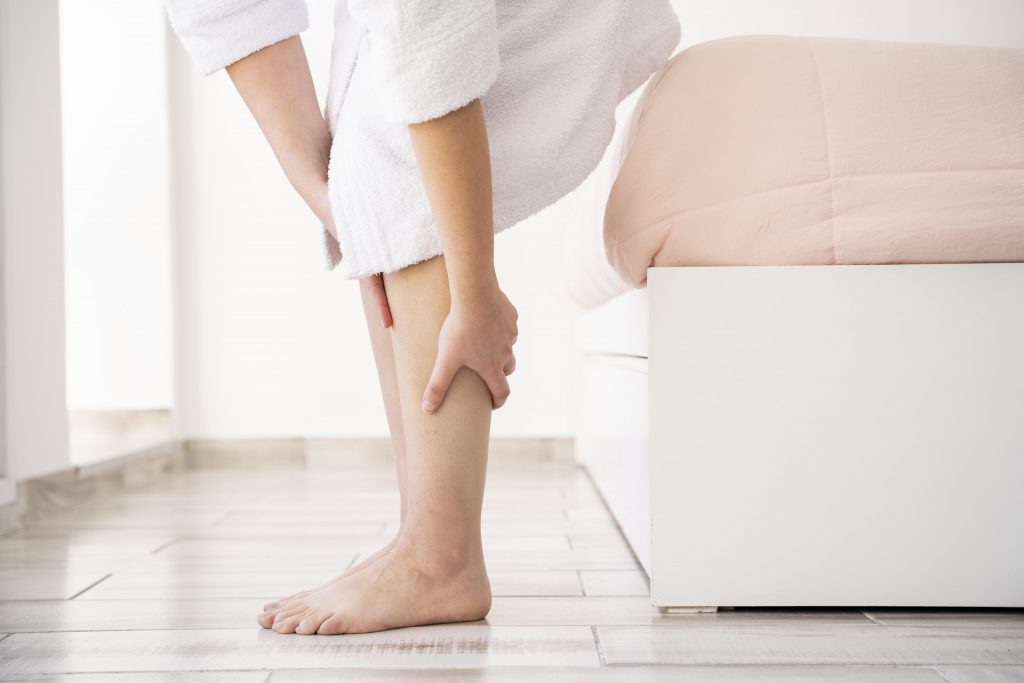 Many people can achieve relief from varicose vein symptoms with the wearing of compression stockings or support socks combined with keeping the legs moving or by elevating the legs. If these simple measures don't help then there are a number of effective minimally invasive treatments to seal off or remove the prominent varicose veins
Comparing varicose veins with healthy veins
Many people have varicose veins and may not develop any symptoms at all. However varicose veins can be a cause of itching and may lead to painful swollen or tired legs. Varicose vein symptoms can be helped by the following measures:
You should avoid standing or sitting for prolonged periods of time
You should keep mobile as much as possible during the course of the day as this leads to muscle activation in the legs which stimulates the flow of blood through the veins in the legs
When you sit down you should elevate your legs to enable easier blood flow back to the heart
Where possible you should avoid crossing your legs so that blood vessels in the legs don't become kicked or pinched
When varicose veins result in itchy legs, many people find effective symptomatic relief from the application of moisturising cream on the legs as dry skin generally tends to be itchy compared with oily skin.
Patients who are overweight or obese and have varicose veins are recommended to lose weight as being overweight is a recognised risk factor for the development of varicose veins. However, there is no evidence that losing weight in people who already have varicose veins will lead to their resolution.
Are compression stockings (support socks) beneficial in the treatment of varicose veins?
One of the first-line treatments for patients who have varicose veins is the application of well-fitting compression stockings. The compression stockings work by the application of graduated pressure on the leg veins by squeezing them and this helps to improve the flow of blood back to the heart. There is a lack of validated research on the effectiveness of compression stockings in the long term, however recent studies have shown that compression stockings can help to reduce pain and swelling in patients who suffer from mild symptoms of varicose veins.
The disadvantage of wearing compression stockings is that it is not always easy to wear them continuously on a daily basis. Many patients can find them uncomfortable to wear especially in warmer weather. As a result, many doctors in other countries may only recommend compression stockings if a patient is unable or unwilling to have varicose vein treatment with EVLA or foam sclerotherapy.
When should other treatments be considered for varicose vein removal?
We would recommend having medical treatment for varicose veins when:
Simple measures such as compression stockings or leg elevation do not improve varicose vein symptoms
Complications of varicose veins such as venous leg ulcers develop
Patients find the cosmetic appearance of their varicose veins to be very unsightly leading to a loss of confidence
Varicose veins can be treated in a number of ways including surgical removal or closing off veins using the application of thermal energy with a laser or with a special foam sclerosant solution known as sclerotherapy. Getting rid of varicose veins does not affect the blood supply to the legs because the blood is then diverted and transported by other healthier veins back to the heart.
How are varicose veins removed?
Varicose vein surgery has traditionally been the most commonly performed type of procedure for varicose vein removal. Vein ligation and stripping used to be performed commonly by vascular surgeons and involves the formation of two incisions. The upper incision is located at the top of the leg just below the groin area and the lower incision is positioned behind the knee or at the ankle. The vein is then surgically tied off or clamped where the upper incision is made and this is known as vein ligation. A long wire is then inserted into the vein using the lower incision and is then gently pushed up through the vein. The surgeon will then apply a bell-shaped cap to the lower end of the wire. The whole vein is then pulled out from the upper incision near the groin.
Phlebectomy also known as ambulatory phlebectomy involves making very tiny incisions often just a few millimetres long over the affected segments of the vein. A small vein hook is then used to gently pull the vein out of these tiny incisions as much as possible. The vein is then surgically divided and removed in a number of separate segments. Phlebectomy is primarily used for the treatment of smaller veins that most commonly branch off from larger veins. Phlebectomy is ideal for patients not keen on the more visible scars that can occur during surgical ligation and stripping.
Varicose vein surgery can lead to effective relief of varicose vein symptoms. More than 75% of people who have varicose vein surgery often note that the symptoms of pain swelling or itching significantly improve or even settle completely with a subsequently improved look in the appearance of the leg. There are however a number of disadvantages associated with surgical ligation and stripping for varicose veins.
Complications include prolonged pain, wound infection, significant bleeding, post-operative swelling, excessive scarring and prominent skin discolouration. Up to 20% of people who have varicose vein surgery may develop one of these complications. More serious complications such as deep vein thrombosis or permanent nerve damage are rare but are recognised risks of varicose vein surgery. New varicose veins can develop after surgery. In published studies on this topic, up to 30 out of 100 people who had varicose vein surgery had developed new varicose veins after just two years.
Patients often need to stay in overnight after having varicose vein surgery and may need to take prescription painkillers to control the pain associated with this procedure. It can take a significant period of time for the leg swelling to settle down and for the wounds to heal completely. Patients may have to wait up to 4 weeks before they can return to normal activities including work.
Centre for Surgery do not carry out surgical ligation and stripping as this is an obsolete procedure which has been replaced by much more effective minimally invasive techniques including endovenous laser ablation (EVLA) and ultrasound-guided foam sclerotherapy which have a much higher success rate at five years compared with older surgical techniques for varicose vein removal.
The treatment of varicose veins
Best treatments for varicose veins
The most effective treatments for varicose veins are what are known as "endovenous" procedures which involve the vein being closed off from the inside rather than being physically removed in its entirety. The principle of the treatment involves making a tiny incision in the skin and underlying vein followed by the insertion of a thin tube known as a catheter into the vein which is then gently pushed along the vein. A probe which produces heat is then inserted into the vein through the catheter.
The two primary endovenous procedures are:
Radiofrequency ablation (RFA) involves the production of heat using electromagnetic waves (radio waves)
Endovenous laser ablation (EVLA) is also known as endovenous laser treatment (EVLT). This technique involves the application of laser energy which is used to precisely heat the vein up from the inside
Endovenous laser ablation (EVLA) for varicose veins
Our preferred approach is to use EVLA as it is the gold standard treatment recommended by the National Institute for Clinical Excellence or NICE. EVLA is more effective than surgery in removing varicose veins. EVLA involves much less pain compared with traditional surgery with minimal to no discomfort, hardly any bruising and virtually no scars. As a result of the markedly reduced risk of complications, EVLA is regarded as the first-line treatment for varicose vein removal.
Varicose vein treatment is no longer carried out in the NHS for the vast majority of patients as it is deemed to be a cosmetic procedure. You should check with your private health insurance if they provide cover for varicose vein treatment. Centre for Surgery offers highly affordable pricing for all types of varicose vein procedures. Give us a call today to learn about the options available for you.
Sclerotherapy for leg vein removal
Sclerotherapy for varicose veins is an equally effective treatment. The procedure involves the injection of a liquid or foam into the affected vein. The medicine inside the liquid or foam leads to the destruction of the wall of the vein which then turns into connective tissue. This seals off the vein permanently. Sclerotherapy is a highly effective treatment for varicose veins especially large veins that may not be amenable to treatment with EVLA. One disadvantage of the technique is that it can sometimes lead to discolouration of the skin which may be permanent in some cases at the site of injection of sclerosant. It can also result in an inflammation of the vein also known as phlebitis.
Compared with traditional varicose vein surgery, however, the side-effect profile such as nerve damage or significant bruising is much less common after sclerotherapy. Many patients who have sclerotherapy for varicose veins are able to return to their normal activities of daily living much quicker compared with older methods of varicose vein treatment.
If you are keen to learn more about varicose vein treatment in London at Centre for Surgery and how it can benefit you, get in contact with one of our friendly and knowledgeable patient coordinators today to book a face-to-face consultation with an expert vascular specialist at our state-of-the-art medical clinic in Baker Street.
Amazing from start to finish, the communication was the main thing was fully informed and looked after, on the day of my breast augmentation, the staff were fab and made me feel at ease through out the whole process. Thank you so much.
Mohammed Farid
18/11/2021
I've had such a great experience with excellent advice, care and attention and surgical treatment (gynaecomastia) - I can fully endorse the treatment I have received from Centre for Surgery with absolutely no qualms at all. Brilliant in every way - thank you all so much.
Caroline Thorpe
14/11/2021
Very pleased with my whole experience of having a procedure. Was so nervous about getting treatment and i was reassured and felt so comfortable throughout thanks to the amazing nurses. I definitely made the right decision to have breast augmentation at centre for surgery with dr erel.
Melissa Briggs
08/11/2021
So glad I went with centre for surgery, the whole process went very smoothly from the consultations down to the actual day of the procedure. I was so nervous on the day but the whole team put me at ease and I'm happy with my results as I feel a lot more comfortable wearing certain clothes now. My surgeon was Alberto Di Giuseppe who performed a breast Augmentation on me, and I would definitely recommend as he was very clear on what the outcome of the surgery would be and which size would look the best for my frame.
Couldn't be happier with Dr Tillo work,i had my breast surgery one week ago and so happy with the results so far,all the staff are extremely nice and very supportive,i would definitely recommend their services,thank so much
From start to the finish everything was perfect for tummy tuck surgery. All staff is very friendly and the aftercare has been good. The Doctor and the nurse team was fantastic. I'm so happy...result is amazing. Thank you!!!
This was overall a great experience, all the staff at Centre for Surgery were friendly and put me at ease. It is a nerve wracking thing to go through an op but the staff were so nice. Mr Ertan has got a great team around him. On the day of the operation everything went smoothly to plan, there was no delay or holdups, I had another consultation with Mr Ertan who confirmed what was going to be done and that I was still happy to proceed. I was prepped for the procedure, I met with the anaesthetist who again was really nice and put me at ease explaining his role. After the procedure I woke up with the nurse by my side making sure I was OK and checking on me, I was able to stay in the clinic until I was ready to leave and was not rushed at all. I was well looked after from the start to the point when I was discharged. Post operation I was staying at a local hotel it was so close there was no point in even getting a taxi and I was able to walk back where my partner was waiting for me. I was expecting a lot of bruising to both my eyes but there was very little if any by the time the cast came off after 7 days, I am now at the two week post operation point and it is healing well with no outwardly visible bruising or scaring. The next milestone is a checkup at the 6 week point with my surgeon. If you're thinking of having something like this done I would highly recommend getting in touch with Centre for Surgery.
The staff at Centre for Surgery were very kind and accommodating. They answered any questions I had about the procedure and were constantly checking up on me. A special thank you to Christina for all her support throughout.
I would just like to state the quality of care received from the nurses at Centre for Surgery was beyond the highest level. Sophie takes her patient care to another level beyond words. She always puts me at ease. She is there for me even at awkward hours just when I mostly needed reassurance and she is one of the most compassionate nurses I have come across and demonstrates her passion naturally for caring for others. She totally deserves recognition at its finest and thank you for always being there for me. 😍