Bra Line Back Lift London UK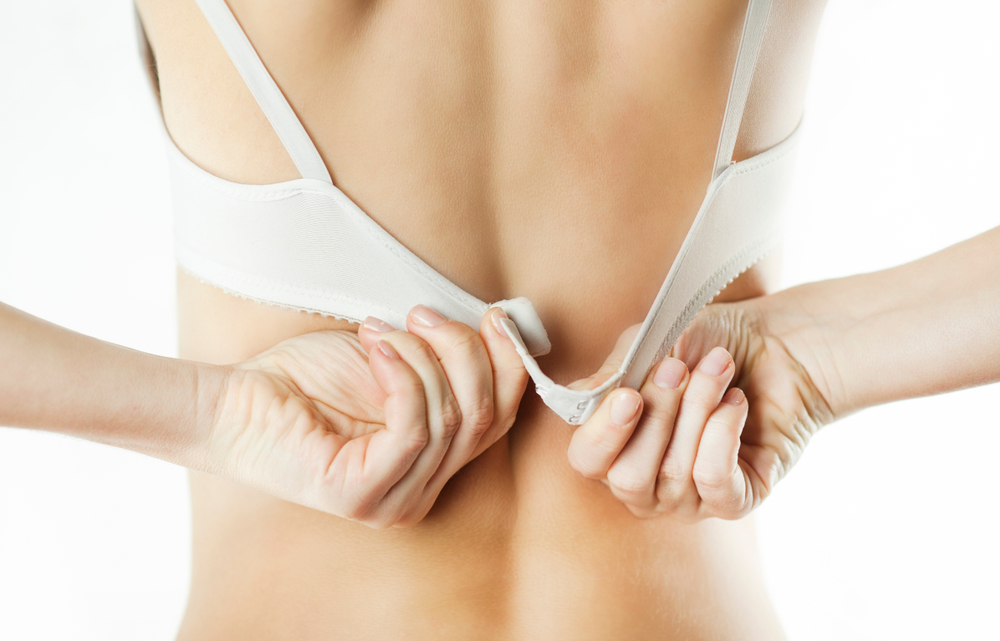 Achieve a smoother, more contoured back with our transformative bra line back lift, sculpting away excess skin and fat for a more confident you
Individuals who have undergone substantial weight loss might encounter issues with sagging or loose skin and unwanted bulges in certain areas of their bodies, including the upper back and underarm region. Such changes can be challenging to address through conventional methods like diet and exercise, making surgical intervention an appealing solution. In these situations, procedures such as a Back lift or Bra-line back lift become particularly beneficial.
The Bra-line back lift surgery represents one of the most potent strategies for eliminating excess tissue and sculpting the upper back region. One of its greatest advantages lies in the ability to camouflage the surgical scar within the natural bra line, making it less noticeable.
Located in London, Centre for Surgery is a specialist plastic surgery clinic with expertise in post weight loss surgery. Housing a team of accomplished and highly skilled plastic and reconstructive surgeons, the centre is equipped to perform a broad spectrum of body lift procedures, with bra line back lift surgery being one of the offerings.
Leveraging state-of-the-art surgical techniques, our surgeons meticulously excise the sagging skin from your upper and middle back regions. The goal is to create a well-defined, firm, and tight appearance, thereby restoring your back's youthful contours. At Centre for Surgery, we dedicate ourselves to helping you achieve an enhanced body image and improved self-confidence through our professional expertise.
What is Bra Line Back Lift Surgery?
Bra Line Back Lift Surgery is a surgical intervention designed to address sagging skin and excess tissue that often accumulate around the upper or middle back due to various factors such as ageing or significant weight loss. With age and weight fluctuations, our skin naturally loses its elasticity, making it difficult to maintain a smooth and firm back contour through conventional means.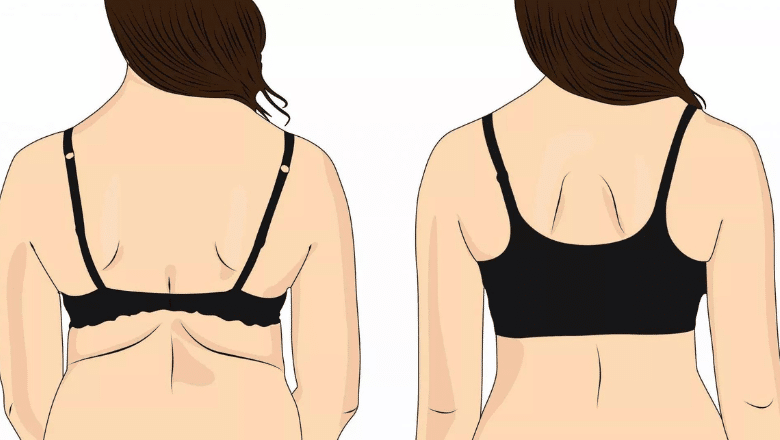 Many individuals, following substantial weight loss, encounter a common issue of excess skin hanging over their bra line in the back. This happens when the fat tissue that once supported the skin is lost due to ageing or deliberate weight loss, causing an overhang of loose skin. Owing to the firm attachment of skin above and below this area to the underlying structures, the excess skin gives off a "lampshade" appearance. Moreover, procedures to contour the lower back often do not positively affect this region and, in some cases, might even amplify the undesirable appearance.
While traditional tumescent liposuction or complementary liposuction procedures might be sufficient for some patients, it's not a one-size-fits-all solution. The fat in the upper back can often be fibrous, making it unsuitable for liposuction. Additionally, the size of the upper back and the common presence of excess skin hanging downward make the situation more complex. Therefore, many patients require an intervention to eliminate the excess skin rather than just removing the fatty tissues.
Bra line back lift surgery is an effective solution in these circumstances, as it not only removes excess skin but also the underlying subcutaneous fat, enhancing the skin's tautness. The procedure mimics the effect of pinching or grabbing the extra layer of skin, thereby achieving a two-fold tightening effect – horizontally across the back and vertically from the bra line down beyond the waistline. The outcome of this surgical procedure is immediately noticeable and can significantly enhance the back's aesthetic appearance.
Bra Line Back Lift Before & After Photos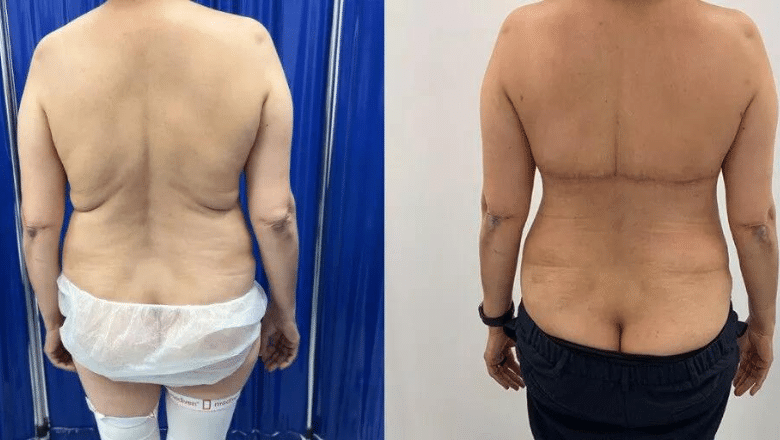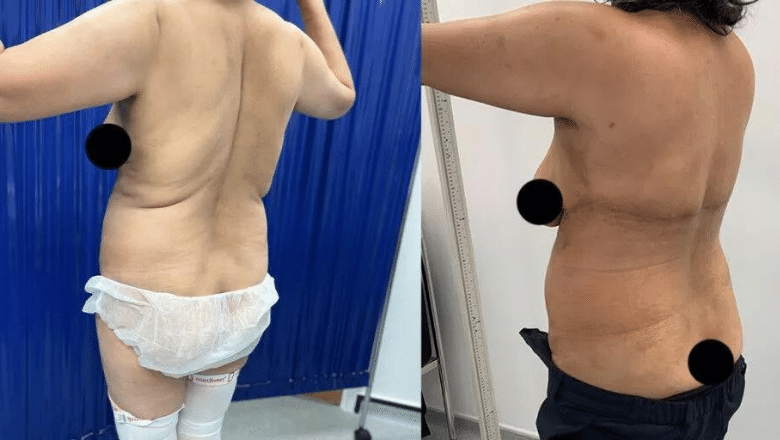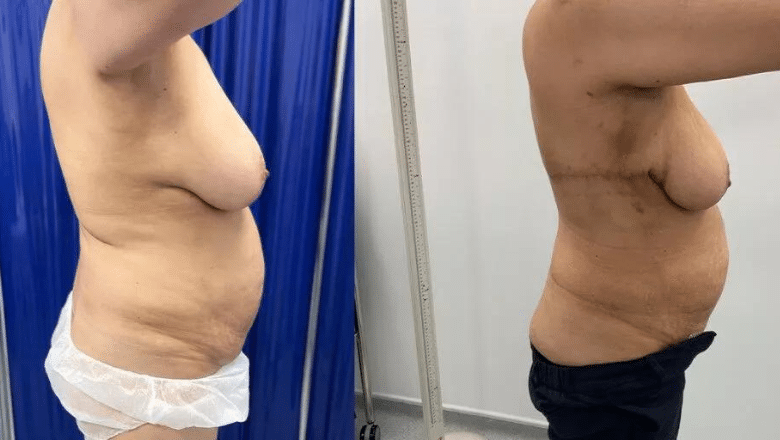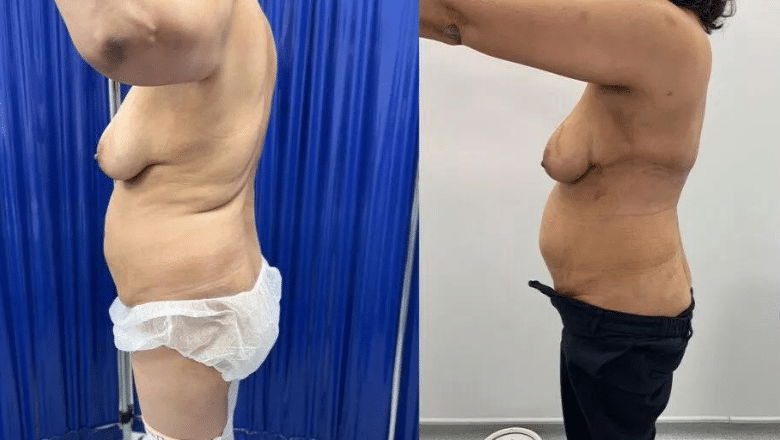 Benefits of Bra Line Back Lift Surgery
Bra line back lift surgery, a relatively recent addition to the range of cosmetic procedures, has already shown its value through a range of benefits. Its innovative approach and strategically placed incisions have contributed to its increasing popularity. The advantages of this procedure include:
Relief from chronic pain: Individuals who carry excess skin often experience chronic neck, back, and joint pain. By removing the excess skin, this procedure can significantly alleviate these discomforts.
Enhanced mobility: Sagging skin can inhibit movement and daily activities. Post-surgery, patients typically find they can move with increased comfort and ease.
Improved posture: The reduction of skin volume on the back allows for a more upright posture, facilitating easier and healthier movement.
A streamlined silhouette: Bra line back lift surgery effectively eliminates bulges or rolls on your upper, middle, or lower back, creating a more streamlined appearance. The procedure can also address the folds beneath your bra strap or above your waistline, giving your body a more toned and contoured look.
Concealed scarring: While the procedure does leave a scar due to the removal of substantial tissue, the incision is strategically placed to align with the bra strap. This means the scar is typically hidden even when wearing swimwear or low-back outfits.
Combined procedures for comprehensive contouring: If a patient requires further body contouring, it's possible to perform additional procedures in conjunction with a bra line back lift, such as abdominoplasty or breast reduction. This coordinated approach allows for more extensive and cohesive body reshaping.
Am I a Candidate for Bra Line Back Lift Surgery?
A bra line back lift surgery is designed to be most beneficial to those who have excess skin hanging from their upper back due to substantial weight loss, either via diet, exercise, or bariatric surgery. When weight is lost, the skin does not automatically contract to fit the body's new size. Rather, it tends to sag loosely, causing discomfort, restriction in physical activities, and potential hygiene issues such as rashes and skin irritations.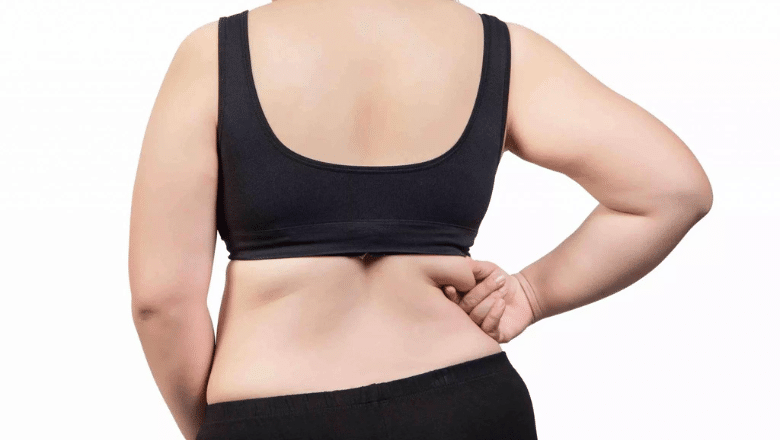 Given the intensive nature of a bra line back lift, it's most effective for individuals who are not planning to lose further weight, or those with a significant amount of loose skin that cannot be effectively reduced through other methods. To be considered an ideal candidate for this procedure, you should:
Have sagging skin, primarily on the upper portion of your back.
Have achieved a stable weight after substantial weight loss, with no intention of undergoing significant weight loss in the future.
Be in good overall health, with no medical conditions that could impede the surgery or its recovery.
Be in your 40s or 50s, as this is the age when skin elasticity starts to diminish significantly, making this procedure particularly beneficial. However, it's also a viable option for younger individuals who have experienced drastic weight loss in a short time, and their skin hasn't been able to keep pace with their body's transformation.
Be a non-smoker or be willing to quit smoking for several months before and after the surgery, as smoking can adversely affect both the healing process and the overall results.
Have realistic expectations about the procedure, fully understanding that while the procedure can significantly improve your back's contour, it will leave a scar, though it's typically concealed within the bra line and not very noticeable.
How to Prepare For Bra Lift Surgery
The process towards achieving a more contoured back through bra line back lift surgery begins with an initial consultation. Your surgeon will conduct a thorough discussion about your overall health, medical history, prior surgical procedures, and current medications. Following this, a comprehensive physical examination will be carried out to identify and mark the areas of concern.
Post-assessment, you will engage in an open conversation about the surgical options available to you, and it could be beneficial to discuss other related procedures, such as tummy tuck or lower back lift, depending on your individual circumstances.
Once a clear surgical plan has been agreed upon, a surgery date will be scheduled. Leading up to the procedure, your surgeon will provide specific instructions, including the cessation of smoking at least one month prior to the surgery and guidelines on medication management. If you're on any medications, especially blood thinners, it's crucial that you discuss this with your surgeon before making any changes. Similarly, it is important not to start any new medications without your surgeon's advice. All these steps are geared towards ensuring the surgery is as safe and effective as possible for you.
How is bra line back lift surgery done?
In preparation for the surgery, women are required to wear a revealing swimsuit bra, allowing the surgeon to accurately mark the areas to be treated. These markings provide a guide for the surgeon, outlining the bra and highlighting the excess tissue that will be removed during the procedure.
Bra line back lift surgery is performed under general anaesthesia for patient comfort and safety. The surgical process involves making an incision across the back to excise the sagging skin and unwanted bulges. This incision often resembles a butterfly shape, which is strategically designed to remove both excess skin and subcutaneous fat from the upper back area.
Liposuction is often employed as a part of this procedure to eliminate fat deposits. This involves the use of a small tube, called a cannula, which is used to suction out the unwanted fat. After successful liposuction, the remaining skin on the back is meticulously sutured together.
The resultant scar is located horizontally along the bra line, which can be tricky to conceal. However, the placement is typically discreet enough that it's not visible when wearing a bikini top or a bra.
The surgery is commonly performed as a day case, meaning patients are generally able to return home the same day. Contrary to some surgical procedures, drains are not typically inserted post-surgery. This is due to the use of a three-layered closure technique that minimizes the risk of seroma (fluid collection), thereby negating the need for a drain. Instead, patients are advised to wear a sports bra to aid with compression and support during recovery.
Can I combine a back lift with other plastic surgeries?
Yes, it's often possible to combine a back lift with other plastic surgery procedures, depending on your individual health and the specific surgeries you are considering. This can have the advantage of reducing overall recovery time, as well as potentially lowering costs compared to having each procedure separately.
Some common procedures that are combined with a back lift include:
Abdominoplasty (Tummy Tuck): This procedure removes excess skin and fat from the abdominal area and tightens the abdominal muscles.
Breast Lift or Breast Reduction: This can improve the appearance of sagging breasts, and it's often done in combination with a back lift, especially in post-weight loss patients.
Liposuction: This procedure can remove excess fat from various areas of the body, and can complement a back lift by further enhancing body contour.
Lower Body Lift: This procedure addresses sagging skin and tissue in the buttocks, hips, and thighs, and can be done in combination with a back lift for a more comprehensive transformation.
However, combining surgeries increases the length of the operation and potentially the risk of complications. Therefore, the patient's overall health status and ability to safely undergo a longer operation will need to be evaluated by the surgeon. It's important to have a thorough discussion with your surgeon about your goals and the best approach to achieving them. They can guide you on whether combining procedures is advisable in your specific case.
Recovery after Bra Line Back Lift
Post bra-line back lift surgery, you will have the freedom to choose your preferred bra or garment commencing from the second week itself. As your body continues to heal, for the following few months, you might find yourself gravitating towards bras that provide added comfort, generally ones with broad cross straps.
It's entirely normal to experience some discomfort and pain after the procedure. To alleviate this, your surgeon might prescribe specific pain medication. The typical recovery period ranges between seven to ten days, but this can differ depending on the individual.
While the recovery duration might be brief, our medical professional will provide essential advice to ensure the surgical area recovers effectively. Activities you should abstain from during the recovery period include:
Lifting heavy objects
Engaging in strenuous exercise
Baths, immersing the surgical site in water, swimming, or using hot tubs
Rest assured, you will have the capability to shower a mere 24 hours post-surgery.
In general, women who have undergone a bra-line or lower back lift can gradually elevate their physical activity levels approximately two weeks after the surgery. Essentially, if you're free from discomfort or excessive tension, you can gently increase your physical activities. However, if you do encounter discomfort, it's advisable to wait another week or consult your surgeon.
Adhering closely to the postoperative instructions can significantly minimise scarring. Prior to resuming gym activities or your normal routine, ensure you consult with your surgeon. Regular attendance of scheduled check-ups is critical. You can expect follow-ups at one week, six weeks, three months, six months, and twelve months post-procedure.
While you'll notice an immediate difference post-surgery (i.e., no fat bulges on your back), bear in mind that the ultimate results may take some time to fully manifest. This period varies among individuals but generally spans from six months to a year.
Risks & Complications of Bra Line Back Lift
While our surgeons aim for the highest standards of care, there are potential risks and complications associated with bra line back lift surgery that can manifest during the healing process or even after healing is complete. These include:
Post-healing Asymmetry: Despite the surgeon's best efforts to ensure symmetry in the wound closure and contouring during back lift surgery, the skin's natural laxity and the distribution of fat and skin on your body can result in minor asymmetry after healing.
Atypical Scarring: In certain cases, scars may develop abnormally, leading to keloids or hypertrophic scars. These types of scarring are typically more prevalent in certain ethnic groups and may require specialized treatment for removal.
Skin Necrosis: In rare circumstances, the blood supply to the edges of the wound may be insufficient due to tight skin compressing the small blood vessels. This can lead to skin necrosis, where a portion of the skin dies. This risk is particularly heightened in individuals who smoke or have diabetes, as these conditions can impede the body's healing process.
Please note that these complications are not common, but we believe in providing our patients with complete information for informed decision making. Your surgeon will discuss these potential risks with you in detail during your consultation, as well as strategies to minimise their likelihood and impact.
Bra Line Back Lift Cost London - How much does Bra Line Back Lift surgery cost in London UK? Prices & Fees
The bra line back lift is an intricate surgical procedure, thus, its cost can fluctuate depending on each patient's specific needs and circumstances. Additionally, the fees associated with anaesthesia and hospital stay can vary based on the duration of time spent in the operating theatre.
To acquire an estimated price for an upper body lift in London, we encourage you to get in touch with our Centre for Surgery. Following your initial consultation, our surgeon and patient coordinator will be able to provide a more accurate estimate of the overall cost of the procedure.
It's important to note that coverage for a bra line back lift by the NHS or private health insurance is dependent on meeting certain stringent CCG criteria. If you qualify under these criteria, you may be eligible for this treatment under the NHS. However, each case is considered individually, so it's essential to discuss this with your surgeon.
Why choose Centre for Surgery for Bra Line Back Lift?
Choosing Centre for Surgery for your bra line back lift procedure is a decision that places your care in the hands of highly trained, accredited, and experienced plastic surgeons. Here's why we stand out:
Expert Surgeons: Our team consists of GMC-certified plastic surgeons who specialize in body contouring procedures, including the bra line back lift. Their vast experience ensures precision, safety, and optimal results.
Personalised Care: We believe in a patient-centric approach, where each surgical plan is tailored to the individual patient's needs, aesthetic goals, and health status.
Advanced Techniques: We utilize state-of-the-art surgical techniques and equipment to ensure efficient procedures with minimal scarring and downtime.
Comprehensive Consultations: Our detailed consultations allow ample time for the surgeon to understand your goals, assess your suitability for the surgery, and for you to get answers to all your questions.
Transparent Pricing: Our pricing is straightforward and all-inclusive, with no hidden costs. We offer a range of financing options to make the procedure affordable.
Extensive Aftercare: We believe that aftercare is just as crucial as the surgery itself. We offer a comprehensive follow-up program and our surgeons are always available to address any concerns post-procedure.
Safety First: Patient safety is our utmost priority. Our clinic strictly adheres to all local regulations and international best practices for medical facilities.
Convenient Locations: Our facilities are easily accessible and designed to provide a comfortable and private environment for our patients.
High Patient Satisfaction: Our track record of positive patient testimonials and high satisfaction rates is a testament to our commitment to exceptional patient care.
Education and Guidance: We ensure that you're well-informed about the procedure, recovery, potential risks, and the results you can expect, empowering you to make the best decision for your health and aesthetic goals.
At Centre for Surgery, we're dedicated to helping you feel your best, providing care that's both professional and compassionate. With us, you're not just a patient, but a partner in the journey towards achieving your desired aesthetic outcome.