What is abdominoplasty for men (Tummy Tuck)?
Abdominoplasty also known as a tummy tuck is a highly effective body contouring procedure for men who would like to achieve a flatter stomach without loose skin or excess fat. A full abdominoplasty involves the removal of excess skin with the sculpting of the abdomen using liposuction to result in a firmer-looking abdomen with a better tone. Men often develop a significant boost in self-confidence as a result of having a male tummy tuck and can look forward to wearing an unrestricted range of clothing including swimwear and beachwear.
RELATED: Key facts about Tummy Tuck Surgery & Abdominoplasty
At Centre for Surgery, we specialise in Brazilian abdominoplasty which is a combination of liposuction and a full tummy tuck to get rid of loose skin and fat and tighten the abdomen using the most advanced surgical techniques. Abdominoplasty for men is ideal for the removal of excess skin on the tummy that has proven resistant to regular physical exercise and a sensible diet.
What are the benefits of the procedure?
Most men who choose to have an abdominoplasty often do so because of significant weight loss, which results in the following problems:
Excess loose and sagging skin – this can be effectively treated by excess surgical skin removal
Areas of excessive subcutaneous fat – men may often develop an uneven distribution of abdominal fat which can often look very unsightly but is effectively treated with liposuction.
Severe skin laxity – then who have lost large amounts of weight may notice the development of redundant skin folds.
Stretch marks or striae – stretchmarks commonly develop after weight loss and can be surgically removed with abdominoplasty or nonsurgically with Morpheus8 treatment at our Crawford Street clinic.
Abdominal muscle-weakening – excessive weight gain often results in bulging of the abdominal muscles, which do not return to normal after significant weight loss. A male abdominoplasty can effectively repair the weakened muscles leading to a flatter and firmer abdomen.
RELATED: What is the difference between liposuction and a tummy tuck?
Although a full abdominoplasty is most commonly carried out in men, some men may be suitable for a mini-abdominoplasty (min tummy tuck). This procedure involves the removal of excess skin and subcutaneous fat in the lower half of the abdomen. The procedure is commonly combined with liposuction to remove areas of prominent fat to give the best tummy tuck results. Mini tummy tuck recovery is quicker than a full abdominoplasty, with patients requiring no more than one week away from work. The minimally invasive nature of a mini-abdominoplasty means patients can carry out nonstrenuous work activities after 2 to 3 days. Most patients can commence light activities after 7 to 10 days and resume going to the gym after six weeks.
How much does male abdominoplasty cost?
Male abdominoplasty cost will depend on a number of factors, including body mass index and the type of tummy tuck to be performed. Extended abdominoplasty or Fleur-De-Lis abdominoplasty are more advanced types of tummy tuck that are suitable for men with severe skin laxity. These procedures will cost more. The average price for a male abdominoplasty starts from £8000, and if combined with liposuction, then the cost of the procedure will increase. If you would like an accurate quotation for a male abdominoplasty, please contact us today for a face-to-face consultation. Once you have had your consultation, your dedicated patient coordinator will give you a comprehensive quotation for the full breakdown of the costs involved for a male tummy tuck.
SEE ALSO: Tummy Tuck (Abdominoplasty) Before And After Photos
What is included in the cost of the abdominoplasty procedure?
In-depth consultation with an expert male abdominoplasty surgeon
Detailed face-to-face nurse-led preoperative assessment
24/7 emergency helpline for any questions or concerns you may have
Your own dedicated patient coordinator to act as a point of contact throughout your journey with us at Centre for Surgery
Complimentary nurse and surgeon appointments for up to 1 year after your procedure
Your procedure will take place at our leading specialist cosmetic surgery clinic in London, located on Baker Street
Male abdominoplasty before and after
Case 1:
This patient had 360 liposuction of the abdomen and flanks, extended abdominoplasty with muscle repair and gynaecomastia removal with liposuction and gland excision. Admission and discharge on the same day. The patient made an excellent recovery. Scar redness will fade over 3-6 months.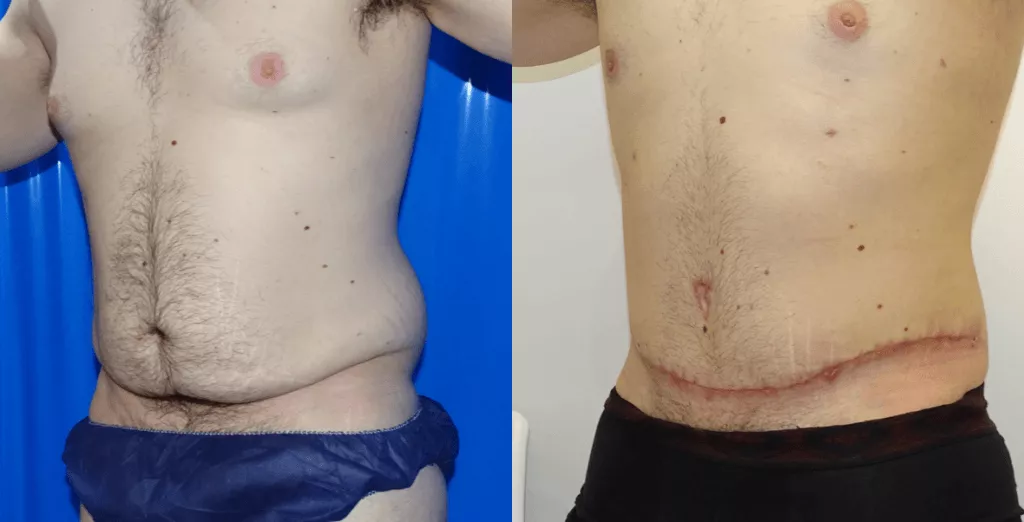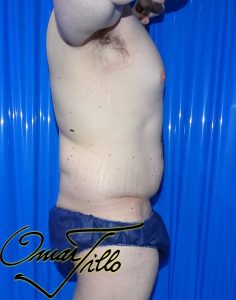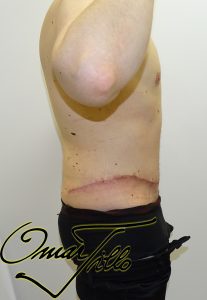 Case 2:
Complex male Fleur-De-Lis abdominoplasty. The gentleman above previously lost 24kg through diet and exercise and also had major abdominal surgery for a ruptured spleen resulting in a lot of internal scar tissue. He developed an umbilical and epigastric hernia after his previous surgery. After carefully freeing up all scar tissue and repairing two hernias, a muscle repair was done with soft tissue reconstruction.