Male Tummy Tuck London UK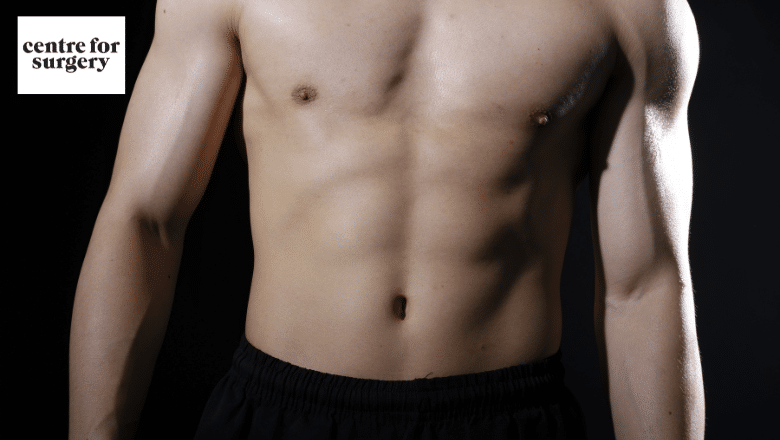 Transform your physique with a male abdominoplasty – expertly tailored to restore confidence and reveal a flatter, firmer abdomen
Male abdominoplasty, also known as a male tummy tuck, is a highly effective body contouring procedure for men who would like to achieve a flatter stomach without loose skin or excess fat. A full abdominoplasty involves the removal of excess skin with the sculpting of the abdomen using liposuction to result in a firmer-looking abdomen with a better tone. Men often develop a significant boost in self-confidence as a result of having a male tummy tuck and can look forward to wearing an unrestricted range of clothing, including swimwear and beachwear.
RELATED: Key facts about Tummy Tuck Surgery & Abdominoplasty
At Centre for Surgery, we specialise in Brazilian abdominoplasty which is a combination of liposuction and a full tummy tuck to get rid of loose skin and fat and tighten the abdomen using the most advanced surgical techniques. Abdominoplasty for men is ideal for the removal of excess skin on the tummy that has proven resistant to regular physical exercise and a sensible diet.
What Is a Male Tummy Tuck?
A male tummy tuck, commonly known as abdominoplasty, is a surgical solution designed to address the concerns of men who are dealing with an overhanging belly or an excess of loose skin around their midsection. This cosmetic surgery procedure not only eliminates unwanted fat deposits and sagging skin but also refines the overall appearance, contour, and firmness of the abdominal area. In addition, a male tummy tuck has the potential to tighten the underlying abdominal muscles, further enhancing the desired aesthetic results.
For those men who are struggling with excess skin and fat not only in their abdominal region but also extending to their flanks and hips, an alternative surgical option might be more suitable. In such cases, an extended tummy tuck or circumferential tummy tuck, performed by a skilled body lift surgeon, could provide more comprehensive results. These specialised procedures are designed to address a larger area of the body, ultimately offering a more harmonious and balanced outcome tailored to the patient's unique needs and goals.
Male Abdominoplasty Before & After Photos - real patient results
Case 1:
This patient had 360 liposuction of the abdomen and flanks, extended abdominoplasty with muscle repair and gynecomastia removal with liposuction and gland excision. Admission and discharge on the same day. The patient made an excellent recovery. Scar redness will fade over 3-6 months.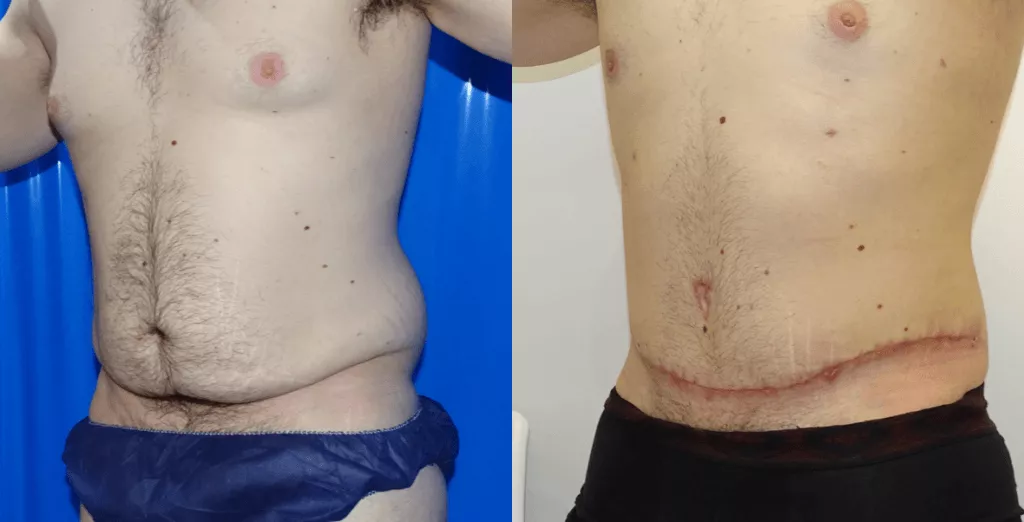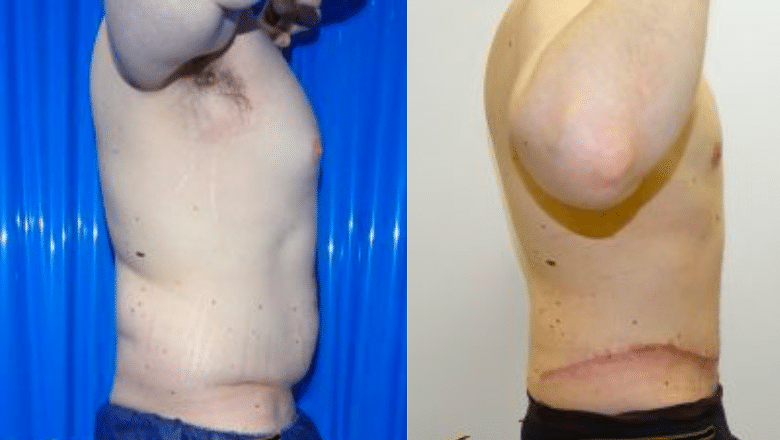 What Are The Benefits Of Male Tummy Tuck ?
Most men who choose to have an abdominoplasty often do so because of significant weight loss, which results in the following problems:
Excess loose and sagging skin – this can be effectively treated by excess surgical skin removal
Areas of excessive subcutaneous fat – men may often develop an uneven distribution of abdominal fat which can often look very unsightly but is effectively treated with liposuction.
Severe skin laxity – then who have lost large amounts of weight may notice the development of redundant skin folds.
Stretch marks or striae – stretchmarks commonly develop after weight loss and can be surgically removed with abdominoplasty or nonsurgically with Morpheus8 treatment.
Abdominal muscle weakness – excessive weight gain often results in bulging of the abdominal muscles, which do not return to normal after significant weight loss. A male abdominoplasty can effectively repair the weakened muscles leading to a flatter and firmer abdomen.
RELATED: What is the difference between liposuction and a tummy tuck?
Although a full abdominoplasty is most commonly carried out in men, some men may be suitable for a mini-abdominoplasty (min tummy tuck). This procedure involves the removal of excess skin and subcutaneous fat in the lower half of the abdomen. The procedure is commonly combined with liposuction to remove areas of prominent fat to give the best tummy tuck results. Mini tummy tuck recovery is quicker than a full abdominoplasty, with patients requiring no more than one week away from work. The minimally invasive nature of a mini-abdominoplasty means patients can carry out nonstrenuous work activities after 2 to 3 days. Most patients can commence light activities after 7 to 10 days and resume going to the gym after six weeks.
Am I suitable?
You might be a suitable candidate for a male tummy tuck procedure if you:
Have experienced significant weight fluctuations in the past, resulting in changes to the appearance of your abdomen.
Possess an apron-like belly, a common consequence of these weight fluctuations.
Are dissatisfied with the appearance of your abdomen and would like to improve its shape and contour.
Experience a lack of confidence or self-esteem due to the appearance of your belly, which may affect your relationships and intimacy with your partner.
Find yourself avoiding certain social activities or situations due to embarrassment about your abdominal appearance.
Have successfully lost a considerable amount of weight, but still struggle with excess skin or stubborn fat deposits in the abdominal area.
Are a non-smoker or are willing to quit smoking for at least 6-8 weeks before and after the procedure, as smoking can negatively impact the healing process.
Maintain a healthy diet and are committed to sustaining a stable weight following the surgery.
Have already engaged in regular exercise and toning efforts at the gym but desire additional refinements to achieve a more athletic or sculpted appearance.
Different Types of Male Abdominoplasty / Tummy Tuck
There are several different types of tummy tuck procedures that cater to the specific needs and goals of male patients. Each type of abdominoplasty is designed to address different areas of concern and degrees of excess skin and fat. Here is an overview of the most common types of male tummy tucks:
Male Tummy Tuck Procedure
Upon entering the surgical theatre for a tummy tuck procedure, a detailed and methodical process will be followed to ensure the best possible results. The entire procedure can take anywhere from two to five hours, depending on the extent of the surgery and the type of tummy tuck being performed. Here is a more in-depth look at the steps involved in an abdominoplasty:
Anaesthesia: To begin, you will be administered general anaesthesia to ensure your comfort and safety throughout the procedure. This will render you unconscious and unable to feel pain during the surgery. In some cases, intravenous sedation may be used instead of general anaesthesia, but this decision is based on your specific needs and the surgeon's recommendation.
Incision: Once the anaesthesia has taken effect, the surgeon will make a carefully planned incision in the lower abdomen. The exact placement and length of the incision will depend on the type of tummy tuck being performed and the degree of correction needed. In a standard tummy tuck, the incision typically extends from hip to hip, just above the pubic area.
Lifting the Skin: After the incision is made, the surgeon will carefully lift the skin and fatty tissue away from the underlying abdominal muscles. This allows for better access to the muscles and provides the opportunity to remove any excess fat using liposuction, if necessary.
Tightening the Abdominal Muscles: One of the primary goals of a tummy tuck is to tighten and repair weakened or separated abdominal muscles, a condition known as diastasis recti. The surgeon will use sutures to stitch the muscles together, effectively creating a tighter and flatter abdominal wall. This step is crucial for achieving a more toned and contoured appearance.
Removing Excess Fat and Tissue: With the abdominal muscles tightened, the surgeon will then remove any extra fatty tissues using liposuction or direct excision. This step helps to further sculpt the abdomen and create a more defined shape.
Repositioning the Belly Button: Due to the skin being lifted and tightened, the original position of the belly button may no longer be appropriate. In this case, the surgeon will create a new opening for the belly button and carefully suture it in place, ensuring that it looks natural and proportional to the new abdominal contour.
Stretching and Trimming Excess Skin: Once the underlying structures have been addressed, the surgeon will stretch the skin downward to smooth and tighten it. Any excess skin will be trimmed away, and the remaining skin will be sutured in place along the initial incision line.
Closing the Incision: Finally, the incision will be meticulously closed using sutures, skin adhesives, or surgical tape. The surgeon will ensure that the incision is as discreet as possible, allowing for minimal scarring and an aesthetically pleasing result.
Postoperative Care: After the surgery is complete, you will be taken to a recovery room, where you will be closely monitored as the anaesthesia wears off. Your surgeon will provide you with detailed postoperative care instructions, including information on pain management, wound care, and activity restrictions, to ensure a smooth and successful recovery.
Recovery After Male Tummy Tuck
In the initial days following your tummy tuck surgery, it is normal to experience some discomfort, tightness, and swelling in the abdominal area. These postoperative symptoms are to be expected and will gradually subside as your body heals. Your specialist plastic surgeon will take steps to minimise your discomfort and manage the swelling during this period. Here is an overview of the recovery process and what you can expect:
Pain Management: To alleviate any pain or discomfort, your surgeon will prescribe pain relievers that you should take as directed. It is important to stay on top of your medication schedule, as this will help you maintain a more comfortable recovery.
Compression Garments: You will be instructed to wear a specially designed compression garment around your abdomen. This garment provides support and helps to reduce swelling by applying gentle, consistent pressure to the area. It is crucial to wear the garment as recommended by your surgeon for optimal healing and results.
Gradual Resumption of Physical Activity: As your recovery progresses, you can slowly reintroduce physical activity into your daily routine. Gentle walking is encouraged within the first week, as it promotes blood circulation and can aid in the healing process. Gradually increase the intensity of your activities over the following weeks, as tolerated and advised by your surgeon.
Avoiding Strenuous Activities: For the first six weeks post-op, it is important to avoid heavy lifting and particularly exhausting activities. These activities can put undue strain on the healing tissues and may compromise your results. Your surgeon will provide guidance on when it is safe to resume these types of activities.
Regular Follow-Up Appointments: Attend all scheduled follow-up appointments with your tummy tuck surgeon. These appointments allow your surgeon to monitor your progress and address any concerns or complications that may arise during your recovery. It is essential to keep an open line of communication with your surgeon and follow their advice to achieve the best possible results.
Individualised Guidance: Remember that each patient's recovery process is unique, and your surgeon will provide personalised recommendations based on your individual circumstances. Be sure to consult with your surgeon regarding any specific details or concerns you may have during your recovery.
Risk & Potential Complications Of a Male Abdominoplasty
While male tummy tuck procedures generally yield successful outcomes, it is essential to understand that, like any surgical procedure, risks and complications can occur. Potential risks associated with male abdominoplasty include, but are not limited to:
Pain and discomfort: Some degree of pain and discomfort is expected during the recovery period.
Swelling: Postoperative swelling is normal and typically subsides over time.
Excessive scarring: Abnormal or hypertrophic scarring may develop, although this is relatively rare.
Seroma: A buildup of fluid beneath the skin, which may require drainage or additional treatment.
Tissue damage and necrosis: Compromised blood supply to the tissues can lead to damage or necrosis (tissue death).
Reduced sensitivity: Temporary or permanent changes in skin sensation around the surgical site.
Prolonged recovery: Unanticipated complications or personal factors may extend the recovery period.
Bleeding: While uncommon, excessive bleeding may occur during or after the surgery, potentially requiring further intervention.
To minimise these risks, it is of utmost importance to select a qualified Specialist Plastic Surgeon who operates in a CQC-regulated environment adhering to the highest standards of cleanliness, staff expertise, and equipment availability. In addition, following your surgeon's pre- and postoperative instructions and attending all scheduled follow-up appointments will significantly contribute to a safe and successful outcome.
Male Tummy Tuck Costs & Prices – How Much Is Tummy Tuck In London?
Male abdominoplasty cost will depend on a number of factors, including body mass index and the type of tummy tuck to be performed. Extended abdominoplasty or Fleur-De-Lis abdominoplasty are more advanced types of tummy tuck that are suitable for men with severe skin laxity. These procedures will cost more. The average price for a male abdominoplasty starts from £9000, and if combined with liposuction, then the cost of the procedure will increase. If you would like an accurate quotation for a male abdominoplasty, please contact us today for a face-to-face consultation. Once you have had your consultation, your dedicated patient coordinator will give you a comprehensive quotation for the full breakdown of the costs involved for a male tummy tuck.
SEE ALSO: Tummy Tuck (Abdominoplasty) Before And After Photos
What is included in the cost of the abdominoplasty procedure?
In-depth consultation with an expert male abdominoplasty surgeon
Detailed face-to-face nurse-led preoperative assessment
24/7 emergency helpline for any questions or concerns you may have
Your own dedicated patient coordinator to act as a point of contact throughout your journey with us at Centre for Surgery
Complimentary nurse and surgeon appointments for up to 1 year after your procedure
Your procedure will take place at our leading specialist cosmetic surgery clinic in London, located on Baker Street
Procedures commonly Combined with Male Tummy Tuck
Combining procedures with a male tummy tuck can enhance overall results and achieve a more comprehensive body transformation. Some common procedures often combined with a male tummy tuck include:
When considering combining procedures, it's essential to discuss your goals and expectations with your surgeon. They will help you determine which procedures will best address your concerns while ensuring your safety and well-being. Combining procedures may increase operative time and recovery duration, but it can also offer the benefit of a single recovery period for multiple procedures, reducing overall downtime.
Finding The Best Tummy Tuck Surgeon In London
When searching for the best tummy tuck surgeon in London, it is essential to prioritise safety, quality, and experience over cost. While some overseas surgeons might offer lower prices, these could come at the expense of quality care and safety standards. The same applies to the UK, so thorough research is crucial before choosing a surgeon for your tummy tuck procedure.
To identify a reputable and qualified surgeon, consider the following factors:
Specialist Certification: Ensure that the surgeon is a Specialist Plastic Surgeon and a member of recognised professional organisations, such as the British Association of Aesthetic Plastic Surgeons (BAAPS) or the British Association of Plastic, Reconstructive and Aesthetic Surgeons (BAPRAS).
Experience: Select a surgeon who specializes in tummy tuck procedures and has extensive experience performing them. An experienced surgeon is more likely to achieve optimal results and minimize potential complications.
Surgical Team and Facility: Investigate the surgeon's supporting team and the facility where the surgery will be performed. Choose a surgeon who operates in a an accredited surgical centre with a skilled team and access to state-of-the-art equipment.
Patient Reviews: Read testimonials and reviews from previous patients to gain insight into their experiences with the surgeon. This can help you gauge the surgeon's level of expertise, bedside manner, and overall patient satisfaction.
Before-and-After Photos: Examine the surgeon's portfolio of before-and-after photos to evaluate their work and ensure that their aesthetic approach aligns with your desired outcome.
Consultation: Schedule a consultation with the surgeon to discuss your goals, expectations, and concerns. Use this opportunity to assess their communication style, professionalism, and willingness to address your questions.
By thoroughly researching and considering these factors, you can increase your chances of finding the best tummy tuck surgeon in London to provide you with a safe and successful surgical experience.
Male Abdominoplasty at Centre for Surgery
At Centre for Surgery in London, we pride ourselves on providing a comprehensive, patient-centred approach to male tummy tuck procedures. Here are several reasons to consider us for your male abdominoplasty:
Experienced and Certified Surgeons: Our team of plastic surgeons is highly skilled and board-certified, with extensive experience in performing male tummy tucks. They are dedicated to achieving optimal results while prioritizing patient safety and well-being.
Personalised Care: We believe that every patient is unique and deserves a customised treatment plan tailored to their individual goals and expectations. Our surgeons work closely with patients to understand their needs and develop a surgical plan that will provide the best possible outcome.
State-of-the-Art Facilities: Our surgical centre on Baker Street is equipped with the latest technology and adheres to the highest standards of safety and cleanliness. This ensures that our patients receive the best possible care in a comfortable and secure environment.
Comprehensive Consultation: Our thorough consultation process ensures that patients are well-informed about their procedure, potential risks, and expected outcomes. We encourage open communication and provide ample time for patients to ask questions and address any concerns.
Exceptional Support Staff: Our team of dedicated nurses, anaesthetists, and support staff are committed to providing the highest level of care throughout the surgical journey, from the initial consultation to postoperative follow-up appointments.
Patient Satisfaction: We are proud of our track record of excellent patient satisfaction, which is a testament to our commitment to providing outstanding care and results.
One-Stop-Shop: In addition to male tummy tucks, we offer a comprehensive range of cosmetic and reconstructive procedures, allowing patients to address multiple concerns under one roof.