Male Breast Reduction London & Gynecomastia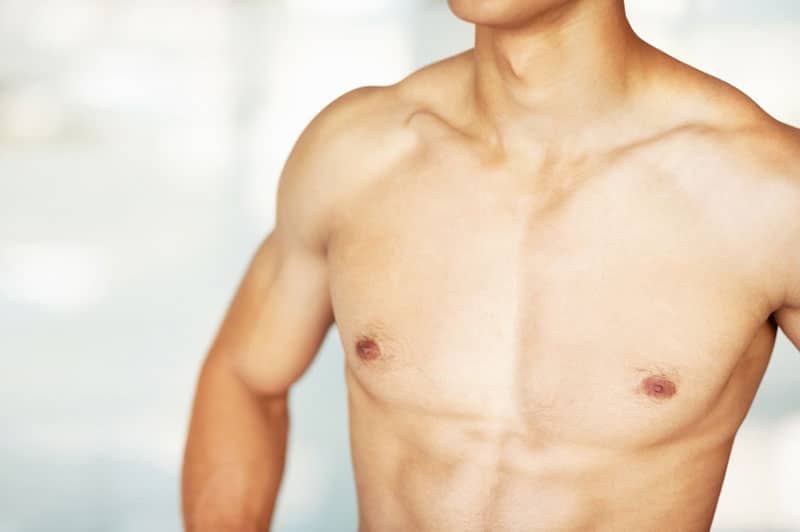 Male breast reduction or Gynecomastia surgery in London, also known as a male chest reduction with our expert cosmetic surgeons. Gynecomastia or 'man boobs' is a condition where the men's or boy's breast tissue is swollen which is often caused by an imbalance of hormones and can be experienced at any age throughout a man's life. Newborns and boys going through puberty often experience gynecomastia, however, some men can experience this in adulthood. While the condition does not cause any other health issues and is not physically painful, it can be detrimental to a man's self-esteem and mental health.
Male breast reduction surgery is the surgical solution for those who have gynecomastia. Male breast reduction surgery involves a combination of procedures which include liposuction, gland removal or skin reduction.
Our London clinic at 106 Crawford Street was recently inspected and rated as good across all 5 domains.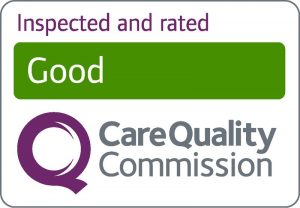 All our male breast reduction surgeons are on the GMC specialist register. An accredited surgeon on the specialist register means you can therefore be assured your surgeon has the qualifications, experience and skills to perform your procedure and manage your aftercare to the very highest standards.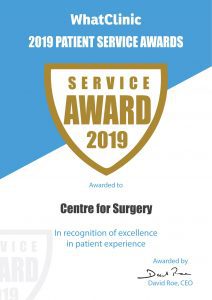 What is included in my treatment package?
As many preoperative consultations with your surgeon as you like to make sure the male breast reduction procedure is right for you
Treatment at a specialist day surgery facility recently rated 'Good' by the CQC
Enhanced same day discharge with the added benefits of recovering in your own home
24/7 clinical support from your surgeon for first 48 hours and our expert postoperative support team
Your very own dedicated patient coordinator
In-depth preoperative medical assessment to make sure you are fully fit for the male breast reduction procedure
Exceptionally high standards of postoperative care described as 'outstanding' by the CQC with regular telephone and face to face checks by our expert postoperative support team
Would highly recommend Centre for Surgery. Very professional staff who supported me through my entire journey from initial consultation to the procedure. Always on hand to answer any questions I had and thoroughly explained the procedure and associated risks to ensure I was well-informed.
Amazing, exceptional, professional and quality service! From the initial request for more information until the day of procedure and after the procedure. The constant calls and emails from the team made me feel as if I was relevant and showed me that my business was important to them. Dr. Mitakos, Carolyn, Samira and Natalie (recovery nurse) OUTSTANDING, OUTSTANDING, OUTSTANDING!!! Dr. Mitakos was thorough and made sure to be honest about the procedure and my results. It's been a week post-op and I'm in love! Even with swelling in some areas!! I couldn't have asked for a better Dr. He was very professional, kind and genuine. Carolyn, Samira and Natalie are angel sent! They were so kind, caring and ensured that I was well taken care of days leading up to the surgery, on the day of surgery and during recovery. I would recommend Centre for Surgery to anyone who wants to get surgery to feel better about themselves.
Amazing service from start to finish, extremely professional staff and surgeons. Special thanks to my Consultant Plastic Surgeon Dr Ertan Erel was brilliant and made me feel so calm and confident from the moment we met through my consultation . He is definitally second to none.. I would recommend Centre for Surgery in a heart beat.
Recommend highly!! Always wanted a breast augmentation and never had the nerve to go through with it. Until i got Recommended center for surgery and spoke to carolyn and the ball got rolling 🙂 meeting dr tillo for a couple consultation made me certain i wanted it and i would be in great hands. The day of the surgery i was nervous but having such a great support team from the nurses and care team was a massive relaxation. And the aftercare is amazing. They check in with you every over day and i could contact them if needed for anything. I could name so many great people that helped me throughout my journey but dr tillo is amazing with what he does. And carolyn was and still is the best person to organise and help me with everything throughtout.
Absolutely amazing service from start to finish. I have been looked after the whole way through the process, from initial conversations, consultation, to having my surgery and being looked after by the brilliant aftercare team. I could not recommend Dr Omar Tillo enough, lovely surgeon who was honest with me throughout and made me feel so comfortable.
Domenico Betti
24/03/2021
Really wonderful experience, Jasmin the receptionist was very helpful and sweet she assisted me throughout my appointments, bookings and payment. The day of my surgery I was extremely nervous and very anxious, I was booked in for upper eyelid surgery ( Blepharoplasty ) First I was met with the lovely Gregory who I could not have asked for such a lovely kind person to be the Surgeons right hand man, he made me feel at ease straight away and as comfortable as possible. I then met my Surgeon Dr Ertan Erel who was also wonderful ( I had previously met him 2 weeks before for my consultation) I had a instant liking to him and felt comfortable with him performing the procedure on me. I had the treatment with Local anesthetic so I was fully awake and aware of what was going on, again I was extremely nervous and felt like I was having a small mini panic attack when we started but both Dr Ertan Erel and his assistant Gregory both made me feel at ease and as relaxed as they possibly could, we even had some 80s music on that helped to calm me down, Gregory was holding my hand the majority of the time and was having a chat with me that made me feel so relaxed, I could not have asked for 2 lovely men to have worked on me. Both the Surgeon and his assistant are as important as each other when you have a very nervous patient like myself. I have not had any complications since leaving the clinic and so far I am really so happy I can already see the amazing results. Dr Ertan returned my call back two days later to make sure everything was ok and how I was getting on ( that was very reassuring ) Very exited to get my stitches out in a few days. I could not give less than 5 stars so thank you very much. I will definitely be recommending. Verity.
Well where do I begin. So I am 6week post surgery and I couldn't be happier with my results. I done endless research on the procedure I wanted doing and where is best in England and Centre for surgery was the strongest contender and I felt super confident in the reviews and before and after photos they have online. So my journey started when I emailed centre for surgery for more information about liposuction and fat transfer with Dr Antonios Mitsakos. I then was contacted by Yasmin, she called me for a chat about what I'm after and to discuss options etc. She was incredible with getting my consultation and day of surgery booked as soon as she could and was on the end of the phone with any questions you had any time of day. As a first point of call Yasmin set a very high standard for the company and I was confident in my choice. I went for my consultation with Dr Antonios Mitsakos to discuss the procedure in much more depth, he went though all the risks, told me all the information I needed, we looked at my body to see if it's something he would be happy to do for me and went through all the aftercare I would need to do as well. We went through my medicals and talked about previous surgery I already had. He was so professional so informative that I literally wanted the surgery there and then. I left super happy and excited for my surgery date that was booked in. Before my surgery date I got phone call to go through all the paperwork and guidelines I had to follow and all the prep I needed to do before hand, I was told what garments were best to purchase and all the necessary bits I needed to by prior to the day. That support team were amazing and also answered any questions I had. So the day of my Surgery came and I was so calm but excited because I felt my care already had been great so I knew I was in safe hands. I had my nurse meet me to go through all medicals again, she helped me get prepared and dressed for the op and get everything ready. I then met my anaesthetist to also went through my medicals and asked all the relevant questions, gave me my pre meds and told me what he will be doing. I was super confident and he was very reassuring. Then Dr Antonios Mitsakos had my final chat before surgery checking everything through with me, confirming what he was going to do and where he was removing the unwanted fat and where he was going to transfer it too. He made me feel super comfortable and confident that I was in the right hands. I went into that theatre room a woman so unhappy with her body and when I woke up I was a new woman physically and mentally. Every single day for 2 weeks after my op I had a phone call to check in that I was doing ok and if I have any issues or concerns. The support team were absolutely amazing. I've just had my 6 week post op appointment with Dr Antonios, he again showed me my before photos and took new after photos and honestly the results are unreal. He has given me the body confidence I have never ever had and I can't thank him enough for his amazing skills and the transformation he has achieved. Thankyou so much to all of you that looked after me though out this whole procedure and a special Thankyou to Dr Antonios for changing my confidence, my body and my life. I'll be back again for more.
The service has been so far excellent and is highly recommended to anyone.
I recently had surgery here and would definitely recommend, from initial contact from Carolyn to the aftercare I received was exceptional, Carolyn was very helpful and informative and answered all my questions - even the silly ones late at night! Dr Tillo was very knowledgable, professional and welcoming at the same time and put me at ease about the procedure, it's still early but so far I'm pleased with the results
| Male Breast Reduction | Fast Facts |
| --- | --- |
| Procedure time ⏳ | 1-3 hours |
| Anaesthetic type 💉 | GA or LA |
| Length of stay 🛏 | Day case |
| Up and mobile 🚶🏻‍♂️ | Same day |
| Washing 🛁 | 3 days |
| Travel ✈️ | 2 weeks |
| Sexual activity ❤️ | 2 weeks |
| Driving 🚗 | 2 weeks |
| Postoperative garment 👕 | 6 weeks |
| Sleeping 😴 | on back 1 week |
| Exercise 🏃🏽‍♀️ | 4 weeks |
| Full recovery 🕺🏻 | 6 weeks |
| Final results 😃 | 3 months |
Why choose Centre for Surgery for your male breast reduction procedure?
Over 15 years experience in all types of male breast reduction surgery – liposuction, gland excision and skin reduction
We own and manage our own surgical facilities. Properly performed male breast reduction surgery takes time and should not be rushed. Our surgeons perform a maximum of two male breast reduction procedures in a day. We do not cram 5-6 procedures into one day like other providers. You want your surgeon to be well-rested and mentally and physically sharp to perform male chest reduction to get the very best results.
Our male breast reduction surgeons live and work in the UK. This is very important because whilst your surgeon takes all precautions to minimise complications from 'man boob' surgery, complications can and do occur and our surgeons are readily available to manage any issues if and when they arise.All our surgeons are fully qualified and experienced plastic surgeons with the skill to perform all types of aesthetic breast surgery.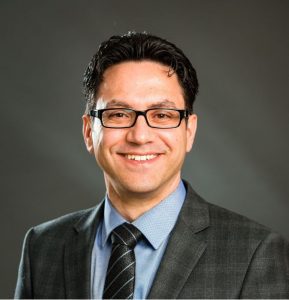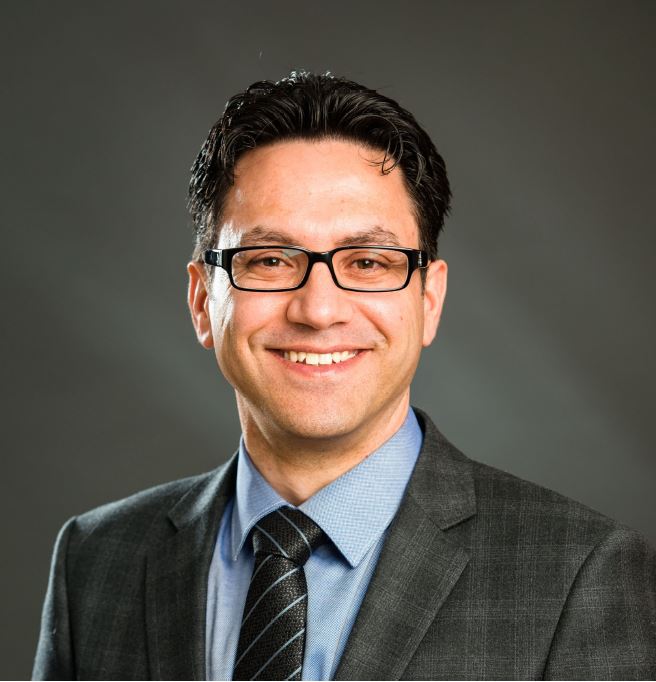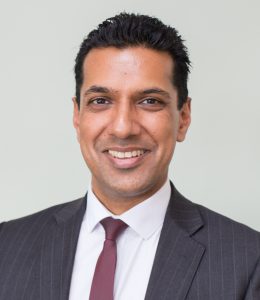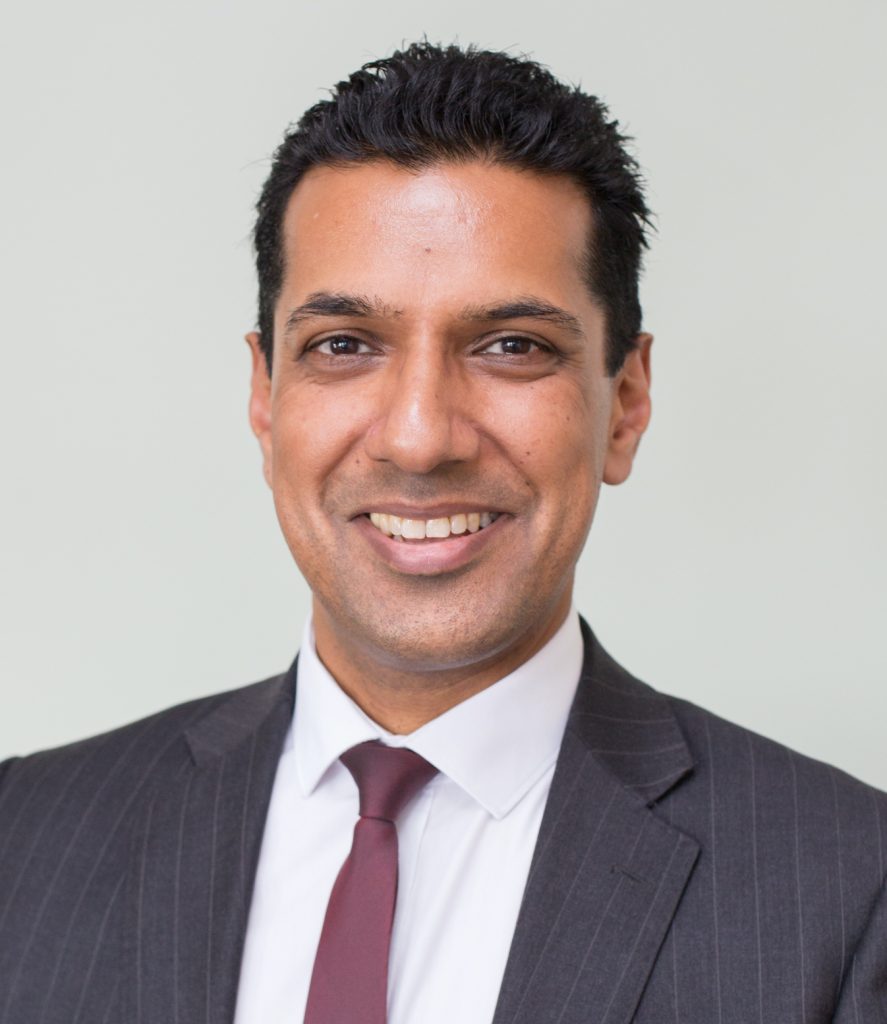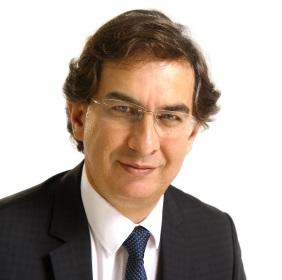 Dr Misra, Dr Erel and Dr Tillo both have many years of experience in treating all forms of gynaecomastia. Whether its excess fat, gland or skin – we've got you covered. We are one of the few centres in the UK to offer the full range of treatments including complex male breast reduction surgery after major weight loss as well as revision gynecomastia surgery from procedures performed elsewhere, often abroad.
The Centre for Surgery approach to aftercare
Our aftercare programme was recently described as 'outstanding' by our regulator, the Care Quality Commission. 
Our postoperative support team phone all our patients the day after their male breast reduction procedure and then every other day thereafter for the first two weeks. The proactive nature of our postoperative support gives every patient the best opportunity for a smooth postoperative recovery free of complications. In many cases if complications were to occur, their impact is markedly lessened by early detection, prompt clinical assessment and correct treatment. Where a patient expresses concern to our team over the phone, then we often call patients in the same day for assessment with one of our expert nursing team. Even if there is no significant issue, the careful explanation and calm reassurance provided by our team can help to alleviate any worries you may have experienced.
Read our latest testimonials from our amazing patients
Our surgeons love what they do and having a happy patient at the end of the journey is what we aim for with every patient.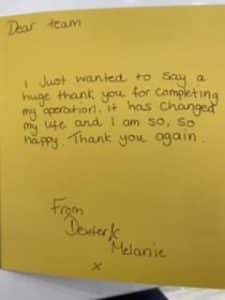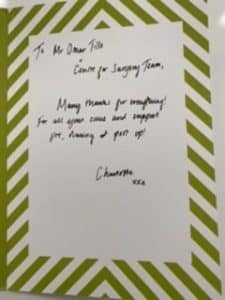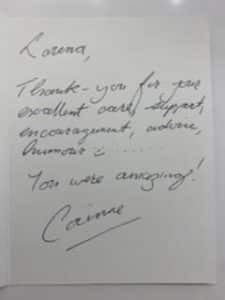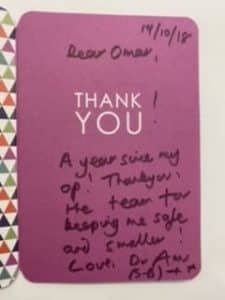 I just had Gynecomastia surgery 2 weeks ago. Dr Tillo was amazing so friendly helpful and I still can't believe the incredible transformation and I'm not even fully healed yet. The constant after care service / calls / check ups has made me realise this organisation is very professional but also very caring. Yasmin was my patient coordinator and would take my calls any time of the day and has been there for me every step of the way. I would recommend these guys to the world. Every single person I've dealt with here has been so kind and helpful. Not that you should cut corners with a surgery like this but I got two other quotes and these guys were best value! Great company all round!
What is gynecomastia?
Gynecomastia, the medical term for "enlarged male breasts" or "man boobs" is a common condition among men. It can develop at various times in life and for a variety of reasons. In infant boys, it's usually the result of being exposed to excess hormones from the mother during pregnancy or breastfeeding. However, this usually disappears as the infant grows. Teenage boys can develop enlargement of one or both breasts as a result of hormonal changes during puberty. However, this also often disappears after puberty.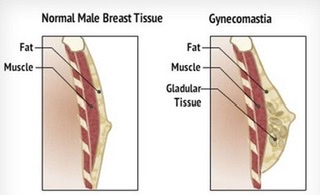 Gynecomastia becomes a problem in men when enlarged breasts develop and never go away. Most of the time, this is the result of weight gain and the accumulation of fat in the chest region. However, the enlarged breasts can consist of glandular tissue at times. Sometimes man boobs are the result of changes in hormones with age, but it is rare. Enlarged breasts in men can also be caused by medical conditions, such as tumours, kidney disease, or liver disease. However, the most common reason for the development of man boobs is excessive weight gain. And for this, male breast reduction liposuction is an option.
If you have overdeveloped breasts and feel self-conscious about the appearance of your chest, liposuction treatment with surgical excision can correct the problem. Liposuction with surgical excision is a highly effective treatment for the removal of the localised excess fatty and glandular tissues in the breast region. This creates a leaner, flatter appearance.
Things to consider before having male breast reduction
We believe that the best outcomes after male breast reduction happen when patients make the right choice of clinic and surgeon.
1. In deciding on the right clinic for you, always  carry out extensive research and choose a well established and reputable clinic. Centre for Surgery are specialists in cosmetic surgery and have been established for many years. Our patient coordinators and surgeons are here to answer any questions you may have to empower you with the right information.
2. Your choice of surgeon should be based on their qualifications, experience and having a record of good patient feedbacks. You should know who you will be seeing before your consultation. At Centre for Surgery, our surgeons are specially selected after a rigorous appointments process to ensure they have the right skill set to perform male breast reduction.
3. When choosing to have a male breast reduction procedure, you should not base your decision on price alone. It is important to make sure you are having treatment in a safe and regulated environment by staff who are both full trained and caring to look after your needs – before, during and after your procedure.
4. Avoid clinics who offer a 'hard-sell'. If something sounds too good to be true, it probably is. Centre for Surgery use only gold standard medical techniques for including PAL lipo for safe and consistently good outcomes.
We believe patient safety and happy satisfied patients are the bedrock of our reputation as an ethical provider of cosmetic surgery. Our doctors are known for giving straightforward honest advice and you can be assured that your journey with Centre for Surgery will be a positive experience on the path to renewed self-confidence.
Causes of Gynecomastia
Advanced age – men develop hormonal changes after the age of 55
Certain medications can cause gynecomastia such as antidepressants, antibiotics, drugs used to treat blood pressure and herbal medicines
Puberty – excessive enlargement of the male breast can occur during puberty but usually tends to resolve after one or two years
Obesity – With a gain in weight – excess fat may stimulate oestrogen levels to rise which in turn stimulates male breast growth
Excessive alcohol intake – the liver can be affected which can subsequently affect oestrogen and testosterone levels with increase in breast tissue growth
Anabolic steroid usage can cause breast tissue growth
Genetic predisposition
The difference between gynecomastia and pseudogynecomastia
Pseudogynecomastia most commonly occurs in overweight and obese men, where the chest enlargement is mostly due to excess fatty tissue around of underneath the nipple-areolar complex. In true gynecomastia, there is both excess fat and excess glandular tissue in the breast.
The distinction is important as pseudogynecomastia often responds well to liposuction alone compared with true gynecomastia which often requires a combination of both liposuction and surgical excision of the breast glandular tissue.
Ideal candidates for male breast reduction
A good candidate for male chest reduction will have a positive outlook and realistic expectations of the outcome of the procedure. He will be undergoing male breast reduction for personal reasons, and not to satisfy anyone else.
How to prepare for gynecomastia surgery
There is no optimum age for a male breast reduction patient, but he should have skin with enough elasticity so that it will contour well to the chest's new shape. Older patients have sometimes lost elasticity in their skin, so their results won't be as satisfactory as in a younger patient.
Optimal preoperative preparation
A good candidate for male breast reduction should be as close to his ideal weight as possible. Being overweight can contribute to gynecomastia, so try to lose the weight with diet and exercise before you pursue surgery. Also, non-smokers are better candidates than smokers because smoking interferes with the healing process. If you smoke, you will need to quit at least six weeks before surgery.
The effects of smoking on healing after surgery
If you are considering having male breast reduction surgery, you may wish to explore the finance options we offer.
Male breast reduction procedure
We use TIVA general anaesthesia for gynecomastia surgery. This enables the surgeon to work in optimal conditions to give you the best possible result. We would not recommend local anaesthesia for this procedure other than in exceptional cases.
Male breast reduction surgery at Centre for Surgery can address the 3 main components of fat, gland and skin. The three techniques for treating gynecomastia are:
Liposuction
Gland excision
Skin reduction
Gynecomastia Liposuction
Board-certified plastic surgeons, Dr Tillo, Dr Misra and Dr Erel have between them many years of performing expert liposuction. They have used all the liposuction techniques over the years including LASER lipo, VASER lipo, BodyJet lipo and Tickle Lipo.
All our surgeons agree that PAL lipo is the GOLD standard method of liposuction for gynecomastia with the best long-term overall results.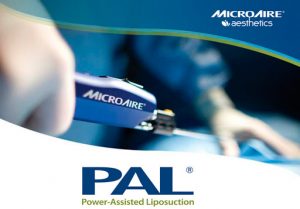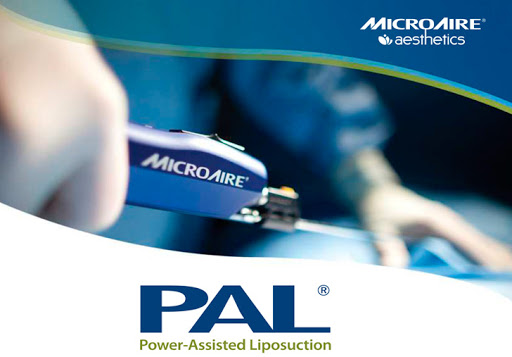 The most common technique of treating gynecomastia and pseudogynecomastia involves using power-assisted liposuction or PAL with minimal access techniques. Once the liposuction is performed, the surgeon will make a small incision around the lower half of the areola to remove the glandular tissue. Liposuction is ineffective at removing the hard glandular tissue although PAL is still far more effective and much safer than VASER or LASER liposuction. At Centre for Surgery, the liposuction method used for male breast reduction is known as SAFElipo™ using power-assisted liposuction or PAL. 
The SAFElipo technique of liposuction coupled with a minimally invasive gland excision technique greatly improves on older techniques by offering:
Smaller incisions

Quicker recovery

Less bleeding

More pleasing aesthetic appearance
The liposuction procedure involves tiny incisions on the side of the chest. Most men have breast enlargement due to fat and this is, therefore, the ideal technique for removal of fat. The liposuction technique can also be used to remove softer glandular tissue of the breast, using specially designed flattened cannulas specially developed for gynecomastia surgery. Most glands, however, will require surgical gland excision.
Gynecomastia gland excision
The second step of treatment for male breast reduction involves a half moon incision around the lower border of the areola followed by removal of the glandular tissue of the breast using meticulous surgical techniques. The procedure focuses on removal of glandular tissue rather than fat. Liposuction is not suitable as a standalone treatment for those with dense and fibrous glandular component to their gynecomastia. This is particularly the case in young athletic men with minimal body fat.
Skin reduction for gynecomastia
For men with significant degrees of skin laxity, skin reduction may be required to tighten the chest. The procedure involves making a circumferential incision around the areola and reducing the surrounding skin. In some cases, the surgeon may decide to do liposuction and gland excision first and if skin laxity persists, the skin reduction could be done as a second stage procedure under a local anaesthetic. This part of the procedure is very similar to an areola reduction procedure.
When the procedure is completed, absorbent pads and the compression garment will be applied and you will be discharged after a short stay in our recovery unit.
Surgeons at Centre for Surgery are fully trained in all techniques for gynecomastia surgery for the three main components of fat, gland and skin.
Risks of skin laxity after gynecomastia 
Male breast reduction is an extremely safe procedure and most patients are extremely satisfied. However, as with all surgical procedures complications sometimes occur.
There will be small (2-3mm) scars which will initially be red. Over a number of weeks, however, these should fade to fine white lines.
Following liposuction, the skin retracts, however in some people – particularly those who are older – it may not retract fully. If this happens, the excess skin may need to be removed at a later date.
There is the possibility of skin irregularities, however, this is minimised by the use of specially designed cannulas.
Prior to undergoing your procedure, it is good to understand the risks involved if you travel abroad for cosmetic surgery.
Recovery after male breast reduction surgery
The male breast reduction procedure is performed as an outpatient surgery, so you can go home once the effects of your anaesthetic have worn off. Most patients leave after about one hour to spend the rest of their recovery at home.
Patients should collect their medication prescription prior to the procedure and to make the painkillers are taken at the prescribed times after surgery. A responsible adult carer should on hand for the first 24-48 hours after your procedure. Downtime is minimal and you can get back to light activities within a few days. There will be a degree of bruising and swelling after male breast reduction so you should plan to pause rigorous exercise until 6 weeks after the procedure. You can start light exercise after about 2 weeks.
In rare cases during gland excision and as a precaution, the surgeon may elect to place a drain at the site of the surgery. This will be removed 48-72 hours later. You will be given written post-operative instructions and a follow-up appointment will be arranged for you in six weeks.
You will also be prescribed painkillers and antibiotics after your male breast reduction. You will need to arrange transport as you will not be able to drive for 24 hours. A responsible adult must be with you for at least 24 hours after the procedure.You can expect your recovery to be rapid but there will be some swelling and bruising of the treated area. You can help reduce this by wearing a firm support garment for at least 6 weeks to minimise swelling.
Reducing the risk of surgical site infection
The bulk of the swelling will subside in the first few weeks, however, it may be as much as two months before the full effects of the male breast reduction surgery become apparent. It is common to experience some numbness or tingling of the skin soon after your procedure but this should settle rapidly. It is important not to engage in vigorous activities for the first five days after surgery.
Top strategies to reduce the risk of venous thromboembolism
You may return to work and resume most of your normal activities after three weeks and begin to exercise after six weeks. You will see your surgeon the day after your surgery and at specified intervals during the weeks following your surgery. This is done so that the surgeon can personally monitor your recovery process, and to ensure that you have the best results possible.
Potential Risks and complications of gynecomastia removal
Gynecomastia removal using liposuction or gland excision has been successfully performed for many years at Centre for Surgery with an excellent safety profile. Men should only choose a reputable provider with years of experience in gynecomastia surgery. With a fully certified plastic surgeon at Centre for Surgery, you can be confident in having made the very best choice for male gyno surgery coupled with an outstanding package of aftercare to reduce the risk of complications.
Potential Risks of Surgery 
As with any surgical procedure, male breast reduction has potential risks. These include:
Anaesthetic risks
Haematoma formation
Venous thromboembolism

Surgical site infection

Delayed wound healing

Nipples distortion with gland excision

Potential requirement for revision surgery
Male breast reduction before and after
Case 1:
Bilateral gynecomastia treated with PAL lipo and glandular excision under general anaesthetic. Home the same day and back to light activities 2 days later.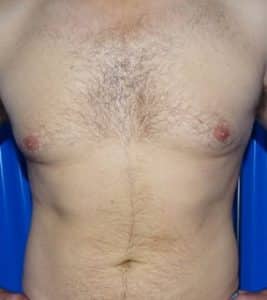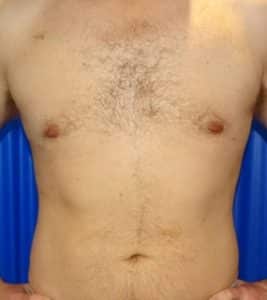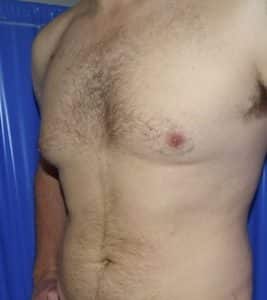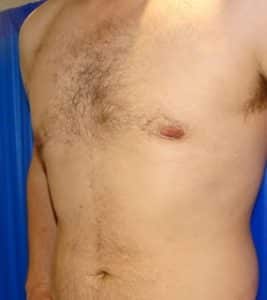 Case 2:
Unilateral right sided glandular enlargement treated with minimally invasive gland excision technique under local anaesthetic.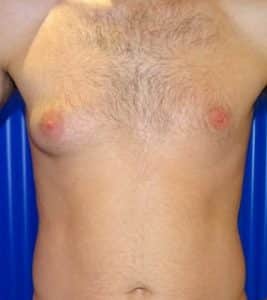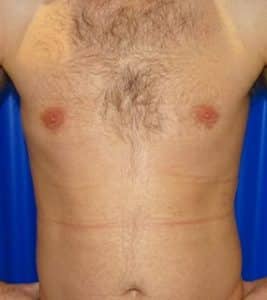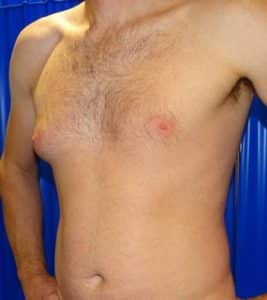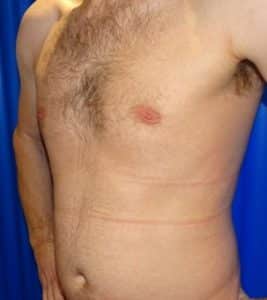 Case 3:
Pseudogynecomastia (fat enlargement) treated with liposuction.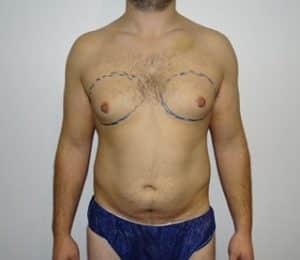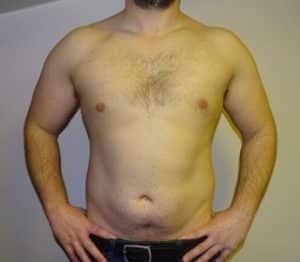 Case 4:
PAL lipo combined with BodyTite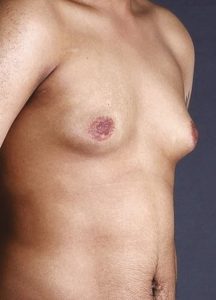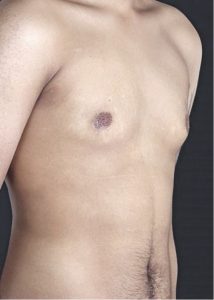 Case 5:
Primarily glandular enlargement treated with small amount of liposuction and gland excision.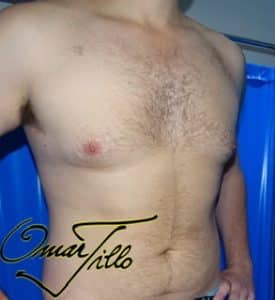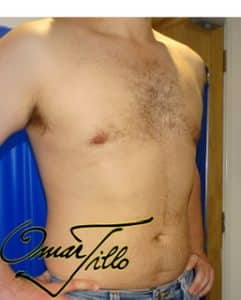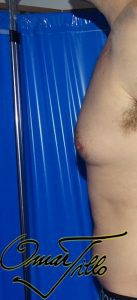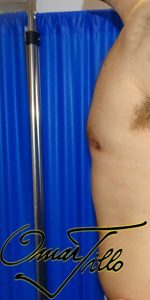 Case 6:
Fatty gynecomastia treated with liposuction (PAL lipo)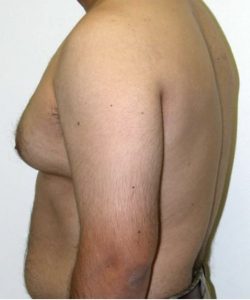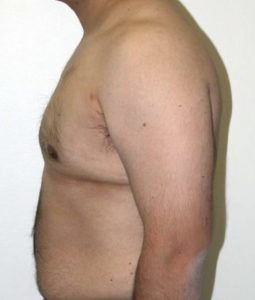 Male breast reduction after massive weight loss
Case 7:
Breast amputation with free nipple grafting for severe gynecomastia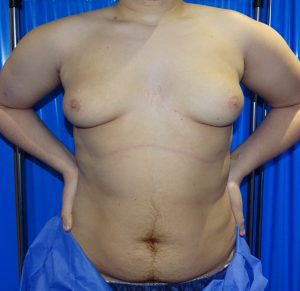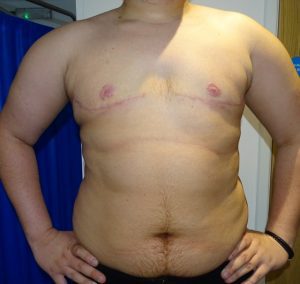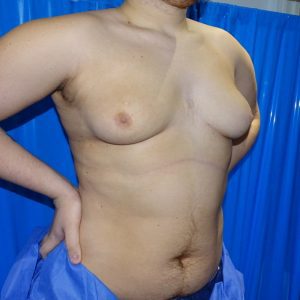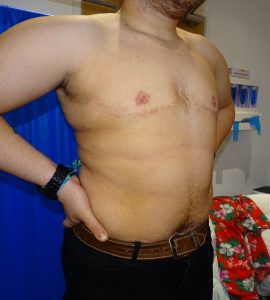 Case 8:
Breast amputation with free nipple grafting for severe gynecomastia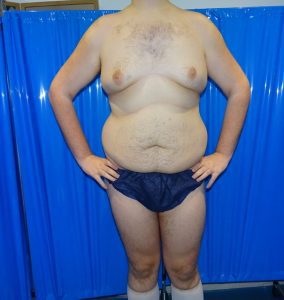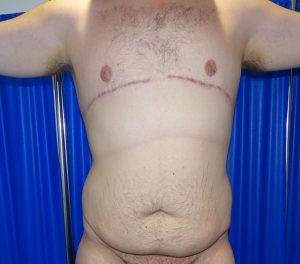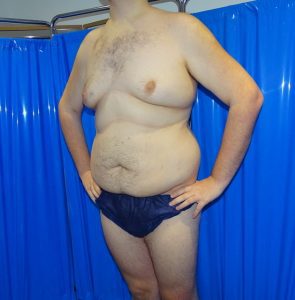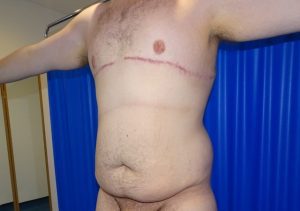 Puffy nipples before and after
In slimmer men, puffy nipples can be a cosmetic nuisance and the best treatment is often a glandular excision to remove tissue from immediately beneath the areola as shown below:
Case 1: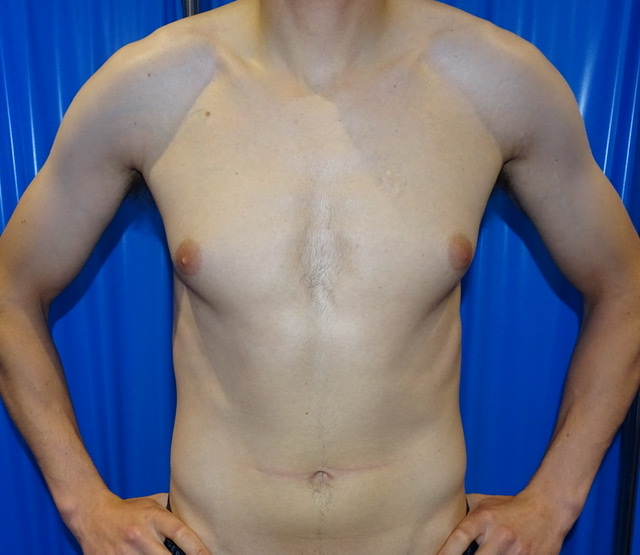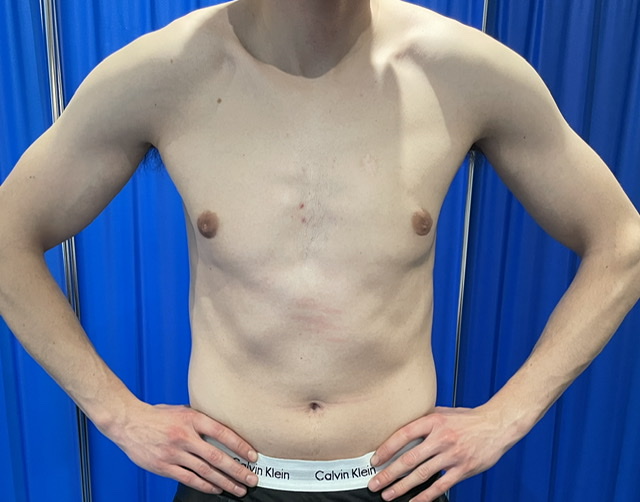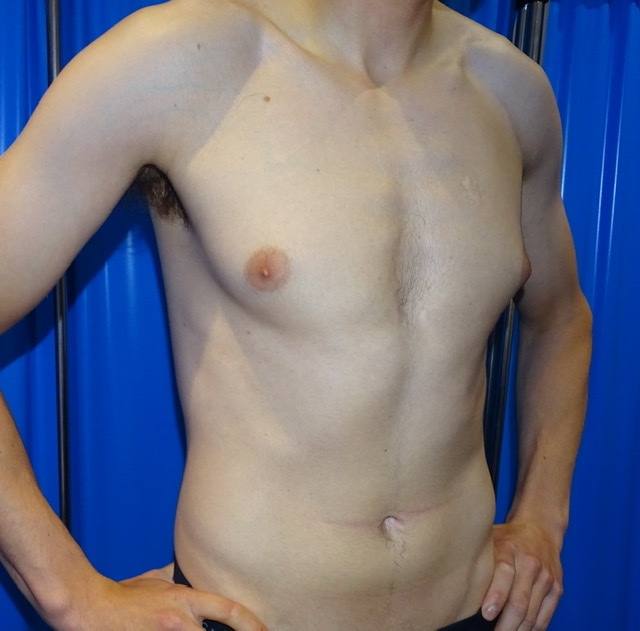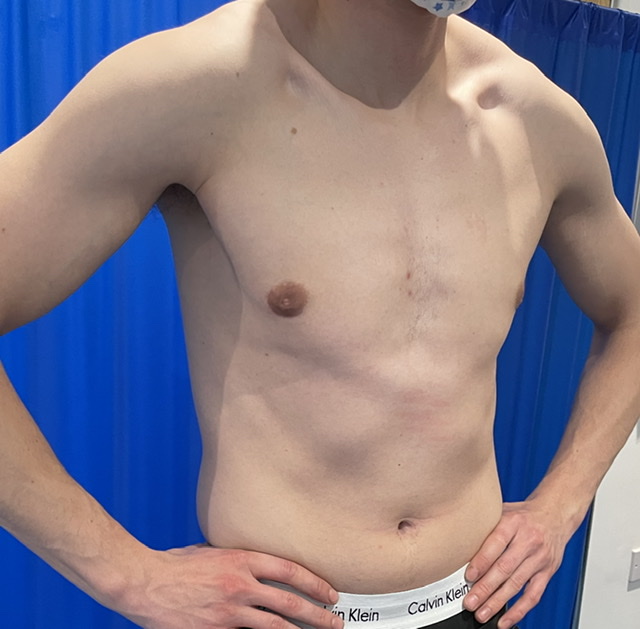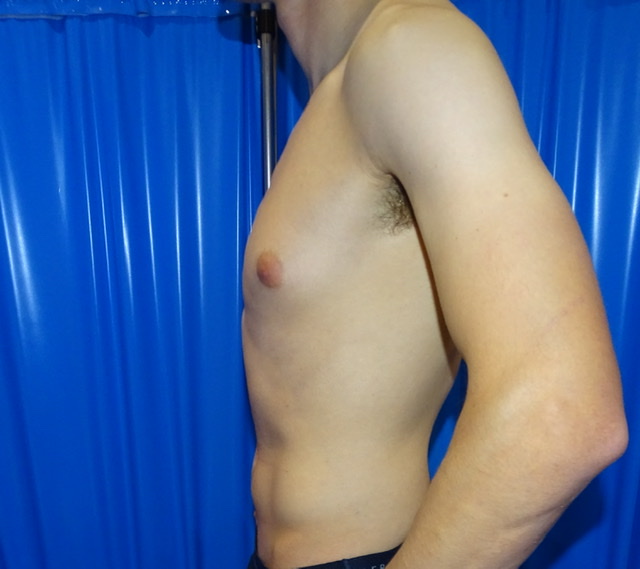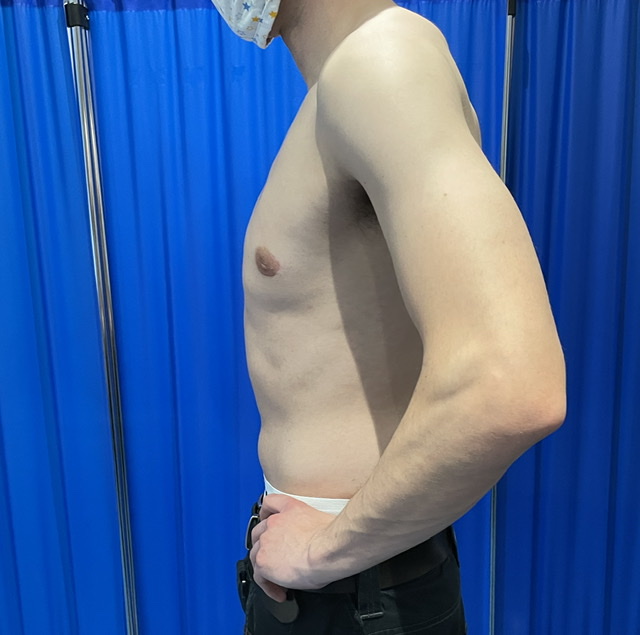 Case 2: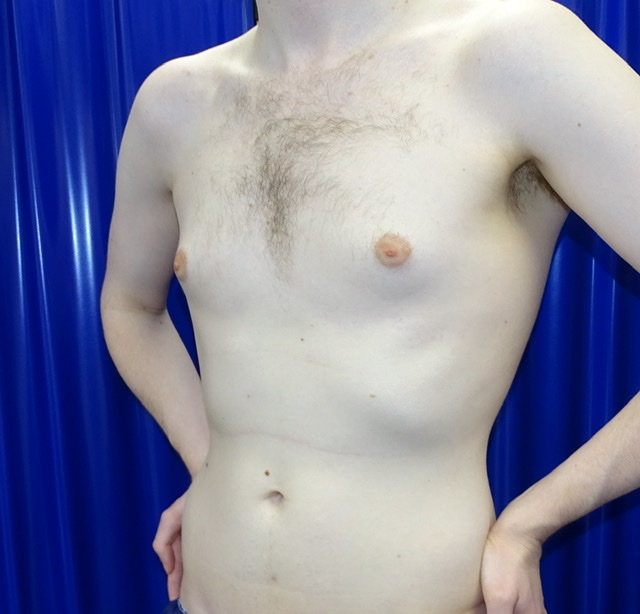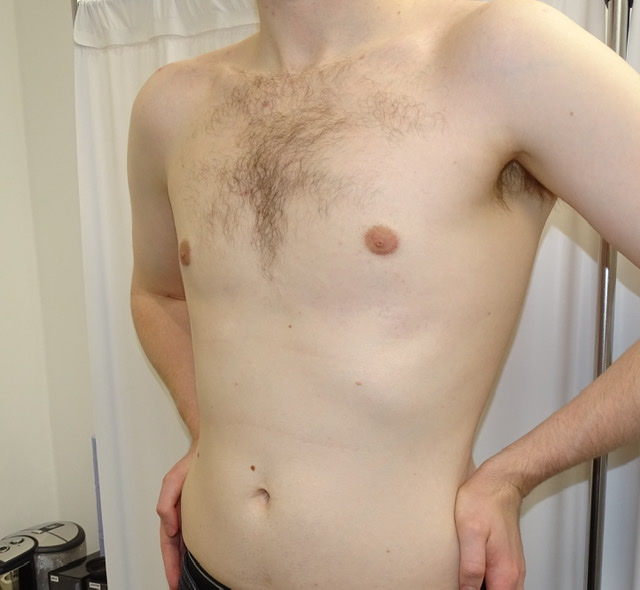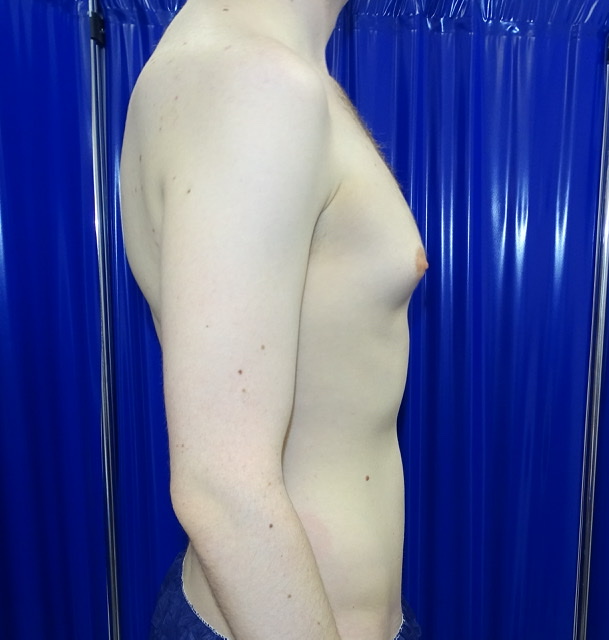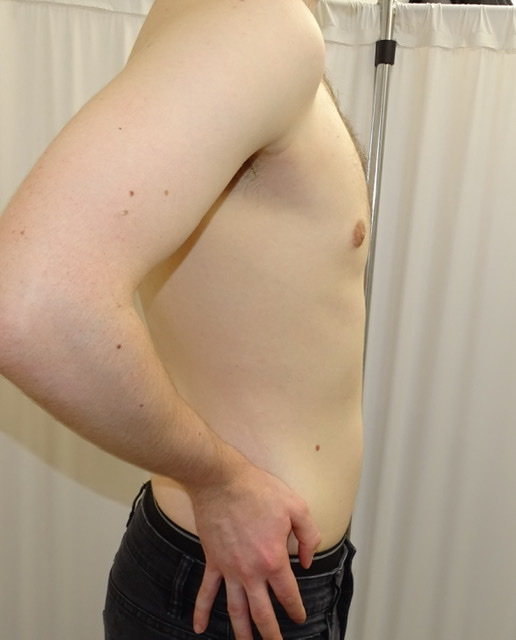 Case 3: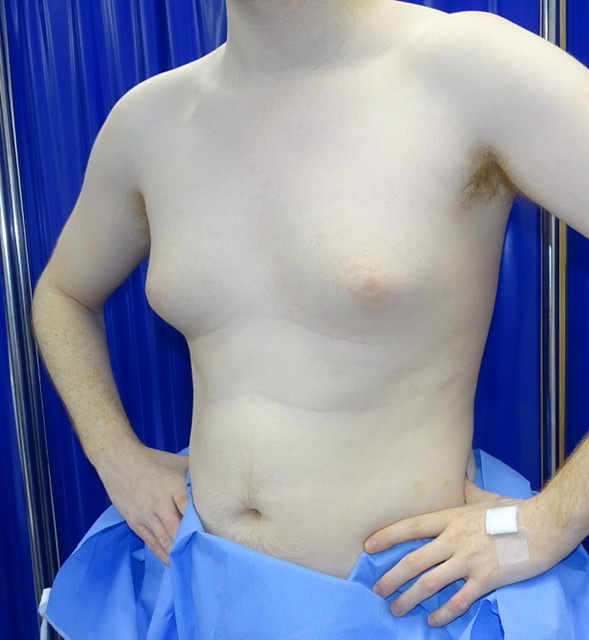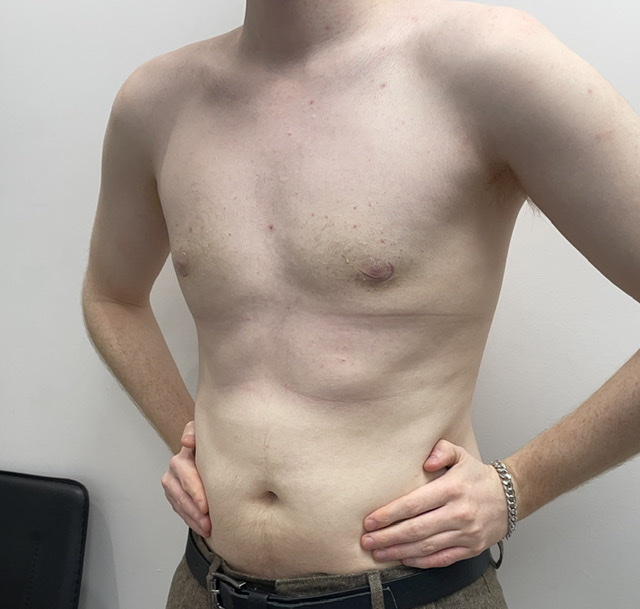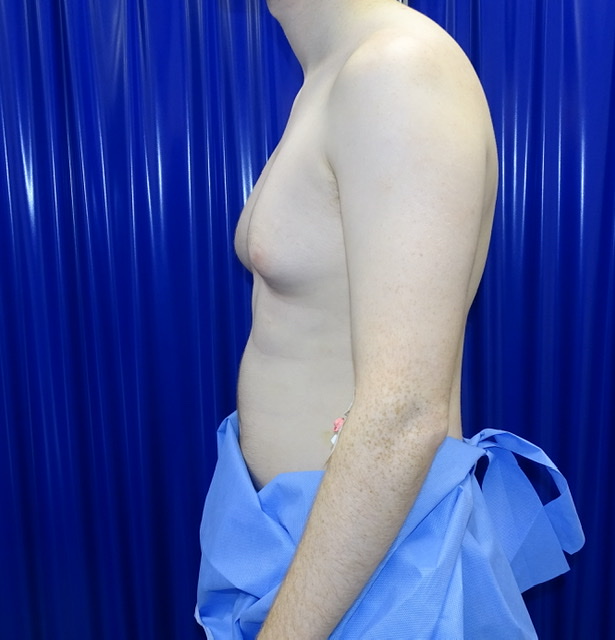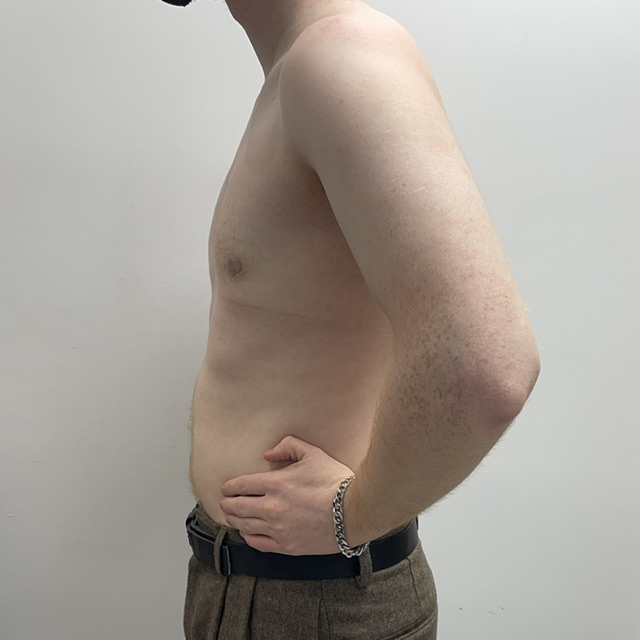 Gynecomastia cost
There are a number of factors which will determine the overall cost of the gynecomastia correction procedure and the final quotation will be given after a face to face consultation with one of our expert plastic surgeons.
Liposuction technique only or combined with surgical excision or skin reduction
Gynecomastia correction after massive weight loss which often requires a breast amputation with free nipple grafting procedure
Previous gynecomastia surgery
Why not call 0207 993 4849 and speak to one of our expert patient coordinators who may be able to give you a rough costing prior to your procedure.
Always remember that price should never be the determining factor when it comes to choosing the right provider for gynecomastia correction. We feel that safety and quality of service should be your number one priority and instilling in you the confidence that our team will look after you before, during and after your procedure to the best of their ability.
Spread the cost of your gynecomastia procedure

Centre for Surgery are fully approved to offer finance for male breast reduction via our specialist finance partner, Chrysalis Finance. You no longer need to use your savings to pay for your treatment – you can apply to spread the cost of your procedure with Chrysalis Finance using their simple 1,2,3 application to pay for your procedure. Don't wait until you have enough money for your treatment, apply today and (subject to status) pay for your procedure easily in monthly instalments, using one of their payment options. Chrysalis Finance is the only ethical provider who focus solely in the provision of specialist financing for medical procedures.
Specialist Gynecomastia surgeons in London
If you are interested in gynecomastia correction, we would recommend the next step  to book a face to face consultation with one of our expert gynecomastia surgeons at Centre for Surgery. At your consultation, your surgeon will take a thorough medical history including your current medications (which can often be a cause of gynecomastia) and will perform a thorough physical examination. A discussion of your aesthetic goals will be taken into account when formulating your customised treatment plan. The full range of gynecomastia surgical techniques will be explained from a liposuction technique to liposuction combined with gland excision. It may be recommended to combine liposuction and/or gland excision with skin reduction if significant skin laxity is a prominent feature of your chest. 3D computer imaging may also be performed to give you an accurate idea of how you could look after your procedure.
Once you have made your decision to proceed with gynecomastia correction, your designated patient coordinator will work closely with you to make sure you are fully prepared for your consultation for gynecomastia removal.
Further reading on gynecomastia
[baslider name="Gynecomastia"]
What To Expect
The consultation
When you have a consultation with your surgeon for male breast reduction, a number of measurements are taken of your chest and an assessment will be made of the glandular component of the chest swelling and also the soft tissue quality.

Your surgeon has experience in performing all the techniques of gynecomastia removal including liposuction, gland excision and skin reduction. The most appropriate choice will be made based on your chest wall anatomy. The surgeon will also give information on the location of the incision for liposuction and gland excision and also whether skin tightening can be performed with the BodyTite RF system.

High-resolution photos will be taken and your surgeon may also use computer digital imaging. Your surgeon will take time to discuss the important risks and potential complications of gynecomastia surgery and what you can expect in the postoperative period.

It is useful to keep a list of questions handy to ask the surgeon during the consultation. Examples include whether you are a good candidate for the procedure, what sort of result are you looking to achieve, what you can do to optimise results in the post-op period, how much downtime is involved. You also want to know how soon you can return to work after having male breast reduction surgery.

The surgeon will also take a full medical history which includes previous operations, current list of medicines taken and any potential allergies. This information will be used to decide on your fitness for the male breast reduction procedure. If you are deemed to be a suitable candidate for male breast reduction surgery then we would recommend to spend a period of time to reflect on all the information given. We always recommend a minimum of a 2 week cool off period for to weigh up your options.

All our prospective patients are more than welcome to have as many follow-up consultations after their initial consultation to make sure you are fully empowered with all the information to make an informed decision for proceeding with gynecomastia surgery at Centre for Surgery.
Before your procedure
Once you have decided that male breast reduction is right for you, our preoperative assessment team will be in contact to prepare you for surgery.

The following are recommended actions to take:

- For 6 weeks beforehand, it is highly recommended to stop smoking as active smoking is associated with a number of risks including delayed wound healing which could result in wound infection.

- You should also avoid aspirin and all medicines containing aspirin for at least one week prior to the liposuction procedure.

- For 6 hours before the liposuction procedure, you should refrain from eating any food or any type of drink apart from sips of clear fluid (water and tea/coffee without added milk) which is allowed for up to 2 hours before the procedure.
On the day of your procedure
Please aim to arrive for your male breast reduction procedure at the confirmed time. One of our nursing team will admit you for the procedure and will carry out a number of tasks including checking your blood pressure and other vital signs including pulse and temperature and then getting you changed into single-use clinic wear. The anaesthetist will then come in to assess you to make sure you are fit for TIVA anaesthetic and will also prescribe a number of pre-medications which are given by your nurse to help your recovery after the male breast reduction procedure. You will then be seen by your surgeon who will confirm the procedure to undertaken and you will sign the informed consent form. Skin marking and photos may be taken at this point.

Male breast reduction is a very commonly performed procedure at Centre for Surgery and is carried out under TIVA general anaesthesia as a day case. Smaller cases of gynaecomastia removal can be carried out under local anaesthetic. The procedure takes approximately 1-3 hours to carry out. During the procedure, your surgeon will make small incisions in the marked body areas for liposuction The fat tissue is surgically removed using specialised cannulas to contour the marked body areas before closing the skin with dissolvable sutures. If glandular removal is being performed, after liposuction, the surgeon will make an incision around half of the areola and then surgically remove the enlarged gland in its entirety.

Once you have woken up from the TIVA anaesthetic, our nurses will closely monitor you for 1-3 hours afterwards to make sure you make a full recovery. You will be given a fruit juice drink or a hot drink as you prefer to build up your energy levels. Once you are assessed as fit for discharge, you will require a responsible adult escort to take you home in a car or taxi and to look after you for at least the first 24 hours after surgery.
After your procedure
After your male breast reduction procedure, our dedicated postoperative support team are available round the clock to answer any questions or concerns you may have. Our team will call you regularly for the first 2 weeks after your procedure to make sure your pain levels are well controlled and your healing is progressing as normal.

The recovery after male breast reduction is usually very straightforward with minimal discomfort that can be effectively controlled with tablet painkillers and the majority of our patients are very comfortable by the end of week 1. Your doctor may recommend a period of approximately one week off work. You should minimise any excessive physical activity for the first 2 weeks after surgery to help with the healing of the incisions and reduce swelling.

You will be required to wear a supportive compression garment on the chest for a full 6 weeks to make sure healing is optimal, and also so that scars heal with best results.

You will attend for a postoperative check up with one of our nursing team at 7-10 days to review your surgical wound sites and ensure proper healing is taking place. Recommendations on treatments for scar healing may be given for optimal cosmesis. At 6 weeks you should begin to see your final results and you will see your surgeon for a comprehensive review and make sure your results are in line with your expectations.