Rhinoplasty for Men London UK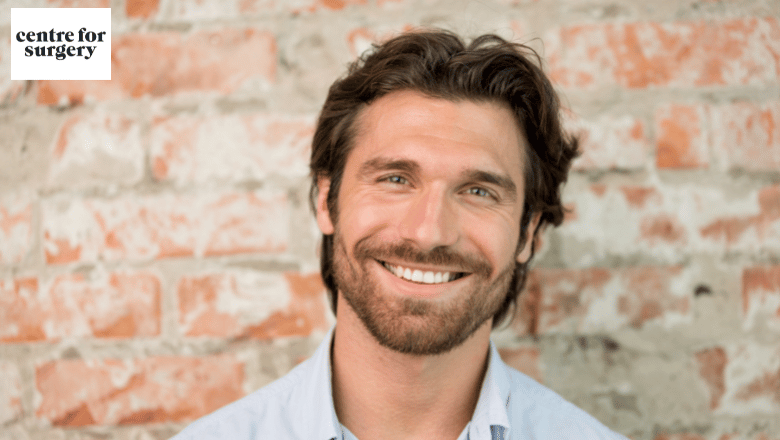 A nose job, or male rhinoplasty, is a cosmetic surgery that can help improve the appearance of a man's nose. Rhinoplasty can be performed to correct a wide range of aesthetic concerns, including a crooked or asymmetrical nose, a bump or hump on the bridge of the nose, a wide or bulbous nasal tip, or a nose that is too large or too small in proportion to the rest of the face. In addition to aesthetic concerns, rhinoplasty can also be performed to correct functional issues, such as a deviated septum that impairs breathing.
Rhinoplasty is a highly customisable procedure that can be tailored to the individual needs and goals of the patient. The procedure can be performed using either an open or closed technique, depending on the specific case. In an open rhinoplasty, a small incision is made on the columella, the strip of tissue that separates the nostrils. In a closed rhinoplasty, all incisions are made inside the nose, with no external scarring.
RELATED: What is the difference between an open and closed rhinoplasty?
One of the most important considerations for a successful male rhinoplasty is to achieve a natural and proportionate look that complements the patient's unique facial features. Men typically have thicker skin and more prominent facial features than women, which requires a different approach to rhinoplasty. A skilled and experienced plastic surgeon will take into account the patient's facial anatomy, skin thickness, and other factors to create a personalised treatment plan that achieves a natural and balanced look.
Do men get nose jobs?
Nose jobs for men have become increasingly popular as the procedure can correct both aesthetic and functional concerns in one surgery. Rhinoplasty is one of the top five most commonly performed cosmetic surgery procedures in the UK, with up to 1 and 10 patients having some type of rhinoplasty each year. Although women commonly request rhinoplasty, men form an increasingly large proportion of the total number of rhinoplasty procedures each year in the UK. A nose job has become one of the most popular cosmetic procedures for men across the UK, with over 5000 cases carried out each year on average.
Rhinoplasty, or nose surgery, focuses on creating an aesthetically pleasing and natural-looking nose that harmonises with the rest of your facial features. Its primary goal is to enhance both the appearance and function of the nose.
This versatile procedure can reshape and repair various aspects of the nasal structure, including the bridge, tip, and nostrils. When combined with septoplasty, rhinoplasty can address both cosmetic and functional concerns. Septoplasty is a procedure that corrects a deviated septum, which may cause breathing difficulties or other structural issues.
By combining rhinoplasty and septoplasty, it's possible to improve the overall appearance of the nose while also addressing any underlying structural problems that might be contributing to breathing difficulties. This comprehensive approach ensures that patients receive the best possible outcomes in terms of both aesthetics and function.
At Centre for Surgery, we have our own day surgery facilities at 95-97 Baker Street. We do not use 'third party' providers and are therefore able to provide the highest standards of care.
| Male Rhinoplasty | Fast Facts |
| --- | --- |
| Procedure time ⏳ | 2 -3 hours |
| Anaesthetic type 💉 | General anaesthetic |
| Length of stay 🛏 | Day case |
| Up and mobile 🚶🏻‍♂️ | 1 Day |
| Washing 🛁 | 1 Week |
| Travel ✈️ | 3 Weeks |
| Sexual activity ❤️ | 3 Weeks |
| Driving 🚗 | 1 Week |
| Postoperative garment 👕 | Nasal splint for 7-10 days |
| Sleeping 😴 | On 2 pillows for 1 month |
| Exercise 🏃🏽‍♀️ | 4-6 weeks |
| Full recovery 🕺🏻 | 6 weeks |
| Final results 😃 | 6-12 months |
Male Nose Job Before & After
Male rhinoplasty before and after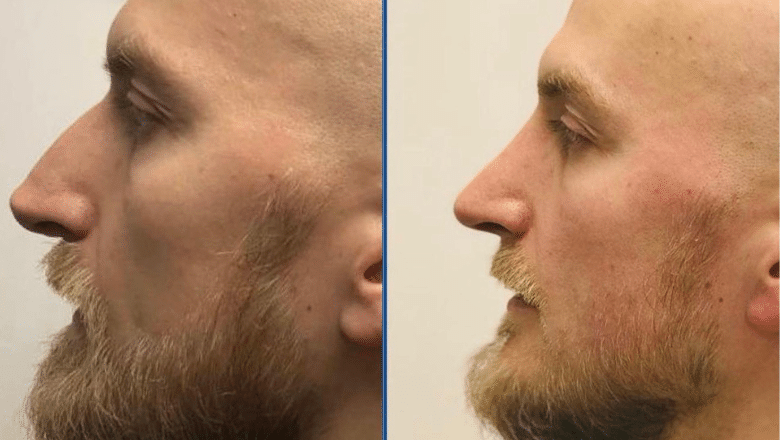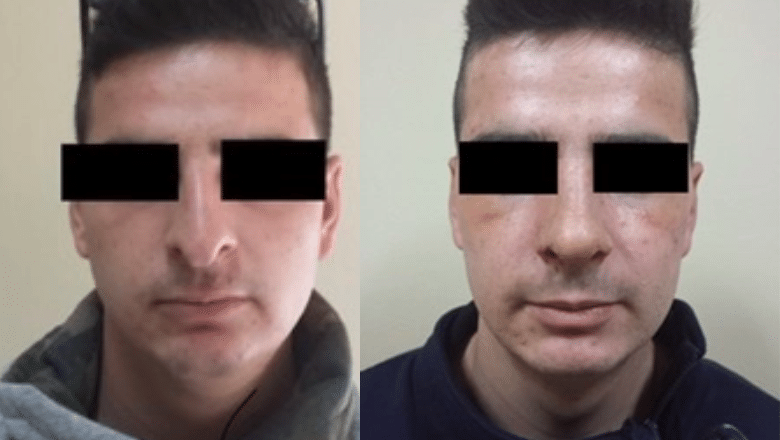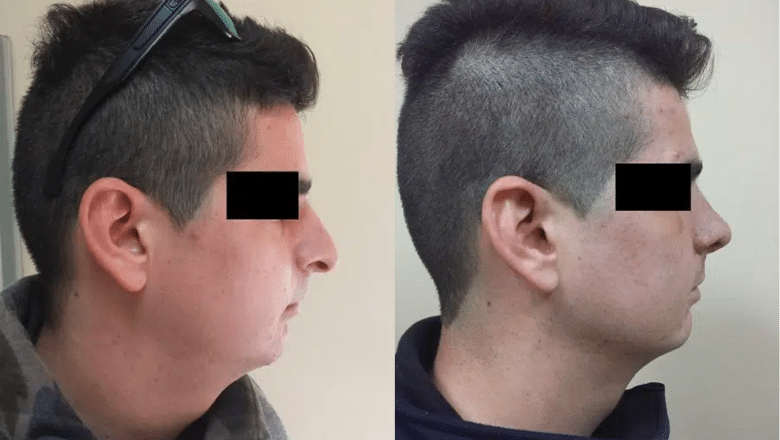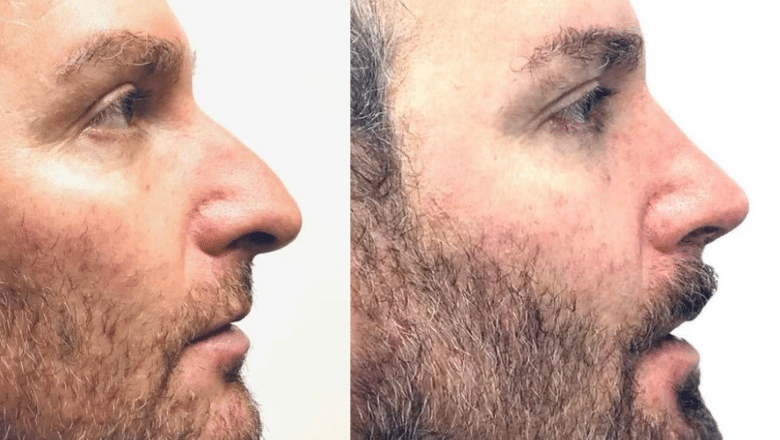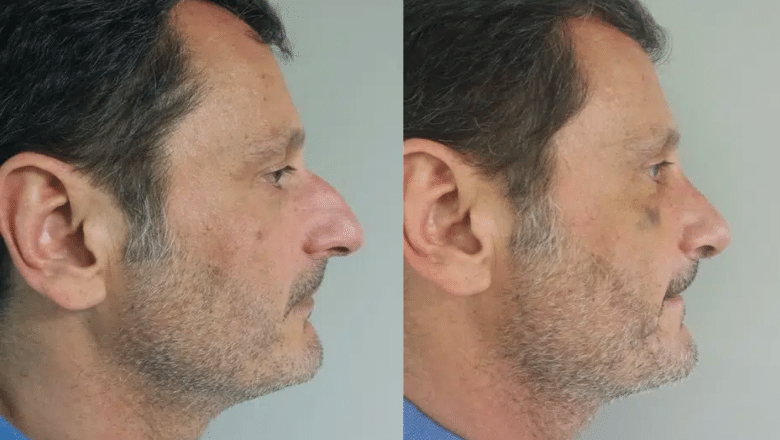 Revision rhinoplasty

Benefits of Male Rhinoplasty at Centre for Surgery
Enhances overall facial harmony: Male rhinoplasty can help create a balanced and aesthetically pleasing appearance that complements your facial features.
Promotes facial symmetry: By addressing issues such as a crooked or asymmetrical nose, male rhinoplasty helps achieve a more symmetrical and balanced look.
Tailored size adjustments: Rhinoplasty can increase or decrease the size of the nose to better suit your facial proportions.
Precise reshaping: The procedure can reshape or reduce specific parts of the nose, such as the bridge, tip, or nostrils, to achieve the desired outcome.
Corrects deviated septum issues: Male rhinoplasty, combined with septoplasty, can rectify problems caused by a deviated septum, improving both appearance and function.
Straightens crooked or broken noses: Rhinoplasty can effectively straighten and repair a crooked or broken nose, restoring a more balanced and attractive appearance.
Enhances breathing: By addressing structural issues that impact nasal function, male rhinoplasty can help improve breathing and overall quality of life.
Boosts self-confidence: By enhancing the appearance of your nose, male rhinoplasty can boost your self-esteem and confidence, allowing you to feel more comfortable in your skin.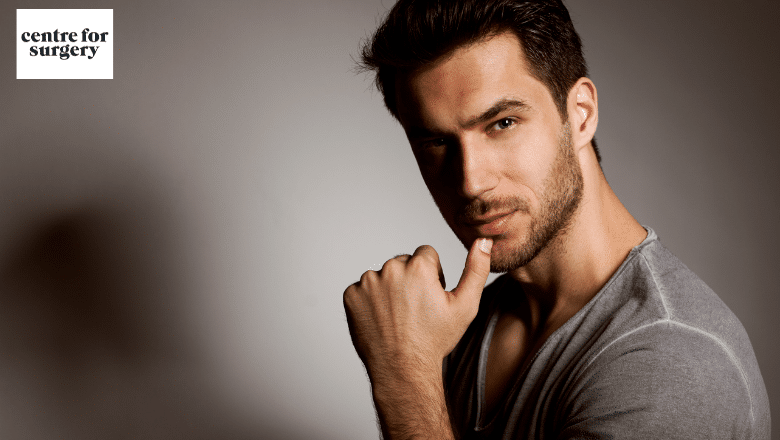 Is it common for a man to get a nose job?
If you are concerned about the size or shape of your nose, which may be causing significant psychological disturbances, including constant unhappiness and low mood, male rhinoplasty can be an effective treatment option to make your nose smaller, wider, slimmer, more defined, or get rid of prominent bumps on the bridge of the nose. Many men may have a bulbous nose tip, and a surgical nose job for men is one of the most effective ways to treat this.
The rise of social media makes how we look to become even more important, and many people may be more aware of how they look on Instagram and often wish to enhance their facial features. A man's nose is the central part of the face, and having a male nose job can dramatically enhance men's noses for a significant boost in self-confidence. At Centre for Surgery, our rhinoplasty surgeons take great care to ensure each patient selected for male rhinoplasty surgery is fully aware of what the procedure involves and has realistic expectations of what can be achieved with a male rhinoplasty procedure.
Nose jobs for men can also help reconstruct noses that have sustained injuries due to contact sports, including rugby or wrestling. Men who have broken noses may have previously sustained a partial or complete fracture of the nasal bones. Very often, minor hairline cracks will heal well without any further intervention. More complex fracture patterns with a displacement of the bones may require surgical manipulation to restore the nasal framework to its original structure and shape. Male rhinoplasty is the ideal procedure to restore the appearance and function of the nose previously damaged from traumatic injury. Open rhinoplasty, which involves an incision between the nostrils known as the columella, is required to visualise the bone and cartilage framework of the nose and enable optimum correction of nasal deformities that may be causing difficulty in breathing.
Men may often choose to have a male nose job to address breathing difficulties and eliminate episodes of severe snoring and sleep apnoea. A partner commonly notices this, leading to constant sleepiness during the day. Sleep apnoea occurs when breathing temporarily stops and then restarts during sleep. The most common example of sleep apnoea is known as obstructive sleep apnoea (OSA). Undiagnosed and untreated sleep apnoea can result in serious symptoms and should be addressed urgently to prevent adverse outcomes. Very often, a deviated septum may be the cause of nasal airway obstruction, and the most appropriate procedure to correct this is known as septoplasty. Septoplasty or nose septum surgery can be combined with cosmetic rhinoplasty, and this procedure is known as a septorhinoplasty.
Does a male nose job change your whole face?
A male nose job, or rhinoplasty, has the potential to change the appearance of a man's face, but the degree of change can vary depending on the individual case. Rhinoplasty is a highly customisable procedure that can be tailored to the specific needs and goals of the patient, and the amount of change that can be achieved can range from subtle to more dramatic.
In some cases, a male nose job can create a more harmonious and balanced appearance by improving the proportion and shape of the nose in relation to the rest of the face. This can make the face appear more attractive and aesthetically pleasing, while still maintaining a natural look.
However, it is important to note that a male nose job should not change the fundamental structure of the face, or make a person look like a completely different person. The goal of rhinoplasty is to improve the appearance of the nose and enhance facial harmony while still maintaining the patient's individuality and unique features.
In summary, a male nose job has the potential to change the appearance of a man's face, but the degree of change can vary depending on the individual case. The goal of rhinoplasty is to create a more harmonious and balanced appearance, while still maintaining the patient's unique features and individuality. A qualified and experienced plastic surgeon at Centre for Surgery in London can help determine the most appropriate treatment plan to achieve the desired results while still maintaining a natural and proportional look.
Am I suitable for male rhinoplasty?
Whether or not you are a suitable candidate for male rhinoplasty, or a nose job for men, will depend on several factors, including your overall health, nasal anatomy, cosmetic goals, and realistic expectations. Here are some of the key considerations:
Health: You should be in good overall health and free from any medical conditions that could increase the risks associated with surgery or anesthesia. It is important to inform your plastic surgeon of any pre-existing medical conditions or medications that you are taking, as these may impact your suitability for rhinoplasty.
Nasal anatomy: The ideal candidate for male rhinoplasty will have a fully developed nose, typically after the age of 16 or 17. The nasal anatomy should be stable and fully formed, with no significant changes expected in the future. The plastic surgeon will also assess the thickness of the nasal skin and the quality of the underlying bone and cartilage to determine the best approach to the procedure.
Cosmetic goals: The ideal candidate for male rhinoplasty will have specific cosmetic goals in mind, such as reducing the size of the nose, improving the shape of the nasal tip, or correcting asymmetry. It is important to have realistic expectations about the results that can be achieved through rhinoplasty, as the goal is to create a natural-looking and proportionate nose that enhances facial harmony.
Realistic expectations: The ideal candidate for male rhinoplasty will have realistic expectations about the results of the procedure. While rhinoplasty can achieve significant improvements in the appearance of the nose, it cannot completely change a person's facial features or guarantee a specific cosmetic result. It is important to communicate your goals and concerns with your plastic surgeon and understand what can and cannot be achieved through the procedure.
Psychological readiness: The ideal candidate for male rhinoplasty will be psychologically ready for the procedure and have a positive outlook. It is important to understand the potential risks and complications of the procedure and be prepared for the recovery process, which can take several weeks or longer.
In summary, the ideal candidate for male rhinoplasty will be in good overall health, have stable nasal anatomy, have specific cosmetic goals, have realistic expectations, and be psychologically ready for the procedure. A qualified and experienced plastic surgeon at Centre for Surgery in London can help determine if you are a suitable candidate for male rhinoplasty and create an individualised treatment plan that addresses your unique needs and goals.
Types of male rhinoplasty
Types of rhinoplasty include closed rhinoplasty, which is one of the most common types of nose operation. The procedure involves all incisions being made inside the nose with no visible external scars. Tip rhinoplasty, also known as rhino-tip surgery is ideal for sculpting and contouring the nose tip, which helps to treat many common men's nose concerns, including big bulbous nose tips, crooked tips, or hooked nasal tips. Men from certain ethnic backgrounds may have excessively flared nostrils which appear widened when viewed from the front. Large nostrils can be effectively reduced and made smaller with alar base reduction, also known as alarplasty or nostril reduction surgery.
Augmentation Rhinoplasty
Augmentation rhinoplasty is a popular procedure among men from ethnic backgrounds with softer nasal cartilage and a less defined nasal bridge. This technique addresses these issues by increasing the projection of the nasal bridge and tip. Often, this procedure is performed alongside alar reduction, which reduces the width of the nostrils, resulting in a more refined and balanced nasal appearance.
To support the nasal tip and augment the bridge, surgeons may use artificial materials or cartilage harvested from other parts of the patient's body. While artificial implants can be utilized in a relatively straightforward procedure, they carry higher risks of infection and failure, potentially necessitating revision surgery. As a result, autologous cartilage is more commonly employed due to its long-term stability and lower risk of complications.
Revision Rhinoplasty
A botched nose job can occur due to surgical errors, complications during recovery, or subsequent injuries to the nose after the initial procedure. These issues may compromise the results of the primary rhinoplasty. In such cases, a secondary or revision rhinoplasty can be performed to address these concerns.
Revision rhinoplasty typically involves a formal open rhinoplasty technique, which is more complex than the original procedure and often associated with a longer postoperative recovery period. Grafts, such as cartilage harvested from the patient's inner nose or other body parts like the ribs, are frequently used in this type of procedure to achieve the desired results and correct any issues stemming from the initial surgery.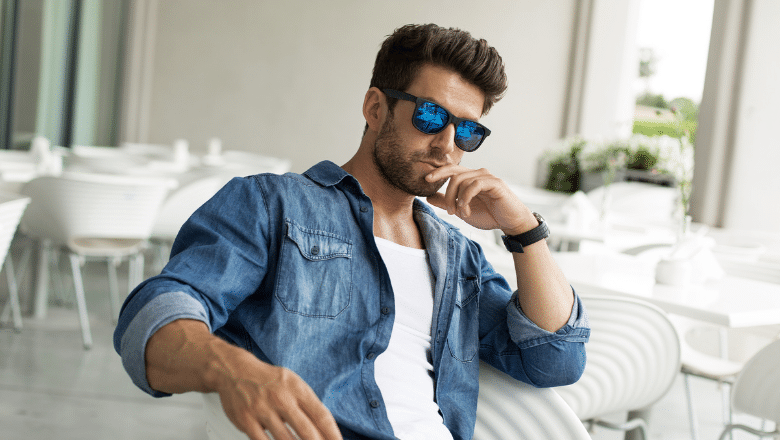 Watch the Rhinoplasty Animated Video
What does a male rhinoplasty involve?
Male nose job surgery is similar to how the surgery is performed in women. Both women and men can benefit from expertly performed rhinoplasty surgery here at Centre for Surgery in London.
Male rhinoplasty surgery is a personalised procedure designed to address each patient's unique concerns and goals. Performed under general anaesthesia, the surgery can last between three to four hours. Depending on the patient's needs and the surgeon's recommendations, various types of rhinoplasty—such as reduction, augmentation, tip, or revision—may be conducted individually or combined to achieve the desired outcome.
There are two main techniques used in rhinoplasty: open and closed procedures. In a closed procedure, incisions are concealed inside the nostrils, while in an open procedure, an additional incision is made across the columella—the narrow strip of tissue separating the nostrils. Through these incisions, the skin covering the nasal bones and cartilage is gently elevated, allowing the surgeon access to reshape the nose's structure.
When additional cartilage is needed for reshaping, it can be sourced from deep inside the patient's nose or ear. For more significant alterations, cartilage from the rib or bone from other parts of the body may be used. If the septum—the wall dividing the two nostrils—is deviated, it can also be corrected by reducing the projections inside the nose to enhance breathing.
Once the necessary modifications have been made, the skin and tissue covering the nose are repositioned, and sutures are applied to the incisions. To adjust the size of the nostrils, extra incisions may be made in their natural creases.
One of the most common nose concerns in men is a bulbous nose which affects men much more commonly than women. Male rhinoplasty is frequently performed to reduce the size of a large bulbous nose. Rhinophyma is a chronic skin condition which is often responsible for causing a bulbous nose. Rosacea is a chronic skin condition which commonly affects the face and may result in diffuse facial redness. When rosacea is inadequately treated, it may develop into rhinophyma and a bulbous nose. Over time, the lower part of the nose becomes increasingly swollen and may reach a very large size leading many men to seek nose surgery. Bulbous noses are most commonly found in Scandinavia and northern Europe, although they may be seen in any part of the world. Male nose jobs have increased in popularity to treat this commonly occurring problem.
Recovery after male nose job
Recovery time following a rhinoplasty can range from one to two weeks, depending on the complexity of the procedure. As the nasal contour refines, you will gradually notice changes over time. Initial swelling typically lasts up to a week, but occasional swelling may persist for up to a year.
After the surgery, you will need someone to drive you home and may need to take a week or more off work. To ensure a smooth recovery, it is advised that you avoid the following activities for several weeks post-surgery:
Excessive chewing
Facial expressions requiring extensive movement
Blowing your nose
Resting eyeglasses on your nose
Pulling clothing over your head
Vigorous tooth brushing
Strenuous physical activities and running
Swimming
A plastic or metal splint will be placed on your nose to help maintain its new shape during the healing process. Nasal packs or splints may also be inserted into your nostrils to stabilize the septum. These splints and dressings are typically removed within a week after surgery.
For minor correction surgeries, you will likely be monitored for a few hours post-surgery before being allowed to leave the same day. In the case of more complex procedures, a hospital stay of several days may be necessary.
It can take up to a year for the final results to become apparent. The tip of the nose may feel numb after surgery, but sensation will return as the skin's nerves regenerate.
Risks of a Male Rhinoplasty?
As with any surgical procedure, there are risks and potential complications associated with a male rhinoplasty. While the procedure is generally safe and complications are rare, it is important to be aware of the possible risks before undergoing surgery. Some of the risks and complications associated with male rhinoplasty include:
Infection: Although rare, infections can occur after any surgical procedure. Your surgeon will take precautions to minimize this risk by providing antibiotics and maintaining a sterile environment during the operation.
Bleeding: Some bleeding is expected during and after the surgery. Excessive bleeding, however, can cause complications and in rare cases, may require a blood transfusion or additional surgery to address the issue.
Anaesthesia complications: General anaesthesia carries risks, such as allergic reactions or breathing difficulties. An experienced anesthesiologist will monitor you throughout the surgery to minimize these risks.
Scarring: While incisions are usually made inside the nose to minimise visible scarring, some patients may develop noticeable scars, especially if an open rhinoplasty technique is used.
Numbness: Temporary numbness around the nose is common after rhinoplasty. In rare cases, this numbness may become permanent.
Difficulty breathing: Some patients may experience temporary or permanent breathing difficulties after rhinoplasty, especially if the surgery involves significant changes to the nasal structure.
Asymmetry: While the goal of rhinoplasty is to create a more symmetrical and aesthetically pleasing nose, there is a risk of postoperative asymmetry. This may require revision surgery to correct.
Dissatisfaction with results: Although most patients are happy with the outcome of their rhinoplasty, some may not be satisfied with the final appearance of their nose. In such cases, revision rhinoplasty may be necessary.
Revision surgery: In some instances, patients may require a secondary or revision surgery to address complications or achieve the desired result. This may involve additional costs and risks.
Male rhinoplasty before and after photos
Below are just a small selection of male nose job before and after photos of men who have undergone a male rhinoplasty. The before and after photos should help to give you an accurate idea of what a male rhinoplasty procedure can achieve, and this will help you to formulate realistic expectations for your male rhinoplasty procedure. We have a dedicated team of specialist patient coordinators who are ready to support you on your rhinoplasty journey here at Centre for Surgery. Please give us a call today at 020 7993 4849 or complete the contact form below to arrange a male rhinoplasty consultation in London.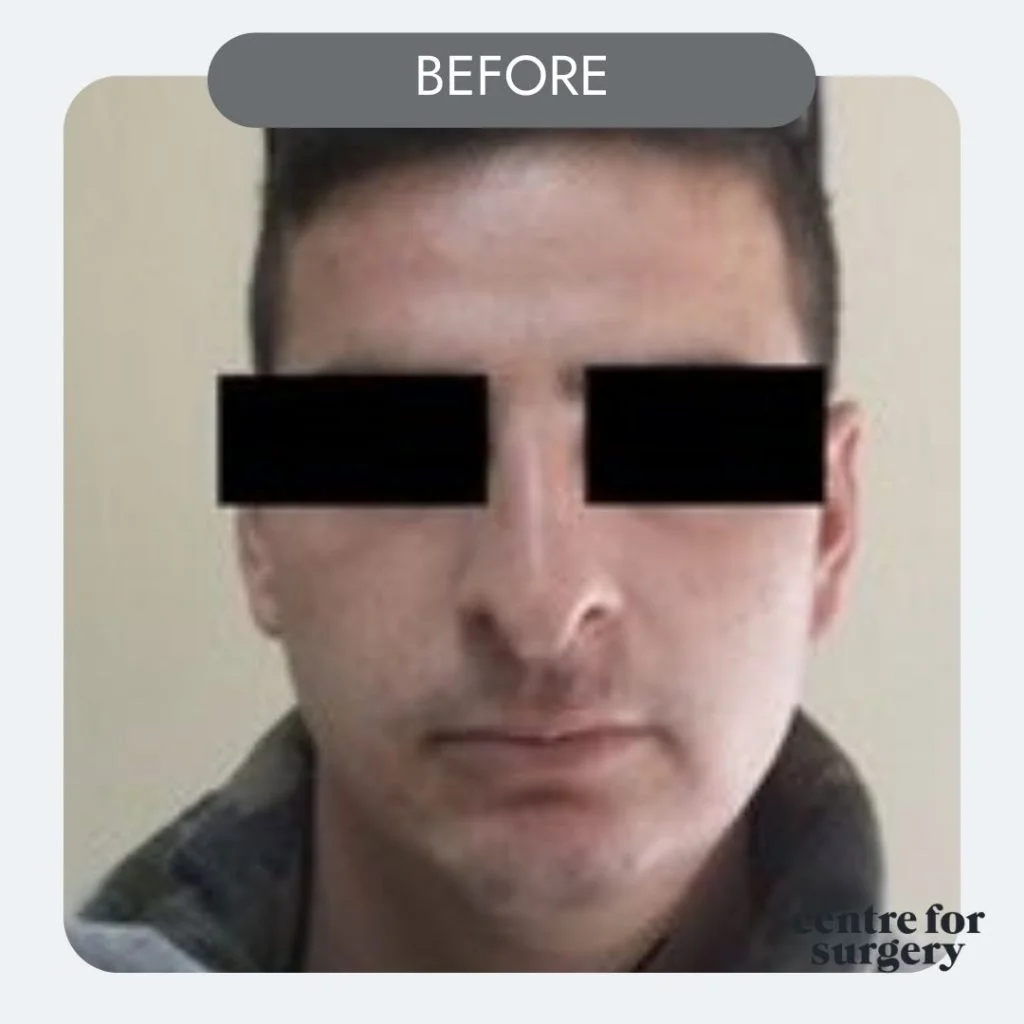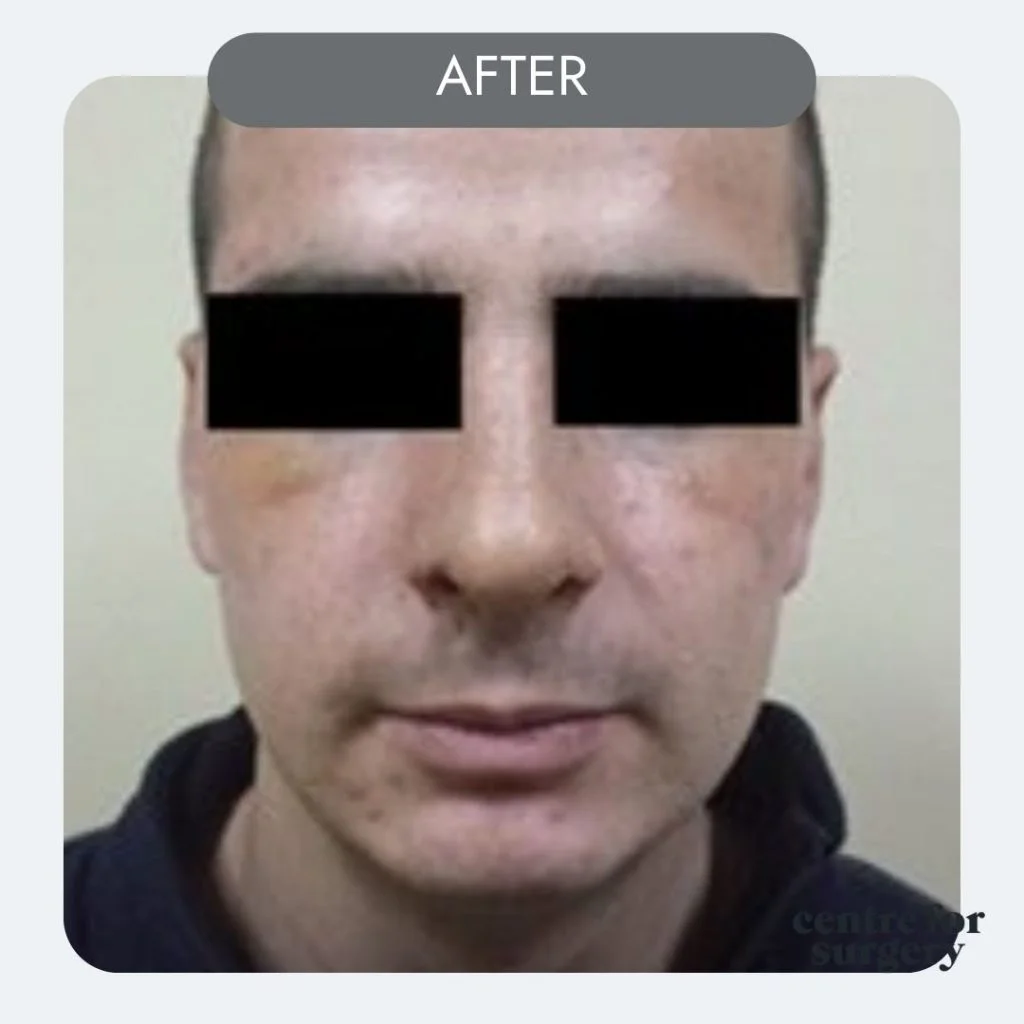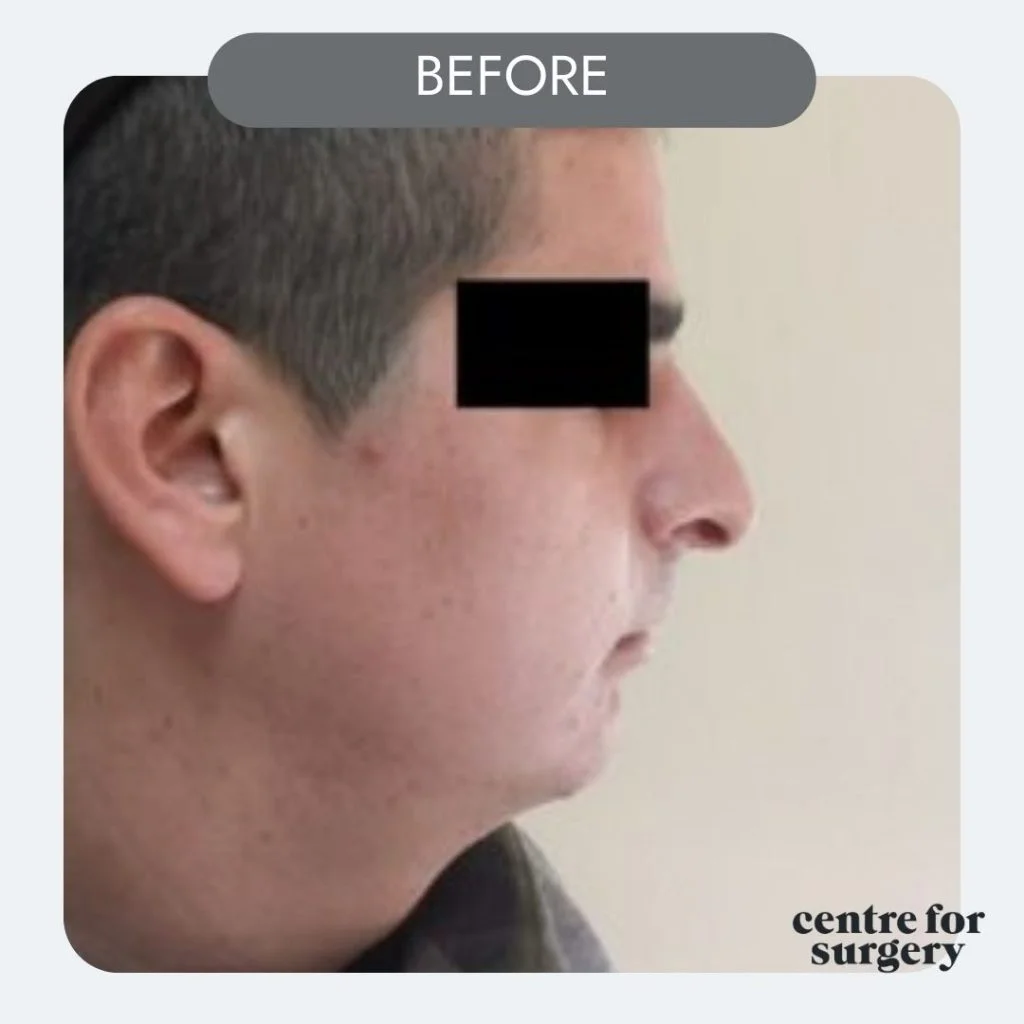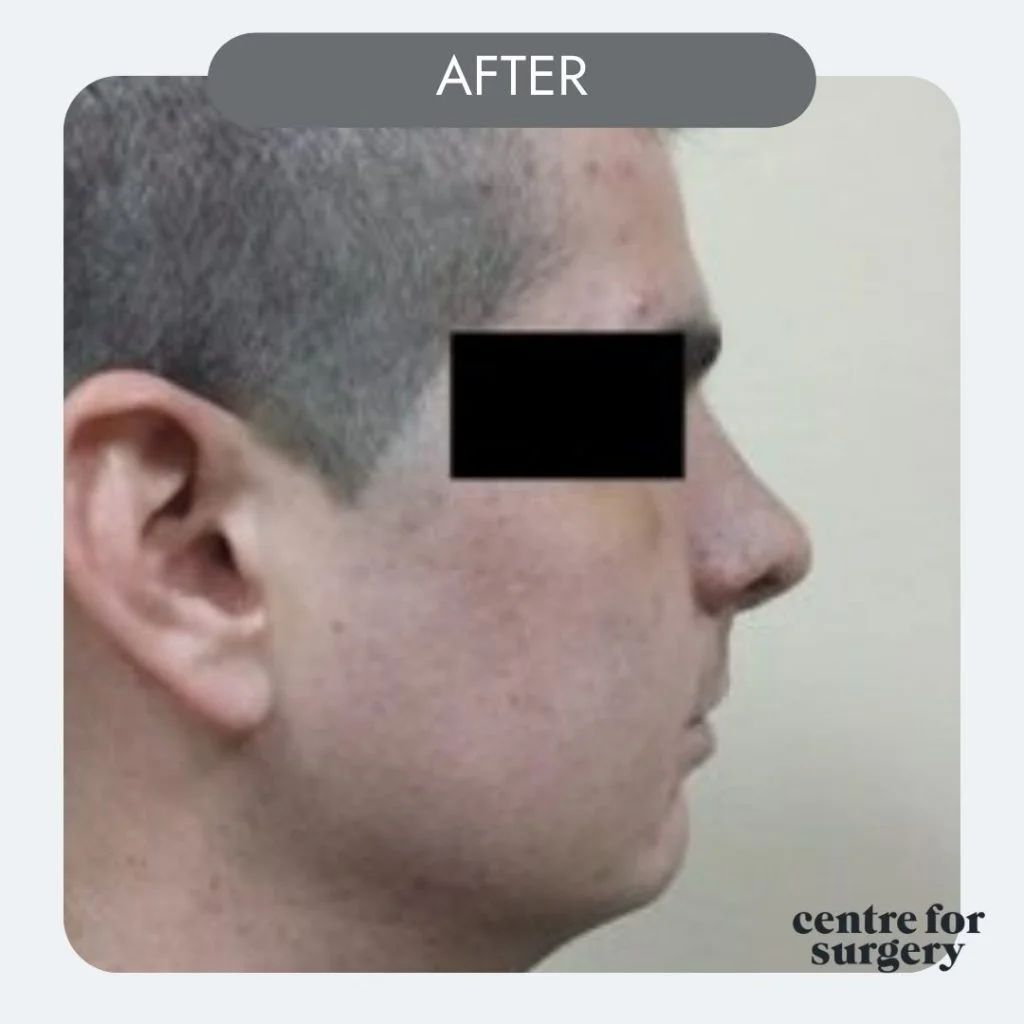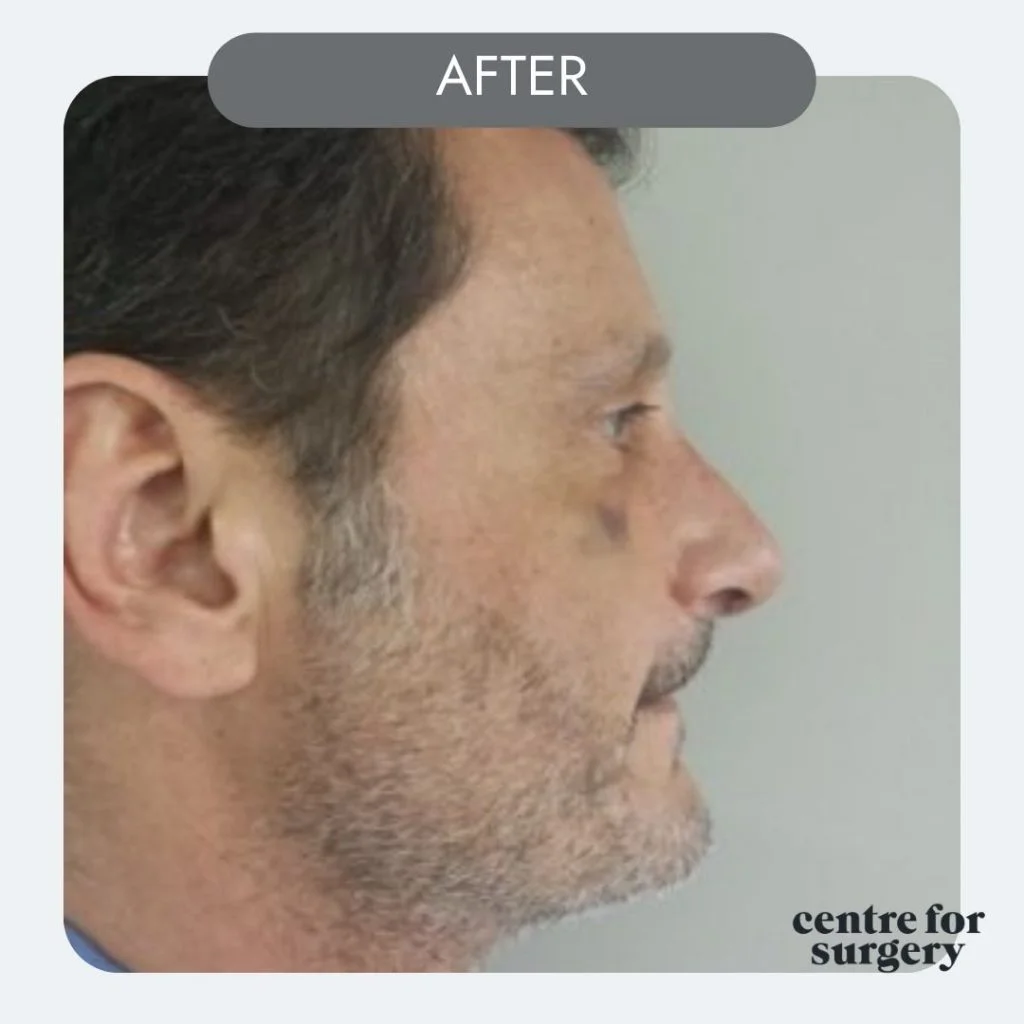 Male revision rhinoplasty before and after
RELATED: Revision Rhinoplasty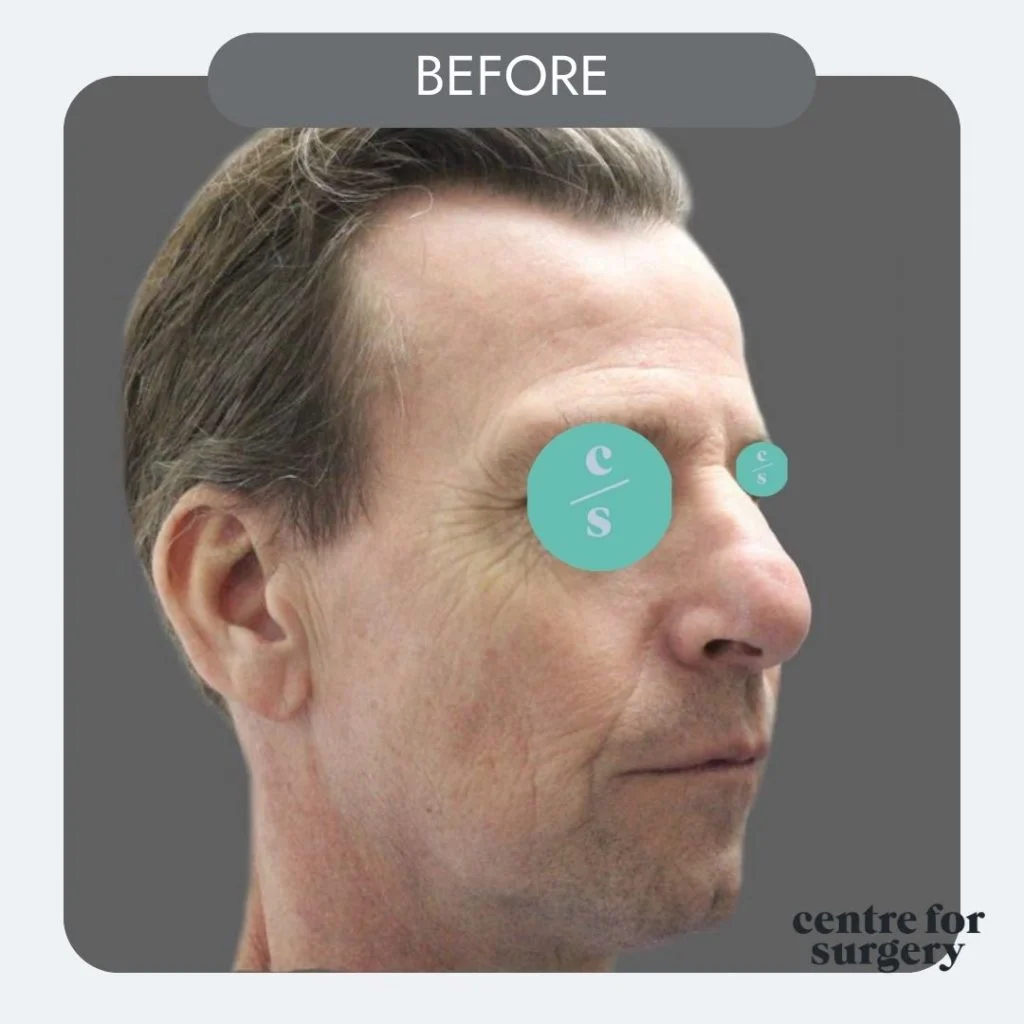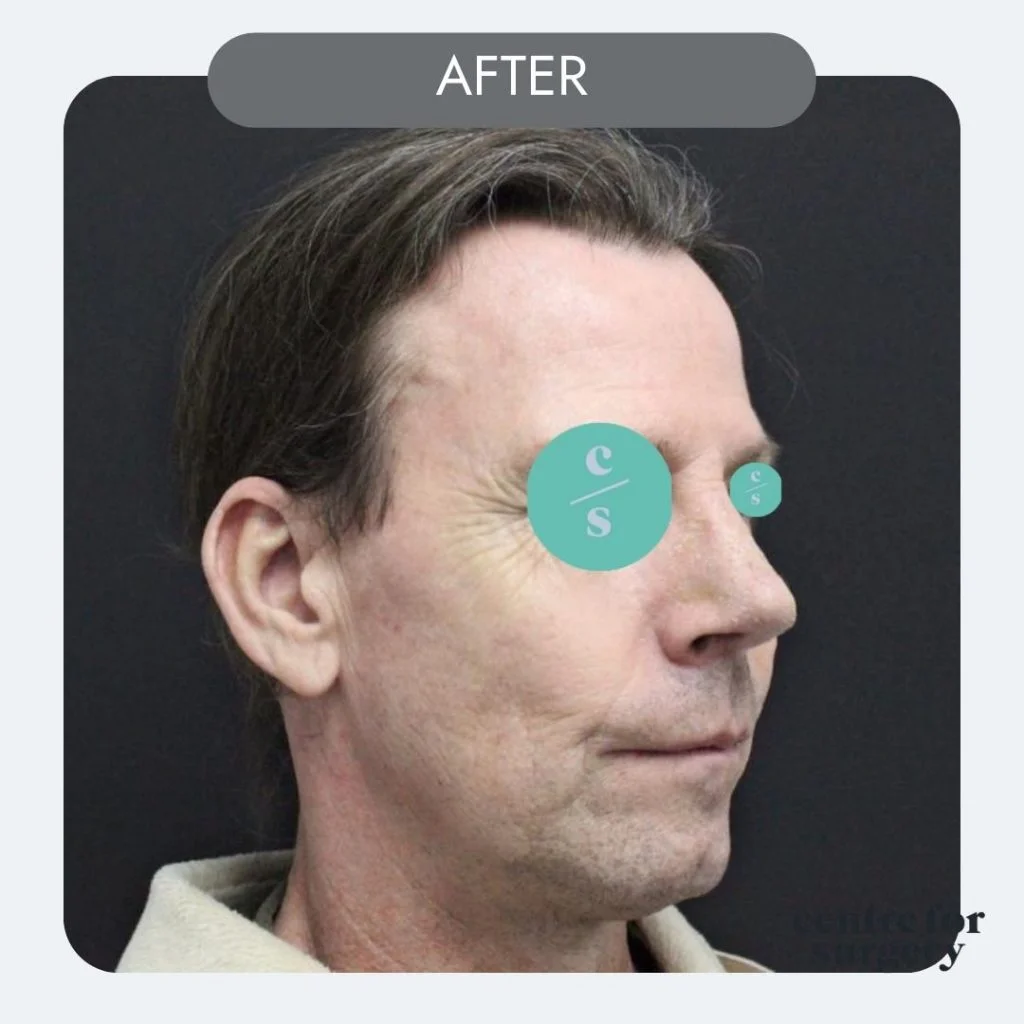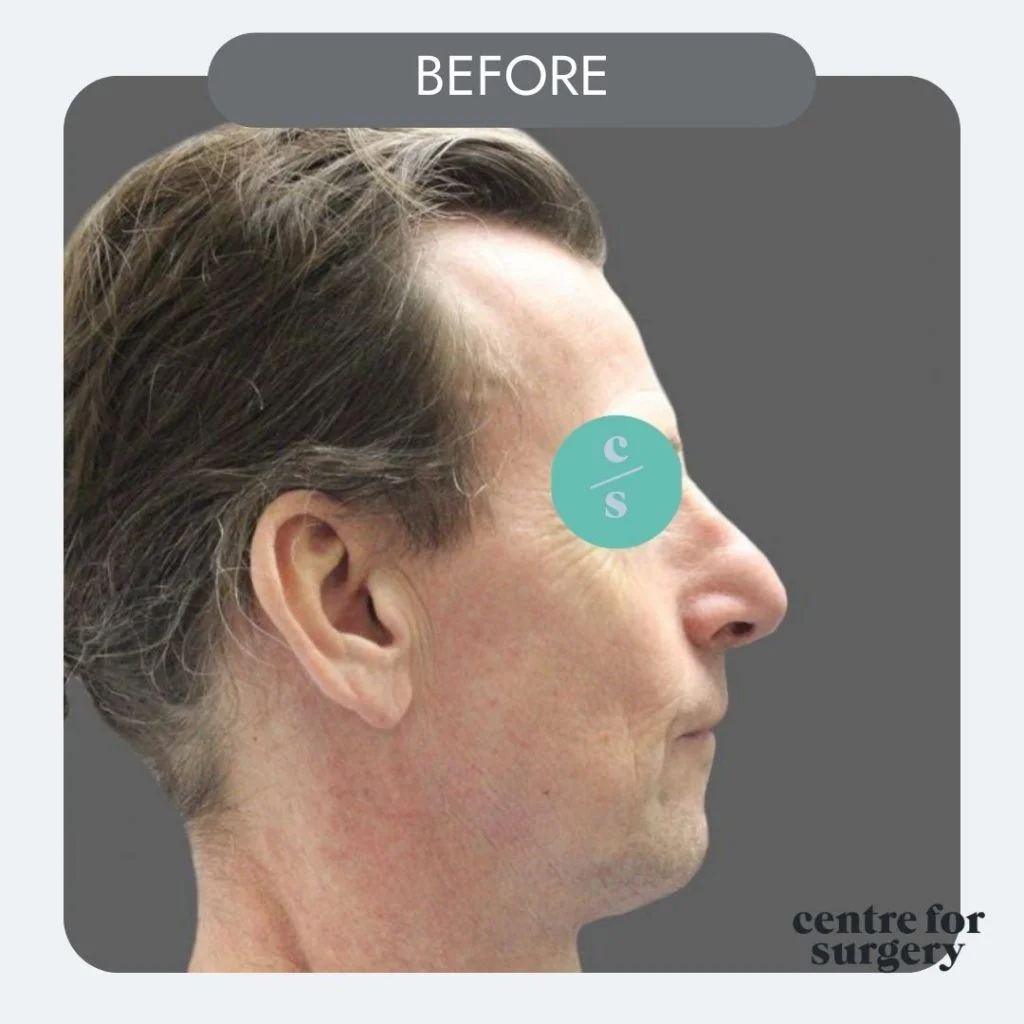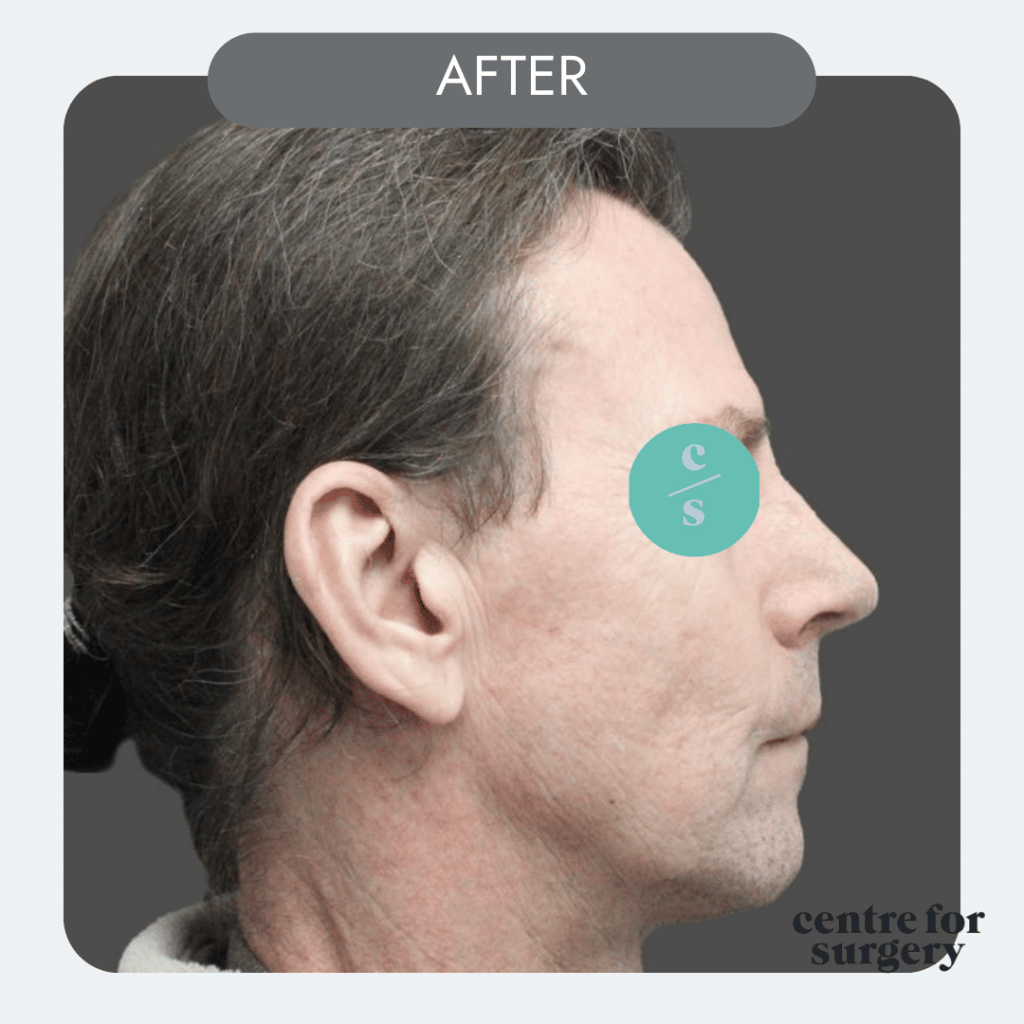 Male Rhinoplasty London Cost & Prices – How much is Male Rhinoplasty in London?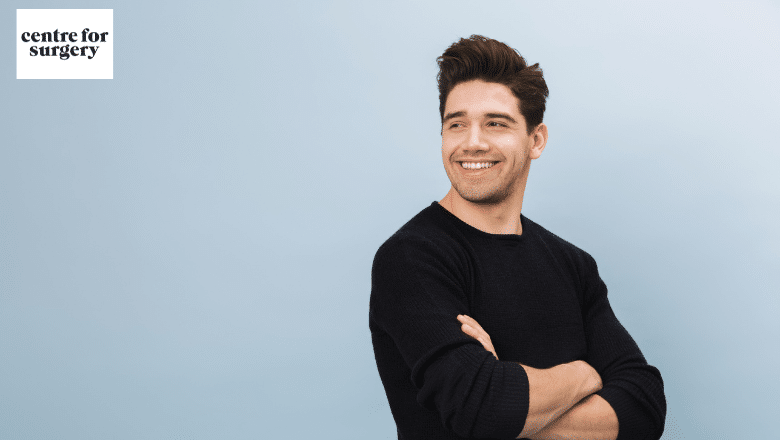 A male nose job in London starts from £6500 at Centre for Surgery. Our online guide prices should be viewed as a rough approximation. Once you have had your face-to-face consultation, your dedicated patient coordinator will give you a full quotation. Male nose job costs will vary depending on the complexity of the surgical correction required, with every man having differences in the anatomy of the nose, which may be significantly distorted as a result of previous traumatic injury. The type of rhinoplasty technique used will also determine the final cost.
What is included in my treatment package?
Free consultation with the surgeon to determine treatment suitability for male nose job surgery.
As many preoperative consultations with your surgeon as you like to make sure the procedure is right for you.
Treatment at a specialist day surgery facility recently rated 'Good' by the CQC
Enhanced same-day discharge with the added benefits of recovering in your own home
24/7 clinical support from your surgeon for the first 48 hours and our expert postoperative support team
Your very own dedicated patient coordinator
In-depth preoperative medical assessment to make sure you are fully fit for the rhinoplasty procedure
Exceptionally high standards of postoperative care described as 'outstanding' by the CQC, with regular telephone and face-to-face checks by our expert postoperative support team.
Some men may not yet be ready to have a surgical rhinoplasty, and we also offer a more affordable alternative with a non-surgical rhinoplasty with pricing starting from £500. Non-surgical rhinoplasty, also known as a 'liquid nose job' is a safe and non-invasive alternative to a traditional rhinoplasty and is often known by its alternative name, the 'lunchtime nose job'.
Non-surgical rhinoplasty results last for up to 12 months, and patients can see natural-looking results immediately after their procedure. A non-surgical nose job is ideal for correcting minor cosmetic imperfections using hyaluronic acid filler. For men who are looking for a significant improvement in the aesthetic appearance of the nose with correction of functional symptoms such as breathing disturbance, then a full surgical rhinoplasty would be the most appropriate option.
When you have your consultation at Centre for Surgery, our expert rhinoplasty surgeons will be able to give you tailored advice on the most appropriate treatment option to help you reach your aesthetic goals.