Rhinoplasty for Men
Rhinoplasty, also known as a nose job, is one of our most popularly requested cosmetic surgery procedures here at Centre for Surgery in London.
Rhinoplasty surgery is designed to surgically alter the size or shape of the nose to improve its aesthetic appearance. Nose job surgery can also address functional symptoms, including nasal airflow obstruction leading to breathing difficulties. Here we cover everything you need to know about male rhinoplasty.
Do men get nose jobs?
Nose jobs for men have become increasingly popular as the procedure can correct both aesthetic and functional concerns in one surgery. Rhinoplasty is one of the top five most commonly performed cosmetic surgery procedures in the UK, with up to 1 and 10 patients having some type of rhinoplasty each year. Although women commonly request rhinoplasty, men form an increasingly large proportion of the total number of rhinoplasty procedures each year in the UK. A nose job has become one of the most popular cosmetic procedures for men across the UK, with over 5000 cases carried out each year on average.
At Centre for Surgery, we have our own day surgery facilities at 95-97 Baker Street. We do not use 'third party' providers and are therefore able to provide the highest standards of care.
| Male Rhinoplasty | Fast Facts |
| --- | --- |
| Procedure time ⏳ | 2 -3 hours |
| Anaesthetic type 💉 | General anaesthetic |
| Length of stay 🛏 | Day case |
| Up and mobile 🚶🏻‍♂️ | 1 Day |
| Washing 🛁 | 1 Week |
| Travel ✈️ | 3 Weeks |
| Sexual activity ❤️ | 3 Weeks |
| Driving 🚗 | 1 Week |
| Postoperative garment 👕 | Nasal splint for 7-10 days |
| Sleeping 😴 | On 2 pillows for 1 month |
| Exercise 🏃🏽‍♀️ | 4-6 weeks |
| Full recovery 🕺🏻 | 6 weeks |
| Final results 😃 | 6-12 months |
Is it common for a man to get a nose job?
If you are concerned about the size or shape of your nose, which may be causing significant psychological disturbances, including constant unhappiness and low mood, male rhinoplasty can be an effective treatment option to make your nose smaller, wider, slimmer, more defined, or get rid of prominent bumps on the bridge of the nose. A large number of men may have a bulbous nose tip, and a surgical nose job for men is one of the most effective ways to treat this.
The rise of social media makes how we look to become even more important, and many people may be more aware of how they look on Instagram and often wish to enhance their facial features. A man's nose is the central part of the face, and having a male nose job can dramatically enhance men's noses for a significant boost in self-confidence. At Centre for Surgery, our rhinoplasty surgeons take great care to ensure each patient selected for male rhinoplasty surgery is fully aware of what the procedure involves and has realistic expectations of what can be achieved with a male rhinoplasty procedure.
Nose jobs for men can also help reconstruct noses that have sustained injuries due to contact sports, including rugby or wrestling. Men who have broken noses may have previously sustained a partial or complete fracture of the nasal bones. Very often, minor hairline cracks will heal well without any further intervention. More complex fracture patterns with a displacement of the bones may require surgical manipulation to restore the nasal framework to its original structure and shape. Male rhinoplasty is the ideal procedure to restore the appearance and function of the nose previously damaged from traumatic injury. Open rhinoplasty, which involves an incision between the nostrils known as the columella, is required to visualise the bone and cartilage framework of the nose and enable optimum correction of nasal deformities that may be causing difficulty in breathing.
Men may often choose to have a male nose job to address breathing difficulties and eliminate episodes of severe snoring and sleep apnoea. A partner commonly notices this, leading to constant sleepiness during the day. Sleep apnoea occurs when breathing temporarily stops and then restarts during sleep. The most common example of sleep apnoea is known as obstructive sleep apnoea (OSA). Undiagnosed and untreated sleep apnoea can result in serious symptoms and should be addressed urgently to prevent adverse outcomes. Very often, a deviated septum may be the cause of nasal airway obstruction and the most appropriate procedure to correct this is known as septoplasty. Septoplasty or nose septum surgery can be combined with cosmetic rhinoplasty, and this procedure is known as a septo-rhinoplasty.
What does a male rhinoplasty involve?
Male nose job surgery is similar to how the surgery is performed in women. Both women and men can benefit from expertly performed rhinoplasty surgery here at Centre for Surgery in London.
Types of rhinoplasty include closed rhinoplasty, which is one of the most common types of nose operation. The procedure involves all incisions being made inside the nose with no visible external scars. Tip rhinoplasty, also known as rhino-tip surgery is ideal for sculpting and contouring the nose tip, which helps to treat many common men's nose concerns, including big bulbous nose tips, crooked tips, or hooked nasal tips. Men from certain ethnic backgrounds may have excessively flared nostrils which appear widened when viewed from the front. Large nostrils can be effectively reduced and made smaller with alar base reduction, also known as alarplasty or nostril reduction surgery.
RELATED: What is the difference between an open and closed rhinoplasty?
One of the most common nose concerns in men is a bulbous nose which affects men much more commonly than women. Male rhinoplasty is frequently performed to reduce the size of a large bulbous nose. Rhinophyma is a chronic skin condition which is often responsible for causing a bulbous nose. Rosacea is a chronic skin condition which commonly affects the face and may result in diffuse facial redness. When rosacea is inadequately treated, it may develop into rhinophyma and a bulbous nose. Over time, the lower part of the nose becomes increasingly swollen and may reach a very large size leading many men to seek nose surgery. Bulbous noses are most commonly found in Scandinavia and northern Europe, although they may be seen in any part of the world. Male nose jobs have increased in popularity to treat this commonly occurring problem.
How much is a male nose job?
A male nose job procedure starts from £5495 at Centre for Surgery. Our online guide prices should be viewed as a rough approximation. Once you have had your face-to-face consultation, your dedicated patient coordinator will give you a full quotation. Male nose job costs will vary depending on the complexity of the surgical correction required, with every man having differences in the anatomy of the nose, which may be significantly distorted as a result of previous traumatic injury. The type of rhinoplasty technique used will also determine the final cost. As with any type of cosmetic surgery in the UK, male rhinoplasty surgery incurs VAT as it is for the improvement of cosmetic appearance.
What is included in my treatment package?
Free consultation with the surgeon to determine treatment suitability for male nose job surgery.
As many preoperative consultations with your surgeon as you like to make sure the procedure is right for you.
Treatment at a specialist day surgery facility recently rated 'Good' by the CQC
Enhanced same-day discharge with the added benefits of recovering in your own home
24/7 clinical support from your surgeon for the first 48 hours and our expert postoperative support team
Your very own dedicated patient coordinator
In-depth preoperative medical assessment to make sure you are fully fit for the rhinoplasty procedure
Exceptionally high standards of postoperative care described as 'outstanding' by the CQC with regular telephone and face-to-face checks by our expert postoperative support team.
Some men may not yet be ready to have a surgical rhinoplasty, and we also offer a more affordable alternative with a non-surgical rhinoplasty with pricing starting from £450. Non-surgical rhinoplasty, also known as a 'liquid nose job' is a safe and non-invasive alternative to a traditional rhinoplasty and is often known by its alternative name as the 'lunchtime nose job'.
Non-surgical rhinoplasty results last for up to 12 months, and patients can see natural-looking results immediately after their procedure.  A non-surgical nose job is ideal for correcting minor cosmetic imperfections using hyaluronic acid filler. For men who are looking for a significant improvement in the aesthetic appearance of the nose with correction of functional symptoms such as breathing disturbance, then a full surgical rhinoplasty would be the most appropriate option.
When you have your consultation at Centre for Surgery, our expert rhinoplasty surgeons will be able to give you tailored advice on the most appropriate treatment option to help you reach your aesthetic goals.
Male rhinoplasty before and after photos
Below are just a small selection of male nose job before and after photos of men who have undergone a male rhinoplasty. The before and after photos should help to give you an accurate idea of what a male rhinoplasty procedure can achieve, and this will help you to formulate realistic expectations for your male rhinoplasty procedure. We have a dedicated team of specialist patient coordinators who are ready to support you on your rhinoplasty journey here at Centre for Surgery. Please give us a call today at 020 7993 4849 or complete the contact form below to arrange a male rhinoplasty consultation in London.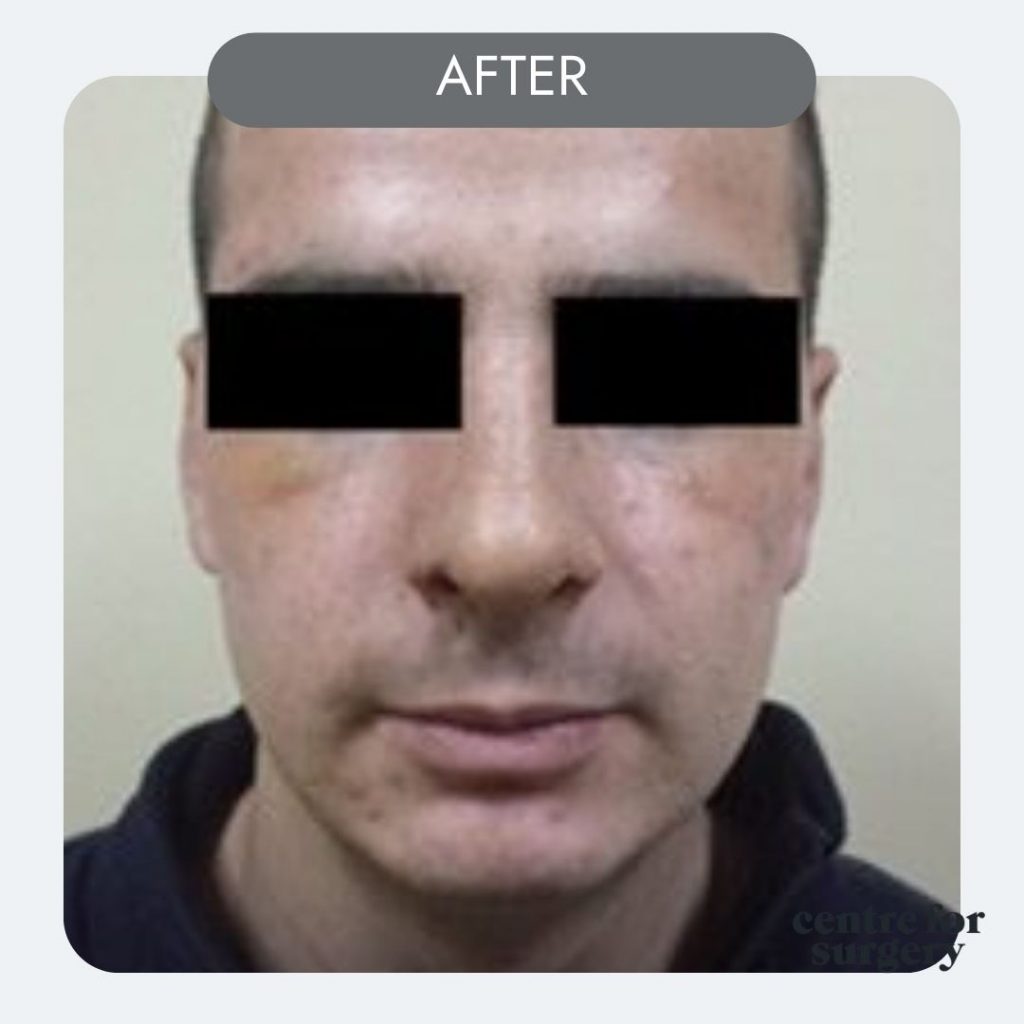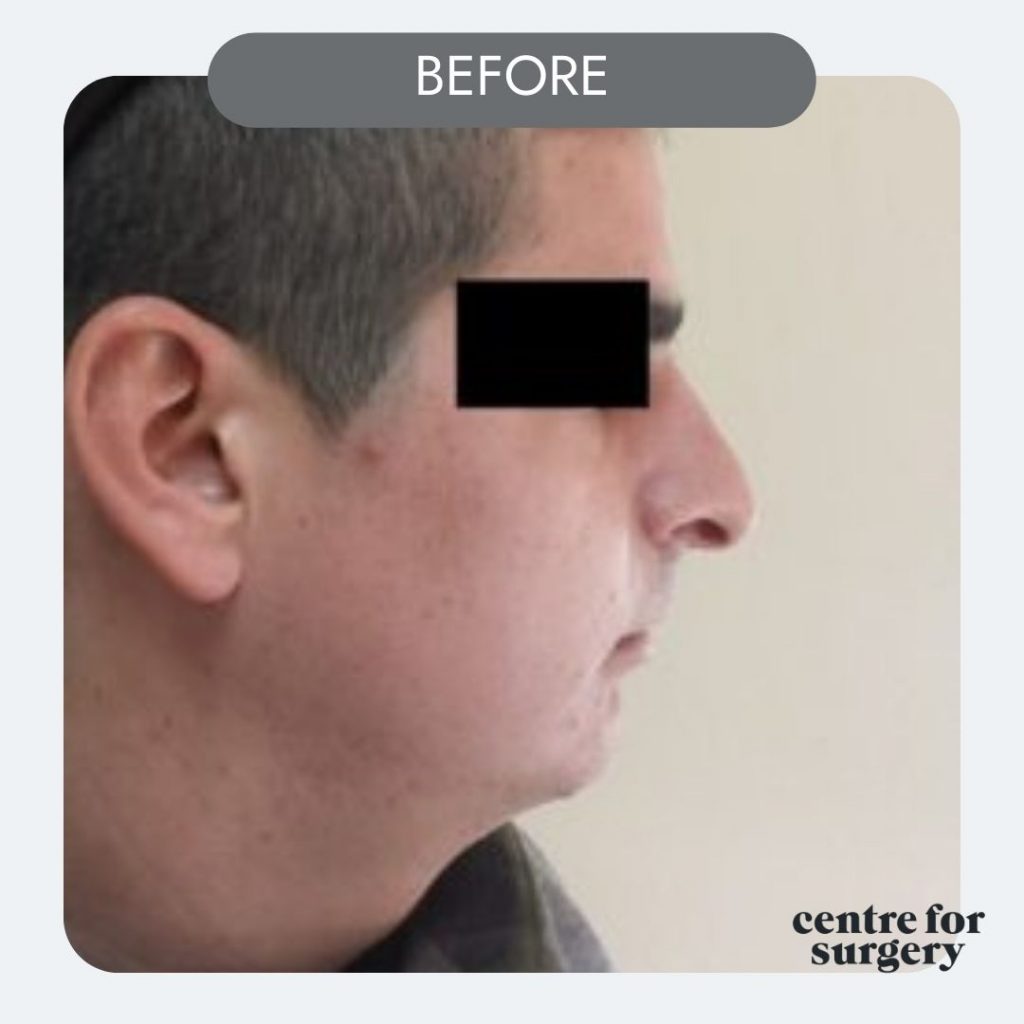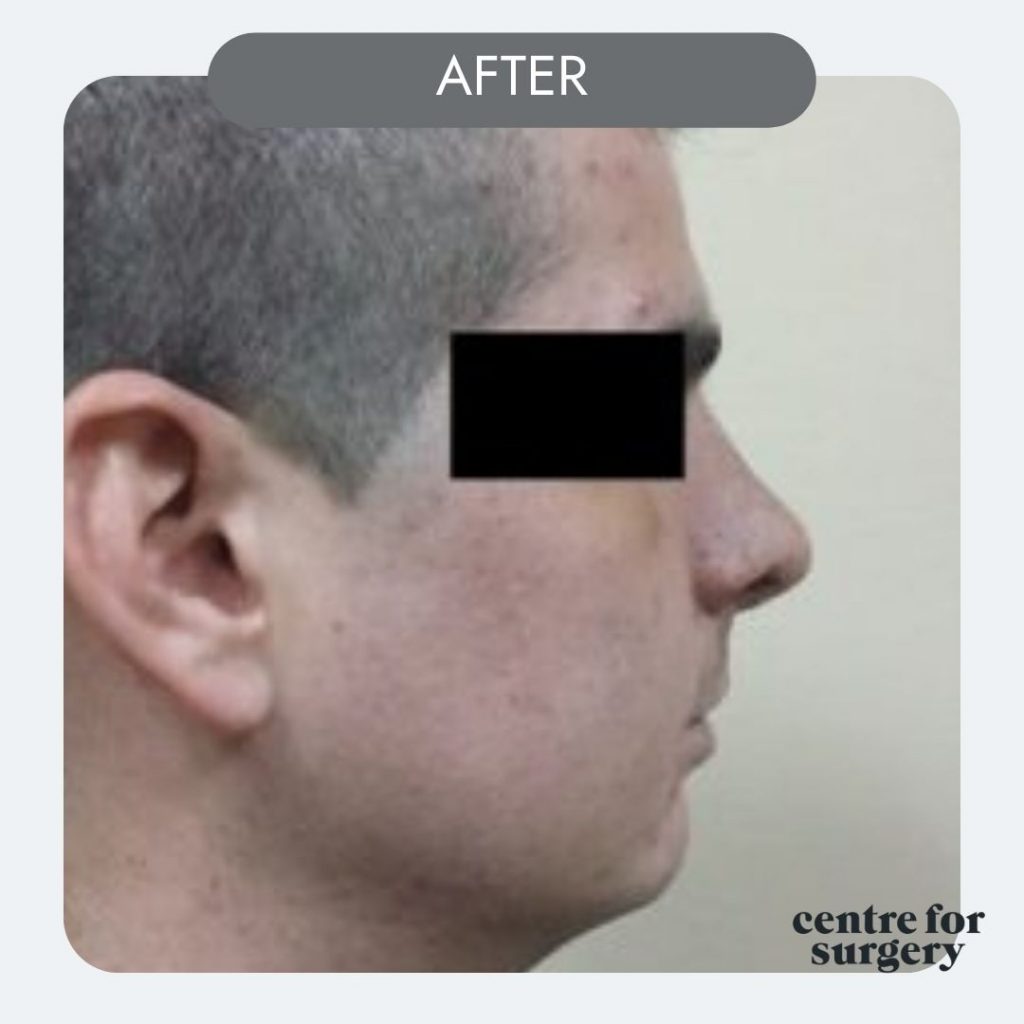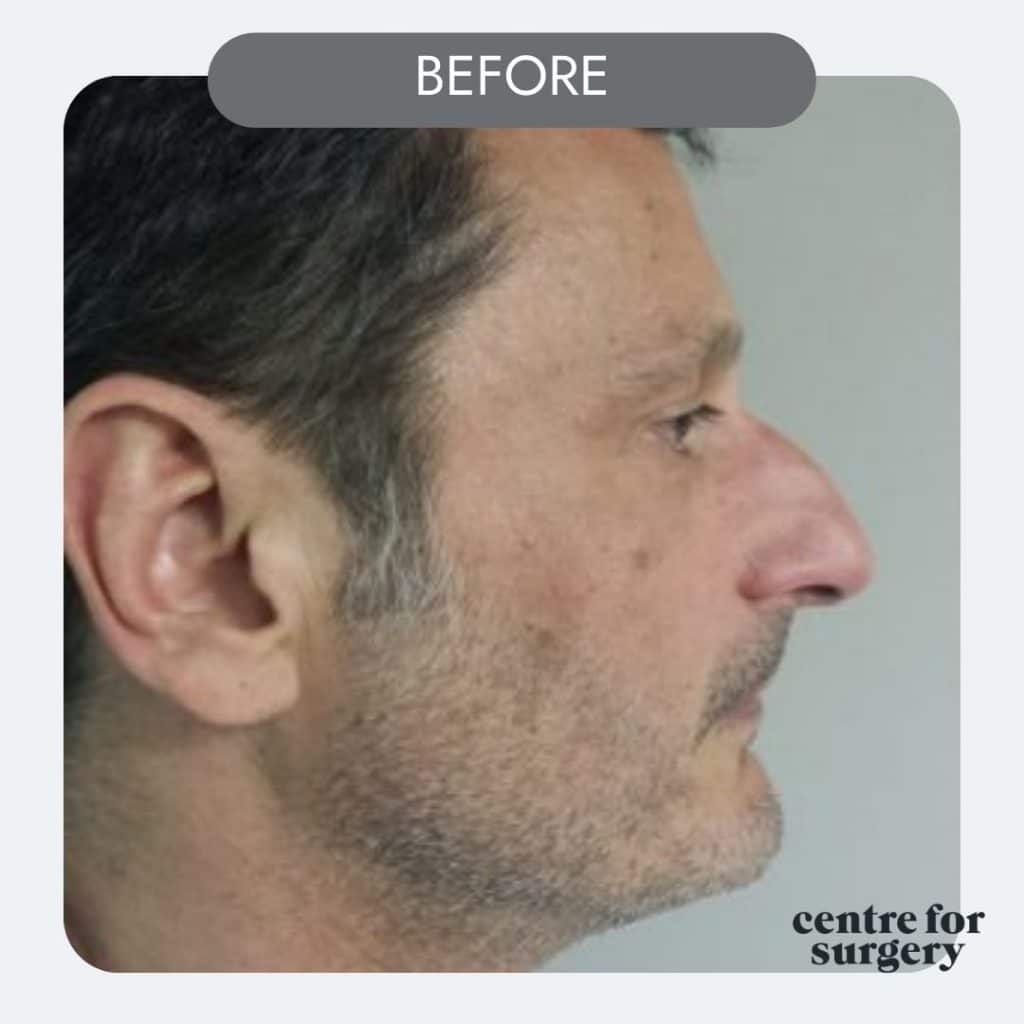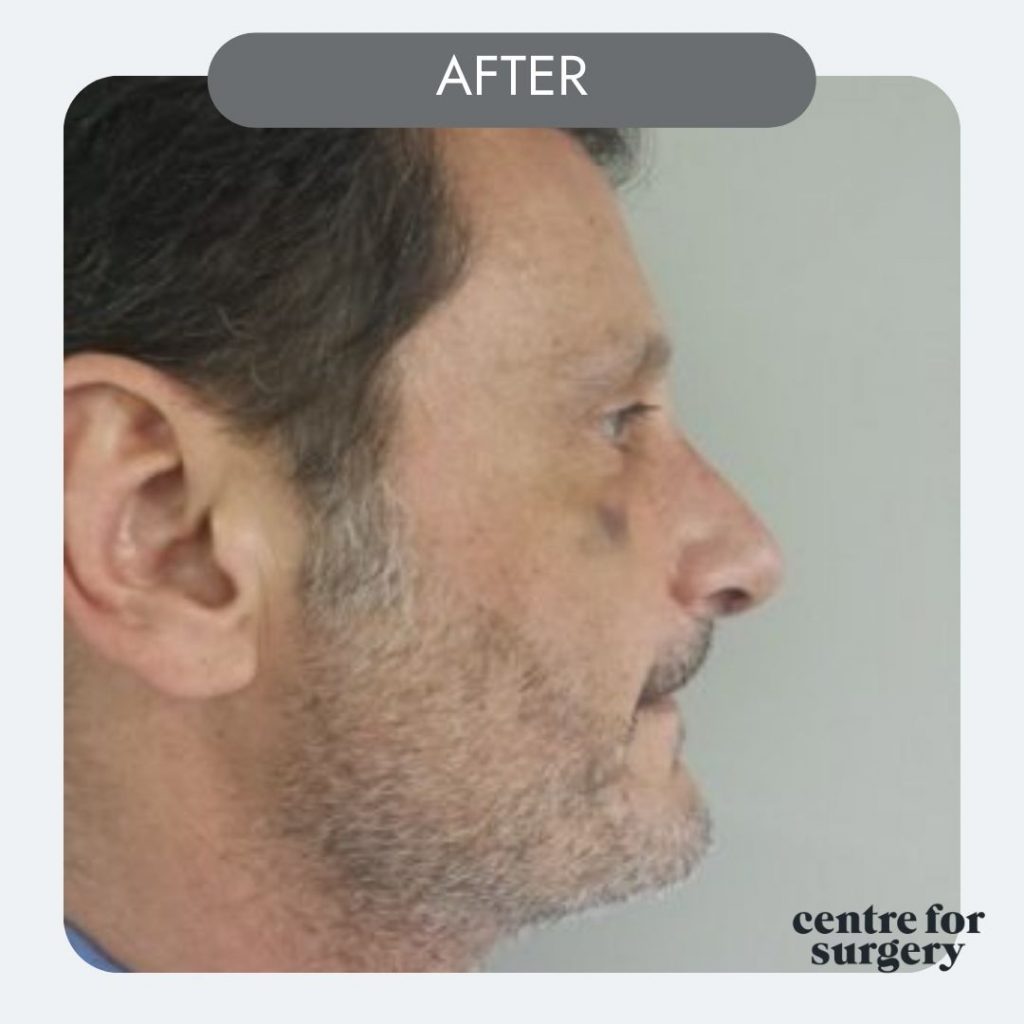 Male revision rhinoplasty before and after
RELATED: Revision Rhinoplasty