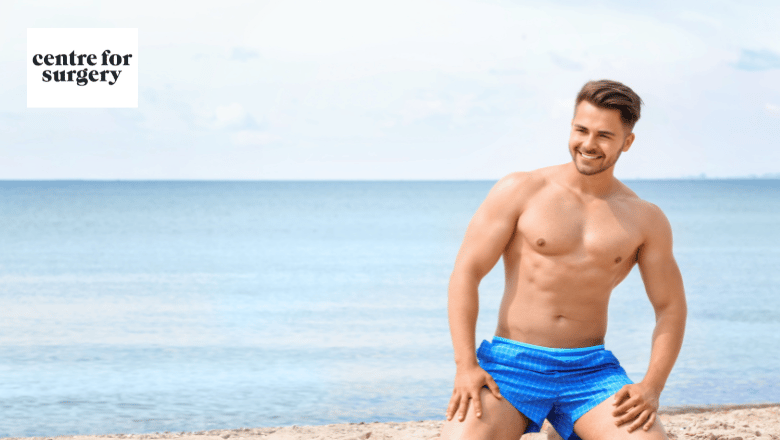 Cosmetic Surgery for Men London UK
Male cosmetic surgery has significantly increased in popularity over the last decade. Men choose us for male breast reduction for the treatment of gynecomastia. We are also renowned as a specialist centre for male facial plastic surgery, including male rhinoplasty, eyelid surgery or blepharoplasty and facelift surgery. We are considered a centre of excellence for rhinoplasty surgery and treat large numbers of men each year who may have developed crooked or misshapen noses from participation in contact sports such as boxing or rugby.
Liposuction for men can help contour and sculpt the midsection, and we specialise in high-definition liposuction to accentuate your abdominal and pectoral muscles. After significant weight loss, men may be left with excess skin that does not go away with diet and exercise alone. We offer the full range of post-weight loss procedures, including abdominoplasty, arm lift and thigh lift to get rid of loose skin and excess fat.
RELATED: Can diet and exercise get the same results as cosmetic surgery?
Our approach to male plastic surgery
We believe that men should be assessed and treated in a completely different manner compared with women. Men are often keen to achieve or maintain a masculine look. Facial surgery for men needs to avoid feminising a man's facial features unless people are seeking facial feminisation surgery as part of gender affirmation surgery. Many men are keen to achieve subtle results, and surgery is focused on enhancing existing features. Most men do not want to appear as if they have had surgery when they are in the company of friends, family or colleagues. This is why procedures such as rhinoplasty, blepharoplasty or facelift surgery must be customised to the needs of the individual man.
Types of male cosmetic surgery
What are the most common male plastic surgery procedures in the UK?
Approximately 20% of the patients we see at Centre for Surgery comprise men, and this percentage continues to grow each year. The three most commonly performed plastic surgery procedures in men are gynecomastia surgery, rhinoplasty and eyelid surgery. Liposuction and excess skin removal surgery, such as abdominoplasty, are also commonly requested after significant weight loss. Facial rejuvenation procedures, including facelifts and neck lifts, are increasingly popular in older men with signs of facial ageing.
RELATED: Popular cosmetic surgery procedures for men
Gynecomastia surgery
During puberty, hormonal surges can stimulate the formation of excess glandular tissue. In many cases, the enlarged male breast tissue does not go away on its own and can result in a feminine chest appearance, also known as man boobs. Men can develop a significant loss of confidence and may even be reluctant to remove their shirts when on holiday. In severe cases of gynecomastia, man boobs may be so large as to protrude through many common clothing items.
RELATED: Male chest reduction surgery in London
Rhinoplasty
Men often choose to have no surgery to correct damage caused to the nose from contact sports, including boxing or rugby. Men may be left with a deviated nose which can cause difficulty in breathing, particularly at night. Rhinoplasty surgery can effectively correct a deviated septum to improve breathing through the nose. Rhinoplasty is also requested to improve cosmetic appearance. Common nose problems include a dorsal hump on the bridge of the nose or an excessively long nose. A man's nose will tend to increase in length as part of the ageing process, which may result in a drooping nose tip. Nose surgery is commonly sought to correct a droopy nasal tip.
Eyelid Surgery
Eyelid surgery, also known as blepharoplasty, can help to correct signs of ageing affecting the area around the eyes. Men may develop a permanently tired appearance with age, and this can be easily fixed with an eyelid lift procedure. Skin laxity affecting the upper eyelids may cause droopy eyelids, which in some cases may obstruct vision. An upper blepharoplasty can correct droopy eyelids and improve vision.
Liposuction
Liposuction is a minimally invasive body contouring procedure designed to remove areas of excess fat in areas of the body such as the abdomen, thighs or chest. Other commonly requested areas for liposuction include the chin and neck, also known as double chin liposuction and arm liposuction.
Post-weight loss surgery
Significant weight loss often results in men developing excess sagging skin. Loose skin on the abdomen may hang downwards like an apron, causing pain and discomfort. Post-weight loss surgery or excess skin removal can permanently get rid of excess skin for an improvement in aesthetic appearance and relief of pain and discomfort.
RELATED: Post Weight Loss Surgery
Benefits of Male Plastic Surgery
Male plastic surgery can help men achieve a youthful look whilst correcting many common aesthetic concerns of the face, neck or body. There are numerous benefits of male cosmetic surgery, including:
Elimination of loose skin
Reduction of fine lines and wrinkles
A sculpted and contoured physique
A refreshed look
A boost in self-confidence
What does cosmetic surgery for men involve?
Male cosmetic procedures do not differ significantly in terms of operative steps from procedures carried out in women. There are common principles to many procedures, although the aims of surgery can be significantly different. Gynecomastia surgery is the most commonly performed surgical procedure in men and involves surgical steps that are similar to breast reduction surgery in women. Most gynecomastia procedures involve the removal of excess fat with a Liposuction combined with the surgical removal of excess glandular tissue. Although glandular tissue in men is much less compared with women, the incisions are formed beneath the lower breast crease, similar to that in women.
Most cosmetic surgery procedures for men are performed under a general anaesthetic, although smaller procedures may be carried out with local anaesthetic combined with sedation. The length of surgery will depend on the type of procedure undertaken and the amount of surgical correction required. Some procedures may take no more than 30 minutes to perform, such as upper eyelid surgery. Post-weight loss surgery, such as abdominoplasty, may require more than three hours. Combined surgical procedures will take longer to perform than if they were performed separately.
Recovery after male surgery
The time taken to recover after male plastic surgery will depend on the type and extent of the procedure undertaken. More complex surgical procedures may require a longer period of recovery. It is expected to experience mild pain and discomfort during the first few days after the procedure, and this is easily managed with prescription painkillers. We recommend avoiding vigorous physical exercise during the first six weeks after surgery to give your body time to rest. There are specific measures you can take during the recovery period after cosmetic surgery to reduce the risk of complications, including:
Avoiding smoking and excessive drinking for a minimum of four weeks
Avoiding swimming, saunas and steam rooms
Eating a healthy and nutritious diet
Drinking plenty of water to keep hydrated
How much does male cosmetic surgery cost in London?
The cost of male cosmetic surgery in London will vary depending on the type of procedure and its complexity. Combinations of procedures will cost more than separate procedures. Surgery costs include the anaesthetic fee, surgical fee and facility fees. Preoperative and postoperative care is included in the cost of surgery. At your in-person consultation, your surgeon will perform a detailed clinical assessment. If a procedure is planned, you will be given a detailed procedure quotation from your dedicated patient coordinator after your consultation.
Male cosmetic surgery at Centre for Surgery
Centre for Surgery is the leading plastic surgery clinic in London and is home to some of the best cosmetic surgeons in London. We carry out hundreds of plastic surgery procedures for men at our state-of-the-art Baker Street clinic in London. Call us today on 020 7993 4849 or complete the contact form below to schedule an in-person consultation.