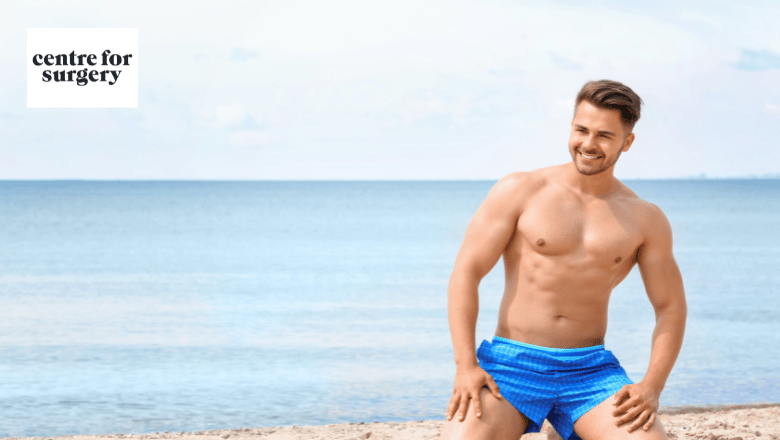 Cosmetic surgery for men London
Male cosmetic surgery has significantly increased in popularity over the last decade. Men choose us for male breast reduction for the treatment of gynecomastia. We are also renowned as a specialist centre for male facial plastic surgery, including male rhinoplasty, eyelid surgery or blepharoplasty and facelift surgery. We are considered a centre of excellence for rhinoplasty surgery and treat large numbers of men each year who may have developed crooked or misshapen noses from participation in contact sports such as boxing or rugby.
Liposuction for men can help to contour and sculpt the midsection, and we specialise in high-definition liposuction to accentuate your abdominal and pectoral muscles. After significant weight loss, men may be left with excess skin that does not go away with diet and exercise alone. We offer the full range of post weight loss procedures, including abdominoplasty, arm lift and thigh lift to get rid of loose skin and excess fat.
RELATED: Can diet and exercise get the same results as cosmetic surgery?
Our approach to male plastic surgery
We believe that men should be assessed and treated in a completely different manner compared with women. Men are often keen to achieve or maintain a masculine look. Facial surgery for men needs to avoid feminising a man's facial features unless people are seeking facial feminisation surgery as part of gender affirmation surgery. Many men are keen to achieve subtle results, and surgery is focused on enhancing existing features. Most men do not want to appear as if they have had surgery when they are in the company of friends, family or colleagues. This is why procedures such as rhinoplasty, blepharoplasty or facelift surgery must be customised to the needs of the individual man.
Types of male cosmetic surgery
What are the most common male procedures in the UK?
Approximately 20% of the patients we see at Centre for Surgery comprise men, and this percentage continues to grow each year. The three most commonly performed plastic surgery procedures in men are gynecomastia surgery, rhinoplasty and eyelid surgery. Liposuction and excess skin removal surgery, such as abdominoplasty, are also commonly requested after significant weight loss. Facial rejuvenation procedures, including facelifts and neck lifts, are increasingly popular in older men with signs of facial ageing.
RELATED: Popular cosmetic surgery procedures for men
Gynecomastia surgery
During puberty, hormonal surges can stimulate the formation of excess glandular tissue. In many cases, the enlarged male breast tissue does not go away on its own and can result in a feminine chest appearance, also known as man boobs. Men can develop a significant loss of confidence and may even be reluctant to remove their shirts when on holiday. In severe cases of gynecomastia, man boobs may be so large as to protrude through many common clothing items.
RELATED: Male chest reduction surgery in London
Rhinoplasty
Men often choose to have no surgery to correct damage caused to the nose from contact sports, including boxing or rugby. Men may be left with a deviated nose which can cause difficulty in breathing, particularly at night. Rhinoplasty surgery can effectively correct a deviated septum to improve breathing through the nose. Rhinoplasty is also requested to improve cosmetic appearance. Common nose problems include a dorsal hump on the bridge of the nose or an excessively long nose. A man's nose will tend to increase in length as part of the ageing process, which may result in a drooping nose tip. Nose surgery is commonly sought to correct a droopy nasal tip.
Eyelid Surgery
Eyelid surgery, also known as blepharoplasty, can help to correct signs of ageing affecting the area around the eyes. Men may develop a permanently tired appearance with age, and this can be easily fixed with an eyelid lift procedure. Skin laxity affecting the upper eyelids may cause droopy eyelids, which in some cases may obstruct vision. An upper blepharoplasty can correct droopy eyelids and improve vision.
Liposuction
Liposuction is a minimally invasive body contouring procedure designed to remove areas of excess fat in areas of the body such as the abdomen, thighs or chest. Other commonly requested areas for liposuction include the chin and neck, also known as double chin liposuction and arm liposuction.
Post weight loss surgery
Significant weight loss often results in men developing excess sagging skin. Loose skin on the abdomen may hang downwards like an apron, causing pain and discomfort. Post weight loss surgery or excess skin removal can permanently get rid of excess skin for an improvement in aesthetic appearance and relief of pain and discomfort.
RELATED: Post Weight Loss Surgery
Benefits of male plastic surgery
Male plastic surgery can help men to achieve a youthful look whilst correcting many common aesthetic concerns of the face, neck or body. There are numerous benefits of male cosmetic surgery, including:
Elimination of loose skin
Reduction of fine lines and wrinkles
A sculpted and contoured physique
A refreshed look
A boost in self-confidence
What does cosmetic surgery for men involve?
Male cosmetic procedures do not differ significantly in terms of operative steps from procedures carried out in women. There are common principles to many procedures, although the aims of surgery can be significantly different. Gynecomastia surgery is the most commonly performed surgical procedure in men and involves surgical steps that are similar to breast reduction surgery in women. Most gynecomastia procedures involve the removal of excess fat with a Liposuction combined with the surgical removal of excess glandular tissue. Although glandular tissue in men is much less compared with women, the incisions are formed beneath the lower breast crease, similar to that in women.
Most cosmetic surgery procedures for men are performed under a general anaesthetic, although smaller procedures may be carried out with local anaesthetic combined with sedation. The length of surgery will depend on the type of procedure undertaken and the amount of surgical correction required. Some procedures may take no more than 30 minutes to perform, such as upper eyelid surgery. Post weight loss surgery, such as abdominoplasty, may require more than three hours. Combined surgical procedures will take longer to perform than if they were performed separately.
Recovery after male surgery
The time taken to recover after male plastic surgery will depend on the type and extent of the procedure undertaken. More complex surgical procedures may require a longer period of recovery. It is normal to experience mild pain and discomfort during the first few days after the procedure, and this is easily managed with prescription painkillers. We would recommend avoiding any vigourous physical exercise during the first six weeks after surgery to give your body time to rest. There are certain measures you can take during the recovery period after cosmetic surgery to reduce the risk of complications, including:
Avoiding smoking and excessive drinking for a minimum of four weeks
Avoiding swimming, saunas and steam rooms
Eating a healthy and nutritious diet
Drinking plenty of water to keep hydrated
How much does male cosmetic surgery cost in London?
The cost of male cosmetic surgery in London will vary depending on the type of procedure and its complexity. Combinations of procedures will cost more than separate procedures. The cost of surgery includes the anaesthetic fee, surgical fee and facility fees. Preoperative and postoperative care is included in the cost of surgery. At your in-person consultation, your surgeon will perform a detailed clinical assessment. If a procedure is planned, you will be given a detailed procedure quotation from your dedicated patient coordinator after your consultation.
Male cosmetic surgery at Centre for Surgery
Centre for Surgery is the leading plastic surgery clinic in London and is home to some of the best cosmetic surgeons in London. We carry out hundreds of plastic surgery procedures for men at our state-of-the-art Baker Street clinic in London. Call us today on 020 7993 4849 or complete the contact form below to schedule an in-person consultation.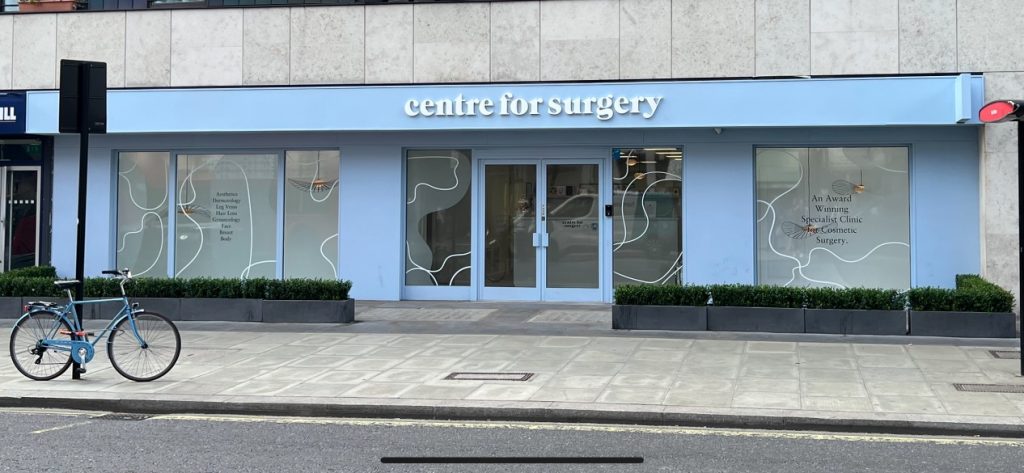 Amazing from start to finish, the communication was the main thing was fully informed and looked after, on the day of my breast augmentation, the staff were fab and made me feel at ease through out the whole process. Thank you so much.
Mohammed Farid
18/11/2021
I've had such a great experience with excellent advice, care and attention and surgical treatment (gynaecomastia) - I can fully endorse the treatment I have received from Centre for Surgery with absolutely no qualms at all. Brilliant in every way - thank you all so much.
Caroline Thorpe
14/11/2021
Very pleased with my whole experience of having a procedure. Was so nervous about getting treatment and i was reassured and felt so comfortable throughout thanks to the amazing nurses. I definitely made the right decision to have breast augmentation at centre for surgery with dr erel.
Melissa Briggs
08/11/2021
So glad I went with centre for surgery, the whole process went very smoothly from the consultations down to the actual day of the procedure. I was so nervous on the day but the whole team put me at ease and I'm happy with my results as I feel a lot more comfortable wearing certain clothes now. My surgeon was Alberto Di Giuseppe who performed a breast Augmentation on me, and I would definitely recommend as he was very clear on what the outcome of the surgery would be and which size would look the best for my frame.
Couldn't be happier with Dr Tillo work,i had my breast surgery one week ago and so happy with the results so far,all the staff are extremely nice and very supportive,i would definitely recommend their services,thank so much
From start to the finish everything was perfect for tummy tuck surgery. All staff is very friendly and the aftercare has been good. The Doctor and the nurse team was fantastic. I'm so happy...result is amazing. Thank you!!!
This was overall a great experience, all the staff at Centre for Surgery were friendly and put me at ease. It is a nerve wracking thing to go through an op but the staff were so nice. Mr Ertan has got a great team around him. On the day of the operation everything went smoothly to plan, there was no delay or holdups, I had another consultation with Mr Ertan who confirmed what was going to be done and that I was still happy to proceed. I was prepped for the procedure, I met with the anaesthetist who again was really nice and put me at ease explaining his role. After the procedure I woke up with the nurse by my side making sure I was OK and checking on me, I was able to stay in the clinic until I was ready to leave and was not rushed at all. I was well looked after from the start to the point when I was discharged. Post operation I was staying at a local hotel it was so close there was no point in even getting a taxi and I was able to walk back where my partner was waiting for me. I was expecting a lot of bruising to both my eyes but there was very little if any by the time the cast came off after 7 days, I am now at the two week post operation point and it is healing well with no outwardly visible bruising or scaring. The next milestone is a checkup at the 6 week point with my surgeon. If you're thinking of having something like this done I would highly recommend getting in touch with Centre for Surgery.
The staff at Centre for Surgery were very kind and accommodating. They answered any questions I had about the procedure and were constantly checking up on me. A special thank you to Christina for all her support throughout.
I would just like to state the quality of care received from the nurses at Centre for Surgery was beyond the highest level. Sophie takes her patient care to another level beyond words. She always puts me at ease. She is there for me even at awkward hours just when I mostly needed reassurance and she is one of the most compassionate nurses I have come across and demonstrates her passion naturally for caring for others. She totally deserves recognition at its finest and thank you for always being there for me. 😍
Add some sections on the edit area of this page