Venous lake treatment in London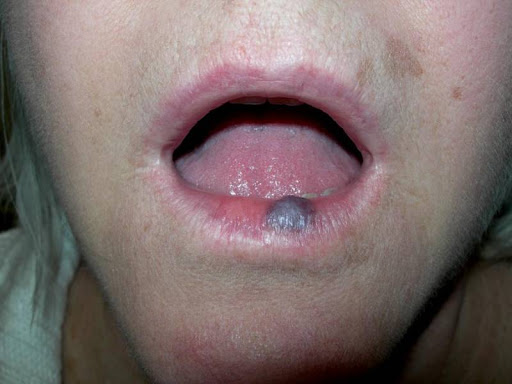 Venous lakes are small veins located in the skin that become larger and more visible with the passage of time. Venous lakes are much more common in older age groups and more often see in men than women. They most commonly on the lower lip and are vascular in origin. The causes of venous lake formation is not completely understood. Venous lakes are completely benign lesions and are not infectious. This means they cannot be spread from person to person. Venous lakes are seldom a source of problems, however discomfort may be felt if they are knocked or caught in clothing. On occasion, venous lakes can start to bleed with no clear underlying cause.
Typical appearances of venous lakes
A venous lake has an appearance resembling a small bluish lump with a soft consistency and up to 1cm wide. Venous lakes may either completely flat or be raised from the surrounding skin. Venous lakes are most commonly found at areas of chronic sun exposure, most commonly the lower lip or the rim of the ear. When finger pressure is applied to a venous lake, the blood inside the venous lake will be forced outwards which causes the venous lake to flatten and even almost disappear. Once the pressure is released, the venous lake will return to its original appearance. The photo above represents the typical appearance of a venous lake.
Venous lake treatment
The optimal treatment for treating venous lakes involves the use of a Fotona long pulse Nd:YAG laser. A pulsed dye laser is alternative less effective option as it is only suitable for much smaller venous lakes. The laser treatment with Nd:YAG laser is very quick and straightforward. There is no need for topical application of local anaesthetic cream. The skin is pre-cooled with an ice cube for 5 seconds to relieve any discomfort from the laser pulse and also to prevent excessive thermal damage. Skin cooling with cold air is applied and the first laser pulse applied leads to moderate shrinkage and greyish discolouration of the venous lake. This appearance is due to coagulation and swelling of the blood vessels caused by the deep penetration of the Nd:YAG laser. For most lesions, one treatment is all that is required. For larger lesions, occasionally more than one treatment is required. After the procedure, a suitable protective ointment is applied several times per day to facilitate healing.
Potential complications of venous lake treatment
With larger lesions, it may very occasionally have a residual flat and lighter coloured mark where the venous lake originally was. This appearance is much less prominent compared with the original lesion and therefore more cosmetically acceptable. Rare complications include the risk of skin necrosis, scarring or ulceration. This usually occurs from inadequate cooling prior to laser treatment or the use of inappropriately high laser settings. These risks are reduced even further when venous lake treatment is undertaken by a dermatologist skilled in the laser treatment of facial vascular lesions.
All our doctors are on the GMC specialist register. Our London dermatology clinic at 106 Crawford Street was recently inspected and rated as good across all 5 domains.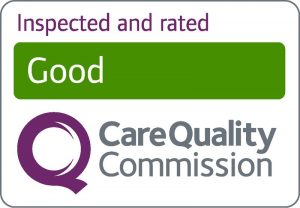 Venous lake treatment before and after
Case 1: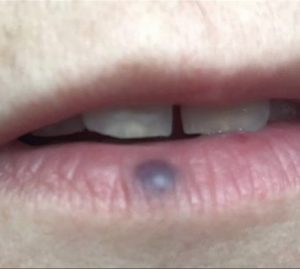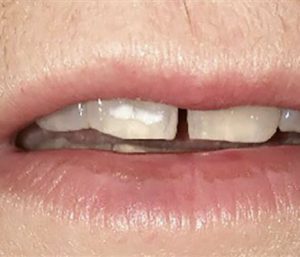 Case 2: