Male Facelift Surgery London & UK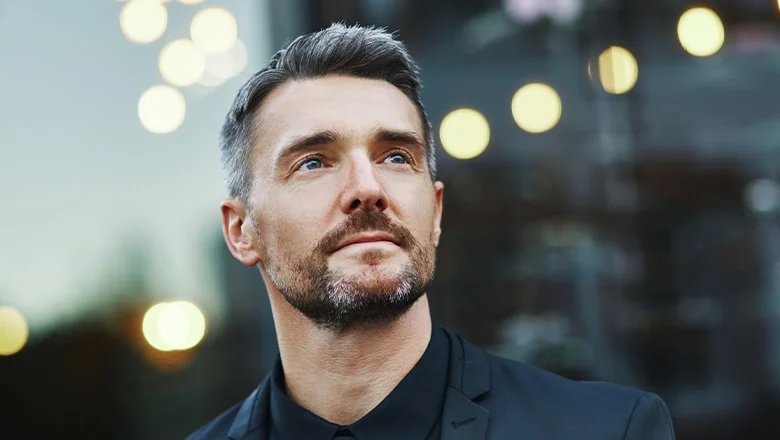 Facelift for Men – Male Facelift in London at Centre for Surgery
Male facelift surgery is designed to address the signs of ageing commonly found in older men. The natural ageing process results in the development of lines, wrinkles and sagging skin. A facelift can help to lift sagging skin and give a more youthful and refreshed appearance. Although facelifts have traditionally been more commonly carried out in women, men have formed an increasingly higher proportion of overall facelift patients in the last few years. Facelifts for men have increased by over 30% over the last three years in the UK. The most popular technique for a male facelift is the mini facelift.
Facelift surgery in men involves different surgical techniques compared with women due to the different structure of a man's face. The bones that make up a man's face are often thicker and with heavier set facial features. Centre for Surgery is known for its expertise in surgical facelifts for men, and each male facelift procedure is precisely customised to the anatomy of each man's face. Facelift surgery in men focuses on achieving a well-defined jawline and chin without adding extra volume to areas of the face which may result in facial feminisation. Men typically present with bags under the eyes, loss of volume in the temple area and the formation of jowls along the jawline.
A surgical facelift can effectively address signs of ageing with results that can last in excess of 10 years. Male facelift surgery produces results that are considered permanent. It is important to remember however that the ageing process is continuous and the procedure does stop ongoing ageing. However, adopting healthy lifestyle habits including limiting exposure to strong sunlight and stopping smoking will help to maintain the results of a surgical male facelift for longer.
RELATED: Can I have a mini facelift?
There are three different types of facelift surgery for men carried out at Centre for Surgery in London. The most appropriate treatment option will be determined once you have an in-depth consultation with an expert consultant plastic surgeon at our state-of-the-art facility on Baker Street in Marylebone.
What is a Male Facelift?
A male facelift is a tailored version of the traditional facelift procedure, specifically designed to address the unique facial ageing concerns of men. Like a standard facelift, a male facelift aims to rejuvenate the face by reducing the appearance of deep wrinkles, sagging skin, jowls, and other signs of ageing. The goal is to create a more youthful and refreshed appearance while preserving the patient's natural masculine facial features.
There are some key differences in the approach to a male facelift compared to a female facelift, including:
Incision placement: In male patients, the incisions may be placed differently to accommodate facial hair and sideburns, ensuring minimal visible scarring and preserving the natural hairline.
Skin thickness: Men typically have thicker skin than women, which may require specific techniques during the procedure to achieve the desired lift and tightening effect.
Facial structure: Men generally have more robust and angular facial features than women, and the male facelift aims to preserve these masculine characteristics while providing a rejuvenated appearance.
Anatomical differences: Men have a more extensive blood supply in the facial area, which may increase the risk of bleeding during the procedure. Skilled surgeons take this into consideration and utilise techniques to minimize such risks.
How does a men's facelift differ from women?
The structure of the male face is fundamentally different from that of a female. Men often have more pronounced jawlines and chains with heavier set browse and larger foreheads. Noses in men are often larger and they also have thinner lips. These general facial characteristics apply to the vast majority of men. The differences in facial structure mean that facelifts for men must be performed in a different manner to that carried out for women. The density of the facial bones is higher in men with thicker bones and more pronounced bony ridges. Facelift surgery is, therefore more technically challenging to perform in men, particularly in those who have thicker skin in the lower face and neck area. Facelifts for men most commonly target the lower part of the face and neck for effective facial rejuvenation.
RELATED: What is a mini facelift?
Loose skin is often one of the earliest signs of ageing in men due to declining levels of collagen in the skin. This results in a loss of skin elasticity leading to the appearance of sunken cheeks and jowls along the jawline. Men often have a more defined jawline compared with women, with a more pronounced angle of the jaw. Male facelifts are highly effective for getting rid of these common features of ageing in men in a single surgical procedure. An expert facelift surgeon must be cognizant of certain aspects of facelift surgery in men. It is important to avoid surgical removal of too much soft tissue and to avoid over-tightening the skin which may result in an unnatural look.
Many factors may result in accelerated facial ageing in men including excessive sun exposure and smoking. Facelifts for men are ideal for smoothening out fine lines and wrinkles and getting rid of saggy skin for a more defined jawline and chin. Positioning incisions for a male facelift differs from a woman's due to the thicker facial hair found in men. The distribution of facial hair must be respected by placing incisions in natural skin faults where possible. If an incision is placed incorrectly, it may result in abnormal hair growth or absent hair growth which may increase the visibility of facelift scars. Male facelift surgery is specifically designed to produce a masculine appearance without feminisation of the face. Some men may choose to have extra volume enhancement as part of a gender surgery procedure.
In most cases, any fat grafting to the face is minimal to reduce the risk of feminising a man's face. If fat injections are carried out, it is important not to over-inject the cheeks or excessively lift the brows.
Centre for Surgery is home to some of the leading facelift experts with specialised expertise in men's facelift surgery. Once you have had a consultation, your surgeon will be able to provide customised recommendations on the most appropriate treatment. Give us a call today at 020 7993 4849 to book a consultation at our specialist clinic in Marylebone.
Preparing for a Male Facelift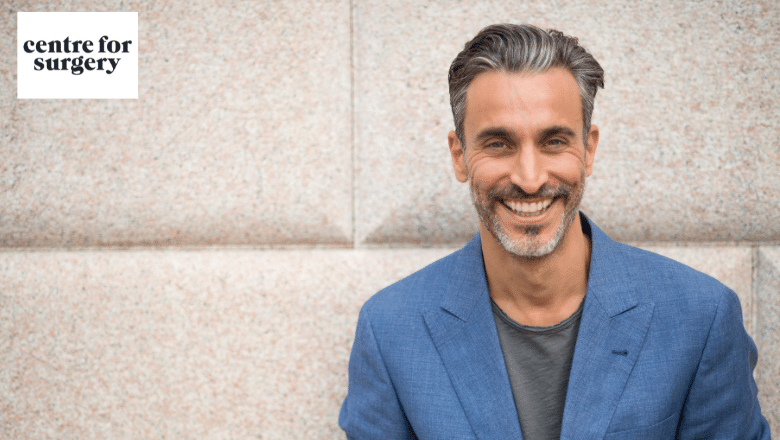 Before undergoing male facelift surgery, it is essential to take the following steps to ensure a safe and successful procedure:
Discontinue aspirin: Stop taking aspirin and other blood-thinning medications at least one week before surgery, as they can increase the risk of bleeding during the procedure. Consult with your surgeon for specific instructions regarding medication adjustments.
Wash your hair: Shampoo your hair the night before the operation to maintain cleanliness and minimize the risk of infection.
Quit smoking: Stop smoking at least two weeks before the surgery, as nicotine can impair blood circulation and negatively affect the healing process.
Follow pre-operative instructions: Your surgical team will provide you with specific instructions on how to best prepare for your facelift procedure. This may include taking prescribed medications, such as antibiotics and pain relievers, before the surgery.
Fast before surgery: Avoid eating or drinking anything for at least 6 hours before the procedure, as this helps your body respond well to the anaesthesia and medications used during the surgery.
Arrange for transportation and assistance: Make sure you have someone to drive you home after the surgery and stay with you for at least the first night, ensuring your safety and comfort during the initial recovery period.
Following these pre-operative guidelines and working closely with your surgical team can help ensure a smooth and successful facelift experience.
What does a male facelift involve?
Centre for Surgery offers the full range of male facelift options and treatment is always customised to the needs of the individual patient.
Full facelift (rhytidectomy)
Traditional full facelift surgery for men is designed to address severe signs of facial ageing including extensive wrinkles, deeper nasolabial folds, prominent jowls, hyperpigmentation and loose neck skin. A full facelift involves making larger incisions that often extend into the hairline. These incisions may be visible once they have healed and any facelift scarring is often visible compared with a mini facelift.
Mini facelift
A mini facelift is an advancement on the traditional technique for performing a facelift and is considered to be minimally invasive with the ability to tighten the skin and soft tissue in the lower part of the face. Men who have extensive jowls and jawline laxity can achieve a chiselled and more well-defined jawline and lower face with a mini facelift. Mini facelift surgery is commonly combined with other complementary procedures, including chin augmentation using chin implants or facial fat transfer to achieve a more masculine look.
There are different types of mini facelift surgery which are tailored to the individual patient including:
MACS facelift – this procedure often has an S-shaped incision and involves the removal of loose skin and excess fat for effective contouring of the lower part of the face. The result is a more chiselled and defined appearance and is commonly carried out in younger men. This procedure does not involve tightening the underlying SMAS layer.
SMAS facelift – the SMAS or superficial musculoaponeurotic system is a layer of fibroconnective tissue located beneath the skin. The SMAS is tightened as part of a SMAS facelift to improve skin laxity in the lower part of the face and is particularly useful for men with jowls. This procedure is commonly combined with fat transfer to the face for men who would like to enhance cheek volume.
Deep plane facelift – Deep plane facelift surgery is designed to produce results that can last in excess of 10 years. Surgical dissection occurs at a deeper level to reposition soft tissues of the face and is ideal for men with severe degrees of facial ageing. Although recovery is longer after a deep plane facelift than other techniques, the achievable results are often worth it.
A mini facelift is also known as a lower facelift and is the preferred technique for men's facelift surgery. The procedure is often combined with other complementary treatments, including eyelid surgery to remove bags under the eyes. Treatment can also be combined with non-invasive procedures, including dermal fillers and Morpheus8, to enhance soft tissue quality without the incisions and scars of traditional surgery.
One stitch facelift
One stitch facelift is ideal for men with early signs of ageing and is a great option for a male facelift. Treatment is aimed at younger men below the age of 45 and can produce results that can last in excess of five years. One stitch facelift is a minimally invasive procedure with short incisions and virtually invisible scars. The procedure is designed to address signs of ageing found in the middle part of the face, from the upper lip extending upwards to the cheeks to just below the eyelids. The middle part of the face is often where the earliest signs of ageing appear, including nasolabial folds and lower eyelids that appear hollowed out.
One stitch facelift surgery can enhance the masculine appearance of a man's face by getting rid of excess tissue and improving the appearance of sunken cheeks. Enhanced results can be achieved when a one-stitch facelift is combined with a neck lift and chin augmentation for a chiselled jawline and a stronger-looking chin.
The recovery period after a one-stitch facelift is much shorter compared with a mini facelift and takes no more than 45 minutes to carry out. Many men who have a one-stitch facelift find they are less likely to require extensive facelift surgery further down the line.
Our aesthetic practitioners are also experts in carrying out a non-surgical facelift for men involving customised treatments to refresh and rejuvenate a man's face without the need for invasive surgery.
Recovery after a Male Facelift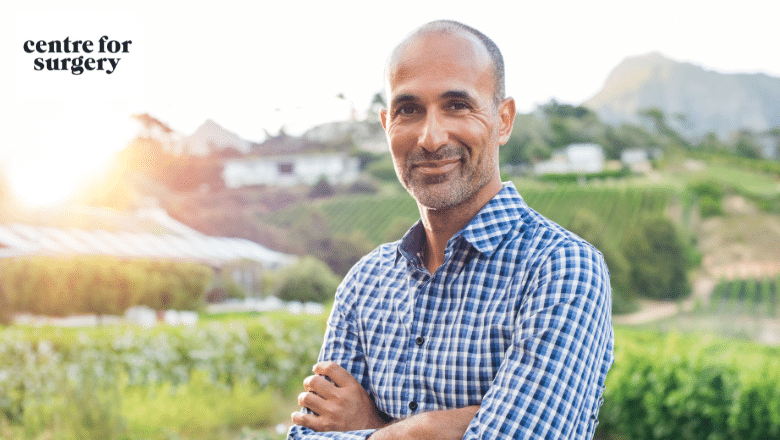 Following a male facelift, bandages will be applied to your face for the initial 24 hours and will later be replaced with a lighter dressing. Swelling and bruising are common during the recovery period, but your surgeon will strive to minimize these effects by possibly avoiding the use of drains. To encourage proper healing, you'll be instructed to keep your head elevated after the procedure.
Your surgeon will schedule follow-up appointments to monitor your recovery progress. The first follow-up typically occurs one to two days after the surgery. These appointments are crucial for tracking your healing, removing stitches, cleaning incision sites, and changing bandages as needed. Your surgeon will provide personalized guidance on when you can resume activities such as exercise and showering, as each individual's healing process varies.
By closely adhering to your surgeon's post-operative instructions and attending all follow-up appointments, you can ensure a smoother recovery and optimal results from your male facelift.
What are the risks of men's facelift surgery
Facelift surgery for men is a safe procedure when performed by a skilled consultant plastic surgeon at Centre for Surgery. As with any type of surgical procedure, there are certain side effects to be aware of after male facelift surgery including:
Bruising and swelling
Temporary numbness
Small degree of scarring
There are certain risks involved with carrying out facelift for men. The risk of such complications can be minimised by following your surgeons post-operative instructions in full. Risks include:
Bleeding
Haematoma formation (a small collection of blood beneath the skin)
Infection
Would breakdown
Excessive scarring
Pixie ear deformity
Hairline distortion or loss of hair
Anaesthetic risks including anaphylaxis
Blood clots (DVT)
If you would like to learn more about the potential risks of facelift surgery in men, you can ask your surgeon at the consultation to help you build up a clear understanding of what the procedure involves and how to minimise the risks associated with surgery.
What results can men expect from facelift surgery?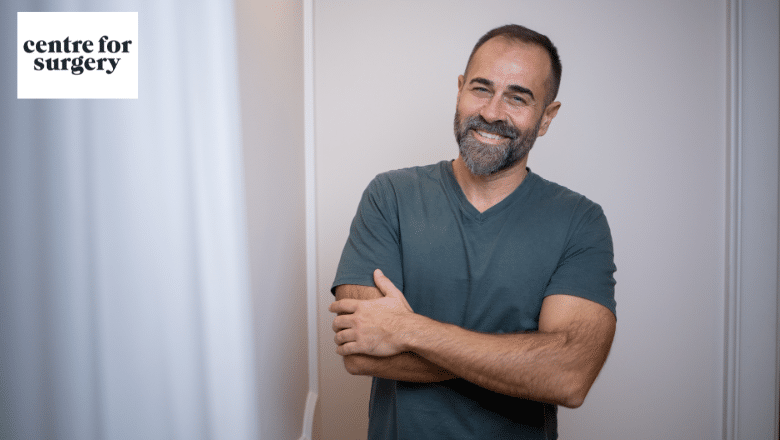 Facelift surgery for men can produce results that can last in excess of 10 years or more. The procedure is designed to get rid of loose and sagging skin with a reduction in lines and wrinkles. Men who have a facelift often tell us how youthful and refreshed they look, which makes them feel much better about themselves. Surgery is designed to enhance the masculinity of a man's face with a more chiselled and defined jawline and chin. Sunken cheeks are effectively corrected for a powerful anti-ageing effect. The procedure can produce enhanced results when combined with complimentary procedures, including a neck lift, eyelid surgery or a brow lift.
Final results of surgery are usually seen between 6 to 8 weeks after the procedure, and further improvements can be observed up to 6 months after surgery. We would plan for up to 12 months for full healing to take place. If you are planning to attend a major event such as a wedding or birthday, you should factor in at least two months of recovery time to ensure you are fully healed.
Many men come to us feeling increasingly self-conscious about their ageing faces. Facelifts for men lead to a significant boost in self-confidence and emotional well-being which helps men to feel much happier about themselves.
How much does a facelift for men cost?
The cost of a facelift for men will be given once you have had a face-to-face consultation with your surgeon. Your dedicated patient coordinator will give you a full quotation after your consultation. Male facelift prices include the following as standard:
Free consultation directly with a specialist plastic surgeon.
Named patient coordinator to support you throughout your journey with us at Centre for Surgery.
Your treatment will be carried out at our specialist cosmetic surgery clinic in the heart of London.
Preoperative medical assessment with a trained nurse to make sure you are fit for the procedure.
Continuous postoperative support from our expert nursing team to make sure you're healing and recovery is smooth and uneventful.
RELATED: Face Cosmetic Surgery Prices
Call us today on 020 7993 4849 or complete the contact form below to book a consultation at our Baker Street clinic in Marylebone.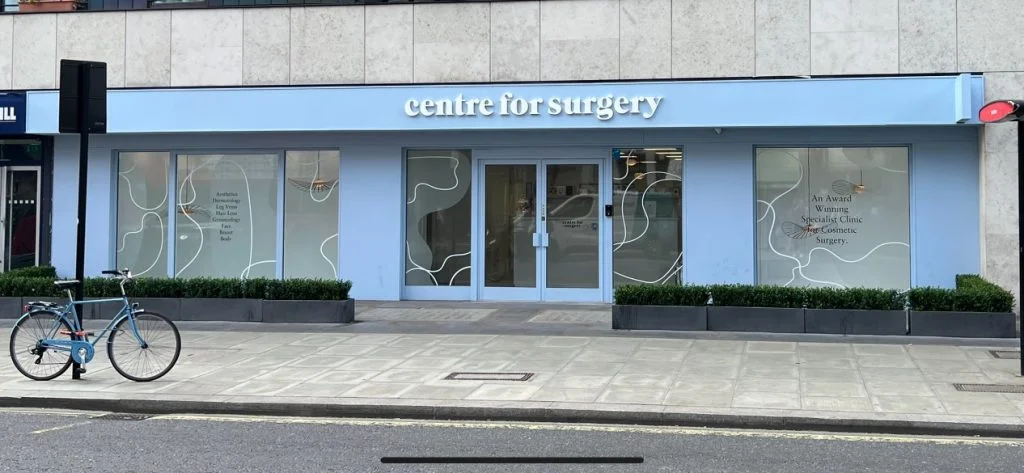 What To Expect
The male facelift consultation
For men who are considering having a facelift, the first step is to have a consultation with an expert plastic surgeon at our Baker Street clinic. Consultations, on average, take approximately 45 minutes. The surgeon will
take a detailed medical history and carry out a physical examination to determine your suitability for male facelift surgery. A discussion about potential risks and complications will also take place, and we would encourage you to ask as many questions as you like to gain a full understanding of what the procedure involves.

In some cases, it is useful to have a list of questions prepared before you attend your consultation so that nothing is missed. If you are still unsure about the procedure, we would invite you to attend a follow-up consultation so that you are fully informed about all aspects of the procedure. Your surgeon will measure key aspects of your face during the consultation and will take standardised photos from different angles. Once you have decided to proceed with facelift surgery, we would recommend reflecting on all aspects of the procedure as part of a two-week cooling-off period.

If you have any questions about the procedure, please reach out to our friendly and knowledgeable patient coordinators will be able to assist you with your enquiry.
How to prepare for male facelift surgery
Once your procedure has been booked and scheduled, you will have a preoperative medical assessment with one of our nursing staff to ensure you are fit for surgery. Our nursing team would recommend the following actions to minimise the risk of complications, including:

- smoking should be stopped at least four weeks before surgery. Smoking is associated with reduced blood flow to the skin and can lead to delayed wound healing. You should also stop smoking for a minimum of four weeks after surgery.
- certain medicines which contain aspirin should be stopped before surgery to minimise the risk of post-operative bleeding.
-you should ensure you have a responsible adult caregiver to transport you home after the surgery and to look after you for the first 24 hours.

If you have a general anaesthetic or sedation, you will be required to fast for a minimum of six hours for food and for two hours to clear fluids. Examples of clear fluids include black tea, black coffee or still water.
On the day of the surgery
You should make sure to arrive one hour before you're scheduled surgery time for our preoperative nursing team to admit you for the procedure. You'll be changed into clinic clothing, and your vital signs will be measured.

The anaesthetist will review you to make sure you are medically fit for surgery, and then you will be seen by the surgeon, who will discuss the consent form with you, followed by marking you up for surgery. Facelift surgery for men is most commonly carried out using a general anaesthetic. Here at the Centre for Surgery, we specialise in total intravenous anaesthesia or TIVA for short. TIVA is associated with a quicker post-operative recovery with a lower risk of nausea and sickness. Patients with a mini facelift or one stitch facelift may be suitable for the procedure with a local anaesthetic.

The surgery involves making incisions which curve around the ear followed by gentle elevation of the underlying soft tissues to lift them into a higher position before being secured with stitches. The type of soft tissue dissection undertaken will depend on the facelift technique chosen. Once the desired amount of surgical correction has been achieved, the skin will be closed with stitches, followed by the application of a sterile dressing.

Depending on the type of facelift, surgery can take anywhere from one hour to 4 hours, depending on the amount of surgical correction required and whether the facelift will be combined with another procedure such as eyelid surgery, neck lift or facial fat transfer.
Male facelift recovery
Once the facelift surgery is complete, you will be transferred to our dedicated day ward recovery area, where specialist recovery nurses will supervise you closely. Feeling a bit tired at first is normal, but this will rapidly wear off. Once you have had something to eat and drink and been to the toilet, our nursing team will discuss the post-operative instructions with your adult caregiver. You will then be prepared for discharge.

It is uncommon to experience significant pain or discomfort after a male facelift. Over-the-counter painkillers are sufficient to control mild discomfort after surgery. It is normal to experience bruising, swelling and temporary numbness at the surgical site.

We would advise taking between 10 to 14 days off work, depending on the type of work you carry out. Strenuous exercise, including going to the gym, should be avoided for at least six weeks to prevent problems with healing.

Our post-operative nursing team will closely monitor you during the recovery period and are available to answer any questions or concerns you may have. One of our nurses will review you one week after your surgery to inspect the incision sites. Your surgeon will review you six weeks after surgery to monitor your progress and assess the results.