Stretch mark removal in London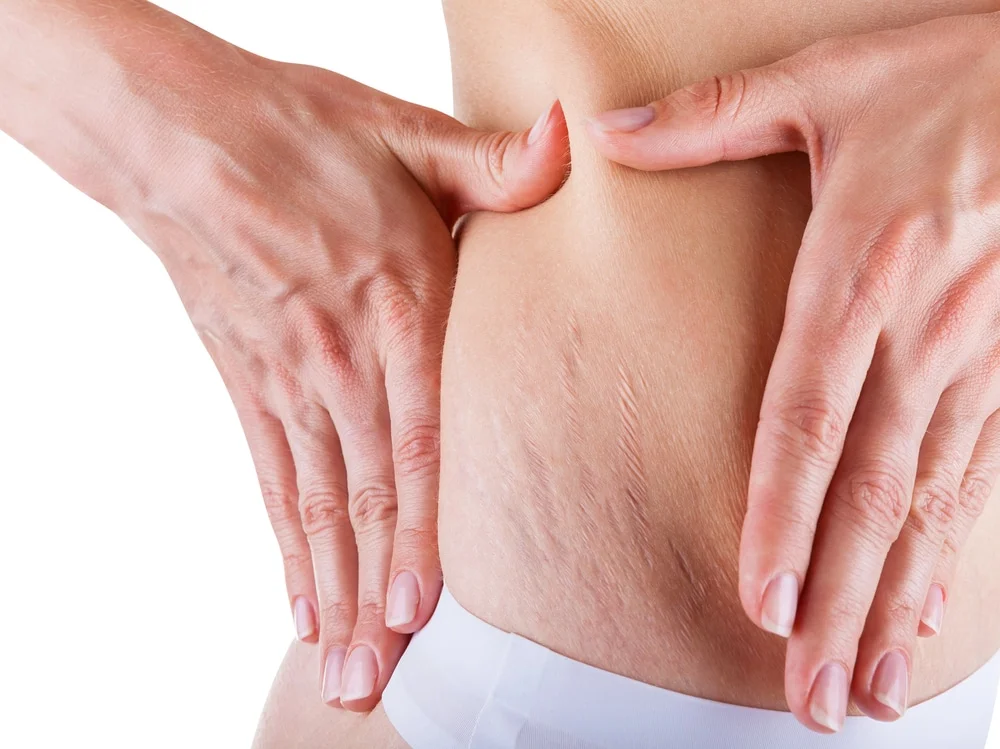 Do you have stretch marks which you dislike the appearance of?
Stretch marks are a common occurrence on the skin and there are many non-surgical options available such as creams which claim to help improve the appearance of stretch marks. However, if you are looking for a more long-term solution, you may be interested in laser stretch mark removal.
About
Stretch marks can occur all over the body – from the thighs to the breasts and even the stomach and arms.
Stretch marks are caused by numerous factors, including pregnancy, weight gain, puberty or medical conditions such as Marfan syndrome.
While stretch marks are harmless and do not cause other medical conditions, they can be aesthetically unpleasing and cause self-image problems, particularly if the stretch marks are prominent or in a noticeable area.
Laser Stretch Mark Removal
Fortunately, there are solutions to treat the appearance of stretch marks, at Centre for Surgery, we offer laser stretch mark removal.
For stretch mark removal, we use Fotona's SP Dynamis laser with Nd:YAG technology.
Candidates
To be a suitable candidate for this procedure, you will have stretch marks which you are wishing to improve the appearance of.
You will need to have realistic expectations about what the procedure can achieve.
You will need to be at least 18 years old to undergo this procedure.
Before undergoing laser stretch mark removal, you will need to attend a consultation with one of our surgeons, who will be able to assess whether or not you are a suitable candidate for this procedure.
Procedure
To treat stretch marks, Centre for Surgery uses Fotona's SP Dynamis laser.
This is a handheld device which uses Nd:YAG laser energy to target the stretch marks on the skin.
You will not require any anaesthetic for this treatment. However, if you wish some topical anaesthetic may be applied to the skin to help alleviate any discomfort felt during the procedure.
The handheld laser will be held over the stretch mark, before moving onto the next area. This will be repeated until all stretch marks on the treatment area have been targeted. Using laser ensures the skin is penetrated and only the stretch marks are targeted, with all other tissue remaining undamaged.
During the procedure, you may feel some warmth while the laser is targeting the stretch marks. If you have a topical anaesthetic applied to the skin, this may help to lessen any discomfort.
The procedure will take around 30 minutes to complete, however, this will vary depending on where on the body you are having the treatment and how many areas are being treated.
Laser stretch mark removal before and after: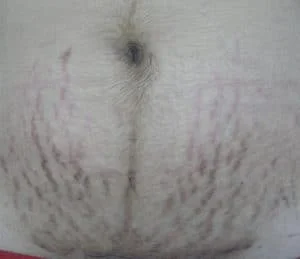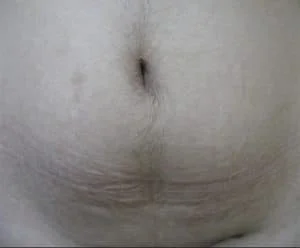 Recovery
As laser stretch mark removal is a non-surgical procedure, there is very minimal downtime.
Following the procedure, it is normal to experience some minor discomfort and tenderness in the treatment area. The area may also appear red. You may wish to apply ice packs to the area to reduce redness and reduce any pain. This tenderness and redness will naturally go away over the following few days.
You may wish to undergo repeat sessions, which will help you to achieve the best results. We recommend waiting four to six weeks between each session. You may need to undergo up to six treatments.
Surgical removal of stretch marks
Some types of stretch marks are not well suited to removal with laser and particularly in areas of stretched skin such as the inner thighs, the best treatment is often a surgical excision of the stretch marks.