What is an Ultrasonic Rhinoplasty?
Ultrasonic rhinoplasty, also known as piezo rhinoplasty or diamond rhinoplasty is the latest development in cosmetic nose contouring surgery. Traditional rhinoplasty makes use of specialised instruments including chisels, mallets and bone files that are used to remove dorsal humps from the bridge of the nose and reduce the width of the nose. The ultrasonic nose job makes use of a device commonly used in dentistry to apply high-frequency acoustic vibrations for precision sculpting of the nasal bones whilst simultaneously preserving the delicate nasal soft tissues. Ultrasonic nose job surgery gives increased accuracy compared with traditional instruments. Ultrasonic rhinoplasty results in a quicker recovery period and less downtime compared with traditional rhinoplasty. This is due to the highly accurate method of shaping the nasal bones. Many people may be unable or unwilling to undergo the potentially lengthy recovery period associated with a traditional rhinoplasty. Ultrasonic rhinoplasty makes it possible for patients to achieve better results with less bruising and swelling. Centre for Surgery is one of the few clinics in London and the UK specialising in diamond rhinoplasty at our state-of-the-art Baker Street clinic in Marylebone Central London.
RELATED: All about Rhinoplasty
What does Ultrasonic Rhinoplasty involve?
The specially engineered piezotome handpiece used in ultrasonic rhinoplasty is specifically designed to sculpt and contour hard tissues such as bone or cartilage without injuring the delicate soft tissues which include the skin, mucosal lining of the nose all the softer nasal cartilages which include both the lower lateral cartilages and the upper lateral cartilages. Preserving the surrounding delicate soft tissues means ultrasonic rhinoplasty results in much less bruising and swelling compared with traditional rhinoplasty. Bleeding during the procedure is much reduced due to the precision action of the handpiece which results in small blood vessels being preserved during the reshaping of the nasal bone. Less bleeding during the surgery means much less bruising and swelling in the postoperative period.
RELATED: How long does rhinoplasty swelling last for?
The Ultrasonic handpiece used in the procedure is able to create much more controlled fracture lines as part of the process of reducing the width of the nose. Traditional rhinoplasty instruments often result in uncontrolled fracture lines which may extend into undesired areas. This may reduce the precision of the procedure and increase the risk of requiring revision rhinoplasty later on. Ultrasonic rhinoplasty is associated with a lower risk of requiring revision rhinoplasty due to the precise nature of sculpting the nasal bones with increased predictability and accuracy.
RELATED: Surgical versus non-surgical rhinoplasty
Currently, ultrasonic rhinoplasty can only be used as part of an open rhinoplasty which requires an incision at the base of the columella followed by gently separating the skin of the nose away from the underlying bone and cartilage framework. The specialised inserts used on the device require full visualisation of the nose which is only possible with an open rhinoplasty.
RELATED: What is the difference between an open and closed rhinoplasty?
Ultrasonic rhinoplasty is carried out under a general anaesthetic. At Centre for Surgery, we specialise in total intravenous anaesthesia (TIVA) which is associated with a more rapid recovery compared with a traditional anaesthetic used in hospitals. The risk of feeling sick after the procedure is much reduced when intravenous anaesthesia is used instead of gases. The procedure takes between two and three hours to carry out depending on the amount of correction required. After the procedure, you will be taken to our recovery area and will be monitored by a trained recovery nurse until you are fit for discharge. You'll be given food and drink to have once you have recovered from the effects of the anaesthetic. You will then be reviewed by your surgeon who will discuss the post-operative instructions with your responsible adult carer. You can only go home accompanied by your responsible adult escort in a car or taxi and you must be looked after for at least 24 to 48 hours after ultrasonic rhinoplasty surgery.
Ultrasonic rhinosculpture
Traditionally, a rhinoplasty procedure includes surgeons using a hammer and chisel to reshape the nasal bones. As a result of the lack of precision with these tools, contouring problems could occur. The use of powered tools was still resulting in the same complications.
Ultrasonic rhinoplasty is a new motorized device which uses sound waves to contour the nose. This reshapes the nose and removes humps. Unlike older methods of rhinoplasty, ultrasonic rhinoplasty only affects the bones, with no additional damage to other tissue. There is less trauma to the nose, and as a result, there is less bruising and swelling afterwards. This method means there is also less tissue and bone healing complications.
Am I suitable for diamond rhinoplasty?
Ideal candidates for ultrasonic rhinoplasty include:
You are concerned about the size or shape of your nose and would like to improve its appearance
You are in good physical and mental health with no chronic medical conditions
Are you have difficulty breathing through the nose
You snore loudly at night and may suffer from sleep apnoea
You are over 18 years of age
Your expectations for what piezotome rhinoplasty can achieve are realistic
You have sustained a previous traumatic injury to the nose which has affected its appearance and function
All patients should refrain from smoking at least four weeks before the procedure and for at least six weeks afterwards as smoking is associated with an increased risk of delayed healing and wound infection. Patients who have significant medical conditions such as high blood pressure, diabetes, heart disease or a bleeding condition may not be suitable patience for ultrasonic rhinoplasty. Heavy alcohol drinkers and patients who have a body mass index over 30 may not be suitable for this surgical procedure.
RELATED: How to make your nose smaller
You will be assessed by your surgeon at the face-to-face consultation where a full medical history will be taken including any medicines you are taking and if you have any allergies. Herbal remedies may increase the risk of bleeding and should also be stopped before surgery. It's important to give a fully accurate account of your medical history to avoid an increased risk of complications occurring. Centre for Surgery does not offer consultations or treatments to people under the age of 18 as the nose will still be going through active growth and development until after puberty is complete around the age of 16.
Ultrasonic rhinoplasty procedure
Ultrasonic rhinoplasty is performed as an outpatient surgical procedure. This means you will be able to return home the same day as your procedure; you will not have to stay overnight in a hospital. You can leave as soon as the effects of the anaesthetic have worn off.
The ultrasonic rhinoplasty involves opening the skin on the nose, exposing the bone and cartilage. The reshaping of the bone is done using ultrasonic energy. This is very precise technology and allows for more accurate contouring of the nasal bones. Only bone can absorb the ultrasonic energy, so there is no damage to the surrounding tissue, cartilage, blood vessels and mucosal lining.
This method results in less bleeding, causing less bruising and swelling, which means there is a quicker recovery period.
Ultrasonic rhinoplasty before and after
Using the ultrasonic method for open rhinoplasty means patients can experience less bruising and swelling during the healing period. The key advantage is the increased precision afforded through the use of the piezotome device and results after ultrasonic rhinoplasty are consistently better compared with a traditional open rhinoplasty.
Case 1: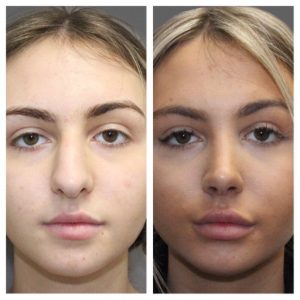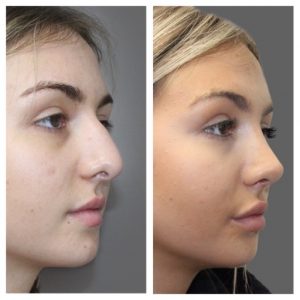 Case 2: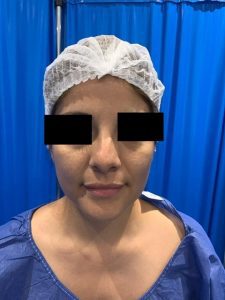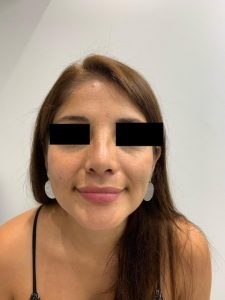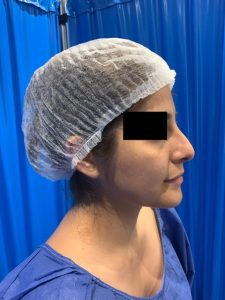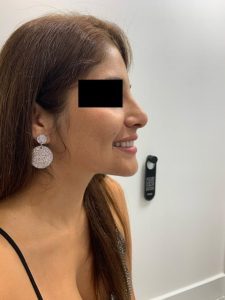 Case 3: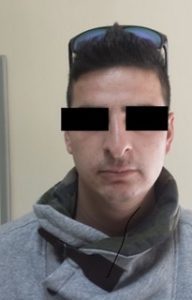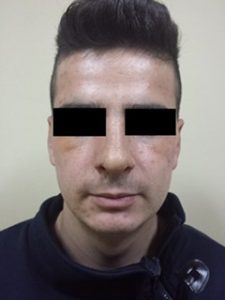 Ultrasonic rhinoplasty recovery
Ultrasonic rhinoplasty has a much quicker recovery time compared with a traditional rhinoplasty. Many patients who enquire about this procedure do so because of the quicker recovery period. The procedure involves a much lower amount of bruising and swelling. Most people who have traditional rhinoplasty surgery will need approximately two weeks of downtime for adequate healing and recovery. Patients who have ultrasonic rhinoplasty most often need no more than one week off work.
RELATED: What does rhinoplasty recovery involve?
As with traditional rhinoplasty, it is important to avoid strenuous physical activities including going to the gym. Sexual activity should be restricted for the first four weeks. Any activity which may increase the risk of actual contact with the nose should be avoided.
And any mild swelling that may develop following diamond rhinoplasty can be easily resolved by sleeping on your back and with your head propped up on two or three pillows. We would advise not sleeping on your front after the procedure. It is uncommon to have significant pain after the procedure and any discomfort can be easily controlled with over-the-counter painkillers. Excessive sun exposure should be avoided for the first three months after ultrasonic rhinoplasty. Healing skin is particularly susceptible to the effects of intense sunlight and the UV rays can slow down the healing process and may result in an increased risk of excessive scarring. Smoking should also be avoided as smoking is linked with delayed wound healing and increases the risk of post-operative wound infection during the first two weeks after the procedure.
It is important to follow all of the post-operative instructions given to you by your surgeon after ultrasonic rhinoplasty. If you fail to follow the instructions, the risk of developing complications may be increased.
Certain complications such as infection or scarring can be prevented or minimised by attending your scheduled postoperative appointments with our nursing team. Ultrasonic rhinoplasty may involve certain side effects which include temporary numbness of the nasal tip, changes in the sensitivity of the skin, temporary or permanent skin discolouration, difficulty in breathing and perforation or hole in the nasal septum. Ultrasonic rhinoplasty is a highly precise method of reshaping the nasal bones and the risk of complications is therefore much lower which means the chances of obtaining an excellent result are much increased. To learn more about precision nasal sculpting using the ultrasonic technique, book an appointment today with an expert rhinoplasty specialist at Centre for Surgery to learn how the procedure can help you achieve an aesthetically appealing nose.
What To Expect
The consultation
We always recommend a face to face consultation with one our expert rhinoplasty surgeon as a first step in your journey towards a new nose. When you meet with one of our surgeons, your surgeon will take time to listen carefully to what you hope to achieve and give you an expert opinion on what can and cannot be achieved after performing a thorough physical examination. Your surgeon may use computerised digital imaging to map the structure of your nose in detail to give you an idea of what your nose could look like after your procedure.
Your surgeon will also take a number of measurements as part of a detailed naso-facial analysis. Finally high resolution photographs are taken in a number of views. Your surgeon will also discuss with you the potential risks and complications and what to expect in the postoperative phase during your healing and recovery. It is important to know what medicines you taking as some medicines can interfere with blood clotting and may need to be stopped. Any history of medical conditions or previous surgery will also be recorded and all the compiled information is used to make a decision on your medical fitness for the rhinoplasty procedure. After a recommended two week 'cool off period' and provided you are appropriate for the procedure, you can then make an informed decision on whether you would like to proceed with the procedure. If you are unsure on any aspect of the procedure and what it entails then we would invite you to return for as many follow-up consultations with your surgeon as you like to make sure that ultrasonic rhinoplasty is right for you. The consultation lasts about 45 minutes on average. It may take longer if your procedure is going to be more complex. We would actively recommend coming in for a follow-up consultation to ensure all your questions are answered.
Before your procedure
Once you have decided to move forward with ultrasonic rhinoplasty. Our preoperative assessment team will be in touch to assess medical fitness prior to coming in on the day of surgery.

There are a number of instructions to follow before your procedure including stopping any aspirin containing medicines as these can increase bleeding and ideally stopping smoking. Smokers have a higher risk of slower wound healing as well as more chance of wound complications.

On the day of your procedure, you must follow the preoperative fasting guidance which includes no food for 6 hours prior. Only clear fluids (water) is allowed up to 2 hours before your procedure.
On the day of your procedure
When you arrive for your ultrasonic rhinoplasty procedure, you should aim to arrive on time to allow the admission process to proceed smoothly. One of our nurses will formally admit you and will check a number of items including making sure you have your postoperative medications. You will have your vital signs measured including blood pressure and heart rate. The anaesthetist will then meet you to perform a preoperative airway assessment. Finally your surgeon will consent you for the planned procedure followed by a detailed preoperative marking of the areas to be treated. The ultrasonic rhinoplasty procedure takes about 2-3 hours to perform and our anaesthetists use TIVA general anaesthesia to keep you comfortable throughout the procedure. Ultrasonic rhinoplasty is alwasy performed using the open rhinoplasty technique with a small incision on the columella for optimal access and visualisation. After the procedure is complete, you will spend time in our recovery suite where you will be prepared for nurse-led discharge once you have met all the discharge criteria. It is important to have a responsible adult to accompany you home and to look after you for the first 24 hours.
After your procedure
Once you are safely at home, you can be assured in having access to our specialist postoperative team round the clock. You will be given a contact number to contact your surgeon in the first 24 hours after surgery if there is any concern. A rhinoplasty procedure is associated with very little in the way of postoperative discomfort although a congested feeling is common for the first week after surgery. Bruising should start to subside after 7-10 days. You should avoid intense sunlight after the procedure to reduce the risk of pigmentary changes.

Our postoperative team will look to call everyday for the first 2 weeks after your procedure. This is so we can monitor your levels of comfort and can alert your surgeon if there is any concern. Our proactive approach allows the detection of any potential issues early which results in more effective treatment. You are advised to rest for at least a few days after your rhinoplasty procedure which will also help with pain control. Heavy exercise should be avoided for at least the first 4 weeks. Our postoperative clinical team will assess you face to face at your 1 week postoperative appointment to ensure healing is progressing normally and the wounds site are healthy. Your splint will be removed and if you had an open rhinoplasty, the small sutures at the base of the nose will be removed. You will be booked for your surgeon follow-up appointment for 6 weeks after your procedure.