Forehead Osteoma Removal London & UK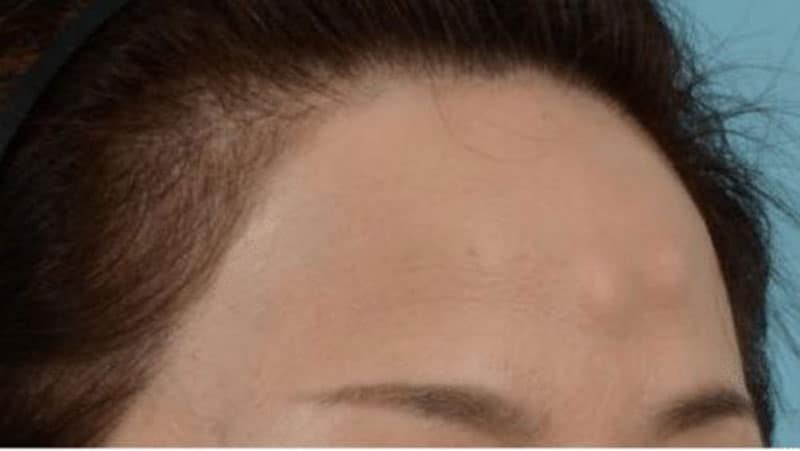 Forehead osteoma removal is a highly specialised procedure which is very commonly performed procedure by our surgeons at Centre for Surgery. A forehead osteoma is a benign tumour which will appear as a hard lump on the forehead. As the osteoma appears in a prominent and noticeable place on the body, it can often negatively impact a person's self-esteem and confidence. In some instances, the osteoma may even be causing pain. To relieve any problems, you may wish to undergo a forehead osteoma removal.
Some alternative terms for forehead osteoma removal include:
Forehead tumour removal
Forehead lump removal
Forehead bone growth removal
Forehead bony protrusion removal
Forehead cyst removal
Forehead mass removal
Forehead bone excision
Forehead lesion removal.
Surgeons at Centre for Surgery regularly perform this type of specialised procedure. This ensures you get the very best possible outcomes after your surgery.
What is a Forehead Osteoma?
A forehead osteoma is a type of benign bone tumour that grows on the forehead. It is a slow-growing, round or oval-shaped mass of bone that is generally painless and usually found in the upper forehead region.
Forehead osteomas can be of different sizes and can be visible or hidden under the skin. They can be present at birth or develop later in life, usually during early adulthood. The exact cause of osteomas is not well understood, but they are believed to be caused by a genetic mutation or a traumatic injury.
The diagnosis of a forehead osteoma is usually made by a physical examination and imaging tests like X-rays or CT scans. Treatment options for forehead osteomas depend on the size, location, and symptoms of the tumour. Smaller osteomas that are not causing any symptoms may not require treatment and can be monitored for any changes.
Surgical removal is recommended for larger or growing osteomas, or those causing cosmetic or functional concerns. The procedure involves making an incision over the osteoma and removing the tumour along with any surrounding tissue.
In rare cases, a forehead lipoma can mimic a forehead osteoma. This is much easier to remove than a forehead osteoma, and the procedure can be performed under a local anaesthetic.
Osteoma Removal Before & After
Case 1: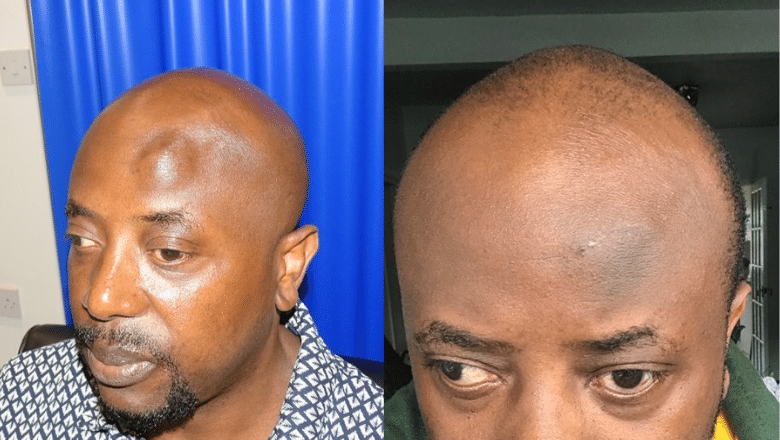 Case 2: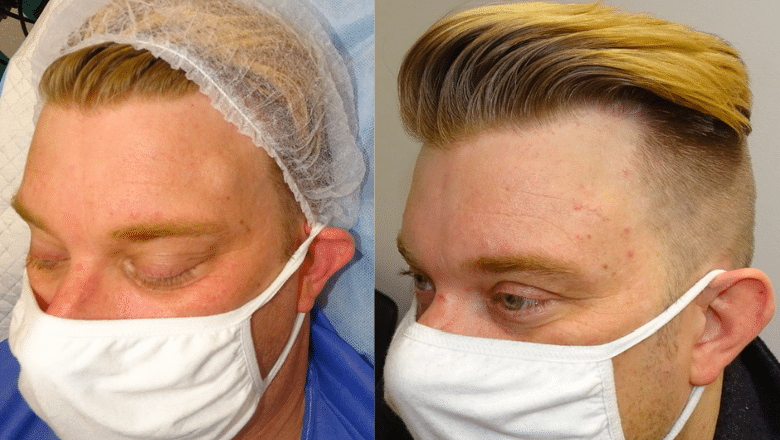 Case 3: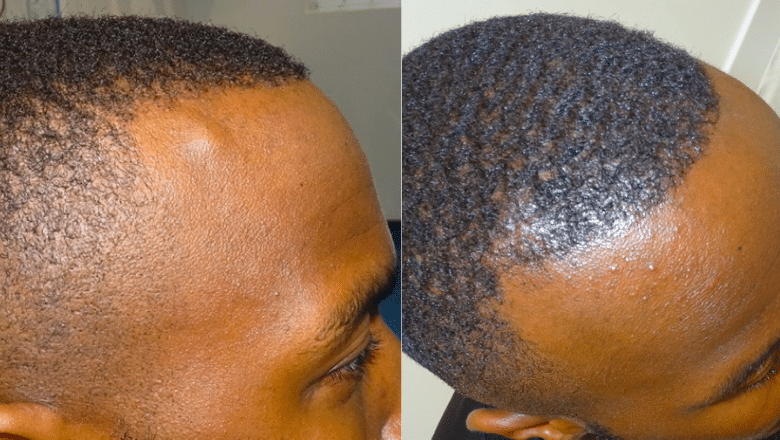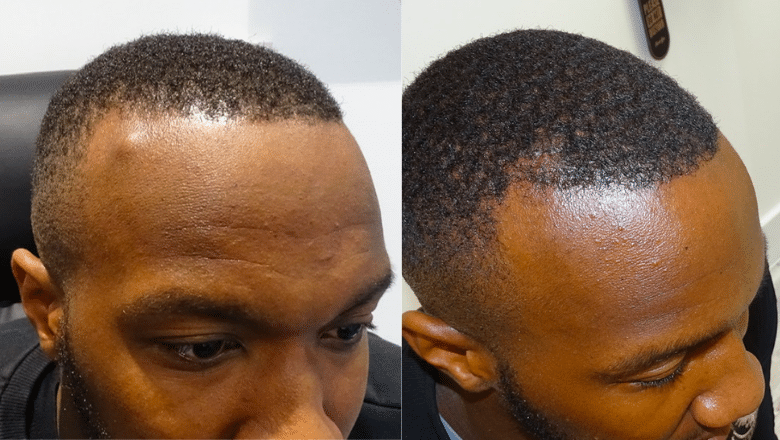 Ideal candidates for osteoma removal
Benign tumours commonly found on the forehead include lipoma, dermoid cyst, epidermal cyst, and osteoma. Among these, osteomas occur with frequency in the skull vault and facial skeleton. The frontal sinus is the most frequent location of cranial osteomas. Osteomas are known to keep growing. In general, patients most frequently present with this bony lump in the third and fourth decade of life, and men are affected somewhat more often than women.
Anyone who has a forehead osteoma and wishes for it to be removed will be an appropriate candidate.
You will have to be over 18 years old to undergo this procedure. You will also have to stop smoking prior to the procedure and during the recovery period.
You will need to be in good physical and mental health. It is important to have realistic expectations of what can be achieved with this procedure.
Interested in forehead osteoma removal? Find out more about our finance options.
The osteoma removal procedure
The two main techniques for forehead osteoma removal are the open excision method and the endoscopic method. The choice of technique used depends on the size, location, and shape of the osteoma.
The open excision method is the most commonly used technique for the removal of forehead osteomas. This method involves making a small incision on the scalp above the osteoma. The surgeon then carefully removes the osteoma and repairs the incision with sutures. The open excision method is preferred for larger osteomas or those that have an irregular shape.
The endoscopic method is a less invasive technique for removing smaller osteomas. This technique involves making several small incisions on the scalp and using an endoscope (a thin tube with a camera) to remove the osteoma. The surgeon can then use sutures or special surgical tape to close the incisions. The endoscopic method is preferred for smaller osteomas that are located closer to the surface of the skin.
After the procedure, the patient may experience some discomfort, swelling, and bruising. Pain medication can be prescribed to help manage any discomfort. The patient will also need to keep the surgical area clean and dry to avoid infection.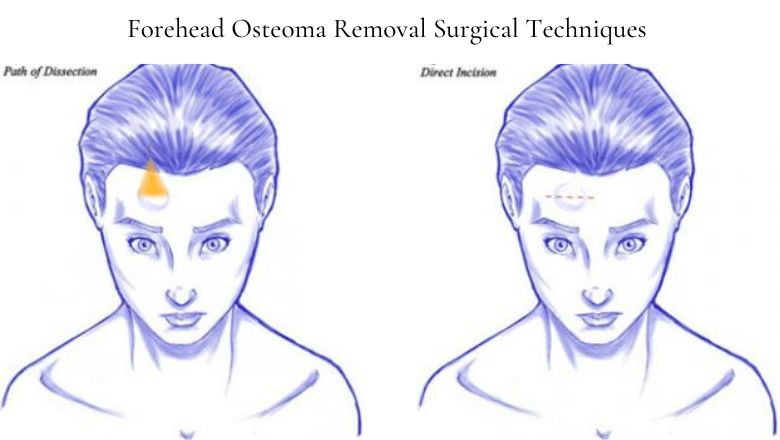 One approach used is by direct incision, as shown in the picture on the right. The cut is made over the osteoma, which will leave a small inconspicuous scar. A specialised bone chisel is used to remove the lump gently. The osteoma is exposed, separated at its base, and removed for a smooth and flat forehead bone. For younger patients with less hard bone, the bony lump can often be scraped off to flatten the raised area and give a smooth appearance. This can be performed using minimal access techniques as shown in the left picture and gives an aesthetically pleasing result as the incision can be hidden in the hairline.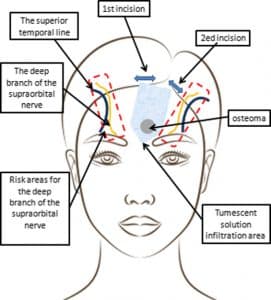 At Centre for Surgery, our surgeons offer both the direct method and the minimal access method of osteoma removal. The minimal access method results in an incision which is made behind the hairline, which will leave a discreet scar. The procedure takes under an hour to complete.
Recovery after forehead osteoma removal
The recovery period after forehead osteoma removal can vary depending on the size of the osteoma and the surgical technique used. Generally, recovery after osteoma removal is relatively quick and most patients can return to their daily activities within a week or two.
Immediately following the surgery, you will experience some swelling and bruising in the affected area. You may also experience some discomfort or pain, which can be managed with pain medication prescribed by your surgeon. Cold compresses may be used to reduce swelling and bruising.
It is important to keep the surgical area clean and dry for the first few days after surgery. Your surgeon will provide specific instructions on how to care for the incision site and when you can resume normal activities like showering and washing your hair.
In most cases, sutures are removed approximately one week after the procedure. It is important to follow your surgeon's instructions regarding suture removal and care of the incision site to ensure proper healing.
During the recovery period, you should avoid strenuous activities, heavy lifting, and exercise for at least two weeks after the procedure. You should also avoid any activities that may put pressure on the incision site.
It is normal to experience some mild discomfort, itching, and numbness in the surgical area as you heal. However, if you experience severe pain, swelling, or bleeding, contact your surgeon immediately.
Scarring is a common concern for patients undergoing forehead osteoma removal. However, with proper care and attention, the scar can be minimized and eventually fade over time. Your surgeon will provide specific instructions on how to care for the incision site and how to minimise scarring.
What To Expect
Find the right time
Our friendly and knowledgeable patient coordinators will speak with you to learn about your requirements, it's all confidential, and your information will be used to assess whether forehead osteoma removal is right for you. If the procedure is right for you, we'll organise a convenient date and time for you to visit to come and visit our patient relationship manager at our bespoke central London clinic.

Personalised quote
At the surgical consultation, you will meet directly with the plastic surgeon. The surgeon will thoroughly assess you to determine your suitability and advise on the best options for you. Your surgeon will then explain what the procedure involves, including postoperative care. You will receive your personalised quote the next working day from your patient coordinator.