Mole removal in London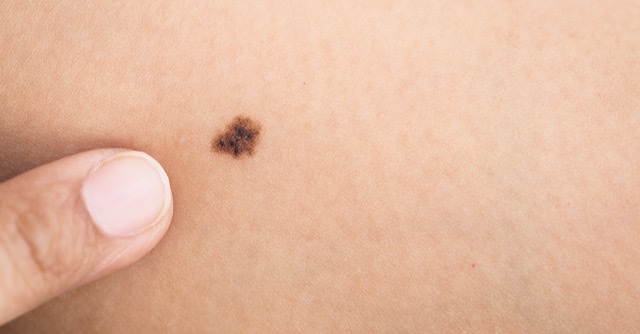 Mole removal in London at Centre for Surgery is a very commonly performed procedure. In all potential mole removal procedures, safety is of utmost importance to ensure accurate determination between benign moles and potentially cancerous moles. This is because malignant melanoma, one of the most dangerous skin cancers, can arise from moles. If a mole looks suspicious then it needs to be surgically removed (complete removal with a clear margin of surrounding normal skin) and the resulting wound is closed with sutures. The suspicious looking mole specimen must always be sent for histology analysis where the tissue is carefully examined under the microscope by a pathologist. A pathologist will be able to determine whether the mole was benign or cancerous.
Our expert dermatologists are trained in the technique of dermoscopy to closely examine moles. A dermatoscope is a specialised instrument which utilises high power magnification and cross polarised light to allow a very detailed high resolution view of skin lesions including all types of moles. Dermoscopy is a powerful tool in the diagnostic toolkit of dermatologists to enable an accurate assessment of a mole and whether it is safe to remove or requires further investigation. For optimum peace of mind, we would recommend undertaking regular annual skin cancer screening with one of our dermatologists.
Our dermatologists will assess any potential mole for removal and our patients are given one of a number of treatment options.
Mole determined to be benign in nature and no treatment required
Mole determined to be benign in nature and suitable for laser mole removal or surgical mole removal
Mole with suspicious features – recommendation for referral to NHS for urgent assessment via NHS 2 week rule protocol.
Dermatologists at Centre for Surgery offer both surgical mole removal and laser mole removal methods for comprehensive treatment.
Centre for Surgery also offers removal of cysts, lipomas and skin tags and warts.
All our doctors are on the GMC specialist register. Our London dermatology clinic at 106 Crawford Street was recently inspected and rated as good across all 5 domains.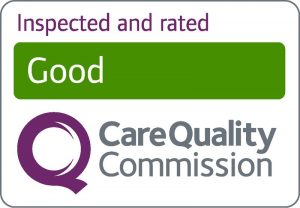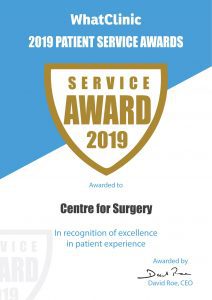 RealSelf Top Doctors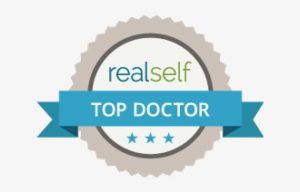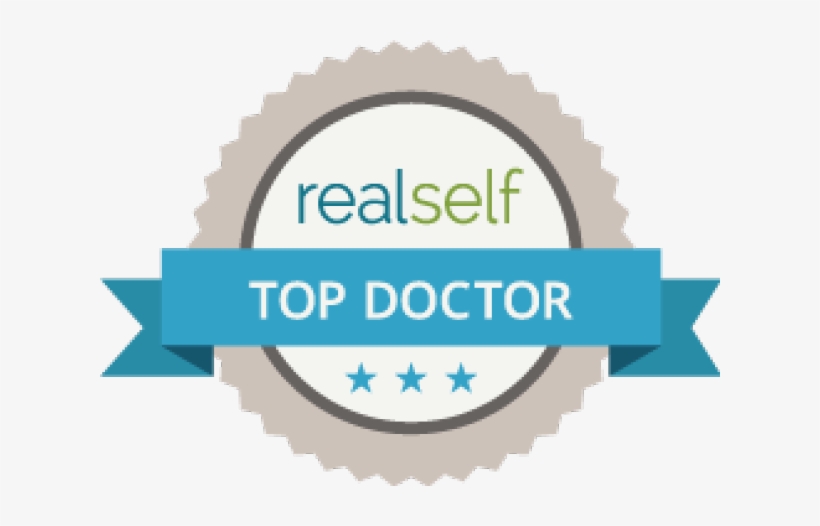 RealSelf top doctor status is awarded to less than 10% of the RealSelf doctor community.  This status is earned by achieving consistently high patient satisfaction (from RealSelf reviews), getting excellent feedback on expert answers to patient questions, and after investing significant time in Q&A and other doctor activity. RealSelf top doctors are rated among the very best surgeons in the United Kingdom and USA.
What are moles?
Skin imperfections are a common occurrence and can become more frequent as we age. Moles can often appear to be large and unsightly, especially when they appear on a prominent, visible area of the body. Removal of moles can become an appealing option if you are wanting to improve the aesthetic appeal of your skin.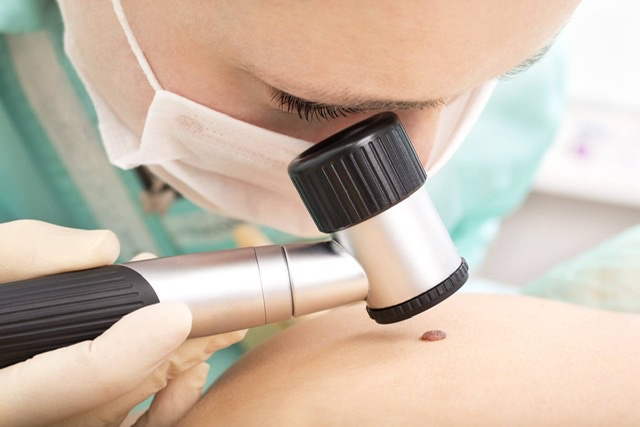 Prior to deciding to have a mole removed, you may also wish to undertake mole mapping to analyse any moles and ensure they are not suspicious.
The ABCD of moles
What to look for
Although any change in skin lesions or the development of new skin lesions is a concern, it is important to look out for certain features that are suspicious. These include an increase in size, a change in shape with irregular margins, bleeding, discomfort, crusting over the lesion, redness around the edges or new onset itching. At home, you should check your skin once a month for moles or new skin blemishes that are either new or a change in an existing skin lesion.
Potential melanomas could demonstrate any of the changes below:
A – Asymmetry – the two halves of the lesion may differ in their shape.
B – Border – the edges of the lesion may appear irregular or blurred, and sometimes show notches.
C – Colour – this could be uneven. Different shades of black, brown and pink may be seen.
D – Diameter – most melanomas are at least 5 mm in diameter.
Melanoma does not always fit the ABCD rule. If there is anything you notice which looks different or a mole you are worried about or a mole that itches or bleeds then get in contact with us to arrange a consultation with a dermatologist.
Don't forget the ugly duckling sign – something that does not look right.
It is important to remember that most moles are benign and therefore harmless. Some however can potentially develop cancerous changes and grow aggressively if left undiagnosed. This is why it is crucial to undergo regular checks by a trained dermatologist with expertise in moles and skin cancer to assess for any changes in mole shape or size who can also remove any moles that look suspicious. Early removal significantly increases the chance of successful treatment for skin cancer.
Cosmetic mole removal
You may be a good candidate for laser cosmetic mole removal if you have a mole that you dislike the appearance of or it is causing you any discomfort and is entirely benign in nature. Your dermatologist will assess you before recommending laser treatment. You will have to be at least 18 years old to have surgical mole removal or cosmetic mole removal at Centre for Surgery.
Mole removal techniques
Before undergoing any mole removal, you will be required to attend a consultation with one of our dermatologists. This will give the dermatologist the opportunity to examine the mole and decide on the best possible method for removal. Our dermatologists use only the most advanced state of the art techniques for mole removal which result in minimal scarring and best cosmetic results. There are a number of techniques that are used to remove moles. Our dermatologists have years of expertise and experience in skin surgery and specialise in the use of ablative Erbium YAG laser for precise laser skin surgery.
Surgical mole removal
Suspicious moles will be removed through surgical excision. Local anaesthetic will firstly be injected into the area around the mole to render the area fully numb. The surgeon will then use meticulous surgical techniques to minimise scarring in carefully removing the mole. Surgical mole removal will result in a small scar, however, this will fade over time. Surgeons take the utmost care to ensure that any scarring is minimal. Any suspicious moles will be sent to the lab for analysis. You will be able to receive the results after48-72 hours. We may also write to your GP with the results of your mole analysis.
Laser mole removal
For moles that are clearly determined to be benign in nature, our dermatologists will use Erbium YAG laser to enable precise removal and to enable the best scarring result. Laser mole removal using Erbium YAG laser is an excellent technique for moles in cosmetically sensitive areas like the face because both faster healing and better scarring are both possible. In many cases our dermatologists are able to remove moles with Erbium YAG laser without any evidence of scarring whatsoever. This is more achievable in lighter skin types and less so in darker skin types. For laser mole removal, the Erbium YAG laser is the optimum laser for highly precise mole removal and minimal risk of pigmentation and scarring as there is much lower thermal energy transmitted to underlying tissues compared with the more traditional CO2 laser. Healing is quicker with less risk of scarring with Erbium YAG laser compared with CO2 laser.
Older techniques of mole removal
Moles that are considered benign used to be removed (and still are at many clinics) using the curettage and cautery method. This involves the surgeon using a curette to literally scoop the mole from the skin. The wound is then closed with the application of heat, known as cautery. Although a biopsy is possible, the risk of pigmentation and scarring is higher with this method. Loop cautery with radio-frequency current is also an old-fashioned method. The cosmetic result is suboptimal with both techniques.
Our dermatologists are fully committed to achieving the best results with optimal cosmesis. Although treatment may be more expensive due to the state of the art equipment used (Erbium YAG laser), you can be assured of receiving treatments which are viewed as the absolute gold standard for cosmetic mole removal.
Mole removal aftercare
You will be able to return home on the same day as the procedure once the effects of the local anaesthetic have worn off.
You may notice some scarring, however, with time this will fade and become less noticeable.
Mole removal before and after
Case 1:
Laser removal of mole on side of nose.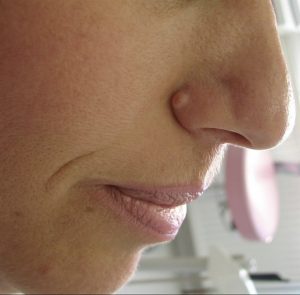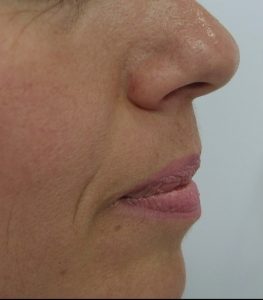 Case 2:
Laser removal of mole on face.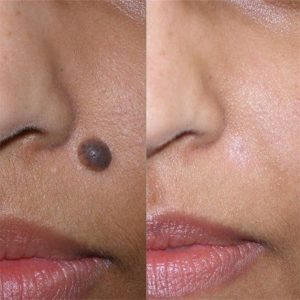 How to find us
Centre for Surgery is located at 106 Crawford Street in Marylebone. Crawford Street is just off Baker Street. We are easily accessible by all major bus routes that pass through Baker Street as well as Baker Street underground station.
From the tube station, we are just a 5 minute walk southwards down Baker Street followed by a right turn onto Crawford Street. The clinic is about 200 yards on the left.
There is ample local pay & display parking in the surrounding area and an NCP car park is located further west along Crawford Street. Our local residential parking zone is the City of Westminster.
Address: 106 Crawford Street, Marylebone, London, W1H 2HY