Skin Mole Removal Surgery in London by Plastic Surgeons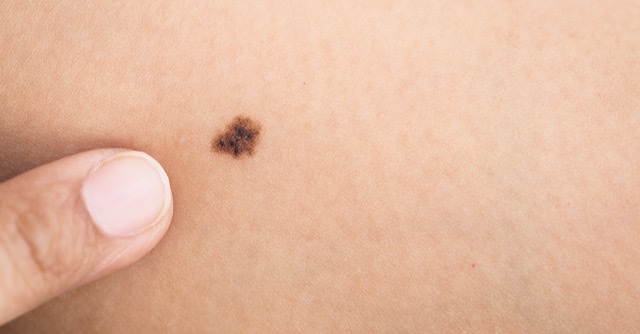 Moles come in a variety of forms and can be found on nearly anyone, with about 1% of newborns having some type of mole right from birth. While most moles are benign and pose no serious health concerns, there are instances where moles can develop into melanomas, a form of skin cancer.
Considering the potential risk for malignancy, it's often recommended to seek professional help to safely and effectively remove moles.
At Centre for Surgery in London, our specialist plastic surgeons are skilled in carrying out skin surgery, including mole removal procedures. Mole excision, a common method used to completely remove moles, is one of the procedures we offer at our clinic located on Baker Street.
RELATED: Why choose a plastic surgeon for mole removal?
Our team of experts is highly experienced in performing such procedures with precision and care, ensuring your peace of mind throughout the process. We understand the importance of thoroughness in mole removal, not just for cosmetic reasons but also to eliminate any potential health risks associated with these skin abnormalities. We are here to guide and assist you every step of the way.
What is a Mole?
A mole, medically known as a naevus (or naevi for multiple moles), is a benign, or noncancerous, skin growth. These are typically small in size, and can either be smooth or have a raised surface.
Moles commonly have a round or oval shape and are often pigmented, meaning they carry some colour – usually shades of brown, tan, black, red, pink, blue, or skin-toned. Some moles may even have a rough surface with hairs growing from them.
While it's normal for individuals to have a single mole, it's also possible for one to have multiple moles. On rare occasions, these moles can undergo changes in colour, shape, or form nodules. It's important to consult a healthcare professional if you observe such changes, as these could be signs of malignant transformations that might lead to skin cancer.
Moles typically appear later in childhood, though some are present from birth.
Scientifically, these skin growths are believed to occur due to anomalies during embryonic development. Melanocytes, which are cells responsible for producing melanin (the pigment that gives colour to our skin, hair, and eyes), are formed and move into the skin during this stage. Moles are hypothesised to be a result of errors in the formation, growth, or migration of these melanocytes.
What are the Different Types of Moles?
Moles come in different types and they can be broadly categorised into two main groups: congenital moles, which are present at birth, and acquired moles, which develop later in life.
Congenital Moles
Congenital moles are the ones that a person is born with. At birth, these moles are usually light in colour and may have a flat or slightly raised surface. As the individual grows older, the mole might become darker, larger, and may even develop long, coarse, dark hairs. Interestingly, some congenital moles may disappear on their own as the person ages. The most common type of congenital mole is the congenital melanocytic nevus.
Acquired Moles
These moles aren't present at birth, but instead appear later on, often during late childhood or adolescence, though they can also develop in adulthood. Physically, it might be hard to tell the difference between acquired and congenital moles. Common types of acquired moles include junctional nevi, dermal nevi, and compound nevi.
Other Types of Moles
In addition to congenital and acquired moles, there are other types as well. For instance, an atypical or dysplastic nevus is a large mole with an irregular shape, known to increase a person's risk of developing melanoma skin cancer.
To identify the type of mole you have, it's always best to consult with a specialist at Centre for Surgery who can make an accurate assessment.
Diagnosing Moles
A proficient skin specialist is crucial in diagnosing your mole correctly. They consider various primary and secondary characteristics of the mole to provide an accurate diagnosis.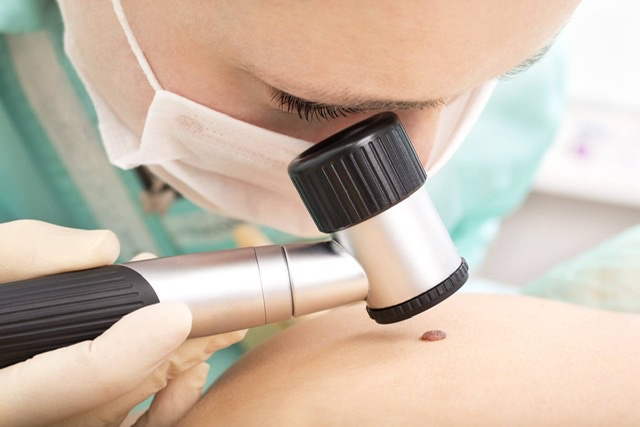 The primary features of a mole are its visible characteristics. They include:
The mole's location on the body
The size, shape, and overall appearance of the mole
Whether it has smaller satellite moles around it
The colour, presence of hair, and nature of its surface
To comprehend its secondary characteristics, a biopsy – a sample of the mole – will be sent to a laboratory for a detailed analysis. The findings from this analysis provide the specialist with further information to diagnose the mole accurately.
This comprehensive diagnosis is vital as it guides your doctor on the most appropriate method for treating or removing your mole. The specific procedure used to remove a mole depends on various factors, including the type and nature of the mole.
Moreover, moles can sometimes exhibit similar features to melanomas, a type of skin cancer. A thorough diagnosis is therefore crucial in distinguishing between benign (harmless) moles and potentially dangerous, cancerous moles.
It's important to note that you should never attempt to self-diagnose or remove a mole at home. This can lead to numerous undesirable complications and could potentially miss the diagnosis of a more serious condition. Always consult with a professional for any skin concerns.
Dangerous Moles – Identifying Risky Moles
It's crucial to remember that most moles are perfectly harmless. If you have one, there's typically no reason to worry, and it's unlikely to impact your health negatively.
However, there are instances where a mole could transform into a melanoma, a type of skin cancer. Although a specialist or surgeon can definitively assess your mole's risk level, it's also vital to be proactive about examining your skin regularly for any changes.
Here's a more detailed version of the 'ABCDE' model, which you can use as a guide to look for potential signs of melanoma:
Asymmetry
When evaluating your mole for asymmetry, look closely to see if one half of the mole mirrors the other half. A benign mole will generally be symmetrical, meaning that if you were to draw a line through the middle of the mole, the two halves would be identical in shape, colour, and texture. In contrast, melanomas typically have asymmetrical halves. If one half of your mole looks, feels, or appears different from the other, it might warrant a closer look from a specialist.
Border
Examine the edges of your mole. Healthy moles tend to have smooth, even borders that are well-defined from the rest of the skin. On the other hand, melanomas often have irregular, jagged, or blurred borders. If the outline of your mole is not clearly defined, it's a good idea to get it checked by a specialist.
Colour
Take note of the colour of your mole. Most benign moles are a single shade of brown. Melanomas, however, may contain several different colours or shades of a single colour, including brown, black, red, white, or blue. If your mole includes unusual colours, or if the colour seems inconsistent or irregular, you should consult a physician.
Diameter
Monitor the size of your mole. Benign moles are usually small, often less than 6 millimetres in diameter, about the size of a pencil eraser. Moles that are larger in diameter are more likely to be at risk for malignant transformation and should be examined by a specialist.
Evolving
Finally, pay attention to any changes in your mole over time. Important changes can include alterations in colour, shape, size, or texture, the development of itchiness or pain, the growth of hair, the onset of bleeding or oozing, and the formation of a nodule. Even minor changes can be significant, so it's important to monitor your moles closely and regularly.
RELATED: Should I be Concerned About an Itchy or Bleeding Mole?
A mole is deemed risky if it contains cells that are precancerous or cancerous. If your mole exhibits any of these signs, it needs to be biopsied and removed immediately to prevent the development of melanoma. This process of preemptively removing a mole to prevent cancer is clinically referred to as prophylactic mole removal. It's vital to seek professional medical advice if you notice any changes or abnormalities in your moles.
Options for Cosmetic Mole Removal in London
When it comes to dealing with moles in London, you have a number of treatment options available. Broadly speaking, the primary goals of any mole treatment are:
Ensuring pleasing aesthetic results
Removing any potential risk of the mole transforming into cancer
Preserving the proper function of the body part or organ where the mole is located
During your consultation, the specialist will assess your mole and recommend a suitable treatment method.
Here are some of the most commonly utilised mole removal techniques:
Surgical Excisions
Surgical excision is a straightforward procedure often used for small moles. This method involves cutting out the mole from your skin, then stitching up the small wound left behind.
For larger moles, a more specialised excision may be needed. This could involve additional procedures like tissue expansion, serial excisions, skin grafting, or the use of biological agents to help regulate wound healing.
Small moles can usually be removed in just a few minutes. In contrast, larger moles might take a couple of hours to excise and may require more than one session.
Dermabrasion
Dermabrasion is a technique that scrubs away the upper layer of your skin (epidermis) and a portion of the layer beneath it (dermis). This method can effectively remove the superficial cells of a mole.
Shave Excisions and Curettage
These are minor surgical procedures used to "shave" or "scrape" off raised areas of skin, such as a protruding mole.
The mole removal process is tailored to each patient's individual needs. To achieve the best cosmetic result, skin specialists might combine several treatment methods.
Factors that can influence the choice of treatment include the size of the mole, its location, its potential to turn malignant, its appearance, the ease of clinical follow-up, the expertise and experience of the skin specialist or plastic surgeon, and the resources available at the health facility.
It's important to note that the cosmetic results of mole removal are closely tied to the treating doctor's expertise and the resources available at the health facility. That's why we highly recommend having your mole removed by a highly skilled and experienced skin specialist at Centre for Surgery.
Your Journey to Mole Removal Surgery
First Meeting with Your Plastic Surgeon
If you have a small and uncomplicated mole, it can usually be removed in just a single visit to the doctor's office. However, there might be instances where you need to come back for follow-up visits.
The very first step in this journey is arranging a consultation with your plastic surgeon.
During this initial meeting, several important things will take place. Firstly, your surgeon will take a detailed look at your medical history to ensure there are no underlying issues that could impact the surgery.
Next, the surgeon will perform a thorough examination of your mole and the surrounding skin. This is important for determining the best course of action for your particular mole.
The doctor will then walk you through the various mole removal options available. Depending on the size and nature of your mole, the surgeon may also suggest taking a biopsy of the mole. This involves collecting a small sample of tissue from the mole for lab testing to confirm whether it's benign (noncancerous) or malignant (cancerous).
This initial consultation is an excellent opportunity for you to ask any questions you might have. You can discuss the specific mole removal procedures, the associated costs and any available financing options, recovery times, and anything else you might be curious about.
Mole Removal Procedure
The actual process of removing a mole is typically relatively quick – it takes less than 10 minutes for smaller moles. For larger or more complex moles, the procedure might take longer and you might need multiple treatments.
In most cases, mole removal is done under local anaesthesia, which means the area around the mole is numbed but you're awake during the procedure. This ensures that you experience minimal discomfort or pain.
Once the mole has been carefully removed, the surgeon will close the wound. The method used to close the wound depends on the size and location of the removed mole. They might use sutures (stitches), graft tissue, tissue expanders, or various other techniques.
Finally, a bandage is applied to the area to keep it clean and protect it as it heals. Your doctor will provide you with instructions on how to care for the wound at home.
Recovery Process After Mole Surgery
After your mole removal procedure, your doctor will provide detailed instructions on how to take care of the wound to ensure it heals properly. These guidelines are crucial and should be followed to the letter.
In some cases, you might be requested to come back for a follow-up visit within one to two weeks after the treatment. This is to allow the doctor to check on your progress and ensure everything is healing as it should.
During the first one to five days following the procedure, it's quite normal to experience a bit of tenderness or discomfort in the area where the mole was removed. Don't worry – this is a common part of the healing process.
The great news is that recovery from mole removal is typically swift. This is because most mole removal procedures are minimally invasive, meaning they don't involve deep cuts or significant tissue damage. As a result, you should be able to get back to your usual daily activities and routines within a week or two, depending on your body's healing speed.
To minimise scarring after the surgery, your specialist will provide further instructions. It's essential to:
Keep the area clean and undisturbed: Avoid touching the treated area unnecessarily and make sure it's kept clean at all times.
Protect the area: Always keep the area covered to protect it from getting infected.
Avoid stretching or applying pressure to the treated area: This can interfere with the healing process and may lead to more noticeable scarring.
Limit exposure to direct sunlight: Sunlight can slow down the healing process and make scarring more noticeable.
Follow your plastic surgeon's advice on skin treatments: Certain treatments can promote faster healing and proper collagen production, which helps reduce scarring.
RELATED: How to Minimise Scars After Mole Removal
Remember, if you have any concerns or questions during your recovery, don't hesitate to contact your surgeon.
Long-Term Results of Mole Removal
The healing process after a mole removal procedure typically occurs over a period of approximately one month. However, this duration may vary depending on the size and complexity of the mole. For instance, if the mole was quite large or required extensive, deep or multiple excisions, then the healing time may be extended.
Once the wound has completely healed, a scar may remain. This is a normal part of the body's healing process and is nothing to worry about. In the majority of cases, this scar will gradually fade away naturally over the course of a year. The fading process can sometimes be slower or faster, depending on your skin type and how well you care for the area during the recovery period.
Therefore, about one year after your mole removal procedure, you can typically expect to see no visible trace of the mole on your skin. That said, the end result can vary from person to person. Some people may notice a slight change in the colour or texture of the skin where the mole once was, while others may find that their skin appears exactly as it did before they had the mole.
It's important to remember that while the aim of mole removal is to eliminate the mole and leave as little trace as possible, every individual's skin heals differently. Therefore, the final appearance of your skin after the procedure will depend on your body's unique healing process.
Lastly, it's crucial to continue caring for your skin even after it's fully healed. This includes protecting it from the sun, keeping it clean, and maintaining a good skincare routine. If you notice any unusual changes in the area where the mole was removed or anywhere else on your skin, be sure to consult your doctor promptly.
Mole removal before and after
Case 1:
Laser removal of mole on side of nose.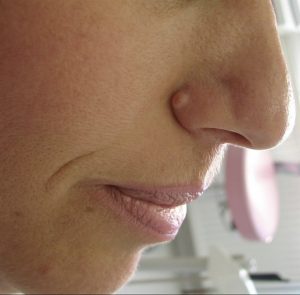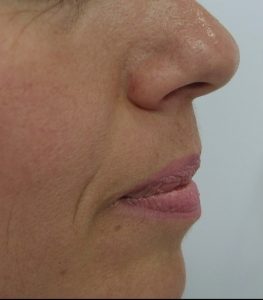 Case 2:
Laser removal of mole on face.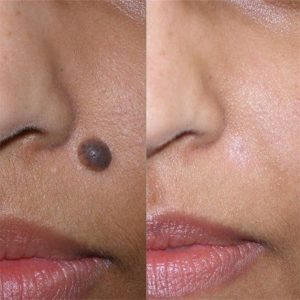 How much is Mole Removal Surgery in London?
The cost of mole removal surgery in London can vary greatly based on a number of factors. These include:
The number of moles to be removed: The more moles you need to have removed, the higher the cost of the procedure will likely be.
The size and complexity of the moles: Large or complex moles that require a more involved procedure will typically be more expensive to remove than small, simple ones.
The technique used for removal: Different removal methods come with different costs. For example, surgical excision might be more costly than a less invasive method like shave excision or laser removal.
RELATED: Can I get mole removal on the NHS?
Given all these factors, it's difficult to provide a specific cost without a consultation. However, it's crucial to remember that the safety and effectiveness of the procedure should be the primary considerations, not just the cost of proceeding with the procedure. It's best to have a consultation with your chosen specialist. During this consultation, they can provide a detailed breakdown of the costs based on your specific needs and circumstances. Be sure to ask about all possible costs upfront to avoid any surprises later on.
Mole Removal Surgery at Centre for Surgery
At Centre for Surgery, we provide a level of service that stands out in the field of mole removal and cosmetic procedures. Here are some reasons why choosing us for your mole removal surgery might be the best decision for you:
Experienced Team: Our team consists of highly skilled and experienced plastic surgeons who specialise in mole removal and other skin procedures. They have years of training and practical experience, ensuring your mole removal procedure is carried out to the highest standards.
Tailored Approach: We understand that every patient is unique, and so are their needs and expectations. That's why we provide a tailored treatment plan designed specifically for each individual. This personalised approach ensures optimal results and patient satisfaction.
State-of-the-art Facilities: We offer state-of-the-art facilities that are equipped with the latest technology. This ensures the best possible outcomes and a safe environment for all procedures.
Comprehensive Care: We provide comprehensive care to our patients, from initial consultation to post-surgery follow-up. Our dedicated team will support you throughout your journey, ensuring your comfort and answering any queries you might have.
Quality Patient Care: Patient safety and satisfaction are our top priorities. We are committed to delivering the highest quality care, with a focus on patient safety, comfort, and satisfaction.
Transparent Pricing: Our pricing is clear and upfront, with no hidden costs. We provide you with detailed cost information prior to your procedure, allowing you to make an informed decision.
Convenient Location: Our centre is located in London, making it easily accessible for patients across the UK.
Exceptional Aftercare: We pride ourselves on our comprehensive aftercare programme. We provide you with detailed instructions for your recovery and make follow-up appointments to ensure everything is progressing well.
At Centre for Surgery, we strive to provide the highest standard of care and results that meet and exceed your expectations.