What is an extended tummy tuck?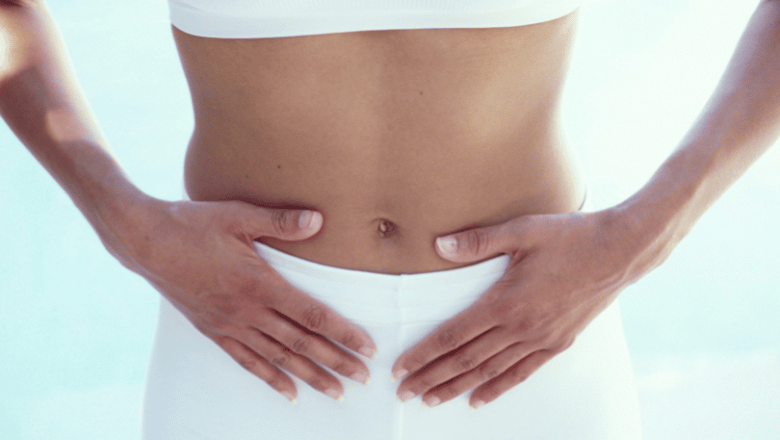 An extended tummy tuck, also known as an extended abdominoplasty or plus-size tummy tuck, is designed to remove excess skin and tissue from both the front and sides of the abdomen to achieve a more contoured and sculpted appearance. An extended tummy tuck is considered more surgically invasive when compared with a traditional tummy tuck. It is most commonly performed in people who have lost significant weight either due to bariatric surgery or through natural means such as diet and exercise. Successful weight loss may result in the development of sagging skin and stretchmarks and can result in a significant loss of self-confidence, leading people to wear baggy clothing to hide their hanging folds of skin.
RELATED: Fleur de Lis Tummy Tuck
Why have an extended tummy tuck?
When people gain weight, fat most commonly accumulates in the abdominal region. When this excess fat is lost through diet and exercise or weight loss surgery, the stretched-out skin does not return to its original level of tightness. Saggy and drooping skin may result in the development of love handles. The stretched-out skin may also have extensive stretchmarks due to significant weight gain followed by weight loss. An extended abdominoplasty involves a longer incision compared with a standard tummy tuck to treat the areas of loose skin, which often extend outward to the sides (flanks) in people who have lost a significant amount of weight. An extended tummy tuck can achieve a more sculpted waistline and is commonly combined with other body contouring procedures, including liposuction or a breast lift.
Am I suitable for an extended tummy tuck?
Although a standard tummy tuck is a suitable treatment for loose skin affecting the front of the abdomen, an extended tummy tuck can better treat loose skin, extending outwards to the flanks. Patients who have achieved significant weight loss inevitably develop loose and saggy skin, which does not return to its original level of elasticity. As well as being a common source of cosmetic concern, many people may develop symptoms from excess skin, resulting in a loss of self-confidence. Loose skin may develop due to pregnancy or significant weight loss, and typical symptoms experienced include:
Excess skin folds may cause irritation and pain
Stretchmarks
Skin rashes
Hanging skin may cover the pubic area partially or completely
Inability to wear certain types of clothing due to excess skin
An extended tummy tuck is a major surgery and a small surgically invasive compared with a traditional tummy tuck. The risk of complications is minimised by ensuring suitable patients are selected for the procedure.
Although there is no defined age limit for having an extended tummy tuck, patients should be at least 18 years of age. Most patients who are considering an extended tummy tuck have either experience childbirth or have lost a significant amount of weight. This can affect people from their 20s all the way to their 60s.
The main prerequisite for suitability for an extended abdominoplasty is that you are in a good state of overall physical and mental health and do not have any chronic medical condition such as uncontrolled high blood pressure or severe diabetes. Your doctor will also want to know if you are taking certain medications, as medicines containing aspirin may increase the risk of bleeding both during and after the procedure. You should inform your surgeon about all medications you are taking at your consultation.
Patients should be at a stable weight which is below a body mass index of 30. Patients who are significantly overweight or obese are not considered ideal for the procedure due to the risk of complications occurring both during and after the procedure, including delayed wound healing and wound infection.
At the consultation, your surgeon will discuss the risks and potential complications of extended tummy tuck surgery. It is important for patients to be aware of the results that could be achieved after an extended tummy tuck and how long they last. All patients should take certain preoperative steps to ensure they are optimally prepared for surgery. Patients should have realistic expectations of what an extended abdominoplasty can achieve. You should ensure you follow all of your surgeon's preoperative and post-operative instructions to get the best possible results. People who smoke will need to stop smoking at least four weeks before surgery. This is because smoking has a detrimental effect on healing and recovery, with an increased risk of wound complications.
What are the benefits of an extended tummy tuck?
The body changes significantly during pregnancy, with many women gaining at least 10 kg over a short period of nine months. This weight is then rapidly lost after childbirth has occurred. People who have lost a significant amount of weight may notice loose skin develops even faster. Both pregnancy and significant weight loss can permanently affect your body which cannot be improved with diet and exercise alone. The skin bears the brunt of these changes, and once the skin has been stretched out, it does not return to its original level of tightness after childbirth or massive weight loss.
Many people are unhappy with the appearance of excess skin and belly fat in the abdominal area. A lot of self-confidence and a reduction in emotional well-being can cause many people to avoid certain social situations. People may also develop symptoms from excess skin, including skin irritation, skin rashes, infection or unpleasant odours. When areas of loose skin rub together, people may develop significant discomfort, affecting their ability to walk normally.
The elasticity of the skin varies between individuals and has only a limited ability to return to its normal level of elasticity after weight loss. Some people may find their skin recovers quite well and are happy with the appearance of the skin after weight loss or pregnancy. For most people, the appearance of the skin causes significant unhappiness due to its permanently stretched-out condition. Certain factors contribute to skin elasticity, including the natural ageing process and levels of sun exposure. Excessive sun exposure may also increase the risk of developing loose skin. Extended tummy tuck surgery is able to effectively restore pleasing body controls with a flatter abdomen and tighter waist for permanent results as long as you maintain a stable weight over time. The procedure involves the surgical removal of excess sagging skin to produce a tighter-looking abdomen and a more youthful appearance that diet and exercise alone cannot achieve.
After an extended tummy tuck, patients notice the skin on the abdomen to look much tighter and their abdominal contour looks much flatter.
An extended tummy tuck is routinely combined with liposuction to eliminate excess areas of fat from the love handles. Extended tummy tuck results Will differ between patients, and every procedure is customised to the needs of the individual. Results will also depend on your goals for treatment and your overall state of health. The extent of surgical correction will be determined by how much loose skin you have. An extended tummy tuck can transform your shape to help you regain your confidence and live your life to the full.
Some patients may develop medical problems such as back pain from having excess loose skin and weak abdominal muscles. Surgery can effectively get rid of redundant tissue and improve symptoms of back pain. Many patients come to us unable to carry out playing sports or go to the gym. Extended tummy tuck surgery allows patients to return to their favourite sports, such as tennis, and go to the gym confidently.
Before and after photos
At your consultation, your surgeon will be able to show you a wide range of before and after extended tummy tuck photos to give you an idea of the results that can be achieved with surgery. Every patient is different and an extended tummy tuck is always customised to the needs and preferences of the individual patient to get the best possible results.
What does an extended tummy tuck involve?
Extended tummy tuck surgery is performed at our state-of-the-art Baker Street clinic in London. Every procedure is carefully planned to achieve the best results. Once you have been placed under anaesthesia, the surgeon will perform an incision which extends from the side of the hip bone extending across the lower abdomen to the lower part of the hip bone on the other side. The extended incision makes it possible to remove larger amounts of tissue that a standard tummy tuck cannot achieve. Loose skin on the sides of the flanks can be effectively removed in addition to loose skin affecting the front part of the abdomen. An extended tummy tuck is one of the best ways to get rid of love handles. Once the decision has been performed, the excess skin will be carefully separated from the underlined abdominal wall. The desired amount of loose skin will be surgically removed, followed by the closure of the incision with dissolvable stitches. If you have weak abdominal muscles, your surgeon will perform an abdominal muscle repair as part of the procedure.
An extended abdominoplasty is commonly combined with liposuction to contour areas with excess amounts of fat that have not been reduced with diet and exercise alone. Combining liposuction with an extended tummy tuck allows enhanced results that an extended tummy tuck may not achieve on its own. Combining both procedures in the same operation also eliminates the need to have a separate anaesthetic and recovery period for both procedures.
What is recovery like after an extended tummy tuck?
An extended tummy tuck is a major undertaking, as with any type of excess skin removal surgery. An extended tummy tuck recovery is longer than a full or mini abdominoplasty recovery. As with all procedures carried out at Centre for Surgery, an extended tummy tuck is performed as a day-case procedure which means you will be able to go home later the same day once you are medically fit for discharge. There is a limit to the number of procedures that can be combined with an extended tummy tuck to facilitate a safe discharge later the same day.
The recovery time after an extended abdominoplasty will depend on several factors. How old you are and the quality of your skin will play a big part in the length of your recovery. Other factors include your overall state of health and the extent of surgical correction required during the procedure.
The first 3 to 5 days after the procedure are the most crucial. It is normal to experience mild to moderate levels of pain or discomfort. Any discomfort can be easily controlled with a prescription for painkillers given to you by your surgeon. It is important to bear in mind that your mobility may be limited during the first few days. Therefore, we recommend having a responsible adult carer to help you carry out household tasks during this period. This includes helping you get dressed and help with preparing meals. You will need to wear an abdominal compression garment to protect the area which has been operated on, which will help reduce bruising and swelling. Most surgeons will recommend an abdominal binder, which should be worn for a minimum of six weeks. After the first two weeks, you may be suitable to carry out certain household tasks which involve standing for long periods. You should not drive a car for the first two weeks after surgery and avoid walking long distances outside of the home.
You can expect to achieve almost full recovery by the four-week stage, although we would still recommend you avoid lifting heavy items, including children. Strenuous activities, including going to the gym, should be avoided until at least six weeks after surgery. After six weeks, you should build up slowly and gradually and try not to do too much too soon to avoid placing stress upon the incision lines. If you have any doubts, please consult your surgeon to get customised advice on when you may restart certain activities. Bruising and swelling can be helped to disappear by applying cold packs. Swelling takes between 3 to 6 months to disappear completely. Your surgeon will provide detailed post-operative care instructions. It is important to follow these in full to ensure your extended tummy tuck healing period is as short and straightforward as possible.
During the recovery period, you will need to attend for regular post-operative appointments to monitor your healing and progress. It is important to attend all of these appointments to ensure we can keep track of your progress and answer any questions or concerns you may have about any aspect of your healing or recovery. Your surgeon will review you six weeks after surgery to assess the results of your procedure. As with any type of surgery, an extended tummy tuck involves certain risks, and your surgeon will be able to give you detailed information about the potential risks and complications associated with an extended abdominoplasty. Choosing to have your procedure at Centre for Surgery means you are giving yourself the best possible chance of getting outstanding results with our strong commitment to providing the highest standards of medical care both before and after your procedure.
How much does an extended tummy tuck cost?
The cost of an extended tummy tuck in London will vary depending on the extent of surgical correction and your overall state of health. Once you have had your consultation with the surgeon, you will be seen by your dedicated patient coordinator, and they will be able to give you a detailed quotation which includes your surgeon and anaesthetist fee, nursing fees and facility fees. The cost of post-operative visits to see our nursing team and your Surgeon are included in your procedure.
Centre for Surgery partner with Chrysalis Finance and offer our patients a wide range of affordable finance options, including 0% finance.
RELATED: Finance Options
What To Expect
The consultation
The first step towards having an extended tummy tuck is to have a detailed consultation with an experienced consultant plastic surgeon at our Baker Street clinic. Your surgeon will listen to your needs and preferences in detail and will provide information about potential treatment options and what results can be achieved. As part of the consultation, you will have a medical examination to assess the amount of loose skin you have and whether an extended abdominoplasty will be able to address your concerns. You may be referred to have certain blood tests to make sure you are in an optimal state of health before surgery.
Operation
When you arrive for your procedure, you will be admitted by a member of our nursing team. Once the anaesthetist and surgeon have seen you, you will be taken through to the operating room, where you will be placed under anaesthesia to ensure your complete comfort during the procedure. The surgeon will begin by making an incision in the marked areas, followed by surgical removal of excess skin affecting the front part of the abdomen extending to the flanks. The incisions will then be closed with dissolvable stitches and covered with a sterile dressing.
Recovery phase
You will be taken through to our dedicated post-operative recovery area. Once you are medically fit for discharge, you'll be allowed to return home with your responsible adult escort. As time progresses, you will continue to feel better each day, and your results will improve with each passing week.