Asian Blepharoplasty London & UK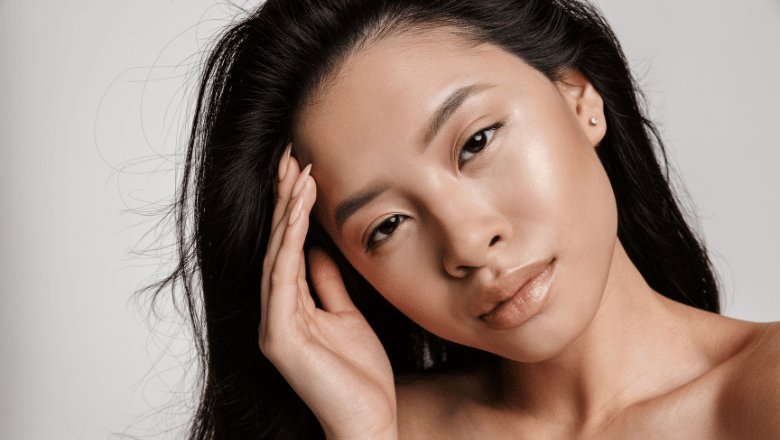 Asian Double Eyelid Surgery London
Asian Blepharoplasty, also known as double eyelid surgery, is a modified version of an upper eyelid lift or upper blepharoplasty. Asian blepharoplasty surgery is designed to surgically create an eyelid crease that has previously been covered beneath prominent epicanthal folds that are most commonly seen in the eyelids of people with Far Eastern Asian heritage.
RELATED: What is Asian Upper blepharoplasty?
What is an epicanthal fold?
The epicanthal fold is the distinctive fold of skin found close to the inner corner of the ice. Epicanthal folds are most commonly seen in people of Asian heritage. Many people may be concerned about an excessively tired or puffy-looking eye appearance due to the epicanthal skin fold giving the impression of closing up the eye. Surgically repositioning or reducing the prominence of this double eyelid skin fold can help to refresh and enhance the eyes, which leads to a significant boost in youthfulness. Double eyelid surgery can help to open up the eyes. This allows people to enhance their eyes with the creative application of make-up in ways that take advantage of having a single eyelid crease formed due to Asian blepharoplasty.
RELATED: Everything you wanted to know about blepharoplasty
It is important to bear in mind that an epicanthal fold may also be seen in those with Down's syndrome and younger children before growth and development have fully completed. Our surgeons do not perform surgery on these patient groups or on anyone below the age of 18.
Asian Blepharoplasty Before & After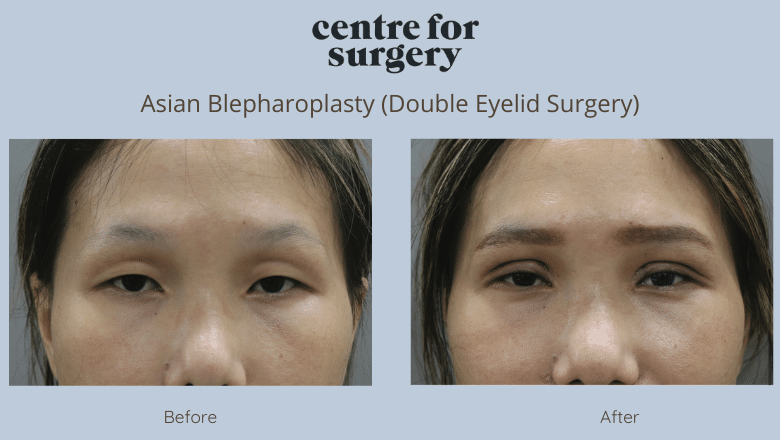 What are the benefits of Asian double eyelid surgery?
People choose to have double eyelid surgery or Asian Blepharoplasty for several reasons depending on the particular look they are trying to achieve. The procedure may be carried out for aesthetic or functional purposes. Most patients seeking Asian Blepharoplasty at Centre for Surgery do so to improve the cosmetic appearance of their eyes.
The most common reasons for seeking Asian double eyelid correction include the following:
Desire to achieve a single crease to reduce the excessive prominence of skin folds above the.
Preference to have a more uniform appearance of the upper eyelids.
Desire to reduce the appearance of prominent upper eyelids and excessive puffiness above the eyes.
Wanting to open up the eyes, which have been partially covered by epicanthal folds, to achieve a refreshed look without looking tired or fatigued.
Asian double eyelid reduction is designed to reduce or eliminate epicanthal folds and create a more defined eyelid crease. The procedure can help people to achieve a youthful upper third of the face due to more enhanced and vibrant-looking eyes. Many patients tell us how they feel much younger with double eyelid reduction. The procedure is popular with a wide variety of Asian men and women of different ages.
What does Asian eyelid surgery involve?
Asian blepharoplasty surgery takes approximately 1 to 2 hours depending on the extent of surgical correction required and this will be determined by your goals for treatment. If the procedure is combined with lower eyelid surgery, the procedure duration can take between 2 to 3 hours. If the procedure is carried out independently, it is easily performed with a local anaesthetic alone. When combined with lower blepharoplasty, a general anaesthetic may be preferred for your complete comfort. Double eyelid surgery involves the surgical creation of a supra-tarsal skin crease. This will help to reduce the appearance of the epicanthal folds for a significant enhancement in the appearance of the eyes. Asian eyelid surgery requires a high level of precision from an experienced consultant plastic surgeon to ensure the normal functioning of the eyelids is preserved. The surgery is carried out on a highly visible part of the face, and it is important to maintain meticulous surgical technique to minimise the appearance of scarring. The procedure is most commonly performed as a day case which means you will be able to go home later the same day once you have recovered from the anaesthetic effects.
RELATED: What do blepharoplasty scars look like?
Recovery after Asian blepharoplasty takes approximately two weeks, although it can take up to 4 weeks, particularly if double eyelid correction is combined with lower eyelid surgery. The incision lines can take between 3 to 6 months to flatten and fade to a faint white colour. Following your surgeons postoperative instructions info will help to minimise the appearance of scarring. The procedure will result in the formation of a thin scar within the eyelid crease. When people apply makeup, the scar will be virtually invisible.
The results of Asian blepharoplasty will differ between patients depending on the individual goals for treatment. All types of surgery involve certain risks. The risks of Asian double eyelid surgery will be covered at your in-person consultation. You can then make an informed decision on whether the procedure is right for you.
Can Asian double eyelid surgery produce a Caucasian eyelid appearance?
The appearance of Asian eyelids can differ significantly within the Far East population as much as differences between people from other ethnic backgrounds. This is despite certain genetic characteristics being more common in people of Asian heritage. The procedure does not necessarily produce eyelids that appear more western looking in appearance. Asian eyelid surgery is primarily designed to improve the appearance of the eyes to chief eyelids that appear more open and refreshed. Creating a single eyelid crease helps achieve this, which facilitates the better application of eyeshadow makeup for many patients.
Getting the best Asian Blepharoplasty results is based on choosing a highly skilled oculoplastic surgeon with extensive experience in all types of eyelid surgery, including double eyelid correction. Results should appear natural looking and in harmony with your overall facial features and respectful of your ethnic features without making you appear more 'western'. The vast majority of patients who have this procedure often tell us how they appear more awake with a refreshed appearance but without looking like they have had surgery. Achieving natural-looking results is a key objective of any Asian double eyelid surgery in London. When researching the procedure, you should avoid choosing a surgical clinic based on price alone.
An inexperienced surgeon may excessively adjust the position of your eyelids or may remove an excessive amount of skin which could lead to serious complications that may require future reconstructive surgery. This could cost much more in time and expense compared with choosing a skilled surgeon operating from a reputable clinic such as Centre for Surgery.
Where to go for Asian double eyelid surgery in London?
There are several surgeons who carry out Asian eyelid surgery in London, UK. However, it is important to be aware that not all surgeons have the same level of expertise and experience in performing this type of surgery. There are certain risks of any type of eyelid surgery, including asymmetrical results. Always carry out extensive research on your clinic and view their reviews to learn about the levels of medical care offered at the clinic. It is important to appreciate that results can vary between patients, and all types of invasive cosmetic surgery carry certain risks. This is why you should always choose a fully qualified consultant Plastic Surgeon based in the UK instead of travelling overseas. Having surgery in the UK will allow you to be followed closely by your surgeon to ensure you get the best results and for the management of any complications if they were to occur.
Our surgeons are highly regarded eyelid specialists and are dedicated to producing natural-looking eyelid surgery results, including Asian double eyelid surgery, upper and lower blepharoplasty and canthoplasty.
If you would like to achieve an enhanced eye appearance that appears natural and in harmony with your facial features, call us on 020 7993 4849 to schedule an in-person consultation with a specialist eyelid surgeon in London. Further information about all aspects of eyelid surgery can be found by reading our detailed and informative eyelid surgery blogs.
Medical references
Asian blepharoplasty at Centre for Surgery
Centre for Surgery is the leading cosmetic surgery clinic in London and is home to some of the most renowned plastic surgeons in the UK. Choosing a clinic with experienced eyelid surgeons helps to achieve optimal Asian blepharoplasty surgery outcomes.
When you have your consultation, you will have the opportunity to review before and after photos of patients who have had a similar procedure, and you will have the opportunity to ask any question you would like about what the surgery involves, potential risks, scars and recovery period. Although a referral letter from your GP or another specialist is useful, it is not mandatory. You can have a consultation without a GP referral. Contact our friendly and knowledgeable team of patient coordinators at Centre for Surgery to schedule your consultation.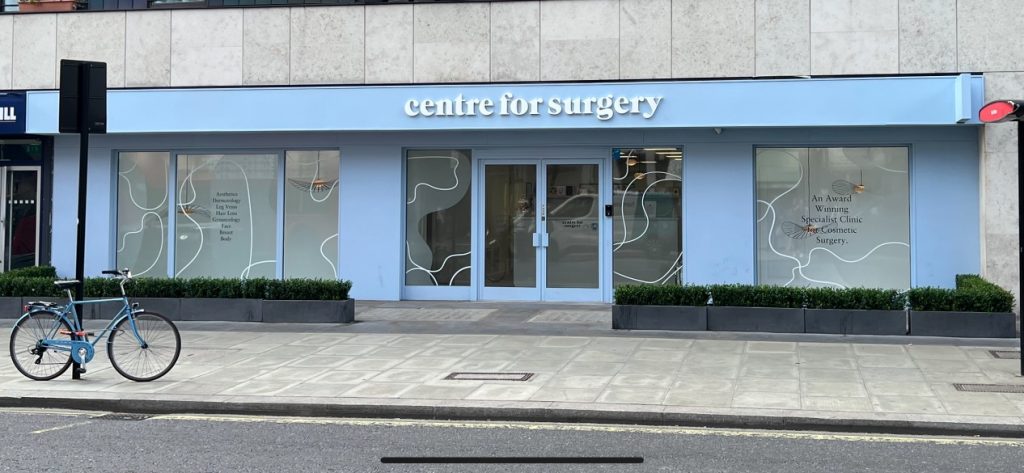 [wpseo_map id="9814″ width="750″ height="300″ zoom="15″ map_style="roadmap" scrollable="1″ draggable="1″ show_route="0″ show_state="0″ show_url="1″ show_email="1″ default_show_infowindow="1″ show_phone="1″ show_phone_2="0″ show_fax="0″]
[trustindex no-registration=google]