Septoplasty London & UK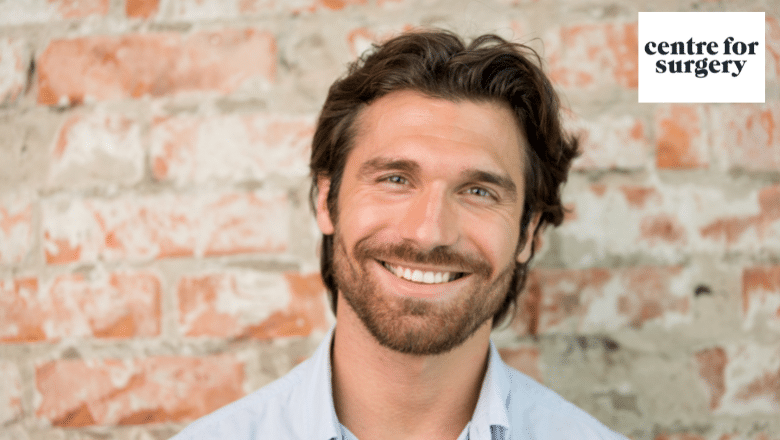 Septoplasty is a type of rhinoplasty procedure which is designed to reconstruct the nasal septum by removing or reshaping deviated parts of the septal cartilage or nasal bones.
The nasal septum is the internal wall within your nose that divides the two nasal passages or nostrils into left and right sides. Septal deviation is a prevalent issue, often resulting from an injury or trauma, although it can also be present from birth. A deviated septum occurs when this wall is displaced or bent, leading to one nasal passage being smaller than the other. This condition can cause breathing difficulties, nasal congestion, sinus infections, and sleep disturbances. In some cases, septal deviation may require surgical intervention, such as septoplasty, to correct the issue and restore normal nasal function.
The septoplasty procedure results in better airflow in patients who suffer from nasal airway obstruction, often related to having a deviated septum. Septoplasty is designed to improve function by treating nasal blockage, which differs from an aesthetic rhinoplasty for the improvement of the appearance of the nose. Septoplasty is commonly combined with rhinoplasty to improve both appearance and function in one procedure. This surgery is known as septorhinoplasty.
Centre for Surgery is home to some of the best rhinoplasty surgeons in London, with expertise in both aesthetic and functional rhinoplasty for bent septum correction.
Septoplasty before and after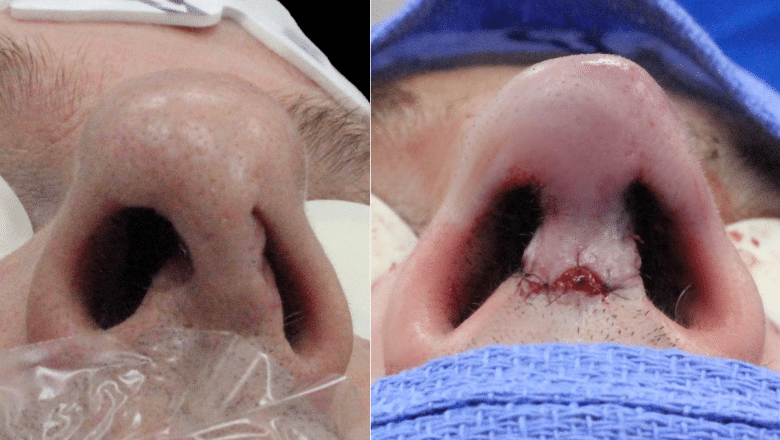 What is Septoplasty?
Septoplasty is a surgical procedure aimed at correcting and reshaping the nasal septum. Also known as septal deviation surgery, septum surgery, or nasal septum correction, it can be performed as a standalone procedure or in conjunction with a full rhinoplasty to reshape the entire nose. Trauma often causes septal deviation, which can occur during birth and become increasingly noticeable as a person grows.
The nasal septum is a wall composed of bone and cartilage that divides the inner nasal cavity into left and right chambers. The nasal septum comprises:
A hard bony part: The upper and posterior portion of the nasal septum consists of sturdy bone (ethmoid and vomer bones).
A soft cartilage part: The anterior and lower portion of the septum is made of cartilage – a flexible, firm type of tissue (similar in firmness to the tip of your nose). This part extends to the end at the columella, the tissue column between your nasal openings.
In general, septoplasty is a less extensive procedure compared to a full rhinoplasty, resulting in fewer risks, quicker recovery, and less downtime. Septum correction surgery can significantly improve both your appearance and your ability to breathe.
What causes a deviated septum?
A deviated septum is when the wall that separates the two nostrils (the septum) is not straight. This can be caused by a congenital condition (present at birth) or by injury to the nose. Some common causes of injury that can lead to a deviated septum include sports injuries, car accidents, and falls. In some cases, a deviated septum may be present from birth and not cause any problems, but in other cases, it can lead to difficulty breathing, recurrent sinus infections, or other issues.
Is nasal airflow blockage always caused by a deviated septum?
There are several conditions which may cause blockage of the nasal airway including a deviated septum, enlargement of the turbinate bones, narrowing of the nasal internal or external nasal valve, scar tissue from previous rhinoplasty surgery and functional conditions which affect the internal lining of the nose. All of the above conditions may result in the turbulence of airflow through the nasal passages which may result in resistance to airflow and this can give rise to symptoms of nasal blockage.
RELATED: What is a deviated septum?
A skilled rhinoplasty surgeon has the skills and experience to diagnose and correct all of these problems. Our surgeons are regularly referred difficult cases by other surgeons in London and the rest of the UK. This is because they are known for their expertise, which allows them to address all the issues which may be contributing to symptoms of nasal airway obstruction.
RELATED: Cartilage Graft Nose Job
Benefits of septoplasty surgery
Septoplasty surgery is performed to correct a deviated septum, which can have several benefits for patients. Some of the potential benefits of septoplasty surgery include the following:
Improved breathing: The most obvious benefit of septoplasty is improved breathing through the nose. A deviated septum can cause nasal congestion or blockages, which can make it difficult to breathe through one or both nostrils. After septoplasty, patients may experience a significant improvement in their ability to breathe through their nose.
Reduced sinus infections: A deviated septum can also increase the risk of sinus infections, as the blockages caused by the deviation can trap mucus in the sinuses. Septoplasty can help to reduce the frequency and severity of sinus infections.
Reduced snoring: A deviated septum can also contribute to snoring, as the blockages can cause turbulent airflow in the nose, which can lead to vibration of the soft palate. Septoplasty can help to reduce or eliminate snoring.
Improved appearance: In some cases, a deviated septum can cause the nose to appear crooked or uneven. Septoplasty can help to improve the appearance of the nose by straightening the septum and creating a more symmetrical appearance.
Improved sleep quality: Septoplasty can improve the overall quality of sleep, as patients will be able to breathe more easily through their nose and have reduced snoring, which can lead to better quality sleep and reduction of sleep apnea symptoms.
It is important to note that septoplasty is not a cosmetic procedure. It is a functional surgery that aims to improve breathing, but it may have cosmetic benefits as a side effect.
What are the symptoms of nasal blockage and nose septum problems?
Patients who have a deviated septum may develop blockage of the nasal airways due to malposition of the internal septum partition, which separates the two nostrils. Many people are born with a deviated septum, but it can also be due to traumatic injury and the natural ageing process.
Common symptoms of a deviated septum include:
Difficulty breathing
Inability to smell partially or completely
Recurrent nosebleeds or epistaxes
Sinus infections
Facial pain
Headaches
Excessive snoring and sleep apnoea
Am I suitable for septoplasty?
Septoplasty or nose septum surgery is an excellent treatment option for addressing the negative effects caused by a deviated septum with a subsequent improvement in quality of life. Many patients report difficulty breathing with recurrent nosebleeds which affect their daily activities. Partners may be unable to sleep due to excessively loud snoring and periods of sleep apnoea. Having any of the symptoms may mean you are ideal for septoplasty surgery.
We would recommend stopping smoking at least four weeks before the procedure as smoking has a negative effect on healing and recovery. The constituents of cigarette smoke delay healing with an increased risk of wound infections and may result in irritation of the delicate internal nasal lining. Smoking affects the blood supply to the healing area. Patients should be over the age of 18 to be considered for treatment and there are certain medicines which should be stopped before surgery including aspirin and medicines containing aspirin. These medications have an increased risk of causing bleeding during or after the procedure. You should also avoid taking over-the-counter herbal supplements.
What type of anaesthesia is used for septoplasty?
Septoplasty is a surgical procedure to correct a deviated septum, which can be done under both general and local anaesthesia depending on the patient's preference, the surgeon's preference and the complexity of the surgery.
General anaesthesia is when the patient is put to sleep and does not feel any pain during the procedure. This is typically used for more complex cases and for patients who have a higher level of anxiety about the procedure.
Local anaesthesia is when the patient is awake, but the area around the nose is numbed to block pain. This is typically used for less complex cases and for patients who would prefer to be awake during the procedure.
Additionally, some patients may receive a combination of local and IV sedation. This is called conscious sedation. In this form of anaesthesia, the patient is awake but relaxed and less aware of the procedure.
The type of anaesthesia used will be determined by the surgeon and anaesthetist based on the individual case and patient preferences.
What does the septoplasty procedure involve?
Before the procedure, you will have a detailed preoperative assessment by one of our skilled nurses to review your medical history and organise blood tests as required by your surgeon. Septoplasty surgery is most commonly carried out under a general anaesthetic, although in some cases, particularly when it is performed on its own, the procedure can be performed using a local anaesthetic and sedation. The complexity of the procedure as well as your surgeon's preference, will determine the most appropriate type of anaesthetic.
After administering anaesthesia, the surgeon begins by making an incision in the nose. In most cases, surgeons typically employ the "closed technique" for septoplasty, where the incision is made inside the nostril without any external incisions.
However, sometimes the surgeon may opt for an "open technique" for septal correction, which involves an additional incision on the columella between the nostrils. This approach is more common in patients who require more extensive septal trimming and possibly other interventions, such as tip plasty, alarplasty, nasal bridge reduction, or a nose lift. This type of procedure is called septorhinoplasty.
Next, the surgeon lifts the nose skin and tissue to better visualize the nasal septum from the inside. The surgeon then cuts, trims, sculpts, reshapes, bends, and manipulates the nasal septum to attain the desired orientation and size. Removed pieces of septal cartilage, and sometimes even bone, may be utilised to correct septal deviation. In some instances, sutures might be employed to secure the cartilage in position.
Once the surgeon is satisfied with the shape, size, and orientation of the nasal septum, they will close the small wounds. Dissolvable stitches are typically used to ensure seamless healing.
In some cases, your nose might be packed with gauze or a silicone splint to keep the septum in place until it heals properly.
Septoplasty on its own takes approximately one hour to carry out, depending on the amount of septal reconstruction required. Septoplasty is a day-case procedure at Centre for Surgery in London which means patients can recover in the comfort of their own homes later the same day.
Recovery after nose septum surgery
Once the septoplasty surgery is complete, your surgeon will place internal splints into the nostrils to support the healing septum and this should be worn for at least 2 to 3 days after the procedure before they are removed in the clinic. It is common to notice bruising and swelling under the eyes. There are several ways to reduce localised bruising and swelling, and we would recommend the following measures for two weeks after the procedure:
Sleep on your back with your head raised on a couple of pillows
Avoid strenuous exercise, including going to the gym
Avoid blowing your nose
Be careful when putting on shirts which go over the head to avoid contact with the nose
The vast majority of patients can return to their normal activities after 48 to 72 hours, although physical exercise should be restricted for at least four weeks after deviated septum surgery. You should avoid blowing your nose for at least two weeks after septoplasty surgery, as this can increase the risk of bleeding. Gently cleaning the nose can be carried out using sachets of sterile saline. Patients should avoid exercising for a minimum of four weeks after nose septum surgery and should avoid all contact sports for a minimum of eight weeks to minimise the risk of injury to the nose.
We recommend stopping smoking for at least six weeks after the surgery, as smoking lengthens the recovery time and can increase the risk of wound breakdown and infection.
What are the risks and complications of septum deviation surgery?
Septoplasty, as with any type of surgical procedure, carries a number of risks and potential complications, which include bleeding, infection or an allergy to the anaesthetic. Other potential complications of septoplasty include:
Persistence of nasal blockage symptoms
Recurrent bleeding
A change in the appearance of the nose
Nasal septum perforation
Reduced sense or no sense of smell
Septal haematoma formation
Numbness of the middle third of the face
How much does septoplasty cost?
The cost of the septoplasty procedure will depend on the complexity of the septal correction required and whether the procedure will be combined with cosmetic rhinoplasty, also known as septorhinoplasty. For patients who would like to improve the appearance of their nose, we would always recommend having a combined septorhinoplasty procedure which can significantly save on costs.
Once you have had your face-to-face consultation, your dedicated patient coordinator will give you an all-inclusive quotation which includes the facility costs, anaesthetic and surgical fees and the cost of care.
Is septoplasty covered by private medical insurance?
Septoplasty is a type of functional nose surgery and may therefore be covered by private medical insurance. If you are unsure, please ask your surgeon at the consultation.
Take the next step today
Our surgeons boast extensive experience as specialist plastic surgeons and have built a solid reputation in London for delivering optimal results using the most innovative surgical techniques.
We take pride in providing exceptional care and attention to all our patients, starting from the initial consultation.
Join the thousands of satisfied past patients by scheduling a consultation at Centre for Surgery at your earliest convenience.
Next Step – Complete the enquiry form or call our team on 0207 993 4849.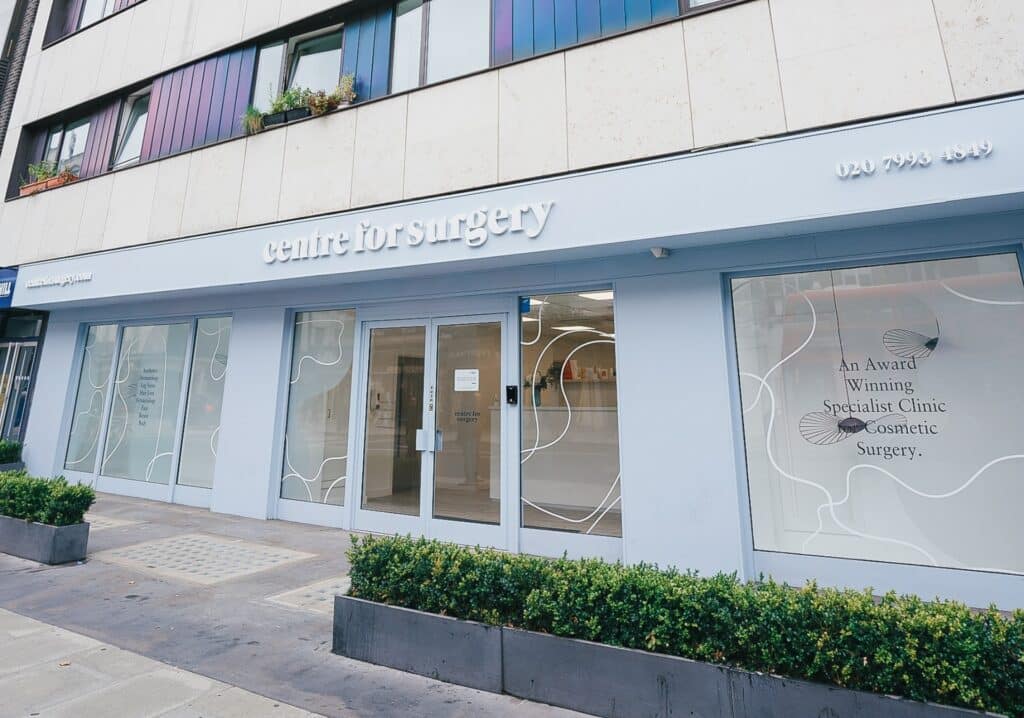 [wpseo_map id="9814″ width="750″ height="300″ zoom="15″ map_style="roadmap" scrollable="1″ draggable="1″ show_route="0″ show_state="0″ show_url="1″ show_email="1″ default_show_infowindow="1″ show_phone="1″ show_phone_2="0″ show_fax="0″]
[trustindex no-registration=google]