Vaginoplasty & Vaginal Tightening London UK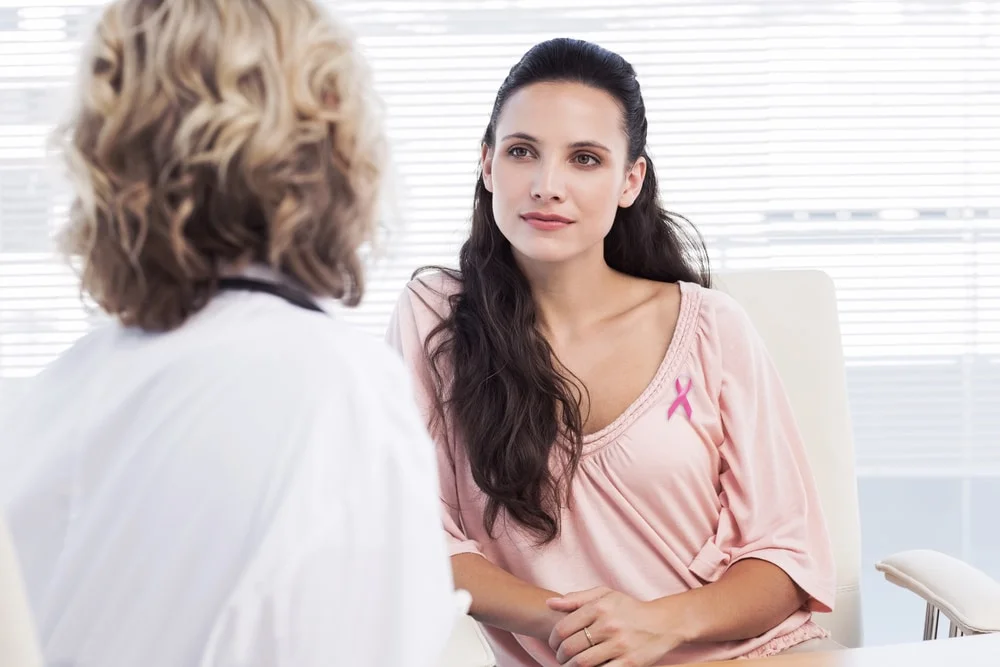 Rediscover your confidence and rejuvenate your intimate life with our skillfully performed vaginoplasty, designed to restore your natural contours and enhance your sense of self.
Vaginoplasty, also known as vaginal tightening, is a cosmetic gynaecology procedure for reconstruction of the pelvic floor in women who have been affected by significant laxity or looseness of the vaginal walls and underlying musculature, most commonly as a result of childbirth but also with the natural ageing process.
RELATED: Vaginoplasty FAQs – Q&As about Vaginal Tightening Surgery
During childbirth, significant vaginal stretching occurs, and the structure of the vagina, in many cases, does not return to its original size before pregnancy. The pelvic floor muscles, also known as the levator muscles, are flat shelf-like muscles found on either side of the female pelvis and become stretched when the baby's head passes through the vaginal base, also known as 'crowning'. The soft tissues found in the vagina can also become significantly overstretched in those with congenital hypermobility syndrome. Most women commonly report reduced sensitivity in the vaginal area, which leads to many women feeling unsatisfied after sexual intercourse. Laser vaginal tightening treatment may be used for women for have mild symptoms using IntimaLase and is a commonly carried out treatment for vaginal laxity and perfectly complements a vaginoplasty procedure for optimal relief of symptoms and improvement of vaginal appearance. Vaginoplasty can also be combined with labia reduction surgery in women who have excessively large labia.
Vaginoplasty surgery is sometimes also known as vaginal rejuvenation and is designed to tighten and strengthen the vaginal walls and tissues. The procedure is performed to reshape and tighten the tissue walls inside the vagina, helping women achieve a youthful appearance to boost self-esteem as well as improve their sexual satisfaction through the improvement of function.
RELATED: Vaginal Tightening for Loose Vagina and Vaginal Laxity
Vaginoplasty and pelvic floor repair are often carried out for the treatment of pelvic floor prolapse, which occurs when one or more of the organs from the pelvis, such as the rectum or bladder, descends as a result of tissue laxity, causing the formation of a rectocele or cystocele respectively. Pelvic floor prolapse can sometimes be improved with certain pelvic exercises. However, in most cases, the prolapse eventually causes physical pain and discomfort. If this happens to you, you may wish to undergo treatment for pelvic organ prolapse. Centre for Surgery is one of the few clinics in the UK to specialise in non-surgical vaginal laser treatment for pelvic organ prolapse. ProlapLase is a highly effective treatment and does not carry any of the risks associated with invasive surgery. Our surgeons will often recommend a course of laser treatment to improve the quality of the vaginal tissues and will reserve vaginal surgery for persistent cases of laxity or pelvic floor prolapse.
What is Vaginal Tightening Surgery?
Vaginal tightening surgery, medically referred to as vaginoplasty, is a surgical procedure designed to tighten the vaginal canal. This procedure is often sought by women who experience a loosening of the vaginal muscles and tissues, a common occurrence following childbirth or due to natural ageing.
The primary goal of the procedure is to restore the muscles and tissues of the vaginal canal to a tighter, "pre-childbirth" state. This can help to enhance sexual satisfaction, reduce discomfort from lax vaginal tissues, and improve overall confidence and wellbeing.
The procedure involves the removal of excess vaginal lining (vaginal mucosa) and the tightening of the surrounding soft tissues and muscles. Depending on the individual's needs, the procedure may also involve the repair of the perineum, an area that often experiences damage during childbirth.
Benefits of Vaginal Tightening Surgery
Vaginal tightening surgery, also known as vaginoplasty, is a cosmetic procedure that is designed to tighten and rejuvenate the vaginal area. There are several benefits of this procedure, including:
Improved Sexual Function: After giving birth or as a result of ageing, the vaginal walls may stretch and lose their tone, leading to reduced sexual pleasure. Vaginal tightening surgery can help restore muscle tone and improve sexual function.
Increased Confidence: Women with stretched or loose vaginal muscles often experience low self-esteem and reduced confidence. Vaginal tightening surgery can improve the appearance of the vaginal area and help women feel more confident and comfortable in their own skin.
Reduced Incontinence: Vaginal tightening surgery can help strengthen the muscles that control urine flow, which can reduce the symptoms of urinary incontinence.
Reduced Discomfort: Women with enlarged or sagging vaginal muscles may experience discomfort or pain during physical activities such as exercise, sexual intercourse, or even just sitting. Vaginal tightening surgery can relieve these symptoms and improve overall comfort.
Improved Aesthetic Appearance: Vaginal tightening surgery can improve the appearance of the vaginal area by reducing the size of the labia and removing any excess skin or tissue.
It's important to keep in mind that vaginal tightening surgery is a major procedure and should not be taken lightly. As with any surgical procedure, there are potential risks and complications, including infection, bleeding, and changes in sensation.
If you are considering vaginal tightening surgery, it's important to discuss your goals and expectations with Dr Dimitriadi at Centre for Surgery, who specialises in cosmetic gynaecology surgery. The surgeon can provide more detailed information about the procedure and the results and help you make an informed decision about whether vaginal tightening surgery is right for you.
Ideal candidates for vaginoplasty surgery
The best candidates for vaginal tightening, or vaginoplasty, are typically women who have experienced a loosening of the vaginal muscles due to childbirth or ageing. However, being a suitable candidate for this procedure involves more than just physical factors. Here are the key considerations:
Physical changes: If you've noticed changes in your vaginal tightness, particularly after childbirth or due to ageing, and it's causing you physical discomfort or affecting your sexual satisfaction, you might be a good candidate for vaginoplasty.
Emotional wellbeing: Many women who seek vaginoplasty do so not just for physical reasons, but also because the changes they've experienced have affected their self-esteem and emotional wellbeing. If this is the case for you, vaginal tightening surgery might be beneficial.
Good health: As with any surgical procedure, being in good overall health is important. You should be free from any serious underlying medical conditions, not be pregnant, and if you're a smoker, you'll be asked to quit for a certain period before and after the surgery as smoking can hinder healing.
Realistic expectations: While vaginal tightening surgery can significantly improve the tightness of your vaginal muscles, it's essential to have realistic expectations about the procedure. A skilled surgeon can provide you with a good idea of what to expect, but perfection is not a guarantee.
Not planning future pregnancies: If you're considering vaginoplasty but are also planning to have more children, you may be advised to delay the surgery. Future pregnancies can negate the effects of the surgery, as vaginal muscles and tissues may again become stretched during childbirth.
Completed family: Vaginoplasty is typically recommended for women who have completed their family. Pregnancy and childbirth after the procedure could compromise the results.
How to prepare for Vaginoplasty
If you are considering vaginoplasty, it's important to prepare both physically and mentally for the procedure. Here are some steps you can take to ensure a successful and safe surgical experience:
Choose a Qualified Surgeon: Select a surgeon who specializes in genital surgery and has experience performing vaginoplasty. Ask for before-and-after photos of previous patients to get an idea of the surgeon's skills and outcomes.
Stop Smoking: Smoking can impede the healing process and increase the risk of complications, so it's important to quit smoking before the procedure.
Avoid Certain Medications: Certain medications, such as aspirin, ibuprofen, and other blood-thinning agents, can increase the risk of bleeding, so it's important to avoid these medications before the procedure.
Limit Sexual Activity: It's best to avoid sexual activity for at least two weeks before the procedure to reduce the risk of infection.
Arrange for Aftercare: Make arrangements for someone to care for you after the procedure, as you may need help with activities such as bathing, dressing, and running errands.
Follow Preoperative Instructions: Your surgeon will give you specific instructions on how to prepare for the procedure, including details on when to stop eating and drinking, how to bathe, and what medications to take or avoid. It's important to follow these instructions carefully to ensure a safe and successful surgery.
Have a Support System: Having a support system of friends, family, or a partner can help you emotionally and mentally prepare for the procedure. It can also provide you with support and encouragement during the recovery process.
Discuss Expectations: Discuss your goals and expectations for the procedure with your surgeon. This will help you have a clear understanding of what the procedure can and cannot do, and what to expect during the recovery process.
Consider All Options: Consider all your options before making a decision to undergo vaginoplasty. Discuss any concerns or questions with your surgeon, and make sure you fully understand the benefits, risks, and possible outcomes of the procedure.
By taking these steps, you can ensure a successful and safe vaginoplasty procedure and a smooth and comfortable recovery.
Vaginoplasty Procedure
Vaginoplasty performed for women with childbirth injuries is a surgical procedure that aims to repair and tighten the vaginal walls and muscles that have been damaged during childbirth. The procedure typically involves the following steps:
Anaesthesia: The procedure is usually performed under general anaesthesia, which means you will be asleep and pain-free during the surgery.
Incision: The surgeon will make an incision in the vaginal area, which will allow them to access the damaged muscles and tissue.
Repairing Tissues: The surgeon will then repair and tighten the damaged vaginal muscles and tissues, which may have stretched or torn during childbirth. This is typically done by removing any excess skin or tissue and suturing the vaginal walls together to create a tighter vaginal canal.
Restoration of the Perineum: The perineum is the area between the vagina and the anus that may also be damaged during childbirth. If necessary, the surgeon may also repair the perineum during the procedure.
Closure: Once the repair is complete, the incision will be closed with sutures or skin glue. A sterile dressing will be applied to the incision site to protect it from infection and promote healing.
The length of the procedure will vary depending on the extent of the damage and the complexity of the repair, but it usually takes between one and two hours to complete.
It's important to keep in mind that every woman's experience with vaginoplasty for childbirth injuries will be different. The results of the procedure will depend on the severity of the damage, the patient's overall health, and the surgeon's skills and experience.
If you are considering vaginoplasty for childbirth injuries, it's important to discuss your goals and expectations with a qualified surgeon who specialises in cosmetic gynaecology. The surgeon will be able to provide more detailed information about the procedure and the results, and help you make an informed decision about whether vaginoplasty is right for you.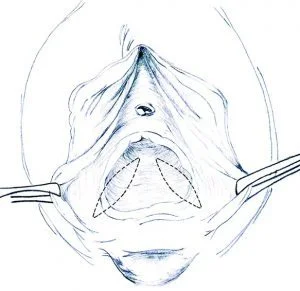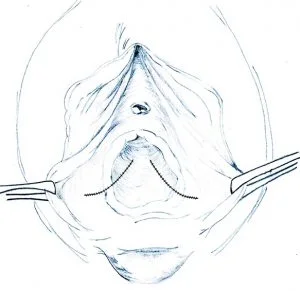 Recovery after vaginoplasty
Following the procedure, swelling and discomfort around the treated area are very common. Pain medication can be taken to ease it. The patient can go back to normal activities almost immediately. However, strenuous physical activities should be avoided for at least six weeks. Abstain from sexual intercourse for 4-6 weeks to allow the surgical area to heal fully.
You can achieve a good quality of life, improvement in vaginal comfort and maybe even new sensations. However, the results depend on the individual, so it is important to have realistic expectations. Following surgery, you may be given a drip to give you fluids, and you may need a catheter (a thin plastic tube) into your bladder. This is removed before discharge. You may also have gauze inside the vagina, which will act as a bandage to help reduce any bleeding. This will be removed after the first 24 hours.
RELATED: Is vaginoplasty painful?
It is normal to experience some very light oozing or discharge after the procedure, which may last up to three to four weeks. It is recommended that you use sanitary pads during this period, rather than tampons. The stitches used during the procedure will be dissolvable, so you will not have to return to the clinic to have them removed. They will dissolve on their own after 3-4 weeks. You will have to avoid any strenuous physical exercise for the first few weeks, particularly activities which involve heavy lifting and straining or picking up children. You will also need to avoid swimming during this time period. You will have to avoid any sexual intercourse for about four to six weeks or until you are completely healed. You may need to take up to six weeks off work. However, this will vary depending on your type of employment. Your surgeon can give you exact advice on when you can return to work. You should avoid driving for at least three to four weeks. This will vary from patient to patient; you will need to feel confident about driving and performing emergency stops.
RELATED: What is recovery like after vaginoplasty surgery?
Vaginoplasty Aftercare Top Tips
Following your vaginoplasty procedure, comprehensive aftercare instructions will be provided to you. Additionally, our surgical care team is always available to address your queries during follow-up appointments and as and when you have questions during your recovery process. While recovery periods differ from patient to patient, general aftercare instructions for the initial six weeks post-surgery are quite standard. Let's explore some key points of vaginoplasty aftercare.
Cleaning and Personal Hygiene – Patients will be instructed to rinse and gently pat dry the genital area after urination or bowel movements. Daily showering is encouraged, and your surgeon may recommend specific hygiene products or techniques for your comfort and safety. To prevent bacterial transfer and discomfort from friction, tight-fitting clothing should be avoided for the first few weeks during your recovery from vaginoplasty.
Application of Ointment – You may be prescribed an antibiotic ointment that should be applied to the surgical site and surrounding areas to ward off bacterial infections. Detailed instructions will be provided regarding its application and frequency.
Urination – Urination typically doesn't pose any problems after a vaginoplasty. Initially, due to swelling, urination might induce some tenderness, but this is expected. Patients are advised to pat the area dry after urinating to maintain hygiene.
Menstrual Cycle – It's recommended to schedule your vaginoplasty soon after your menstrual cycle to facilitate a smoother healing process. Post-surgery, patients are advised to refrain from using tampons, as these could potentially disrupt the sutures. Instead, sanitary pads are suggested.
Physical Activity – For the first five to six weeks after surgery, patients should refrain from strenuous activities. Activities such as swimming, intense workouts, extended periods of sitting or standing, and taking baths are all to be avoided for the first month of recovery. The restriction might be extended for activities like cycling. However, light walks and other gentle activities can be undertaken as tolerated during your recovery period.
Sexual Activity – Patients are advised to wait between six to eight weeks post-surgery before engaging in sexual intercourse. Although the wounds would have closed prior to this, the recommended waiting period helps prevent the risk of wound reopening due to strain, pressure, or friction.
Risks and complications of vaginoplasty
Our surgeons have many years of experience in performing vaginal tightening procedures. They regularly attend academic conferences in Europe to learn about the best and safest ways of performing aesthetic gynaecology procedures. Memberships of the European Society of Aesthetic Gynaecology give them access to the latest developments in the field. The vaginoplasty surgery performed today is very different to that performed even ten years ago, which is why it is so important for expert surgeons to keep fully up to date.
Your surgeon takes all precautions to make sure procedures progress smoothly. However, there is always a small risk of complications occurring. Patients should always start by making sure they choose an experienced specialist at Centre for Surgery to ensure they achieve optimal results. It is also very important to comply with all the postoperative aftercare instructions and restrictions on activity, which are vital to ensure proper healing.
During your face-to-face consultation at our Baker Street clinic, the potential risks and complications that can occur with vaginoplasty will be discussed.
Risks of vaginal tightening surgery:
Anaesthetic risks
Bleeding
Infection
Scarring
Nerve damage or loss of sensation in the operated area
Painful intercourse
Dryness of the vaginal area
Possible injury to the rectum after a posterior repair
Possible injury to bladder after anterior repair
Possible injury to major blood vessels
Requirement for a revision procedure
Potential complications of vaginal tightening procedures include dyspareunia, vaginal dryness, vaginal and perineal restriction, and a rectovaginal fistula. Women with severe pelvic organ prolapse may not be ideal candidates for vaginal tightening procedures. During a vaginal examination, while the patient bears down and tightens, the surgeon can assess the vaginal width and the pelvic floor muscles to determine the most appropriate method of repair.
How much does a vaginoplasty cost in the UK?
Vaginal tightening, also known as vaginoplasty, is a deeply personal procedure, and preparing for it can be an emotionally and mentally demanding journey. However, the potentially life-changing outcomes can make the entire process incredibly worthwhile. At Centre for Surgery, we appreciate and understand the importance of this transformative journey and strive to provide an environment where you feel comfortable and supported.
Our primary goal is to help you realise your aspirations, which is why we offer complimentary consultations with our expert surgeons. During these sessions, we will listen to your concerns and goals, evaluate your unique situation, and outline the details of the proposed surgery tailored to your needs.
Unfortunately, vaginal tightening is usually not covered by private health insurance or the NHS as it's often considered a cosmetic procedure. However, we understand that managing the financial aspect of the surgery can be challenging, which is why we offer several financing options to help make the procedure more accessible and affordable.
Since every person is unique, the surgical requirements for vaginal tightening vary from one individual to another. Factors such as the complexity of the procedure, the specific technique used, the surgeon's expertise, and the need for any additional procedures can all influence the final cost. This is why we don't provide a one-size-fits-all price for the procedure.
In your in-person consultation at our Baker Street clinic, our surgeons will provide an accurate cost estimate based on a thorough evaluation of your case. This personalised approach allows us to provide a cost estimate that reflects your specific needs and goals, ensuring that you have a clear understanding of the financial commitment involved before proceeding with the surgery.
Why not call 0207 993 4849 and speak to one of our expert patient coordinators, who may be able to give you a rough costing before your vaginoplasty procedure?
Can I get a vaginoplasty on finance?
Centre for Surgery is fully approved to offer finance for vaginoplasty via our specialist finance partner, Chrysalis Finance. You no longer need to use your savings to pay for your treatment – you can apply to spread the cost of your procedure with Chrysalis Finance using their simple 1,2,3 application to pay for it. Please don't wait until you have enough money for your treatment. Apply today and (subject to status) pay for your procedure easily in monthly instalments using one of their payment options. Chrysalis Finance is the only ethical provider focusing solely on providing specialist financing for medical procedures. Speak to one of our patient coordinators today to learn more about finance for your vaginoplasty procedure.
RELATED: Finance Options
Specialist Vaginoplasty Surgeons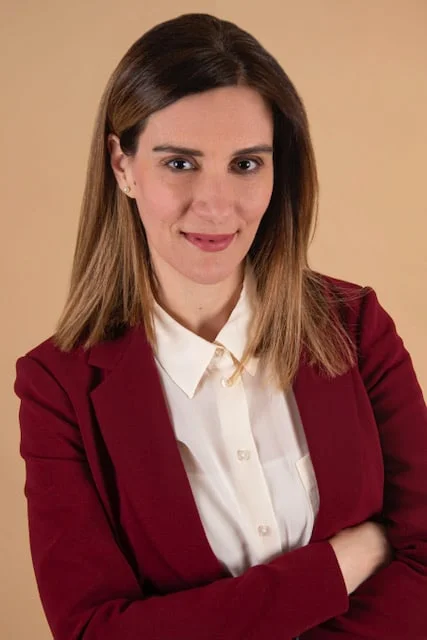 Dr Paraskevi Dimitriadi is a specialist aesthetic gynaecologist and has trained at some of the world's leading hospitals in all aspects of cosmetic gynaecology. Dr Dimitriadi continues to practice in a major London teaching hospital. She takes an active interest in research into cosmetic gynaecology and lectures both nationally and internationally on a range of topics in cosmetic gynaecology. She is a full member of the European Society of Aesthetic Gynaecology (ESAG).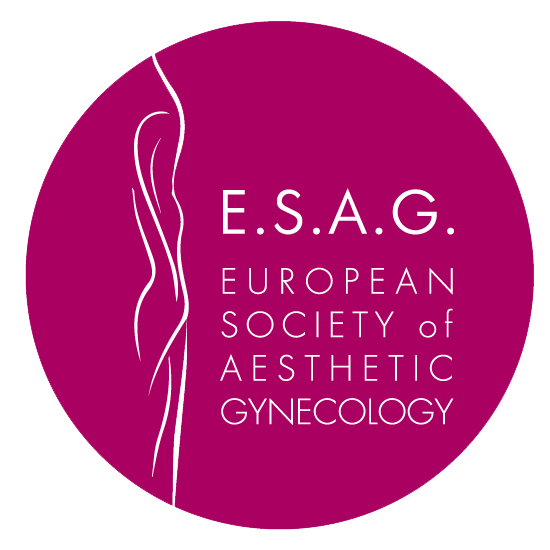 Dr Dimitriadi is known for her caring, patient-centred approach, supporting all her patients and she always strives to optimise patient outcomes at stages of the patient journey. As a female surgeon, Dr Dimitriadi understands her patient's most delicate needs and preferences, which allows her to create a personalised and bespoke vaginoplasty treatment plan to meet the patient's goals. She is regarded as one of the top vaginoplasty surgeons in London by her peers and brings years of experience to each and every procedure she performs. Dr Dimitriadi brings together her expertise across both surgical and non-surgical gynaecological treatments – unrivalled in London and exclusive to Centre for Surgery.
Why choose Centre for Surgery?
Choosing Centre for Surgery for your vaginoplasty procedure is a decision that comes with numerous benefits, ensuring a safe, comfortable and supportive experience throughout. Here's why you should consider Centre for Surgery for your vaginoplasty:
Specialised Expertise: Our plastic surgeons at Centre for Surgery have specialised training and considerable experience in performing vaginoplasty procedures. Their proficiency in the procedure helps ensure optimal results and minimises potential complications.
Individualised Approach: We understand that every patient's needs are unique, and so we provide an individualised approach to our care. We take time to listen to your concerns and expectations and tailor the treatment plan to suit your specific needs and goals.
Advanced Techniques: Our surgeons utilise advanced techniques that are designed to ensure effective results while minimising discomfort and reducing recovery time. These state-of-the-art techniques help in achieving the desired aesthetic and functional outcomes.
Patient Safety and Comfort: Our clinic is equipped with the latest technology and adheres to the highest safety standards. We take every measure to ensure your comfort and safety from the initial consultation through to the aftercare process.
Comprehensive Care: We provide comprehensive care to all our patients. This includes pre-operative education, dedicated post-operative care, and routine follow-ups. Our team is always available to support you and answer any questions you may have during your recovery.
Transparent Communication: We maintain an open line of communication with our patients. We make sure that you fully understand the procedure, potential risks, expected outcomes and the recovery process. We ensure that all your concerns are addressed before the procedure.
At Centre for Surgery, our primary goal is to provide excellent patient care and deliver results that meet your expectations. By choosing us for your vaginoplasty procedure, you can trust that you are in safe, experienced hands.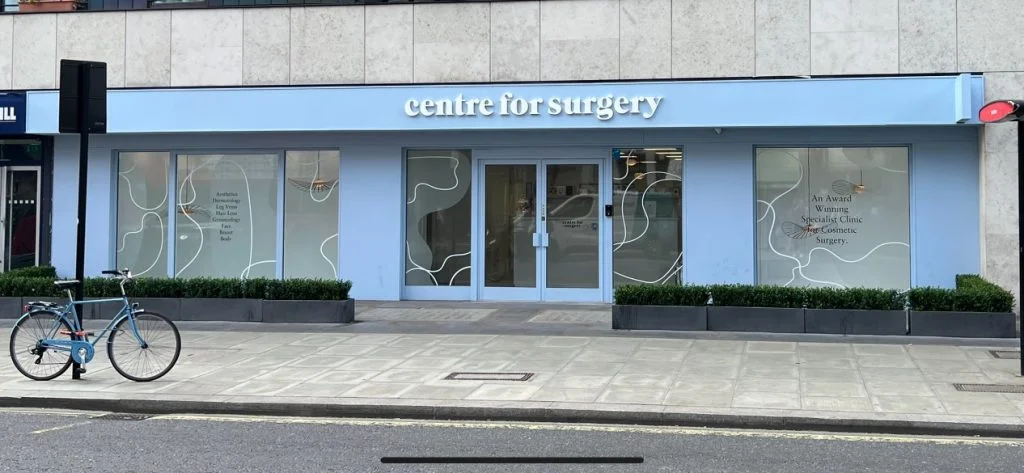 What To Expect
The consultation
At Centre for Surgery, your journey towards a vaginoplasty begins with one or two detailed consultations with our leading specialist surgeons at our cutting-edge clinic in Baker Street. These sessions typically last between half an hour to an hour.

During these consultations, your surgeon will discuss your expectations and desired outcomes from the vaginoplasty. They will explain the surgical process, what you can expect during the operation, how it will affect you, and what the recovery process will entail.

It's crucial to be candid and open about your hopes and aspirations from the surgery. This transparency will aid in obtaining the best possible results. Rest assured, your surgeon will provide answers to any questions or concerns you may have. It may be beneficial to prepare a list of queries ahead of your consultation to make the most of this discussion. Once your aspirations from the surgery and what is achievable considering your unique anatomy are clear, some essential measurements will be taken, and standard clinical photographs will be captured. Your medical history will be reviewed and a physical examination will be performed.
How to prepare for surgery
Deciding to proceed with the surgery marks a crucial step in your journey towards a vaginoplasty at Centre for Surgery. The next stage of your journey will see you returning to our clinic on the day of your surgery. In preparation for this day, it's vital to take several measures to ensure your readiness and the success of the procedure.

Cease smoking: Smoking is known to impede the healing process. Therefore, if you're a smoker, our doctors will strongly advise you to stop smoking at least six weeks before surgery and continue abstaining throughout the recovery period. It's particularly important to avoid smoking for at least 48 hours before your surgery.

Refrain from certain medications: Aspirin, anti-inflammatory drugs, and herbal supplements can potentially increase bleeding, which is not desirable for surgical procedures. It is advisable to stop taking these a week ahead of your surgery.

Avoid alcohol: Alcohol consumption can also interfere with the healing process. Therefore, abstaining from alcohol for at least 48 hours before your surgery is highly recommended.

Plan for assistance during recovery: After the surgery, you'll need help, especially during the first few days of your recovery at home. Arrange for a friend or family member to drive you home from the hospital and to stay with you, at least for the first night after the surgery.

Food and drink restrictions: In the six hours leading up to the surgery, refrain from consuming any food or drink, except for small sips of clear fluid up to two hours before your admission to the clinic. Clear fluids include still water, black coffee, and black tea.

Preparation is key to a successful surgery and smooth recovery. By following these guidelines, you can put yourself in the best possible position for your upcoming vaginoplasty.
Day of surgery
The vaginoplasty procedure will be conducted at our Baker Street clinic. You will be administered a general anaesthetic to ensure you're completely unconscious and free of discomfort during the surgery. However, in certain cases, your surgeon might opt for a local anaesthetic combined with sedation, if it is deemed appropriate for your specific circumstances.

Upon the anaesthetic taking full effect, your surgeon will proceed with the procedure. This involves joining the stretched muscle at the back of the vagina, which subsequently shortens it. Following this, the surgeon will remove any superfluous vaginal lining and tighten the surrounding soft tissues. The procedure utilises dissolvable stitches, which offers the benefit of not requiring a follow-up visit to the clinic for suture removal.

The total duration of a vaginoplasty generally falls between one and two hours, and it is performed as a day case. This means that you won't need to stay overnight at the clinic.

Post-surgery, you'll be transferred to our specially designated recovery area. You may experience a degree of grogginess due to the anaesthesia, but this effect usually subsides within a few hours. Once you're capable of eating and drinking, and our team of specialist nurses are satisfied with your initial recovery, you will be discharged. Please ensure that you have arranged for a friend or family member to accompany you upon leaving the clinic.
After your procedure
Vaginoplasty, being a delicate surgical procedure, may result in some degree of swelling, soreness, and bruising in the immediate postoperative period. These symptoms are part and parcel of the body's healing process and typically subside within one to two weeks. Comfortable ambulation is usually possible within a few days following your vaginal tightening procedure, and you should be able to resume driving within a week.

We recommend taking a two-week leave from work post-surgery to ensure ample time for recovery. To optimise the healing process, it's advisable to sleep on your back for a period of four weeks after your vaginoplasty. Exercise routines, including gym workouts, can gradually be reintroduced between two and four weeks following the surgery, based on your comfort and the surgeon's advice.

An essential consideration is refraining from sexual activity (specifically vaginal penetration) for a period ranging between four and six weeks post-surgery. This is crucial to avoid complications and to ensure optimal healing of the surgical site.

Your surgical site should be fully healed by the six-week mark, at which point you will have a final check-up with your consultant to confirm that everything has healed as expected.

Remember, our nursing service is available around the clock during your recovery period to assist with any concerns or queries you may have. It's of utmost importance to adhere strictly to the post-operative care instructions provided by your surgeon. Failure to follow these could negatively impact your recovery and the final outcome of the surgery.