Mummy Makeover UK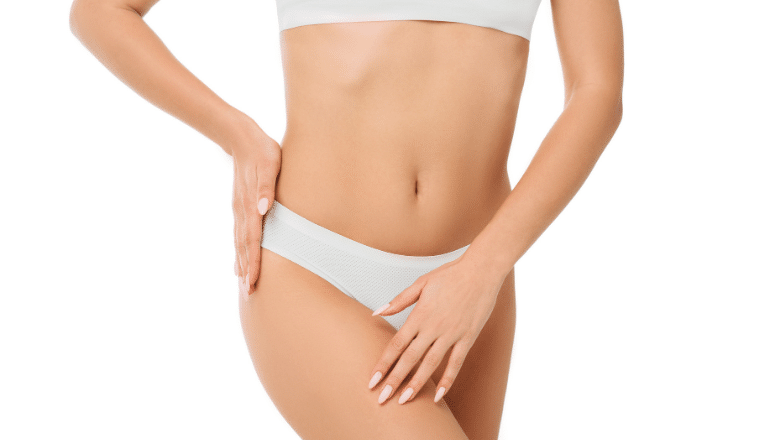 Reclaim your pre-pregnancy body with a Mummy Makeover – the personalised combination of procedures designed to rejuvenate your figure and restore your confidence after motherhood
Undeniably, motherhood is one of the most fulfilling experiences for a woman, yet it comes with significant physical changes that can be challenging to cope with. The profound transformation that the body undergoes during pregnancy and breastfeeding often leaves lasting effects on a woman's breasts and abdomen.
For many women, conventional methods like rigorous exercise routines and strict diets often fail to restore their body to its pre-pregnancy state. This is largely due to the fact that the skin and muscles stretched and contracted during pregnancy and breastfeeding may be beyond the capacity of natural repair mechanisms inherent in our bodies.
Mummy Makeover Surgery UK
This is where Centre for Surgery steps in, offering an effective solution for women seeking to regain their pre-pregnancy physique. Our Mummy Makeover or Post-Pregnancy Makeover is a comprehensive set of procedures that address these concerns. By combining breast and abdominal surgeries into a single session, we can achieve remarkable aesthetic results that align with your desired body image.
RELATED: Mummy Makeover FAQs – Q&A about Breast and Tummy Surgery
Our Mummy Makeover not only helps restore your physical appearance but also aids in renewing your confidence and self-esteem, allowing you to embrace motherhood while feeling comfortable and confident in your own skin. At Centre for Surgery, we understand the challenges that come with these bodily changes, and we're committed to helping you reclaim your body in the most effective and efficient way possible.
What is a Mummy Makeover?
A Mummy Makeover is a comprehensive, fully personalised set of post-pregnancy procedures designed to address the unique physical changes experienced by each woman after childbirth. This bespoke treatment plan can include a range of procedures such as breast augmentation, breast lift, breast reduction, tummy tuck, liposuction, and labiaplasty, depending on the individual's specific needs and desired outcomes.
Breast surgery is a common component of a Mummy Makeover, given that the breasts are significantly affected by pregnancy and breastfeeding. Procedures like breast augmentation can help restore lost volume, giving the breasts a fuller and more youthful appearance. Additionally, a breast lift or breast reduction can be employed to address sagging, improving the overall contour and perkiness of the breasts.
Many women also grapple with unwanted body fat after pregnancy. Liposuction is often incorporated into the Mummy Makeover to remove these stubborn fat deposits, thereby enhancing the overall feminine silhouette. A tummy tuck, another popular choice among mothers, can help tighten the abdominal muscles, flatten the stomach, and redefine the waistline, resulting in a more toned and streamlined appearance.
Pregnancy can also lead to changes in the female genitalia, with some women experiencing an enlargement of the labia due to hormonal shifts and increased pelvic pressure. Labiaplasty, a straightforward and safe surgical procedure, can be included in a Mummy Makeover to restore the pre-pregnancy shape and size of the labia.
Mummy Makeover Before & After Photos - Real Patient Results
The majority of women who choose to undergo a mummy makeover at Centre for Surgery express significant satisfaction with their results. Our carefully selected procedures work harmoniously to deliver a body that appears toned, youthful, and natural. Mothers who cherish their children but struggle with the physical repercussions of pregnancy can regain their self-confidence and align their physical appearance with their self-perception.
RELATED: Mummy Makeover Before & After Photos
Typically, a mummy makeover yields immediate and long-lasting effects, provided that patients maintain a healthy weight post-procedure.
It is important to note that undergoing plastic surgery may impact your social relationships. Some friends or family members may not notice much difference, while others may react negatively or with resentment. In such instances, it's crucial to remember your personal goals that motivated your decision to undergo surgery. Keep in mind that the choice to undergo a mummy makeover is primarily for your own satisfaction and well-being, and not to cater to the expectations of others.
During your in-person consultation at our Baker Street clinic, we offer a comprehensive portfolio of before-and-after photos showcasing the results of previous mummy makeover patients at Centre for Surgery. This provides a realistic visual of potential outcomes, helping you make a more informed decision. For a broader view of results from our wide range of procedures, we invite you to explore our extensive mummy makeover photo gallery collection.
Case 1: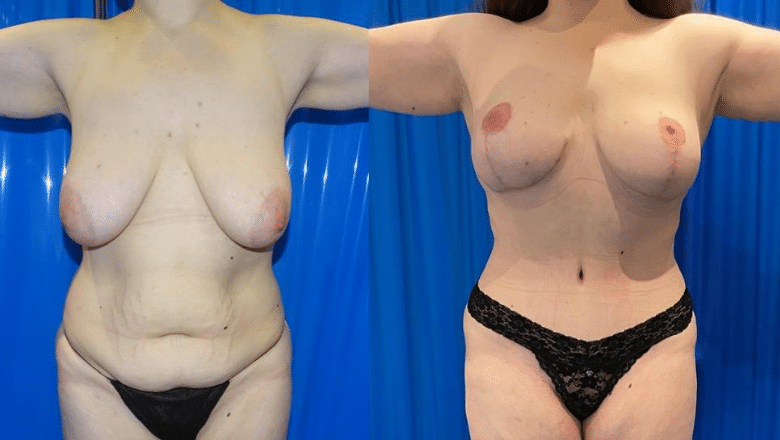 Case 2: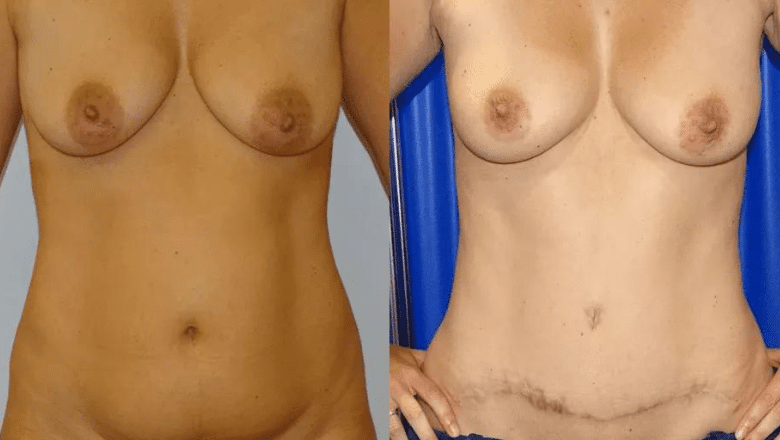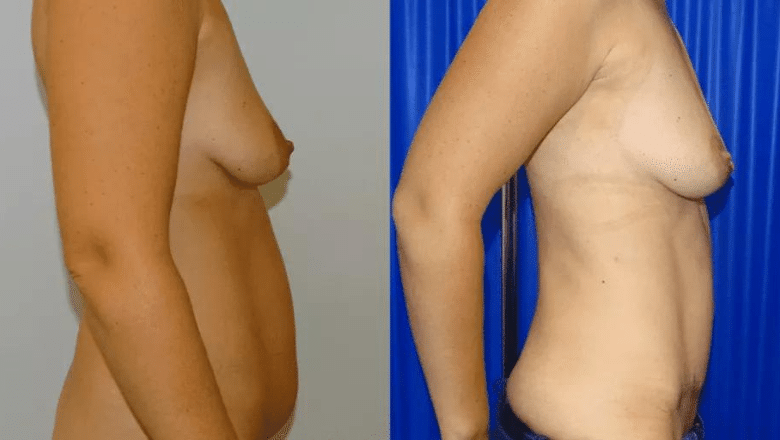 Case 3: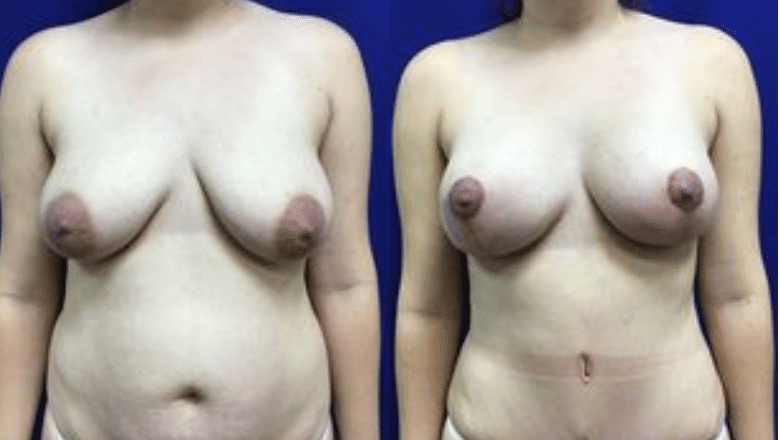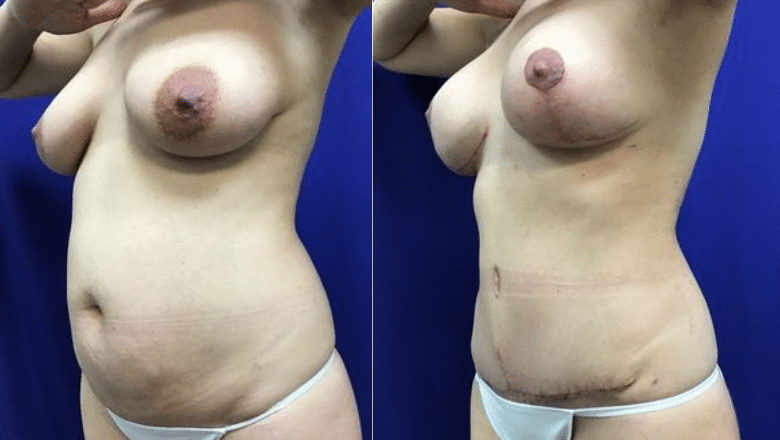 Case 4: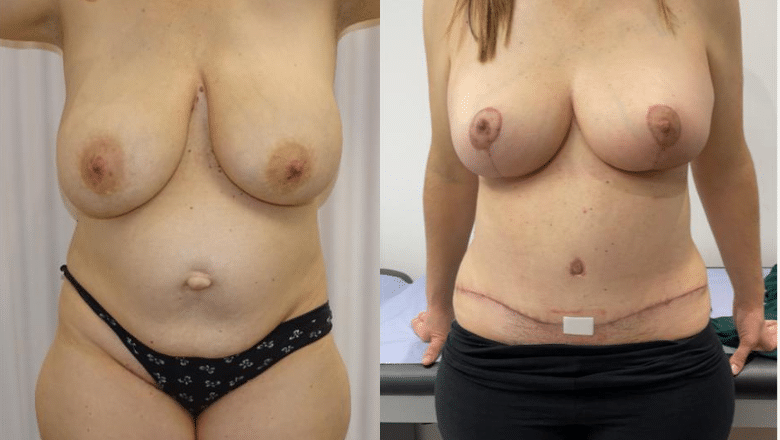 Case 5: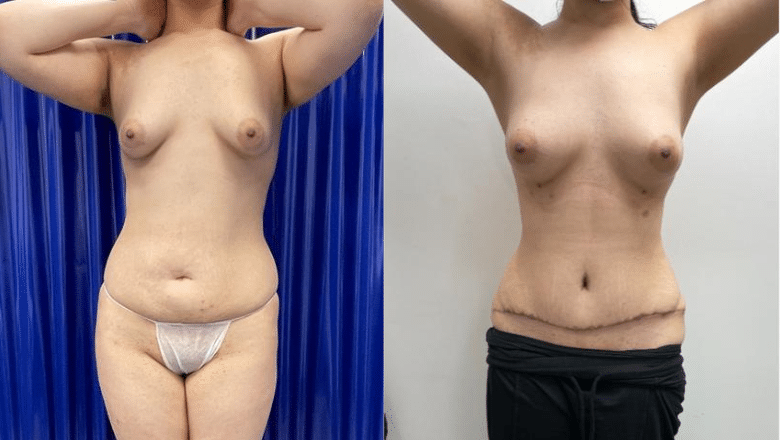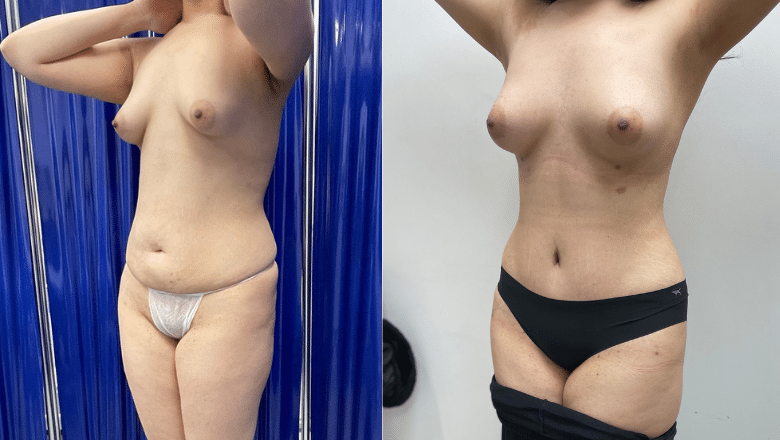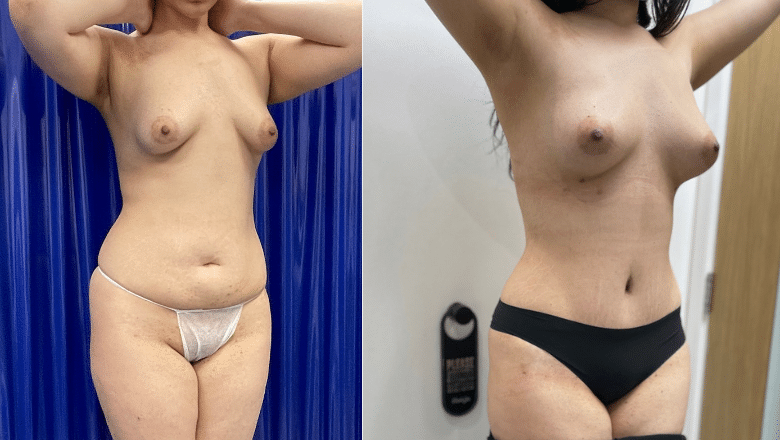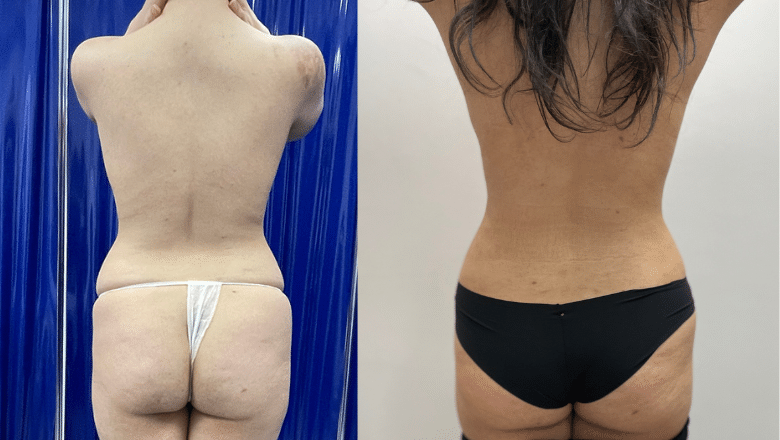 Case 6: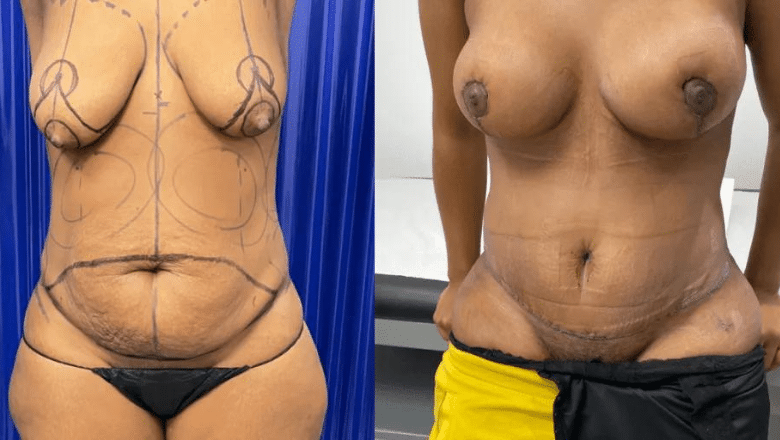 Case 7: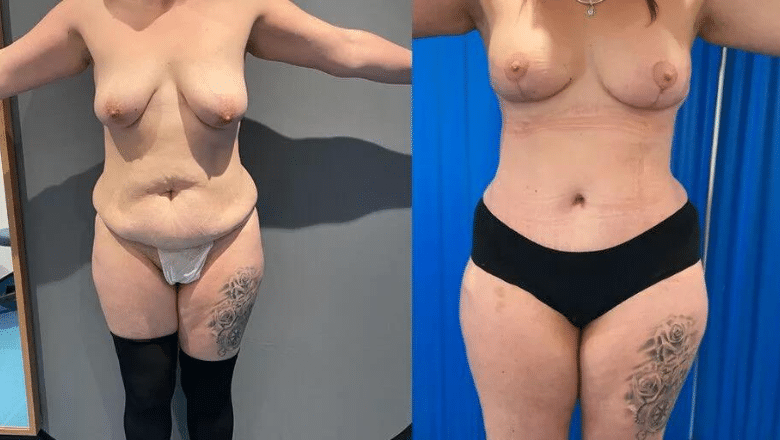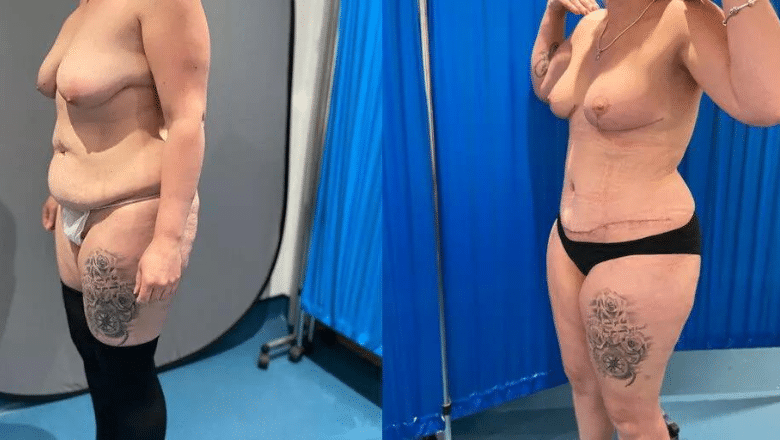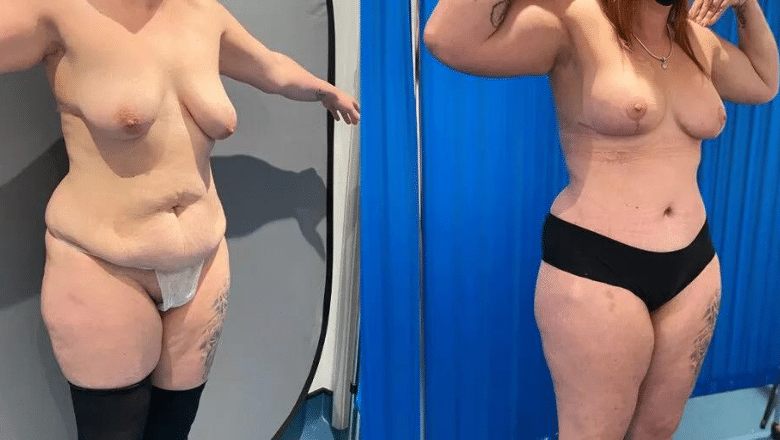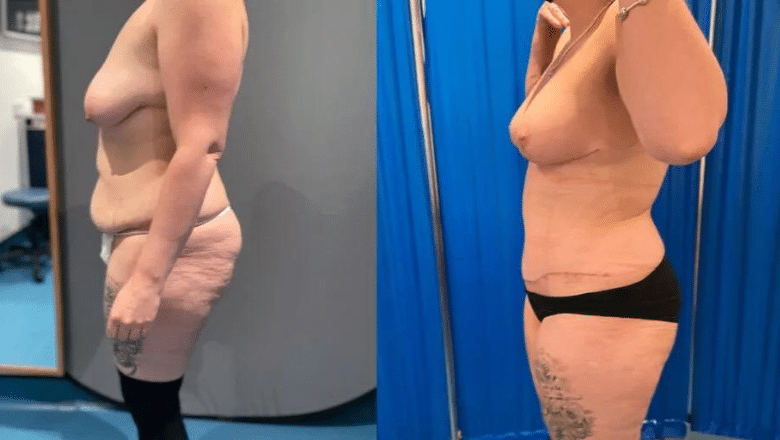 Case 8: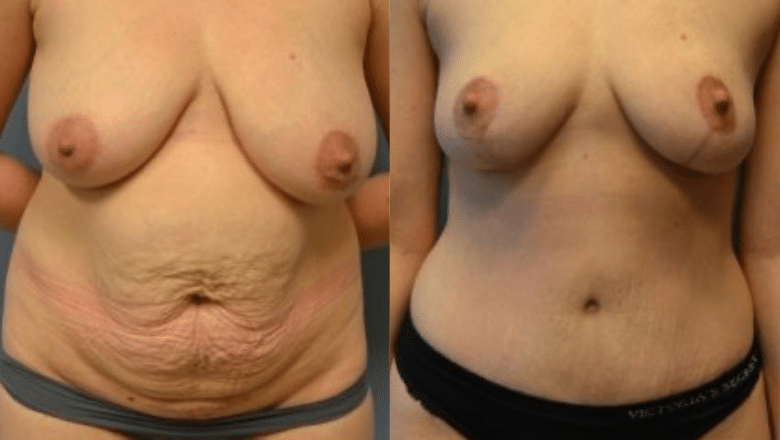 Benefits of Mummy Makeover Surgery
Restoration of Pre-Pregnancy Body: One of the most significant benefits of a Mummy Makeover is the restoration of your body to its pre-pregnancy state. The combination of procedures can effectively address the common physical changes caused by pregnancy, such as sagging breasts, stretched abdominal muscles, and excess fat.
Personalised Treatment Plan: A Mummy Makeover is fully customisable based on your unique needs and aesthetic goals. This means you and your surgeon can work together to select the procedures that will yield the best outcomes for you.
Improved Body Contour: Procedures such as liposuction and a tummy tuck can significantly enhance your body contour, resulting in a more toned and youthful appearance.
Boosted Self-Esteem: The physical changes after childbirth can affect a woman's self-esteem and body image. By addressing these changes, a Mummy Makeover can significantly improve your self-confidence.
Time and Cost Efficiency: Undergoing multiple procedures in one surgical session can be more cost-effective and time-efficient than having them performed separately. It also means you'll only need to go through one recovery period.
Long-Lasting Results: The results of a Mummy Makeover are typically long-lasting, especially if you maintain a healthy lifestyle with regular exercise and a balanced diet.
Enhanced Comfort: Some procedures, such as breast reduction and labiaplasty, can alleviate physical discomfort associated with oversized breasts or enlarged labia.
Remember, while a Mummy Makeover can offer significant benefits, it's important to have realistic expectations and discuss these with your surgeon to ensure your satisfaction with the results.
The Best Candidates for a Mommy Makeover
A 'mummy makeover' is an impactful set of procedures aimed at restoring a woman's pre-pregnancy body. However, these surgeries are not suitable for everyone. The ideal candidates for a mummy makeover are women who have finished breastfeeding their babies. This is because procedures like breast augmentation can potentially impact future breastfeeding capabilities, depending on the type of incision used during surgery.
If you value breastfeeding and plan to have more children, it may be advisable to postpone any breast augmentation until after you have weaned your final child. This ensures that your ability to breastfeed is preserved for future pregnancies.
For those who smoke, we strongly recommend quitting at least two weeks before and after surgery. Smoking can significantly hinder the healing process, potentially leading to complications post-surgery.
Having a realistic understanding of the potential outcomes is also a crucial factor. Our surgeons make it a point to discuss all aspects of your procedure in a clear and transparent manner. This includes outlining potential risks and providing a realistic picture of the most likely outcomes.
Undergoing a mummy makeover can significantly bolster your self-esteem. Improving your physical appearance often leads to enhanced self-confidence and studies have shown that these surgeries can markedly improve one's quality of life. However, it's crucial to approach the decision with a clear understanding of your expectations and to thoroughly discuss these with an experienced surgeon.
At Centre for Surgery, our team of seasoned mummy makeover surgeons is always available for these vital discussions. We are here to guide you through the process, ensuring your expectations align with the potential results, and ultimately helping you make the best decision for your unique situation.
Watch the Mummy Makeover Animated Video
Breast Enhancement Surgeries post-Pregnancy
Breast Augmentation
Following the transformative experience of pregnancy and the subsequent period of breastfeeding, it is a widely observed phenomenon that many women experience a noticeable reduction in breast volume. The breasts, once full and firm, may begin to appear somewhat diminished in size and somewhat deflated in appearance. This is a natural result of the body adapting to the end of lactation, but it can also lead to feelings of dissatisfaction and self-consciousness for some women.
One widely accepted solution to this issue is breast augmentation with implants. These medical devices, when skillfully implanted, can restore not just the volume of the breasts, but also their original or desired shape, thereby reinvigorating their aesthetic appeal. This is a significant benefit, as it doesn't solely focus on size but on the overall look and feel of the breasts, offering a much more comprehensive solution.
However, the effects of pregnancy and breastfeeding on the breasts aren't limited to changes in volume alone. Often, the skin of the breasts has been stretched during these periods and the nipple has migrated to a lower position on the breast than it previously occupied. This can lead to an appearance that is less youthful and perky than before.
To address this issue, a breast lift, or mastopexy, can be performed in conjunction with the breast augmentation procedure. This surgical technique aims to elevate the nipple, tighten the surrounding skin, and improve the overall contour of the breast, thereby restoring it to a more youthful shape and appearance.
The combination of breast augmentation with implants and a breast lift can be a powerful method to rejuvenate a woman's silhouette post-pregnancy and breastfeeding. It offers an opportunity to regain the confidence that may have been affected by the natural changes that occur in a woman's body during these stages of life.
Breast Lift – with or without Implants
In some instances, the alterations in the breast's appearance post-pregnancy may be more pronounced, necessitating a more comprehensive approach for restoration. If you're experiencing significant sagging and loss of firmness in your breasts, a breast lift may be the most suitable procedure for your needs.
Our experienced surgeon will perform this procedure with the utmost precision, meticulously working to rectify the issue of sagging skin. This process involves the tightening and reshaping of the skin envelope of the breast, thereby enhancing its firmness and countering the effects of gravity. One of the major advantages of this procedure is that it can restore the youthful appearance of your breasts without necessarily increasing their size. This can be an important consideration for women who are satisfied with their breast size but unhappy with their breasts' sagging appearance.
Another common issue that the breast lift addresses is the downward displacement of the nipples, a condition often seen following pregnancy. Our surgeon can adjust the position of the nipples during the procedure, restoring them to their original, higher position on the breasts and improving the overall breast profile.
However, if your breasts also need volume restoration, we can incorporate additional procedures into your breast lift. One such technique is fat grafting, where your own body fat is used to add natural fullness to the breasts. This is an excellent option for women seeking a modest increase in breast size and a natural look and feel.
Alternatively, if a significant increase in volume is desired, we can also offer a combination of breast augmentation with a breast lift. This procedure involves the insertion of breast implants during the lift surgery, allowing for the simultaneous restoration of the breasts' size and shape.
Breast Reduction
While a prevalent aftermath of breastfeeding and pregnancy is the sagging and deflation of breasts, a different set of issues arises for another group of women. For these individuals, they experience an increase in the size of their breasts following these life-changing events. This can be particularly problematic for women who were already dealing with the discomforts associated with overly large breasts prior to having children. These discomforts can range from back and neck pain, grooves caused by bra straps, to skin irritations and rashes within the breast fold.
Upon the completion of their childbearing years, many women decide that it's the right time to address these issues. This often takes the form of a breast reduction surgery, which is frequently included in what is known as a 'mummy makeover.' This term refers to a series of surgical procedures aimed at restoring a woman's pre-pregnancy body and enhancing her overall physical comfort and self-esteem.
Breast reduction surgery involves the removal of excess breast tissue and fat. This not only reduces the size of the breasts but also reshapes and lifts them, thus restoring a more balanced and youthful appearance. There are a variety of surgical techniques available for this procedure, and your surgeon will collaborate with you to determine the most appropriate approach based on your unique needs and goals.
Many mothers who have opted for a breast reduction as part of their mummy makeover report overwhelmingly positive and transformative post-surgical effects. These extend beyond the purely physical to include improvements in self-confidence and overall quality of life.
Body Makeover post pregnancy rejuvenation
Tummy Tuck
The journey of motherhood, while immensely fulfilling, brings about significant changes to a woman's body. Among the most noticeable transformations occur in the abdominal region, as the growing baby stretches the abdominal muscles and overlying skin. This stretching often results in excess skin adorned with stretch marks and a separation of the underlying abdominal muscles, changes that become even more pronounced with multiple pregnancies or births. While the body possesses remarkable healing capabilities, it is quite common for mothers to observe that their abdomens have undergone permanent alterations post-childbirth. These can include the manifestation of stretch marks, loss of abdominal muscle tone, the presence of flabby and excess skin, and the accumulation of fatty deposits.
Fortunately, modern surgical interventions offer a solution in the form of an abdominoplasty, commonly referred to as a 'tummy tuck.' This procedure is designed to address the aforementioned concerns by removing loose skin and excess fat from the abdomen. Moreover, it also facilitates the tightening and rejoining of the separated stomach muscles, thereby reinstating a robust abdominal core. This aspect of the procedure carries added benefits, as a strong core can alleviate lower back pain and stress incontinence, improving overall quality of life.
Our team of skilled surgeons may also integrate liposuction into your tummy tuck procedure. This synergistic approach allows for more comprehensive contouring of the abdomen, resulting in a flatter, firmer appearance and an overall enhancement in body shape.
The tummy tuck is a key component of the 'mummy makeover' – a suite of procedures aimed at restoring a woman's pre-pregnancy body. Beyond the significant physical improvements, the tummy tuck also brings about substantial psychological benefits. By restoring confidence and comfort in one's body, it contributes to an overall sense of well-being and satisfaction. So, if you're a mother grappling with permanent changes in your abdomen post-childbirth, considering an abdominoplasty could be a step towards reclaiming your pre-pregnancy body and self-assurance.
Liposuction
Many mothers grapple with the challenge of stubborn abdominal fat that persistently clings to their bodies, despite their best efforts post-childbirth. Quite naturally, the question arises – can liposuction alone provide the desired results? The answer to this question largely depends on the specific conditions of your body.
If your abdominal muscles have maintained their tone and have not separated during pregnancy, and your skin shows minimal effects of stretch marks, then liposuction alone could indeed be an effective solution. This procedure can remove the excess fat, helping to restore a slimmer silhouette.
However, due to the significant physical changes induced by pregnancy, many women find that their bodies do not meet these criteria. Their abdominal muscles may have separated, and the skin might be affected by stretch marks and laxity. In these instances, liposuction alone may not yield the best results.
That's why our team often recommends a combined approach of liposuction and abdominoplasty, or a tummy tuck, for such mothers. This strategy allows us to address the full range of physical changes that occur during pregnancy. The liposuction component targets and eliminates stubborn fat deposits, while the tummy tuck works on tightening the abdominal muscles and removing excess skin.
The combined procedure offers a comprehensive solution that can recreate a slimmer, more toned appearance for mothers post-childbirth. It is a more holistic approach that takes into consideration the multiple ways in which pregnancy can affect a woman's body, and seeks to address these changes in an integrated manner. As always, it's crucial to consult with an experienced surgeon to determine the best course of action for your individual circumstances and goals.
Recovery after Mummy Makeover
At Centre for Surgery, we perform mummy makeover procedures as day surgeries, allowing you to return to the comfort of your own home following the operation. However, as the procedure involves general anaesthesia, you will need a friend or relative to accompany you home and stay with you for the initial 24 hours. They should also be available to escort you to your post-operative appointments the day after the surgery and during the first week of your recovery.
RELATED: Recovery After Mummy Makeover – Top Tips After Breast and Tummy Surgery
The duration of the recovery period following a mummy makeover can vary considerably, contingent on the specific procedures undertaken. Interestingly, while a mummy makeover involves a combination of surgeries, the overall recovery time is typically shorter compared to undergoing each procedure separately. This is due to the overlapping recovery periods of the individual procedures.
Post-surgery, bandages over incisions are usually kept in place for several days, and you may be required to wear an elastic compression garment on specific parts of your body. This garment assists in managing swelling and facilitating the healing process, and it may need to be worn for several weeks.
A mummy makeover is a substantial surgical intervention and requires a significant recovery period. It is not uncommon for recovery to span four to six weeks. During the initial stages of this period, it is paramount that patients avoid exertion. Particularly after breast surgery, lifting restrictions are strictly enforced, and abdominal surgery requires avoiding twisting motions or straining core muscles.
As for the scarring, while initial post-operative scars may appear prominent, they typically begin to fade within approximately six months.
Mummy Makeover Risks & Complications
Our dedicated team of specialist plastic surgeons at Centre for Surgery performs over 100 mummy makeover procedures each year, boasting a track record of predominantly positive outcomes and a rarity of complications. However, as with any surgical procedure, there are inherent risks, including specific complications associated with the body contouring techniques utilised in a mummy makeover. During your consultation, our surgeons will ensure that you are fully aware of these potential risks, providing comprehensive information and addressing any concerns you may have.
Post-operative complications, such as infections and blood clots, are uncommon. In the event of an infection, it can typically be managed effectively through drainage and antibiotics. The risk of blood clots can be minimised by mobilising as soon as feasible after your surgery.
Mummy Makeover London at our state of the art clinic in Central London
At our state-of-the-art clinic in London, we have implemented a range of strategies designed to further reduce the risk of complications. For instance, we provide patients with anti-embolic stockings to wear for one week post-surgery. These stockings, combined with the use of a specialised sequential compression pump that gently massages your legs during surgery, significantly decrease the likelihood of blood clots forming in the legs.
In some cases, poor healing may occur, potentially leading to noticeable scarring and necessitating a second operation. We advise smokers to cease smoking well in advance of the procedure, as smoking can increase the risk of complications and impede the healing process.
The risk of complications can be further reduced by adhering strictly to your surgeon's pre- and post-operative instructions, particularly those concerning the resumption of physical activity. It's crucial to follow these guidelines to promote optimal healing and results.
Lastly, please be assured that, at Centre for Surgery, we are committed to your safety and well-being. We are fully equipped and ready to manage and treat any complication that may arise during your mummy makeover journey. Your safety and satisfaction are our utmost priorities.
Mummy Makeover Cost & Price – How much does a Mummy Makeover cost in London?
There are a number of factors which will determine the overall cost of your mummy makeover procedure and the final quotation will be given after a face to face consultation with your specialist plastic surgeon.
Type of mummy makeover – abdominoplasty +/- liposuction or breast lift +/- breast augmentation
Full 360 liposuction of abdomen, flanks and back or liposuction to the abdomen and flanks alone
Body mass index or BMI
Number of areas of liposuction in combination with tummy tuck
Primary or revision mummy makeover
RELATED: How Much Does A Mummy Makeover Cost?
Why not call 0207 993 4849 and speak to one of our expert patient coordinators who may be able to give you a rough costing prior to a consultation for mummy makeover.
Always remember that price should never be the determining factor when it comes to choosing a plastic surgeon for your mummy makeover procedure. A mummy makeover should be seen as an investment in yourself given the dramatic results of a comprehensive full breast and body makeover.
We feel that safety and quality of service should be your number one priority and instilling in you the confidence that our team will look after you before, during and after your procedure to the best of their ability.
Spread the Cost of Your Treatment

Centre for Surgery are fully approved to offer finance via our specialist finance partner, Chrysalis Finance. You no longer need to use your savings to pay for your treatment – you can apply to spread the cost of your procedure with Chrysalis Finance using their simple 1,2,3 application to pay for your procedure. Don't wait until you have enough money for your treatment, apply today and (subject to status) pay for your procedure easily in monthly instalments, using one of their payment options. Chrysalis Finance is the only ethical provider who focus solely in the provision of specialist financing for medical procedures.
Choosing Centre for Surgery for Your Mummy Makeover: A Commitment to Excellence
Experience and Expertise: Our team of plastic surgeons is highly skilled and experienced, performing over 100 mummy makeover procedures each year. Our surgeons are adept in the latest techniques and technologies in the field of plastic surgery, ensuring safe and superior results.
Patient-Centred Care: At Centre for Surgery, we place paramount importance on patient comfort and satisfaction. From the initial consultation through the recovery period, our team is there to provide guidance, support, and expert care. We work closely with you to create a personalised treatment plan that aligns with your goals and expectations.
State-of-the-Art Facility: Our Baker Street facility in London is equipped with the latest in medical technology. This enables us to provide the highest standard of care and safety during all stages of the procedure, from pre-operative assessments to surgery, and through the post-operative period.
Transparent Communication: We believe in the importance of clear and open communication. Our surgeons take the time to explain every aspect of the procedure, including potential risks, recovery expectations, and likely outcomes. This ensures that you are fully informed and comfortable with the process.
Comprehensive Aftercare: Our commitment to your well-being doesn't end after the surgery. We offer a comprehensive aftercare programme, ensuring that your recovery is smooth and that you're completely satisfied with the results.
Visual Resources: We provide a wide range of before-and-after photos of previous patients, offering you a realistic expectation of the potential outcomes.
Safety Standards: Patient safety is our top priority. We adhere to strict safety protocols, and our Baker Street clinic is equipped to handle any complication that may arise during your mummy makeover journey.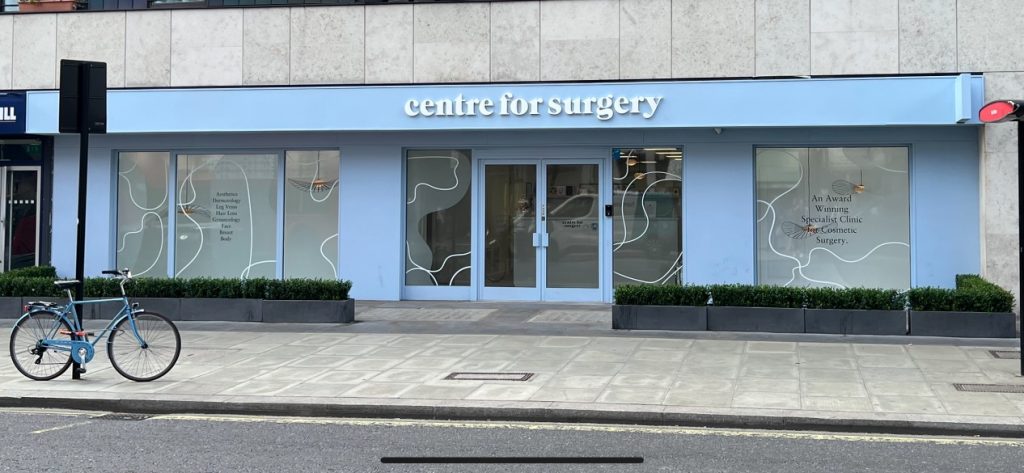 RELATED: Is A Mummy Makeover Worth It?
What To Expect
The Consultation
We would advise to have a face to consultation with one of our experienced surgeons prior to considering mummy makeover surgery. At your consultation, the surgeon will explain the potential combinations of mummy makeover procedures available to you, and which is most suitable and preferential for you given your needs and preferences. A number of measurements are taken of the body areas where fat is to be removed and an assessment will be made of the soft tissue quality. Those who have good skin elasticity then you may be a good candidate for liposuction alone. if however you have significant skin laxity with associated muscle weakness then a tummy tuck may be a better option. Your surgeon has is skilled in all types of mummy makeover surgery including the Brazilian tummy tuck and the most appropriate choice will be made based on your physical examination (full/mini/extended).

The surgeon will also give information on the location of the incisions for the abdominoplasty or breast surgery procedure which usually runs from hip to hip and around the belly button if a full tummy tuck is planned. If you are having a consultation for revision surgery after surgery performed elsewhere, you surgeon may want to see you again for a second consultation. He will want to see the medical records from your previous mummy makeover to plan the revision procedure more effectively.

High-resolution photos will be taken and your surgeon may also use computer digital imaging to map your areas of concern in closer detail. Your surgeon will take time to discuss the important risks and potential complications of mummy makeover surgery and what you can expect in the postoperative period.

The surgeon will also take a full medical history which includes previous operations, current list of medicines taken and any potential allergies. This information will be used to decide on your fitness for the tummy tuck procedure. If you are deemed to be a suitable candidate for surgery then we would recommend to spend a period of time to reflect on all the information given. We always recommend a minimum of a '2 week cool off period' for to weigh up your options.

All our prospective patients are more than welcome to have as many follow-up consultations after their initial consultation to make sure you are fully empowered with all the information to make an informed decision for proceeding with tummy tuck surgery at Centre for Surgery.
Before Your Procedure
Once you have decided that a mummy makeover procedure is right for you, our preoperative assessment team will be in contact to prepare you for the procedure.

The following are recommended actions to take:

- For 6 weeks beforehand, it is highly recommended to stop smoking as active smoking is associated with a number of risks including delayed wound healing which could result in wound infection. There is also a risk of impaired blood supply to the abdominal skin flap and this could result in wound breakdown.

- You should stop oestrogen containing oral contraceptives 4 weeks before your procedure.

- You should also avoid aspirin and all medicines containing aspirin for at least one week prior to the procedure.

- For 6 hours before the mummy makeover procedure, you should refrain from eating any food or any type of drink apart from sips of clear fluid (water and tea/coffee without added milk) which is allowed for up to 2 hours before the procedure.
On The Day of Your Procedure
Please aim to arrive for your mummy makeover procedure at the confirmed time. One of our nursing team will admit you for the procedure and will carry out a number of tasks including checking your blood pressure and other vital signs including pulse and temperature and then getting you changed into single-use clinic wear.

The consultant anaesthetist will then come in to assess you to make sure you are fit for the TIVA anaesthetic and will also prescribe a number of pre-medications which are given by your nurse to help your recovery after the mummy makeover procedure. You will then be seen by your surgeon who will confirm the procedure to undertaken and you will sign the informed consent form. Skin marking and photos may be taken at this point.

Mummy makeover is a very commonly performed procedure at Centre for Surgery and is carried out under TIVA general anaesthesia as a day case. The mummy makeover procedure takes between 2-4 hours to perform depending on the extent of the procedure and if other procedures such as breast augmentation are combined as well.

The surgeon begins by making an incision across the lower abdomen as low as possible to ensure optimum concealment of the resulting scar and an incision is made around the belly button. The abdominal skin flap is carefully undermined using radiofrequency cautery all the way to the lower ribcage. This resulting skin flap is then pulled down and the excess redundant skin is trimmed off to match the new contours. Liposuction is also performed to the upper abdomen, flanks and edges of the incision to create a smaller waist. The incision is closed with minimal tension to maximise good wound healing.

A new opening for the belly button is created and the existing belly button is sutured into its new position. You may have one or two drains inserted to collect any excess fluid used during the liposuction and these are usually removed about 2-3 days later in the clinic. The breast augmentation part of the procedure involves the insertion of silicone breasts either on top of or beneath the chest muscle through an inframammary incision.

Once you have woken up from the TIVA anaesthetic, our nurses will closely monitor you for 1-3 hours afterwards to make sure you make a full recovery. You will be given a fruit juice drink or a hot drink as you prefer to build up your energy levels. Once you are assessed as fit for discharge, you will require a responsible adult escort to take you home in a car or taxi and to look after you for at least the first 24 hours after surgery. You may have a mild sore throat for a few hours after surgery. This is due to the presence of the supraglottic breathing tube used for your anaesthetic - it is temporary in nature.
After Your Procedure
After your mummy makeover procedure, our dedicated postoperative support team are available round the clock to answer any questions or concerns you may have. Our team will call you regularly for the first 2 weeks after your procedure to make sure your pain levels are well controlled and your healing is progressing as normal. You will need to come in for drain removal by one of our nurses at 2-3 days after your procedure.

The recovery after a mummy makeover is usually straightforward with minimal discomfort that can be effectively controlled with tablet painkillers and the majority of our patients are very comfortable by the end of week 1. The key is to keep well hydrated and keep mobilising gently to help the healing process as there is a risk of DVT/PE after tummy tuck surgery. Your doctor may recommend a period of approximately one week off work. You should minimise any excessive physical activity for the first 2 weeks after surgery to help with the healing of the incisions and reduce swelling.

You will be required to wear a supportive compression garment for a full 6 weeks to make sure healing is optimal, and also so that scars heal with best results.

You will attend for a postoperative check up with one of our nursing team at 7-10 days to review your surgical wound sites and ensure proper healing is taking place. Recommendations on treatments for scar healing may be given for optimal cosmesis. At 6 weeks you should begin to see your final results and you will see your surgeon for a comprehensive review and make sure your results are in line with your expectations.