360 liposuction London & UK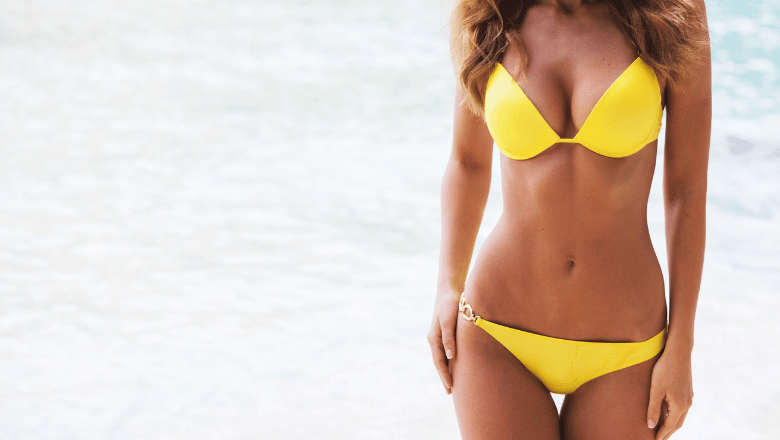 Redefine your body contours with 360 liposuction – the comprehensive solution for a sculpted, harmonious silhouette from every angle
360 liposuction or 360 lipo is a specialist body contouring procedure that is designed to sculpt the midsection or torso, which includes the abdomen, flanks, mid and lower back. 360 liposuction is also known as circumferential liposuction. Liposuction has benefited from several advances in technology to optimise results, improve safety and minimise recovery time. 360 Lipo is designed to remove excess fat from around the torso using small incisions through which specialised cannulas are inserted. 360 liposuction can produce long-term results, although if you gain weight, the remaining fat cells could enlarge. It is important to adhere to a healthy programs diet and exercise to maintain 360 Lipo results. Excess weight gain, pregnancy and childbirth, the natural ageing process and certain medications can all cause weight gain and potentially affect your results.
RELATED: Liposuction FAQs – Q&As about Liposuction Surgery
If you are unhappy with how your midsection looks with a bulging abdomen or love handles, 360 liposuction can help to achieve the look you have always wanted. The procedure is ideal for those who are physically fit and healthy and are at or near their ideal body weight. Patients can achieve a sculpted midsection with increased definition after 360 liposuction. Any form of liposuction is not a treatment for losing weight. 360 liposuction should be viewed as a procedure to control and sculpt the body when nonsurgical treatments have failed. The best outcomes are achieved when patients are fit and healthy before undergoing the procedure.
Here at Centre for Surgery we carry out over 100 Lipo 360 procedures each year as a single procedure or combined with a tummy tuck or Brazilian butt lift. Our liposuction surgeons are considered some of the most experienced practitioners in London and throughout the UK.
What is 360 Liposuction?
360 liposuction, also known as 360-degree liposuction or circumferential liposuction, is a comprehensive body contouring procedure that targets multiple areas around the midsection in a single session. The term "360" refers to the treatment of the entire midsection, encompassing the front, sides, and back, which results in a more balanced and sculpted appearance.
This advanced liposuction technique typically focuses on removing excess fat from areas such as the abdomen, flanks (love handles), lower back, and sometimes the upper back, depending on the patient's specific needs and goals. By treating the entire midsection, 360 liposuction helps create a more harmonious and proportionate body shape, enhancing the natural curves of the waist and hips.
360 liposuction can be performed using various liposuction techniques, including traditional, tumescent, ultrasound-assisted, or laser-assisted liposuction, depending on the surgeon's preference and the patient's individual requirements.
It is essential to understand that 360 liposuction is not a weight-loss procedure; rather, it is a body contouring treatment designed to remove stubborn fat deposits that have been resistant to diet and exercise. To maintain the results of 360 liposuction, patients should commit to a healthy lifestyle, including a balanced diet and regular physical activity.
Lipo 360 Before & After Photos - Real Patient Results
Case 1: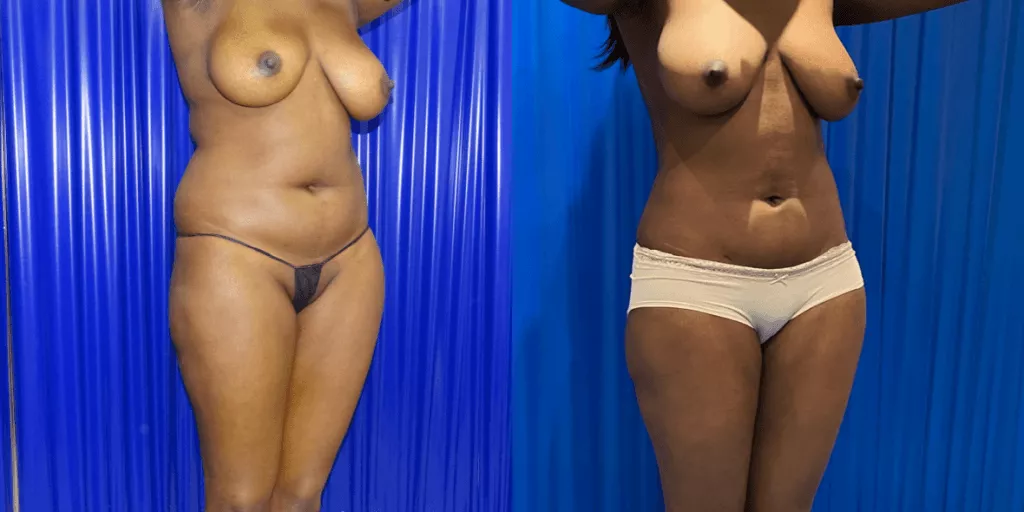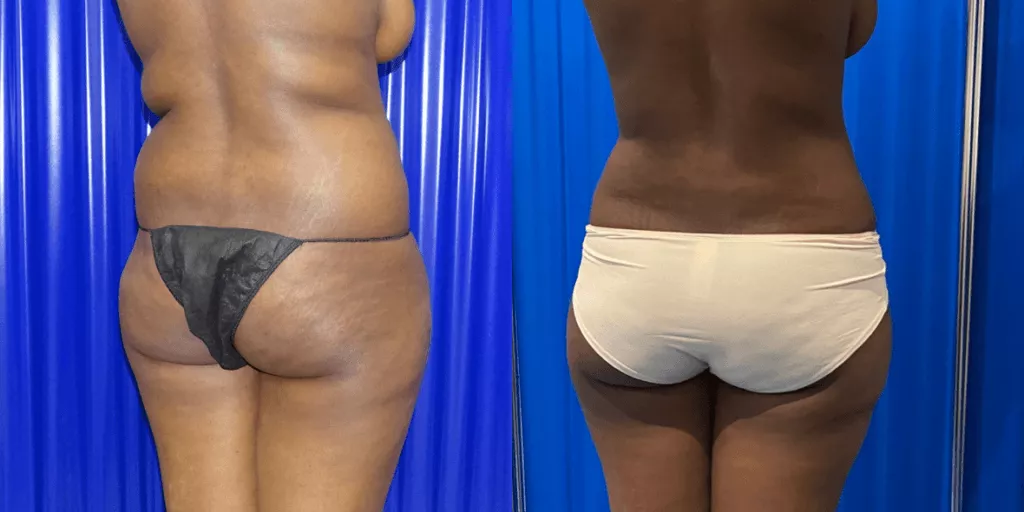 Case 2: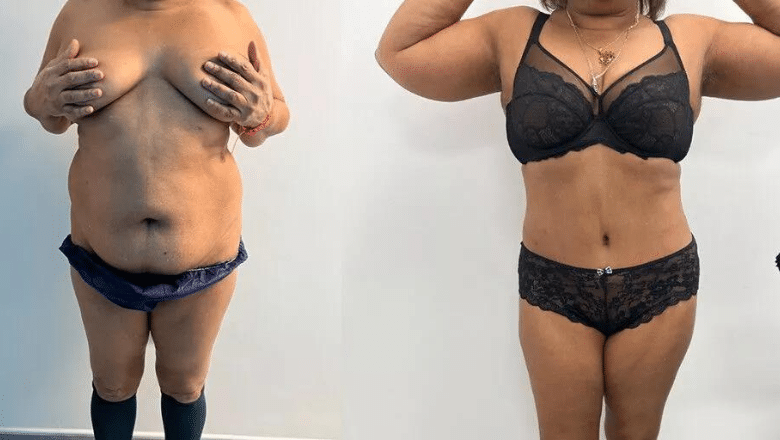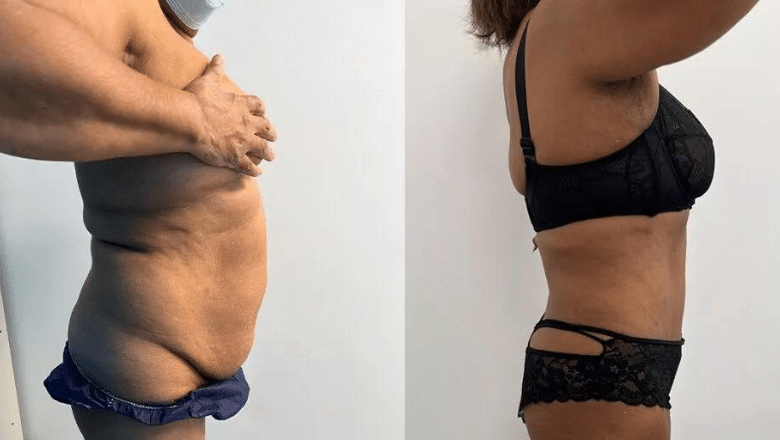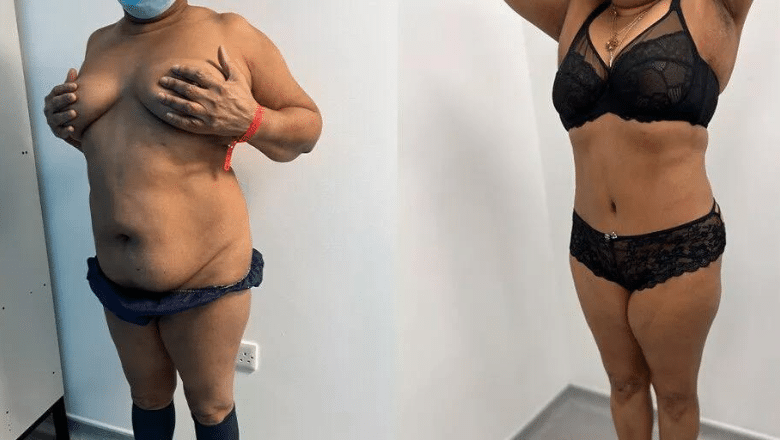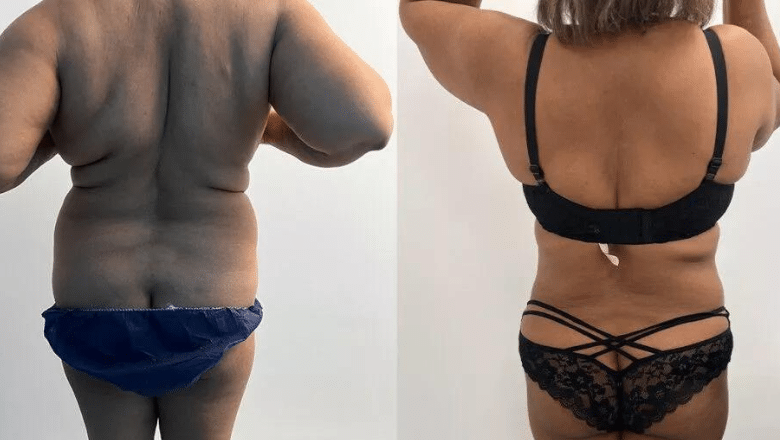 Case 3: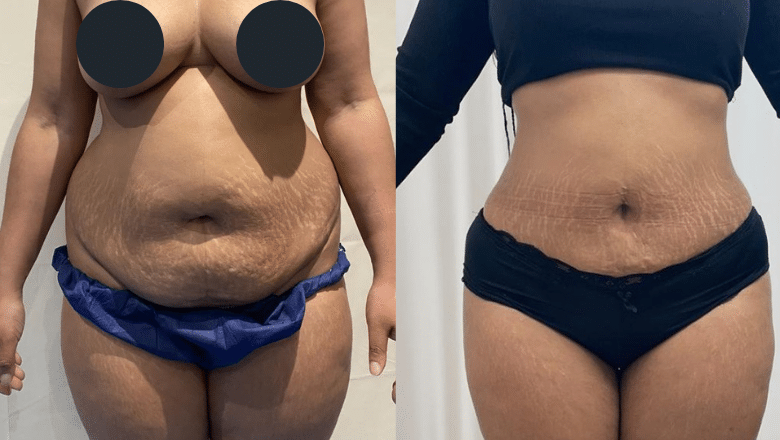 You will see an immediate improvement in your body shape after the procedure. Further improvement will become noticeable after six weeks. Most of the swelling will have disappeared by this stage. Final results are generally visible after three months, with the resolution of any mild swelling to reveal your final enhanced contours. Patients with realistic expectations can expect to enjoy the results of their procedure. An unrestricted range of clothing, including swimwear, can be worn with confidence. Maintaining a healthy lifestyle with a nutritious diet and regular exercise is important to preserve your new body shape. Patients can get a rough idea of how they could look after 360 liposuction by viewing liposuction before and after photos. If you would like to view a much larger range of before and after photos, please schedule an in-person consultation, and your surgeon will be able to show you further photos.
RELATED: Liposuction Before And After Photos
Benefits of 360 liposuction
360 liposuction can help patients to achieve an hourglass figure with comprehensive body contouring of the abdomen, waist and back. These are the areas that are especially prone to accumulating excess fat and which have proven resistant to diet and exercise. 360 liposuction addresses the following areas:
Upper and lower abdomen
Love handles
Mid and lower back
Patients can achieve enhanced body contours with the elimination of stubborn fat. Patients have the freedom to wear and a restricted range of clothing, including swimwear. Getting the best results after 360 Lipo depends on skin elasticity. For those with excess loose skin, a combined 360 lipo and skin removal procedure such as an abdominoplasty (tummy tuck) may be required to achieve a tighter-looking appearance.
RELATED: Does liposuction cause loose and flabby skin?
RELATED: What is excess skin removal?
Am I suitable for Lipo 360?
Ideal candidates for Lipo 360 include those who have realistic expectations about what the procedure can achieve. It is important to bear in mind that lipo 360 is aimed at improving your body shape and enhancing your self-confidence. The procedure may not necessarily change your appearance to match exactly what you are looking for, and it is not designed to allow people to view you differently. It is important to consider what you would like to achieve from the procedure and discuss this with your surgeon at the in-person consultation.
RELATED: Am I suitable for liposuction?
Suitable patients should be at or near their ideal body weight and have good skin quality without areas of loose or sagging skin. Patients should be in a good state of overall health with no chronic medical conditions. Although advancing age is not a barrier to having the procedure, you may wish to bear in mind that skin elasticity diminishes with age. The results achieved with 360 liposuction may not be as impressive compared with younger patients with firmer skin. The risks of liposuction increase if you have serious medical conditions such as cardiovascular disease, diabetes or hypertension.
What does 360 liposuction involve?
360 liposuction is performed on-site at our state-of-the-art Baker Street clinic in Marylebone. A general anaesthetic is used for all 360 lipo procedures for your comfort during and after the surgery. The 360 approach can involve larger amounts of fat being removed compared to liposuction of single body areas. Performing the procedure with a local anaesthetic may not allow sufficient fat removal without causing significant discomfort. The procedure takes between 2 to 3 hours, depending on the extent of body contouring required. Before removing the fat, the surgeon will first inject a local anaesthetic solution containing a vasoconstrictor to reduce blood loss. This specially prepared solution permits easier fat removal with reduced blood loss and provides effective pain relief both during and after the procedure. Infiltrating local anaesthetic before carrying out liposuction helps to minimise the degree of bruising in the postoperative period. The amount of local anaesthetic injected depends on the areas of the midsection to be treated. Patients with a higher body mass index may require more injections of local anaesthetic.
Our surgeons use power-assisted liposuction (PAL) to gently and efficiently extract fat during the 360 liposuction procedure. The surgeon will make small incisions to permit the insertion of the liposuction cannula into the subcutaneous fat layer. The cannula moves back and forth through the fat to break up the fat cells. The cannula vibrates at a high frequency to extract fat efficiently with less physical exertion, which helps reduce trauma to the surrounding tissues. Fat is removed quickly and evenly with minimal bleeding. Patients experience less bruising and swelling after surgery, which allows for a quicker recovery. The surgeon will first treat your middle and lower back before turning you over whilst you are asleep to remove fat from the abdomen and flanks. Carrying out liposuction using the 360° technique produces results which far exceed the results obtainable with a traditional liposuction approach.
How long does it take to recover after 360 liposuction?
Once the 360 lipo procedure is complete, the patient must wear a compression garment for a minimum of six weeks. This garment will be warned beneath your normal clothing. Patients can shower 24 hours after the procedure. It is a good idea to have two garments. One garment can be washed while you are wearing the other one. Your surgeon will prescribe painkilling medication for you to take if you experience mild to moderate discomfort. We would recommend one week off work after 360 liposuction. You should try to take it easy during the first week. Focus on keeping mobile around the home, reading books or watching TV. We would recommend having an adult caregiver help you with everyday household chores during the first week. For patients with young children, it is important to organise alternative childcare arrangements to help you recover in peace. Getting as much rest as possible during the first week will help your overall healing and recovery. Strenuous exercise should be avoided for six weeks, including sexual intercourse, to prevent excessive swelling from occurring.
What are the potential risks and complications of 360 liposuction?
360 liposuction is a safe procedure when patients are suitably prepared for the procedure, and your surgeon has many years of experience in carrying out body contouring surgery, including 360 Lipo.
RELATED: What are liposuction side effects?
Post-operative swelling can take several weeks to settle down after the procedure.
360 Lipo can often involve the removal of fat that can reach up to 5 L. Our policy at Centre for Surgery is to limit fat removal to 5 L per procedure for your safety. As with any type of surgery, there are certain risks involved with 360 Lipo. Although rare, risks are higher when a larger number of areas are treated in the same procedure, and 360 liposuction is a prime example. Specific risks include infection, delayed healing, bleeding, friction burns or damage to the skin or nerves. Other serious complications include blood clots in the lungs, perforation to vital organs in the abdomen and anaphylactic drug reactions. These risks are extremely rare when an experienced liposuction surgeon performs the procedure. Your surgeon will explain the potential risks and complications of the procedure at your in-person consultation and the strategies they employ to minimise the risk of complications occurring. Any type of liposuction procedure involves a certain degree of scarring. Liposuction scars are very small and are usually placed within natural skin folds to minimise their appearance. Rarely the surface of the skin may develop irregularities or looseness, particularly in older patients with skin laxity. Temporary numbness may occur after the procedure, which most commonly settles after 2 to 3 weeks. In rare cases, revision surgery may be required to correct unsatisfactory cosmetic results.
What do 360 lipo scars look like?
Liposuction incisions are no more than 5 mm long. As with scarring from any other type of surgical incision, they will gradually fade to a faint white line over 3 to 6 months. Scars are initially raised and may be red. The colour will gradually fade over time. Darker-skinned people may more likely develop prominent scarring such as keloid scars. Keloid scars also have a genetic link and are more common in first-degree relatives. There are various treatments available to improve the appearance of liposuction scars, including silicone gel sheets, laser treatments and Morpheus8. You should always use sunscreen and avoid excessive exposure to sunlight for at least six weeks, as prolonged sun exposure can cause hyperpigmentation of scars.
360 Liposuction Cost London – Prices & Fees – How much is 360 Liposuction in London?
The cost of 360 liposuction is an important consideration for patients who are considering this procedure. We would always recommend basing your decision on the reputation of the surgeon and clinic. Our treatment philosophy focuses on providing gold-standard treatments for the best aesthetic outcomes. The surgeon's qualifications, experience and expertise are extremely important in helping you to achieve the best results. Liposuction prices should certainly be considered, although they should not be the most important factor when deciding on 360 liposuction in London. Having cheap liposuction overseas may involve significant risks, including serious injury, and the cost of corrective surgery can place patients in significant financial hardship.
RELATED: How much does liposuction cost?
The total cost of 360 liposuction will be determined by your body mass index, the predicted procedure duration, surgical costs, anaesthetist costs and facility fees. Postoperative aftercare is included in the cost of your 360 liposuction procedure. The key factors that will determine the cost of the procedure include the following:
Number of areas being treated
Anticipated degree of difficulty
Body mass index
360 liposuction involves multiple body areas, including the abdomen, flanks, mid and lower back. The cost of the procedure for someone weighing over 80 kg might be more than for someone who has never weighed more than 60 kg. The procedure is more technically difficult if a patient has previously gained and then lost a significant amount of weight. If previous liposuction has been carried out in the planned area, there will be more scar tissue, making the surgery more challenging to perform. The 360 Lipo procedure is always customised to the individual patient's needs. Once you have had an in-person consultation, you will be given a personalised quote from your dedicated patient coordinator.
360 liposuction at Centre for Surgery
Centre for Surgery is the leading cosmetic surgery clinic in London and is home to some of the best liposuction surgeons in the UK. We have particular expertise in 360 liposuction, whether performed alone or combined with an abdominoplasty or a Brazilian butt lift. Our surgeons have many years of experience and are dedicated to providing the highest levels of patient care. Each and every 360 liposuction procedure is customised to the individual patient to meet their needs and desired outcomes. We carry out over 100 Lipo 360 procedures each year at our advanced surgical facility in Marylebone. The first step in achieving a new sculpted and contoured appearance is to have an in-person consultation to discuss all the potential treatment options before deciding on the most effective solution. Before you have 360 liposuction, your surgeon will explain the benefits and risks. This will allow you to decide on the most appropriate treatment.
Call us today on 020 7993 4849 or complete the contact form below to start your 360 liposuction journey today.