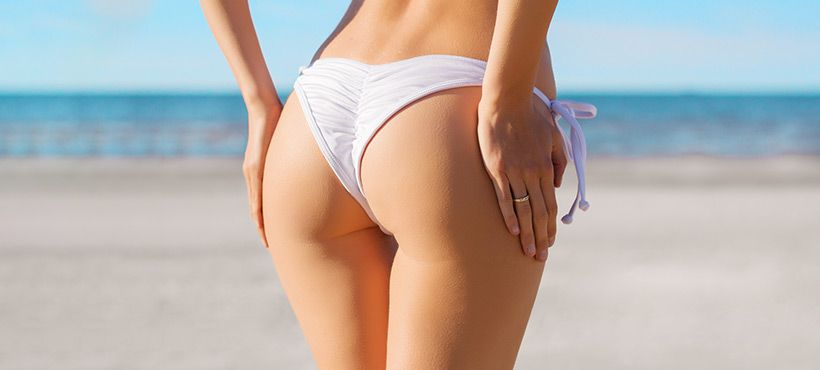 Patients in some cases may have a BBL procedure and not be entirely satisfied with the results. Not being fully happy with the outcome of surgery is a risk associated with any cosmetic surgery procedure and can be due to a number of reasons. In many cases, patients may find that their body doesn't adapt to the surgical intervention or may not heal as intended. Unfortunately in many cases not getting the best results after a BBL can be because you may have chosen a surgeon who lacks the qualifications and experience to undertake a BBL procedure. At Centre for Surgery, we always emphasise that patients do as much research as possible and ask lots of questions. We also advise that patients seek the opinion of other surgeons before embarking on a proposed procedure.
Although it is possible to undertake corrective revision surgery after most surgical procedures, revision surgery is always more challenging to undertake than primary surgery and the risk of complications is higher with revision surgery including the risk of further unhappiness with the surgical result. This is why it is crucial that you set realistic expectations as to what you would like to achieve prior to having your first surgical procedure. By choosing a reputable and experienced Surgeon, you will be able to minimise the risk of postoperative complications occurring.
What are the different types of Brazilian Butt Lift?
Despite following all the safety protocols and even if the procedure is carried out in a textbook fashion, complications can still occur and Brazilian butt lift there is no different. Here we discuss some aspects which you may like to think about before considering having a revision BBL.
Is a revision BBL possible?
In many cases, it is certainly possible to undertake a revision Brazilian butt lift. In all cases, it is important to bear in mind that the main risk of BBL surgery is that there may not be sufficient fat left to extract with liposuction which could then be used for the fat transfer to the buttocks. A key prerequisite of revision BBL surgery is that patients have sufficient fat stores for the proper amount of Leiper suction. Patients who are having only minor adjustments may not require much fat at all but for patients who are looking for substantial improvements in buttock size and shape then there would need to be enough fat able to be removed by a Liposuction.
Even if you are already considering a revision BBL within six months of your first procedure it is important to remember that virtually all surgeons will not carry out any revision surgery at least until one year after the first procedure. The reason for this is that any healing or recovery after BBL surgery takes time. The gluteal region takes between 3 to 6 months to fully heal even though you may think you are fully recovered after three months. Just because you've gone back to work and commenced strenuous activity does not mean that your body is fully healed.
With any fat transfer procedure, which most commonly involves removing fat with liposuction followed by purification and reinjection into the buttocks, the healing time can be up to 1 year as the newly transferred fat requires a new blood supply to form to the area. This is why it is important to give it at least one year before undertaking a revision BBL surgery.
Following any type of surgical procedure including a Brazilian butt lift, swelling and bruising develop and scar tissue will form and this takes time to mature and soften with time. Your surgeon will want to make sure that any scar tissue has fully matured before undertaking revision surgery.
After Brazilian butt lift surgery, a certain portion of grafted fat will not survive the transfer process and is entirely normal. Your surgeon will account for this during the procedure by injecting more fat to account for the anticipated loss. In some cases when the fat fails to survive, fat necrosis can develop which is often characterised by the development of lumps or nodularity beneath the skin. In rare cases, this can be a source of discomfort but can be easily removed. However, if left for 3 to 6 months or longer the hardened fat will often settle down without any further surgical treatment.
When should I have a revision BBL?
When carried out by an experienced body contouring surgeon, the BBL procedure is extremely safe and produces consistently good results when carried out with the proper safety precautions. However, there are a number of factors that can determine the requirement for a revision BBL. When fat is not injected in sufficient volumes, under-correction can occur and if fat is not injected into the correct area of the buttock the shape of the buttock may not be what you had hoped for. There is of course a limit to how much fat can be safely injected and this will depend on the quality of the overlying skin which differs for each patient. When fat does not survive, it may sometimes result in visible skin rippling or lumpiness. If you are unhappy with how are you healed then in some cases it may be possible to undertake a revision Brazilian butt lift.
BBL surgery and the potential risks
We can't emphasise enough that it is important to wait at least one year before considering having a revision BBL. We would also recommend that you see the surgeon who carried out the initial procedure as he or she will be best placed to determine the correct treatment option. If you are unable to get hold of your original surgeon or you have lost confidence in him or her then our expert surgeons will be happy to see you and assess you further and decide if further treatment is possible. Please note there is a non-refundable consultation charge of £250 for revision BBL procedures. In most cases, it can be more difficult to correct another surgeon's results.
What does a revision BBL involve?
The nature of a revision BBL procedure will depend on what you are looking to have corrected. For patients who have only minor areas that need correcting then these can often be effectively treated under local anaesthetic alone. However, for patients who require a more comprehensive correction with significant volumes of fat to be transferred then a general anaesthetic will be required and this will need to be factored into the recovery time which will be longer. The revision BBL surgery takes longer than a primary BBL because the surgeon needs to be more accurate and precise in carrying out the liposuction to avoid any further injury to areas that have been treated before. When fat is being injected as part of a revision BBL, your surgeon needs to be extra careful in accounting for any contour irregularities or asymmetry and will need to use an ultrasound-guided BBL technique to make sure the fat is injected in the correct areas. Post-operative massage is also extremely important to make sure the buttocks develop the correct shape after surgery.
What is the recovery like after a revision BBL?
The recovery after a revision BBL is similar in many ways to the first BBL procedure. Patients should look to take at least one week away from work and should avoid exerting any pressure on the gluteal area for at least two weeks. This means patients should avoid sitting or lying flat on their back. Your surgeon may recommend that you avoid any compression on the buttock for a longer period of time and this could be up to 6 weeks in some cases. The healing time after vision BBL can be long and it is not unusual to have to wait at least six months to see the final results of the revision Brazilian butt lift.
Is a revision BBL worth it?
Patients who are considering a revision BBL and whether it works for them need to decide what exactly they would like to have corrected. Some more minor issues such as small areas of asymmetry can be easily corrected under local anaesthetic with minimal recovery time. If patients have more significant deformities then they are committing themselves to have a procedure under general anaesthetic with the full post-operative precautions being required. Always remember that revision surgery carries a higher risk of post-operative complications. Patients should also have realistic expectations of what revision BBL surgery can achieve and keep in mind that they may still not be satisfied with the final outcome of Surgery. Your surgeon will emphasise the higher risk of post-operative dissatisfaction.
If despite being aware of all the risks and complications of revision BBL surgery, you are still keen to proceed then we would always recommend having an in-depth consultation with one of our expert consultant plastic surgeons. In many cases, you may need more than one consultation to enable you to ask all the questions you need to. It's important to be fully informed about all aspects of the revision BBL procedure. This way you will have a higher chance of being satisfied with the result after surgery.
Amazing from start to finish, the communication was the main thing was fully informed and looked after, on the day of my breast augmentation, the staff were fab and made me feel at ease through out the whole process. Thank you so much.
Mohammed Farid
18/11/2021
I've had such a great experience with excellent advice, care and attention and surgical treatment (gynaecomastia) - I can fully endorse the treatment I have received from Centre for Surgery with absolutely no qualms at all. Brilliant in every way - thank you all so much.
Caroline Thorpe
14/11/2021
Very pleased with my whole experience of having a procedure. Was so nervous about getting treatment and i was reassured and felt so comfortable throughout thanks to the amazing nurses. I definitely made the right decision to have breast augmentation at centre for surgery with dr erel.
Melissa Briggs
08/11/2021
So glad I went with centre for surgery, the whole process went very smoothly from the consultations down to the actual day of the procedure. I was so nervous on the day but the whole team put me at ease and I'm happy with my results as I feel a lot more comfortable wearing certain clothes now. My surgeon was Alberto Di Giuseppe who performed a breast Augmentation on me, and I would definitely recommend as he was very clear on what the outcome of the surgery would be and which size would look the best for my frame.
Couldn't be happier with Dr Tillo work,i had my breast surgery one week ago and so happy with the results so far,all the staff are extremely nice and very supportive,i would definitely recommend their services,thank so much
From start to the finish everything was perfect for tummy tuck surgery. All staff is very friendly and the aftercare has been good. The Doctor and the nurse team was fantastic. I'm so happy...result is amazing. Thank you!!!
This was overall a great experience, all the staff at Centre for Surgery were friendly and put me at ease. It is a nerve wracking thing to go through an op but the staff were so nice. Mr Ertan has got a great team around him. On the day of the operation everything went smoothly to plan, there was no delay or holdups, I had another consultation with Mr Ertan who confirmed what was going to be done and that I was still happy to proceed. I was prepped for the procedure, I met with the anaesthetist who again was really nice and put me at ease explaining his role. After the procedure I woke up with the nurse by my side making sure I was OK and checking on me, I was able to stay in the clinic until I was ready to leave and was not rushed at all. I was well looked after from the start to the point when I was discharged. Post operation I was staying at a local hotel it was so close there was no point in even getting a taxi and I was able to walk back where my partner was waiting for me. I was expecting a lot of bruising to both my eyes but there was very little if any by the time the cast came off after 7 days, I am now at the two week post operation point and it is healing well with no outwardly visible bruising or scaring. The next milestone is a checkup at the 6 week point with my surgeon. If you're thinking of having something like this done I would highly recommend getting in touch with Centre for Surgery.
The staff at Centre for Surgery were very kind and accommodating. They answered any questions I had about the procedure and were constantly checking up on me. A special thank you to Christina for all her support throughout.
I would just like to state the quality of care received from the nurses at Centre for Surgery was beyond the highest level. Sophie takes her patient care to another level beyond words. She always puts me at ease. She is there for me even at awkward hours just when I mostly needed reassurance and she is one of the most compassionate nurses I have come across and demonstrates her passion naturally for caring for others. She totally deserves recognition at its finest and thank you for always being there for me. 😍