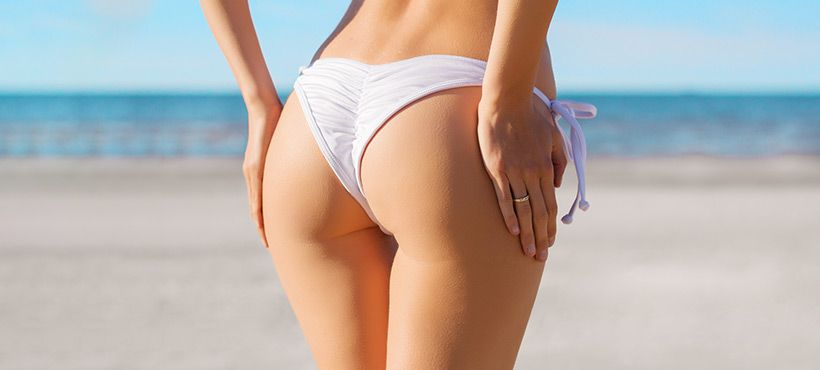 What is a revision BBL?
A revision Brazilian Butt Lift (revision BBL) is a surgical procedure that involves reshaping or "re-lifting" the buttocks using fat transfer, also known as autologous fat transplantation. The procedure is performed when a patient is not satisfied with the results of their initial BBL surgery, or when they experience complications such as asymmetry, fat necrosis, or infection.
RELATED: Brazilian Butt Lift FAQs – Q&As about BBL Surgery
During a revision BBL, the surgeon will first remove any scar tissue or necrotic fat (dead fat cells) that may have developed due to the initial surgery. They will then re-harvest fat from the patient's own body using liposuction and re-inject the fat into the buttocks to reshape and lift them.
The procedure is typically performed under general anaesthesia and typically takes about 2-4 hours to complete. Recovery time can vary depending on the extent of the revision and the patient's overall health. Swelling, bruising, and pain can be expected, and patients will typically be required to wear a compression garment for several weeks to help the healing process.
It's important to note that revision BBL surgeries are typically more complex and challenging than initial BBL surgeries and it is important to choose a board-certified plastic surgeon with experience performing revision BBL procedures. The success of the surgery also depends on the patient's overall health and the quality of the tissue in the area to be corrected.
What causes a botched BBL?
A "botched" Brazilian Butt Lift (BBL) can occur due to a number of factors, including:
Poor surgical technique: If the surgeon is not properly trained or experienced in performing BBL, they may make mistakes during the procedure that can lead to poor results or complications. For example, if the surgeon does not properly harvest and purify the fat before transplanting, it can lead to poor fat survival and, ultimately poor results.
Over- or under-harvesting of fat: The surgeon must be careful to harvest the right amount of fat to ensure a natural look and avoid over- or under-correction.
Inadequate fat injection: If the surgeon does not properly distribute the fat in the buttocks, it can lead to unevenness or asymmetry.
Inadequate post-operative care: After the surgery, it's important for the patient to follow the surgeon's post-operative instructions, such as avoiding sitting or lying on the buttocks for prolonged periods of time and avoiding any activities that can put pressure on the buttocks. This can help prevent complications and ensure a successful outcome.
Fat Necrosis: Fat necrosis occurs when the transplanted fat cells die, and the tissue is damaged. It is a rare but serious complication that can occur after BBL. This can be caused by a lack of blood supply to the transplanted fat or by infection.
Infection: Infections are rare but can occur after any surgical procedure. If an infection develops after a BBL, it can cause serious complications and may require additional surgery to correct.
Patient Factors: Some patient factors, such as obesity, smoking, poor overall health, and poor skin elasticity, can increase the risk of complications and poor outcomes.
It's important to remember that even with the best surgeon, complications can occur, and it is essential to be aware of the risks and to have realistic expectations of the outcome of the surgery. It's essential to choose a specialist plastic surgeon with experience performing BBL procedures and to have a detailed consultation before the surgery.
Why get revision BBL surgery?
Patients, in some cases, may have a BBL procedure and not be entirely satisfied with the results. Not being fully happy with the outcome of surgery is a risk associated with any cosmetic surgery procedure and can be due to several reasons. In many cases, patients may find that their body doesn't adapt to the surgical intervention or may not heal as intended. Unfortunately, in many cases, not getting the best results after a BBL can be because you may have chosen a surgeon who lacks the qualifications and experience to undertake a BBL procedure. At the Centre for Surgery, we always emphasise that patients do as much research as possible and ask many questions. We also advise that patients seek the opinion of other surgeons before embarking on a proposed procedure.
Although it is possible to undertake corrective revision surgery after most surgical procedures, revision surgery is always more challenging to undertake than primary surgery, and the risk of complications is higher with revision surgery, including the risk of further unhappiness with the surgical result. This is why it is crucial that you set realistic expectations as to what you would like to achieve prior to having your first surgical procedure. By choosing a reputable and experienced plastic surgeon, you will be able to minimise the risk of postoperative complications occurring.
What are the different types of Brazilian Butt Lift?
Despite following all the safety protocols and even if the procedure is carried out in a textbook fashion, complications can still occur, and the Brazilian butt lift is no different. Here we discuss some aspects which you may like to think about before considering having a revision BBL.
Is a revision BBL possible?
In many cases, it is certainly possible to undertake a revision Brazilian butt lift. In all cases, it is important to bear in mind that the main risk of BBL surgery is that there may not be sufficient fat left to extract with liposuction, which could then be used for the fat transfer to the buttocks. A key prerequisite of revision BBL surgery is that patients have sufficient fat stores for the proper amount of Leiper suction. Patients who are having only minor adjustments may not require much fat at all, but for patients who are looking for substantial improvements in buttock size and shape, then there would need to be enough fat able to be removed by liposuction.
How long should I wait before getting a revision BBL?
Even if you are already considering a revision BBL within six months of your first procedure, it is important to remember that virtually all surgeons will not carry out any revision surgery at least until one year after the first procedure. The reason for this is that any healing or recovery after BBL surgery takes time. The gluteal region takes between 3 to 6 months to fully heal, even though you may think you are fully recovered after three months. Just because you've gone back to work and commenced strenuous activity does not mean that your body is fully healed.
With any fat transfer procedure, which most commonly involves removing fat with liposuction followed by purification and reinjection into the buttocks, the healing time can be up to one year as the newly transferred fat requires a new blood supply to form in the area. This is why it is important to give it at least one year before undertaking a revision BBL surgery.
Following any type of surgical procedure, including a Brazilian butt lift, swelling and bruising develop and scar tissue will form, and this takes time to mature and soften with time. Your surgeon will want to ensure that any scar tissue has fully matured before undertaking revision surgery.
After Brazilian butt lift surgery, a certain portion of grafted fat will not survive the transfer process and is entirely normal. Your surgeon will account for this during the procedure by injecting more fat to account for the anticipated loss. In some cases, when the fat fails to survive, fat necrosis can develop which is often characterised by the development of lumps or nodularity beneath the skin. In rare cases, this can be a source of discomfort but can be easily removed. However, if left for 3 to 6 months or longer the hardened fat will often settle down without any further surgical treatment.
When should I have a revision BBL?
When carried out by an experienced body contouring surgeon, the BBL procedure is extremely safe and produces consistently good results when carried out with the proper safety precautions. However, there are a number of factors that can determine the requirement for a revision BBL. When fat is not injected in sufficient volumes, under-correction can occur. If fat is not injected into the correct area of the buttock, the shape of the buttock may not be what you had hoped for. There is, of course, a limit to how much fat can be safely injected, and this will depend on skin elasticity, which differs for each patient. When fat does not survive, it may sometimes result in visible skin rippling or lumpiness. If you are unhappy with how you have healed, then in some cases it may be possible to revise the Brazilian butt lift.
BBL surgery and the potential risks
We can't emphasise enough that it is important to wait at least one year before considering having a revision BBL. We would also recommend that you see the surgeon who carried out the initial procedure, as he or she will be best placed to determine the correct treatment option. If you are unable to get hold of your original surgeon or you have lost confidence in him or her, then our expert surgeons will be happy to see you and assess you further and decide if further treatment is possible. Please note there is a non-refundable consultation charge of £250 for revision BBL procedures. In most cases, it can be more difficult to correct another surgeon's results.
What does a revision BBL involve?
The nature of a revision BBL procedure will depend on what you are looking to have corrected. For patients who have only minor areas that need correcting then, these can often be effectively treated under local anaesthetic alone. However, for patients who require a more comprehensive correction with significant volumes of fat to be transferred, then a general anaesthetic will be required, and this will need to be factored into the recovery time, which will be longer. The revision BBL surgery takes longer than a primary BBL because the surgeon needs to be more accurate and precise in carrying out the liposuction to avoid any further injury to areas that have been treated before. When fat is being injected as part of a revision BBL, your surgeon needs to be extra careful in accounting for any contour irregularities or asymmetry and will need to use an ultrasound-guided BBL technique to make sure the fat is injected in the correct areas. Post-operative massage is also extremely important to make sure the buttocks develop the correct shape after surgery.
What is the recovery like after a revision BBL?
The recovery after a revision BBL is similar in many ways to the first BBL procedure. Patients should look to take at least one week away from work and should avoid exerting any pressure on the gluteal area for at least two weeks. This means patients should avoid sitting or lying flat on their backs. Your surgeon may recommend that you avoid any compression on the buttock for a longer period of time, and this could be up to 6 weeks in some cases. The healing time after vision BBL can be long, and it is not unusual to have to wait at least six months to see the final results of the revision Brazilian butt lift.
Is a revision BBL worth it?
Patients who are considering a revision BBL and whether it works for them need to decide what exactly they would like to have corrected. Some more minor issues, such as small areas of asymmetry, can be easily corrected under local anaesthetic with minimal recovery time. If patients have more significant deformities, then they are committing themselves to have a procedure under general anaesthetic with full postoperative precautions being required. Always remember that revision surgery carries a higher risk of postoperative complications. Patients should also have realistic expectations of what revision BBL surgery can achieve and keep in mind that they may still not be satisfied with the final outcome of surgery. Your surgeon will emphasise the higher risk of post-operative dissatisfaction.
Revision BBL Surgery at Centre for Surgery
Once you are aware of the potential risks and complications of revision BBL surgery and you would like to learn more, then we would always recommend having an in-depth consultation with one of our expert consultant plastic surgeons. In many cases, you may need more than one consultation to enable you to ask all the questions you need to. It is important to be fully informed about all aspects of the revision BBL procedure. This way, you will have a higher chance of being satisfied with the result after BBL surgery.
RELATED: Brazilian Butt Lift: The Ultimate Guide