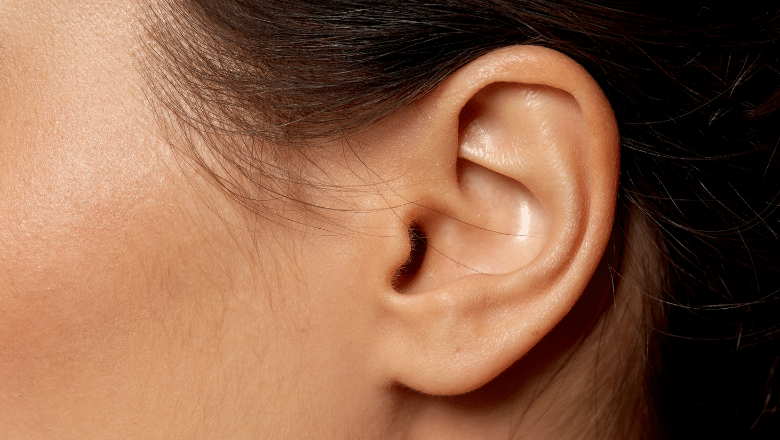 Are you feeling self-conscious or dissatisfied with how your ears look? Whether they seem too large, oddly shaped, or not quite in the right spot, ear correction surgery might be a solution worth considering. This type of surgery is designed to change the ears' appearance by adjusting their size, altering their form, or repositioning them to a more desirable place.
At Centre for Surgery, we understand that you might have many questions about what ear correction surgery involves and the recovery process that follows. That's why we've compiled detailed answers to the most common queries we receive from individuals considering this procedure. Our goal is to provide you with a thorough understanding of both the surgical journey and the healing phase, so you can make an informed decision with confidence.
When you choose Centre for Surgery for your ear correction surgery, you're entrusting your care to skilled professionals who are dedicated to achieving the best possible results for you. We're here to support you every step of the way, from the initial consultation to the final stages of your recovery.
RELATED: Benefits of Otoplasty
Why are my ears sticking out more than others?
Ears can stick out for a couple of different reasons and it's quite common. Some people's ears appear more prominent because the part of the ear that should be a bit more tucked in, known as the conchal bowl, has more cartilage than usual. When there's extra cartilage here, a condition known as conchal hypertrophy, it pushes the whole ear forward so it sticks out more.
Another reason has to do with the ear's natural folds, specifically the antihelical fold. The ear has several folds and curves, and one of them is this antihelical fold that should create a 'Y' shape as it goes up to the top of your ear. The top part of this 'Y' is called the superior crus. For some people, this fold doesn't form properly while they're growing before they are born, or it doesn't form at all. When that happens, especially if that superior crus part is missing, the top part of the ear doesn't have anything to hold it in place, so it sticks out.
What options are available to make my ears less prominent?
If you're looking to make your ears less prominent, there are surgical procedures that can help. When the issue is conchal hypertrophy, where there's too much cartilage giving the ear its prominent look, a surgeon can remove some of this excess cartilage. They may also use permanent stitches to secure the ear closer to the head.
In cases where the ear sticks out because it's missing that important fold—the superior crus—a surgeon can create this fold. They do this by placing permanent sutures and sometimes by making the cartilage weaker on the front side so it can bend back into a more typical position.
It's not uncommon for someone to have both of these concerns, so they might undergo both procedures to get the desired result.
These surgeries are performed through incisions made behind the ears. During the procedure, the surgeon might also remove a bit of excess skin and a small muscle from that area to achieve a more natural look.
Is there a difference between an otoplasty and a pinnaplasty?
When you delve into the world of ear correction surgery, you might stumble upon a couple of terms that seem different but actually refer to the same thing. 'Otoplasty' and 'pinnaplasty' are two such terms that can cause a little bit of head-scratching. They might sound distinct, but in reality, they're just two ways of referring to the same type of ear surgery.
To clear things up, 'otoplasty' is a broader term that encompasses any surgical reshaping of the ear. The word 'oto' itself means 'ear' and is often paired with other words, like 'plasty', which refers to the moulding, sculpting, or reshaping of tissue. So, otoplasty is about changing the ear's structure to improve its appearance or function.
On the other hand, 'pinnaplasty' specifically refers to the 'pinna', which is the outer part of your ear – the bit that you can see and that people often think of when they imagine ears. Even though 'pinnaplasty' sounds specific, it's generally used interchangeably with 'otoplasty' because most cosmetic ear surgeries focus on reshaping the pinna.
So, whether you hear 'otoplasty' or 'pinnaplasty', don't be confused; both terms are talking about the same ear reshaping surgery. No matter which term you use, you're discussing a procedure aimed at improving the ear's shape, position, or proportions.
Will an otoplasty affect my hearing?
If you're worried that ear correction surgery might change how well you can hear, you can breathe a sigh of relief. An otoplasty is focused entirely on the external part of your ear, known as the pinna, which is the part that we can see. The procedure doesn't involve the inner workings of the ear that are responsible for your hearing capabilities.
To give you a bit more detail, the ear is divided into three main parts: the outer ear or pinna, the middle ear which lies just behind your eardrum, and the inner ear which is where balance and deeper hearing functions reside. Ear correction surgery, or otoplasty, is all about reshaping the pinna without touching the middle or inner ear.
While the otoplasty itself won't affect your hearing, it's normal to wear bandages around your ears for a short period after the surgery. These bandages might muffle sounds temporarily, making things sound a bit quieter than usual. This isn't because your hearing has been affected by the surgery; it's simply because the bandages are covering your ears. Once your doctor gives you the go-ahead to remove the bandages, your hearing should return to what it was before the surgery. So, in the long term, an otoplasty won't have any impact on your ability to hear.
Am I too old for an otoplasty?
If you're pondering over whether time has run out for you to consider an otoplasty, the reassuring news is that there's no strict age cut-off for when someone can have ear correction surgery. It's not unusual for individuals to think they might have missed their chance, wondering if the procedure is still worthwhile for them. But truly, age is less of a barrier than you might expect.
The desire for self-improvement and personal satisfaction doesn't have an expiry date. If there's an aspect of your ears that's bothering you enough to explore surgical solutions, then it's absolutely worth bringing up the conversation. The key consideration for undergoing an otoplasty is your overall health and fitness, not the number of candles on your birthday cake.
Elective surgeries, like otoplasty, do come with the need for cautious health assessments, since the ability to recover well from surgery and anaesthesia is paramount. We take a thorough look at your health because we want to ensure you can heal without complications. As long as you are in good health, there's no reason why you shouldn't be able to benefit from this surgery, regardless of age. It's all about making sure that the procedure is safe for you and that you're likely to be happy with the outcomes.
What kind of anaesthesia is used during an Otoplasty?
For an Otoplasty, which is the surgical procedure to change the shape of your outer ear, the type of anaesthesia used can vary depending on the patient's needs and comfort levels. Most adults will have the procedure done under local anaesthesia. This means that you'll be awake, but the area around your ears will be numbed so you won't feel any pain. Some patients may also be given oral sedation along with local anaesthesia, which helps them to relax.
However, there are cases where someone might not be comfortable with just local anaesthesia, perhaps because they're anxious about feeling the injections. In such situations, general anaesthesia might be used instead. This is where you're put to sleep during the procedure. The decision on which type of anaesthesia to use is typically made after discussing the best options for your comfort and health.
What is an "Incision-less" Otoplasty?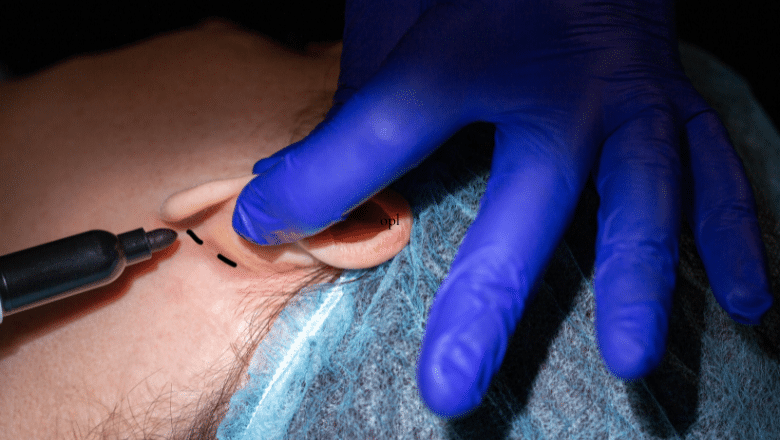 An "Incision-less" otoplasty is a modern approach to ear correction surgery designed for individuals who are concerned about prominent ears, particularly when it's the upper portion of the ear that protrudes. Unlike traditional otoplasty, which involves making incisions to reshape the ear, the incision-less method involves no cutting of the skin.
In this procedure, permanent stitches are used to sculpt the ear into a more natural-looking shape. These stitches are carefully placed through tiny needle holes, making the procedure less invasive than conventional methods. Because there are no open incisions, the recovery time can be quicker, and there are typically fewer visible signs of surgery.
This technique can be particularly effective for those whose ear prominence is not too severe or is isolated to the upper part of the ear. It's not usually recommended when corrections are needed in the middle or lower portions of the ear or if extensive reshaping is required.
How is an "Incision-less" Otoplasty Performed?
The "Incision-less" otoplasty procedure is a refined approach to traditional ear surgery that is less invasive and can be performed efficiently in an operating room. Here's how it's generally done:
Anaesthesia: The procedure is typically performed under local anaesthesia, which numbs the area around the ears. Some patients may also receive oral sedation to help them relax during the surgery.
Creating the Antihelical Fold: The primary aim of the "Incision-less" otoplasty is to enhance the antihelical fold, which is the inner ridge of the ear. In ears that protrude, this fold is often not defined enough. The surgeon strategically places permanent sutures to create or increase the fold's bend without making incisions. These sutures help in sculpting the cartilage into the desired shape.
Adjusting the Helical Rim: By adjusting the tension and placement of the sutures, the surgeon can push the helical rim (the outer rim of the ear) backwards. This adjustment makes the ears appear less prominent and more naturally positioned in relation to the head.
Refining the Upper Ear: To address any prominence in the upper part of the ear, the surgeon re-creates or enhances the superior crus of the antihelical fold. This modification helps in folding the upper part of the ear back towards the head.
Suture Placement: The unique aspect of the "Incision-less" otoplasty is that the surgeon places these permanent sutures through small punctures made with a needle rather than open cuts. This technique reduces visible scarring and may contribute to a faster recovery time.
Final Adjustments: The surgeon will make final adjustments to ensure that the ears have the desired shape and symmetry.
Since the "Incision-less" otoplasty uses sutures instead of incisions, the changes made to the ear structure are held in place internally, and there is minimal external evidence that a procedure has been performed. It's important to have a thorough consultation with a surgeon who is experienced in this specific technique to determine if it's suitable for your needs and to understand what results can be realistically achieved.
What is the Difference Between a Standard Open Otoplasty and the "Incision-less" Technique?
The main difference between a standard open otoplasty and the "Incision-less" technique lies in the surgical approach and the resultant scarring:
Surgical Incision:

Standard Open Otoplasty: This traditional method involves making a long incision behind the ear. Through this incision, the surgeon has access to the ear cartilage to reshape and modify the ear's structure. The incision generally runs almost the entire length of the back of the ear.
"Incision-less" Otoplasty: As the name suggests, this technique avoids long incisions. Instead, it uses small needle punctures and sometimes a few tiny 2mm incisions that are strategically placed to allow for suture placement. These smaller wounds heal with minimal scarring, often becoming virtually invisible over time.

Scarring:

Standard Open Otoplasty: Because it involves a larger incision, the standard technique may leave a scar along the back of the ear. While this scar is typically in a less visible location (behind the ear), it is longer and potentially more noticeable if someone is looking closely.
"Incision-less" Otoplasty: The smaller punctures and stab incisions of the "Incision-less" approach result in much less scarring. This can be a significant advantage for patients concerned about visible signs of having had ear surgery.

Technique and Recovery:

Standard Open Otoplasty: This technique allows for a more comprehensive reshaping of the ear as the surgeon can remove or reshape the cartilage as necessary. Recovery may be longer due to the invasiveness of the procedure.
"Incision-less" Otoplasty: This approach is less invasive and typically allows for a quicker recovery. It's more suited to creating or enhancing folds in the cartilage rather than removing cartilage.

Suitability:

Standard Open Otoplasty: This method is suitable for a wide range of corrections, including more complex ear deformities.
"Incision-less" Otoplasty: Best for patients who require less extensive reshaping and prefer a procedure with less downtime and scarring.
Can the "incision-less" otoplasty achieve everything that an open procedure does?
The "Incision-less" otoplasty technique is an innovative approach that can achieve many of the same results as an open otoplasty, particularly for less severe ear prominence where the main issue is with the 'folding' of the cartilage.
However, there are some limitations to what the "Incision-less" procedure can achieve:
Severe Ear Deformities: In cases of severe prominence due to overgrowth of the conchal bowl, which pushes the ear outwards more significantly, the "Incision-less" method may not be sufficient. The open otoplasty procedure allows for more extensive reshaping, which can include reducing the size of the conchal bowl.
Conchal Bowl Reshaping: The open otoplasty provides the option to place permanent sutures between the conchal bowl and the mastoid process, which can effectively pin the ear back closer to the head. It also allows for the removal of a portion of the conchal cartilage if necessary to reduce the overall ear prominence. These steps are not typically possible with the "Incision-less" technique due to its less invasive nature.
Comprehensive Corrections: An open otoplasty gives the surgeon a broader scope to make adjustments to the ear's shape and position, which is especially beneficial in more complex cases where multiple areas of the ear may need attention.
Is recovery the same with open and "incision-less" otoplasties?
The recovery process for both "Incision-less" and open otoplasty procedures shares similarities, particularly in the immediate postoperative period, but there are distinct differences due to the nature of the surgical techniques used:
Similarities
Protection: Both procedures require the ears to be bandaged initially to protect them and help maintain their new shape.
Head Wrap: Patients will need to wear a head wrap or band at night to avoid any accidental pulling or pressure on the ears during sleep for the first few weeks.
Differences
Pain: Patients undergoing the "Incision-less" otoplasty typically experience less pain postoperatively because the procedure is less invasive.
Swelling and Bruising: The open otoplasty involves more extensive manipulation and incisions, leading to increased swelling and bruising. As a result, it might take longer for the ears to settle into their new position and look 'normal'.
Visibility of Results: With the "Incision-less" procedure, the absence of significant incisions means that the initial results may be visible sooner, with less concern for scarring.
Duration of Recovery: Overall, the open otoplasty may have a slightly longer recovery time due to the greater extent of surgical intervention.
Regardless of the type of otoplasty, following your surgeon's aftercare instructions is crucial for a smooth recovery. This includes attending follow-up appointments, taking prescribed medications, and avoiding activities that may compromise the healing process.
RELATED: Otoplasty Recovery – Top Tips after Ear Reshaping Surgery
Does Otoplasty cause much pain?
Otoplasty, the surgical procedure to alter the shape of your outer ears, does involve some discomfort, particularly because it often requires removing excess cartilage and then carefully repairing the area. However, managing this discomfort is a key part of the post-operative care.
Typically, patients describe the pain as manageable. Most people find that they need pain medication for the first couple of days after the surgery. After that initial period, it's common to only need pain relief at night, which can help you get a good night's sleep while you're healing. Pain thresholds do vary from person to person, but in general, the pain from Otoplasty is not considered to be severe and should diminish significantly within the first week after surgery.
When will I be able to wash my hair after otoplasty surgery?
Understanding the dos and don'ts after surgery is crucial for a smooth recovery. It's natural to wonder about simple everyday activities, like when you can wash your hair again after having an otoplasty. Since keeping the surgical area clean and dry is important, there will be a short waiting period before you can enjoy a good hair wash.
We recommend taking care of any personal grooming tasks – such as taking a shower, washing your hair, or shaving – the day before your surgery. This way, you're not just prepared, but you can also afford to relax and not worry about these tasks for a few days post-operation.
Following your ear correction surgery, you'll need to wear a bandage or dressing around your head, which helps to support the new shape of your ears and protect them. This means for about 3 to 4 days after your surgery, you should avoid washing your hair to prevent getting the dressings wet.
Once the period for wearing the bandage is over, and you've been cleared by your nurse or surgeon, you can go ahead and wash your hair. However, it's important to be gentle. Avoid any vigorous scrubbing or harsh water pressure on the operated area. Take it slow and easy to ensure you don't disrupt the healing process. If you're unsure about the right technique or have concerns, don't hesitate to ask your healthcare provider for advice. They might even offer some helpful tips on how to wash your hair without causing any issues to the surgical site.
How common are infections after Otoplasty surgery?
Infections following an Otoplasty procedure are quite uncommon. This type of surgery is carried out under conditions that minimize the risk of infection. However, as with any surgical intervention, there is always a small chance that an infection can occur. Infections related to Otoplasty can be particularly troublesome if the infection spreads to the cartilage, which can be quite painful and more challenging to treat.
To help prevent infection, surgeons often prescribe antibiotics to be taken around the time of the surgery. It's crucial to follow your surgeon's instructions and take the full course of antibiotics as prescribed to help ward off any potential infections.
On occasion, even years after the operation, one of the permanent sutures used during the procedure can become infected. This would typically present as redness, swelling, and tenderness, usually behind the ear. If you notice such symptoms, it's important to see your surgeon. In most cases, if a suture does become infected, it can be removed relatively easily at the clinic, which should resolve the infection.
Will my ears look more symmetrical after Otoplasty?
It's actually quite normal for ears to be a bit different from each other; perfect symmetry is rare in the human body. However, when ears stick out, any asymmetry might be more noticeable because both ears are visible at the same angle and can be easily compared.
One of the aims of Otoplasty is to improve the symmetry of your ears. During surgery, the procedures might be tailored to each ear individually to address the specific differences and work towards making them look more alike. While the surgery aims to make your ears as symmetrical as possible, it's important to have realistic expectations because absolute symmetry may not be achievable.
After the surgery, any minor differences between your ears will likely be less noticeable. Since the ears will be closer to your head, comparing them directly becomes harder, and therefore, any small asymmetries won't be as apparent as they were before the procedure.
Can I expect my ears to look natural after Otoplasty?
Yes, the primary aim of Otoplasty surgery is to provide you with ears that look natural and are in better proportion to your head and face. The intent is to correct the prominence of the ears while avoiding the appearance of having had surgery. A skilled surgeon will focus on creating a balanced, symmetrical look that complements your overall appearance.
After the surgery, your ears should have a normal 'projection' — that is, they should not stick out too far from the head. When performed successfully, which is the case for the vast majority of Otoplasty surgeries, others often cannot tell that an operation has been done; they'll simply notice that the ears look fitting and natural.
To achieve the best possible outcome, it's important to choose a qualified and experienced surgeon, discuss your goals and expectations, and follow all pre- and post-operative care instructions given by your surgical team.
What are Mustarde sutures?
Mustarde sutures are a specific type of permanent stitch that is used in ear surgery, specifically in Otoplasty procedures. They are named after Dr. Charles Mustarde, who pioneered the technique in the 1960s. These sutures are used to create or enhance the antihelical fold, which is the curved inner ridge of the ear. When this fold is not well defined, the upper part of the ear can appear to stick out more prominently.
In cases where the goal is to correct protruding ears, Mustarde sutures are strategically placed to reshape the cartilage and create a natural-looking fold, thereby pulling the upper part of the ear closer to the head. This technique is quite versatile and can be implemented through an open Otoplasty approach, where the sutures are placed from behind the ear, or through an 'incision-less' method, where the sutures are placed from the front.
Mustarde sutures have stood the test of time due to their effectiveness in creating lasting results that contribute to the overall symmetry and aesthetic appearance of the ears after surgery.
Will I be able to feel the sutures after an Otoplasty?
After an Otoplasty, the presence of permanent sutures depends on the technique used during the surgery. In the traditional or 'open' technique, the sutures are placed behind the ear, making them generally imperceptible both to sight and touch. They're carefully positioned in such a way that they become hidden within the natural creases and contours of the ear.
In the 'incision-less' Otoplasty, sutures are applied in front of the ear, with knots that lie between the cartilage and the skin. Once the healing process is complete, you might be able to feel small bumps where the knots are located if you run your finger along the surface of the ear. However, these are typically quite small and are not usually noticeable to anyone else unless they're looking very closely.
Overall, while there may be a slight chance of feeling the sutures depending on the technique used, they are designed to be as unobtrusive as possible.
Could my ears protrude again after Otoplasty?
The chances of your ears returning to a protruding position after Otoplasty are generally quite low. Otoplasty results are intended to be permanent. However, like with any surgical procedure, there's a small risk that the ears might not maintain their new position, especially soon after the surgery if they are subjected to any trauma.
To minimize this risk, it's really important to follow your surgeon's aftercare advice. This typically includes keeping the bandages on for a full three days post-surgery and avoiding any kind of impact or pressure on your ears for at least the first month. This helps the ears to heal in their new position.
If, despite these precautions, your ears do begin to stick out again, this issue can be addressed. Further corrective procedures are possible, so it's best to discuss any concerns with your surgeon, who can advise you on the best approach if a revision is necessary.
Will I be able to play sports like rugby after an otoplasty?
After an otoplasty, it's natural to want to return to your regular activities, including sports. The good news is that once you've fully recovered, you should be able to engage in a variety of sports. However, there's a caveat when it comes to certain types of physical activities, particularly contact sports like rugby.
Rugby, as you might be well aware, involves a lot of close contact and can be quite rough, posing a risk of impact and friction to your ears. Although your ears should maintain their new shape after surgery, repeated friction or trauma can lead to issues down the line. There's a well-known condition often referred to as 'cauliflower ear' that can develop from such repeated impacts, commonly seen in rugby players and wrestlers.
To protect the results of your ear correction surgery, it's wise to be cautious with sports that could put undue stress or pressure on your ears. While it doesn't mean you have to give up your favourite sports entirely, you might want to consider wearing protective gear or taking extra precautions to safeguard your ears when you're out on the field.
How is a split earlobe repaired?
A split earlobe is a common issue for those who have had their ears pierced, particularly if they have worn heavy earrings or experienced trauma to the area. Fortunately, repairing a split earlobe is a straightforward procedure. Here's what typically happens:
Consultation and Planning: Initially, you'll consult with a surgeon who will assess the split and explain the repair process.
Surgical Procedure: Under local anaesthesia, the surgeon will carefully remove the skin around the split to create fresh edges.
Suturing: The fresh edges are then meticulously sutured back together. The goal is to ensure that the earlobe heals as a single, unbroken line of tissue.
Aftercare: The stitches are usually removed after 4-5 days. To support the healing lobe, surgical tapes are applied after stitch removal.
Healing: The earlobe typically heals with a slender scar running down to the bottom of the lobe, which should fade over time.
Re-piercing: You should wait approximately 2-3 months before considering re-piercing your earlobe to ensure it has healed completely and feels soft and normal. When you do re-pierce, avoid the scar tissue; placing the new piercing a millimetre or two to the side is advisable for the best healing and strength.
Will I be able to pierce my ear after an otoplasty?
Yes, after an otoplasty, you can certainly look forward to piercing your ears. It's understandable that before the surgery, you might have been hesitant to draw more attention to your ears with piercings. But now, with renewed confidence in the appearance of your ears, a new piercing can be a celebratory mark of the change.
Whether you're interested in a classic lobe piercing or you're considering something more unique like a cartilage piercing, there's no medical reason why you can't do this after you've had ear correction surgery. However, there is an important timeframe to keep in mind for healing to ensure that your ear has fully recovered from the otoplasty before undergoing any additional procedures, such as piercing.
Before you decide to get a new piercing, it's crucial to wait until your surgeon gives you the all-clear. This is typically after the complete healing of your surgical wounds and the stabilisation of the ear's new shape, which may take several weeks to months. Once your surgeon confirms that your ears have healed properly, you can go ahead and adorn your newly shaped ears with the piercings you've been looking forward to.
Is an Otoplasty Permanent?
Otoplasty, commonly known as ear correction surgery, typically offers a permanent solution for reshaping the ears. When the procedure is completed, the changes made to the structure of the ears are meant to last a lifetime. However, the permanence of the results depends greatly on the post-operative care you undertake.
During the critical recovery period, it's essential to follow your surgeon's instructions carefully to ensure the best possible outcome. Proper care can prevent complications and help maintain the results of the surgery. Occasionally, some patients may need revision surgery. This can happen if they feel the initial results were too conservative or if there were asymmetries, such as one ear protruding more than the other, that were not fully corrected in the first surgery.
Setting realistic expectations is a key part of the consultation process with your surgeon at Centre for Surgery. This discussion will help to ensure that the goals of the surgery align with what can realistically be achieved, increasing the likelihood of long-term satisfaction with the results.
Otoplasty at Centre for Surgery
At Centre for Surgery, we specialise in delivering bespoke otoplasty procedures, tailored to meet the individual needs and expectations of our patients. Our state-of-the-art clinic on Baker Street in London is home to leading surgical experts who utilise the latest techniques to ensure the highest standards of care and safety.
Our otoplasty services are designed to provide you with the ear shape and size that you desire, enhancing your overall appearance and boosting your self-confidence. Whether you're seeking to address concerns about protruding ears, asymmetry, or any other ear shape irregularities, our experienced surgeons are here to guide you through every step of the journey.
Patient Testimonials:
"After years of being self-conscious about my ears, the team at Centre for Surgery changed my life. The care I received was top-notch, and my results are better than I imagined. I'm finally able to wear my hair up without worry!" – Emily R.
"The level of professionalism and empathy I experienced at Centre for Surgery was exceptional. My otoplasty has given me a new level of confidence. I am grateful to the surgeons and staff for their outstanding service." – James S.
"From the consultation through to the post-operative care, the support from Centre for Surgery was incredible. The detailed explanations, patient care, and the end results have truly exceeded my expectations." – Sarah L.
Book a Consultation:
Ready to take the next step towards the ears you've always wanted? Contact us today to book your consultation. Our friendly team is ready to answer any questions you may have and will support you throughout the process.
📞 Phone: 0207 993 4849
📧 Email: contact@centreforsurgery.com
📍 Address: 95-97 Baker Street, London W1U 6RN
Discover More:
For more information about our services and what sets us apart, visit our About Us page.
Interested in understanding the financial options available? Explore our Finance Options, which include 0% APR with Chrysalis Finance.
Curious about the experiences and insights of others? Dive into our Plastic Surgery Blog for valuable information and patient stories.
If you have any questions or need more details about the otoplasty procedure, don't hesitate to visit our Clinic FAQs.
And if you're in the area or would like to see where your transformation will take place, learn more about our Baker Street Clinic.
Centre for Surgery is dedicated to ensuring that your experience with us is as informative and comfortable as possible. Begin your journey to newfound confidence with us today.