Melasma treatment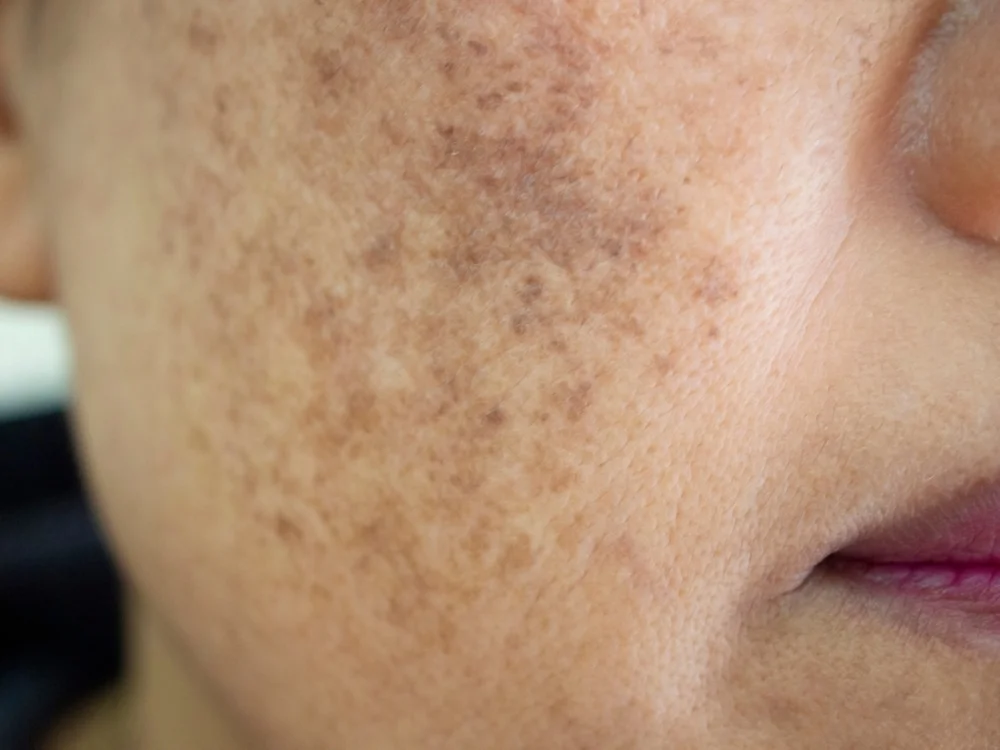 Melasma is a hyperpigmentation condition that impacts upon skin that is exposed to the sun. Melasma affecting the face is the most common type and there are 3 known types of facial melasma – cheek or dental facial melasma, forehead melasma and melasma affecting the mandibular border. Melasma affecting the central part of the face is by far the most common subtype. The exact cause of melasma still remains incompletely understood at the cellular level. There are a number of well recognised causes of melasma or factors that predispose to its development and these include UV sunlight exposure, hormonal influences and genetic factors. Although melasma is not a dangerous skin condition, it can cause enormous psychological upset and can impact upon both confidence and emotional well-being.
Melasma most commonly affects women who are between the ages of 20 and 40 and mainly affects the facial region, in particular the forehead, cheeks, upper lip and nasal dorsum. Although melasma can occur at any time in life, it is most commonly precipitated by the hormonal changes that often occur during pregnancy. The influence of high circulating levels of certain hormones increase the likelihood of the formation of dark pigmented skin lesions when the skin is exposed to direct sunlight which contains ultraviolet radiation. Melasma can also develop in some cases from bright light from light bulbs over a sustained period of time. Melasma more commonly affects patients with darker skin types and is more likely to be seen in those of Asian, Middle Eastern, African or Hispanic origin. Melasma is significantly more common in women than men. Only approximately 10% of men develop some form of melasma hyperpigmentation.
Can melasma be treated?
The treatment of melasma is notoriously difficult. Our aesthetic practitioners and dermatologists have access to the full range of treatments to help improve the appearance of melasma but it is important to recognise that melasma cannot be fully cured. Melasma occurs very commonly during pregnancy but will often disappear completely following childbirth after 3-6 months. Melasma may reappear during a subsequent pregnancy. At Centre for Surgery, our practitioners do not treat women who are pregnant or breastfeeding to avoid any risks to mother and baby. Skin-lightening agents that are a common component of treatment for melasma include both skin lightening and retinoid creams and these must both be avoided completely when you are pregnant. Even the most effective treatments, although they can significantly improve the appearance of melasma, recurrence is possible after stopping treatment or after exposure to strong sunlight. Melasma is most effectively controlled when patients undertake a regular programme of preventive treatments, including medical-grade skin care products and certain laser treatments to control flare-ups.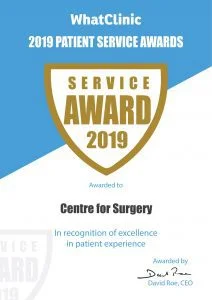 RealSelf Top Doctors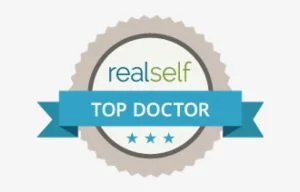 RealSelf's top doctor status is awarded to less than 10% of the RealSelf doctor community. This status is earned by achieving consistently high patient satisfaction (from RealSelf reviews), getting excellent feedback on expert answers to patient questions, and investing significant time in Q&A and other doctor activities. RealSelf top doctors are rated among the best surgeons in the United Kingdom.
All our dermatologists are on the GMC specialist register. The Royal College of Surgeons of England has an excellent information resource on cosmetic surgery.
Our dermatology clinic at 106 Crawford Street was recently inspected and rated by the Care Quality Commission as good across all five domains of care.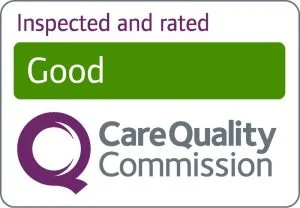 Causes of melasma
UV exposure: Ultraviolet radiation found in sunlight is a strong factor contributing to the formation of melasma in most patients. UV light has the ability to generate oxygen free radicals and lead to the stimulation of an increased production of melanin which gives rise to the hyperpigmentation characteristic of melasma.
Hormonal factors: Hormonal factors play a crucial role in the development of melasma. There is a growing body of evidence which links the development of melasma with pregnancy, oral contraceptive usage and a number of other hormonal therapies or conditions.
Genetics: Although melasma is not a hereditary condition, a number of cases found in first degree relatives have been described. Nonetheless there is a genetic predisposition in darker skin types. Melasma mainly affects women, in particular women with darker skin types 3-6 on the Fitzpatrick scale.
Treatment options for melasma
The treatment of melasma is based on four key treatment approaches which are more effective when combined together.
Avoiding sun exposure and applying sunscreen
UV exposure is one of the main causes of the development of melasma. Patients should take great care to minimise sun exposure to protect from the effects of UV radiation and is the cornerstone of treatment for melasma. It is well known that in the absence of proper sun exposure protection, melasma can recur and often in a more severe form.
Topical medications
Skin lightening creams: The currently available medical therapies are based on blocking the activity of the key enzyme tyrosinase, which is the main enzyme involved in the production of melanin. Although different drugs have been used for a number of years, there are no definitive guidelines on the best approach for medical treatment for melasma. Although short-term results can be excellent, long-term results can be less good as often has a tendency for relapse and/or recurrence. Skin lightening creams work to inhibit the action of tyrosinase enzyme and reduces melanocyte production. The effectiveness of topical creams is directly related to the concentration used, and the currently most commonly used formulation in the UK is 4%. There is a general agreement that above 4%, the irritant properties of skin lightening cream outweigh the benefits of treatment.
Retinoids: Retinoids reduce melanin production through several pathways: firstly, it inhibits the transcription of tyrosinase. When used in combination with skin lightening creams it improves epidermal penetration. Published research has supported the effectiveness of retinoids in reducing, both subjectively and objectively, melasma pigmentation.
Steroids: Although corticosteroids are known to have anti-inflammatory properties, they are not currently considered as a first-line agent for the treatment of melasma as a standalone drug. There is an obvious concern regarding the well-known long-term side effects on the skin including the development of acne and telangiectasia or thread veins. The main purpose of prescribing steroids is their role as a supportive agent in combination therapy treatments.
Azelaic acid: Azelaic acid is a tyrosinase inhibitor. It has the ability to destroy the abnormal pigment-producing cells or melanocytes and reduce their activity.
Kojic Acid: Kojic acid has a dual action as a tyrosinase inhibitor as well as a potent antioxidant. As a treatment used alone, it is much less effective than skin-lightening creams. However, it has been shown to have a benefit as a dual therapy when used in conjunction with other treatments.
Combination treatment
The purpose of combination therapy is to improve the effectiveness of a single agent but also to minimise the potential side-effects of treatment. The Obagi Nu-Derm system is ideal for the treatment of melasma. Retinoids enhance the action of skin bleaching creams, which helps to improve the penetrative action through the skin's epidermis and leads to a lower dosage requirement of medicines than when used singly. Steroids can potentially reduce the undesirable side-effects of other agents. Combination therapies have been consistently shown to work quicker and more effectively than single agents because of the synergistic action.
Oral medications
The most commonly used oral medicine is tranexamic acid. Tranexamic acid is a well-known agent in the field of surgery, where it is used to treat acute bleeding through the action of key reactants in the blood coagulation pathway. It acts to inhibit the plasminogen activator, which ultimately inhibits the plasminogen to plasmin transformation. Plasminogen can also be found in the skin cells or keratinocytes, as well as the basal layer of the epidermis. UV radiation has the ability to stimulate the keratinocytes/plasminogen system. This results in the production of prostaglandin and Leukotrienes. These two compounds are known to stimulate the production of melanin. The effect of Tranexamic acid to bind to plasminogen in the epidermis will inhibit the production of melanin. Tranexamic acid may also increase the vascular blood supply through action on growth factors in the walls of blood vessels.
The effectiveness of Tranexamic acid in melasma has been widely studied and is used by dermatologists to treat melasma. Studies have shown that Tranexamic acid, in combination with topically applied creams and steroids, displayed a quicker response with longer-term remission compared to patients who do not receive the above combination.
Chemical peels and laser treatments for melasma
In-clinic treatments for melasma include dermamelan peels and laser treatments for reducing pigmentation and vascularity. Microneedling may also have a role in selected cases when combined with strict avoidance of sunlight exposure.
In-clinic treatments are usually combined with other first-line treatments such as the Obagi Nu-Derm system containing skin lightening agents and retinoids. Most studies support an additional beneficial treatment effect when combined with topical therapies. Laser therapy for melasma remains challenging, particularly in patients with darker skin types. In this particular group, which is known to be at a higher risk of melasma, laser therapy can generate side-effects. Indeed, darker skin has larger and non-aggregated melanosomes. This higher concentration of melanin has the ability to absorb laser energy more diffusely and therefore trigger thermal lesions within the adjacent tissues. This can result in side effects such as post-inflammatory pigmentation and/or scarring. In addition, the melanin surrounding the area with melasma can act as a competitor (by absorbing the energy intended for melasma hence decreasing the efficacy).
Ablative lasers such as CO2 and Erbium YAG lasers are not recommended for the treatment of melasma due to the substantial risk of inducing post-inflammatory hyperpigmentation. The most appropriate treatment is with a non-ablative laser using Erbium Glass or Thulium fibre laser, often in combination with topical Tranexamic acid treatment and is safer to use in patients with darker skin types.
What is a Dermamelan peel?
Dermamelan peels are facial skin peels aimed at the improvement of hyperpigmentation skin conditions which are caused by excessive circulating hormones which include melasma, chloasma and solar lentigo.
Dermamelan peels can also be very useful for addressing signs of chronic sun damage and pore size reduction. Dermamelan peels are also great for evening up skin tone and texture and a more uniform and brighter skin complexion. They contain a number of well recognised agents including ascorbic acid, Konica acid and phytic acid along with Arbutin. These constituents of dermamelan peels are designed to inhibit the synthesis of skin pigment or melanin by the blockade of tyrosinase which is an enzyme responsible for the production of melanin. Successful treatment leads to less pigment formation and hence less hyperpigmentation. This treatment approach is not a permanent cure for melasma but is very useful for symptom control. The pigment producing cells or melanocytes are not destroyed but are halted from making new melanin which helps to improve skin appearance when used regularly as part a of course of skin treatments.
Your dermatologist will first take a full medical history followed by a physical examination of your skin to determine the type of melasma you have. A treatment plan will be prepared customised to your needs and preferences. Treatment begins by firstly thoroughly degreasing the skin and removing any skin impurities including residual make-up. The Dermamelan mask is then applied to the face. This process is speedy and simple and treatment duration is no more than 30 minutes. The mask will be left on for approximately 12-16 hours and you will have the mask on when you leave the clinic.
You will given written instructions on what to do during this period after treatment. The mask can removed at home with a gentle soap and warm water. Please follow the post-procedure care instructions for optimal outcomes.
Benefits of dermamelan peel for melasma
Straightforward and quick treatment lasting only 30 minutes
Healthier skin
Improvement in hyperpigmentation
Improvement in skin tone and texure
Reduced pore size and more regulated oil secretion
How many dermamelan treatments will I require?
The dermamelan mask is often a one-off treatment with application of the mask. However in more extensive cases of hyperpigmentation or more stubborn melasma then a second mask be used about 2-3 weeks after the first mask application to ensure that treatment results are optimal. Results can be further enhanced with the complementary selection of specifically formulated Dermamelan at-home products to take for 3-4 months after having a Dermamelan mask treatment.
What areas can Dermamelan peel be used on?
Dermamelan peel treatment is for use exclusively on the face.
Who performs dermamelan peel treatments?
Dermamelan peels are performed by our highly experienced aesthetic practitioner.
Melasma treatment before and after
Case 1: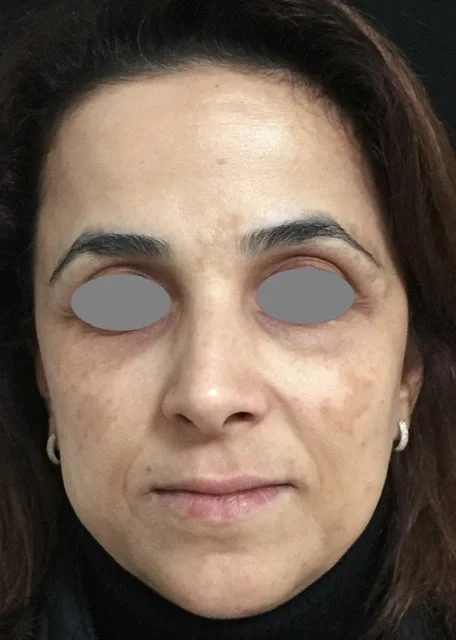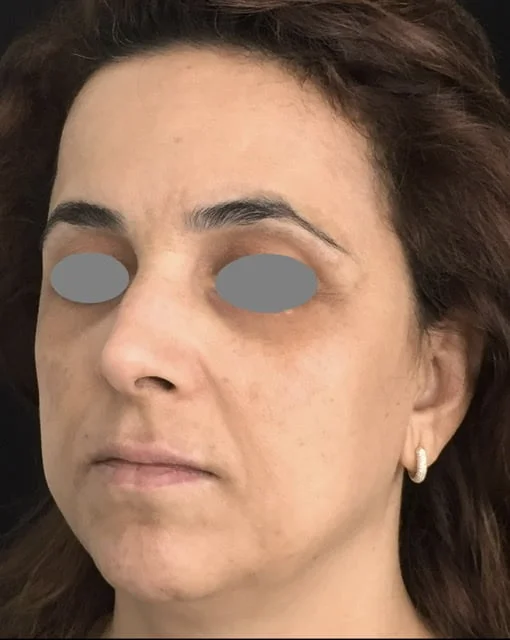 Case 2: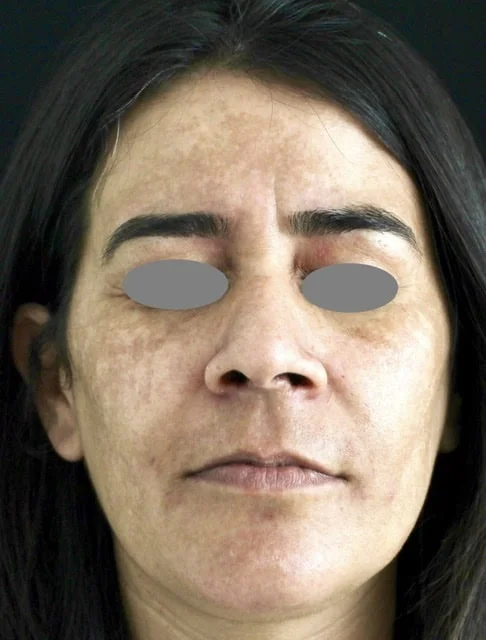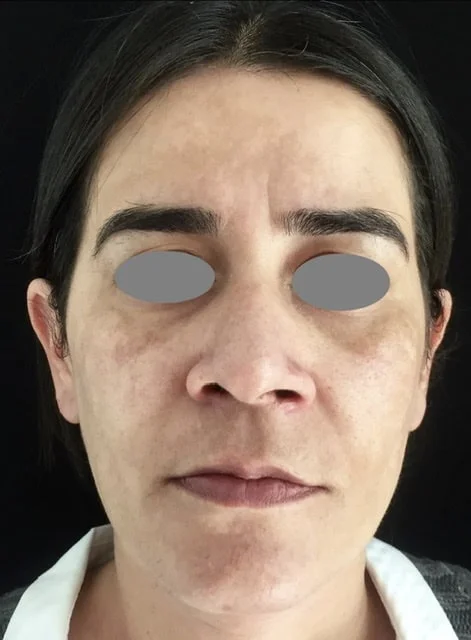 Case 3: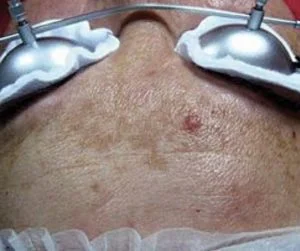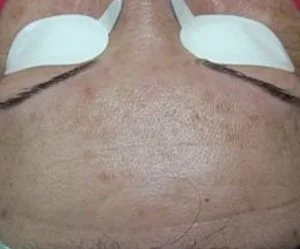 How to find us
Centre for Surgery is located at 106 Crawford Street in Marylebone. Crawford Street is just off Baker Street. We are easily accessible by all major bus routes that pass through Baker Street as well as Baker Street underground station.
From the tube station, we are just a 5 minute walk southwards down Baker Street followed by a right turn onto Crawford Street. The clinic is about 200 yards on the left.
There is ample local pay & display parking in the surrounding area and an NCP car park is located further west along Crawford Street. Our local residential parking zone is the City of Westminster.
Address: 106 Crawford Street, Marylebone, London, W1H 2HY
[wpseo_map id="237″ width="800″ height="350″ zoom="15″ map_style="roadmap" scrollable="1″ draggable="1″ show_route="0″ show_state="1″ show_country="1″ show_url="1″ show_email="1″ default_show_infowindow="0″]