Liposuction for men in London & UK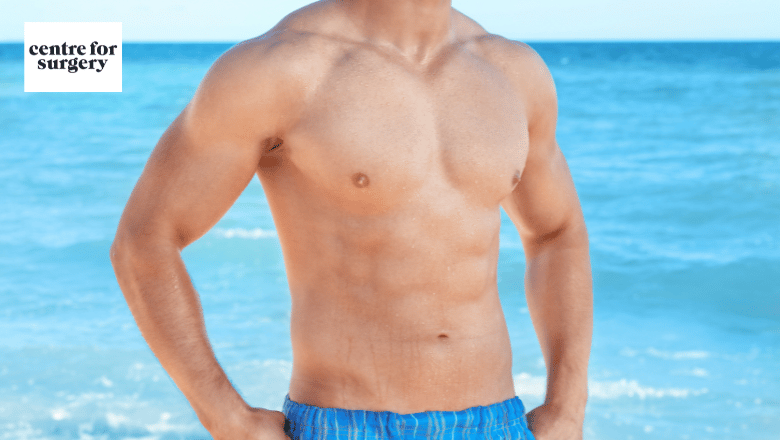 Male Fat Removal Surgery Can Contour and Sculpt Your Body
Male liposuction, also known as lipoplasty, is a surgical procedure that uses a thin tube called a cannula to suction out excess fat from specific areas of the body. Liposuction for men is a common procedure that can help men achieve a more sculpted, toned appearance by removing unwanted fat from areas such as the abdomen, love handles, chest, and thighs.
RELATED: Liposuction FAQs – Q&A about Liposuction Surgery
During the procedure, the surgeon will make small incisions in the targeted area and insert the cannula to suction out the fat. The procedure is usually performed under general anaesthesia, and the recovery time can vary depending on the extent of the surgery.
Liposuction can be an effective way for men to remove stubborn pockets of fat that are resistant to diet and exercise. However, it's important to note that liposuction is not a weight-loss procedure and should not be used as an alternative to healthy lifestyle changes. Additionally, liposuction is not an effective treatment for loose, sagging skin, and it may not be appropriate for men who have significant skin laxity or stretch marks in the treatment area.
It's also important to choose a specialist plastic surgeon at Centre for Surgery with experience performing liposuction for men and to have realistic expectations for the surgery.
Overall, liposuction for men is a surgical procedure that can help to remove unwanted fat from specific areas of the body, it can help men to have a more sculpted, toned appearance, but it's not a weight-loss procedure and should not be used as an alternative to healthy lifestyle changes. It's important to have realistic expectations and to choose a board-certified plastic surgeon with experience performing liposuction for men.
RELATED: Male Cosmetic Surgery
Male liposuction before and after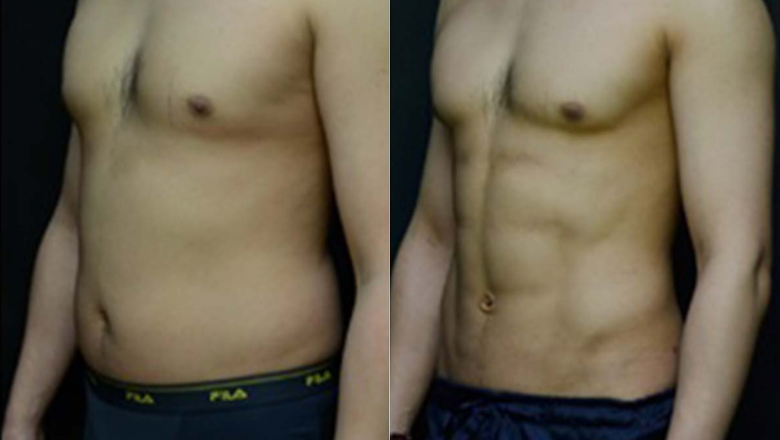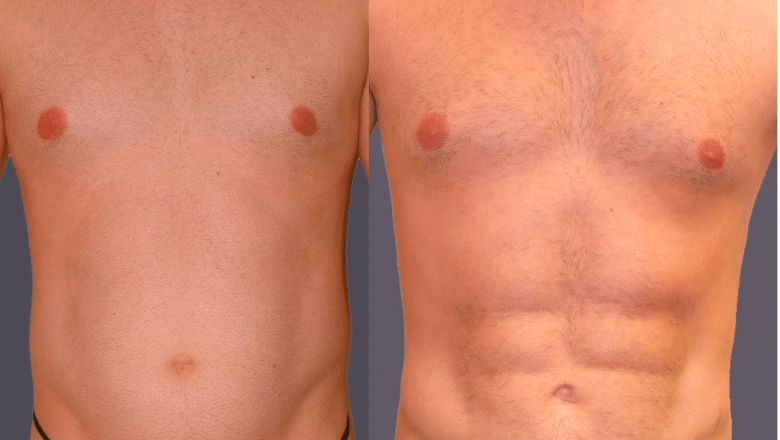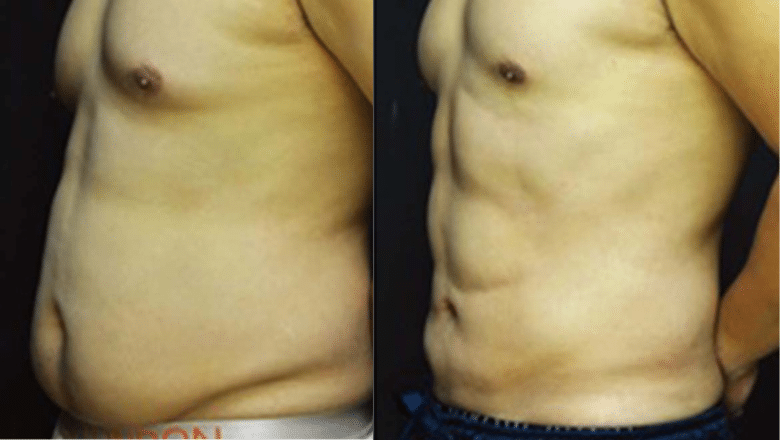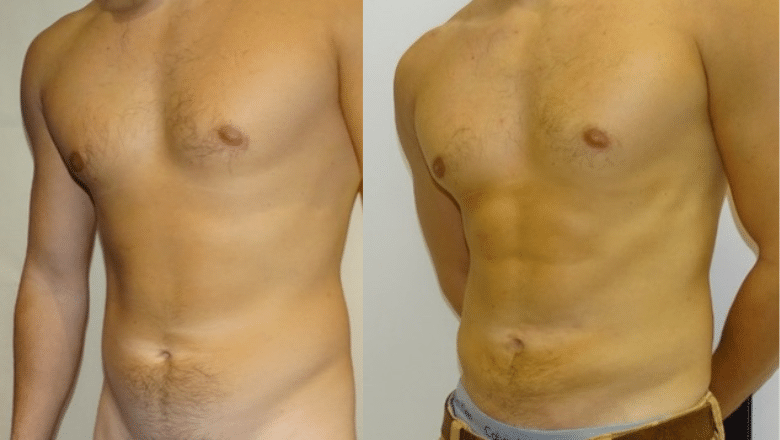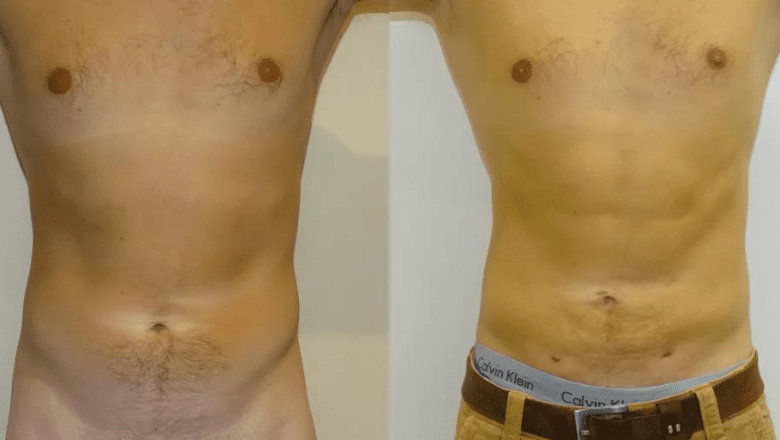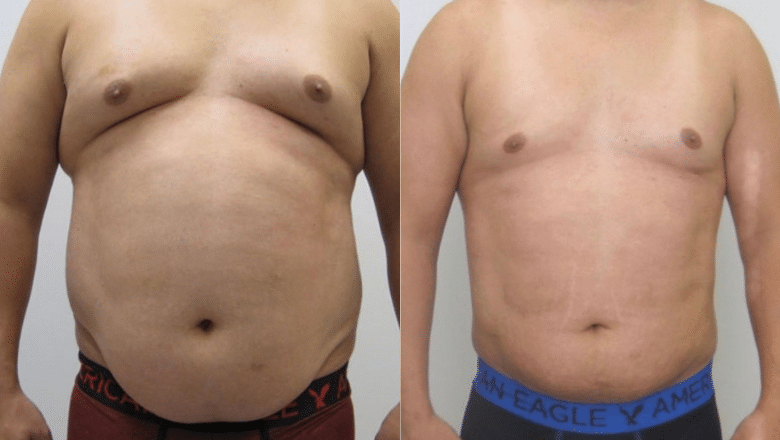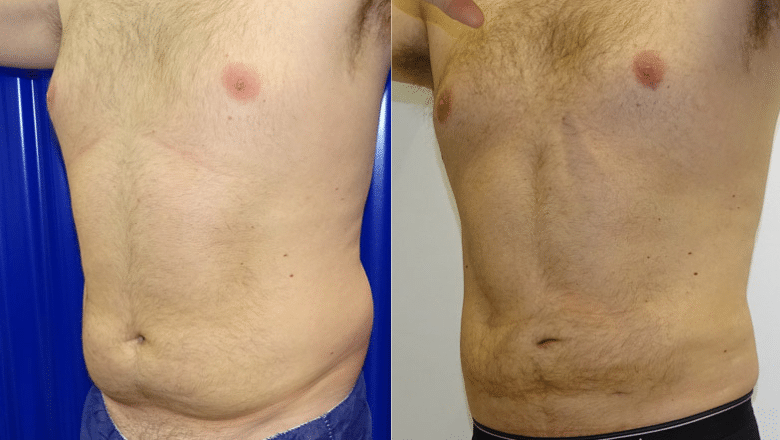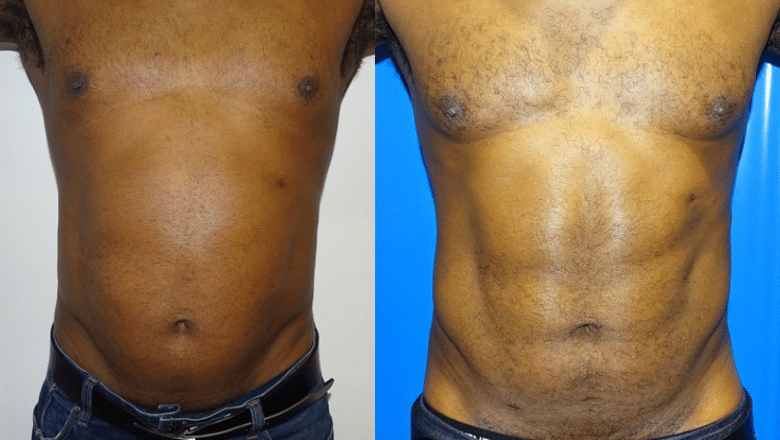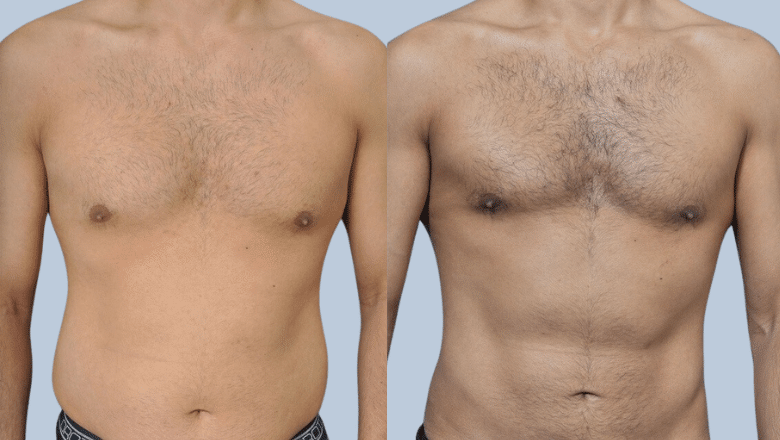 Benefits of male liposuction
Liposuction, also known as lipoplasty, is a surgical procedure that removes excess fat from specific areas of the body. Some benefits of male liposuction include:
Improved body contours: Liposuction can help to reshape and sculpt the body, creating a more toned and defined appearance.
Reduced weight and body fat: Liposuction can help to remove stubborn pockets of fat that are resistant to diet and exercise, resulting in weight loss and a reduction in overall body fat.
Increased self-confidence: Many men report feeling more confident and self-assured after liposuction, as they are happier with their physical appearance.
Improved physical health: Removing excess fat can also have a positive impact on overall health, as it can reduce the risk of certain health conditions such as diabetes and heart disease.
It's important to note that liposuction is not a weight loss solution, and it's not intended for treating obesity. It's best for people who are close to their ideal weight but have isolated areas of fat that don't respond to diet and exercise.
RELATED: Stomach Liposuction (Tummy Lipo)
Also, you should be aware that liposuction is a surgical procedure, and it carries some risks. It is important to discuss the risks and benefits with a qualified surgeon before making a decision.
Common areas of liposuction for men
Chin liposuction and neck liposuction
The accumulation of fat deposits in the chin and neck region is mainly genetic but with age, there tends to be an increased accumulation of fat in the region. It is very important that chin liposuction and neck liposuction is performed meticulously and gently to avoid the risk of injury to a branch of the facial nerve at the lower jaw region. Smaller cannulas are preferred as they create a smoother result. The skin of the neck and chin is thinner compared with other areas, and in men, the skin is not as elastic compared with women.
Because of the skin thickness which is thinner in the neck, the possibility for skin retraction is less although the formation of internal scar tissue following neck liposuction will cause some skin retraction leading to a better-defined jawline. Chin liposuction can be combined with FaceTite and Morpheus8 for significant skin retraction, with results approaching that of a mini facelift. In patients over the age of 55, liposuction may need to be combined with skin excision in the form of neck lift surgery. There are a number of non-surgical treatments for this region, including Ultherapy, also known as high-intensity focused ultrasound or HIFU, but their claims of treatment efficacy are not borne out by actual results, and the results are very modest at best.
Arm liposuction and thigh liposuction
Similar to female patients, these are common areas for liposuction in men. In those who have significant skin laxity from significant weight loss, arm liposuction may be combined with an arm lift or thigh lift.
SEE ALSO: Can liposuction get rid of bingo wings?
Male breast liposuction
Liposuction of the male breast is a highly effective treatment for the removal of localised fat deposits in the male chest area. This is also known as pseudo-gynecomastia. In true gynecomastia, where glandular tissue is prominent, in many cases, male breast liposuction needs to be combined with surgical removal of the glandular tissue for effective contouring of the area.
Stomach liposuction (liposuction of the abdomen)
Men commonly develop bulging of the abdominal area, and this can be due to fat beneath the skin (subcutaneous fat) or fat surrounding the internal organs (visceral fat). Only subcutaneous fat can be effectively treated by stomach liposuction. Many men will have a combination of both types of fat deposits. Visceral fat is better treated by a good diet and regular exercise. A male tummy tuck can be used in combination with abdominal liposuction for patients with both types of fat distribution.
RELATED: How to get rid of belly fat
Men who have lower levels of body fat and are looking for the definition of the abdominal muscles (also known as a 6 pack) will not achieve the definition with stomach liposuction although thinning of the fat layer is possible. For these patients, HD lipo and abdominal etching are ideal treatments for precision contouring. A programme of regular exercise is required to maintain and enhance the results.
Male flank liposuction is also commonly performed for the reduction of male 'love handles'. Liposuction of the abdomen can also be used for the flanks for the creation of a V-shaped appearance in many men.
Flank liposuction
The flank region can be a very problematic area for many men with bulges of fat that can protrude beyond the trouser line. Liposuction is a highly effective procedure for contouring male flanks. The procedure may be less effective in older men where skin laxity may lead to a worsening of the appearance if only liposuction is carried out.
Hip liposuction, inner knee liposuction, calf liposuction
Lipocontouring of these areas is much less commonly performed compared with the areas above. Treatment of these areas requires a surgeon very experienced in precision contouring using very small cannulas, especially in the calf and ankle region. There is a small but significant risk of nerve injury if liposuction is improperly carried out in the calf and ankle area.
RELATED: Knee liposuction to get rid of knee fat
RELATED: Calf and ankle liposuction to get rid of calf and ankle fat
Recovery after male liposuction
Recovery after male liposuction typically takes several weeks. Immediately following the procedure, the treated area will be swollen and bruised. Pain and discomfort can be managed with medication prescribed by your surgeon. Your surgeon will also provide you with specific instructions for caring for the treated area, including how to clean and dress the incisions, and how to wear any compression garments that have been recommended.
It is important to avoid strenuous activity, such as heavy lifting or exercise, for at least 2-4 weeks after the procedure. You should also avoid exposure to sun or heat for several weeks, as well as avoid taking any blood-thinning medications.
It is normal for some firmness and numbness to persist in the treated area for several weeks. As the swelling subsides, the shape and contour of your treated area will gradually improve.
It can take several months for the final male liposuction results to become visible as the swelling subsides and the treated area adjusts to its new contours.
In the meantime, you should be sure to follow your surgeon's instructions, attend all follow-up appointments, and contact your surgeon if you have any concerns or experience any unexpected symptoms.
How much does male liposuction cost in London?
The cost of male liposuction in London can vary depending on a number of factors, including the size of the area being treated, the amount of fat being removed, and the surgeon's experience and qualifications.
On average, the cost of male liposuction in London can range from £2,000 to £6,000. However, it's important to note that prices can vary widely and that the final cost will depend on the specific procedure and the individual patient.
Some factors that can affect the cost of male liposuction include:
The size of the area being treated: Liposuction on a small area, such as the chin or upper arms, will typically cost less than liposuction on a larger area, such as the abdomen or thighs.
The amount of fat being removed: The more fat that is removed during the procedure, the higher the cost will be.
The surgeon's experience and qualifications: Liposuction is a complex procedure that requires a high level of skill and experience. Surgeons with more experience and qualifications will typically charge more for their services.
The type of liposuction: Different techniques are used for liposuction, such as tumescent liposuction, ultrasound-assisted liposuction (UAL), laser-assisted liposuction (LAL), and power-assisted liposuction (PAL). Some of these techniques may be more expensive than others.
It's important to note that the cost of male liposuction in London may also include additional expenses such as the cost of anaesthesia, pre-and post-surgery consultations, and post-surgery garments. Also, patients should be aware that liposuction is considered a cosmetic procedure and is not covered by private medical insurance in the UK.
It is recommended to research different options and consult with your surgeon again to help you make an informed decision and get an accurate and detailed estimate of the cost of male liposuction.
Liposuction for Men at Centre for Surgery
Centre for Surgery is the leading cosmetic surgery clinic in London and is a specialist centre for male cosmetic surgery, including liposuction for men. Our specialist plastic surgeons carry out hundreds of male liposuction procedures each year at our state-of-the-art plastic surgery clinic in Marylebone.
Call us today on 020 7993 4849 to schedule an in-person consultation with a specialist Plastic Surgeon and learn about the highly effective treatment options to sculpt and contour your body to achieve an enhanced and masculine-looking physique.  
RELATED: Popular cosmetic surgery procedures for men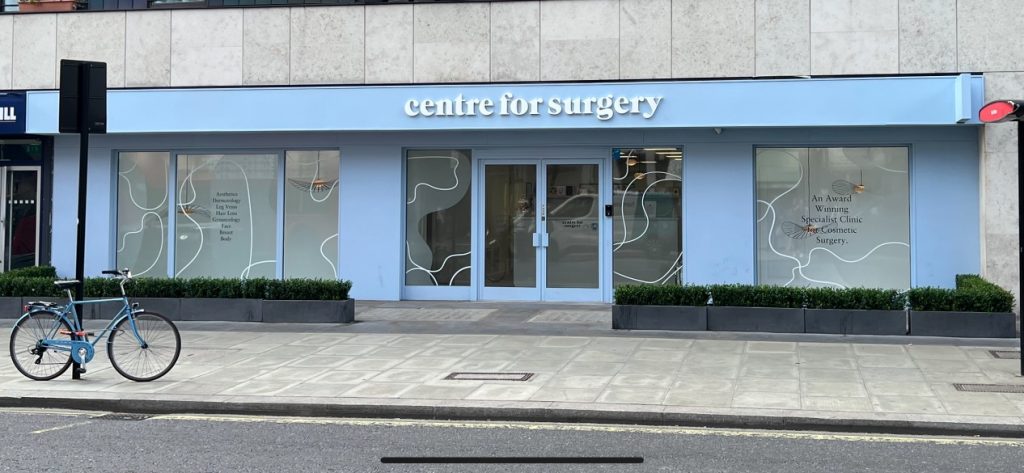 Amazing from start to finish, the communication was the main thing was fully informed and looked after, on the day of my breast augmentation, the staff were fab and made me feel at ease through out the whole process. Thank you so much.
Mohammed Farid
18/11/2021
I've had such a great experience with excellent advice, care and attention and surgical treatment (gynaecomastia) - I can fully endorse the treatment I have received from Centre for Surgery with absolutely no qualms at all. Brilliant in every way - thank you all so much.
Caroline Thorpe
14/11/2021
Very pleased with my whole experience of having a procedure. Was so nervous about getting treatment and i was reassured and felt so comfortable throughout thanks to the amazing nurses. I definitely made the right decision to have breast augmentation at centre for surgery with dr erel.
Melissa Briggs
08/11/2021
So glad I went with centre for surgery, the whole process went very smoothly from the consultations down to the actual day of the procedure. I was so nervous on the day but the whole team put me at ease and I'm happy with my results as I feel a lot more comfortable wearing certain clothes now. My surgeon was Alberto Di Giuseppe who performed a breast Augmentation on me, and I would definitely recommend as he was very clear on what the outcome of the surgery would be and which size would look the best for my frame.
Couldn't be happier with Dr Tillo work,i had my breast surgery one week ago and so happy with the results so far,all the staff are extremely nice and very supportive,i would definitely recommend their services,thank so much
From start to the finish everything was perfect for tummy tuck surgery. All staff is very friendly and the aftercare has been good. The Doctor and the nurse team was fantastic. I'm so happy...result is amazing. Thank you!!!
This was overall a great experience, all the staff at Centre for Surgery were friendly and put me at ease. It is a nerve wracking thing to go through an op but the staff were so nice. Mr Ertan has got a great team around him. On the day of the operation everything went smoothly to plan, there was no delay or holdups, I had another consultation with Mr Ertan who confirmed what was going to be done and that I was still happy to proceed. I was prepped for the procedure, I met with the anaesthetist who again was really nice and put me at ease explaining his role. After the procedure I woke up with the nurse by my side making sure I was OK and checking on me, I was able to stay in the clinic until I was ready to leave and was not rushed at all. I was well looked after from the start to the point when I was discharged. Post operation I was staying at a local hotel it was so close there was no point in even getting a taxi and I was able to walk back where my partner was waiting for me. I was expecting a lot of bruising to both my eyes but there was very little if any by the time the cast came off after 7 days, I am now at the two week post operation point and it is healing well with no outwardly visible bruising or scaring. The next milestone is a checkup at the 6 week point with my surgeon. If you're thinking of having something like this done I would highly recommend getting in touch with Centre for Surgery.
The staff at Centre for Surgery were very kind and accommodating. They answered any questions I had about the procedure and were constantly checking up on me. A special thank you to Christina for all her support throughout.
I would just like to state the quality of care received from the nurses at Centre for Surgery was beyond the highest level. Sophie takes her patient care to another level beyond words. She always puts me at ease. She is there for me even at awkward hours just when I mostly needed reassurance and she is one of the most compassionate nurses I have come across and demonstrates her passion naturally for caring for others. She totally deserves recognition at its finest and thank you for always being there for me. 😍