Mini Boob Job - Natural Breast Augmentation With Smaller Implants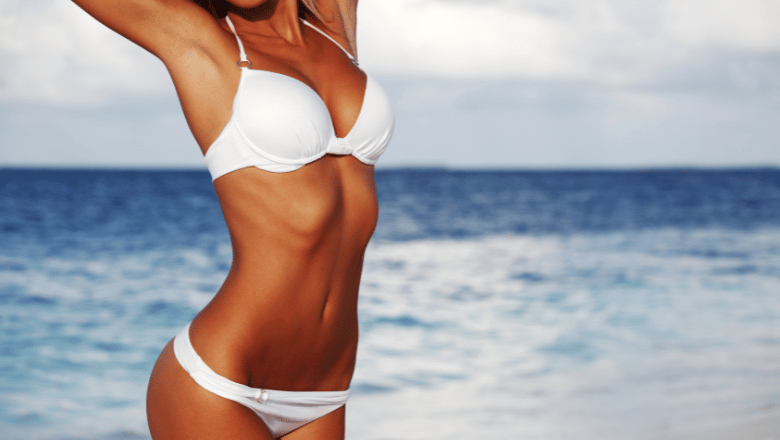 Mini Boob Job for Athletic, Slender & Smaller patients – Breast Augmentation with Small Breast Implants
Many women are often led to believe that breast implants are aimed at producing a significant increase in the size of the breasts for a more dramatic look. This misconception has often confused women for many years. Although breast implants can significantly increase the size of the breast, this is entirely dependent upon a woman's goals for treatment. An increasing number of women at our practice request a mini boob job for a subtle yet natural enhancement in breast appearance.
RELATED: Are breast implants worth it?
Women who have a petite body shape may find that having significant cleavage does not always suit them and is also avoided by athletic women who may have a naturally lean body shape. Our surgeons have years of experience in helping women achieve their ideal body appearance with breast implant surgery. Breast implants are particularly effective at helping women achieve a subtle enhancement with a defined curviness without appearing excessively large or fake looking. Women who may have a petite body frame are considered ideal candidates for a mini boob job to achieve the desired amount of breast curvature. Although fat transfer breast augmentation is well known for producing natural-looking results with your own body fat, the unpredictability of fat transfer results may put off many women, especially if they are looking for a subtle enhancement in breast size. Breast augmentation surgery using very large implants is most commonly known for giving women large boobs that may appear surgically enhanced with a fake-looking appearance. A mini boob job is ideal for a natural look using smaller-sized breast implants. The procedure can produce well-defined curvature of the breasts to give a more feminine look that appears both discrete and subtle. Breast implant technology is continuously improving, and the latest implants are perfectly engineered for mini-boob job surgery. Mini-boob jobs are not suitable for every patient because they may not produce a significant difference for certain body types.
RELATED: Choosing the right size of breast implants for breast augmentation
What Is a Mini Boob Job?
A mini breast augmentation, also known as a "mini boob job," has become increasingly popular over the last decade. This type of breast augmentation involves using small implants to minimally enlarge the breasts. The goal of this surgery is to achieve a natural and cosmetically beautiful breast shape that is perfectly proportionate to your body while avoiding an overdone or fake appearance.
RELATED: Boob Job FAQs
For women with small or lean bodies who desire slightly larger breasts, a mini boob job is a preferred surgical option. Compared to a regular breast augmentation, the main difference is the size and shape of the implant used. For a regular breast augmentation, larger implants, ranging from 275 cc to 400 cc or more, are typically used.
In contrast, a mini boob job involves using smaller implants, usually ranging from 150 cc to 275 cc, also known as "micro breast implants" or "slimplants." The final breast size achieved depends on the size of the implant and amount of natural tissue present, but typically results in a full A cup or B cup projection.
In some cases, our surgeons may also use autologous fat injections or fat transfer to complement small breast implants, a technique known as hybrid breast augmentation. This involves using excess fat from other areas of your body to strategically contour and enhance specific areas of the breast, such as the cleavage and side boob area, resulting in beautiful and natural-looking breasts.
Mini Boob Job Before & After Photos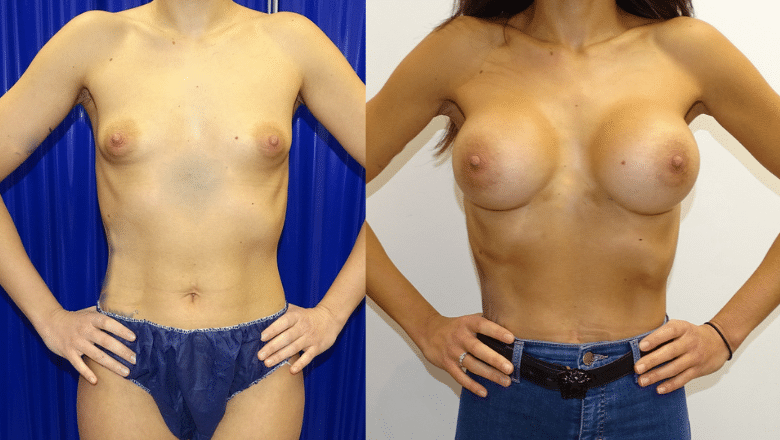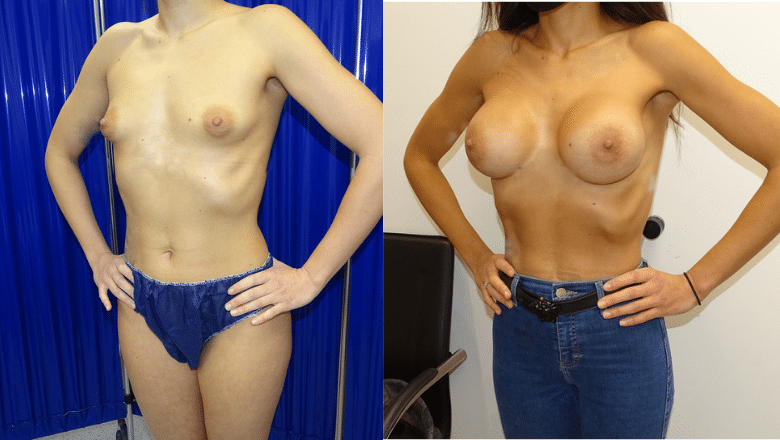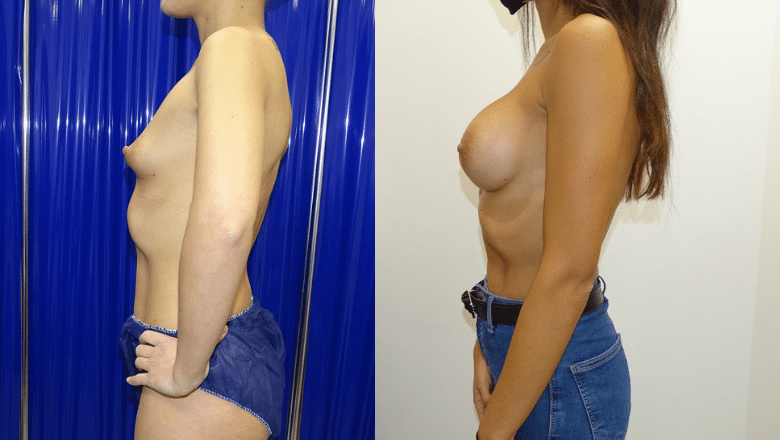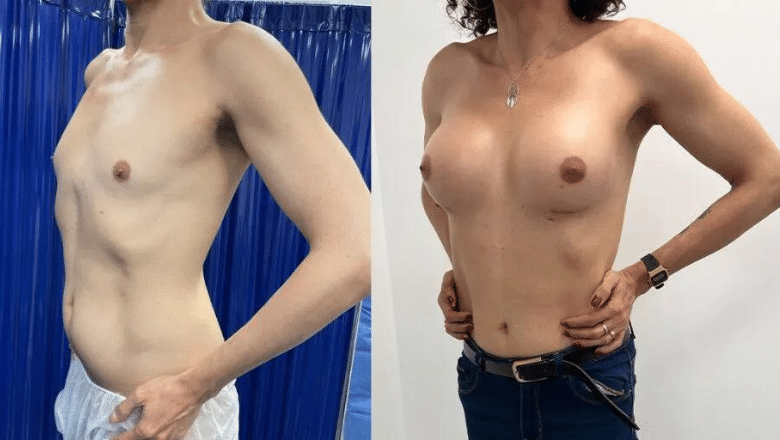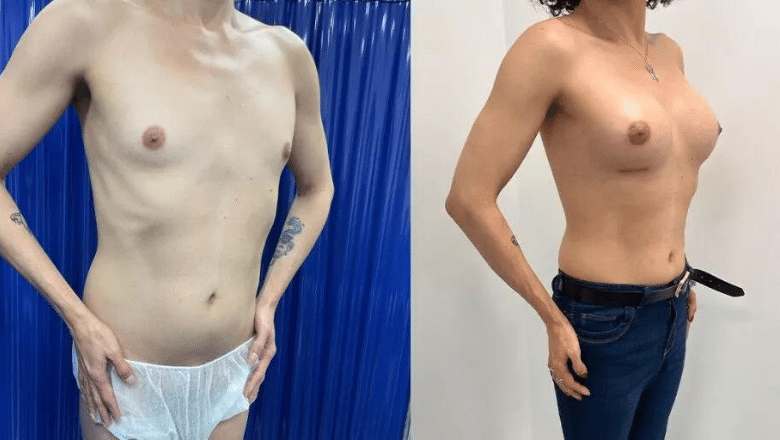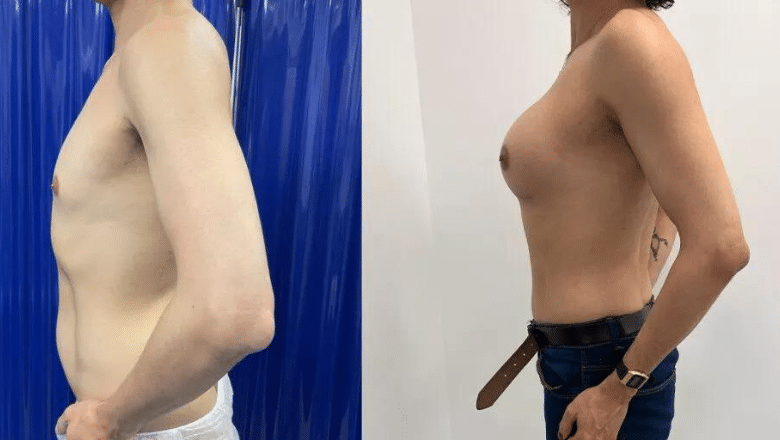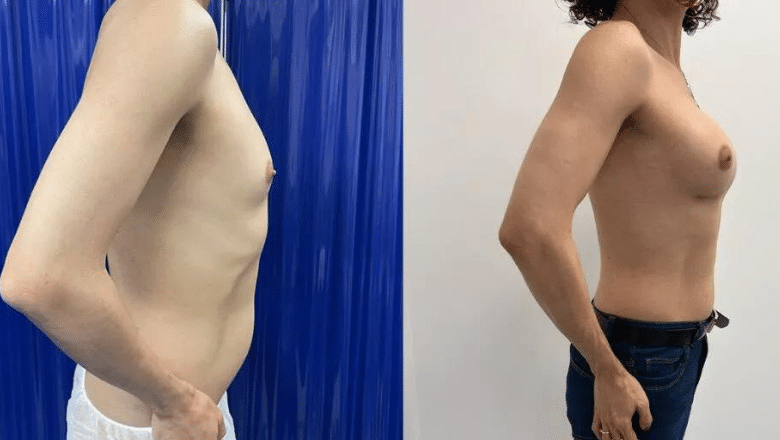 What does a mini boob job achieve?
Most people associate having a breast augmentation with very large breasts that many people may think look unreal. Although large breasts are considered aesthetically appealing, not every woman would like to have bigger breast implants. Shifts in preferences have led many women with petite and slender body frames to avoid larger-size breast implants as they believe the results may look out of proportion to the rest of their bodies. Bigger implants also involve a slightly higher level of risks, including 'bottoming out' and breast sagging or drooping. Women with minimal breast tissue and may have a flat or pigeon-shaped chest with a lean physique can achieve excellent results with a mini boob job breast enhancement using small-size breast implants.
What does a mini boob job involve?
With any type of breast augmentation procedure, there are minimal differences in technique between standard breast augmentation and a mini boob job. The main factor differentiating a mini boob job is the size of the implant used for the surgery and the technique used to create the breast pocket to accommodate the implant beneath the breast skin.
The most common size of implants for mini boob job surgery varies from 150cc to 275cc.
The physical characteristics of the implant may differ depending on your goals for treatment or as recommended by your surgeon.
Women who choose larger-sized implants need to have a certain amount of glandular breast tissue to adequately cover the implants. In women with minimal soft tissue coverage, the risk of complications increases considerably, including implant rippling and visible implant edges that may be felt.
Excessively large implants may result in implant failure, which is most commonly seen as bottoming out of the implants or excessive stretching of the overline skin, which may require a breast lift sooner rather than later.
What is the difference between a mini boob job and traditional breast augmentation surgery?
Standard breast augmentation surgery involves choosing implants that are most commonly sized between 275-400cc. Mini boob job surgery involves selecting an implant size less than 275cc. Most implants for mini breast augmentation are between 150cc and 275cc, depending on individual patient preferences and breast anatomy.
The method used for a mini boob job is virtually identical to conventional breast augmentation surgery. The differences relate to the size of the implant used and its physical characteristics. The size of the breast pocket, which accommodates the breast implant, will also differ from a standard breast augmentation and is usually much smaller.
A mini boob job is not suitable for every patient because the procedure may not produce significant differences in women with certain body types, particularly those with a naturally larger and curvy physique. Women who have petite body frames can achieve excellent results with smaller-sized implants. Although most women prefer implants that result in prominent curves and highly visible results, other women prefer a subtle breast enhancement that is matched their unique body frame.
Why do many women choose to have a mini breast augmentation?
This procedure is ideal for those who have a petite body shape with a lower percentage of body fat. Athletic women naturally have a smaller physique, and a subtle breast enhancement is better matched to their everyday lifestyle, which may involve a high level of gym activity and body anatomy.
Smaller breast implants can provide increased volume and optimised breast shape with subtle yet noticeable results without appearing unnatural. A mini boob job is highly suited to women with minimal natural press tissue, which causes them to have a flat-looking chest. Choosing to have smaller breast implants is ideal in this scenario because most types of breast augmentation surgery require a certain amount of natural breast tissue to be present to reduce the risk of implant-related complications. Recognised complications of having larger implants include skin stretching, implant rippling or 'bottoming out' of the implants. Heavier and larger implants increase the risk of accelerated sagging or bottoming out of the breast implant. With this in mind, women with a petite frame can achieve excellent results with minimal complications by choosing smaller-sized implants.
Can a mini boob job produce natural looking results?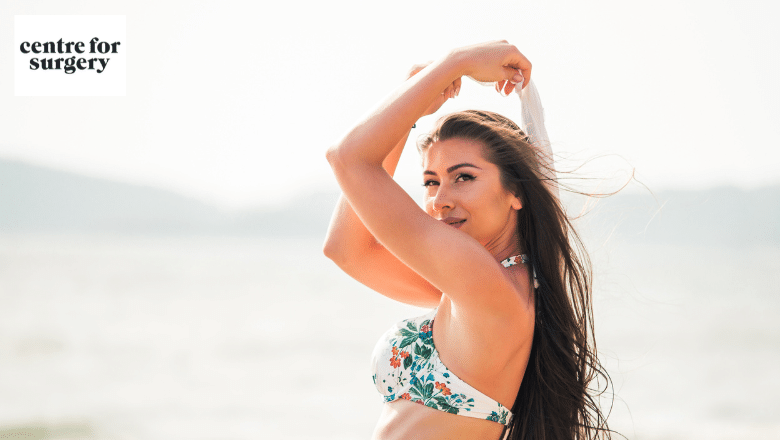 Mini boob job surgery is ideally suited to women who have a lean body physique, although there are several other advantages. Virtually any woman can achieve an improved shape of their breasts with enhanced volume for natural-looking breasts. At your in-person consultation, your surgeon will explain in detail what the procedure involves and the potential outcomes you could achieve. The surgeon will want to learn more about your expectations for surgery. A physical examination will be carried out to determine your body type, weight, height and your overall skin quality. A key factor is the amount of natural breast tissue present in your breast. Customised recommendations will then be provided on the optimum size and type of implant best matched to your body shape and treatment goals.
Any type of surgery, including a mini breast augmentation, means choosing a highly skilled and experienced consultant plastic surgeon who carries out many breast surgery procedures each year. An expert surgeon will be in an ideal position to advise you on the best size of implant that will produce aesthetically pleasing results for the long-term.
Why should petite woman choose a mini boob job?
Plastic surgeons widely accept that smaller-size breast implants appear more natural and aesthetically appealing in women who have a lean body frame. The procedure may also be recommended for several clinical reasons. Large implants more than 350cc in size may be too large or heavy for your existing breast tissue to support adequately. This can result in long-term damage to the skin envelope of the breast and lead to several potential breast implant-related problems.
RELATED: What are common breast implant problems?
Here at Centre for Surgery, we always advise appropriately sized breast implants matched to your body frame. Smaller-sized implants can help produce a natural look that does not appear excessively large or heavy looking on a petite body frame. A mini boob job would be recommended for slender women. Women can achieve the right amount of breast curvature for a subtle breast enhancement that looks both feminine and natural.
What are the benefits of smaller breast implants for certain body types?
Mini boob job surgery is based on the principle of 'less is more'. However, some people may question why surgery is suitable only to achieve subtle results. Many will be surprised to learn that small breasts are more appealing to women who have a certain type of body frame.
Women who have previously had breast reduction surgery are in an ideal position to describe the significant pain, discomfort and social embarrassment of having excessively large and heavy breasts. Female breasts come in a wide variety of different sizes and shapes and although many women would like to have significantly larger breasts, others prefer subtle and natural-looking results that do not appear overly 'done'.
A woman who has a very athletic body frame often has a very low percentage of body fat, and choosing to have large breast implants may be unsuitable for her lifestyle, or large implants may be impractical with certain sports such as tennis. Small implants are ideal for women with a petite body frame to achieve the optimal balance of enhanced breast volume combined with an improved shape that appears feminine and in harmony with the overall shape of the body.
Performing a Mini Boob Job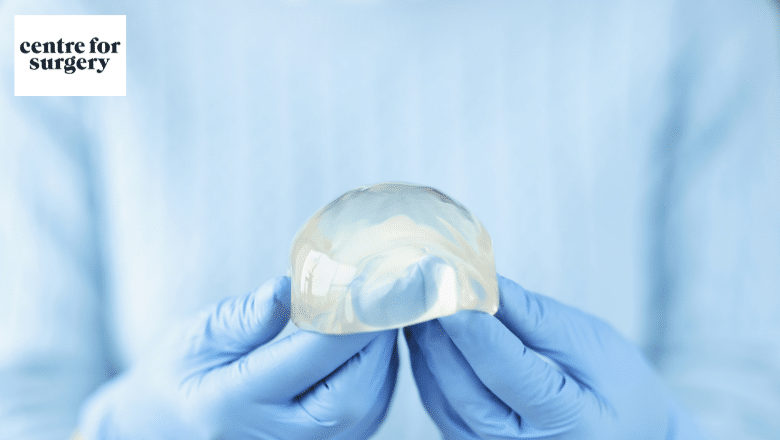 Mini breast augmentation is performed using the same techniques as traditional breast augmentation surgery. The procedure is typically an outpatient surgery, meaning that patients can usually go home the same day.
The surgical steps involved in mini breast augmentation include:
General Anaesthesia: The surgery is performed under general anaesthesia, meaning that patients are asleep during the procedure. The surgery can take 1 to 2 hours to complete, depending on whether a fat transfer is performed.
Incision: The surgeon makes a small 2.5 to 4 cm incision along the inframammary fold, which is the crease just under the breast. This allows the surgeon to access the breast tissue and create a pocket to accommodate the implant.
Creating a Pocket: The surgeon creates a pocket between the chest muscles and breast tissue to create space for the new implant.
Inserting the Implant: Once the surgical pocket is ready, the surgeon inserts a small implant, usually between 150 cc and 275 cc. Silicone implants come pre-filled, while saline implants are filled after insertion.
Closing the Incision: The surgeon closes the deep breast tissue layers and muscles and tightens the pocket to keep the implant in place. The skin wounds are then closed with very thin sutures.
Fat Grafting (Optional): If the patient has opted for a hybrid breast augmentation, the surgeon will perform fat grafting after the implants are inserted. This involves harvesting fat from the buttocks or abdomen, purifying it, and injecting it into the breasts to shape them.
Recovery: Finally, the incisions under the breasts are covered with gauze, and the patient is awakened and sent to their room to recover.
Following the procedure, patients will be given detailed instructions on how to care for their breasts and manage any discomfort. It is essential to closely follow the surgeon's post-operative instructions to ensure optimal healing and a smooth recovery.
Recovery After a Mini Boob Job
Recovery after a mini breast augmentation is generally similar to that of a traditional breast augmentation. However, since less tissue trauma is involved, patients may experience less intense symptoms and a slightly shorter recovery time.
It is normal to experience slight bruising, pain, and swelling, even with small breast implants. These symptoms usually peak during the first week after surgery and gradually improve over the next 4-6 weeks. Most patients can typically return to work 5-7 days after their mini breast surgery, and light walking is permitted during the first week. Jogging may be resumed in the second week, but patients should avoid intense sports and weightlifting for at least four weeks.
Patients should sleep on their backs and wear a compression bra for 4-6 weeks after the procedure. Applying warm compresses and ice packs can also help reduce swelling and bruising faster after breast surgery. It is important to follow the surgeon's post-operative instructions closely to ensure a smooth recovery and optimal healing. If any concerns or questions arise during recovery, patients should not hesitate to contact their surgeon for further guidance.
Risks and Complications of Mini Boob Jobs
As with any surgery, mini breast augmentation carries some risks and potential complications, which can include:
Loss of sensation around the nipples
Wound infection
Bleeding
Uneven breasts
Unsatisfactory results
Long-term complications of breast implants may include:
Skin wrinkling on the edge of the implant
Capsular contracture
Implant rupture
Implant malrotation
Implant drop
Breast Implant-Associated Lymphoma (BIA-ALCL)
To minimise the risk of complications, choosing a surgeon with extensive experience in breast augmentation surgery is essential. Surgeons at Centre for Surgery have performed hundreds of mini breast augmentations in London and throughout the UK, and they take every precaution necessary to minimise the risk of complications. During the consultation, the surgeon will thoroughly discuss the risks and benefits of the procedure, and develop a personalized surgical plan to achieve the desired outcome while minimising the risk of complications. Patients should also closely follow the surgeon's postoperative instructions to minimize the risk of complications and promote optimal healing.
Mini Boob Job Costs and Prices
Contrary to popular belief, the size of breast implants used in a mini boob job does not affect their price. Determining the cost of a mini breast augmentation is a complex process that takes various factors into account, including the surgical hospital, anaesthetist fees, surgeon fees, implant type and brand, and any additional procedures required, such as fat grafting or breast lifting.
At our clinic, our team provides an estimate of the cost of mini breast implants after the initial consultation. However, it is important to note that breast implant surgery is typically not covered by the NHS or private medical insurance unless there is a congenital defect, such as tuberous breasts or breast asymmetry, that meets strict clinical criteria. As such, patients should be prepared to pay for the procedure out of pocket.
RELATED: How much does a boob job cost?
Medical references
Why choose Centre for Surgery for a mini boob job?
Centre for Surgery is the leading cosmetic surgery clinic in London. When you choose us for your mini boob job, you can be assured of receiving the high standards of medical care in the UK. Our surgeons have spent many years acquiring the knowledge, skills and experience in all forms of breast surgery to give you natural and beautiful results for a significant boost in self-confidence. They continue to attend both national and international surgical meetings to share knowledge and best practice. Call us today on 020 7993 4849 to schedule an in-person consultation with a specialist consultant plastic surgeon at our state-of-the-art Baker Street clinic in Marylebone.