Facelift London
Facelifts in London with Centre for Surgery at our Marylebone clinic. A facelift (also known as a cervicofacial rhytidectomy or rhytidoplasty) is a broad category which refers to a number of procedures that will change the look of the upper and lower face, including cheeks, jowls, and neck. The Facelift surgery entails incisions placed in front of and behind the ear.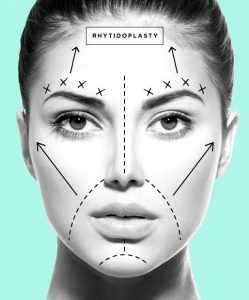 At Centre for Surgery, patients have access to the full range of options for treatment of the ageing face. These options include laser treatments, injections and traditional surgery. Facelift surgery, traditionally called rhytidectomy, is an extremely popular procedure in London and the UK more broadly.
Facelifts are most popular for being able to stop the ageing process, at least when it comes to the aesthetic aspect. A facelift is a surgical procedure that involves facial skin tightening to remove those wrinkles, and gives the face a younger look.
The goal of modern facelift surgery is to create a natural, refreshed and rejuvenated appearance to patients so that they look like a younger version of themselves. The procedure typically involves repositioning of deep fat and muscle tissue and may involve volume replacement. Patients who are not ready for a facelift or perhaps do not want a facelift have several other options, including minimally invasive procedures like laser or injectables.
Even though no one is able to reverse time, signs of ageing can be prevented by removing any trace of excess fat and skin and straighten the facial muscles. This intervention can be performed as an individual operation or in combination with other similar procedures, such as eyelid surgery.
If you are not keen on the idea of having scars from facelift surgery, Centre for Surgery also offer a 'scarless face lift' utilising the innovative FaceTite platform. A FaceTite procedure utilises minimally invasive bipolar radiofrequency to tighten the skin of the neck and jowls combined with Morpheus8 RF microneedling. By using both FaceTite and Morpheus8, your surgeon is able to address mild to moderate skin laxity in a minimally invasive manner and without the downtime of a traditional face lift. A FaceTite procedure can be performed under local anaesthetic (with or without oral sedation) in properly selected candidates. Microlipo may also be performed on the lower face and neck to define the jawline.
The FaceTite / Morpheus8 procedure is also known as EmbraceRF.
Your facelift surgeon may also wish to combine the FaceTite/Morpheus8 combination with a mini facelift to extend the benefits of a partial skin excision. In this case the procedure would be performed with ClearSleep anaesthesia.
All of our London facelift surgeons are on the GMC specialist register.
Why choose Centre for Surgery for your facelift ?
Over 15 years experience with all types of facelift surgery – short scar facelift, full scar facelift, necklift and combined procedures (facelift with eyelid surgery or facial fat grafting)
We regularly receive patients from overseas at our London facial plastic surgery specialist centre
Our surgeons are UK trained NHS consultant plastic surgeons who live and work in London. We don't work with 'fly-in, fly-out' surgeons from Italy. This is very important because whilst your surgeon takes all precautions to minimise facelift complications, complications can and do occur and our surgeons are readily available to manage any issues if and when they arise. An example would be a haematoma (collection of blood contained under the skin) developing after a facelift which is a recognised risk of a facelift procedure. In many cases this needs addressing as soon as possible and we have the full infrastructure in place to manage this.
We own and manage our own surgical facilities. Properly performed facelift surgery takes time (often 5-6 hours for a comprehensive facelift) and should not be rushed. Mr Mitsakos performs a maximum of one facelift procedure in a day. We do not cram 3-4 facelift procedures into one day like other providers. You want your surgeon to be well-rested and mentally and physically sharp to perform facelift surgery which is a very complex procedure to get the very best results.
Our clinic at 106 Crawford Street, Marylebone in London was recently inspected and rated as good across all 5 domains.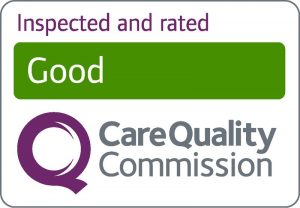 Dr Antonios Mitsakos - London facelift surgeon
Dr Antonios Mitsakos is a fully qualified plastic and cosmetic surgeon. His name appears on the GMC register for plastic surgery (GMC number: 6148715). He completed his plastic surgery training at the world-renowned St Thomas Hospital in London. Dr Mitsakos has performed reconstructive surgery in his NHS roles and his expertise in doing this forms the foundation of his aesthetic practice.
Dr Antonios Mitsakos has extensive experience in performing all aspects of facial rejuvenation surgery including blepharoplasty, browlift, facelift and necklift surgery. Dr Mitsakos regularly combines facial fat grafting with facelift surgery to volumise and create projection – restoring the natural contours of the youthful face.
Dr Antonios is also a highly regarded teacher and trainer of non-surgical aesthetic techniques to the next generation of doctors. He currently holds highest level 7 accredited trainer status. His friendly, relaxed yet confident manner is frequently remarked upon by many of his former trainees.
Dr Mitsakos specialises in minimally invasive surgical techniques to minimise scarring and is proficient in the FaceTite procedure.  Meticulous preoperative planning is very important to Dr Mitsakos to achieve optimal results and he follows very strict clinical protocols for all his patients.
At consultation, Dr Mitsakos will listen to your specific needs and requirements and where appropriate will tailor a bespoke surgical solution using Crisalix 3D imaging to visualise how you could look after your procedure.
Read testimonials from our amazing patients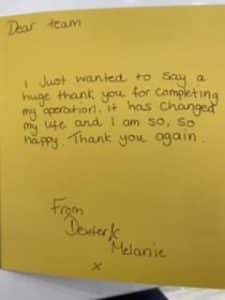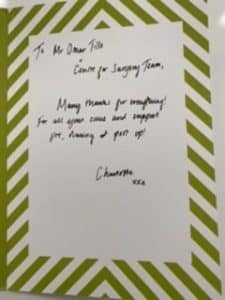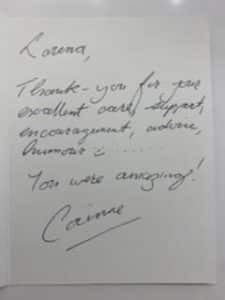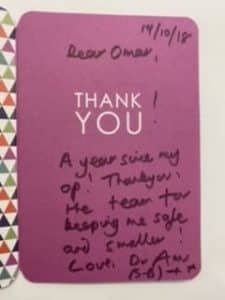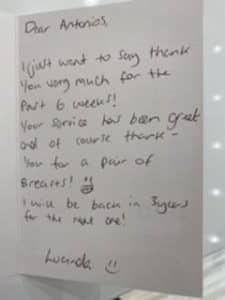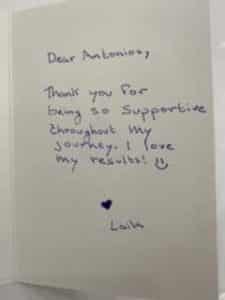 Benefits of a facelift
Facial ageing has traditionally been thought to be due to excess skin sagging on the face. For many years, the main method for reversing these aging changes has been to tighten the skin by performing skin-only facelifts. The older facelift techniques focused on repositioning skin only, without addressing the underlying tissue layers. Patients who underwent these older (often on multiple occasions) lifts obtained an unnatural, stretched appearance – the 'windtunnel effect'. In some cases, the eyebrows and forehead were also pulled upward, giving a startled and highly unatural appearance.
One important aspect of facial ageing that is missed with the older skin-only methods is that two aging other processes are occurring that skin-only facelifts do not adequately address:
The deeper tissues of the face (fat and muscle) gradually detach from their facial attachments and begin to descend under the influence of gravity, and
The soft tissue volume of the face decreases. Both bony and fatty changes occur with age. Thus, treatments to correct the ageing face should involve repositioning of these deeper structures (facelift), and restoring volume (fat grafting), as required.
Surgeons at Centre for Surgery focus on both lifting the soft tissue and muscle and restoring volume – the 'lift and fill' facelift. It is often not enough just to reposition the tissues with a facelift technique. Facial fat grafting to restore volume is also required.
There are many benefits to undertaking a facelift, including:
Skin tightening: Loose facial skin can make a person appear a lot older than they actually are, while taut facial skin is a sign of youthful vitality. The latest facelift techniques can completely remove loose skin from the lower face and neck creating a more revitalised appearance
Wrinkle reduction: The appearance of wrinkles can be reduced when the skin is tightened during the facelift process.
Repositioning of facial fat: At times a facial contour that is undesirable is a result of fat deposits in the face. Our surgical technique includes repositioning of fat deposits to achieve a more aesthetically pleasing facial contour. Facial fat grafting can also be performed to create extra volume. Fat transfer is an advanced method for restoring volume to the facial fat compartments. Using this alone or in combination with a facelift can provide optimal results to patients.
Eyelid surgery is the most common surgical procedures for facial rejuvenation. It can also be combined with a facelift. Facelifts are performed with blepharoplasty in about 70% of all cases. While a facelift focuses on the cheeks, jowls and neck area, eyelid surgery addresses other issues that may affect your appearance.
Reasons for having eyelid surgery in conjunction with a facelift include:
Puffiness around the eyes that make you look older than you actually are

Hooded eyelids that make you look fatigued, even if you are full of energy

Hooded eyelids that are affecting your eyesight and your ability to see

Sagging skin and wrinkles under the eyes
There are two types of blepharoplasty surgeries. Depending on your needs and goals, you may need one or both performed:
Upper Blepharoplasty: Surgery on the upper eyelid involves the removal of excessively stretched skin that can cause multiple wrinkles or hooding on the eyelash line. If there is an underlying droopiness of the lid, a muscle repair can be performed through the incision at the same time.
Lower Blepharoplasty: During surgery on the lower eyelid, the surgeon will redistribute the fat within the lower eyelid, which removes the appearance of bags and under-eye puffiness. By addressing these problems at the same time as a facelift, a greater portion of the face can be rejuvenated, providing a more enhanced appearance. Another procedure that can be employed is a brow lift, in order to minimise wrinkles on the forehead. The best way to determine if this procedure is appropriate in conjunction with a facelift is to discuss it with our surgeons during your consultation.
Facial injectables do not match the results of a 'lift and fill' facelift
Although neurotoxins and dermal fillers have revolutionised the way we treat the ageing face with non-invasive techniques, these do not replace surgical procedures. Rather they complement as opposed to replace.
Key point: Big degrees of facial aging require correspondingly big procedures for a proper correction.
Facial wrinkles and volume loss are poorly treated with a facelift. This is where the injectables are most useful. Whether it is to soften lines or add subtle volume to targeted areas – this is where facial injectables work really well. Problems occur when too much is attempted with injectables alone – often leading to over volumisation – the so-called 'pillow-face'.
Lets go through a little on how neurotoxins and dermal filller actually work:
Neurotoxins work by blocking the neuromuscular junction. This reduces or even eliminates the electrical signals from the brain to the facial muscle, thus inhibiting movement of the muscle. The result is a reduced severity of the associated wrinkles. However, Neurotoxins do nto address volume loss which is a prime component of facial ageing, nor do they treat loose skin, descended muscle or fat atrophy.
There is a increasing trend towards dermal filler treatments as an alternative to facelift surgery. Facial fillers are made up of various substances. The most commonly used substance in most modern HA fillers is hyaluronic acid. There are other less commonly used substances such as poly-l-lactic acid or calcium hydroxyapatite which work for longer but are not reversible unlike HA fillers.  HA fillers act to restore the lost volume due to atrophy of soft tissue and fat volume that occurs with the ageing process.
Facial injectables can reduce the appearance of fine lines, deeper folds, and with the more viscous HA fillers even add volume to certain areas including the temples, cheeks, chin and lips. However, these results are temporary and for many patients do not provide enough correction of the jawline, jowls, cheek bones and loose and crepey neck skin. Fillers still have an important role – they are treatment options for patients who may not be ready for facelift surgery or perhaps have had facelift surgery already and desire a 'tweakment' to refine or fine-tune the results from surgery.
Crisalix 3D imaging
Unique to Centre for Surgery, we are proud to offer the amazing Crisalix 3D imaging experience to all our patients. Visualise in incredible detail how your could look after your facelift procedure.
Crisalix 3D imaging is offered as standard at your facelift consultation.
The ideal candidate for a facelift
Facelifts are not just for women
Men and women both experience the effects of the facial ageing process and both can benefit from facelift surgery. Demand for facelift surgery in men in the UK has increased over 25% over the last twenty years, while demand for female procedures has remained relatively static. About 10% of all facelift procedures are performed in men and this is a growing percentage year on year.
The ideal candidates for a facelift procedure are men and women with a face and neck that are starting to look older, but with an elastic skin and a very well defined bone structure. Even though most facelift patients are around 40 to 60, facelift can be successfully performed in patients between 70 and 80 subject to satisfactory medical clearance for the surgical procerdure.
Do I have to be older to be eligible for a facelift?
No, There's no ideal age for a facelift. Different people age at different rates and to different degrees. Although the normal facial ageing process causes facial skin and underlying muscle to loosen or sag over time, the effects of ageing can occur at any time although significant sun exposure will accelerate the process. In the UK, the majority of surgical facelift procedures are performed on women and men between the ages of 40 to 56.
Over the last 10 years , there has been an explosion in the number of techniques to address facial aging in younger patients as younger people are increasingly presenting to discuss options to maintain their youthful appearance. Leading facelift surgeons in London agree that, patients between the ages of 30 and 39 are particularly interested in brow lifts (forehead lift) and blepharoplasty surgery (eyelid surgery to remove excess pockets of skin and fat around the upper and lower eyelids. While blepharoplasty and browlifts are full facelifts, they are still designed to address facial rejuvenation. Centre for Surgery offer leading treatments to cater for younger patients needs.
Premature or early onset ageing can be caused for a number of reasons:
excessive UV sun exposure
smoking tobacco
poor lifestyle habits (late nights, heavy drinking)
genetics
Everybody's skin is different and this has a corresponding impact on the degree of facial aging and at what rate.
We tell all our patients that there a number of key criteria for being 'ready' for a facelift:
1) Structural evidence of facial ageing that is amenable to reversal with a facelift. This includes areas such as the jowls, neck skin laxity, or neck bands,
2) A realistic expectation of what can be acheived
3) Good overall medical health and and a good system of social support available after the procedure. A patient who is 44 may satisfy all three of these criteria, and a patient who is 58 may not – treatment is always individualised to the needs of every patient.
A facelift with our surgeons will restore a more youthful appearance, helping to correct many of the visible signs of ageing in the face and neck area. Reasons for having a facelift include:
Sagging in the mid-face area

Deep creases below the lower eyelids

Deep creases along the nose extending down to the corner of the mouth

Loose skin and excess fatty deposits under the chin area, resulting in a "double chin" or "turkey neck"

Facial fat that is displaced or drooping, creating exaggerated jowls
There are other factors that help determine if you are a good candidate for facelift surgery, including:
Good health: You should be in good health and be free of any major medical conditions prior to your surgery. This is key for proper healing and recovery after your procedure.
Most importantly, you should have realistic expectations about your goals for surgery. Ideally, you want to look like a revitalised, refreshed version of yourself. The best way to determine if you're a candidate for a facelift is to schedule a consultation with one of our specialist facial surgeons.
If you are a good candidate, you may wish to explore what finance options we have available.
Facelifts are rarely performed in isolation
Facelift surgical techniques have evolved beyond the concept of just lifting tissue and now include incorporating superficial and deep filling of facial fat compartments to address volume deflation.
Complementary techniques to a facelift:
Facial fat grafting – 'lift and fill facelift'
Chin augmentation (with chin implant or fat transfer)
Chemical peels
A typical facelift at Centre for Surgery is often combination of a SMAS facelift with facial fat grafting and fully ablative Er:YAG laser resurfacing.
In one procedure, the surgeon is able to:
Remove excess skin and tighten tissue (facelift)
Revolumise the face (facial fat grafting)
Improve the skin quality and remove perioral and periorbital wrinkles with Er:YAG laser (laser resurfacing)
Most hospitals in the UK lack the high powered lasers for the crucial final third stage which is akin to the polish phase of a car wash (after shampoo and wax) so you would be getting only a partial procedure elsewhere.
Male facelift surgery
It is crucial to be aware of differences between the genders when it comes to facelift surgery. Males have different aging characteristics compared to women. Women are often more keen on correcting wrinkles, lines and folds compared with men who are often more interested in restoring their jawline definition. Also with men, improvement tends to sought more for the lower face compared with women who often liek to have the whole addressed. A very important consideration relates to the placement of incisions and the hiding of them. Clearly for women, this is a lot more straightforward with their longer hairstyles. With men, the surgeon will take modify the facelift technique with increased emphasis on preservation on the male hairline as this is something which is prone to change with time in certain men. Men also complain more often about neck changes with increased neck skin looseness and accumulation of excess fat under the chin. In those men with a more recessed jaw and chin, they will be more predisposed to develop fat under the chin at a much earlier age. Centre for Surgery also perform submental liposuction and chin implant surgery to correct both issues along with the facelift surgery in a single procedure.
The facelift procedure
Every patient is different with completely different facial anatomy and characteristics, facial ageing patterns and objectives for surgery. There are many facelift techniques, but the best methods involve repositioning the SMAS, such as the SMAS plication or SMASectomy. The SMAS or 'superficial musculoaponeurotic system' is a distinct facial layer beneath the skin which needs to be addressed separately to the skin to ensure robust long lasting results. Which technique is used will depend on the structure of your face. In addition, as mentioned above, volume restoration of the face must be considered for each patient. Many patients also benefit from browlift or eyelid surgery (known as blepharoplasty) in addition to a facelift.
There are various facelifts which you can choose to undertake. These include:
The full facelift: the patient will have excess skin on the face and and neck lifted, pulled back and trimmed, giving them a rejuvenated, youthful appearance. The incision often extends around the back of the ear.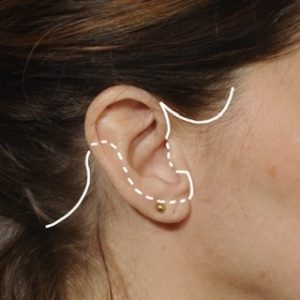 All facelift procedures involve making skin incisions and as with any surgery, there will always be a residual scar. Facelift incisions are typically hidden in natural skin creases in front of and behind and in the hair (easier in women). When performed by an experienced and meticulous plastic surgeon at Centre for Surgery in London, facelift incisions usually remarkably well and are barely visible though of course everyone will scar differently. In the majority of cases, patients and their loved ones find it very challenging to lfind the incisions months after the procedure.
Scars continue to naturally soften and improve and mature over the course of 12 months, but no scar every disappears completely. Fortunately surgeons at Centre for Surgery have access to the most advanced lasers to reduce redness or flatten scars after the facelift procedure.
Other types of facelifts:
The mid facelift: this lifts the eyelids and cheek area. Patients often choose to combine this procedure with a mini facelift.

The mini facelift: targets the lower third of the face, tightening excess skin from the cheeks, jowls and neck.

MACS facelift: short for Minimal Access Cranial Suspension, the MACS facelift involves a shorter incision and removes mild sagging skin from the cheeks and jowls.
Non-invasive facial rejuvenation:
Fotona 4D: this uses our state of the art Fotona SP Dynamis dual wavelength laser to improve the appearance of wrinkles, fine lines, texture and loss of volume – all without injectables or more invasive surgery.
Centre for Surgery have pioneered the day-case full facelift – you will be able to return home the same day as your facelift procedure is performed.
You may also be suitable for a necklift. A necklift is a surgical procedure commonly used to tighten and smooth out neck skin which makes you look more youthful, radiant and relaxed. Sometimes neck liposuction is performed at the same time to enhance the results further.
Loose or crepey neck skin can also be addressed with non-ablative Er;YAG laser over the course of 3-4 sessions.
Facelift Recovery
Traditionally, the recovery after facelift surgery was relatively painful and recovery was a long process often over 2-3 weeks. Modern methods used by surgeons at Centre for Surgery have made facelift surgery a procedure with a much more pleasant recovery thanks to more modern anaesthesia techniques, use of local anaesthetic and more delicate surgical techniques. The recovery is now much shorter and as with all procedures, a better recovery is facilitated when the patient fully complies with the postoperative instructions given by their surgeon. Patients also are shown how to look after the skin better and this complements the natural healing ability of the individual patient. At Centre for Surgery, the vast majority of patients report feeling amazing after a facelift. When patients see themselves in the mirror a week later, their satisfaction soon makes any discomfort seem very much worth it.
With any procedure, there is a usual expected period for normal recovery. The length of recovery depends on the extent of the facelift procedure and if the patient suffers from any preexisting medical problems such as diabetes or high blood pressure. Patients often return to normal activities within 10-14 days. Significant pain is not commonly reported after facelift surgery although your surgeon will prescribe a course of painkiller medication to smooth your recovery.
A large, soft dressing will be taped in place on the face. These first dressings are extremely important and should be left in place for the exact duration recommended by the surgeon, usually a day or two. It can then be removed and replaced by an elastic covering that will help to contain and reduce swelling. Sleeping with the head of the bed elevated will also aid in pain relief and also in accelerating the resolution of bruising and swelling.
You will experience some swelling and bruising for 24 to 48 hours following the surgery but it is part of the healing process and it should lessen within two weeks. We recommend our patients to try cold compression on the face to aid with the swelling and bruising.
Facelift before and after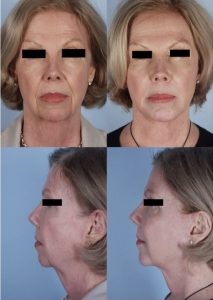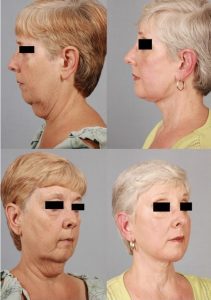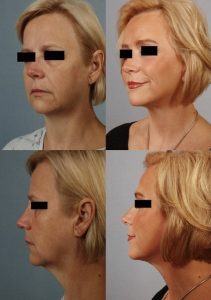 Further reading
What To Expect
Find the right time
Our friendly and knowledgeable patient coordinators will speak with you to learn about your requirements, it's all confidential and your information will be used to assess whether a procedure is right for you. If the procedure is right for you, we'll organise a convenient date and time for you to visit to come and visit our patient relationship manager at our bespoke central London clinic.
3D Crisalix imaging
The patient relationship manager will take time to listen to your needs and requirements and you you will receive a complementary 3D Crisalix scan to enhance your experience. You will be given you a rough idea of guide prices at this stage. You can then be booked in to to see a surgeon of your choice based on their individual field of expertise.
Personalised quote
At the surgical consultation, you will meet directly with the plastic surgeon. The surgeon will thoroughly assess you to determine your suitability and advise of the best options for you. Your surgeon will then explain how the procedure will work including our innovative ClearSleep™ anaesthesia technique for those who chose to be asleep for their procedure. You will receive your personalised quote the next working day from your patient coordinator.