Xanthelasma removal in London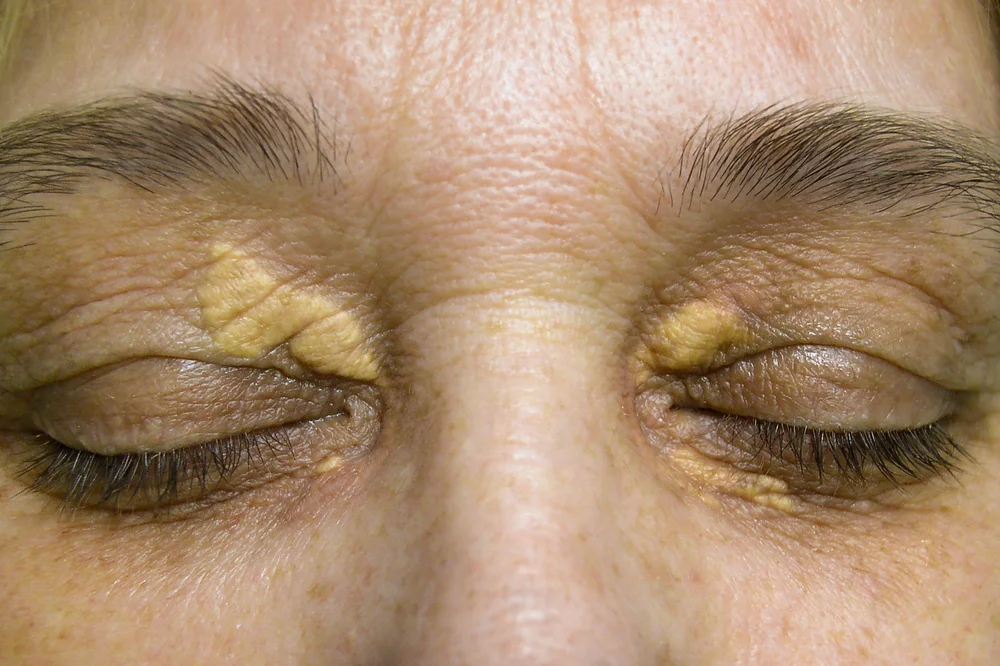 Xanthelasma removal is a commonly performed facial skin lesion removal procedure at Centre for Surgery in London. Xanthelasma treatment is usually not available through the NHS.
Xanthelasma is a collection of whitish or yellowish spots composed of fat or cholesterol commonly occurring in the eyelid region. In many cases, the whitish spots develop into larger areas which take on a yellow colour. Xanthelasma has a plaque-like appearance caused by the cells absorbing fat from the bloodstream, leading to a fatty deposit in the skin. Xanthelasma is commonly located on the upper eyelids and lower eyelids. They are most common location however is at the inner corner of the eye. Xanthelasma removal is sometimes performed at the same time as blepharoplasty surgery, as the strip of eyelid skin removed can be extended to remove the xanthelasma.
What is Eyelid Xanthelasma?
Eyelid Xanthelasma is a skin condition characterised by the development of yellowish, raised patches, usually at the inner corners of your eyelids. These patches result from cholesterol deposits just beneath your skin surface. Although they're not painful and pose no direct health risk, they could be a sign of high cholesterol levels or even heart disease. Therefore, if you notice these patches, it's recommended to seek a medical evaluation.
Even though it's possible for Eyelid Xanthelasma to appear without high cholesterol, about half of the people with this condition are found to have high cholesterol levels. The condition generally manifests during middle age and is more prevalent amongst women.
The yellow patches do not necessarily require treatment, as they don't pose a medical risk. However, many people opt for removal due to aesthetic concerns since these patches could affect the appearance of the eyes. It's worth noting that without intervention, Eyelid Xanthelasma doesn't fade or disappear on its own. In most cases, the size of the patches remains constant, but they may increase in some individuals if left untreated.
What Causes Eyelid Xanthelasma?
Xanthelasma is often an indicator of high cholesterol levels in the body, so it's important to have your cholesterol checked and managed. Lifestyle modifications like a healthy diet, regular exercise, maintaining a healthy weight, and taking cholesterol-lowering medications (like statins) as recommended by your doctor, are important steps in managing high cholesterol.
Even with these lifestyle changes and treatment, the xanthelasma lesions themselves do not typically disappear and may require intervention for removal. The erbium laser is one of the techniques used for the removal of xanthelasma, which works by vaporizing the upper layers of the skin along with the underlying xanthelasma lesions.
Lastly, genetics indeed play a role in the development of xanthelasma. Some individuals may have a genetic predisposition to develop these lesions, regardless of their cholesterol levels. Therefore, even individuals with normal cholesterol levels can develop xanthelasma if they have a genetic predisposition. In these cases, removal of the lesions may be the primary method of treatment.
Eyelid Xanthelasma Laser Removal
Our expert practitioners often use a special tool known as an erbium laser to remove xanthelasma. This method is quite accurate, allowing us to remove these patches without leaving any scars. It also means a quicker recovery time for you.
The skin on your eyelids is really thin and sensitive, which is why we need to use a method that's gentle and precise. The erbium laser allows us to treat the skin layer by layer. This is a much safer option compared to other methods, like the CO2 laser, which can cause scarring because it's not as precise.
When we do this treatment, we use little metal shields that go over your eyes. These shields make sure the laser doesn't harm your eyes. You won't feel any discomfort from these shields because we use a special numbing solution and a lubricating gel to make sure you're comfortable.
If you've got darker skin, you don't have to worry. The erbium laser is suitable for all skin types. All methods to remove xanthelasma carry a risk of causing skin discolouration, but the erbium laser has the lowest risk of all the techniques we know of.
If your xanthelasma is quite big, your surgeon might decide to remove it in two stages. The first treatment will make the xanthelasma smaller. Then, about six weeks later, we'll do a second treatment to get rid of any leftover patches. Doing it this way helps reduce the risk of any scarring.
After the treatment, your doctor will give you an antibiotic cream to put on the treated area. You'll need to do this twice a day for three days. And remember, just because we've successfully removed your xanthelasma, it doesn't mean new patches can't form somewhere else on your skin in the future.
Eyelid Xanthelasma Surgical Removal
At Centre for Surgery, we prioritize a comprehensive approach to patient care. Your treatment begins with an in-person consultation where our specialist doctors will assess your eyelid xanthelasma and take a detailed medical history. If necessary, we'll then schedule your eyelid xanthelasma removal procedure.
The removal surgery is an outpatient procedure that's both straightforward and painless, typically lasting no more than 30 minutes. This approach is particularly suited for larger or complex lesions that may not respond well to laser treatment.
The process starts with the administration of a local anesthetic which may cause a brief stinging sensation. However, once it takes effect, you'll experience no pain. Your doctor will then surgically remove the eyelid xanthelasma, closing the area with dissolving sutures to aid in recovery.
Our doctors skillfully place incisions to minimize visible scarring, often hiding any resultant scar within the natural creases of your eyelids, making them virtually invisible.
Most of our patients express significant satisfaction with their eyelid xanthelasma removal, appreciating the improvement to their appearance despite any minimal scarring that may occur.
Post-procedure, you should be able to resume work and your regular activities. However, your doctor may advise against strenuous exercise for approximately one week. Furthermore, you'll be provided instructions on caring for your scar to promote proper healing and achieve the best possible results.
Other techniques of xanthelasma removal
Radiosurgery has also been used to ablate the surface of the skin lesions but this method has to be used with great caution as the generation of thermal energy can diffuse into the surrounding tissue and this can lead to a risk of both skin discolouration and potential scarring. Some doctors use a very simple electrosurgical device known as a Hyfrecator for coagulation of the xanthelasma. Both radiosurgery and hyfrecation are now obsolete treatments which give suboptimal results with an unacceptably high-risk profile and have been replaced by erbium laser.
TCA chemical peels have also been used in the treatment of xanthelasma. This is now an old-fashioned treatment which although simple and low-cost does have a higher risk of scarring and potential for incomplete removal as the depth of penetration of the chemical peel can be variable. Precise laser ablation with erbium laser is far more accurate and has greater control over treatment depth when compared with TCA chemical peels.
Punch excision is a technique commonly used to treat localised acne scars. This treatment involves the use of a small circular skin punch to remove an affected area of skin, followed by closure with small skin sutures. Like surgical excision, there will be a resultant scar. This technique has also been replaced by erbium laser, which is effective for smaller and larger skin lesions.
Xanthelasma removal before and after
Case 1: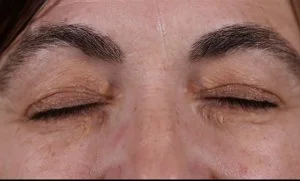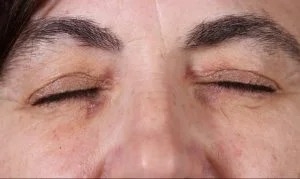 Case 2: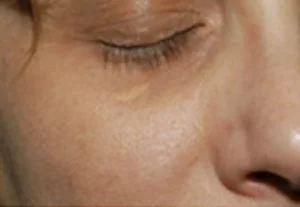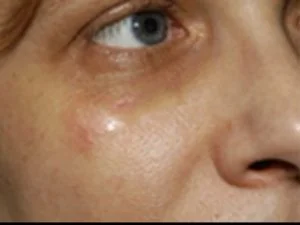 Case 3: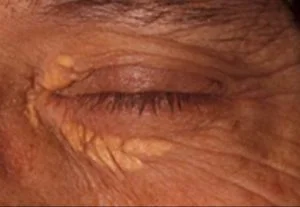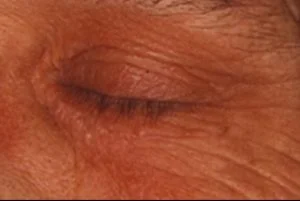 Case 4: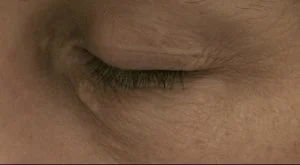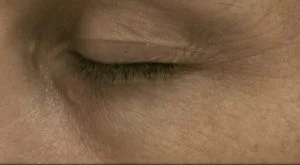 Eyelid xanthelasma removal at Centre for Surgery
At Centre for Surgery, we are dedicated to providing superior patient care from initial consultation to full recovery. We specialise in various procedures including eyelid xanthelasma removal.
Our team of highly skilled doctors prioritizes patient safety and satisfaction above all else. They leverage their expertise and cutting-edge surgical techniques to ensure optimal outcomes. We focus on minimising scarring by strategically placing incisions and facilitating fast and effective recovery with dissolvable sutures.
Our approach to patient care is comprehensive. We don't just treat symptoms – we investigate underlying causes and work with patients to manage them, making us a preferred choice for patients seeking eyelid xanthelasma removal.
Furthermore, we ensure that our patients are fully informed about the procedure, what to expect during recovery, and how to care for the surgical area post-procedure to achieve the best possible result. With our dedicated aftercare program, our patients can feel confident and supported throughout their healing process.
Centre for Surgery isn't just about surgical excellence; it's about an all-encompassing, patient-focused approach that ensures you receive the best possible care from start to finish.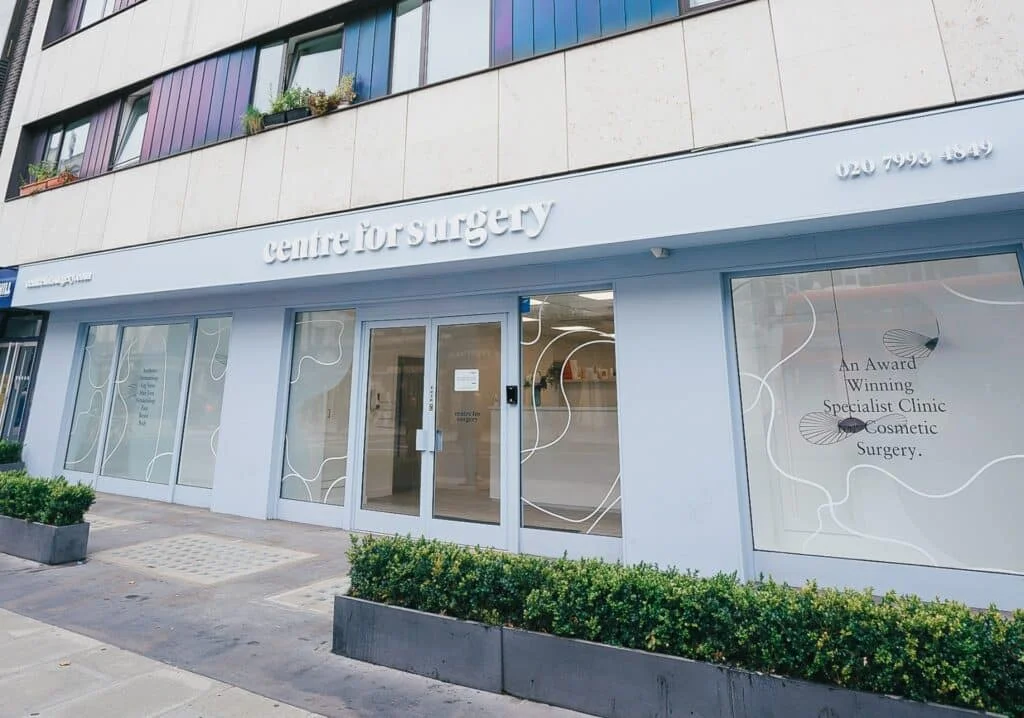 FAQs
How much does eyelid xanthelasma removal cost?

The cost of eyelid xanthelasma removal can vary widely depending on a variety of factors, such as the size and location of the xanthelasma, the complexity of the procedure, and the type of removal technique.



How Long Does Eyelid Xanthelasma Removal Last?

It's important to understand that while the surgical removal of xanthelasma is effective at removing the existing deposits, it does not treat the underlying condition that caused the deposits to form in the first place.

If the xanthelasma was caused by high cholesterol levels, changes in diet, lifestyle, and possibly medication are necessary to control the cholesterol levels and reduce the likelihood of new xanthelasma forming. Regular monitoring of cholesterol levels is recommended after the procedure.

While the surgical removal is typically long-lasting, it doesn't guarantee that xanthelasma will not form again, especially if the root cause is not addressed. Therefore, it's important to work with your healthcare provider to effectively manage the underlying condition.

Lastly, it should be noted that some people are more genetically predisposed to developing xanthelasma, irrespective of their cholesterol levels. In such cases, new deposits may form even after successful treatment, and repeated procedures may be required over time.