Tuberous breast correction in London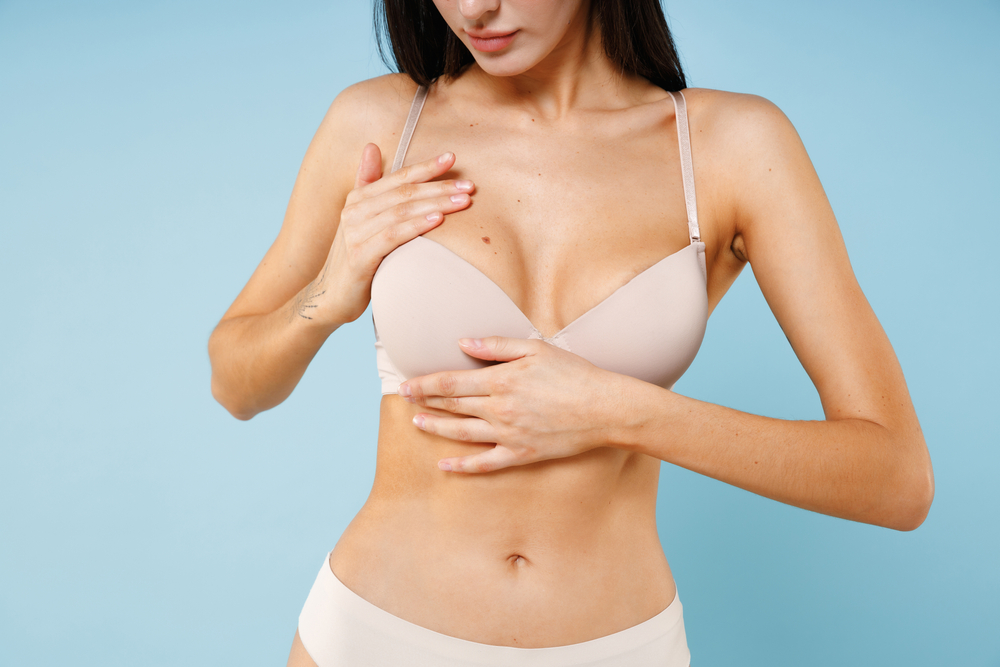 Tuberous breast correction is a surgical procedure to correct the appearance of tubular or tuberous breasts. Tubular breasts are unusual in that they have an appearance in keeping with a conical shape like a tube rather than round in shape. The have a small constricted base with a breast mound which has the shape of a narrow cone and overly large nipples and areolas. Tubular breasts can affect one or both breasts. It is quite common for tubular breasts to differ from one another and it is also common for the areola area to have an enlarged and domed appearance.
The condition is thought to be due to disordered growth of the immature breast leading to abnormally shaped, small and sagging breasts or breast hypoplasia. Tuberous breasts are also referred to as tubular breasts. Tubular breasts are surprisingly common and occur most often in younger women. Although they there are no medical risks of tubular breasts, they can result in a significant cosmetic deformity leading to a significant loss in confidence. Tubular breasts can vary in the grades of deformity with mild, moderate and severe types of tubular breasts. Whilst the true explanation for why women develop tubular breasts is still unknown, some say it is a congenital condition, tubular breasts tend to become obvious at the time of puberty.
As shown below, tubular breasts result in a deficiency in the vertical and/or horizontal dimensions of the breast, frequent underdevelopment of the breast, and often a herniation of breast tissue into the areola accompanied by expansion of the areola.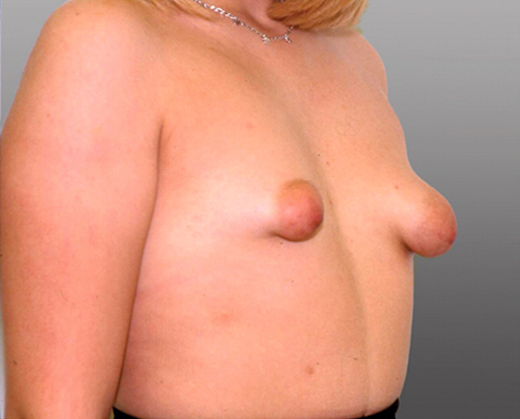 Is there a solution to correction of tubular breasts?
Tubular breasts can only be corrected with a reconstructive surgical procedure. There are no non-surgical treatments proven to be effective for tubular breasts. At Centre for Surgery, our surgeons use the latest surgical techniques including breast augmentation using both silicone breast implants and/or fat transfer for effective and permanent correction. For women who are not keen on breast implants, a mastopexy or breast lift is another option for tuberous breast correction. Although tuberous breast correction is a challenging procedure to perform, our surgeons have years of experience and treat many cases of tubular breasts annually. Having tubular breast correction at Centre for Surgery can restore your confidence.
Tuberous Breast Correction Expected Results
Restoration of breast symmetry
A natural look and feel to the breasts
Nipple and areola reconstruction
Breasts that look better under clothing and out of clothing
Restoration of self-confidence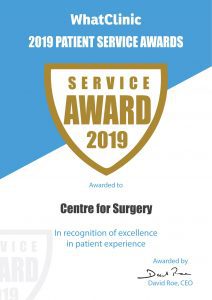 What is included in my treatment package?
As many preoperative consultations with your surgeon as you like to make sure the tuberous breast correction procedure is right for you
Treatment at a specialist day surgery facility recently rated 'Good' by the CQC
Enhanced same day discharge with the added benefits of recovering in your own home
24/7 clinical support from your surgeon for first 48 hours and our expert postoperative support team
Your very own dedicated patient coordinator
In-depth preoperative medical assessment to make sure you are fully fit for your procedure
Exceptionally high standards of postoperative care described as 'outstanding' by the CQC with regular telephone and face to face checks
RealSelf Top Doctors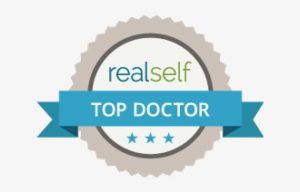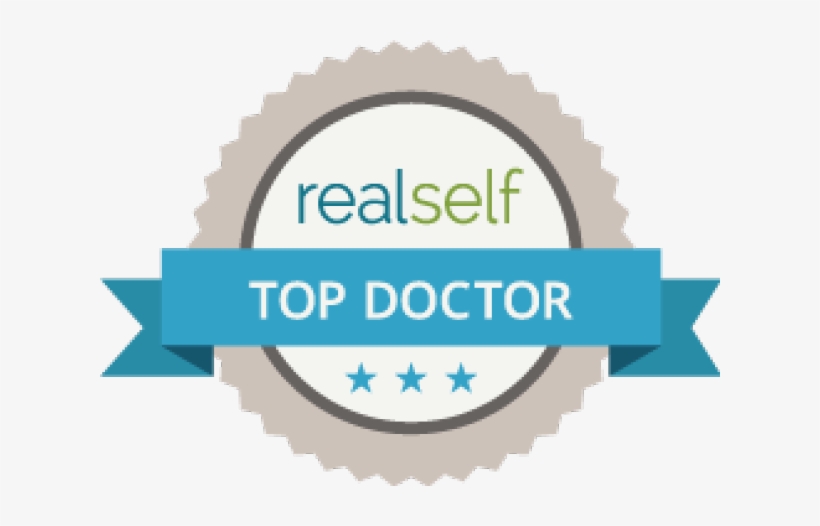 RealSelf top doctor status is awarded to less than 10% of the RealSelf doctor community.  This status is earned by achieving consistently high patient satisfaction (from RealSelf reviews), getting excellent feedback on expert answers to patient questions, and after investing significant time in Q&A and other doctor activity. RealSelf top doctors are rated among the very best surgeons in the United Kingdom and USA.
Why choose Centre for Surgery?
Significant experience in all types of aesthetic breast surgery – breast augmentation, breast lift, breast reduction and fat transfer to breasts.
We own and manage our own surgical facilities. Properly performed tubular breast correction surgery takes time and should not be rushed.
Our London breast clinic at 106 Crawford Street was recently inspected and rated as good across all 5 domains.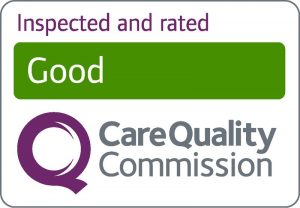 Our surgeons live and work in London. We don't work with 'fly-in, fly-out'. This is very important because whilst your surgeon takes all precautions to minimise complications, complications can and do occur and our surgeons are readily available to manage any issues if and when they arise. Our surgeons are renowned experts in breast surgery and have many years of experience between them. All our surgeons are fully qualified and experienced plastic surgeons with the skill to perform all types of aesthetic breast surgery.
Our surgeons are full members of:

How to choose your plastic surgeon
The Centre for Surgery approach to aftercare
Our aftercare programme was recently described as 'outstanding' by our regulator, the Care Quality Commission.
Our postoperative support team phone all our patients the day after their procedure and then every other day thereafter for the first two weeks. The proactive nature of our postoperative support gives every patient the best opportunity for a smooth postoperative recovery free of complications. In many cases if complications were to occur, their impact is markedly lessened by early detection, prompt clinical assessment and correct treatment. Where a patient expresses concern to our team over the phone, then we often call patients in the same day for assessment with one of our expert nursing team. Even if there is no significant issue, the careful explanation and calm reassurance provided by our team can help to alleviate any worries you may have experienced.
Benefits of tubular breast correction
Tubular breast correction, also known as tubular breast deformity correction, is a surgical procedure that aims to improve the shape and appearance of breasts that have a tubular or constricted appearance. Some of the benefits of this procedure include the following:
Improved breast shape and appearance: The surgery can reshape the breast tissue, reposition the nipple, and redistribute breast volume to give the breasts a more natural, rounded shape. This can improve self-esteem and body image for women who have been self-conscious about their breast shape.
Increased breast size: The surgery can also increase the size of the breasts, which can be beneficial for women who have always had small breasts or who have experienced breast size loss due to weight loss, pregnancy, or breastfeeding.
Improved symmetry: If the breasts are asymmetrical, the surgery can correct this by reshaping and repositioning the breast tissue to create a more balanced and symmetrical appearance.
Improved nipple position: The surgery can reposition the nipple so that it is more centrally located on the breast, which can improve the overall appearance of the breast.
Improved self-esteem and confidence: By improving the shape and appearance of the breasts, the surgery can help to improve self-esteem and boost confidence.
Overall, tubular breast correction can be an effective way to improve the shape and appearance of the breasts, boost self-esteem and confidence, and make a woman feel more comfortable and happy with her body. However, it is important to note that each individual's case is unique, and the outcome may vary. A consultation with a plastic surgeon is the best way to determine if this surgery is right for you and what you can expect from the procedure.
Preparation for tubular breast correction
At Centre for Surgery, our surgeons strongly believe that the success of any cosmetic surgery procedure including tubular breast correction surgery is optimised with the following of all of the surgeon's pre-procedure instructions.
What tests may I need before surgery?
We always strive to go above and beyond to make sure all our patients are optimally prepared for breast lift surgery – physically, mentally and emotionally.
At your consultation with your surgeon, a number of measurements will be made of the breast and chest area including the nipple position and an assessment will be made of the skin quality and if there is any skin laxity. The optimum size of implant will chosen based on your treatment goals. Your may use 3D computerised imaging to accurately model how you could look after surgery. Our surgeons also specialise in fat grafting to the breast. In this procedure fat is harvested via liposuction and re-injected into the breasts to correct contour abnormalities. Breast fat transfer can be performed alone or combined with breast implants for precise correction of tubular breasts.
Surgical techniques in tuberous breast correction
As every woman's situation is different, each tuberous breast correction procedure at Centre for Surgery will be unique and designed to meet her specific needs.
Tuberous breast correction is an outpatient surgical procedure performed as a day case. This means you will be admitted and discharged on the same day. Spending your recovery at home leads to quicker healing and less risk of complications thanks to modern day surgery anaesthesia techniques. Our anaesthetists employ a specialist form of anaesthesia called TIVA general anaesthesia which leads to a faster recovery and less risk of unpleasant anaesthetic side effects. Procedures take anywhere from one to three hours to complete. However, this duration can vary as well. Our surgeons are highly experienced in all forms of breast reconstruction including tuberous breast correction.
The conventional treatment for tubular breasts has been with the insertion of a silicone breast implant in order to change the size, shape and texture of the breast. In some cases, fat grafting to the breast may be a suitable option in some women.
Most surgeons acknowledge that merely placing an implant behind the deformed breast does not correct the problem, instead resulting in a 'double-bubble deformity'. Failure to address the problem of the constricting ring is the main reason why the results yielded by most methods are far from satisfactory. The key in tuberous breast correction is surgical release of the constricting ring around the breast followed by insertion of a suitably sized breast implant.
Skin expanders for tuberous breast correction
Skin expanders are devices that are used in reconstructive surgery, particularly for tuberous breast correction. They are typically made of silicone and are inserted under the skin and muscles of the breast. The expander is then gradually filled with saline over time, which causes the skin to stretch and create more skin tissue. Once the desired amount of tissue has been generated, the expander is removed and replaced with a permanent implant. This technique can be used to correct the appearance of tuberous breasts, which are characterised by a constricted lower pole and a lack of skin and tissue in the upper pole of the breast.
Tuberous breast correction before and after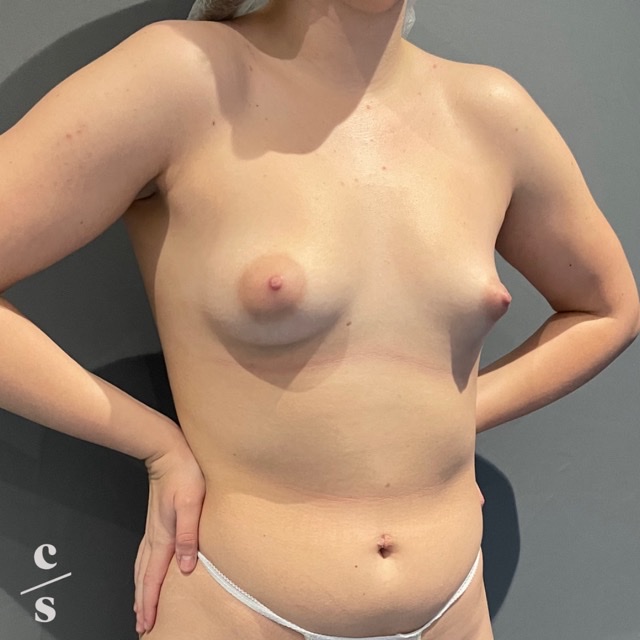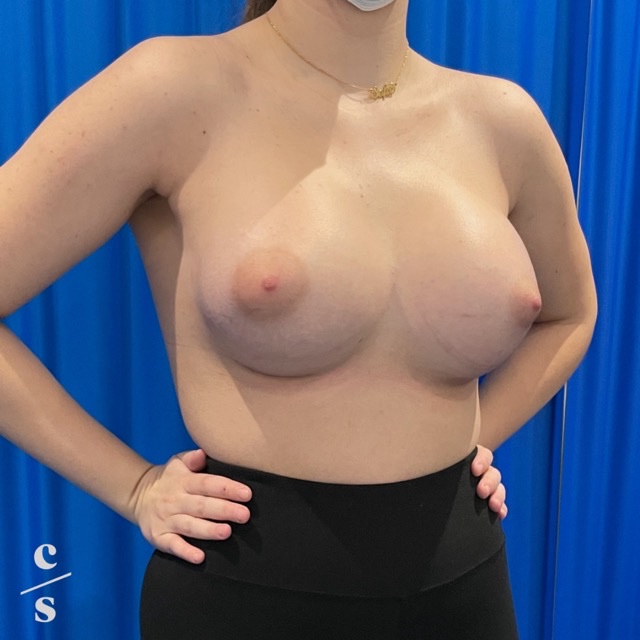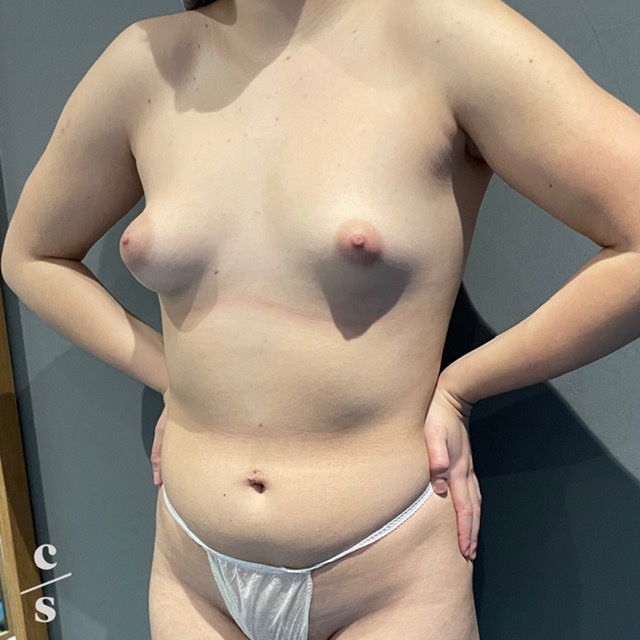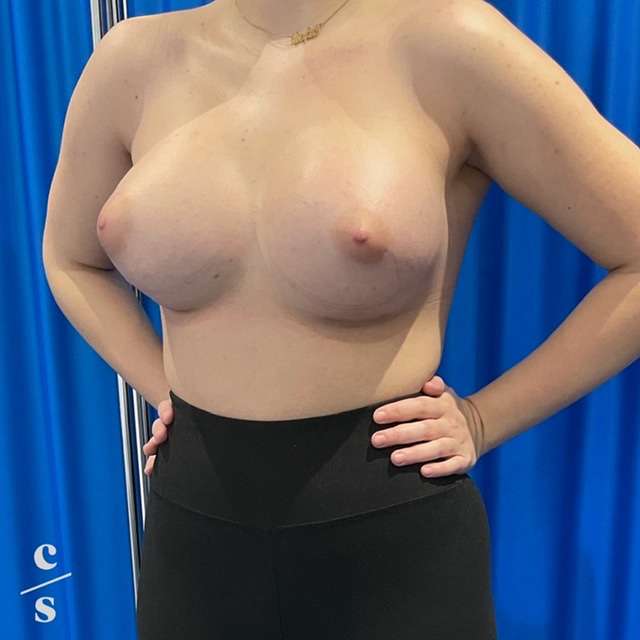 Recovery after tuberous breast correction
Recovery after tubular breast correction is similar to many other types of breast surgery. Tuberous breast correction has been successfully performed for many years with an excellent safety profile at Centre for Surgery. Women should only choose a reputable provider with years of experience in breast surgery. With a fully certified plastic surgeon at Centre for Surgery, you can be confident in having made the very best choice for tubular breast correction coupled with an outstanding package of aftercare to reduce the risk of complications.
Risks of Tuberous Breast Correction
As with any surgical procedure, correction of tubular breasts with surgery has potential risks. These include:
Bleeding

Anaesthetic risks

Infection

Delayed wound healing

Nipples that lose sensation

Breastfeeding difficulties

Need for revision surgery
FAQs
What are tubular breasts?

Tubular or tuberous breasts are the term given to breasts that have failed to develop normally. Normal breast tissue has a more even distribution of tissue across the base of the breast. Tubular or tuberous breasts have a long an narrowed appearance with a nipple that appears domed. The fundamental problem lies in an underdeveloped lower pole leading to a constricted lower ring around the breast.



What type of surgery is required to correct a tuberous breast?

Tubular or tuberous breasts can be effectively corrected with reconstructive breast surgery and the exact technique used by your specialist breast surgeon will be determined by the severity of the tubular breast deformity and what your expectations are for the outcome of treatment. Tubular breast correction often involves performing a modified version of a breast augmentation procedure to release the tight and constricted tissue, enhance the volume of the breast and subsequently stretch out the tissue. In some cases patients may require a breast lift procedure to improve the shape of the breast for those who are not keen on the idea of breast implants.