Skinny BBL London UK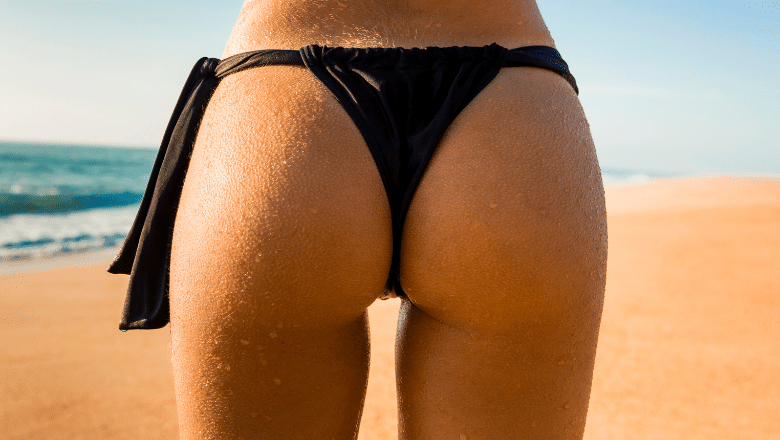 Elevate your curves with a Skinny BBL at Centre for Surgery; perfectly tailored to enhance leaner figures
The Skinny Brazilian Butt Lift, or skinny BBL for short, is a popular cosmetic procedure designed to give your backside a fuller and more rounded look for those with a lower BMI. At Centre for Surgery in London, we use a state-of-the-art ultrasound-guided technique for the BBL procedure. This method is a safer option compared to the conventional ways of performing a Brazilian Butt Lift.
Centre for Surgery is a leading plastic surgery clinic in London, specialising in a range of cosmetic procedures. Our expert surgeons use innovative techniques to offer safer and more effective treatments. For more information, visit our website or get in touch with us directly.
What is a Skinny BBL?
A Skinny BBL is a variation of the traditional Brazilian Butt Lift (BBL) that's designed for individuals who have a lower Body Mass Index (BMI), generally below 23. While the traditional BBL is ideal for those with a sufficient amount of excess fat, usually a BMI between 23 and 28, a Skinny BBL caters to leaner individuals who still wish to enhance the shape and size of their buttocks.
The key difference here is the amount of available fat for the transfer. In a Skinny BBL, surgeons take whatever small pockets of fat are available in the patient's body, typically through liposuction. While these patients may not have a lot of excess fat, they often have just enough in specific areas that can be used for the fat transfer to the buttocks.
The objective is the same as a traditional BBL: to achieve a fuller, rounder posterior. However, the approach considers the leaner body type and aims to maintain natural-looking results that are proportional to the rest of the patient's body. With less fat available for transfer, the focus is on skilfully enhancing the buttocks in a way that complements the individual's overall physique.
So even if you're on the leaner side, you can still achieve a natural-looking, fuller backside through a Skinny BBL. It offers the same benefits of enhancing your body shape while taking into account your unique physical characteristics.
Benefits of BBL Surgery for Leaner Patients: More Than Just a Fuller Backside
The Brazilian Butt Lift (BBL) surgery isn't only for those with ample body fat; it's also a highly effective option for leaner individuals who aspire for a more defined, curvy silhouette. Here are some specific advantages that skinny or leaner patients might experience:
Achievement of an Hourglass Figure: For lean patients who naturally have a less curvaceous body, a BBL can offer transformative results. The procedure not only makes the buttocks fuller but also redistributes fat to help create an hourglass figure. This can result in a more dramatic, yet natural, enhancement of your body's contours.
Targeting Stubborn Fat Deposits: Even lean individuals often have areas of stubborn fat that don't respond well to diet and exercise. These small pockets of fat can be precisely targeted and removed via liposuction, providing the necessary material for fat transfer.
Improvement of Hip Dips and Buttock Deflation: One common concern among lean patients is the appearance of 'hip dips' or a somewhat deflated look in the buttock area. BBL surgery can effectively address these issues by strategically transferring the harvested fat to these areas, offering a smoother, fuller appearance.
Dual Benefit of Liposuction: The liposuction component of the BBL is an added benefit, as it helps to sculpt other areas of the body from where the fat is harvested. This offers lean patients a more comprehensive body contouring solution.
Customisation: Each BBL procedure, including the Skinny BBL variant, is highly customisable. The treatment plan is adjusted to your specific anatomy and aesthetic goals, ensuring that even with lesser fat, the results are proportionate and natural-looking.
Enhanced Self-Confidence: For many lean patients, the ability to enhance and contour their physique leads to a significant boost in self-esteem and body confidence, impacting their overall quality of life positively.
Options for Skinny BBL Shapes: Tailoring the Perfect Curve for You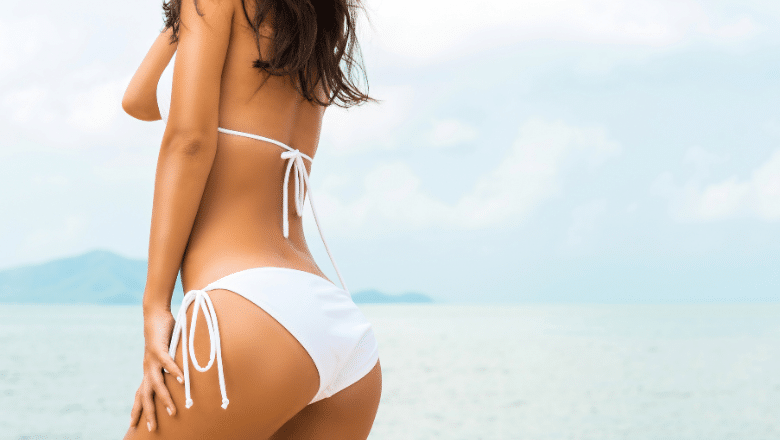 If you're a leaner patient interested in a Brazilian Butt Lift (BBL), it's essential to know that the procedure isn't just about adding volume to your backside—it's also about achieving the specific shape you desire. There are mainly three popular BBL shapes that you can discuss with your surgeon to see which one aligns best with your aesthetic goals:
A-Shape (Upside-Down Heart)
In this configuration, the emphasis is on making the lower part of the buttocks more full compared to the upper part, essentially forming an "A" or an upside-down heart shape. This look often complements an hourglass figure, emphasising a slim waist and broader hips. It's a particularly popular option for those who want to achieve or enhance their hourglass shape.
O-Shape (Bubble Butt)
The O-shape or "bubble butt" is essentially round, with an equal distribution of volume in both the upper and lower regions of the buttocks. This shape is often sought by patients who possess what is colloquially known as a 'double bubble' figure, where they have extra fat around their love handles and lateral thighs. The O-shape creates a more uniformly rounded appearance.
Curvy
Some people prefer a more subtly rounded or curvy figure without necessarily aiming for the pronounced A or O shapes. In these cases, the surgeon uses their expertise to customise the fat graft's volume and projection, creating a shape that is uniquely suited to your body type and aesthetic preferences.
Each of these shapes offers its own set of aesthetic benefits, and the best choice for you depends on various factors including your existing anatomy, your overall aesthetic goals, and the amount of harvestable fat available. Your surgeon at Centre for Surgery can guide you in making the best choice based on these factors.
Am I a Suitable Candidate for a Skinny BBL?
Determining if you're a good fit for a Skinny BBL isn't a straightforward yes or no answer; it requires a thorough evaluation by our experienced surgeons at our Baker Street clinic in London. During your consultation, we will look at various aspects to gauge your suitability for the procedure. These aspects include your overall body shape, specific anatomical features, and the amount and location of any excess fat you may have.
For the majority of individuals, even those with a leaner body composition, there's usually enough fat tucked away in certain areas that can be harvested for the procedure. Liposuction is used to extract these fat deposits, which are then purified and injected into the buttocks to create a fuller, more sculpted look.
That said, not everyone has enough unwanted fat to go ahead with a Skinny BBL. If you fall into this category, you won't be eligible for the fat transfer method of a Brazilian Butt Lift. However, you do have another option: buttock implants. These silicone implants can add the volume and shape you desire, providing an alternative way to achieve a fuller, more rounded backside.
Remember, the most reliable way to determine your eligibility for a Skinny BBL is to schedule an in-depth consultation with our surgical team. They can offer personalized advice tailored to your specific needs and goals.
Your Consultation Experience at Centre for Surgery: Mapping Out Your Skinny BBL Journey
Your consultation at Centre for Surgery is an essential first step in your Skinny BBL journey, providing you with a comprehensive understanding of what the procedure entails and what you can realistically expect in terms of outcomes.
Medical History and Risk Assessment
Firstly, our skilled surgeons will take a detailed look at your medical history to ascertain your overall suitability for the procedure. It's crucial to identify any potential risk factors that could impact the surgery or your recovery. Honesty and completeness are key at this stage to ensure a safe and effective treatment plan.
Open Dialogue About Expectations
The consultation is also your opportunity to discuss openly what you hope to achieve with a Skinny BBL. This will help your surgeon understand your aesthetic goals and set realistic expectations for the surgical outcome. It's a two-way conversation aimed at aligning your vision with what is medically feasible.
Cutting-Edge 3D Consultations
Setting us apart from many other clinics, Centre for Surgery offers advanced 3D consultations for BBL surgeries. With the aid of the latest technology, you'll be able to view a simulated image of your body post-surgery. This state-of-the-art tool helps both you and the surgeon to fine-tune your treatment plan, offering a more tailored and predictable outcome.
Your consultation is not just an informational session but a collaborative platform where your vision is melded with medical expertise to lay down the roadmap for your Skinny BBL journey.
Getting Ready for Your Skinny BBL Surgery: Important Preparations
Preparing for your Skinny BBL surgery involves more than just mental readiness; it's also about making specific lifestyle adjustments to ensure a successful procedure and a smooth recovery. Here are some crucial steps you should take ahead of your surgery at Centre for Surgery:
Medication Changes
Oestrogen-based Contraceptives/HRT: If you're currently on any oestrogen-based contraceptives or hormone replacement therapy (HRT), you'll need to discontinue these medications four weeks before your surgery. This is crucial for minimizing the risk of blood clots (thrombosis). Be sure to use alternative contraceptive methods during this period.
Lifestyle Adjustments
Smoking: All forms of nicotine consumption, including cigarettes, vaping, and patches, must be stopped four weeks before the surgery. Nicotine can significantly heighten the risk of surgical complications and slow down the healing process.
Alcohol: It's advisable to limit your alcohol intake leading up to the surgery. Alcohol can interfere with your body's ability to heal and may also interact negatively with post-operative medications.
Home Preparations
Creating a Recovery Space: Your recovery begins the moment you arrive home. Make your living space as comfortable as possible, perhaps setting up a 'recovery zone' where you can rest and recuperate with all essentials within easy reach.
Arranging Support: You won't be able to resume your normal daily activities immediately after the surgery. Make plans for someone to help you with household chores, childcare, and pet care during the initial recovery phase.
Taking these preparatory steps seriously can make a significant difference in both the success of the surgery and the speed of your recovery.
RELATED: Preparing for a Brazilian Butt Lift – What You Need to Know
The Skinny BBL Procedure Explained: Step-by-Step Guide at Centre for Surgery
Initial Stage: Liposuction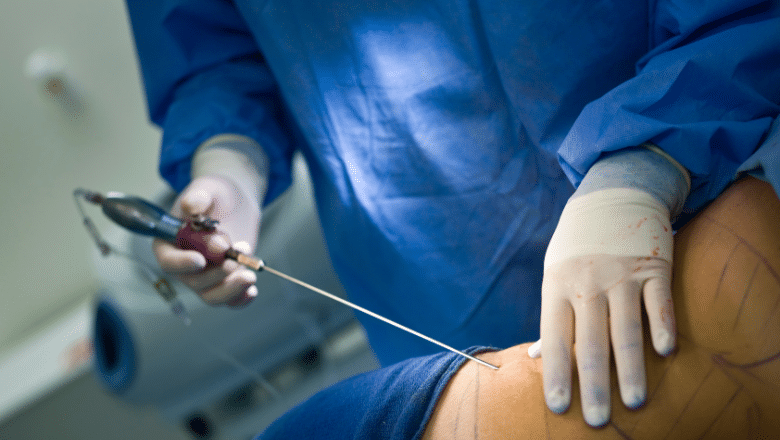 The first step in a Skinny BBL surgery involves liposuction, where the surgeon removes excess fat from multiple areas of your body—this usually includes the stomach, hips, and thighs. The fat extracted is then processed and purified for transfer.
Fat Harvesting Challenges for Leaner Patients
Since leaner patients naturally have less fat available, the surgeon might need to perform liposuction on more areas than usual to gather enough fat for the procedure. Despite these challenges, it's still possible to achieve a striking transformation of the buttocks even with fewer fat grafts.
Fat Injection and Sculpting
After preparing the harvested fat, the next step is to strategically inject it into specific zones of the buttocks. The aim is to give you the curves, volume, and shape you desire. Your surgeon will have a detailed plan based on your pre-surgical consultations to ensure that the outcome is as close to your aesthetic goals as possible.
Ultrasound-Guided Technique for Increased Safety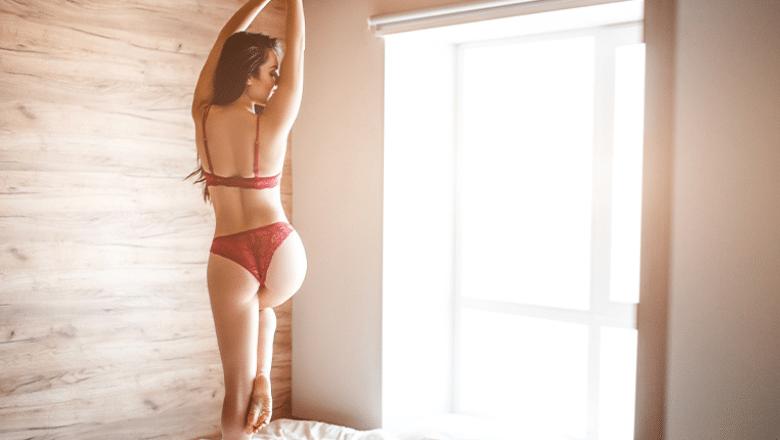 At Centre for Surgery, we use an advanced ultrasound-guided BBL technique. This involves injecting the purified fat superficially above the gluteal muscle while employing a guided ultrasound device to monitor fat placement in real-time. This modern approach substantially lowers the risk of fat embolisms, a serious complication, and allows the surgeon to be more precise in shaping the buttocks.
Recovery and Aftercare: What to Expect After a Skinny BBL
Initial Symptoms: Swelling and Bruising
It's completely normal to experience some swelling and bruising around your buttocks and the areas where liposuction was performed. Don't worry; these symptoms will gradually diminish over the course of a few weeks.
Return to Normal Activities
Typically, patients find that they can return to light daily activities and office work within 2-3 weeks post-surgery. However, it's essential to listen to your body and not rush the healing process.
Aftercare Guidelines for Optimal Recovery
To manage your recovery effectively and maintain your newly sculpted figure, follow the aftercare advice provided by Centre for Surgery:
Pain Management: Your doctor may prescribe medication to help manage any discomfort. It's important to take these as instructed.
Compression Garments: Wearing the recommended compression garments can help reduce swelling and support your new shape during the initial stages of healing.
Physical Activity: Light walking is often encouraged to promote good circulation, but strenuous exercise should be avoided for a period recommended by your surgeon.
Regular Check-ups: Scheduled follow-up appointments are essential for monitoring your progress and making any necessary adjustments to your aftercare plan.
Nutrition and Hydration: Eating a balanced diet and staying hydrated can significantly aid in your recovery process.
By diligently adhering to these aftercare guidelines, you'll be well on your way to enjoying the full benefits of your Skinny BBL surgery.
RELATED: Brazilian Butt Lift (BBL) Week-By-Week Recovery Timeline
What to Expect: Final Results of Your Skinny BBL
The Six-Month Mark: A Significant Milestone
Although you'll start to see changes soon after your surgery, it generally takes about six months for the full effects of a Skinny BBL to become visible. By this point, any swelling should have completely disappeared, and the transplanted fat cells will have stabilised in their new position.
The "Fluffing Phase": The Natural-Looking Outcome
An interesting aspect of the recovery period is what is commonly known as the "fluffing phase." During this time, your skin starts to stretch and adapt to accommodate the newly transplanted fat cells. The result? Your buttocks will appear curvier, fuller, and incredibly natural-looking.
Long-Term Satisfaction
The ultimate goal of a Skinny BBL is not just to enhance your buttocks but to create a harmonious balance with the rest of your body. After you've crossed the six-month post-operative mark, you can expect to revel in your new figure with boosted self-confidence.
Skinny BBL Cost in London: What You Need to Know
If you're considering a Skinny BBL, one of the important factors you'll undoubtedly want to understand is the cost. At Centre for Surgery in London, the starting price for a Skinny BBL procedure is approximately £7000. However, it's essential to note that this is a starting figure, and the actual cost may vary depending on your specific surgical requirements.
Factors Affecting the Cost
The most significant variable affecting the cost is the number of areas from which fat will be harvested through liposuction. Since leaner patients often lack a sufficient amount of excess fat in a single area, the surgeon may need to perform liposuction on multiple regions of the body. This can make the Skinny BBL procedure more complex, potentially increasing the overall cost compared to a regular BBL.
Personalised Quote During Consultation
To give you an accurate quote tailored to your individual needs, you'll receive a detailed cost breakdown during your consultation at our Baker Street clinic. This will include the surgeon's fees, facility costs, and any other expenses that may be associated with the procedure.
Financing Options
We understand that financing a cosmetic procedure can be a significant commitment. That's why Centre for Surgery offers a variety of financing plans, including 0% APR options, through our financial partner, Chrysalis Finance. These plans allow you to spread the cost of your treatment over a period of time, making it more manageable for your budget.
Complementary Procedures You Can Consider in combination with Skinny BBL
Fat Transfer Breast Augmentation: A Natural Approach to Bust Enhancement
Fat transfer isn't just for Brazilian Butt Lifts; it can also be applied to breast augmentation. This procedure is especially useful for women who have experienced volume loss in their breasts due to ageing, pregnancy, or weight changes. Unlike traditional breast augmentation that uses implants, this method uses your own body fat to enhance and volumize the breasts. Patients can look forward to an increase of up to one cup size and have the option to repeat the procedure for further volume. This treatment can also be combined with a breast lift for a complete rejuvenation.
Laser Stretch Mark Removal: Advanced Skin Care
Liposuction is great for removing excess fat, but it doesn't do much for stretch marks, which often appear in areas where fat has been stored. That's why Centre for Surgery offers state-of-the-art laser stretch mark removal using Fotona's advanced laser technology. Our approach is twofold:
Skin Tightening: In the initial stage, the laser tightens the skin, preparing it for the next step.
Ablative Resurfacing: The second stage involves a deeper laser treatment that improves the skin's texture and diminishes the appearance of stretch marks significantly.
By combining these complementary procedures with your Skinny BBL, you can achieve a more comprehensive and satisfying aesthetic transformation. Whether it's fuller breasts, a curvier figure, or smoother skin, Centre for Surgery is here to help you reach your beauty goals. For further details on these procedures, or any other queries, you can visit our website or get in touch directly.
Why Choose Centre for Surgery for Your Skinny BBL?
When it comes to a transformative procedure like a Skinny BBL, you want to be in the hands of experts who combine technical skill with a deep understanding of aesthetics. At Centre for Surgery, our experienced and accredited surgeons offer bespoke treatment plans designed to meet your unique body goals. Using state-of-the-art technology, we provide one of the safest and most effective Skinny BBL procedures in the UK.
Cutting-edge Technology
We are one of the few clinics in the UK that offer 3D consultations for BBL surgery, giving you an advanced preview of your potential results. Our surgeons also employ ultrasound-guided BBL techniques, reducing risks while improving the precision of the results.
Expert Medical Team
Our surgeons are GMC-registered and specialise in body contouring and fat transfer procedures, bringing a wealth of expertise to your Skinny BBL journey.
Patient-Centric Approach
From the initial consultation to aftercare, we focus on you. Our medical team and dedicated patient coordinators ensure your journey is seamless, providing personal care at each step.
Patient Testimonials
Emma, 28 – "I was initially nervous, but the team at Centre for Surgery put me at ease. The result is exactly what I was hoping for, if not better!"
Michael, 34 – "Outstanding care from start to finish. The surgeons are incredibly skilled, and the aftercare was exceptional."
Sophie, 31 – "My experience at Centre for Surgery was beyond my expectations. The staff were amazing, and the results have given me a new level of confidence."
Contact Details for Booking a Consultation
📞 Phone: 0207 993 4849
📧 Email: contact@centreforsurgery.com
📍 Address: 95-97 Baker Street, London W1U 6RN
🌐 Contact us
Further Information
We look forward to helping you achieve the body you've always dreamed of. Book your consultation today.