Labiaplasty London UK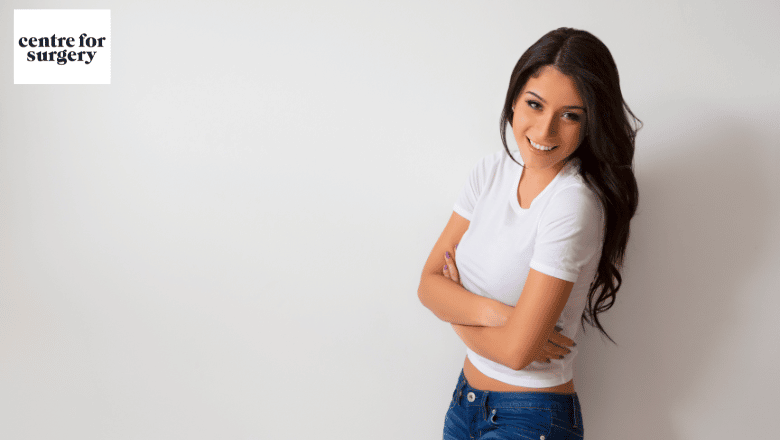 Achieve renewed confidence and comfort with our expertly performed labiaplasty, tailored to enhance your feminine contours and improve your overall well-being
The size and shape of the labia can be a cause for concern for many women unhappy with the appearance of enlarged or misshapen labia. There are two types of labia, the labia minora and labia majora. The labia minora are the inner folds that sit on either side of the vagina opening, and the labia majora are the outer folds surrounding the inner labia minora. Large labia, also known as labial hypertrophy, may develop due to genetics, after childbirth or as part of the ageing process. Labiaplasty, also known as labia reduction, is a highly effective and safe procedure for a permanent reduction in the size of the labia with an improvement in overall shape and definition.
RELATED: Labiaplasty FAQs – Q&As about Labia Reduction
Labiaplasty surgery or labia minora reduction can reduce the size of enlarged labia minora, which are the inner folds of soft tissue located on either side of the vagina. The best technique involves surgical removal of excess tissue using a scalpel before using fine absorbable stitches to restore the labial edges neatly. Labiaplasty is most commonly performed with a local anaesthetic and sedation, although a general anaesthetic may be chosen if you prefer.
RELATED: What is labiaplasty?
Labiaplasty is also commonly requested to reduce the size of prominent labia majora which are the outer folds of tissue adjacent to the labia minora. Labia majora reduction is less commonly performed compared with labia minora reduction and requires an experienced surgeon to carry it out successfully. Labiaplasty is commonly confused with vaginoplasty. Labiaplasty is not designed to tighten the vagina. Vaginoplasty, also known as vaginal tightening surgery is the best technique to treat a loose vagina after childbirth by tightening the vagina. Women may choose to undergo labia surgery to improve the appearance of the labia, or they may have functional symptoms from having large labia, which include pain and discomfort whilst carrying out physical exercise or during sexual intercourse.
RELATED: What is labia reduction?
Labia reduction surgery at Centre for Surgery takes approximately one to 2 hours to carry out. Labiaplasty is most commonly carried out as a day case procedure which means you will be discharged later the same day and allowed to recover in the comfort of your own home, and this will maximise the chances of a smooth labiaplasty recovery.
For many adult women, enlargement of the labia minora and/or labia majora can cause aesthetic, functional or psychological issues. Women with enlargement of one or both sides of the labia minora may report increased irritation, inflammatory changes, reduced personal hygiene during menses, and painful intercourse. Many women with labia minora enlargement or asymmetry also report increased anxiety or self-consciousness, embarrassment or feelings of being insecure in sexual relationships or when wearing tight clothing. This has resulted in more requests for aesthetic surgery of the labia minora and/or labia majora. Dr Paraskevi Dimitriadi at Centre for Surgery performs labia reduction surgery to improve the labial appearance, address functional aspects, and alleviate psychological concerns. Labiaplasty can also address the outer labia, also known as the labia majora.
RELATED: Labiaplasty and vaginal rejuvenation – what is a normal labia or vagina?
Dr Dimitriadi carries out between 150 to 200 labia reduction procedures each year, which makes her one of the most experienced labiaplasty surgeons in London and the UK. Dr Dimitriadi is dedicated to treating all labiaplasty patients with dignity to ensure they feel safe and comfortable with this surgery's highly delicate and private nature.
There are three main types of labiaplasty procedures:
Labia minora reduction
Labia majora reduction
| Labiaplasty | Fast facts |
| --- | --- |
| Procedure time ⏳ | 1-2 hours |
| Anaesthetic type 💉 | Local anaesthetic or general anaesthetic |
| Length of stay 🛏 | Day case |
| Up and mobile 🚶🏻‍♂️ | 1 day |
| Washing 🛁 | 1 week |
| Travel ✈️ | 4 weeks |
| Sexual activity ❤️ | 6 weeks |
| Driving 🚗 | 1 - 2 weeks |
| Postoperative garment 👕 | 3 days |
| Sleeping 😴 | On back for 3 days |
| Exercise 🏃🏽‍♀️ | 6 weeks |
| Full recovery 🕺🏻 | 6 weeks |
| Final results 😃 | 6 months |
What is Labiaplasty?
Labiaplasty is a surgical procedure designed to improve the aesthetics of the vulva, which is the outer portion of the female genitalia. The vulva, visible to the naked eye, is often mistakenly referred to as the 'vagina', though technically, it represents only the external component of the female reproductive system.
A significant part of the vulva is constituted by the labia, also known as the vaginal lips. This anatomical feature can be further divided into two categories:
The Labia Minora, which are the smaller, inner folds of the vulva, are the ones most commonly addressed in cosmetic procedures. These petite, fleshy protrusions can be larger in some women, leading to cosmetic dissatisfaction. Additionally, their size might cause discomfort or even injury during sexual intercourse due to potential interference. A labiaplasty procedure allows for the reduction of the labia minora to a size that is preferable to the individual.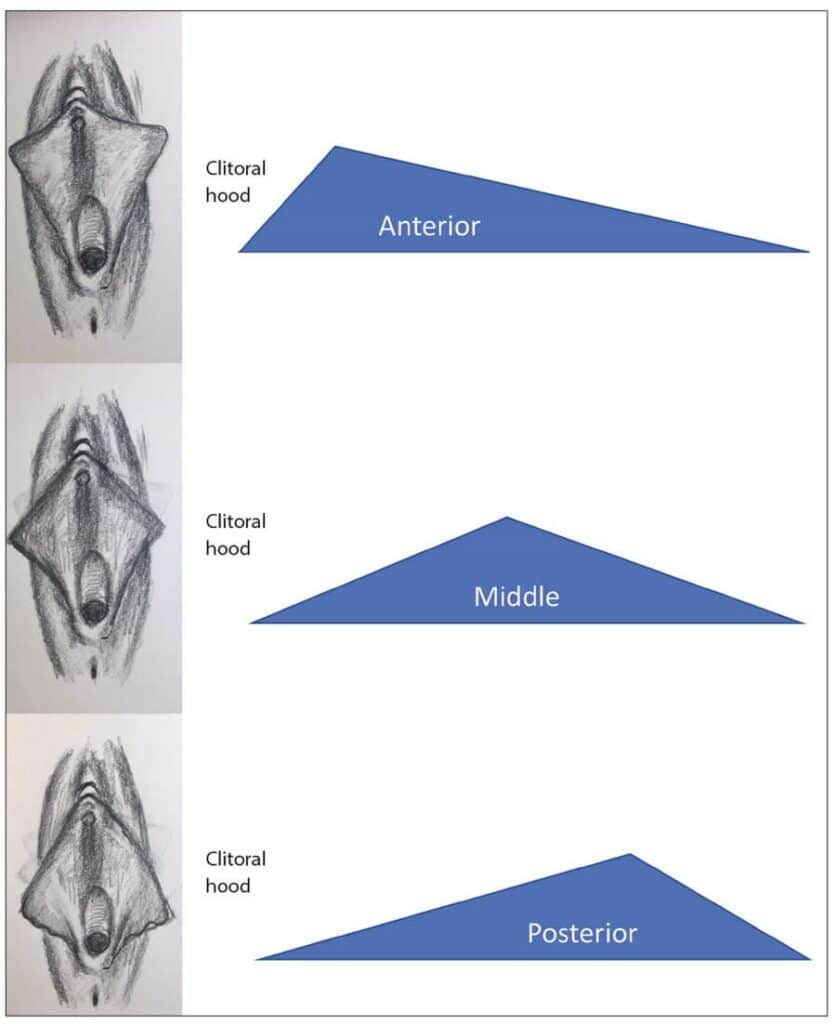 On the other hand, the Labia Majora, the larger, outer folds of the vulva, are less frequently a cause for cosmetic worry. They resemble the skin in texture and are therefore less likely to necessitate surgical correction.
Apart from the labia, the vulva also includes the vaginal opening, the urethral opening, and the clitoral hood. However, these elements of the female genitalia are not typically the focus of plastic surgery related to this area. It is important to note that the main objective of a labiaplasty is to enhance the overall appearance and function of the vulva, thereby improving the quality of life for the individual undergoing the procedure.
What causes labia to become oversized?
The labia minora, which are the inner folds of skin surrounding the vaginal opening, can become enlarged for a variety of reasons, including:
Genetics: Some women are born with labia that are naturally larger than average.
Hormonal changes: Hormonal changes during puberty, pregnancy, or menopause can cause the labia to enlarge.
Childbirth: Childbirth can stretch and enlarge the labia.
Ageing: As women age, the labia may become more elongated and enlarged.
Obesity: Being overweight or obese can cause the labia to enlarge.
Sexual activity: Sexual activity, especially rough or frequent sex, can cause the labia to enlarge.
Trauma or injury: Trauma or injury to the labia can cause them to enlarge.
It's important to note that labia size and shape can vary widely, and there is no one "normal" size or shape. However, if your labia are causing discomfort, pain, or embarrassment, it may be worth considering labiaplasty to improve the appearance and comfort of your labia.
Labiaplasty Before & After Photos - Real Patient Results
Browse our labiaplasty photo gallery to see the results achieved by our surgeons at Centre for Surgery. The before and afters below sample the patient photos we have on file. When you come to see us for a consultation, a wide variety will be available. At Centre for Surgery, we only show photos of our patients that have given written consent to use their images on our website. At your consultation, you can also view an extensive range of patient before and after photos.
RELATED: Labiaplasty before and after photos
Labia reduction surgery can enhance the appearance of your labia, lead to an improvement in self-confidence and make you feel more comfortable about yourself. We advise all patients who are considering having labia surgery to think about their expectations for what they wish to achieve and to discuss this with your labiaplasty surgeon. The results of labia reduction surgery are both permanent and significant. Patients with realistic expectations will have a higher likelihood of being very pleased with their new appearance.
Case 1: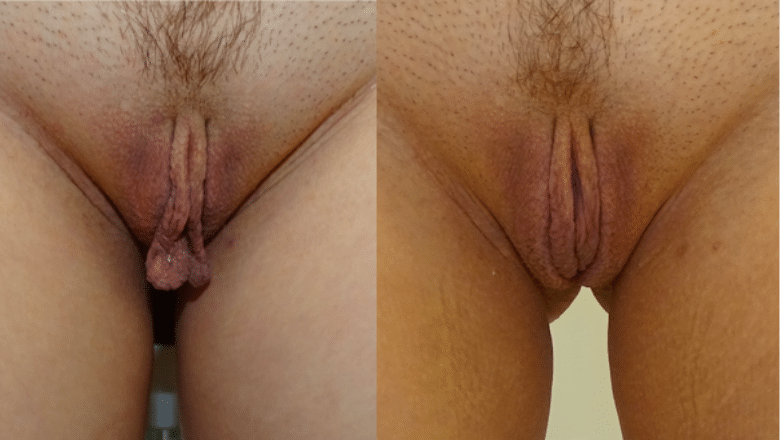 Case 2: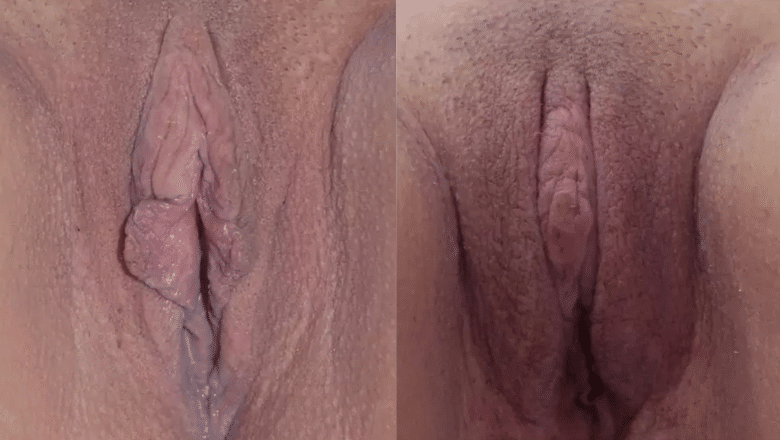 Case 3: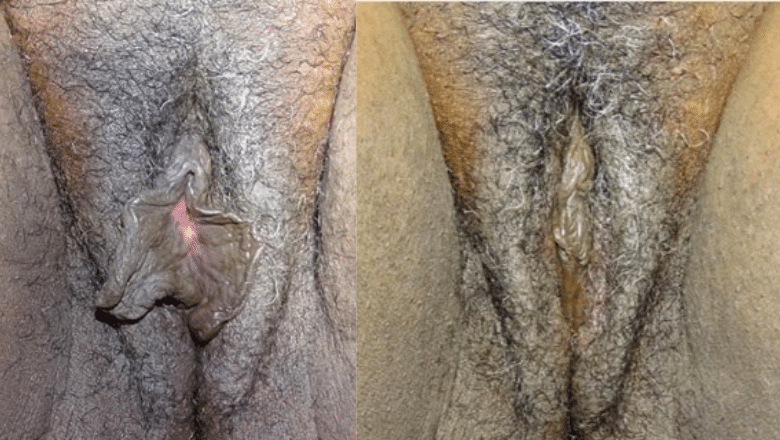 Case 4: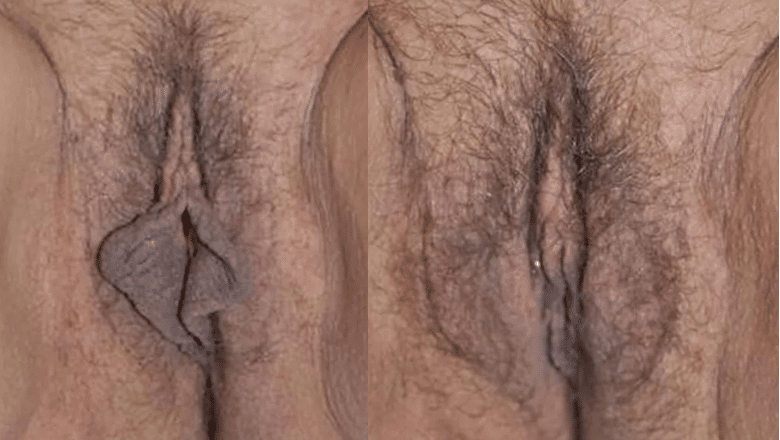 Case 5: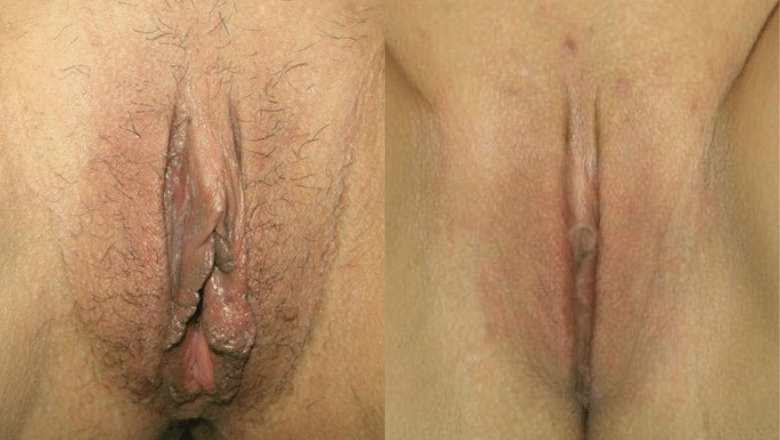 Case 6: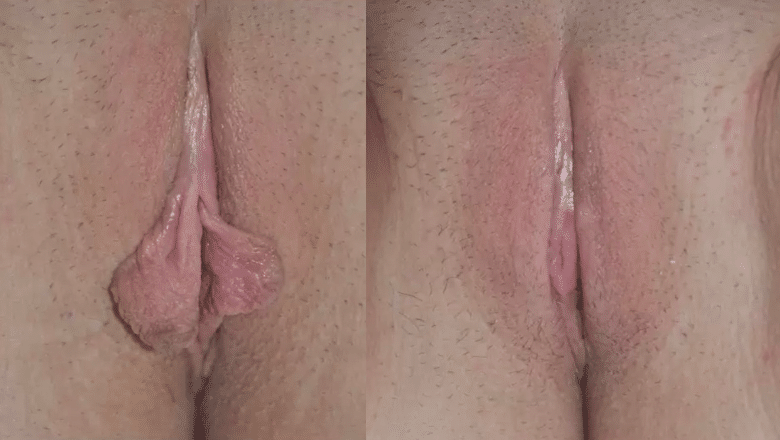 Case 7: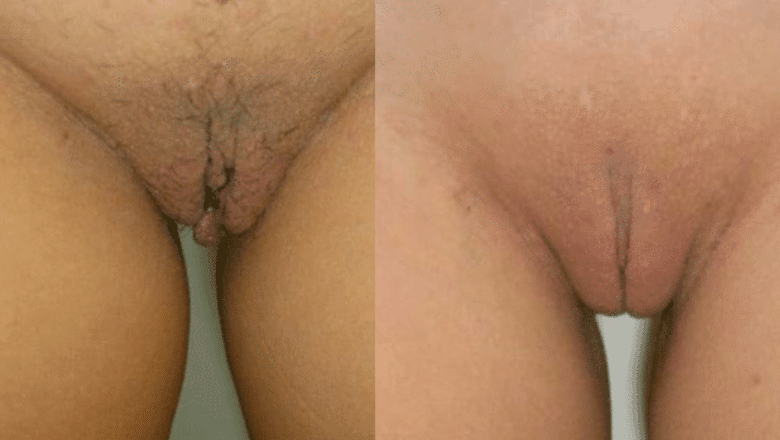 Case 8: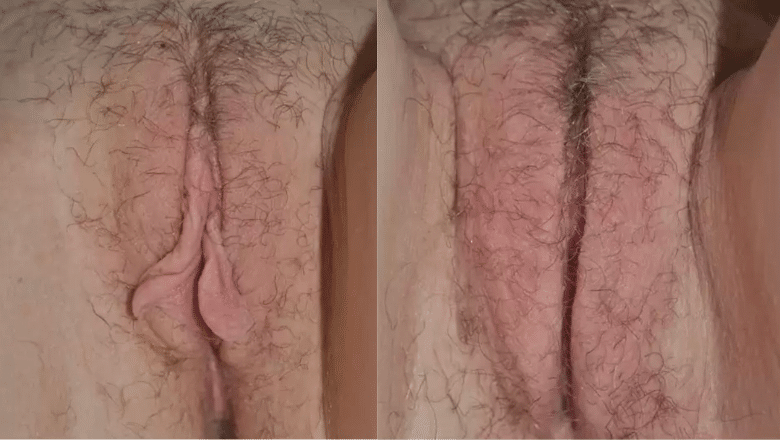 Case 9: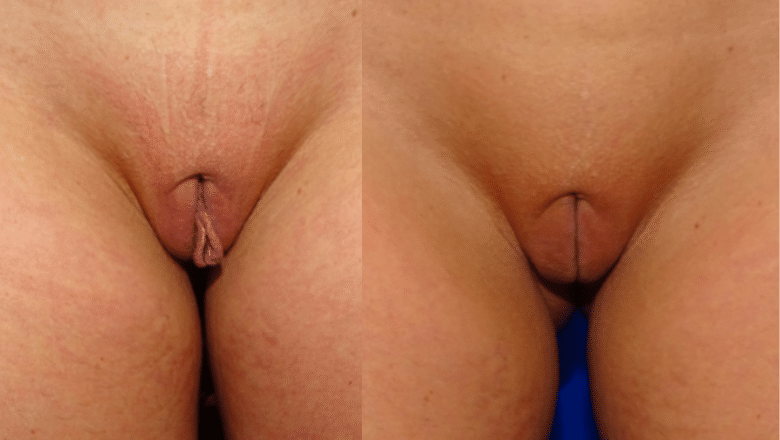 Case 10:
Benefits of Labiaplasty
Labiaplasty, as a surgical procedure, can offer a host of benefits. These benefits may vary from person to person, depending on their reasons for undergoing the procedure. Here are some of the potential benefits:
Improved Appearance: One of the primary reasons women opt for labiaplasty is to improve the aesthetic appearance of their vulva. This procedure can help women gain a more symmetrical and balanced look, boosting their self-confidence and body image.
Increased Comfort: Enlarged labia can cause discomfort during routine activities such as exercise, cycling, or even while wearing tight clothing. By reducing the size of the labia, labiaplasty can significantly improve physical comfort.
Enhanced Sexual Satisfaction: Excessive labial tissue can interfere with sexual activity, leading to discomfort or pain. Labiaplasty can help in reducing this excess tissue, thus improving sexual comfort and satisfaction.
Psychological Well-being: The dissatisfaction with the appearance of one's labia can lead to embarrassment, self-consciousness, or even anxiety in intimate situations. By improving the appearance of the labia, labiaplasty can help in reducing these psychological concerns, leading to improved mental well-being.
Relief from Physical Symptoms: In certain cases, enlarged labia can lead to symptoms such as chronic irritation, hygiene issues, or urinary tract infections. Labiaplasty can help to alleviate these symptoms by reducing the size of the labia.
Boosted Self-Esteem: Body dissatisfaction can significantly impact a woman's self-esteem. By addressing this concern, labiaplasty can contribute to improved self-esteem and overall quality of life.
Choosing the Best Labiaplasty Surgeon - Dr Paraskevi Dimitriadi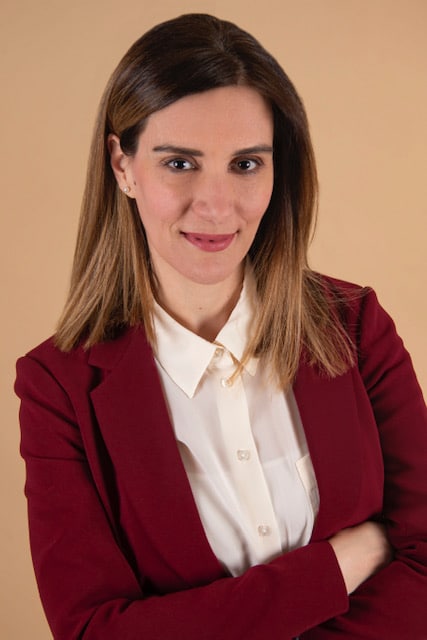 Dr Paraskevi Dimitriadi is a specialist cosmetic gynaecologist and has trained at some of the world's leading hospitals in all aspects of gynaecology. Dr Dimitriadi continues to practice in a major London teaching hospital. She takes an active interest in research into cosmetic gynaecology surgery and lectures both nationally and internationally on a range of topics in aesthetic gynaecology. She is a full member of the European Society of Aesthetic Gynaecology (ESAG).
Dr Dimitriadi's high level of experience that she has achieved in labiaplasty surgery sets her apart from other doctors in the field. Not only is she recognised across the UK as a renowned expert in this procedure, but she also continues to contribute to the growing international body of knowledge in the most advanced techniques of performing labia reduction surgery.
RELATED: How to choose the best labiaplasty surgeon?
As a female surgeon, Dr Dimitriadi understands her patient's most delicate needs and preferences,  which allows her to create a personalised and bespoke labiaplasty treatment plan to meet the patient's goals. She is regarded as one of the top labiaplasty surgeons in London by her peers and brings years of experience to each and every procedure she performs. Dr Dimitriadi brings together her expertise across both surgical and non-surgical gynaecological treatments – unrivalled in London and exclusive to Centre for Surgery.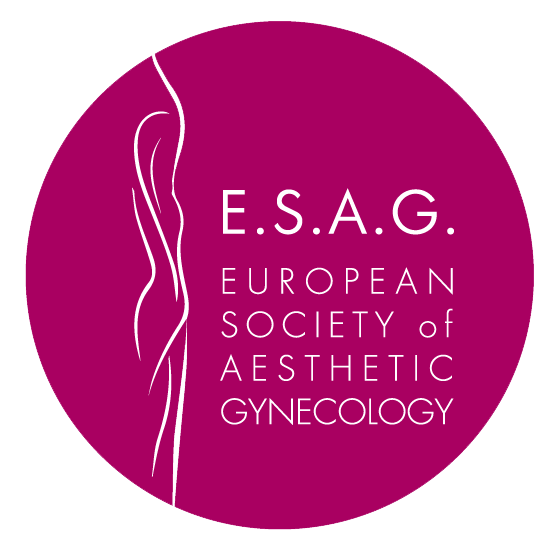 Dr Dimitriadi is known for her caring, patient-centred approach, supporting all her patients, and she always strives to optimise patient outcomes at stages of the patient journey.
RealSelf Top Doctors for labiaplasty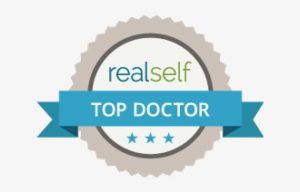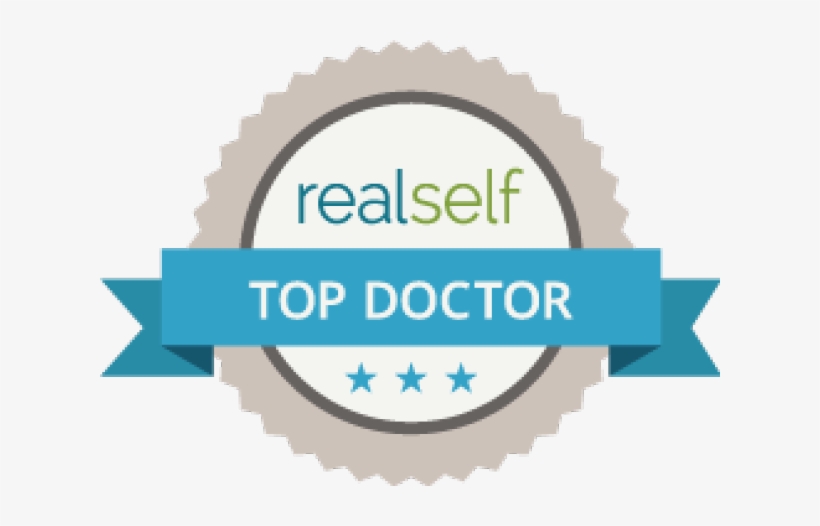 RealSelf's top doctor status is awarded to less than 10% of the RealSelf doctor community.  This status is earned by achieving consistently high patient satisfaction (from RealSelf reviews), getting excellent feedback on expert answers to patient questions, and investing significant time in Q&A and other doctor activities.
How to find the Best London Labiaplasty Surgeon
When considering having labiaplasty surgery, it is vital to seek a highly qualified and experienced surgeon with many years of experience. The ideal surgeon should be fully trained in all techniques of labia surgery, including the trim method, the wedge method and the deepithelialisation method. They should be able to match the correct technique to your presenting condition. They should also be highly skilled in managing all the potential risks and complications of labiaplasty surgery.
The face-to-face consultation serves as an ideal opportunity to explain what happens both before, during and after the procedure. Many patients are concerned about possible pain in the recovery period. Your surgeon will be able to explain all the pain management strategies which can be used to optimise your recovery.
Many patients ask us who is the best type of specialist for labiaplasty surgery. The two types of doctors who carry out labiaplasty surgery are gynaecologists and plastic surgeons. We believe that gynaecologists are inherently better trained to carry out labiaplasty surgery as they are specialists in the female genitalia and do not perform any other type of cosmetic surgery such as rhinoplasty, breast augmentation or liposuction.
Surgeons who carry out labia reduction surgery should have an extensive collection of labia reduction before and after photos for you to view, which can enable you to form an accurate impression of how you could look after surgery. You should also view patient testimonials on accredited review websites such as Trustpilot.
Patient selection is a fundamental component of achieving excellent outcomes following surgery. The skilled surgeon will take a holistic view of your overall mental and physical health when deciding on your suitability for labiaplasty surgery. Patients who have chronic uncontrolled medical conditions may not be ideal candidates for labiaplasty, and your surgeon should be able to identify this and advise you against surgery.
Specialist doctors who carry out labiaplasty surgery should be on the GMC specialist register, which you can check on the GMC website. Surgeons should also belong to a specialist organisation such as the European Academy of Aesthetic Gynaecology or the British Association of Aesthetic Plastic Surgeons (BAAPS).
What conditions can labiaplasty surgery correct?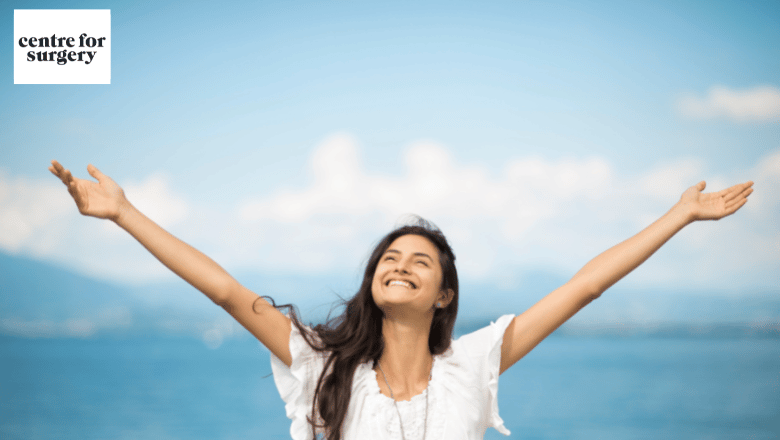 Labiaplasty is a surgical procedure that can correct several conditions related to the labia minora, which are the inner folds of skin surrounding the vaginal opening. Some of the most common conditions that labiaplasty can correct are:
Enlarged labia minora: The labia minora can become elongated or enlarged for a variety of reasons, including genetics, ageing, childbirth, or hormonal changes. This can cause discomfort, pain, or embarrassment, especially during physical activities such as exercise or sexual intercourse. Labiaplasty can reduce the size of the labia minora to improve comfort and appearance.
Irregular labia shape: The labia minora can also have an irregular shape, with one side longer or wider than the other. This can cause discomfort, irritation, or embarrassment. Labiaplasty can reshape the labia minora to achieve a more symmetrical appearance.
Chafing or rubbing: Enlarged or irregular labia can cause chafing or rubbing, especially during physical activity. This can lead to discomfort, pain, or infection. Labiaplasty can reduce the size of the labia minora to reduce the risk of chafing or rubbing.
Discomfort or pain during sexual intercourse: In some cases, enlarged or irregular labia can cause discomfort or pain during sexual intercourse. Labiaplasty can reduce the size or reshape the labia minora to improve sexual comfort and pleasure.
Embarrassment or self-consciousness: Women with enlarged or irregular labia may feel self-conscious or embarrassed about the appearance of their labia. This can impact their self-esteem and sexual confidence. Labiaplasty can improve the appearance of the labia minora to increase self-confidence and self-esteem.
It's important to note that labiaplasty is not only carried out for cosmetic reasons. If you are experiencing discomfort or pain related to the size or shape of your labia minora, labiaplasty can help to relieve symptoms. The best way to determine if labiaplasty is right for you is to have a consultation with a qualified cosmetic gynaecologist who specialises in genital surgery. The surgeon will be able to examine your labia, discuss your concerns and goals, and determine if the procedure is appropriate for you.
Am I suitable for Labia Surgery?
Labiaplasty is a surgical procedure that reduces the size or shape of the labia minora (the inner folds of skin surrounding the vaginal opening). Women who are considering labiaplasty may have concerns about discomfort or embarrassment caused by the size of their labia or may have experienced pain or irritation during physical activity.
The best way to determine if you are suitable for labiaplasty is to have a consultation with a qualified plastic surgeon who specializes in genital surgery. During the consultation, you can discuss your concerns, and the surgeon can examine your labia to determine if the procedure is appropriate for you.
There are a few factors that can affect your suitability for labiaplasty, including:
Medical history: If you have certain medical conditions, such as uncontrolled diabetes, you may not be a suitable candidate for labiaplasty.
Age: Most women who undergo labiaplasty are adults, but there is no age limit for the procedure.
Pregnancy and childbirth: Pregnancy and childbirth can change the size and shape of the labia, and labiaplasty may not be recommended if you are pregnant or planning to become pregnant in the near future.
Expectations: It's important to have realistic expectations about the outcome of labiaplasty. The procedure can improve the appearance and reduce discomfort, but it won't change your sexual function or sensation.
Overall, labiaplasty is a personal decision that should be based on your individual needs and goals. It is important to find a qualified plastic surgeon who can help you determine if you are a suitable candidate for the procedure.
Labiaplasty Expected Results
Surgical removal of redundant labial tissue on one or both sides to create a more balanced and aesthetically pleasing look to the labia minora and labia majora
Reduction in discomfort when wearing tight-fitting clothing or when undertaking sporting activities
Labiaplasty may improve sexual function by alleviating discomfort during sexual intercourse – a commonly reported reason for having labiaplasty at Centre for Surgery.
Preparing for Labia Reduction
At Centre for Surgery, we understand that discussing the issue of enlarged labia can be both delicate and awkward. From your first phone call to one of our experienced patient care coordinators to your consultation with Dr Dimitriadi, our team will take your concerns seriously and will treat you with kindness, consideration and dignity as we do with all of our labiaplasty patients.
Patients who smoke will be advised to stop for at least 2 weeks before the date of their labiaplasty procedure. Smoking has detrimental effects on microcirculation and is known to slow the wound healing process. All medications, prescribed and over-the-counter, will be reviewed. Aspirin and aspirin-containing medicines should be stopped both before and after surgery. Aspirin and NSAIDs impair the body's natural clotting process and may cause bleeding complications after surgery. If you require pain relief after surgery, paracetamol is advised.
Whether your procedure is performed under a local or general anaesthetic, it is mandatory to have a responsible adult escort take you home in a car or taxi. You must not travel home on public transport after labiaplasty surgery.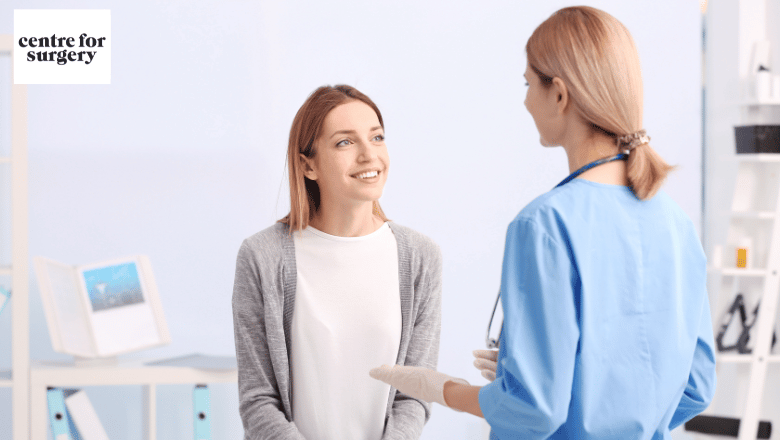 WATCH THE ANIMATED LABIAPLASTY SURGERY VIDEO
Labiaplasty Procedure
Labiaplasty is a highly specialised surgery and requires tremendous attention to detail. If you choose to have the procedure under a local anaesthetic, you will also have the option of oral sedation, which may make you feel sleepy and hence feel more relaxed before the injection of local anaesthetic by Dr Dimitriadi. For some cases, Dr Dimitriadi may recommend a general anaesthetic, and you will then be asleep throughout the procedure under the expert supervision of an anaesthetist. With any technique, you should not feel any pain or discomfort during the procedure as the area is injected with local anaesthetic before the procedure starting. The decision to have local or general anaesthesia is always your choice, although Dr Dimitriadi may recommend a general anaesthetic in complex or revision cases.
How long does labiaplasty take?
Labiaplasty is typically performed as an outpatient procedure and takes between one and two hours to complete. The exact length of the procedure will depend on several factors, including the extent of the labia reduction, the patient's anatomy, and the surgeon's technique.
RELATED: Is labiaplasty painful?
Dr Dimitriadi will discuss with you the desired length of the labia minora to be removed, and the area will then be marked with your assistance using a hand mirror prior to the procedure. Additionally, it is important to discuss whether clitoral hood reduction is required. When deciding on the degree of tissue to be excised, the area is marked conservatively to prevent over-reduction. Dr Dimitriadi believes it is always better to slightly under-correct to avoid the risk of overcorrection, which is very difficult to treat successfully.
The labiaplasty procedure involves reshaping the labia minora using precise dissection techniques. Any unwanted tissue is accurately removed. There are several surgical methods available for labiaplasty surgery. Your surgeon will discuss with you the most appropriate technique applicable to you.
RELATED: Trim Labiaplasty vs Wedge Labiaplasty
Wedge Labiaplasty
Wedge labiaplasty is a surgical technique used to reduce the size of the labia minora (the inner vaginal lips). This procedure is designed to improve the appearance of the genital area and to relieve discomfort or pain caused by enlarged or irregularly shaped labia.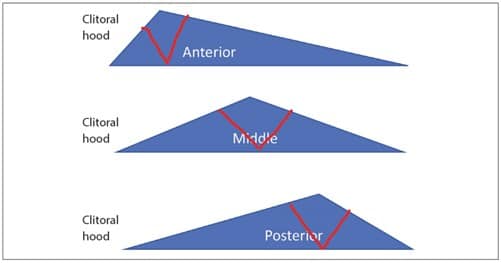 The wedge labiaplasty technique involves making a V-shaped incision in the labia minora, removing a wedge of tissue, and closing the incision with sutures. This technique is typically performed under local anaesthesia or intravenous sedation and takes approximately 30 to 60 minutes to complete.
The advantages of wedge labiaplasty include a shorter recovery time, minimal scarring, and improved sensation in the genital area. However, as with any surgical procedure, there are potential risks and complications, including infection, bleeding, and changes in sensation.
Trim Labiaplasty
Trim labiaplasty is a surgical technique used to reduce the size of the labia minora (the inner vaginal lips). This procedure is designed to improve the appearance of the genital area and to relieve discomfort or pain caused by enlarged or irregularly shaped labia.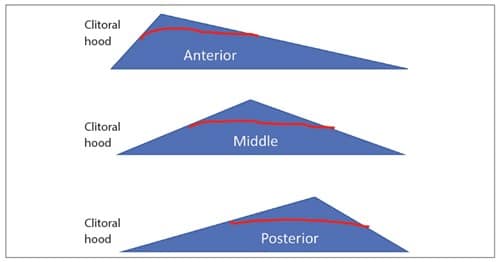 The trim labiaplasty technique involves making a straight incision along the edge of the labia minora, removing a strip of tissue, and closing the incision with sutures. This technique is typically performed under local anaesthesia or intravenous sedation and takes approximately 30 to 60 minutes to complete.
Deepithelialisation technique
For mild to moderate labial tissue resection, the de-epithelialisation technique may be an appropriate option. The technique reduces the length of the labia whilst also preserving the labial border. This can create a more aesthetically pleasing appearance in addition to correcting the functional symptoms that many women experience. The downside is that it is only applicable for very small degrees of labia minora enlargement.
Whichever technique is used, once the desired level of correction has been achieved to achieve a youthful appearance, Dr Dimitriadi uses absorbable sutures to ensure correct healing. With her extensive experience as a gynaecologist in a London teaching hospital, Dr Dimitriadi is familiar with the diverse range of labia minora, and labia majora appearances and no one technique can be used in a blanket fashion for every patient. The key is a thorough evaluation in a private consultation to develop a customised treatment plan based on a patient's main concerns. Dr Dimitriadi prefers the labial trim method as it carries the least amount of potential risks and complications and consistently has excellent outcomes.
What is the best labiaplasty technique?
Dr Dimitriadi will discuss with you the most appropriate labiaplasty technique based on her extensive experience in labiaplasty surgery.
The best technique is the one the surgeon is most comfortable with and achieves consistently good results. Nonetheless, specific techniques offer unique advantages. The labial trim method is a great choice for patients who dislike their thick, darkly pigmented, or rough edges. Dr Dimitriadi meticulously sutures the labial edges to create a smooth labial contour. The wedge technique, a commonly performed method by plastic surgeons, can be an excellent option for the patient with thin, well-defined labia edges although the risk of wound breakdown is higher and with a higher revision rate.
A redundant clitoral hood should prompt the surgeon to discuss a clitoral hood reduction. Failure to reduce a redundant clitoral hood can result in an imbalance that can be distressing to the patient after a labiaplasty alone has been performed. Clitoral hood reduction or hoodectomy is an option for those who desire a more balanced appearance to the labial area and this can be performed at the same time as a labia minora reduction.
Recovery After Labiaplasty
After the procedure, you may experience some pain and discomfort in the genital area. Bruising and swelling are common side effects. This may last for several weeks. You can use ice packs to reduce swelling or take pain medication to help alleviate discomfort.
RELATED: How to reduce labiaplasty swelling
You will be advised that you should wear a pad – not tampons – for one week or until any bleeding stops. It is also recommended to wear loose cotton underwear during this time. You may find that during recovery after surgery, passing water may be slightly uncomfortable, although this is temporary in nature. The sutures used for labiaplasty surgery are fully dissolvable and will be naturally absorbed by the body. The vast majority of patients tell us that the procedure was much less painful and was much easier than they thought it might be.
RELATED: What is labiaplasty recovery like?
You may need to take about 3-5 days off work, and you will have to avoid any heavy exercise for 10 days. You will be able to resume your normal sexual activity about six weeks later. It is important to keep the genital area clean during the recovery period in order to reduce the risk of infection occurring. You should wash the area with soap and water on a regular basis and light sanitary pads for the first seven days. All of our labia reduction patients receive a prescription for pain relief medication although many patients remark that they did not require any pain relief as there is very little pain associated with labia reduction. An antibiotic ointment should be applied to the area twice daily after your procedure.
Is labiaplasty recovery painful?
Labiaplasty is a surgical procedure that can cause some discomfort and pain during the recovery period. However, the extent of the pain and discomfort will depend on several factors, including the patient's overall health, the extent of the labia reduction, and the surgeon's technique.
Immediately after the procedure, the patient may experience some pain, swelling, and bruising in the area. The surgeon will usually prescribe pain medication to manage this discomfort. Most women find that over-the-counter pain medication is sufficient, but more severe pain can be managed with prescription pain medication.
The swelling and bruising will typically peak within the first few days after the procedure and then begin to subside. Ice packs or a cooling device can be used to reduce swelling and discomfort during this time.
In the first week after the procedure, the patient may experience some itching, burning, and discomfort in the area. This is normal and can be managed with over-the-counter pain medication or prescription pain medication.
As the swelling and discomfort begin to subside, the patient may begin to feel more comfortable. Most women are able to return to work and other normal activities within a few days, although they should avoid strenuous activity and sexual intercourse for several weeks after the procedure.
It's important to follow the surgeon's postoperative instructions carefully to ensure a smooth recovery and optimal results. This may include avoiding certain medications, taking antibiotics to prevent infection, and wearing a special dressing or support garment to protect the area.
Labiaplasty Aftercare Tips
Ensuring a smooth recovery process following a labiaplasty procedure is crucial, and there are several steps you can take to promote healing and minimize discomfort. Here are some aftercare tips to keep in mind:
Avoid Tampons: After a labiaplasty, it's recommended to use sanitary pads instead of tampons. Inserting a tampon could potentially irritate the surgical site and disrupt the healing process.
Sitz Baths: Incorporate daily sitz baths into your routine to help reduce swelling and alleviate discomfort. A sitz bath involves sitting in a shallow bath of warm water, often with added salt, which can have a soothing effect on the surgical area.
Ice Packs: To help manage swelling and pain, consider applying ice packs to the area. Remember to place the ice pack on your underwear rather than directly on the skin to prevent frostbite, and limit each application to 15-20 minutes at a time.
Elevate Your Behind While Sleeping: When lying down, elevate your behind using a few small pillows. This can help reduce swelling by improving blood flow and fluid drainage from the surgical area.
Loose Clothing: Opt for loose-fitting clothes during your recovery period. Tight clothing could potentially restrict blood flow to the surgical site, which might hinder the healing process.
What are Risks and Complications of Labial reduction surgery?
Dr Dimitriadi has many years of experience performing cosmetic gynaecology procedures, including labiaplasty and labia reduction. She regularly attends conferences overseas to learn about the best and safest ways of performing cosmetic gynaecology procedures. The labiaplasty surgery performed today is very different to that performed even 20 years ago, which is why it is so important for Dr Dimitriadi to keep abreast of changes in the field. Despite everything being done to make sure procedures run smoothly, there is always a small chance of complications occurring.
Patients should always start by making sure they choose a skilled surgeon such as Dr Dimitriadi to get the results that fit with their treatment goals. It is also very important to comply with all the postoperative aftercare instructions and restrictions on activity, which are vital to ensure speedy healing. During your consultation with Dr Dimitriadi, the potential risks and complications that can occur with labiaplasty will be discussed. The following are some but not all potential risks associated with labia reduction surgery. Most patients who have labiaplasty surgery never experience these risks as they are quite rare.
Some of the common risks and complications associated with labiaplasty include:
Infection: Infection is a rare but possible complication of labiaplasty. Symptoms of infection include redness, swelling, and discharge from the incision site. Antibiotics may be required to treat the infection.
Scarring: Scarring is a common side effect of labiaplasty, and the scars may be visible or palpable in the labia. The scars may be red, raised, or uncomfortable for several months after the procedure, but they will typically fade over time.
Bleeding: Bleeding is a rare but possible complication of labiaplasty. The patient may require additional surgical intervention to control the bleeding.
Pain: Pain is a common side effect of labiaplasty, and the patient may experience some discomfort and pain during the recovery period. Pain medication may be required to manage the pain.
Numbness: Numbness is a rare but possible complication of labiaplasty. The patient may experience some numbness in the area due to nerve damage, but this typically improves over time.
Unsatisfactory results: In some cases, the results of labiaplasty may not meet the patient's expectations, and additional surgical intervention may be required to correct the problem.
Changes in sexual function: Labiaplasty can affect sexual function, and the patient may experience changes in sensation or sensitivity in the area.
Revision surgery: Revision surgery may be required if the patient is not satisfied with the results of labiaplasty.
It's important to note that these risks and complications are rare and can be minimized by selecting a qualified plastic surgeon who specializes in genital surgery and by following the surgeon's postoperative instructions carefully.
RELATED: What is a revision labiaplasty?
Labiaplasty Surgery Costs London - How much does labiaplasty surgery cost in London UK? Prices & Fees
Our team of highly skilled surgeons at Centre for Surgery have had the privilege of working with numerous women seeking labia reduction surgery. Their vast experience has led them to deeply appreciate the significance of this procedure in the lives of many women. Enlarged labia can lead to both physical discomfort and emotional distress, and we are here to help mitigate these concerns.
In the past, we have encountered numerous patients who initially believed that this procedure might be financially out of reach for them. However, we're proud to note that our accessible financing options at Centre for Surgery have made this transformative procedure a feasible and affordable choice for many. We believe that everyone deserves to feel comfortable and confident in their own body, and we strive to make this a reality for as many women as possible.
At Centre for Surgery, we are committed to providing top-tier care that respects your individual needs and concerns. We'll work closely with you to help you understand the costs associated with labia reduction surgery, and we'll guide you through the various financing options available. Our ultimate goal is to make this process as seamless and accessible as possible, so you can focus on your journey towards improved comfort and self-confidence.
There are several factors that will determine the overall cost of your labiaplasty procedure, and the final quotation will be given after your face-to-face consultation with Dr Dimitriadi. Dr Dimitriadi can advise you on what the procedure involves and what can be achieved. Many women who have successfully undergone Labiaplasty surgery with us have often remarked that they thought this procedure would be well out of their price range. Still, thanks to the financing options we offer, the procedure has become both achievable and affordable.
RELATED: How much does a labiaplasty cost?
Many women choose to have labial surgery combined with a vaginal tightening procedure for comprehensive vaginal rejuvenation. The cost would be higher for a combined labiaplasty and vaginoplasty procedure.
Labia minora reduction alone or combined labia minora reduction + labia majora reduction
Anaesthesia cost – local anaesthetic or general anaesthetic
Any previous surgery to the area
What is included in my labiaplasty treatment package?
As many preoperative consultations with your surgeon as you like to make sure the labia reduction procedure is right for you
Treatment at a specialist day surgery facility recently rated 'Good' by the CQC
Enhanced same-day discharge with the added benefits of recovering in your own home
24/7 clinical support from your surgeon for the first 48 hours and our expert postoperative support team
Your very own dedicated patient coordinator
In-depth preoperative medical assessment to make sure you are fully fit for your procedure
Exceptionally high standards of postoperative care described as 'outstanding' by the CQC with regular telephone and face-to-face checks.
Finance options for labiaplasty, including 0%

Centre for Surgery is fully approved to offer finance for labiaplasty via our specialist finance partner, Chrysalis Finance. You no longer need to use your savings to pay for your treatment – you can apply to spread the cost of your procedure with Chrysalis Finance using their simple 1,2,3 application to pay for it. Don't wait until you have enough money for your treatment. Apply today and (subject to status) pay for your procedure easily in monthly instalments using one of their payment options. Chrysalis Finance is the only ethical provider that focuses solely on providing specialist financing for medical procedures. Speak to one of our patient coordinators today to learn about labiaplasty finance.
Labiaplasty at Centre for Surgery
Centre for Surgery is considered the leading specialist plastic surgery clinic in London and is home to some of the best medical experts in the UK. Our cosmetic gynaecologists carry out hundreds of labiaplasty procedures each year at our state-of-the-art Baker Street clinic in Marylebone.
Dr Dimitriadi is a highly specialised expert in her field of aesthetic gynaecology and women's health. She has dedicated her practice to several procedures that she frequently performs, including labia surgery. Being trained as a gynaecologist and with her extensive background in women's health allows her to assess you in a holistic manner as she regularly performs gynaecological procedures for conditions such as endometriosis, menorrhagia and other common conditions affecting women of childbearing age. We do not subscribe to the 'Jack of all trades' model of medicine. All specialists at the Centre for Surgery perform procedures within a very focused remit for optimal outcomes.
If a patient wishes to be considered for liposuction, abdominoplasty or breast surgery, Dr Dimitriadi often works very closely with her plastic surgeon colleagues, also based at Centre for Surgery. It is quite common for procedures to be combined, and our plastic surgeons can perform procedures such as liposuction in the same procedure alongside Dr Dimitriadi.
All-female team for your consultation, procedure and aftercare – Dr Dimitriadi has hand-picked a highly skilled team of specialist female nurses.
Significant experience in all types of labiaplasty – wedge resection, trim method and de-epithelialisation
Choice of local anaesthetic or general anaesthetic
We own and manage our own surgical facilities. Properly performed labiaplasty takes time and should not be rushed.
Schedule a labiaplasty consultation at Centre for Surgery
If you would like to schedule a labiaplasty consultation, call us today on 020 7993 4849, or complete the contact form below. One of our friendly and knowledgeable patient coordinators will act as your personal point of contact throughout your journey with us at Centre for Surgery.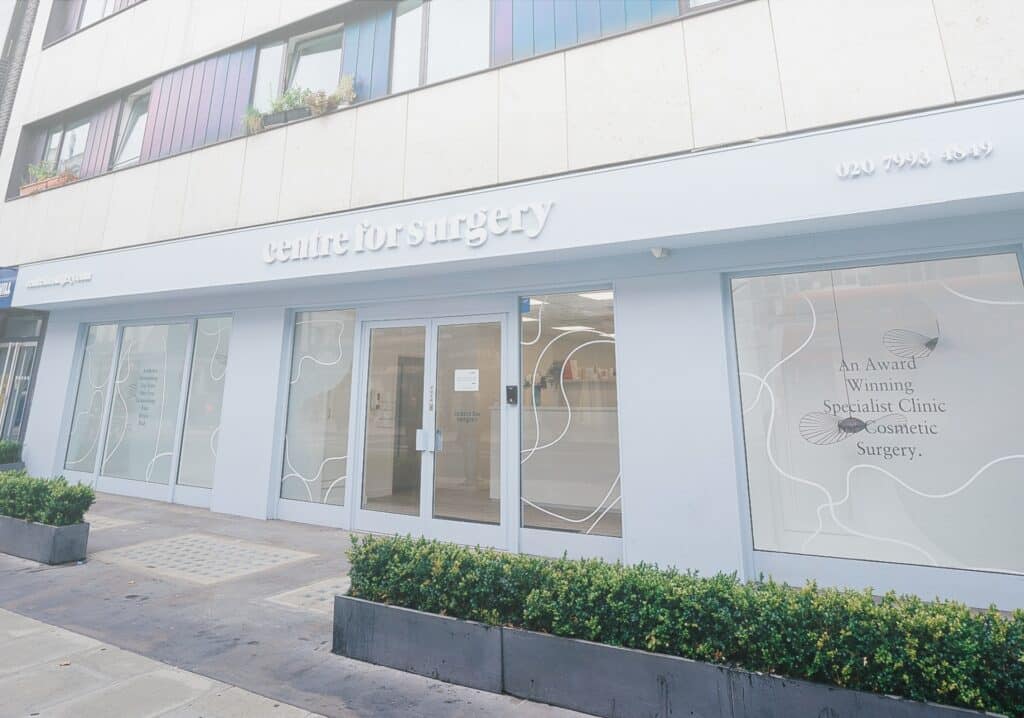 Amazing from start to finish, the communication was the main thing was fully informed and looked after, on the day of my breast augmentation, the staff were fab and made me feel at ease through out the whole process. Thank you so much.
Mohammed Farid
18/11/2021
I've had such a great experience with excellent advice, care and attention and surgical treatment (gynaecomastia) - I can fully endorse the treatment I have received from Centre for Surgery with absolutely no qualms at all. Brilliant in every way - thank you all so much.
Caroline Thorpe
14/11/2021
Very pleased with my whole experience of having a procedure. Was so nervous about getting treatment and i was reassured and felt so comfortable throughout thanks to the amazing nurses. I definitely made the right decision to have breast augmentation at centre for surgery with dr erel.
Melissa Briggs
08/11/2021
So glad I went with centre for surgery, the whole process went very smoothly from the consultations down to the actual day of the procedure. I was so nervous on the day but the whole team put me at ease and I'm happy with my results as I feel a lot more comfortable wearing certain clothes now. My surgeon was Alberto Di Giuseppe who performed a breast Augmentation on me, and I would definitely recommend as he was very clear on what the outcome of the surgery would be and which size would look the best for my frame.
Couldn't be happier with Dr Tillo work,i had my breast surgery one week ago and so happy with the results so far,all the staff are extremely nice and very supportive,i would definitely recommend their services,thank so much
From start to the finish everything was perfect for tummy tuck surgery. All staff is very friendly and the aftercare has been good. The Doctor and the nurse team was fantastic. I'm so happy...result is amazing. Thank you!!!
This was overall a great experience, all the staff at Centre for Surgery were friendly and put me at ease. It is a nerve wracking thing to go through an op but the staff were so nice. Mr Ertan has got a great team around him. On the day of the operation everything went smoothly to plan, there was no delay or holdups, I had another consultation with Mr Ertan who confirmed what was going to be done and that I was still happy to proceed. I was prepped for the procedure, I met with the anaesthetist who again was really nice and put me at ease explaining his role. After the procedure I woke up with the nurse by my side making sure I was OK and checking on me, I was able to stay in the clinic until I was ready to leave and was not rushed at all. I was well looked after from the start to the point when I was discharged. Post operation I was staying at a local hotel it was so close there was no point in even getting a taxi and I was able to walk back where my partner was waiting for me. I was expecting a lot of bruising to both my eyes but there was very little if any by the time the cast came off after 7 days, I am now at the two week post operation point and it is healing well with no outwardly visible bruising or scaring. The next milestone is a checkup at the 6 week point with my surgeon. If you're thinking of having something like this done I would highly recommend getting in touch with Centre for Surgery.
The staff at Centre for Surgery were very kind and accommodating. They answered any questions I had about the procedure and were constantly checking up on me. A special thank you to Christina for all her support throughout.
I would just like to state the quality of care received from the nurses at Centre for Surgery was beyond the highest level. Sophie takes her patient care to another level beyond words. She always puts me at ease. She is there for me even at awkward hours just when I mostly needed reassurance and she is one of the most compassionate nurses I have come across and demonstrates her passion naturally for caring for others. She totally deserves recognition at its finest and thank you for always being there for me. 😍
[baslider name="Labiaplasty"]
What To Expect
The labiaplasty consultation
Your patient coordinator will book an appointment for you to meet with one of our specialist surgeons for labiaplasty. Your surgeon will discuss with you all aspects of the labiaplasty procedure, and will you will be able to discuss your goals for treatment. The surgeon will be able to explain the benefits of the labiaplasty procedure as well as any procedure limitations in terms of achieving a particular result. The surgeon will undertake a full physical examination to assess the labia region in detail.

A treatment plan will be formulated after taking into the size and shape of your labia and if you were experiencing functional symptoms such as discomfort. Your surgeon will also discuss the potential risks, complications, possible side effects, and what to expect during the recovery and healing phase. Any history of previous medical conditions will be noted, including previous medical procedures, medicines you are taking and any allergies you may have. This information will be used to determine your fitness for the labiaplasty procedure.

Suppose your surgeon decides you are an appropriate candidate for the labiaplasty procedure. In that case, you can move ahead with the procedure after a nationally recommended two-week 'cool-off' period. It would be best if you used this time to explore, at your own pace, all the possible treatment options, including the option of no further treatment. We can arrange for you to see your surgeon for as many follow-up consultations as possible to make sure you can make a fully informed decision on potential labiaplasty surgery. We offer a chaperone service for all examinations involving the assessment of an intimate area. If you prefer, you may wish to bring a family member or friend to your consultation.
Before your procedure
After considering the treatment options and deciding to have a procedure, you will be thoroughly prepared for the day of your procedure. Our surgeons recommend those who smoke, the stopping of smoking at least 4 weeks prior as studies have shown a higher risk of abnormalities with wound healing, including delayed wound healing and breakdown and surgical site infection.

One week before your procedure, you should stop all aspirin-containing medicines as these interfere with blood clotting. You should also follow the preoperative fasting guidelines of no food for 6 hours prior, and water only can be comsumed up to 2 hours prior to the procedure.
The day of your labiaplasty procedure
Our clinical team request that you arrive approximately one hour before your labiaplasty procedure start time. Our nursing team will formally admit you first and perform a series of confirmatory checks. Your vital signs will be measured, including your blood pressure, and you will then meet with your anaesthetist, who will perform a final check of your fitness for labia surgery by assessing your medical notes and performing a physical examination. Finally, you will meet with your surgeon, who will perform preoperative marking of the labia areas to be treated, and you will be asked to sign your consent which your surgeon will also countersign once you are fully happy with the proposed treatment plan.

The labiaplasty procedure takes approximately 1-2 hours and is performed under TIVA general anaesthesia or local anaesthesia. The labia are first injected with a local anaesthetic before the surgeon surgically reshapes the labia to the desired end result. 2 commonly used labia reduction techniques include the trim excision technique or the wedge excision technique. The labia edges are closed with dissolvable sutures. After the labiaplasty procedure, you will recover from the effects of the TIVA anaesthetic. Our nursing team will carefully assess your fitness for discharge.

Once you are safe for discharge, you will need to have a responsible adult to accompany you home and look after you for the first 24 hours after your labiaplasty procedure.
After your procedure
Once you are safely at home, you can be assured of having access to our specialist postoperative team around the clock. You will be given a contact number to contact your surgeon in the first 24 hours after labiaplasty surgery if there is any concern. Our postoperative team will look to call every day for the first two weeks after your procedure. This is so we can monitor your levels of comfort and can alert your surgeon if there is any concern. Our proactive approach allows the detection of any potential issues early, which results in more effective treatment.

You are advised to rest for at least a few days after your labiaplasty procedure which will also help with pain control. Heavy exercise should be avoided for at least the first four weeks. Sexual intercourse should be avoided for a full six weeks. Our postoperative clinical team will assess at your 1-week post-operative appointment to ensure healing is progressing normally and the wound site is healthy. You will be booked for your surgeon's follow-up appointment six weeks after your labiaplasty procedure.